1LoveHealth Sauna Blanket
Share
Regular price

Price:

$399.00

Regular price

List Price: $599.00

Sale price

Price:

$399.00

You save:

$200.00 (33%)

Unit price

per
SB-ZERO
SB-ZERO
FINANCING AVAILABLE

Airpuria is excited to announce that we have financing options available for all customers.

If you have any questions please contact the Airpuria Team. Call: 773-337-8822 or email us at support@airpuria.com.
WHAT TO EXPECT:
Lay Down, Relax, and Feel Amazing
We're here to help you feel your best. Invigorate your health, with a peaceful mind. When it comes to your Sauna, we don't want you to worry about hazardous materials and electrical fields. We use the best construction practices to bring you the safest Sauna. 
We recommend 20-40 minutes per use, but it is entirely up to personal preference. You receive the benefits of Far Infrared therapy even at lower temperatures - no need to sweat! For the most intense experience, preheat for 35 minutes at maximum temperature and sauna as long as you like.
PROFOUND BENEFITS

Experience the benefits of two therapies in one: Sauna, and Far Infrared.
Live a Longer Life
Improve Cardiovascular Health
Lower Inflammation
Improve Brain Health
Stimulate Your Immune System
Detoxify
Relieve and Reduce Pain
Reduce Stress and Fatigue
Promote Skin Health
Burn Calories
INTENSE FAR INFRARED
360 Degree, Full Coverage Far Infrared Therapy
• Powerful Far Infrared surrounds your body for uniformly deep absorption
• Perfectly tuned to resonate with your body's natural frequency
• Intense sauna immersion when you want to raise your core body temperature
SAUNA IN COMFORT
Relaxing in a Far Infrared Sauna Blanket:
✓
Lay down in any position you choose and fully relax.
✓
Focused Far Infrared Rays are inches from your body, providing uniform therapy for the deepest absorption.
✓
Laying Down is the most beneficial way to Sauna. The cardiovascular system is relieved from the demands of gravity and internal body responses are maximized toward self-healing and relaxation.
✓
Your body can fully relax for maximum benefit from the Far Infrared Therapy
✓
Smaller interior area allows for faster preheating and more efficient use.
Keep your head outside:
Most people will feel much more comfortable when their heads can stay cool. Having your head out is the optimal way to get the most benefits, with the least discomfort.
THE DETAILS
Outer Material
- Durable Waterproof Nylon
Inner Material
- SGS and RoHS Certified Non-Toxic PVC
1st Layer:
(Inside ~ No Stones)
2nd Layer:
Waterproof Non-Toxic PVC
3rd Layer:
Nylon Insulating Layer
4th Layer:
Heat Conduction Layer/Cotton
5th Layer:
Temperature Controller and Sensor (3 Zone)
6th Layer:
Infrared heating layer - 177' Zero EMF Carbon Fiber
7th Layer:
Heat Insulation Layer
8th Layer:
Non-toxic Waterproof Nylon
Full One Year Full Warranty/Limited Lifetime Warranty
Carbon Fiber Far Infrared with Zero EMF Technology
What's EMF?
*ZERO EMF heating does not mean that the entire sauna is Zero EMF, but it is close. There are occasional spikes in the healthy range, but we are very impressed with the safe EMF levels of the 1Love Sauna Dome Premium ZERO and we think you will be too.
EMF… The Invisible Disrupter
EMF is the invisible space of energy around a source, creating "
E
lectro
 

M
agnetic 
F
ields."  EMF is everywhere… if there is electricity, there is an Electromagnetic Field (EMF).  Our modern world is fueled by electromagnetic energy, and as we move through the world, we are surrounded by EMF. Energy comprised of electricity and magnetic forces working together to bring us most of the technologies we have grown to rely on in our lives.
Fits Most Body Types
Slender >> 60" circumference (including arms)
If unsure, have someone help you measure around the widest part of your body and make sure to include your arms. Over 62 inches? We can still help. You will need 2 Sauna Blankets, which you can easily attach together using the wide Velcro strips.
Therapeutic Stones
Just the act of holding a tourmaline or germanium stone and slightly heating it up with your hands will release beneficial Far Infrared. The Sauna produces Far Infrared, which heats up the therapeutic stones, which in turn release even more Far Infrared. The end result is that the
stones amplify and intensify the overall experience.
The stones also act as 'heat sinks,' helping to maintain smooth and consistent heat for full body therapy.
Stones have been used throughout the world and in traditional Chinese medicine for centuries. The stones we use are said to assist in the release of negative ions as well as provide many additional benefits for health. Negative ions play a major role in helping to detoxify and enhance your body's overall well-being. They have long been associated with improvements in mood and physical health. The stones are pulverized into a powder and then hardened into discs, maximizing the effective surface area and benefits.


Product Specifications
Dimensions
• Open: 72"x72"

• Closed: 32"x72"

• User Height: 6'3" or less for full coverage

• Maximum body circumference: 60" including arms
Stones
• Therapeutic Stones release Far Infrared when heated and offer Eastern Medicine benefits.

• Jade: 32

• Tourmaline: 64
Power
• 110V USA Type B Plug

• Powerful 600W Protected Control Box

• Timer: 5-60 minutes (beep when complete)

• 3 Separately Controlled Far Infrared Zones
Far Infrared
• ZERO EMF Carbon Fiber Far Infrared

• Tuned to 4-15um to precisely resonate with your body

• Note: Far Infrared ONLY (no near infrared)
Temperature
• Blanket: 77-176°F / 25-80°C

• Note: Far Infrared is slow to heat air. The air inside your sauna will not reach these temperatures, but you will feel the full intensity.
Sauna Safety
• Average EMF = 0.284 mG

• Certifications: SGS, RoHS Chemical, CE (EMC, LVD), IEM, Far Infrared Ray, Negative ION
What's Included
Far Infrared Blanket
Pillow 
Pro Control Box 
Instruction Manual
Therapeutic Stone Options
No Stones
Stones
What are the stones for?
Amplify and Intensify the Far Infrared
Stones can be a very powerful addition to your Far Infrared Sauna. All of the stones we use naturally release Far Infrared when heated. Just the act of holding one in your hand will cause it to release beneficial Far Infrared, powered only by the heat of your body. The end result is that the stones amplify and intensify the therapeutic value.
Retain Heat
The stones act as a 'heat sink,' holding on to the heat to help maintain smooth and consistent heat for full body therapy.
Eastern Medicine
There are vast benefits from each stone, according to ancient eastern wisdom. These stones have been used throughout the world and in traditional Chinese medicine for centuries. They are said to assist in the release of negative ions as well as provide many additional benefits for health. Negative ions play a major role in helping to detoxify and enhance your body's overall well-being. They have long been associated with improvements in mood and physical health. The stones are pulverized into a powder and then hardened into discs, maximizing the effective surface area and benefits.
Profound Benefits
Live a longer life
Studies show dramatic increases in lifespan due to the cumulative positive effects of Sauna. Frequent visits to a sauna were also associated with lower death rates from cardiovascular disease and stroke.
Improve cardiovascular health
When body temperature rises in a sauna, blood vessels dilate and blood flow increases. Improve blood circulation, blood oxygenation, cell activation, and dramatically reduce the risk of heart disease and sudden cardiac events.  Increased blood circulation enhances nutrient and oxygen delivery to tissues and organs, and promotes their optimal function and regeneration.  Saunas lower blood pressure while simultaneously raising heart rate; these effects mimic cardiovascular exercise.  Research has found that sauna use significantly reduces the risk of mortality from cardiovascular disease!
Lower inflammation
Inflammation is the cause of many chronic illnesses. Saunas reduce inflammation, and studies show they may be helpful for the treatment of inflammatory diseases such as heart disease, Type 2 diabetes, and autoimmune diseases. Increased circulation brings more nutrient-filled oxygenated blood to inflammation areas, and speeds up the healing and recovery process.
Improve your brain health
Saunas increase the production of brain-derived neurotrophic factor (BDNF), a compound that promotes the growth of new brain cells and improves brain function and memory. In addition, regular sauna use significantly reduces the risk of dementia and Alzheimer's disease, and can treat depression (similar to the way exercise does).
Stimulate your immune system
Hyperthermia (body heat) increases the immune response within the body. As core body temperature rises there is corresponding stimulation of the immune system and the self-healing processes. Raising body temperature helps kill harmful bacteria, fungi, viruses, and parasites that have infected the body, all while boosting immunity.
Detoxify
Sweating is a highly effective means of eliminating chemicals, heavy metals, and other toxins from the body. Research indicates that sauna use promotes elimination of a variety of environmental toxins, including hormone-disrupting BPA, pesticides, and heavy metals.  Far Infrared goes much deeper than tradition saunas to remove toxins from the body.
Relief and reduce pain
Radiant heat expands peripheral blood vessels. This action brings relief to muscles and soft tissue injuries, and can help relieve nerve pain.  In addition, increased blood circulation delivers oxygen-rich blood to injured muscles which helps to speed up the body's natural recovery process. Saunas also cause the body to release endorphins, which act as natural painkillers. Sauna use is associated with significant benefits for people with rheumatoid arthritis, fibromyalgia, and headaches.
Reduce stress & fatigue
The soothing warmth of far infrared saunas will relax and loosen your tight, sore muscles. Radiant heat therapy also relieves the stiffness, aches and soreness associated with aging. The chronic stresses of modern-day life cause many people to become stuck in "sympathetic mode," an agitated nervous system state that is often referred to as the "fight-or-flight" response. Living in a state of chronic stress impairs the body's ability to heal and eliminate toxins. Using an infrared sauna helps us transition from sympathetic mode into parasympathetic mode, a stress-free state in which the body can relax, detoxify, and heal.
Promote skin health
Increased circulation encourages a healthy flow of nutrients to your skin, which also helps to relieve acne, eczema, psoriasis, dermatitis, and burns. A deep sweat removes embedded impurities and dead skin cells, cleans pores, and leaves glowing, radiant skin. Saunas encourage the healing of lesions and minor cuts, and will help you keep your skin healthy, smooth, and hydrated. 
Burn calories
Studies show that sauna use is equivalent to moderate exercise (jogging for 30 minutes). Through deep penetration of fat cells, far infrared heat therapy may help clear away cellulite. 
Additional benefits shown in scientific studies
Improves Lymph Circulation, Treats Allergies. Aids in Digestion and Relieves Constipation.  Kills and removes unhealthy cells, including Cancer cells.  Dramatic increase in antibiotic delivery and effectiveness when used to treat Lyme disease.
---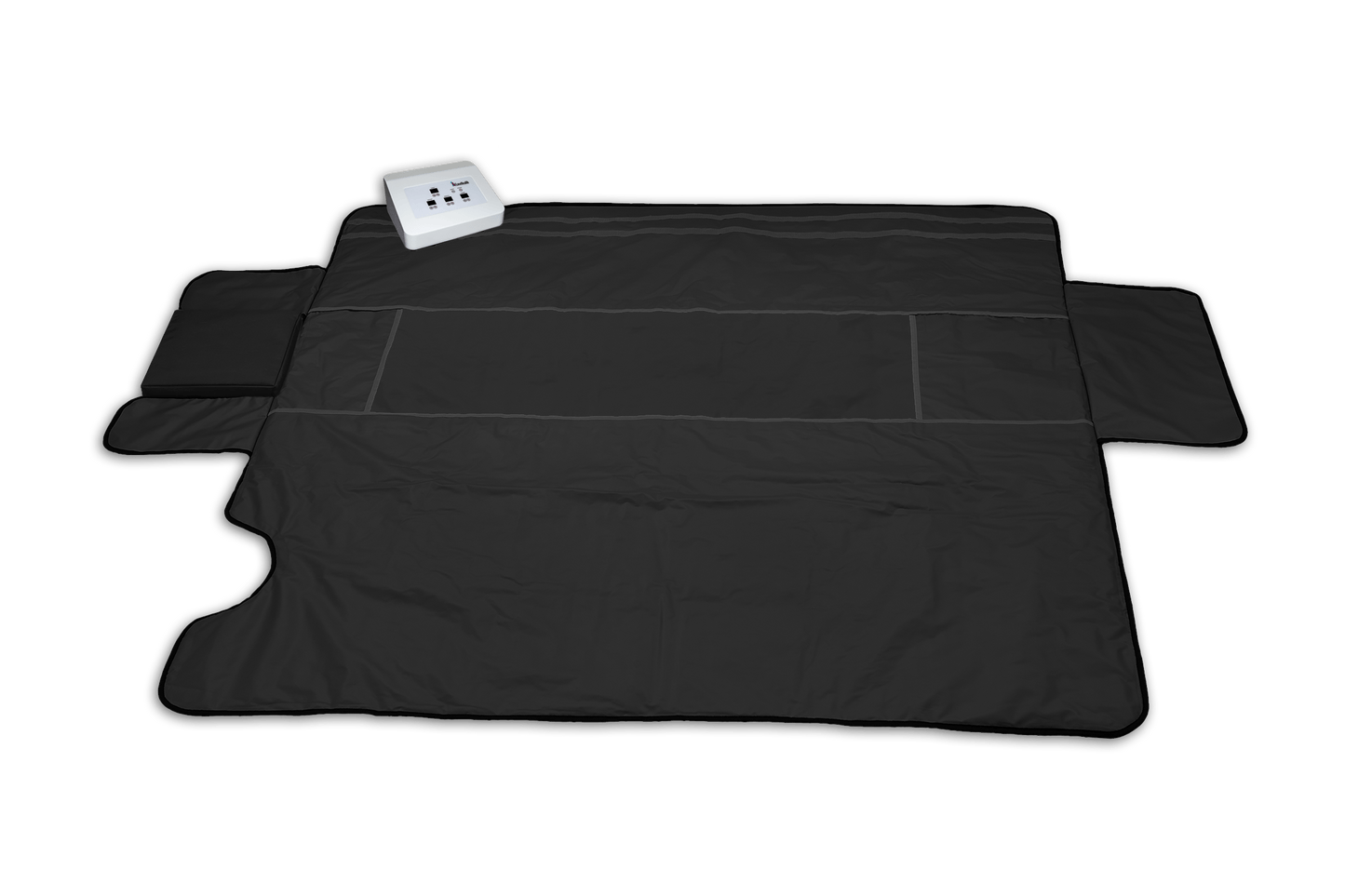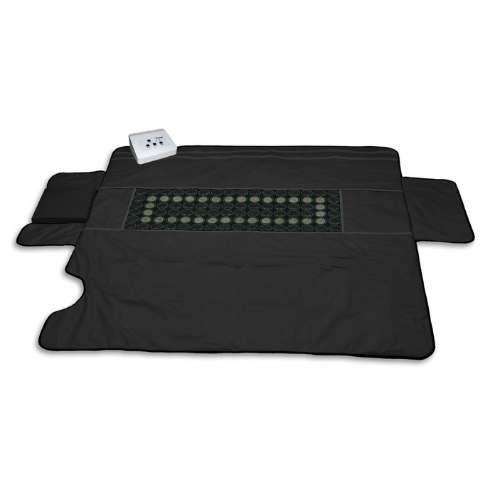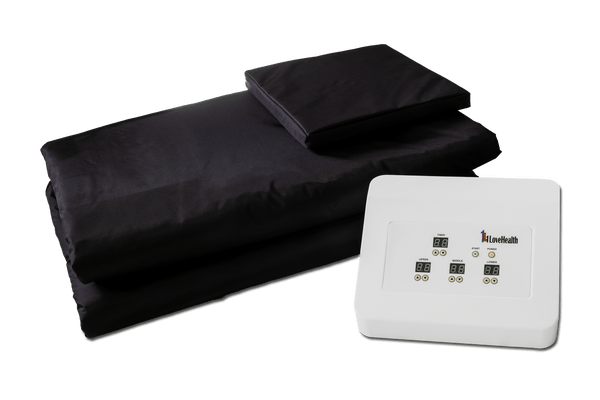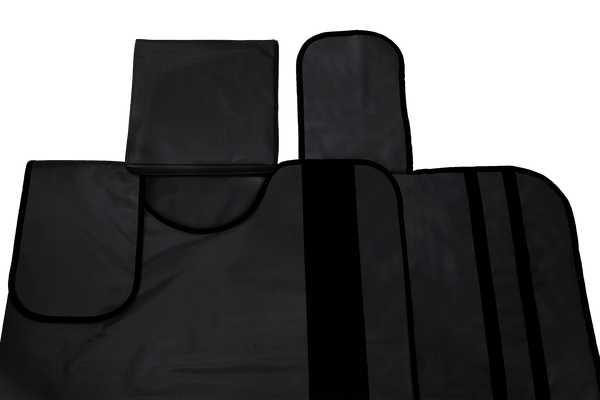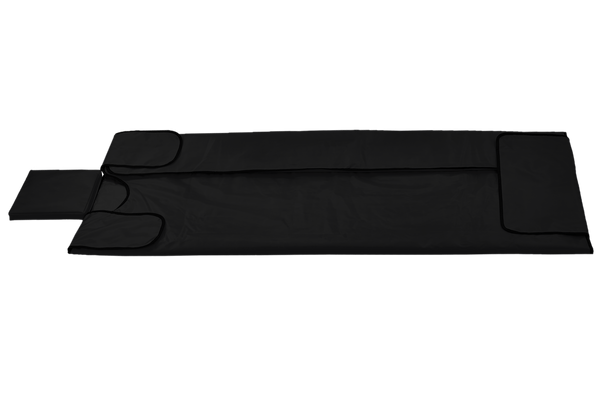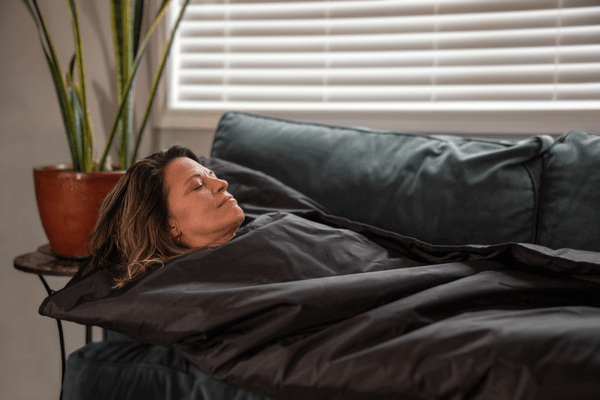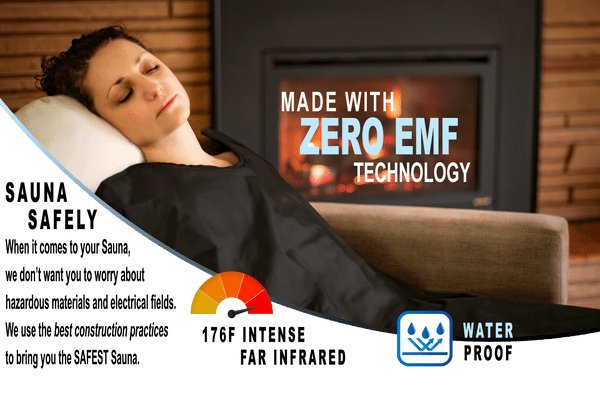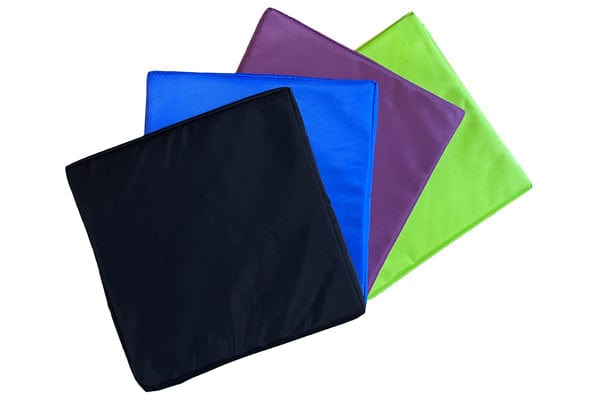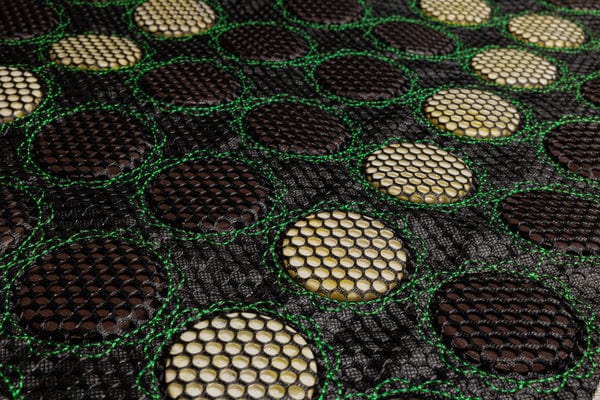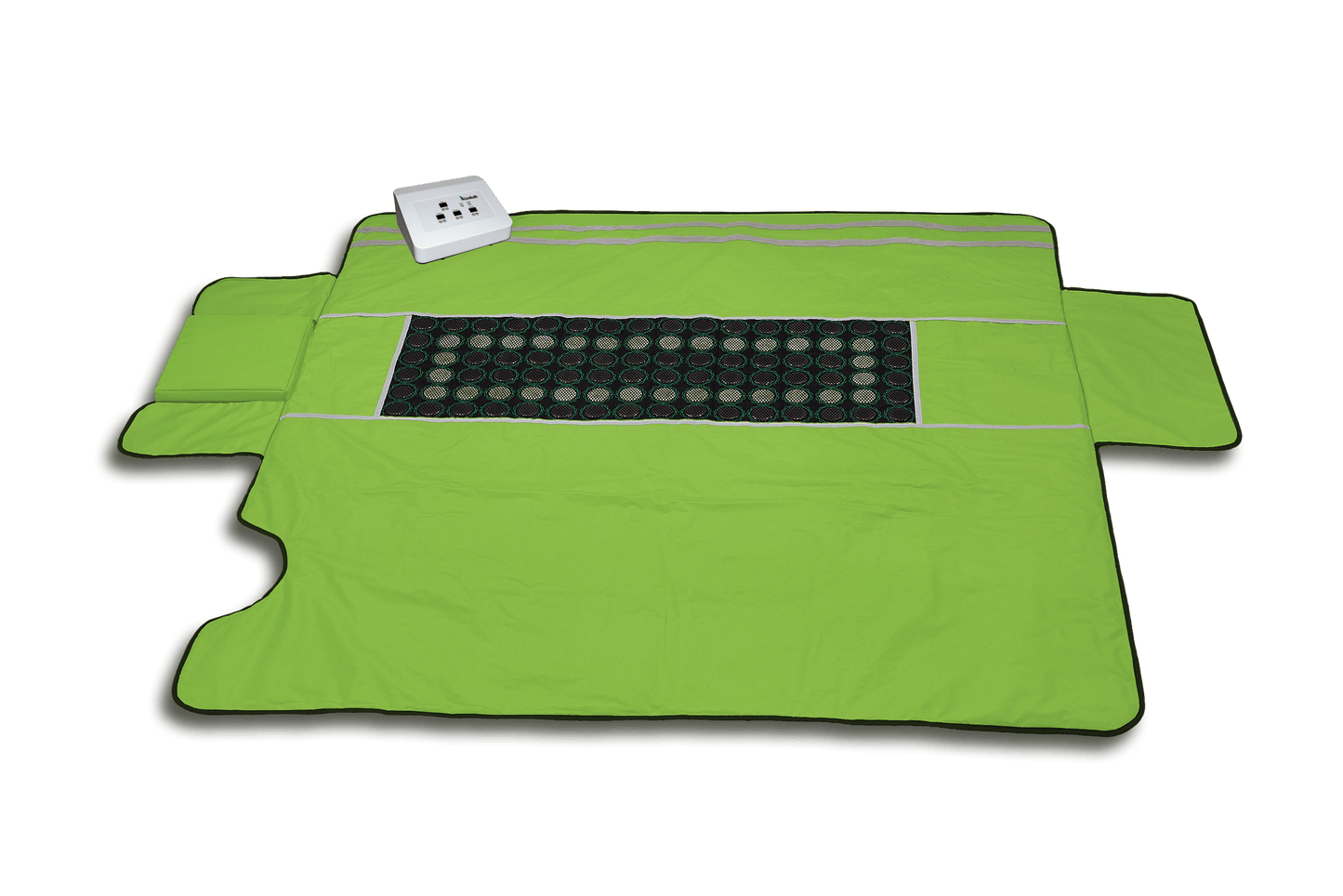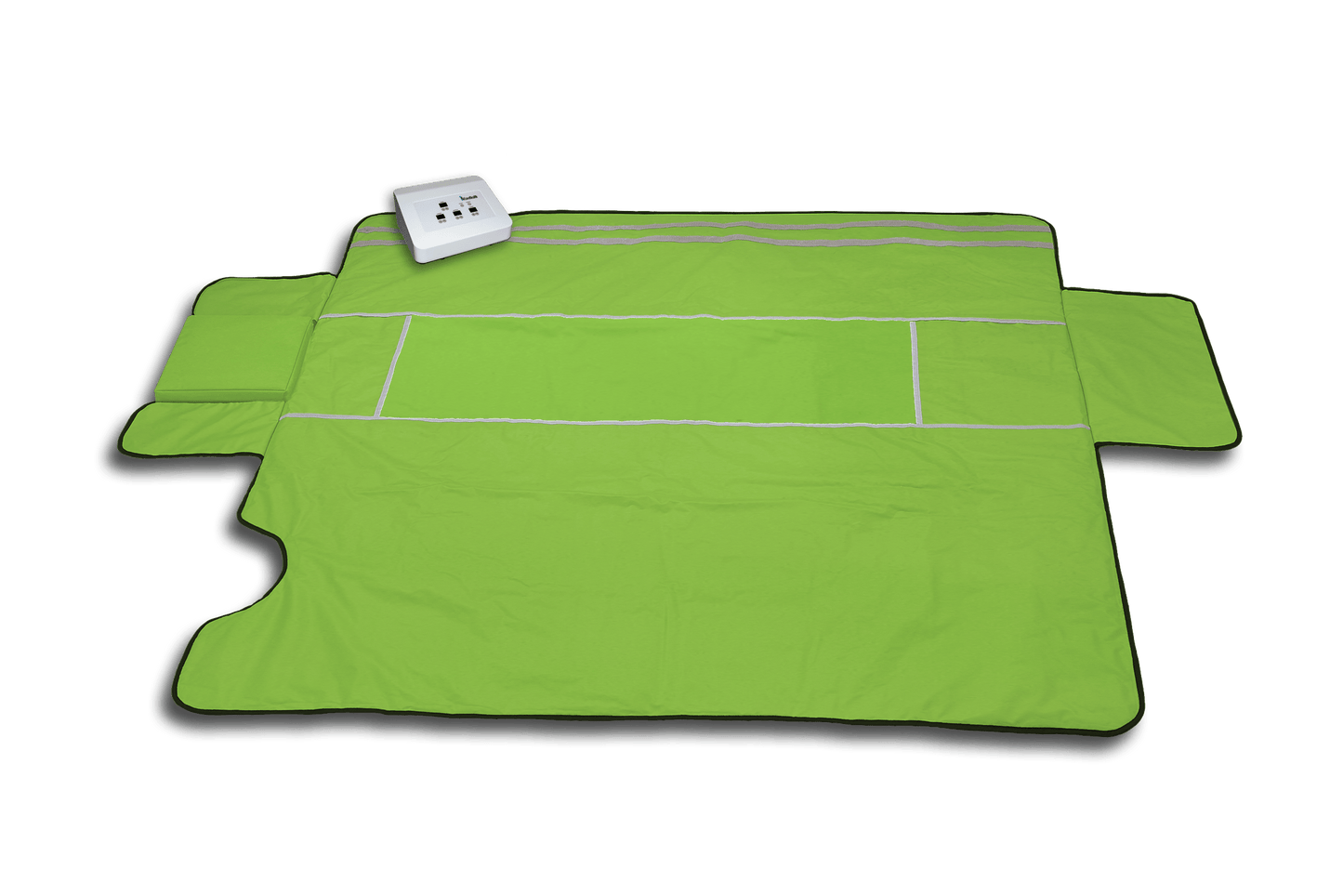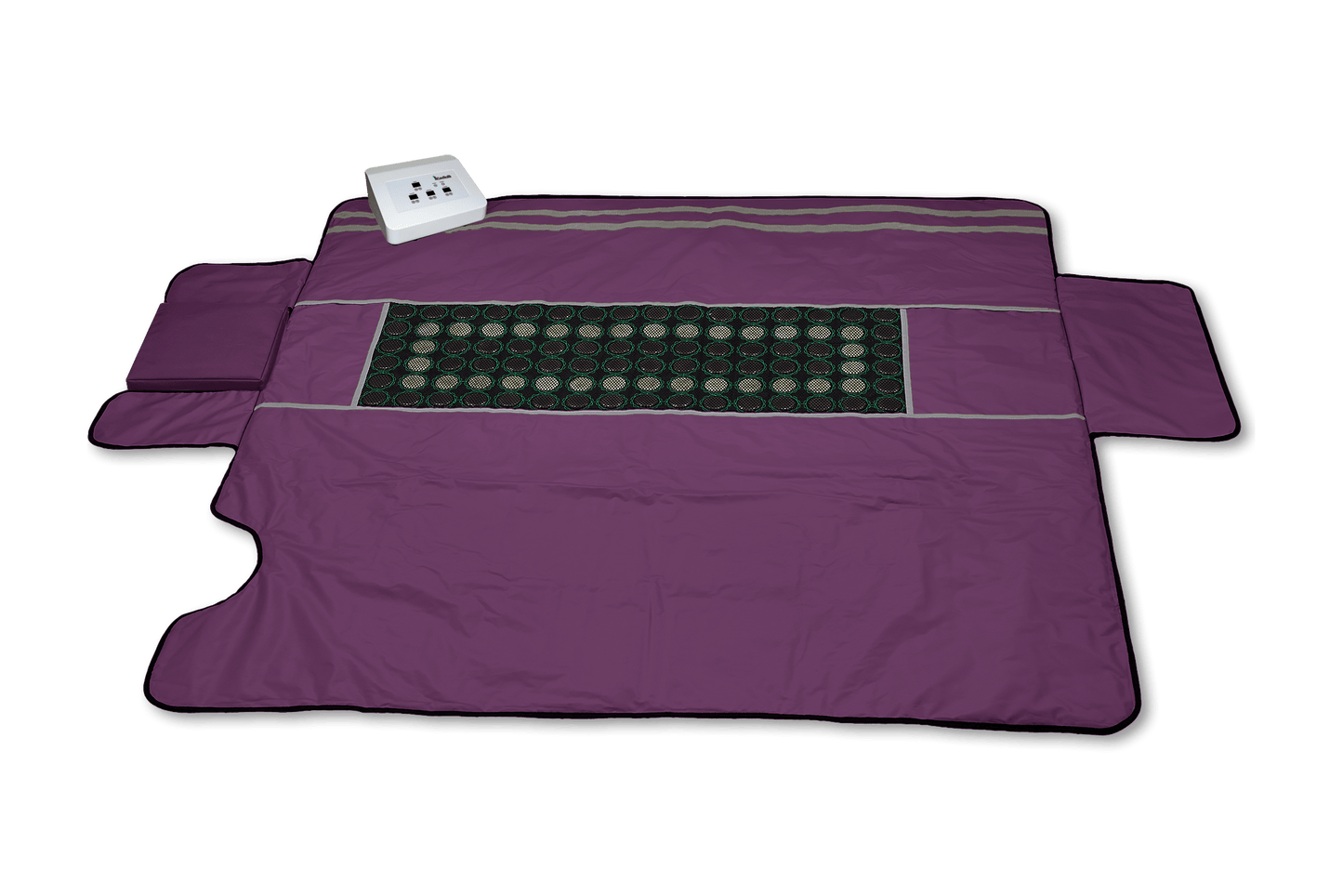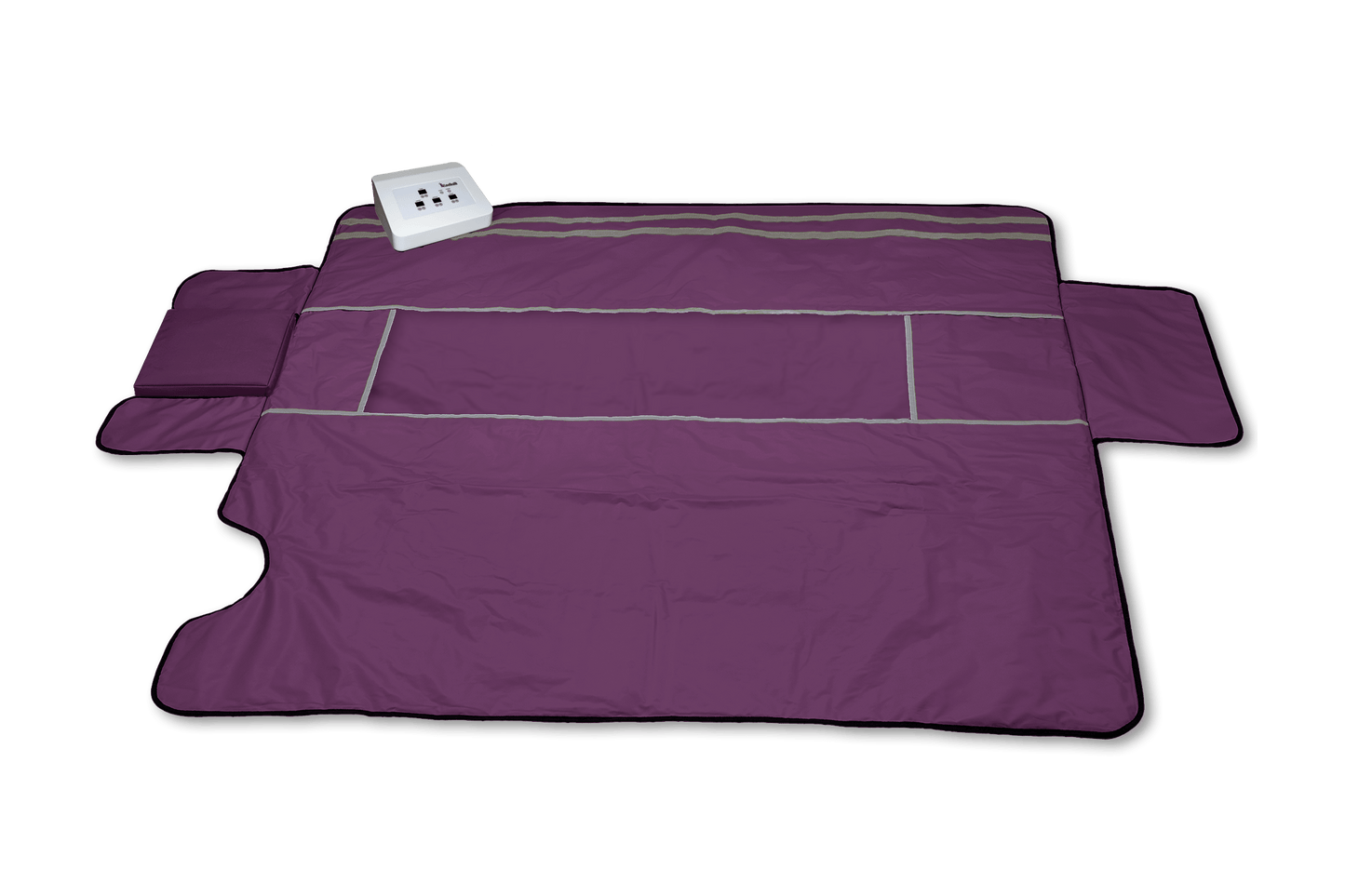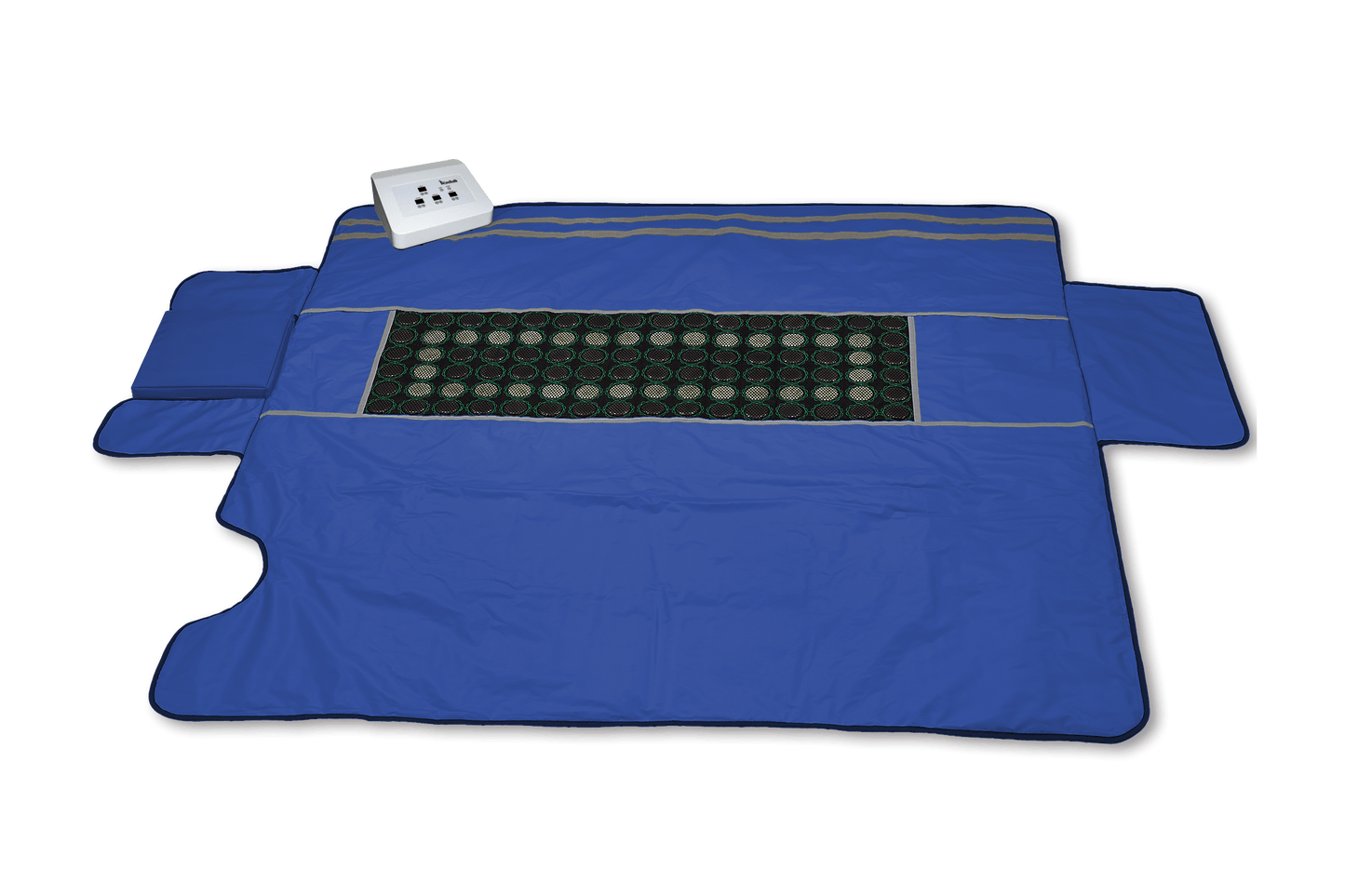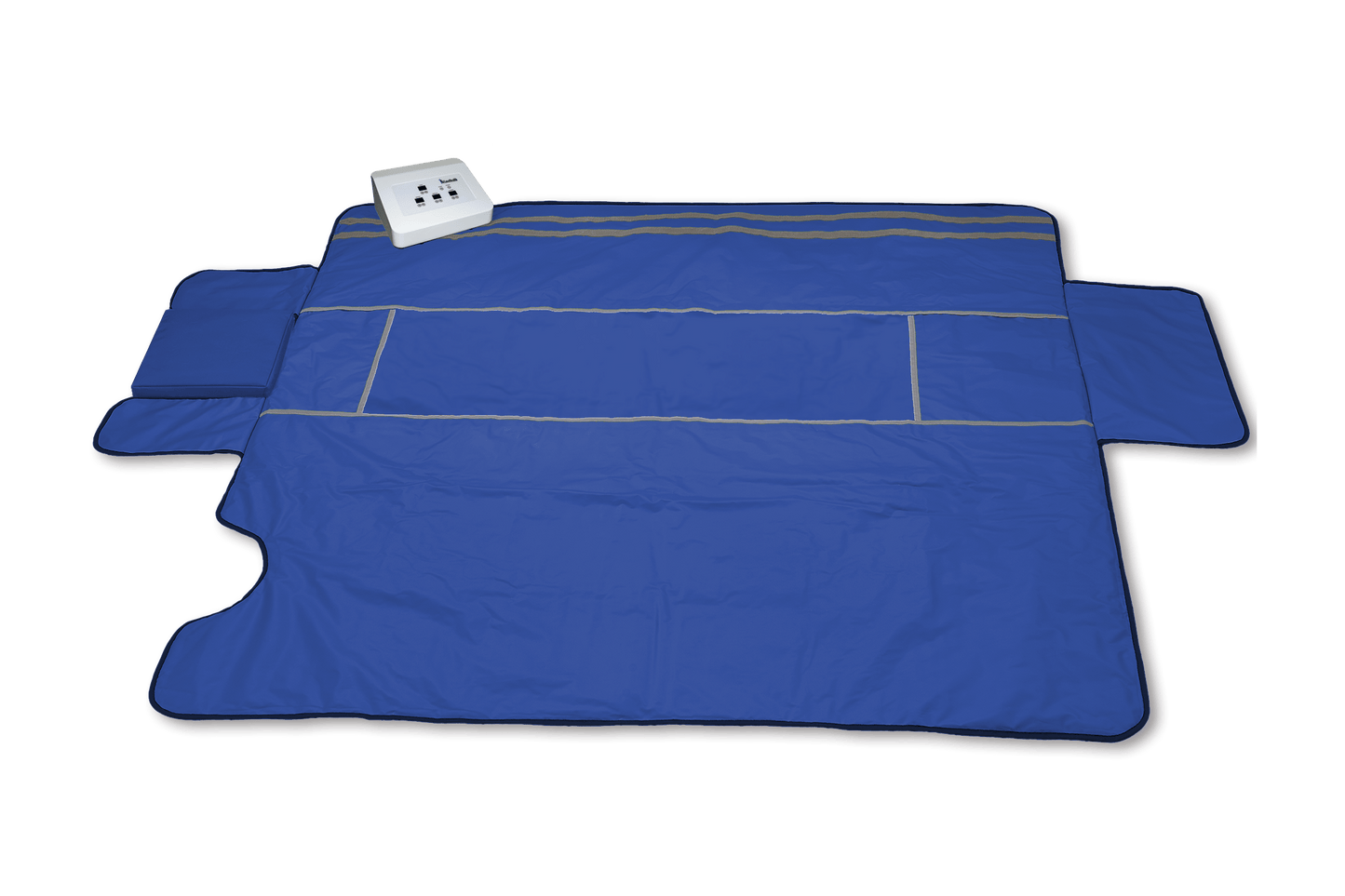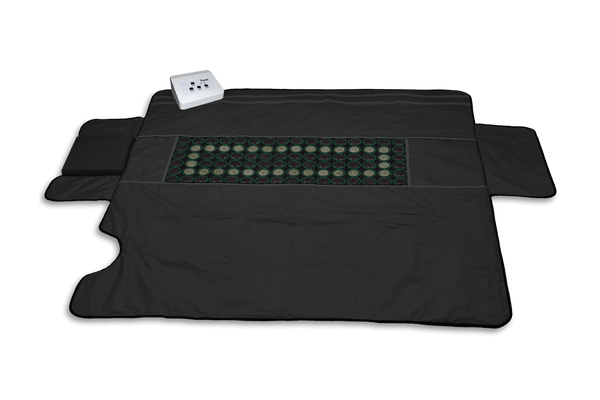 Love this product, easy to use and I get a good hot sweat. My only complaint is that it did not come with a carry case.
Product is very well made, and 1love staff was helpful in answering my questions.
This is my second sauna purchase through this shop, the first being the Sauna Dome which I ABSOLUTELY LOVE. You might wonder why I would buy a sauna blanket if I already had a sauna dome... let me tell you:I am an active, late 40's woman whose body was starting to have a hard time keeping up with my ambitions. I was not sleeping well, feeling tired all the time, my muscles and joints started aching regularly, and I found myself feeling all around "blah". That is when I discovered the benefits of sauna. It's now become part of my daily routine and has changed my life. My body feels amazing. My skin feels amazing. I have more energy, I feel healthy and alive, and I'm sleeping so much better than I had in years.As much as I love my sauna dome, I wanted to be able to have something even more portable so I could sauna anywhere. The blanket was the perfect solution. It's compact enough that I can take it with me when I travel. And unlike the dome that I have set up on the ground, I have discovered the blanket is really nice to use on my bed or even on my living room recliner while watching a movie. When I want a real good sweat I use my dome, but when I am just looking for some deep comfy relaxation I will use my blanket, set it on a lower temperature than I do my dome, and stay in it for a good long time while it does it's sweet sweet magic on my body. Of course if I wanted a real good detox and sweat buckets, I do have the option to turn up the heat on the blanket and get similar results as I do in my dome.The sauna blanket is very well made... thick, sturdy, and seems to be of very good quality. Being wrapped up in it gives me the same secure feeling of snuggling under a weighted blanket. It really does feel like a warm hug... but a next level hug... a sauna hug!
I love this product! I live in Utah, and the winters are long and cold and I feel like this product is going to become an essential part of my daily routine in winter. The sauna blanket is very light and portable, I have set it up in different rooms in my home with no problem. This also makes it easy to store; I keep it on a shelf in my garage when not in use. It is really easy to use; for some reason I was anticipating tubes and water wells etc. but set up is so easy and only involves connecting cables to the blanket and the control device. The stones heat the blanket and they are concentrated on pressure points from the neck to the top of the legs. I was surprised at how fast the blanket was to heat up, it is almost instant. I have used this blanket after skiing, running and riding my bike. It has eased the aches I have had after these activities, especially in my lower back and hips. It also feels incredibly relaxing and I have definitely nodded off in more than one of my uses! A side bonus is that it provided a point of humor for my kids who thought I looked like a giant burrito! Overall I am really enjoying this blanket; the portability, ease of use and quick heat up make it well worth the purchase.
easy to clean, good and steady infrared heat build, there are no elements under the stone padding but good body heat coverage over all. if youre taller than 6ft you will need something larger than this if you want full body coverage. great unit for the money. easy to store and good multi level control. worth every penny so far. hope it lasts long