Alorair Pureairo Hepa MAX 770 Green Industrial Air Scrubber - PureAiro HEPA Max 770-Green
Share
Regular price

Price:

$555.00

Regular price

List Price: $699.00

Sale price

Price:

$555.00

You save:

$144.00 (21%)

Unit price

per
PureAiro HEPA Max 770-Green
PureAiro HEPA Max 770-Green
FINANCING AVAILABLE

Airpuria is excited to announce that we have financing options available for all customers.

If you have any questions please contact the Airpuria Team. Call: 773-337-8822 or email us at support@airpuria.com.
Product Description:
【3-Stage Filtration System】: AlorAir PureAiro HEPA Max 770 Air Scrubber build with Variable Speed as a portable HEPA air purifier. It can be used with up to 3 levels of filtration, pre-filters, activated carbon/HEPA filters.
【Multiple Features】: It is a bigger air intake than any competitor's units. This Air machine has a Filter change light, an hour meter display, a daisy chain GFCI Duplex, Stackable, and variable speed control and regulator. These features allow you to keep track of the conditions of your work environment. Inlet 14". Outlet 8".
【10-YEAR Warranty】: 10-Year housing and 1-Year parts and labor warranty. This HEPA air cleaner with cETL listed has a Circuit breaker protector that protects not only connected loads but onboard components. Carb EO# G-20-259. EPA Registration # 99216-CHN-1.
【Portable and Convenient】: PureAiro HEPA Max 770 in small size, makes it easy to move from one room to the next, and the system is stackable and made from rotomolded plastic for maximum durability.
【Safe And Reliable】: AlorAir PureAiro HEPA Pro 770 Air Scrubber Ideal for home repair and construction sites, sewage remediation, water, and fire damage restoration, This separately sold filter is perfect for a salon or print shop.

EASY MAINTENANCE
Filter Change Light indicates restricted airflow, easy maintenance, and toolless filter changes. Removable black cover for isolation of MERV-10 Filter and HEPA/Activated Carbon Filter.
A three-stage filtration system helps to reduce pet dander and offers fresh air.

UNIQUE OPERATION PANEL DESIGN
GFCI outlet allows daisy-chaining.
Switch, On-Off-On

Hour Meter

Variable Speed Control

Auxiliary Outlet GFCI

HEPA Filter Change light

Circuit Breaker
COMPACT BUT POWERFUL
14 "large air inlet and airflow up to 550 CFM making it an ideal tool for both business and home. The PureAiro HEPA Max 770 will work just as hard as you and your team to create outstanding results at job sites.

IN THE BOX

HEPA Pro 770 Max Air Scrubber ×1 
MERV-10 Pre Filter ×1 
HEPA Carbon Filter ×1 
User Manual ×1
---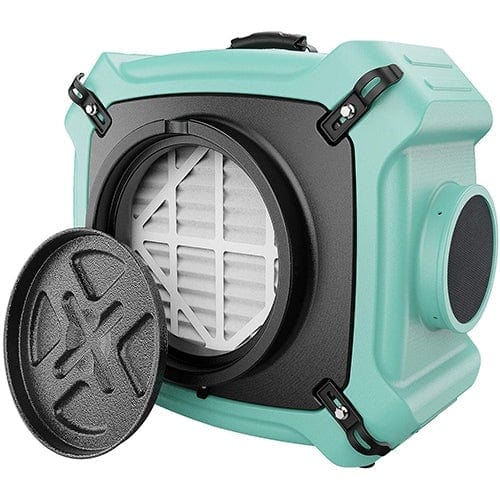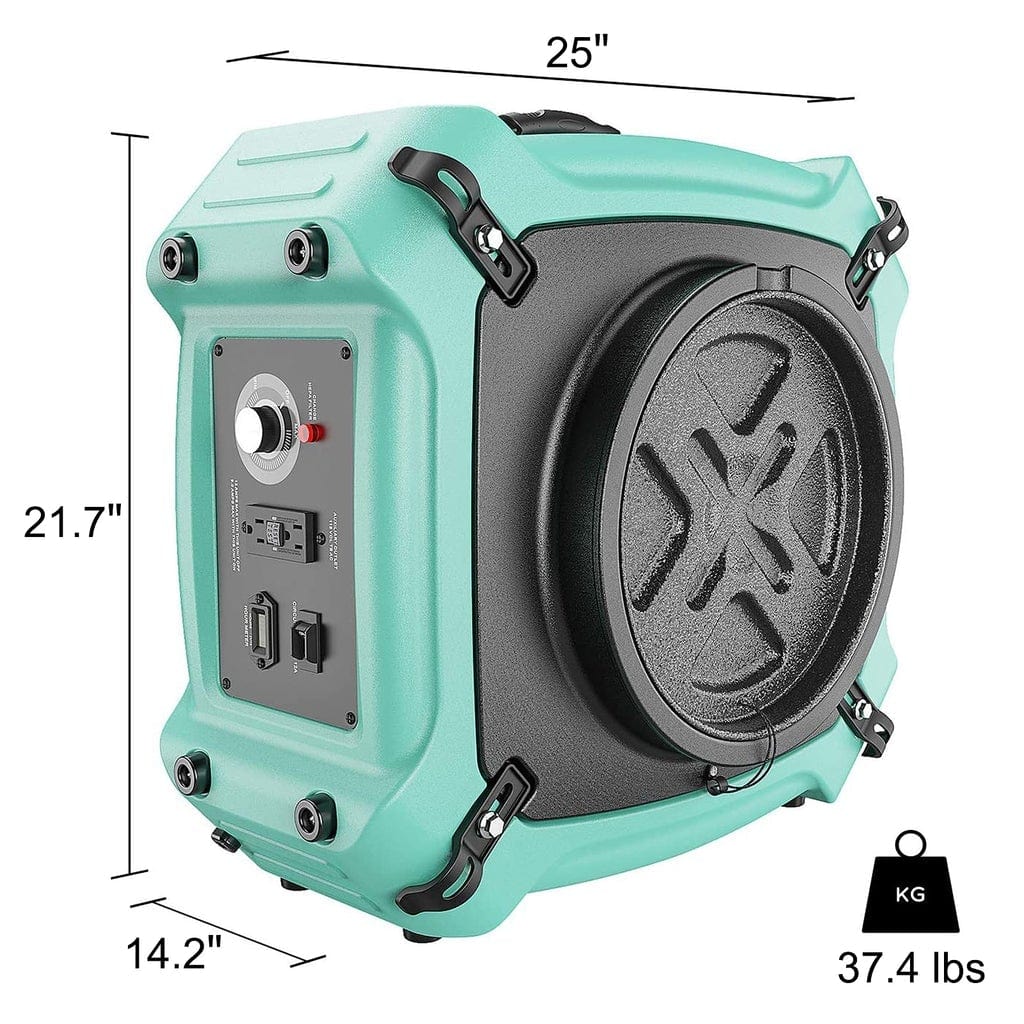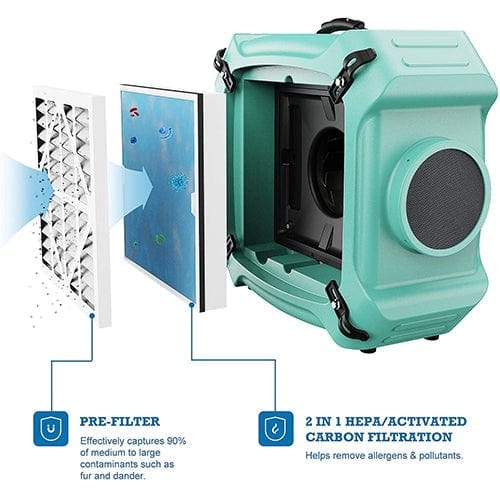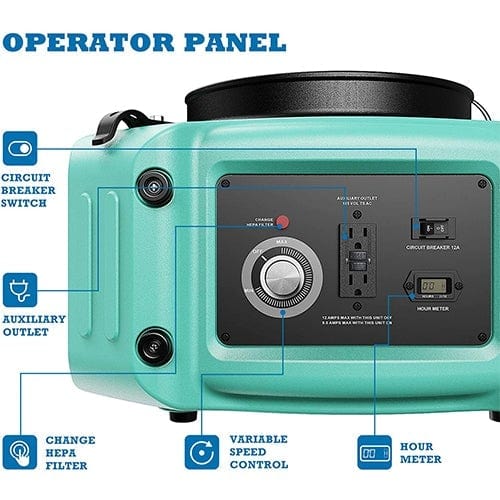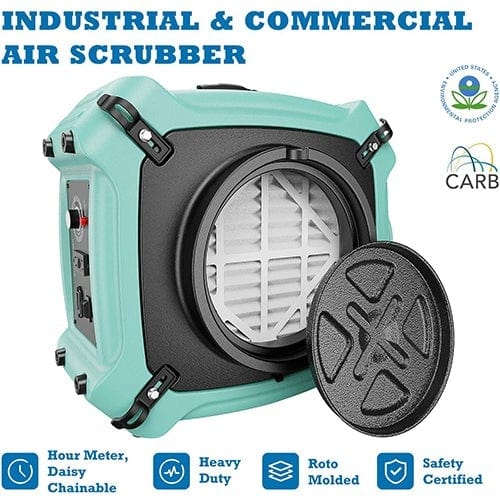 BREATHE RIGHT, RIGHT AWAY
This thing looks very simple, the setting is very simple, you plug it in, turn on the switch, turn the button, and continue your day. We have this in our bedroom. Within 4 hours, there was a very significant difference in air quality. When you walk into the bedroom from the living room, the odor disappears and it smells clean-almost sterile, and it feels like breathing pure O2 from an oxygen tank. We no longer wake up with stuffy nose, we sleep better, and we don't worry about babies inhaling indoor pollutants.
THIS IS A QUALITY PRODUCT!
We were impressed by the apparent quality of this product. It looks good and easy to operate. I really like the three-in-one filter. This is the trend of the future. There is no doubt that when this machine senses impurities... When the filter needs to be replaced and cleaned, it will display a red light. The speed control knob is very convenient, even if the speed is reduced at night, no noise will be heard in the bedroom.
IT'S PERFECT
I can honestly say that this is a great purchase. I have 2 cats and a dog, which makes the house more sultry. This is a great help to my sleep and air quality. I can't recommend it too much, it works very well. I use it in the master bedroom, which is the ideal size. It's really quiet at low speeds. Overall, this is great, and our living room may get a bigger one.
PERFECT PRODUCTS !
I use this air scrubber to clean the air of my living, I have had it for one week, I distinctively find the improvement of the indoor air quality, it ensures the health of my family, I will use it all the way !
EFFICIENT AND QUIET
Generally, it is a great unit, I want to remind the people who suffer from the high humidity, pay attention to the quality of the dehumidifier, this dehumidifier is more competitive than others, I gave up the old dehumidifier, and I will choose the new dehumidifier, it's better and highly recommended !