For athletes and fitness enthusiasts, a proper post-workout recovery routine is just as important as the workout itself. After intense exercise, your body needs time to rest, rebuild, and rehydrate. While rest days are crucial, there are also active recovery techniques you can use to enhance the body's repair process. One such method is to use sauna bathing after your workout.
The heat therapy provided by a sauna regularly offers numerous benefits that can reduce muscle soreness, improve circulation, boost hydration, and speed overall post-workout recovery.
In this post, we will dive into the science behind how sauna use after a tough training session can help your body bounce back faster. We'll also explore the different types of saunas available at Airpuria to suit your space and budget. From traditional dry saunas to infrared to outdoor options, you can find the perfect sauna to take your post-workout routine to the next level.
How Saunas Can Enhance Your Post-Workout Recovery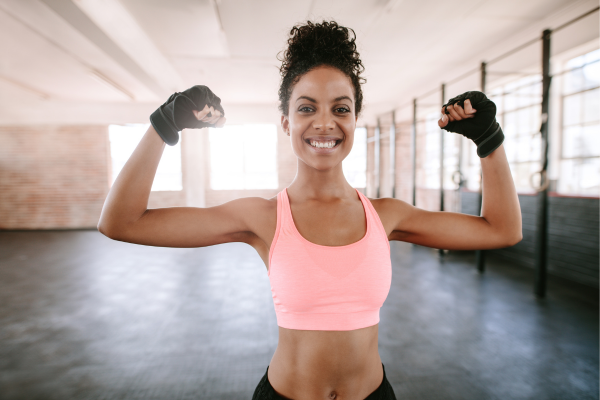 1. Reducing Muscle Soreness with Heat Therapy
After an intense workout, muscle soreness and stiffness are common as your body repairs and strengthens your muscles. The heat of a sauna can play a beneficial role in mitigating this post-workout muscle soreness by enhancing blood circulation. This heightened blood flow brings a greater supply of oxygen and nutrients to your muscles, facilitating their recovery process. In addition, the heat assists in loosening tense muscles and alleviating discomfort.
Incorporating regular sauna sessions into your routine can be instrumental in minimizing the impact of delayed onset muscle soreness after your most challenging workout sessions.
2. Improving Circulation and Relaxation
In addition to soothing sore muscles, saunas also boost overall circulation in the body. Heat causes blood vessels to dilate, increasing blood flow and enhancing circulation to deliver oxygen and nutrients. This oxygen-rich blood rejuvenates muscles and enhances cardiovascular health.
Sauna bathing has also been shown to help those with high blood pressure. This is especially significant to a normal workout routine because exercise can temporarily cause higher-than-normal blood pressure. That means that a post-workout sauna session can be a great way to find balance.
The relaxation achieved in the sauna offers a mental respite after physical exertion, making it a perfect component of post-workout rejuvenation due to the blend of enhanced circulation, eased muscle tension, and mental relaxation.
3. Maximizing Hydration with Steamy Air
The sauna's hot and humid environment can greatly enhance hydration levels after an intense workout. When you sweat heavily, your body loses fluids, which can result in decreased hydration. The humid air in the sauna might create a sensation of excessive sweating, encouraging you to consume more fluids. By drinking extra water after using the sauna, you can replenish the fluids lost through sweat.
Maintaining proper hydration is crucial to prevent muscle cramps, fatigue, and other factors that might impede post-workout recovery. The sauna's environment cleverly encourages increased fluid intake to ensure optimal hydration levels.
Choosing the Right Sauna for Your Needs and Budget
Traditional Saunas for an Authentic Experience
For a truly authentic sauna experience, consider a traditional sauna available at Airpuria, whether it's an indoor sauna or outdoor sauna. Traditional saunas use electric heating systems to generate dry heat up to 185°F. The wooden interior also enhances the traditional look and feel. Sitting in a cedar or hemlock sauna surrounds you with the scent of real wood. Traditional saunas offer a time-tested sauna experience.
Custom Saunas
At Airpuria, you can customize the size, layout, wood type, and additional accessories. Add a bucket and ladle for the traditional sauna water pouring ritual. Install interior lighting, speakers, and glass doors to enhance the design. With full customization, you can create the ideal traditional sauna for your home.
Start Your Sauna Customization
Enlighten Dry Traditional Sauna SunRise - 2 Indoor - 2 Person Sauna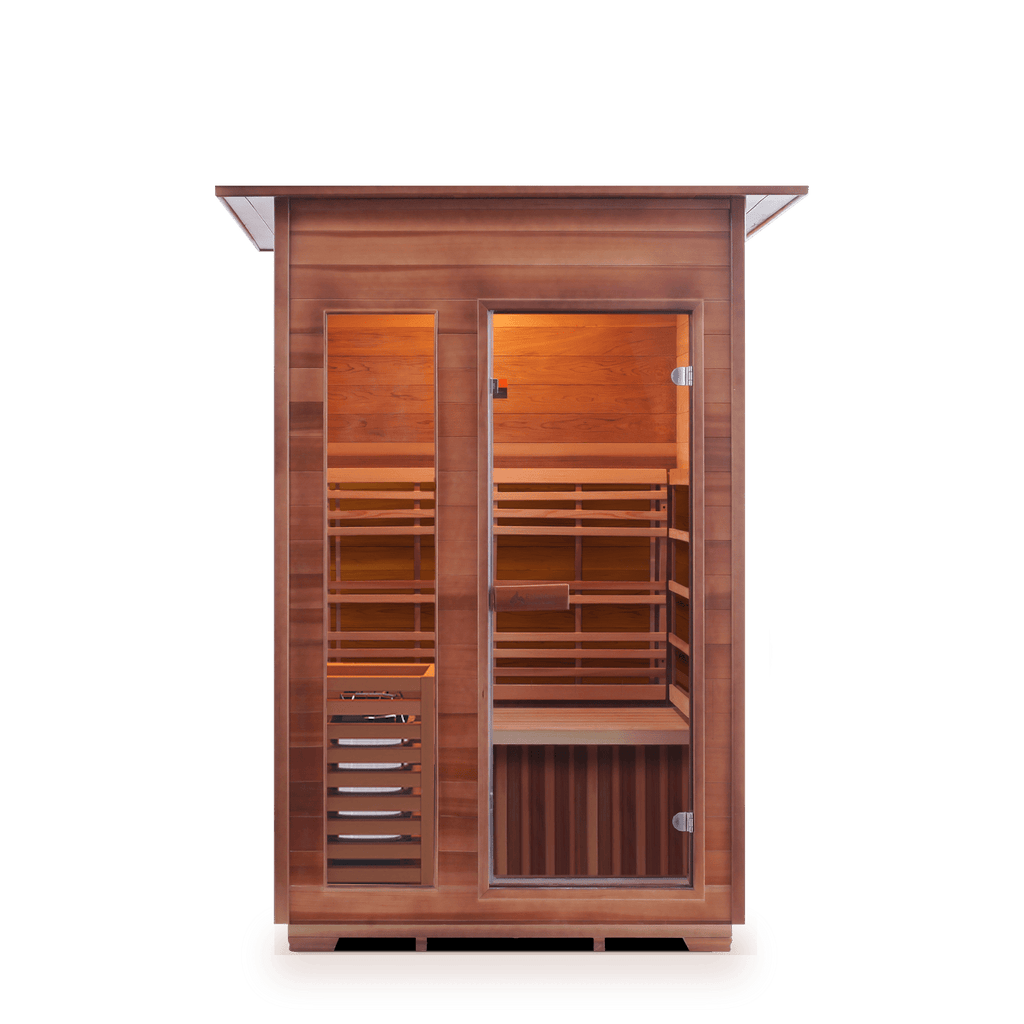 The Enlighten Dry Traditional Sauna SunRise - 2 Indoor is a compact 2-person sauna that provides an authentic dry sauna experience. It uses quality electrical heaters to generate temperatures up to 189°F. The interior showcases beautiful natural wood, and the glass door allows you to gaze outdoors while you're in the sauna. This sauna delivers traditional dry heat in a space-saving size.
Enlighten Dry Traditional Sauna SunRise - 3 Indoor - 3 Person Sauna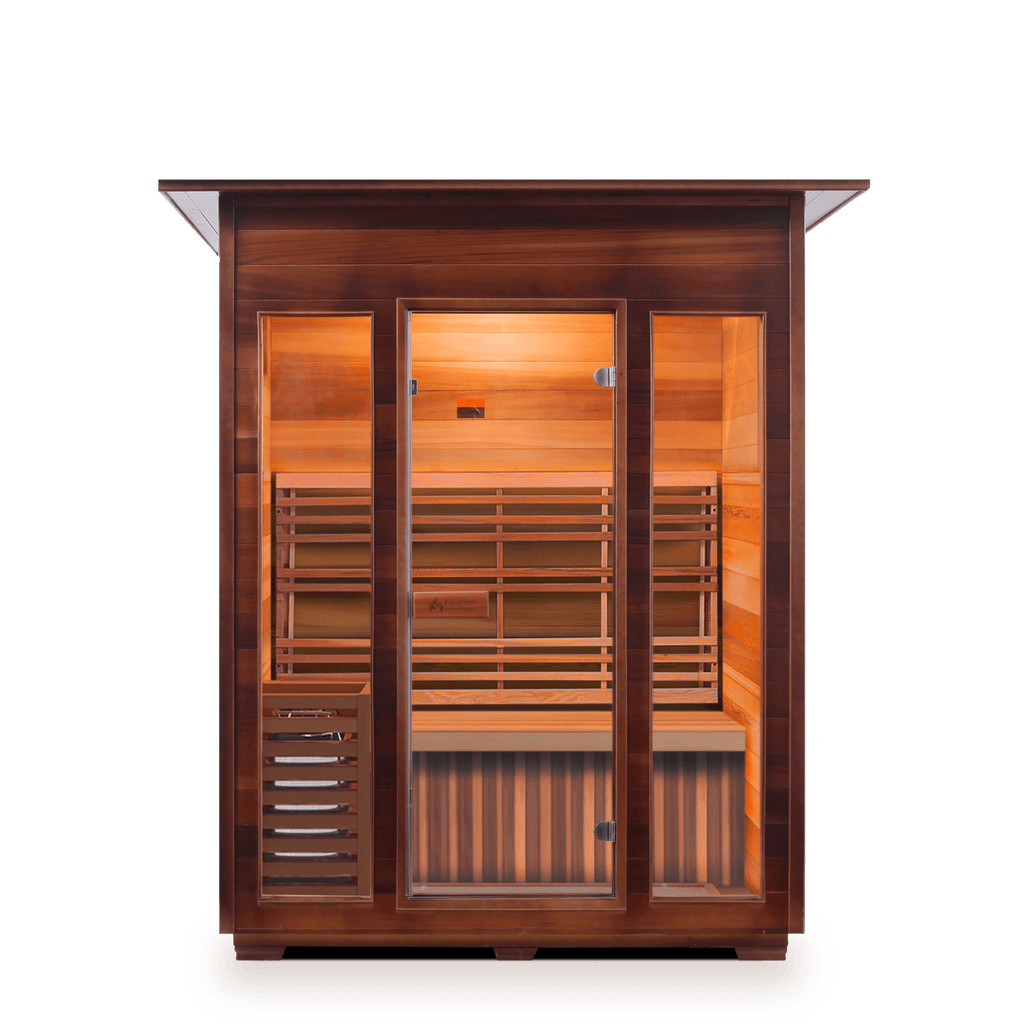 With space for 3 people, the Enlighten Dry Traditional Sauna SunRise - 3 Indoor provides room to share the authentic sauna experience. It uses electrical heaters to heat the interior to up to 189°F. The beautiful wood benches and accents immerse you in traditional style. Add a bucket and ladle for the full experience.
Infrared Saunas for Efficient Heating
Infrared saunas offered by Airpuria utilize advanced infrared heaters that directly heat your body instead of the surrounding air. This unique approach enables these saunas to achieve therapeutic temperatures more quickly and with greater energy efficiency. The infrared heat has the ability to penetrate tissues more deeply, effectively enhancing sweating and circulation.
Infrared saunas eliminate the need for waiting as the room warms up. Once activated, the heaters immediately emit infrared energy. Unlike traditional saunas, infrared saunas sustain a more comfortable temperature spectrum. This feature renders extended sauna sessions more manageable and tolerable for individuals.
Infrared saunas cost less to operate and heat up quickly, making them the more efficient sauna heating option. As a proud authorized dealer, Airpuria offers high-quality carbon infrared heater panels. Customize your layout, accessories, and more.
Enlighten Full Spectrum Infrared Sauna RUSTIC - 4 Indoor - 4 Person Sauna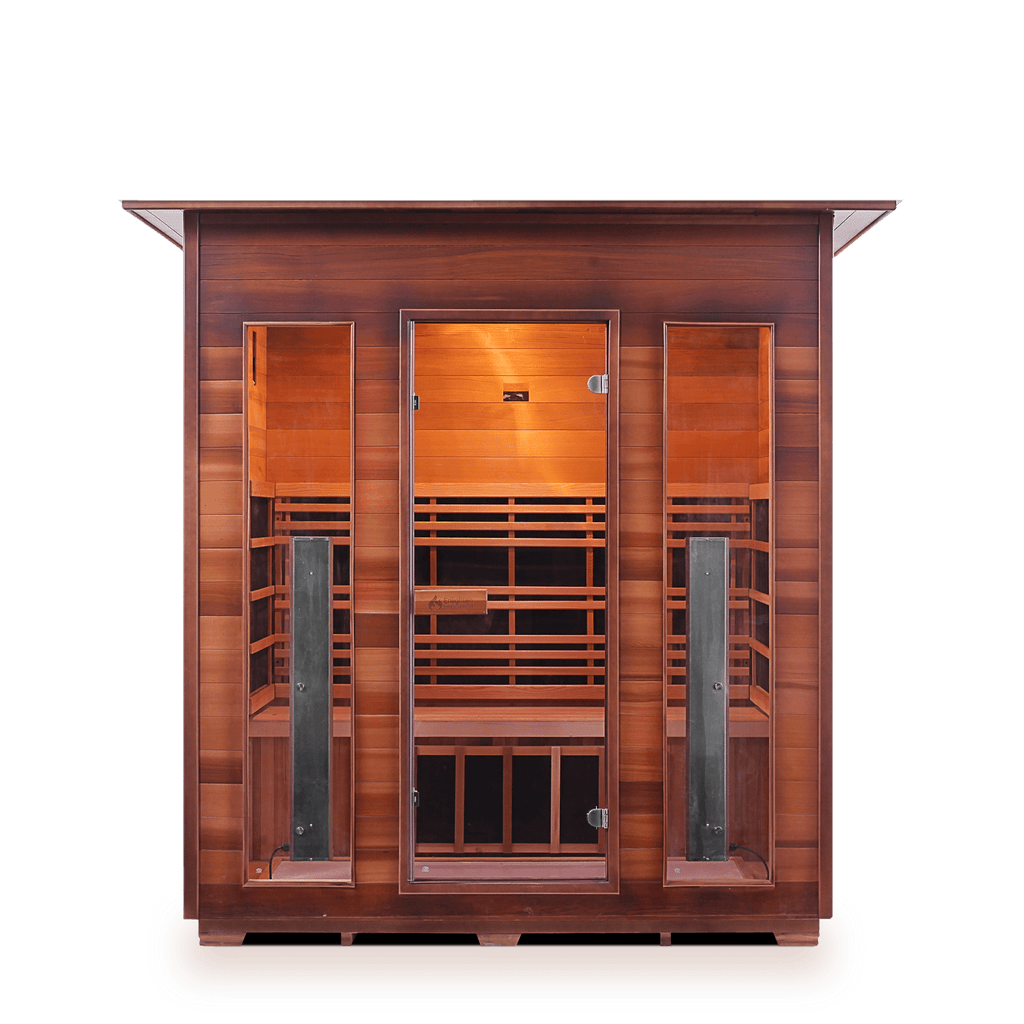 The Enlighten RUSTIC - 4 Indoor infrared sauna provides efficient heating for 4 people with both near, mid, and far infrared wavelengths. The carbon infrared heaters surround occupants to directly heat the body without warming the air. Sweat out toxins in the red cedar wood interior accented by the glass front wall with a view outdoors.
Enlighten Full Spectrum Infrared Sauna RUSTIC - 2 Peak - 2 Person Outdoor Sauna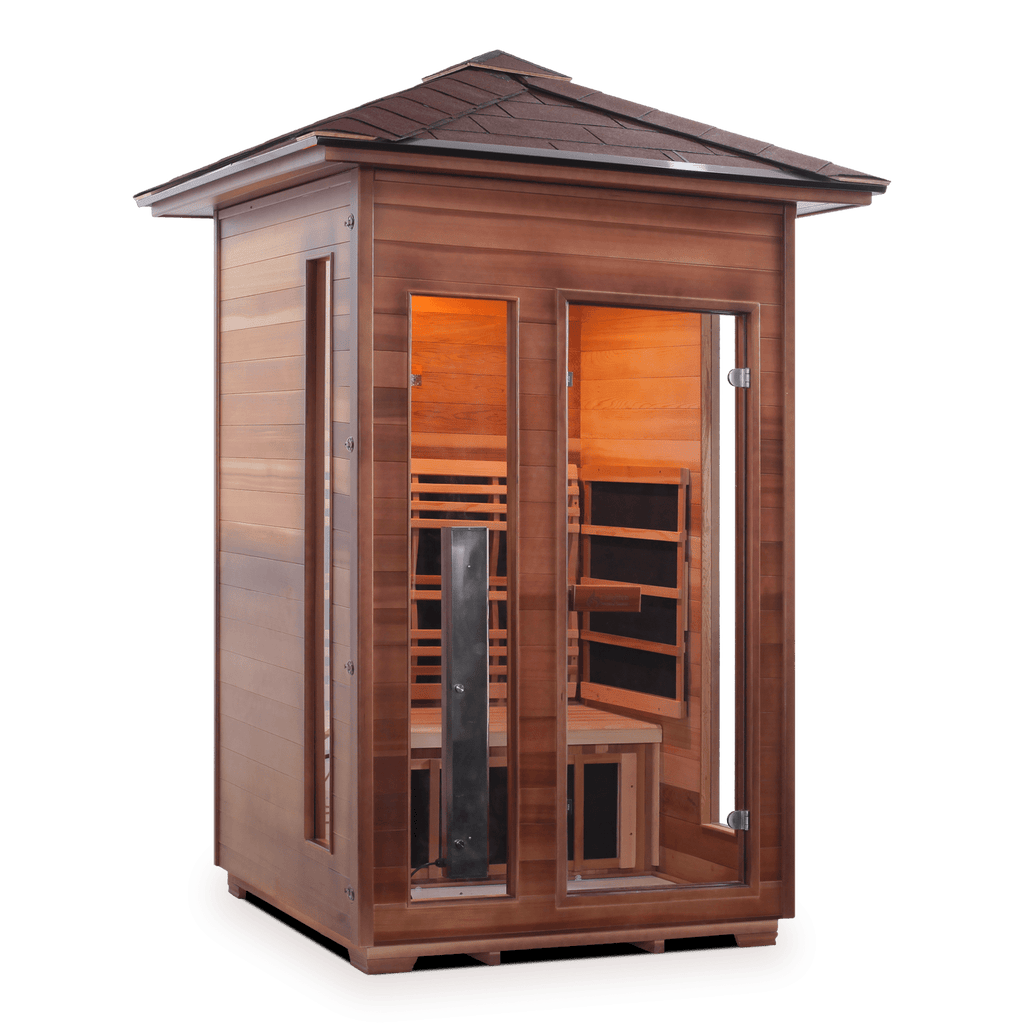 With carbon and ceramic infrared panels, the RUSTIC - 2 Peak heats your body directly to induce a deep, detoxifying sweat. The weather-resistant western red cedar construction allows you to sauna outdoors year-round surrounded by fresh air. Its compact size fits on your patio or deck.
Outdoor Saunas for Year-Round Relaxation
For sauna enthusiasts who want to enjoy the benefits year-round, Airpuria offers high-quality outdoor saunas. Outdoor saunas allow you to relax surrounded by fresh air and the sights and sounds of nature. 
Outdoor saunas available on the Airpuria website use insulated wall panels and energy-efficient heating systems to maintain hot temperatures even on cold days. In addition, the saunas come with durable exterior finishes to withstand the elements.
Add a roof vent or heater guard to circulate air. Outdoor saunas at Airpuria allow you to customize the layout, accessories, and more. Get built-in benches, lighting, and audio systems to create your perfect backyard oasis.
With the right outdoor sauna design, you can sauna in comfort regardless of the season.
Enlighten Dry Traditional Sauna SunRise - 2 Peak - 2 Person Outdoor Sauna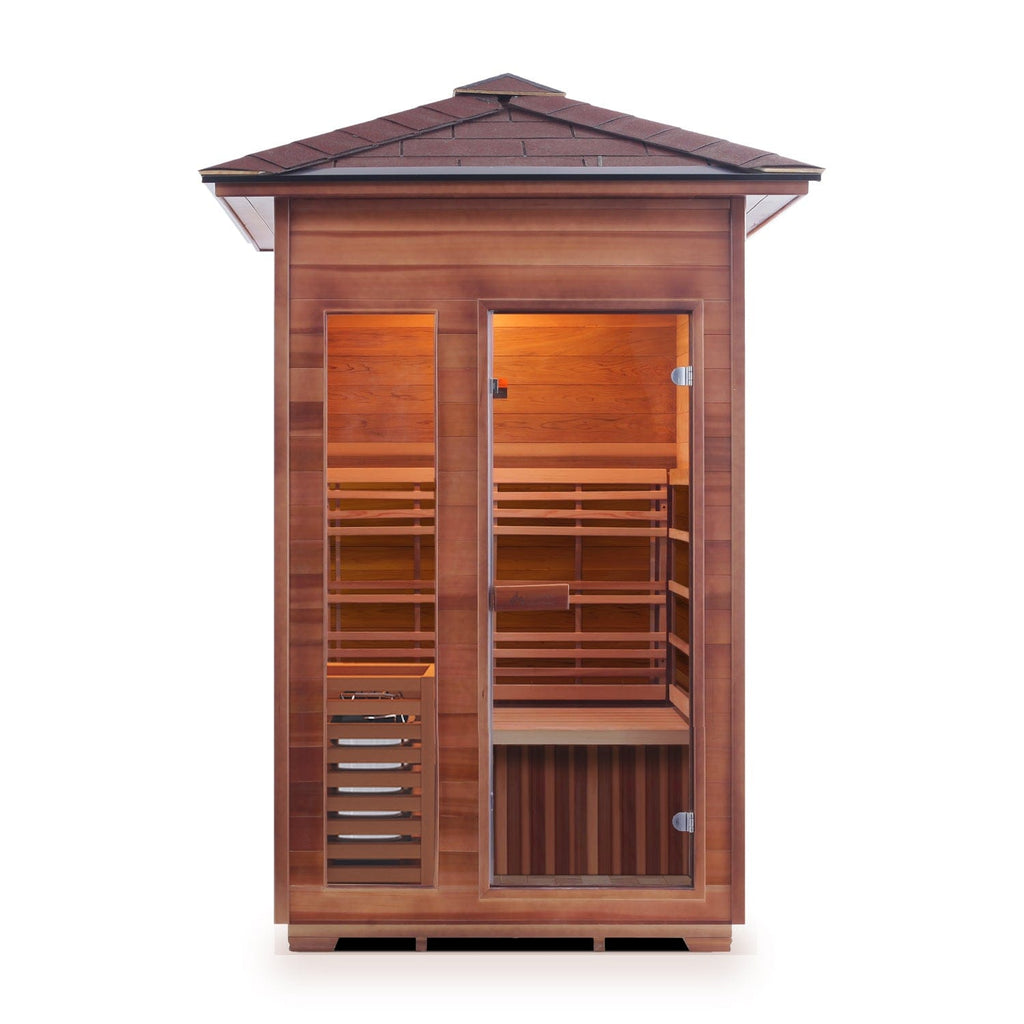 The Enlighten Dry Traditional Sauna SunRise - 2 Peak provides an authentic sauna experience outdoors. It uses a high-powered electric heater protected under a weather-resistant roof. The insulated walls maintain interior temperatures up to 189°F. Sauna outdoors surrounded by the sights, sounds, and fresh air of nature in this compact 2-person sauna.
Enlighten Dry Traditional Sauna SunRise - 4C Peak - 4 Person Outdoor Sauna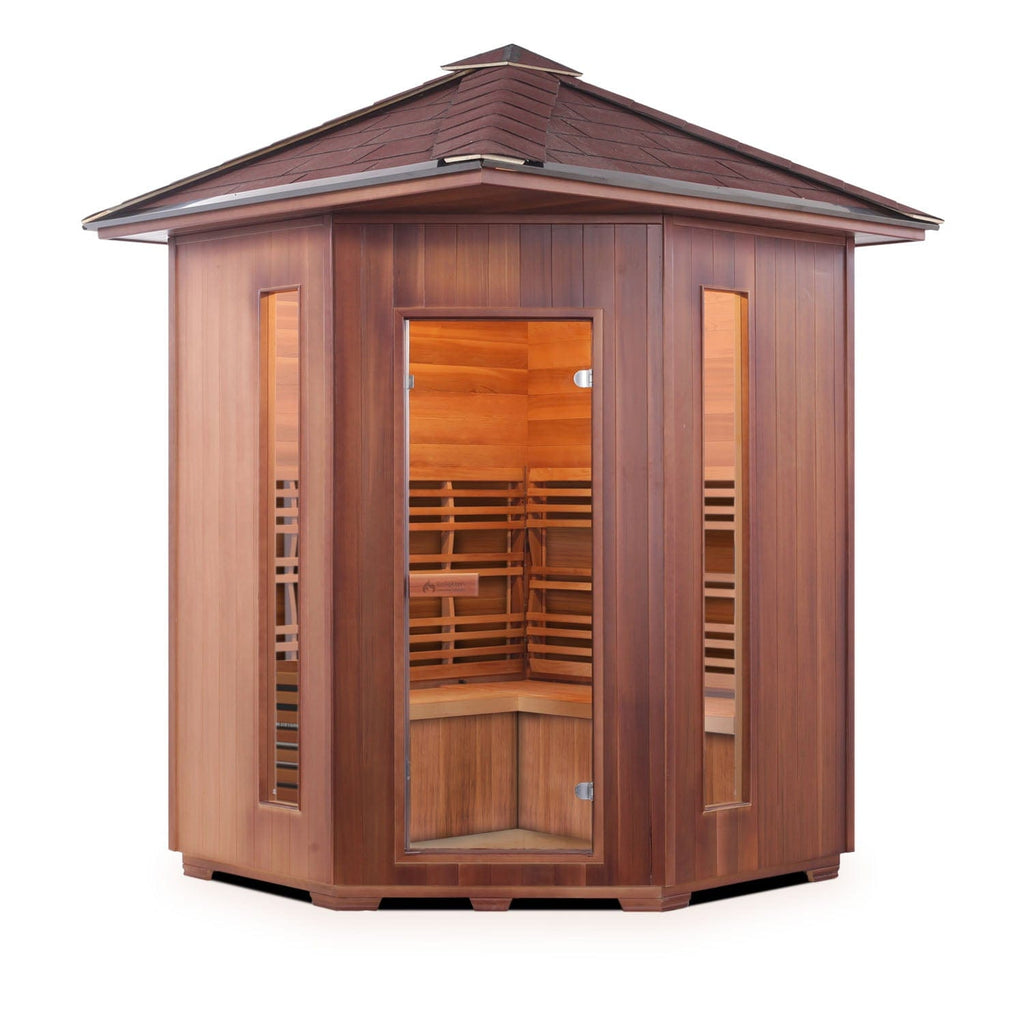 Custom-designed for the outdoors, this 4-person sauna has an attractive double roof and beautiful wood accents. With insulation and a high-powered Harvia electric heater, it maintains up to 189°F even on cold days. The glass door and sidelights allow views of your backyard.
Receive a Price Match Guarantee
Airpuria offers a price match guarantee so you can invest in a sauna with confidence. If you find a lower price from a reputable retailer on a comparable sauna, we will match the price. 
As a proud authorized dealer of world-renowned sauna brands, we want to provide exceptional value by making our products affordable. Take advantage of our price match guarantee to get the sauna you want at the best possible price.
Contact the Airpuria team today to start your journey toward improved health and wellness through sauna therapy.
Frequently Asked Questions About Sauna Benefits
Is it good to sauna every day?
For most healthy adults, using a sauna once or twice a day is generally safe. However, it's recommended to limit each sauna session to 10-15 minutes and be sure to drink plenty of water before and after to stay hydrated. Listen to your body and discontinue use if you experience any adverse effects. Those with health conditions should consult their doctor before daily sauna use. Using a sauna on a daily basis can provide ongoing support for overall wellness.
Should I sauna before or after a workout? 
Either can provide benefits, so choose based on your goals. A sauna before a workout warms up your muscles to prevent injury, whereas a sauna after exercise aids recovery by reducing soreness. It's best to limit your sauna time to 5-20 minutes either before or after a workout session.
Does a sauna clean your body?
Sweating in a sauna helps remove toxins from the skin. However, saunas don't completely cleanse the body on their own. Maintain a healthy lifestyle with exercise, hydration, and nutrition. Saunas support detoxification as part of an overall wellness plan.
Contact Airpuria's wellness experts with any other sauna questions. We can recommend the best sauna and routine for your needs. Invest in your health and relaxation with a sauna from Airpuria.
Contact Airpuria Today for a Custom Sauna Quote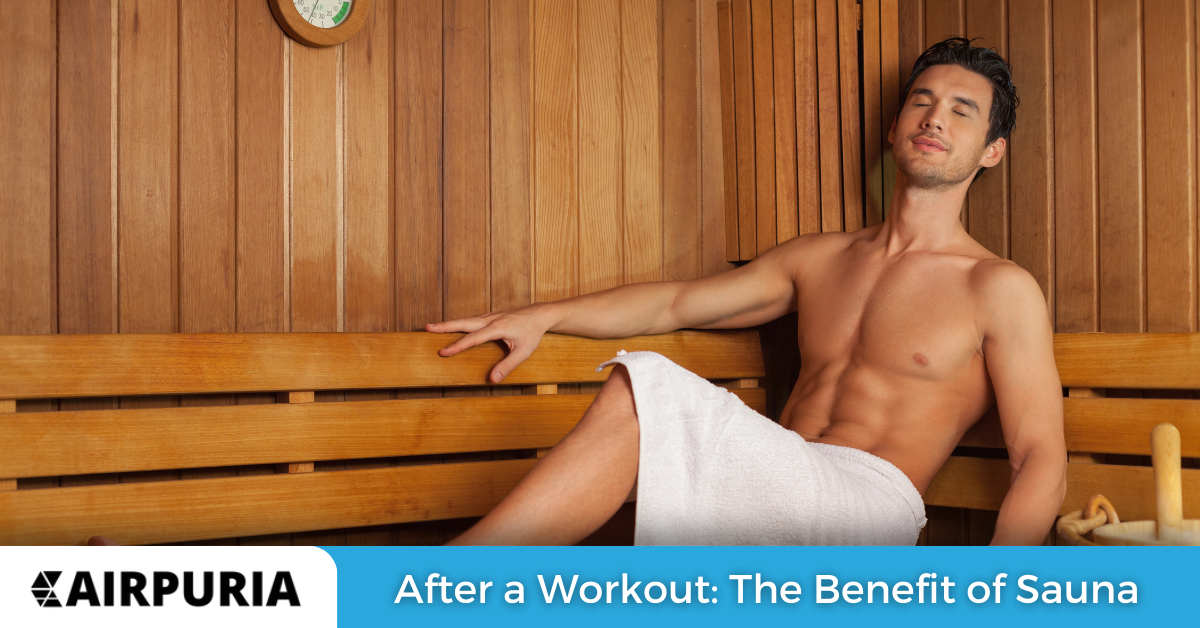 Ready to experience the many sauna benefits? Our team of wellness experts can provide a custom sauna recommendation based on your health goals, space constraints, and budget. 
Browse Airpuria's full catalog of high-quality saunas including traditional, infrared, and outdoor options. 
Contact us to receive a custom quote and learn about our price match guarantee. Investing in an Airpuria sauna means gaining better health, recovery, and relaxation for years to come.
Affordable Financing Options for Individuals and Business Owners
0% Interest Financing for up to 18 Months
Investing in a sauna from Airpuria provides long-term health benefits, but the upfront cost can be a barrier for some buyers. Fortunately, Airpuria offers 0% interest financing for up to 18 months to make saunas more affordable. 
This financing option is available for all individual customers, with flexible monthly payment plans. While approval is not guaranteed, applicants can get rates as low as 0% interest for up to 18 months. Spreading costs over time makes saunas a realistic investment for personal wellness.
Check eligibility and apply for special financing here. Take advantage of this offer to start enjoying a sauna's benefits today with payments over time.
Flexible Business Loans with Competitive Rates
For companies looking to install a sauna at their business, Airpuria provides financing tailored specifically for commercial needs. Business owners can get flexible loan terms and competitive interest rates.
Loans provide businesses with the means to fund saunas, even when their capital budgets are limited. This financing approach aligns the cost of the sauna with anticipated future returns on investment. In addition, companies have the advantage of deducting loan interest from their taxes as a legitimate business expense.
We offer business financing through Reliant Capital Group. Contact our team to explore loan options that align with your business plan and budget.