Do you have a tough routine? Do you feel exhausted by the end of a long, tiring day or week? Do you want to know one of the best ways to relax your body? If so, you are at the right place! We have the perfect groundbreaking innovation for you: Infrared outdoor saunas by Enlighten Sauna.

Now, you must be thinking about what precisely an infrared sauna is, how it can help you, and why Enlighten Sauna might be your best bet.

Below is a complete guide explaining Infrared Outdoor Saunas and how Enlighten Sauna provides the some of the very best options in this category! (Note: You might not be able to resist getting one for your home by the end of this article).

Let's get started.
What is a Sauna?
This explanation is mainly for beginners who have never experienced the warmth or health benefits of an outdoor or indoor sauna.

Imagine stepping into a therapeutic, wood-lined, enclosed space encompassing different heating features that vary in size, design, seating, and benches.

Now think how relaxing it would feel when all of the exhaustion and soreness leave your body along with the detoxifying sweat from the warmth! This is exactly what an outdoor or indoor sauna is all about.

But wait, that's not all! There are two major categories of indoor or outdoor sauna: traditional saunas and infrared saunas.
Traditional saunas produce steam that intensely heats the room to create surface sweat. The first traditional sauna was invented in Finland centuries ago.

An infrared sauna digs deeper - it creates a wavelength of light that absorbs into your body and raises its core temperature, enabling a more intense detoxification process. This version of a sauna was introduced in 1965 by Japan.
Being relatively new, an infrared sauna is seen with a lot of skepticism and confusion by consumers who don't know how infrared works or affects human health. Some people even consider it risky to use.

So, what's the actual story behind an infrared sauna? Do they actually work? Continue reading to find out the truth…
What Is Infrared and How Does it Affect Our Body?
Knowing how something works is essential before you use it. Hence, read this section to learn the benefits of a relaxing infrared sauna session.

Infrared may sound complex, but it's a very simple yet effective heating technology. It's electromagnetic light energy that can convert into heat through electricity. Infrared heaters can heat an object directly without warming up the surrounding air.

Infrared light can heat specific parts of our bodies where the neuron terminals and blood capillaries are located. How deep the wavelengths penetrate our skin depends on whether it is near-infrared, mid-infrared, or far-infrared. Each of these wavelengths affects our body differently.

Infrared therapy has proven to be massively beneficial in the fields like medicine, autoimmune diseases, veterinary medicine, dentistry, etc. Healthcare providers use it to treat different health conditions such as muscle pain, arthritis, joint stiffness, and more.

The heat from infrared light explicitly benefits our health by detoxifying our bodies. Deep detoxification leads to relief from chronic pain, improved blood circulation, lower blood pressure, and reduced weight. Plus, it also boosts our immune system and helps regulate high blood pressure.

Considering these health benefits, putting an infrared sauna outdoors will definitely be a worthy addition to your backyard or patio.
Everything You Need to Know About Infrared Saunas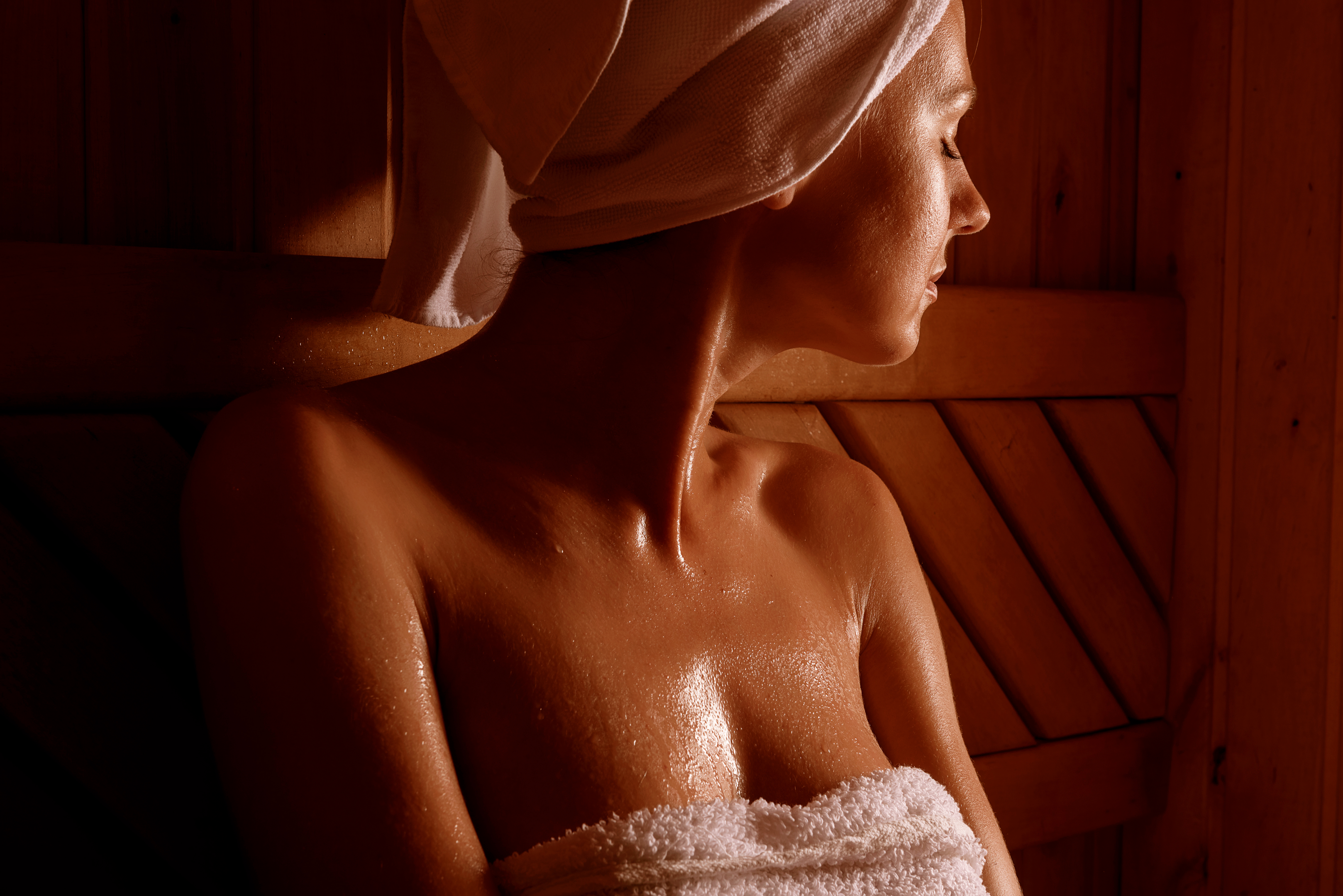 Do you like saunas but can't stand the heat around you? Try the infrared range by Enlighten Sauna. They'll heat your body without creating a steam-filled environment around you.

Infrared rays lie on different levels of the light spectrum, including far, mid, and near. You should explore full spectrum infrared saunas where the heaters use all three levels of infrared rays to spike your body temperature.

Let's look at what effects these different wavelengths have on your body.
Near-Infrared
Near-infrared light is the wavelengths nearest to the normal range but just past our eye's visibility. It renews, purifies, and heals the skin to make you look and feel younger.

The intensity of this light also helps your body excrete toxic metals and chemicals, relieving the burden on internal organs like the liver and kidneys.

The best part about these wavelengths is that they inhibit the nervous system, helping our bodies relax and recover from different diseases.
Mid Infrared   
Do you know a mid-infrared therapy session is one of the most relaxing ways to burn your body fat? It emits smooth heat to release the energy in your body, burning around 600 calories in a single session. An ideal weight-loss technique, right?

But that's not all! It also increases your heart rate to improve blood circulation, allowing adequate oxygen to reach the areas that need healing and relieving you from muscle and joint pain.
Far Infrared
Far infrared heaters are your best option if you want to see far-reaching positive effects on your body.

The energy waves from far infrared heaters are totally invisible to your eyes. They penetrate the deep layers of your body to raise its temperature. This activates and boosts all your bodily functions.

In other words, far-infrared heat reaches the innermost regions of the joints, tissues, and muscles. It can help treat chronic fatigue, weight loss, skin disorders, and other health problems.

Now that you know how an infrared sauna works, let's browse through some of the best options from Enlighten Sauna.
Enlighten Sauna: The Best Outdoor Saunas For Your Home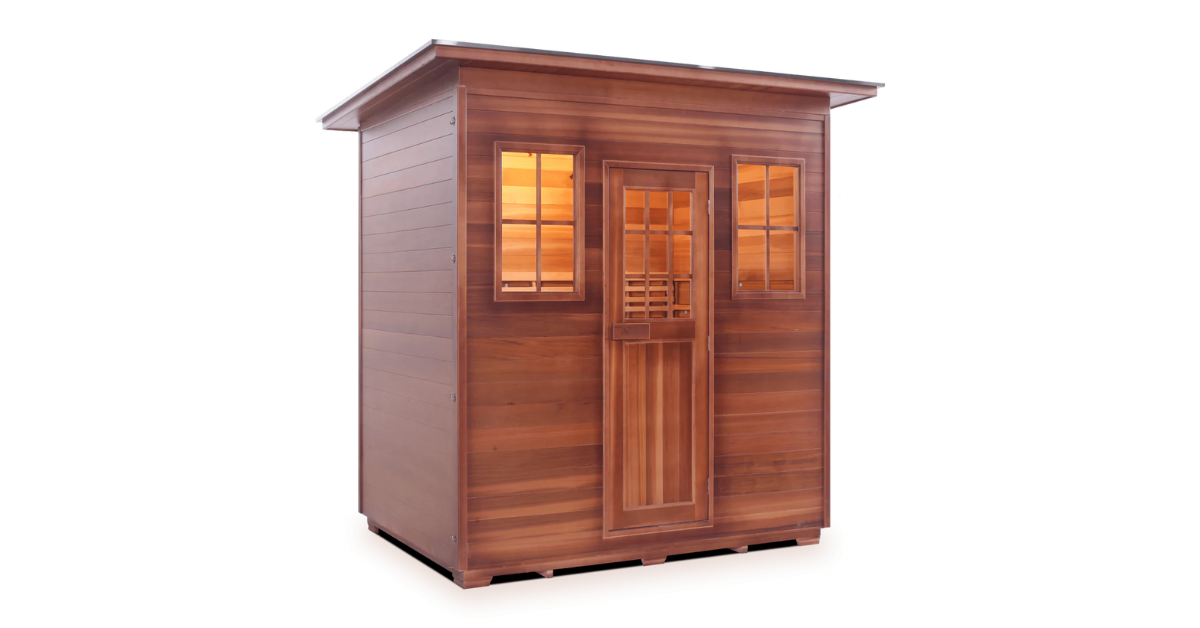 Behold the cutting-edge brand of indoor and outdoor full spectrum infrared saunas!

Renowned for their top-class quality, safety, and easy installation, their outdoor and indoor infrared sauna provides an unbelievably relaxing experience every time you step into it. But what's so special about their saunas?

Look at the list of the exceptional features of their contemporary design.
Features of Enlighten Sauna Outdoor Infrared Saunas
1. Insulation
How frustrating would it feel when you want to relax in a well-heated environment, but your outdoor or indoor infrared sauna does not get hot enough? Enlighten Sauna take care of this issue with its robust insulation. Strong insulation does not let any heat out of their sauna, keeping it as hot as you want it to be.  
2. Real Western RED Canadian Cedar Wood
Enlighten Sauna takes pride in the quality of materials used by them. Their infrared saunas are made of high-quality red cedar wood directly from Western Canada.

Western red cedar is considered the king of building materials for outdoor furniture. Why? Because it is light and resistant to water, rot, and insects. Plus, its red color and aromatic smell are hard to resist. Another quality of the wood used in these saunas is it is eco-certified.
3. Very Responsive Full Spectrum Heating system
Here comes the heart of an Enlighten Sauna Outdoor Infrared Sauna!

The main reason why this brand stands out against other competitors in the market is its high-end infrared heating technology. It uses infrared heaters to quickly warm up the space, penetrating your body with near, mid, and far-reaching rays.
4. Low EMF
One of the most important characteristics of an equipment or machine is the energy per unit of electric charge.

Equipment with high EMF is less effective because it reduces your body's antioxidant reserves. However, the infrared technologies Enlighten Sauna uses guarantee low EMF, making it a safe option for you and the environment.
5. Built-In Ergonomic Backrest
Back pain is becoming a common issue nowadays, thanks to our busy routines and bad postures. Enlighten Sauna addresses this issue with its built-in ergonomic backrest. It protects and strengthens your back muscles by supporting the natural curve of your spine.
6. Wider & Deeper Bench
The sauna bench in an Enlighten Sauna outdoor infrared sauna is wide enough for you to lay down comfortably and ergonomically deep enough for you to sit with ease.

The sleek modern design of their sauna bench fits everyone without cramping or adjusting, making this brand worth the investment.
7. Thick Double Pane Glass
The glass used in these saunas is double-paned, meaning two pieces of glass sandwiched together with an air pocket in between. This design provides better insulation, preventing the heat from escaping from the sauna.
Plus, Enlighten Sauna only uses tempered glass doors to maintain quality. A tempered glass door is stronger and safer because it is created through controlled thermal or chemical treatments.
8. Magazine Rack
Place your favorite magazines and newspapers on the magazine rack inside the outdoor infrared saunas by Enlighten Sauna. This means you can enjoy a good read while sweating off a few pounds in the sauna.
9. Towel Rack
Enlighten Sauna has everything you need for a relaxing sauna session. It takes care of even the most basic needs, like a rack to hang your towels.
10. Ceramic Tile Floor with Heaters
The floors are made of durable and easy-to-clean ceramic tiles. These stain-proof tiles promote easy cleaning, so you don't have to worry about spilling anything. Plus, the heaters installed in the floorings warm your feet when you walk in.
11. Cup Holder
How does enjoying a fresh drink while relaxing in a sauna sound? Refreshing, right? Enlighten Sauna allow you to sip your drink and place it on the cup holder when you want to take a break.
12. Adjustable Vent
Proper ventilation is also a crucial part of every sauna. The outdoor infrared saunas from Enlighten Sauna are equipped with adjustable vents facilitating a high-quality air circulation system with robust materials, effective duct sizes, proper duct sealants, and robust insulation.
13. Digital Controller
Enlighten Sauna have a highly durable and efficient digital controller that provides accurate time, temperature read-outs and sauna control. You can change the settings of your sauna to your liking within just a few taps and clicks.
14. Music Facilities
How can we forget music when it comes to relaxation? Enlighten Sauna provide you the opportunity to enjoy music while you warm up your body in the sauna, including a Bluetooth player with speakers, FM, USB, AUX, and MP3.
15. Non-Toxic
Most saunas made of white engineered wood suffer from mold growth and release harmful toxins when exposed to high heat. This is why Enlighten sauna are made of western red Canadian cedar wood that stands firm against the heat, making it completely safe for your health.
Essential Points to Remember
There are two major categories of indoor or outdoor sauna: traditional and infrared.

Infrared saunas use near, mid, and far-infrared wavelengths to provide various health benefits.

Infrared therapy is widely used in medicine, veterinary medicine, dentistry, and more.

Enlighten Sauna offers high-quality infrared saunas with features like insulation, real Western RED Canadian Cedar Wood, low EMF, and ergonomic backrests.
Which Outdoor Infrared Sauna Will Work the Best For You?
Check out the range of infrared outdoor saunas by Enlighten Sauna.
The Sierra Range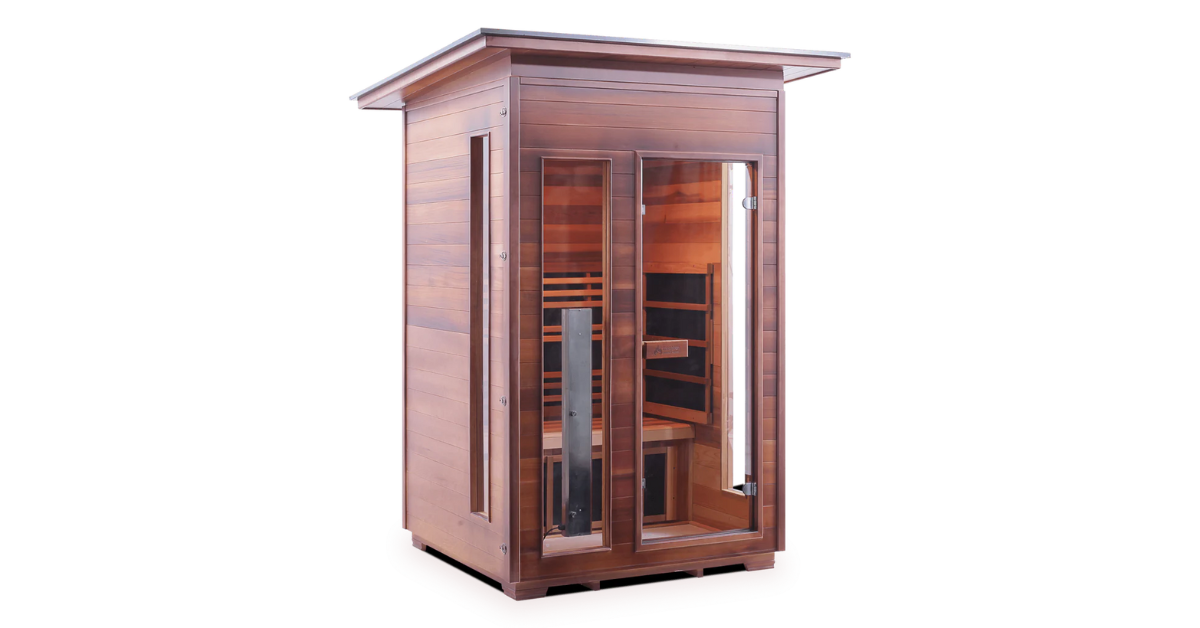 This exclusive and affordable range of outdoor saunas allows you to experience ultimate relaxation when you are tired from the hustle-bustle of life.
The saunas in this range come in different variations designed to accommodate a specific number of people. Sierra 2 is a 2-person outdoor sauna best for enjoying those relaxing sauna sessions with your partner. It comes with six carbon and two full spectrum infrared heaters to heat the room evenly.
Choose Sierra 3 if you frequently have unannounced visitors or guests. They will love a luxurious sauna and leave your home feeling healthy and regenerated. This option is also the best for you if you are a part of a 'three best friends' group.
Do you have a family of four? If so, you should go for Sierra 4. It has been designed with enough space to fit four people, allowing you to plan fantastic sauna sessions with the whole family. Two full spectrum and nine carbon heaters will provide you with all the exceptional benefits of infrared therapy.
If you want something even more spacious and powerful, go all out with Sierra 5. It consists of ten carbonic heaters and two additional full spectrum heaters installed with high precision to provide maximum comfort.
The Rustic Range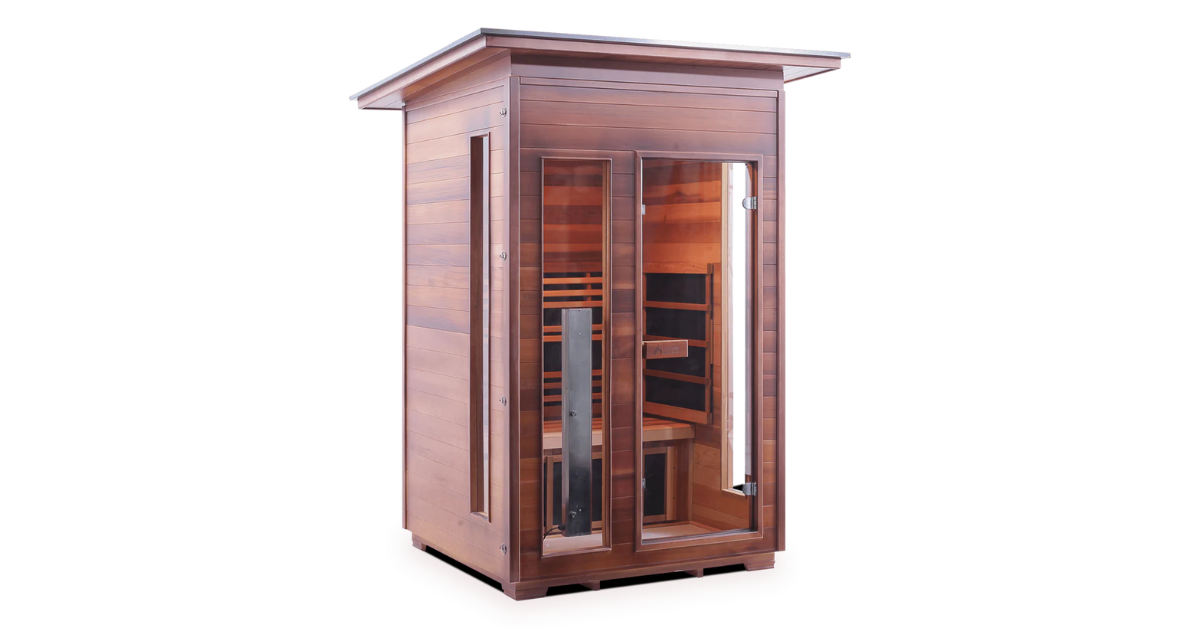 Do you want something more aesthetically beautiful than the Sierra range? Check out this brand's saunas in the Rustic range, designed with more glass for a better cosmetic appearance.
The home saunas in this range can fit two to five people. Rustic 2 is a two-person sauna that can act as an outdoor romantic sanctuary for you and your loved one. Similarly, Rustic 3 can fit an additional person to enjoy exclusive sauna time with you.
Rustic 4 is best for families looking for a luxuriously designed backyard sauna to relax together. The most spacious option in this range is obviously Rustic 5 because it can accommodate five people in the cabin at once.
The SAPpHIRE Range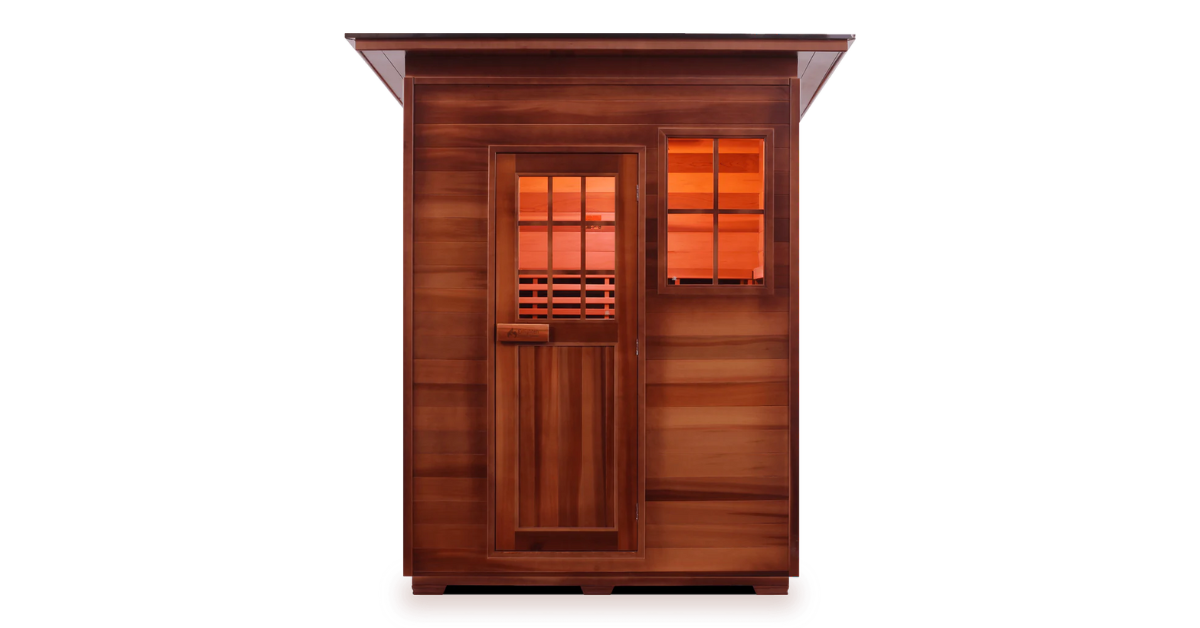 The outdoor infrared saunas in this category are the true definition of class, luxury, and top-level comfort.
The first two in this range are the 3 Peak and 3 Slope which can both accommodate three people. With eight certified electrical and infrared heaters, this outdoor sanctuary detoxifies your body at the deepest of levels.
Built with Real western Canadian red cedar wood outside and inside, the both the 3 Peak and 3 Slope from Enlighten Sauna lasts longer than other sauna brands while also giving your yard or patio a luxurious look.
Enlighten Sauna Full Spectrum 4 Slope is another masterpiece in this range. With interior dimensions and width suitable for four people, this exclusive cabin allows you to enjoy the benefits of infrared therapy or a traditional sauna as a group! It features eleven full spectrum heaters for optimal performance.
These are the ranges of best outdoor infrared saunas offered by Enlighten Sauna. Select the best one that suits your requirements and enjoy a rejuvenating sauna session whenever you want.
We're always here to help with your sauna needs. If you're thinking about finally making the jump into a healthier lifestyle with a home sauna, feel free to give us a call or use the chat icon to the right!
Financing Options for Enlighten Sauna Products
When purchasing an outdoor infrared sauna, it's important to consider financing options to make it more affordable. Airpuria offers financing for all customers, with rates as low as 0% for up to 18 months. They also provide business financing with flexible terms and competitive rates.
Some key points about financing options from Airpuria include:
0% interest rates for up to 18 months for individuals.

Special financing programs tailored to business owners' needs.
For more information on financing options, visit the following links: