A backyard infrared sauna offers a luxurious and therapeutic experience right in your own outdoor space. As infrared saunas grow in popularity, installing one in your backyard is an appealing idea. But are backyard infrared saunas really worth the investment?
There are many things to consider when deciding if a backyard infrared sauna is right for you. This guide covers everything you need to know, from costs and maintenance to health benefits and recommended models.
What is an Infrared Sauna?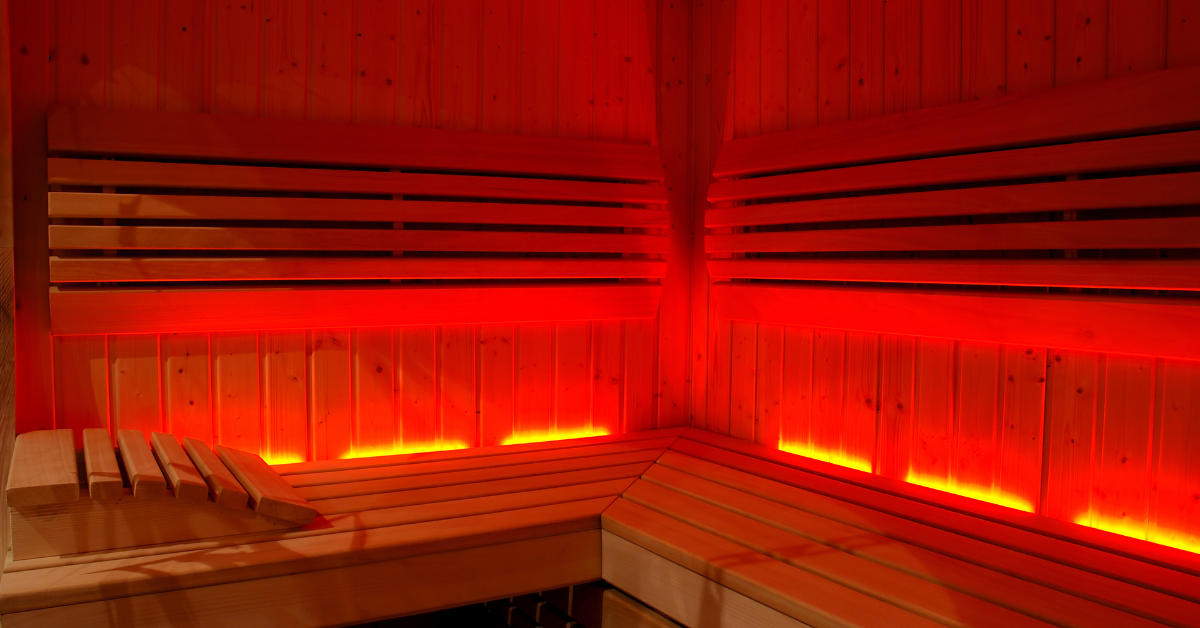 Infrared saunas use infrared heaters to emit infrared waves that are absorbed by the body. This creates a warming effect that penetrates tissue and heats you.
Infrared waves exist on the invisible, light end of the electromagnetic spectrum. They are experienced as radiant heat, the same kind of heat that comes from the sun. Infrared saunas simulate this effect through the use of infrared heaters.
There are three types of infrared waves:
Near-infrared: Warms the outer skin

Mid-infrared: Penetrates deeper to warm muscles and tissue

Far-infrared: Deeply penetrates the body to heat you from the inside out
Infrared saunas utilize far-infrared wavelengths predominantly to deeply heat and detoxify the body. The warming effect dilates blood vessels, improves circulation, and makes you sweat to eliminate toxins. This differs from traditional saunas that rely on steam or dry heat to warm the air around you. The direct heat from infrared saunas is gentler while providing deeper penetration for greater health benefits.
Benefits of Infrared Saunas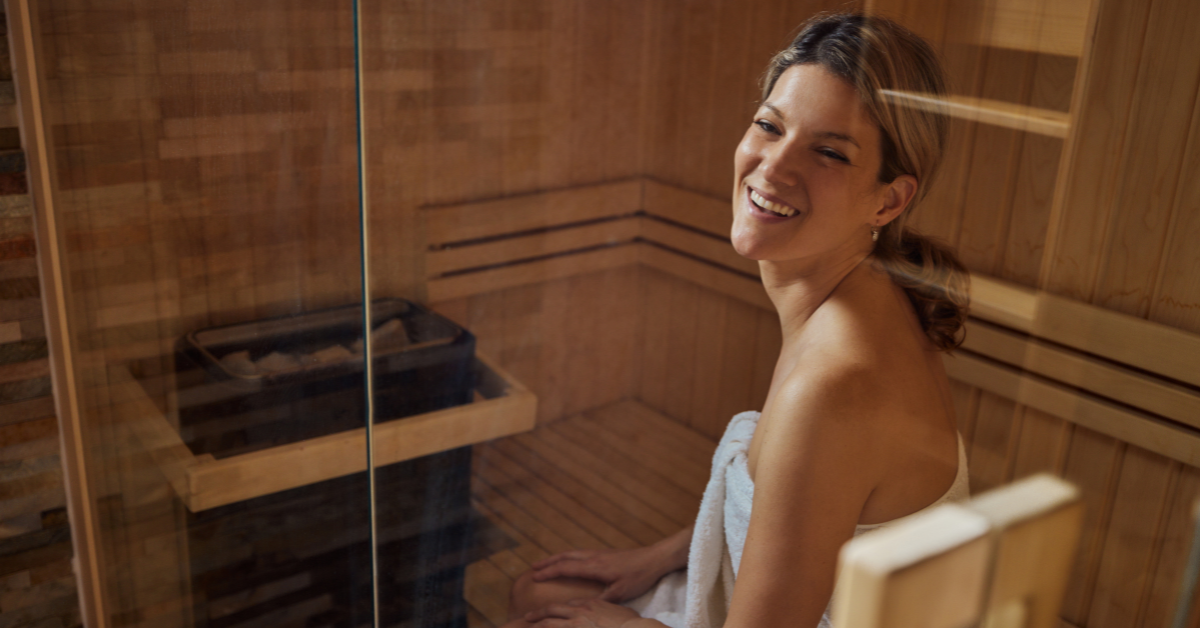 The unique heating method of infrared saunas offers a wide range of advantages that contribute to their growing popularity and appeal among individuals seeking relaxation, wellness, and overall improved health.
Detoxification
Infrared waves have the remarkable ability to stimulate the body to sweat profusely, facilitating the elimination of various toxins and heavy metals, as well as potentially harmful chemicals like BPA, phthalates, and other impurities. This can have a significant positive impact on your overall health and well-being.
Pain Relief
Infrared saunas utilize the power of radiant heat, which effectively penetrates deep into your body's tissues, providing a gentle yet effective means to relax muscles and alleviate joint pain. These unique therapeutic benefits are particularly advantageous for individuals with chronic conditions such as fibromyalgia, as the soothing warmth targets the source of discomfort, offering much-needed relief and promoting a heightened sense of comfort and wellness for those dealing with ongoing health challenges.
Weight Loss
A 30-minute session inside an infrared sauna can lead to a notable caloric expenditure, typically ranging from 300 to 600 calories. This makes it an appealing choice for individuals looking to boost their weight loss efforts.
Improved Circulation
By heating the body, infrared saunas effectively dilate blood vessels, promoting improved circulation throughout the entire system. This heightened circulation results in a substantial boost in oxygen flow to every cell in the body, providing a vital infusion of nutrients and oxygenation that enhances cellular health.
Lower Blood Pressure
Infrared saunas have been shown to positively impact cardiovascular health by stimulating the circulatory system and dilating blood vessels, leading to improved blood flow. This enhanced circulation can effectively lower blood pressure levels, making infrared saunas a valuable addition to supporting overall heart health.
Relaxation
The warmth of infrared saunas induces deep relaxation, easing mental and physical tension. Simultaneously, these saunas promote the production of endorphins, which contribute to an overall sense of well-being and reduced stress levels. By combining these benefits, infrared saunas offer a holistic approach to relaxation and emotional wellness.
Healthy Skin
The process of profuse sweating in infrared saunas not only promotes purification of the skin but also effectively aids in killing bacteria and clearing out clogged pores, contributing to a healthier complexion. In addition, the heightened circulation resulting from sauna sessions plays a significant role in improving skin tone, enhancing elasticity, and overall appearance, as the increased blood flow provides essential nutrients and oxygen to the skin's cells, rejuvenating and revitalizing the skin for a radiant and youthful glow.
Immune System Health
Some studies suggest that infrared therapy holds the potential to not only stimulate the immune system but also to augment white blood cell production, showing promise for exploring the remarkable therapeutic effects and immunomodulatory properties of infrared therapy in bolstering the body's natural defense mechanisms.
Energy Cost of Backyard Infrared Saunas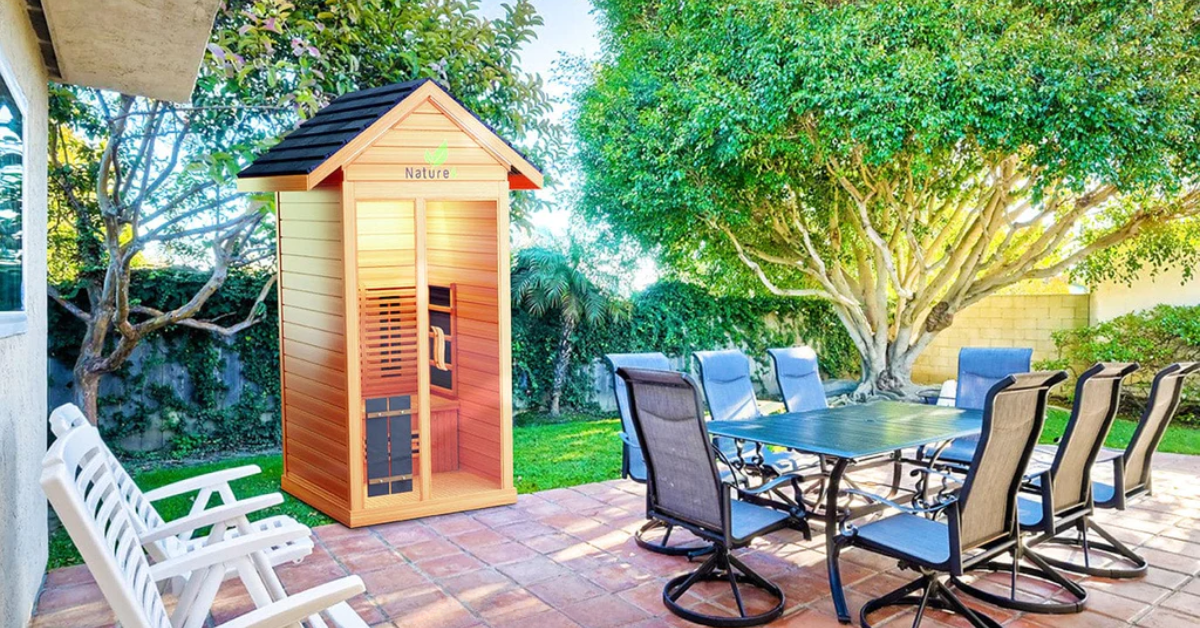 It's important to consider all of the related sauna expenses, such as energy usage and maintenance. Airpuria offers well-insulated infrared saunas, reducing the cost of usage. Their 1-2 person infrared saunas are energy-efficient, using approximately 1,300 watts. At an average rate of 23 cents per kWh, you can expect to pay around $12 per month to operate the sauna for 40 minutes daily (30 minutes + 10 minutes for heating time). In addition, routine care and occasional maintenance will involve minor costs to preserve the sauna's function and appearance.
Choosing the Right Backyard Infrared Sauna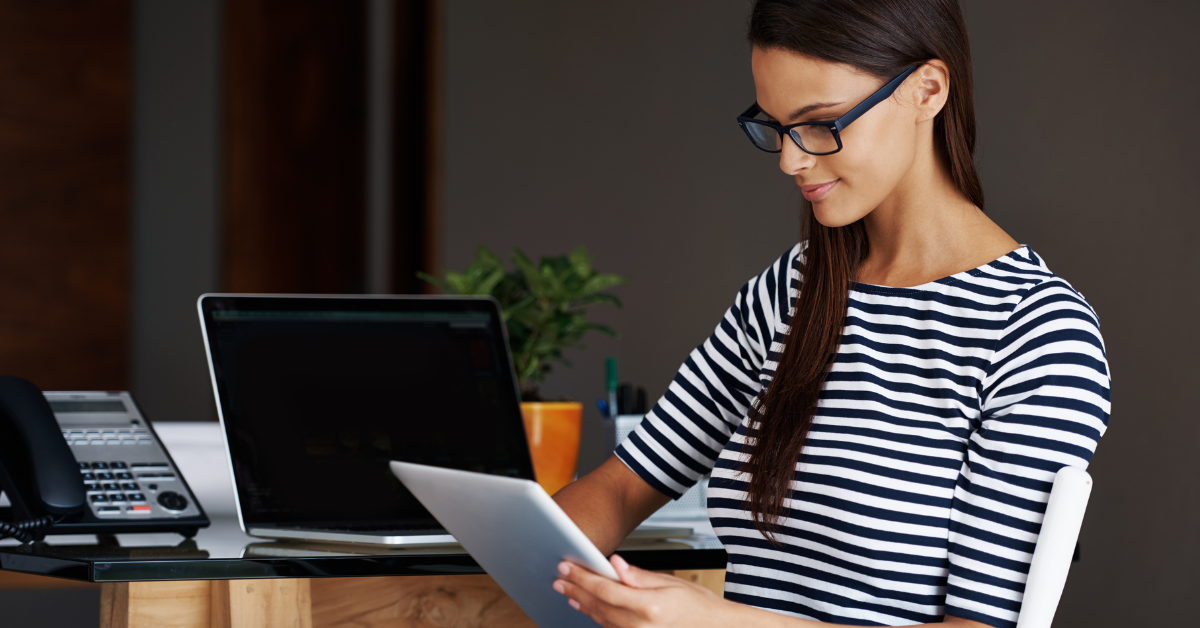 Selecting the ideal backyard infrared sauna involves evaluating your space and needs. Key factors to consider include:
Size
Consider how much room you have on your patio or deck. Look at sauna dimensions and capacity to choose one that fits. Smaller 2-person units start at 49" x 49". For a family, look for a 5-person model around 94" x 94". Know your backyard measurements to be sure to have enough space.
Indoor vs. Outdoor
An outdoor sauna is specifically designed for backyard use with weatherproof exteriors, unlike an indoor sauna. Look for outdoor models that are mold resistant and can withstand sun, rain, snow, and humidity.
Construction
When considering saunas, pay attention to the materials used in their construction. Canadian hemlock and western red cedar are excellent choices, offering attractive and durable exteriors for outdoor saunas.
Power
Determine if you need a 120V or more powerful 220V sauna based on size. Ensure your electrical panel can handle the needs of the unit you want.
Features
Consider conveniences like adjustable loungers, lighting, sound systems, digital controls, and timers. Built-in features also allow you to control your sauna remotely and enhance your sauna session.
Warranty
Look for good warranties from reputable brands, typically 2+ years for heating elements and electronics, and 2-5 years for the wooden structure, when comparing backyard infrared saunas. In addition, evaluate sizing, construction, power, features, and warranty to find the optimal choice for your needs and budget.
Recommended Backyard Infrared Sauna Brands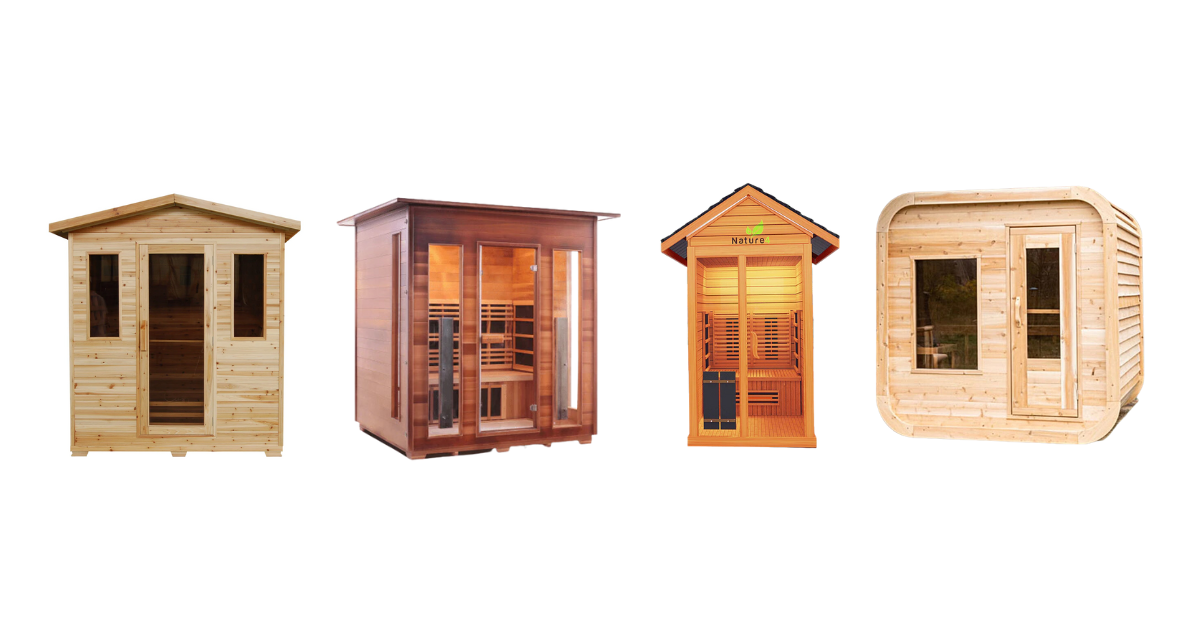 Airpuria offers saunas from the most trusted brands in infrared heating technology and construction. Four top manufacturers provide exceptional options for your backyard.
Sunray Saunas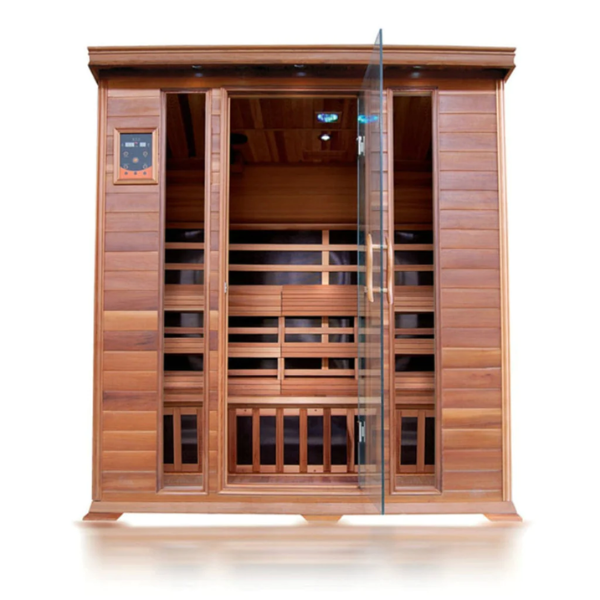 Sunray uses state-of-the-art carbon nano heaters for safe, ultra-efficient infrared heat. Their backyard saunas feature modern builds with western red cedar or Canadian hemlock wood, roomy interiors, and user-friendly digital controls.
Top choices:
Medical Breakthrough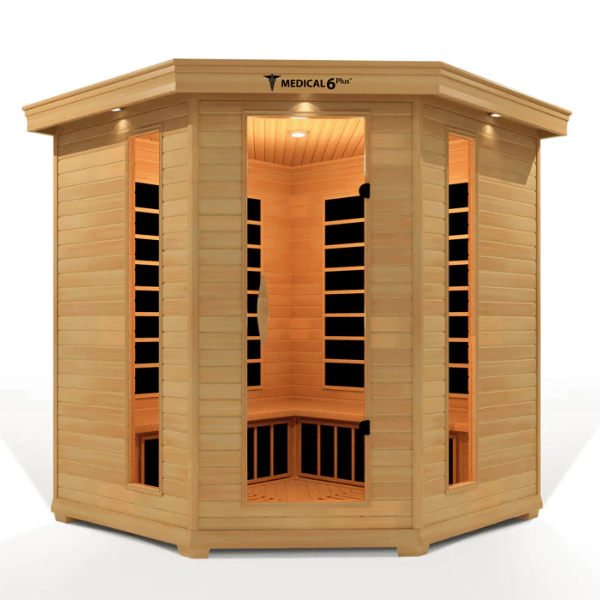 Medical Breakthrough engineers award-winning infrared heating systems for maximum health benefits. Outdoor models utilize weather-resistant hemlock wood with full-spectrum near, mid, and far infrared heaters.
Top choices:
Enlighten Sauna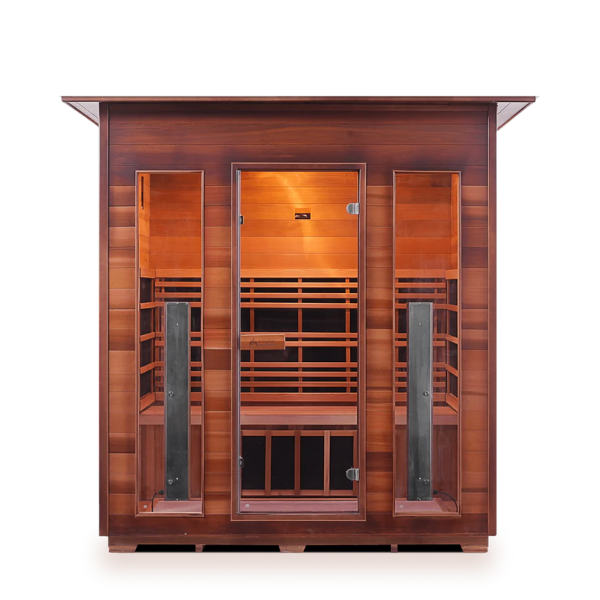 Enlighten Sauna uses proprietary full-spectrum infrared heaters for wellness-focused saunas. Their outdoor models combine attractive styles with eco-friendly construction to withstand the elements.
Top choices:
Dundalk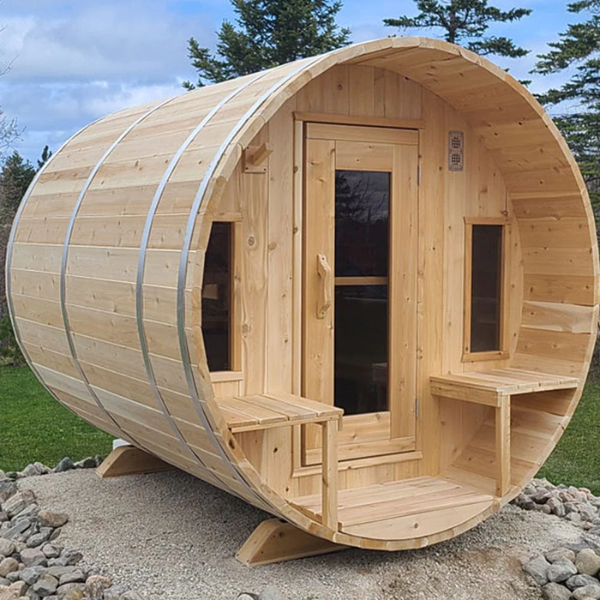 Dundalk handcrafts quality Canadian white cedar saunas in modern barrel shapes. Outdoor models include heavy-duty stainless steel bands and slope roofs for durability.
Top choices:
With saunas from these top four brands, Airpuria ensures you get a high-performing, health-supporting backyard sauna built to last.
Browse the full outdoor sauna collection ↗ to view available backyard models. All saunas ship for free and financing options are available to qualifying customers.
Caring for a Backyard Infrared Sauna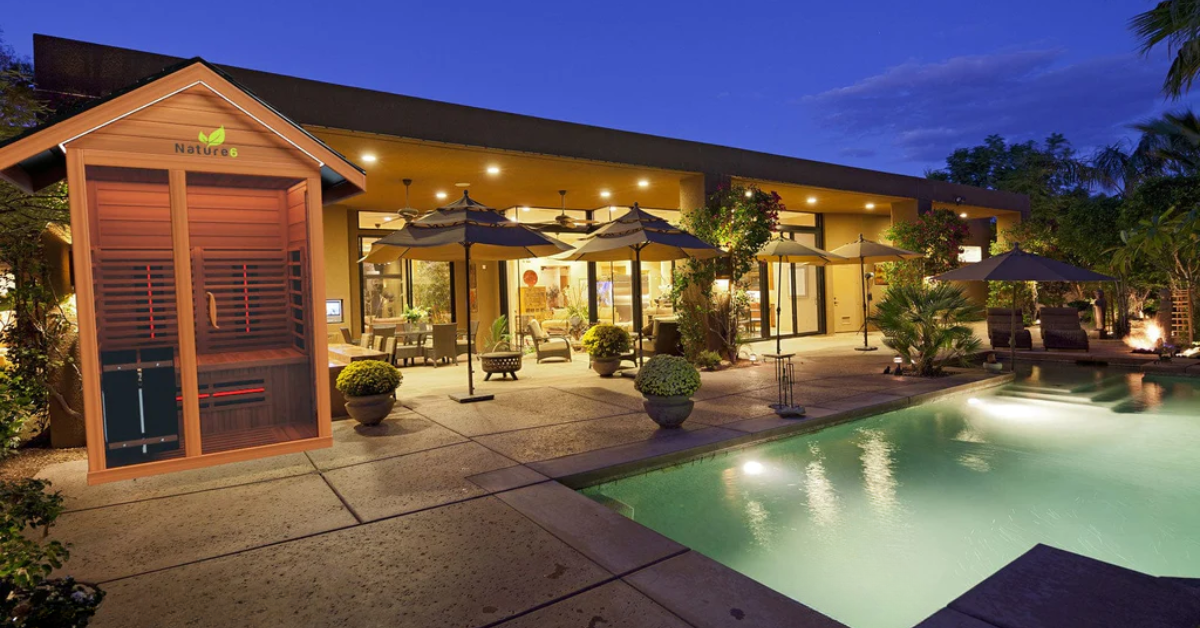 A backyard infrared sauna is built for outdoor use but still requires periodic maintenance. Follow these tips to keep your sauna looking and performing its best:
Wipe down benches with a damp cloth after each use to keep them clean.

Use sauna cleaners or soap and water to clean the interior as needed.

Sand and re-stain the exterior annually to maintain the wood's appearance.

Keep the roof clear of debris and leaves to prevent water damage.

Check for any leaks after major storms and re-seal as needed.

For floor models, keep the area around the sauna free of dirt and plants.

Follow all maintenance guidelines from the manufacturer.
We recommend that any outdoor sauna has a protective covering to keep it safe and dry in all weather conditions, year-round.
Frequently Asked Questions
Are outdoor saunas safe?
Yes, infrared saunas designed for outdoor use are completely safe. They are constructed of weatherproof materials to withstand sun, rain, and humidity. Reputable manufacturers test materials to ensure they do not emit harmful chemicals. Be sure to buy an outdoor-rated sauna.
How much space do you need for a backyard sauna?
The amount of space needed depends on the sauna size. Small 1-2 person units require around 36-49" x 36-49" of floor space. For a family-sized 5-person sauna, you'll need 94" x 94" or more. Measure your deck or patio area to ensure enough room.
Do you need a permit to install an outdoor sauna?
Permit requirements vary based on local regulations. Some areas require permits for any permanent structures over 100-200 sq. ft. Check with your city or county building department to be sure. Electrical work may also need a permit.
How difficult is it to install a backyard sauna?
Most manufacturers design outdoor saunas for easy assembly. They use simple latch mechanisms and pre-built wall sections. Two people can usually assemble a sauna in 5-10 hours by following the included manual. Larger 6-8 person saunas may take up to 20 hours. Call Airpuria to learn about their optional installation service for all Enlighten saunas.
Can you use a backyard sauna in the winter?
Absolutely. Outdoor infrared saunas work great in cold weather. The infrared waves directly heat your body rather than the surrounding air. As long as the sauna is weatherproof and insulated, you can use it year-round, even when it's snowing!
How long do outdoor saunas last?
A quality backyard sauna will last for 15-20 years or more with proper maintenance. Opt for weather-resistant woods like western red cedar that can handle moisture and ensure the heating elements and electronics have at least a 2-year warranty.
What maintenance does an outdoor sauna need?
Occasional tasks like wiping benches, hosing off the roof, and re-sealing any leaks will keep your outdoor sauna in top shape. Sanding and re-staining the wood annually will also help maintain its appearance.
Can you move an outdoor infrared sauna?
Freestanding portable saunas can be moved with some disassembly. However, most permanent backyard installations are not meant to be relocated once in place. Select your ideal spot carefully to avoid needing to move it later.
Transform Your Backyard with an Infrared Sauna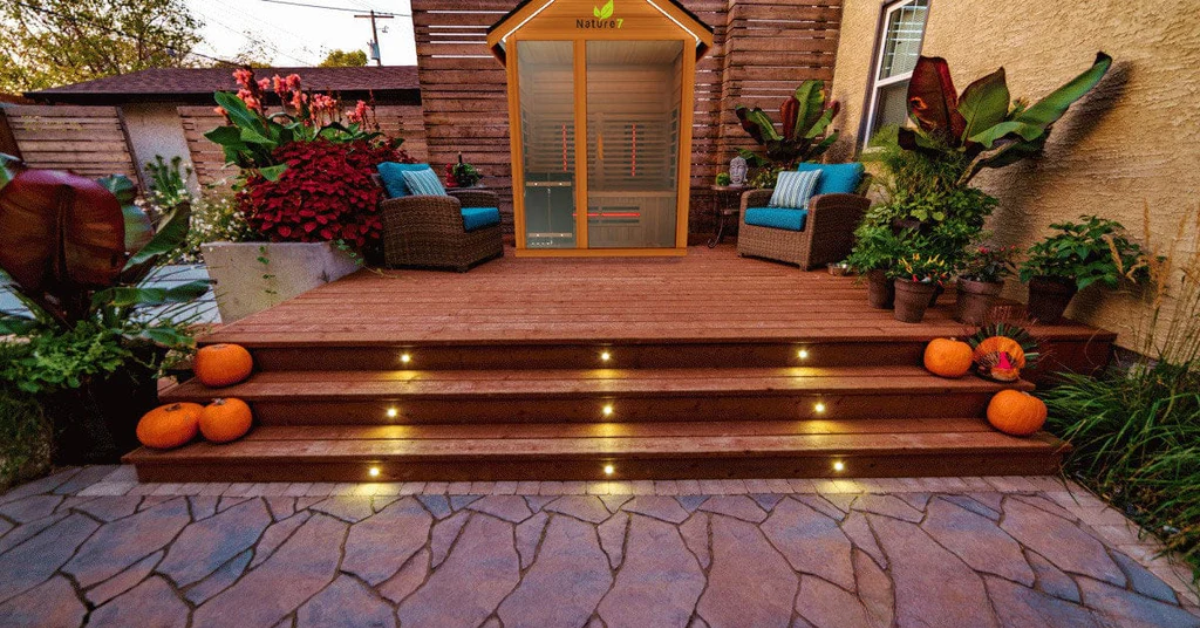 A backyard infrared sauna allows you to enjoy the many wellness benefits of infrared therapy right from the comfort of your home. Sinking into radiant warmth to detoxify, reduce pain, and relax is a home luxury that pays dividends for your health.
Airpuria offers high-quality saunas designed to withstand outdoor conditions year-round. Whether you choose a roomy model to share with family and friends or a cozy option just for yourself, a backyard infrared sauna is an ideal way to enhance your home.
Ready to discuss your backyard sauna options?
Contact Airpuria ↗ to speak with an expert and get started designing your perfect outdoor retreat.
Phone: 773.337.8822
Email: sales@airpuria.com
Financing Your Backyard Infrared Sauna
To make quality backyard saunas more accessible, Airpuria offers financing options to fit a range of budgets for those who qualify.
We offer easy applications, fast approvals, and personalized terms to suit your individual and business needs.
To learn more and submit a financing application, visit:
With Airpuria's financing options, you can start enjoying the benefits of an infrared sauna without breaking your budget. Contact us today to explore plans for your new backyard oasis.