Every home should have a massage chair!
Massage chairs are typically considered something that belongs in a spa. However, there's no reason why you shouldn't be able to enjoy one right in the comfort of your own home.
This is especially true for those of us who experience sedentary job where we're sitting in the same position for long periods of time.
The Airpuria team is actually a great example. Taking the time to add all of the best health products to our store means that we're sitting for long periods of time in front of the computer. But we practice what we preach, and since we decided to get our own massage chair, life has dramatically improved!

According to Web MD, sitting in one place for long periods of time can contribute to a number of health concerns including the pooling of blood to the legs. This is due to a decrease of blood circulation.

This is one reason why it's so beneficial to have a massage chair in your home. Because all of the massage chair's listed in this blog are extremely effective at increasing blood circulation AND improving your overall quality of life.

According to this study, adding a massage chair to one's home is a more cost-effective way to improve one's general quality of life AND decrease pain, when compared to regular sessions of physiotherapy!

The massage chairs located our website offer many different features to meet each individual's specific needs.
Types of Massage Chairs at Airpuria
We have different categories of massage chairs such as:
Our chairs offer amazing options like full body and shiatsu massage!

Kneading Massage Lift Chairs can recline with space saving technology while some chairs offer zero gravity technology.

Zero gravity, also known as the neutral body position, raises your legs above your heart level and evenly distributes your weight along your body. The benefits of zero gravity technology massage chairs are amazing and not talked about enough. These full body, deep tissue massage chairs can help you fall asleep, provide medical benefits, curb lower back pain, eliminate stress, and reduce pain in your muscles, shoulders, neck, head, and more.
Amazing Massage Chair Benefits
Here are some amazing benefits of massage chairs that will have you craving one for your own home.
Lessens Stress, Tension, and Anxiety
Studies show that massage dramatically reduces the effects of stress. Research studies like Joseph Delaney's "Short-term effects of myofascial trigger point massage on cardiac autonomic tone in healthy patients" and Cady SH's "Massage therapy as a workplace intervention for reduction of stress" have confirmed that massage therapy has the potential to massively improve one's quality of life by improving the body's inner-workings that facilitate the release of stress.

This research has shown that massage therapy improves stress on both a physical and psychological level. In controlled investigations, measurements of oxygen consumption, blood pressure, and salivary cortisol levels, for instance, were all reduced following a 10-15 minute chair massage. Consider the possibility of having that as an everyday experience right in your living room.

A simple remedy like a massage chair is no joking matter considering that, in current society, stress accounts for $26 Billion in disability and medical expenses each year. Getting a chair for the home can have immense medical benefits!
Calms and Eases Tense Muscles
Whether it's a busy day at work, or a day full of adventure, daily life can be fast and intense with many different responsibilities to take care of. This fast-paced lifestyle can leave the body's muscles feeling extremely tense.

The body is a tremendously intelligent mechanism. When the body is overused, muscles tighten and cause pain. These are your body's warnings telling you that something needs to change.

One way to listen to your body's warnings is to take a rest and unwind in your own home massage chair.

A 4D massage from one of these amazing chairs is specifically designed to release tension from your body and loosen up painful, tightened muscles. The release of muscle tightness also stimulates your body's production of endorphins, which helps with stress, pain relief, a general sense of wellbeing and so much more.

This just goes to show, that an excellent massage chair is everyone's dream after a busy out!
Boosts Blood Circulation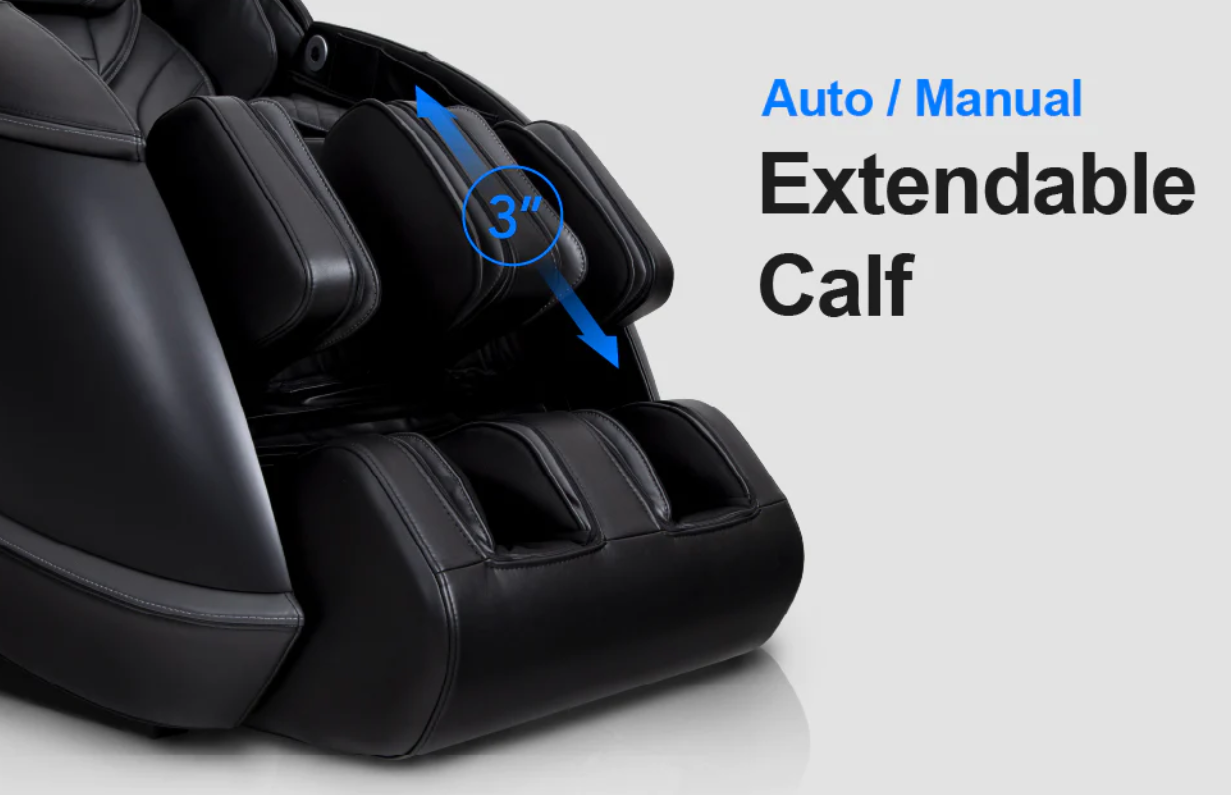 Our massage chairs are specifically designed to enhance blood circulation. Through mechanical assistance, they are able to use the following methods of massage:
Kneading

Tapping

Rolling

And gripping
In each of these methods, the rollers of the massage chair vibrate and move certain body parts, improving blood flow!
 There are several benefits of improving your blood circulation. Including:
Quicker healing from illnesses and injuries

Purging the body of toxins

Endorphin stimulation, which helps the body deal with stress and pain
Another notable element of our amazing massage chairs is the Zero Gravity function which has the ability to reduce pressure on your spine, lower back, and even your pelvic region.
Click here to check out the Titan 4D Fleetwood LE Massage Chair!
Enhances the Immune System
You may not be aware that a 45-minute massage from a massage chair raises the body's lymphocyte count. White blood cells called lymphocytes aid the body's defense against sickness. They regulate how the body's immune system responds to germs.
The body is best prepared to ward off illnesses like a fever, the common cold, and the flu if it can increase the number of lymphocytes inside its system.
Experts claim that only one massage in a chair is enough to drastically change the body's immunological and endocrine response and it's surprisingly fast!
Encourages Lymphatic Flow
The lymphatic network of the body is just as crucial as your blood supply. This drainage system protects the body from infections and helps to maintain the proper balance of bodily fluids. Basically, the lymphatic system gathers the body's waste products and channels them out.
The heart pumps blood throughout the body, but the lymphatic system lacks a similar "pump" to drive it.
When we live a more sedentary lifestyle, lymph fluid accumulates in the body which causes inflammation. In this situation, a massage chair can be an amazing help.
Lymph is moved more effectively throughout the body when a massage chair is in the reclined position, which helps to reduce inflammation and therefore, reduces illness.
For instance, after a long day of work, people's feet often swell, and the typical remedy is to "put the feet up" to relieve swelling. Regular massage chairs with deep tissue massage benefits can be an amazing asset to your lymphatic system.
Reduces Pain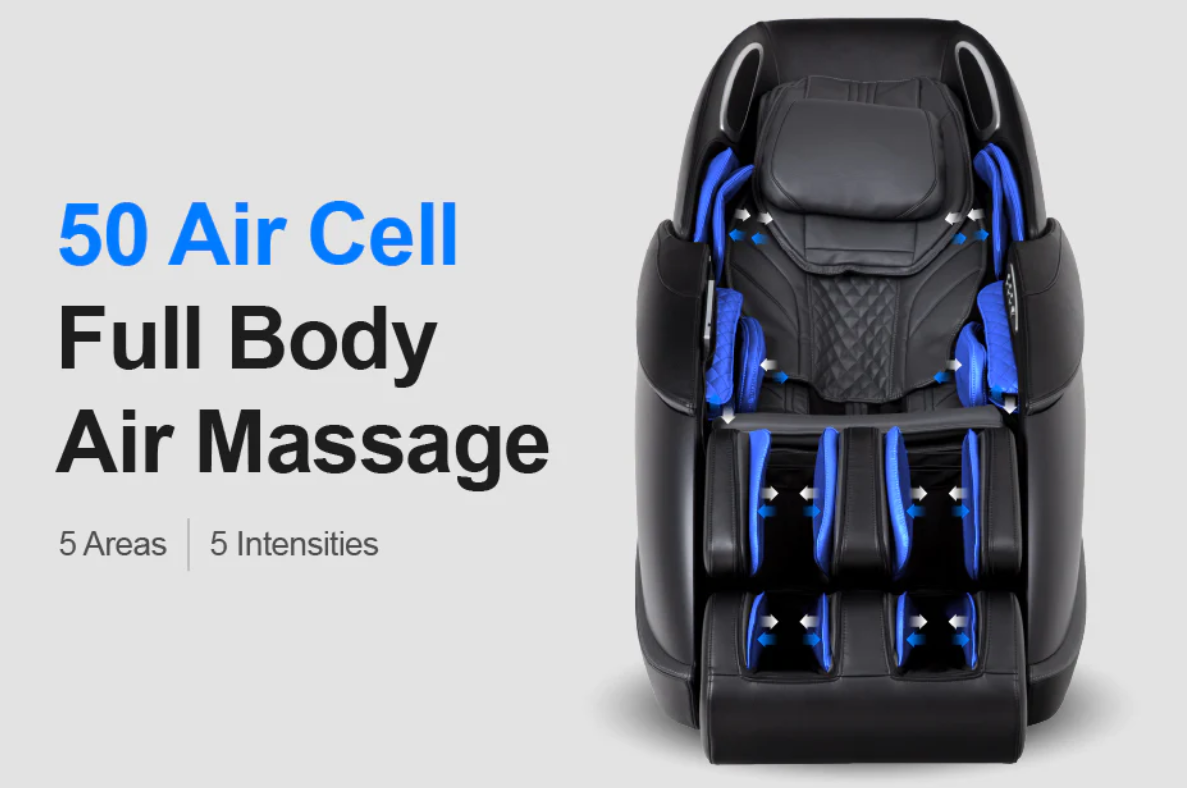 Massage chairs can significantly reduce many types of pain, including the typical pains we experience, like headaches, chronic neck pain, shoulder pain, and even back pain. Studies show that massage generally results in a 28% spike in serotonin and a 20% reduction in levels of cortisol (the stress hormone).
Serotonin plays an important part in the body's pain-relieving mechanisms. The body is best equipped to manage pain when levels of cortisol are decreased and levels of serotonin are increased. Your lower back will definitely thank you after a deep tissue massage in your new chair!
Click here to check out the Medical Breakthrough 7 Plus Massage Chair!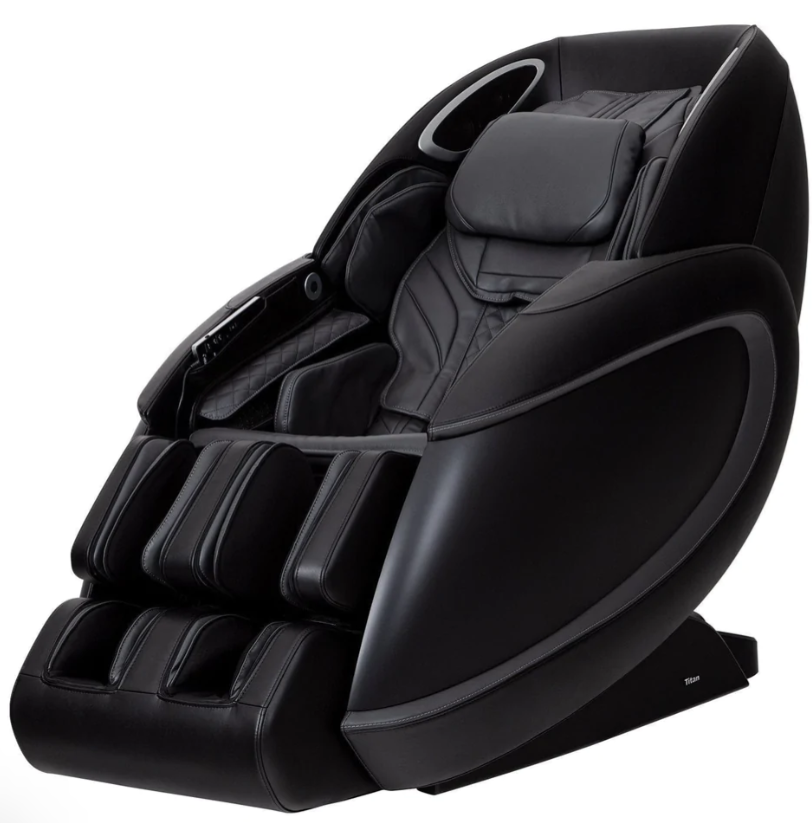 According to the testimonies of pain patients, massage chairs either dramatically decreased or entirely eliminated chronic pain. For an aging population that suffers from chronic pain, this is a MASSIVE DEAL. Massage chairs are a less costly option than pricey physical therapy and technology, which is why so many people are jumping at the opportunity to get one for their homes.
For people who have been experiencing chronic pain for a long time, owning a massage chair could be a fantastic option.
Your neck, shoulders, lower back, and blood circulation will thank you!
Relax and enhance spinal alignment
Massage chair therapy relaxes stiff muscles, improves mobility, fixes proper spinal alignment, and balances blood flow through every body part, creating a more balanced body in multiple ways.
Massage chairs are also known for improving select users' scoliosis and helping to balance the general structure of the skeletal and muscle system.
A massage chair helps treat neck and shoulder misalignment, scoliosis, and other conditions with regular use. Our selection of massage chairs is cultivated and designed to provide all of these amazing benefits!
Fixes Posture
The disadvantages of poor posture are well known, but the fact that massage chairs can improve your posture is not well known at all!
Another wonderful feature of massage chairs is the ability to improve overall posture and balance for their users. An excellent massage chair may realign the spine and the muscles in the shoulder and neck with regular usage. This is why they are used so regularly among professional athletes that require extra help during the recovery process after their workouts.
With a massage chair, you don't need to depend on a masseuse to make you feel amazing. It is a luxury that anyone can have in their homes!
Increases Flexibility
Increased flexibility is a result of frequent massage chair usage. When a trigger point causes diminished flexibility, massage chairs can aid you. For example, the rollers can massage your shoulder in a way that opens knots and reduces tightness, providing increased flexibility. Intense exercise and overexertion may activate trigger points, unpleasant conditions that cause aching muscles, and a limited range of motion.
Have you recently exerted yourself physically while playing a sport or lifting weights?
Regular massage treatment helps to alleviate and repair muscles, ligaments, and tendons. It can also help break up lactic acid, which increases the speed at which you can recover from training!
According to the Buck Institute for Research on Aging in Ontario, massage helps reduce inflammation and even encourages the development of new mitochondria, the body's metabolic powerhouse. Add that to the already-long list of advantages of full-body massage chairs!
Controls Blood Pressure
An increased sense of well-being and relaxation helps to lower blood pressure. When BP drops, it can be quite healthy for your body. For example, you'll notice a decrease in blood pressure after a good run or yoga session.
We can go on and on about how the body responds to reduced BP, but the greatest evidence is to sit in a massage chair and have yourself a session of "complete relaxation." Massage can bring full body health benefits that you don't want to miss out on.
Essential Points to Remember: Part 1
Massage chairs offer numerous health benefits, including reduced stress, tension, and anxiety.

Regular use of a massage chair can help ease tense muscles, boost blood circulation, and enhance the immune system.

Massage chairs can also support lymphatic flow, reduce pain, and improve spinal alignment and posture.
Additional Benefits of Massage Chairs
Increased Quality of Sleep 
Have you ever observed how a massage relaxes your body to the point of actually falling asleep?
Unsurprisingly, studies have demonstrated that massage treatment decreases weariness and enhances sleep for all people. Men and women, younger and older, as well as individuals who experience heart disease, cancer, or mental illness.
Click here to check out the Inada Robo Massage Chair!
Prevents Depression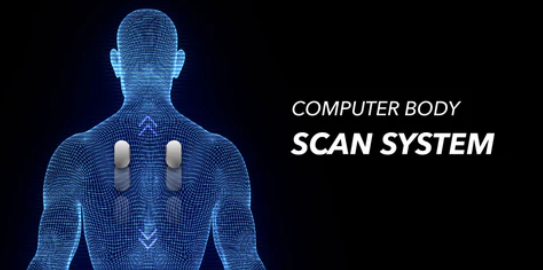 Today's society is experiencing a high prevalence of depression. This is why we love the fact that using a massage chair can actually help prevent depression.
Serotonin, endorphins, and dopamine are just a few pleasant chemicals massage treatment has been known to enhance. Deciding to get a massage chair is like receiving an endless supply of these feel-good brain chemicals.
Studies show that people who experience two 15-minute massage chair sessions per week for five weeks in a row had a rise in delta waves and a reduction in beta waves.
Beta waves are the thinking and waking waves, whereas delta waves are the profound sleep waves. Adults found that massage chair treatment reduced conscious anxiety and helped them enter into a profound level of relaxation.
Studies on people with breast cancer in stages 1 and 2 discovered that treatments consisting of three 30-minute massages each week for five straight weeks had remarkable effects. Elevated quantities of NK cells (which can kill tumor cells and virus-infected cells), serotonin, dopamine, and lymphocytes were detected, their immune systems got a big boost, and their general mood improved!
Human Resources administrations and departments have reacted by putting up sections in office buildings where workers can rest and relax in massage chairs! So, why not get a massage chair for the home too?
Allows for Quicker Recuperation after Exercise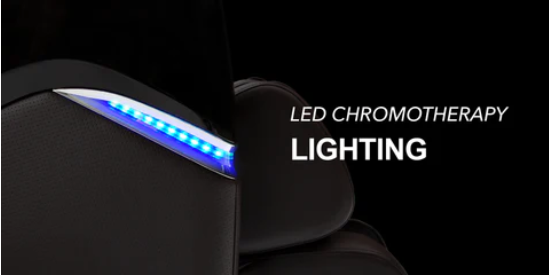 Your muscles produce lactic acid during intense activity. This post-workout consequence increases muscular discomfort and tiredness. Lactic acid is gradually processed by your body and eliminated from the muscles.
Regular usage of an advanced massage chair may help your body remove lactic acid and speed up your recovery from exercises, which is verified by both athletes and athletic trainers.
Can Fit Anywhere in Your Home
Many houses simply cannot afford an entire room for a massage treatment or spend money weekly on a masseuse. A massage chair, however, may be positioned almost anywhere, even in an open study area or an empty corner beside the utility closet. It may also be relocated as needed.
Click here to check out the AmaMedic R7 Massage Chair!
A Massage Chair's Cutting-Edge Features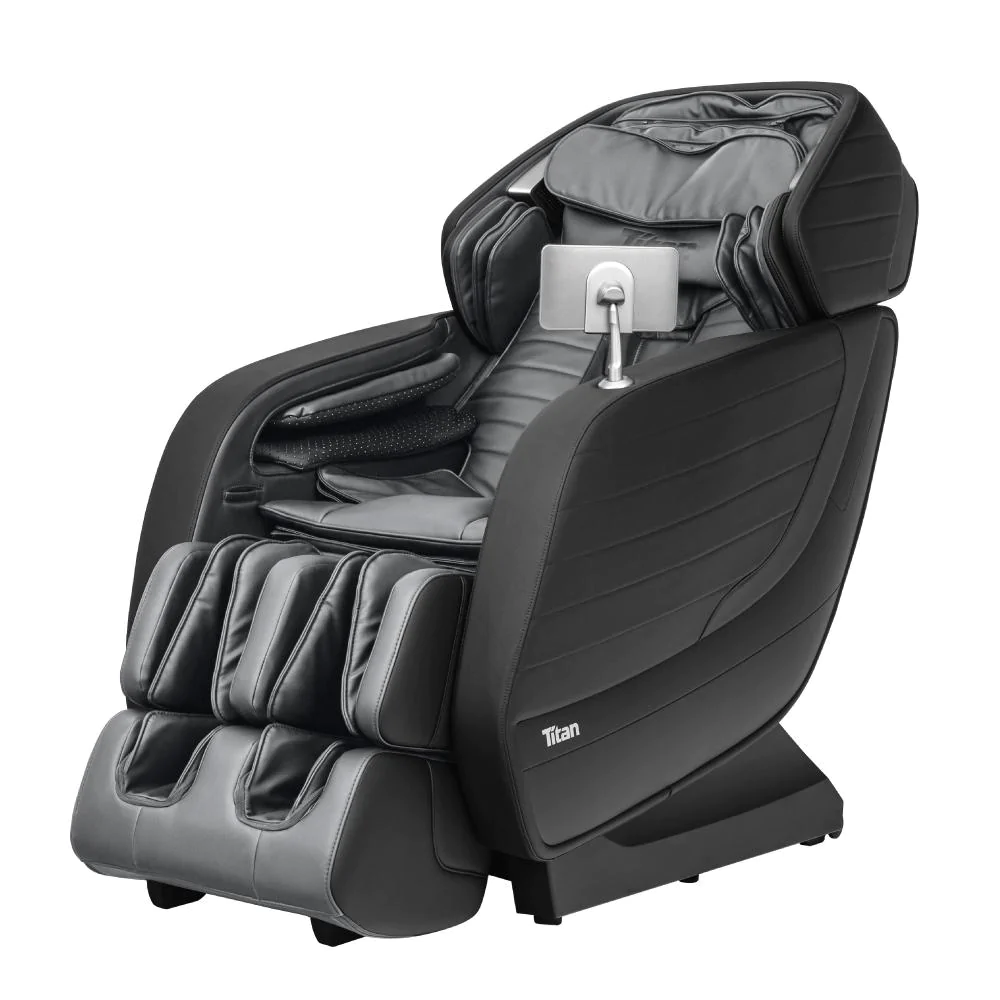 The top massage chairs have certain features that enable them to provide remarkable health advantages. For instance, they contain auto body scan features that allow them to more give you a better massage based on the actual shape of your body! An outstanding example is the Titan Jupiter LE Premium. This amazing chair even comes with 10 auto programs & 6 massage styles so you're sure to get the exact type of massage therapy that your body truly needs.
Massage Chair Lumbar Support
With unparalleled lumbar support, zero gravity technology, deep tissue activation, and full body health benefits, you'll be able to relieve chronic back pain!
Advanced massage chairs also provide a selection of pre-defined "routines." As a result, you may choose a design that meets your specific demands today and, if necessary, a different pattern tomorrow.
They allow you to blend various massages manually. This allows you to alter a routine, which may be a very helpful skill as you get more used to the chair and the effects of various massages.
Massages work deep into the muscle, providing instant relief. Any person would be grateful after a relaxing hour of recovery from a quality massage. You will be able to experience the advantage of better posture, relieve sore muscles, and decrease headaches.
While taking a look at our wide variety of massage chairs, think make sure to choose one that is the most aesthetically pleasing for your home. The mind-body connection and how you feel when you view your chair should be taken into consideration when comparing massage chairs.
Essential Points to Remember: Part 2
Owning a massage chair can increase flexibility, control blood pressure, and promote better sleep quality.

Massage chairs can help prevent depression, speed up recovery after exercise, and fit conveniently into your home.

Look for chairs with advanced features such as auto body scanning, customizable settings, and lumbar support for the best massage experience.
Contact Us for Massage Therapy
We'd love to answer all of your questions!
Feel free to give us a call at 773.337.8822 or send us an email at sales@airpuria.com. We're looking forward to hearing from you!
Financing Options for Massage Chairs
When purchasing a massage chair, consider providers like Airpuria that offer financing options to make your investment more affordable. Airpuria provides financing for all customers with rates as low as 0% for up to 18 months, as well as business financing with flexible terms and competitive rates.
We offer financing options for all individuals, with 0% interest rates for up to 18 months. Business owners can also apply for special financing programs tailored to their needs.
Financing Links: