If you're interested in sauna therapy or health technology, Medical Saunas represent a major advancement. It's the world's first sauna specifically designed to promote healthy blood circulation, speed up the recovery of tired muscles, and eliminate all aches and pains for a better night's sleep — which you can own in your own home. Since medical saunas have so many health advantages, they are quickly becoming the most popular in the market. Want to know more about Medical Breakthrough Saunas? This post is for you!
The Medical Sauna Story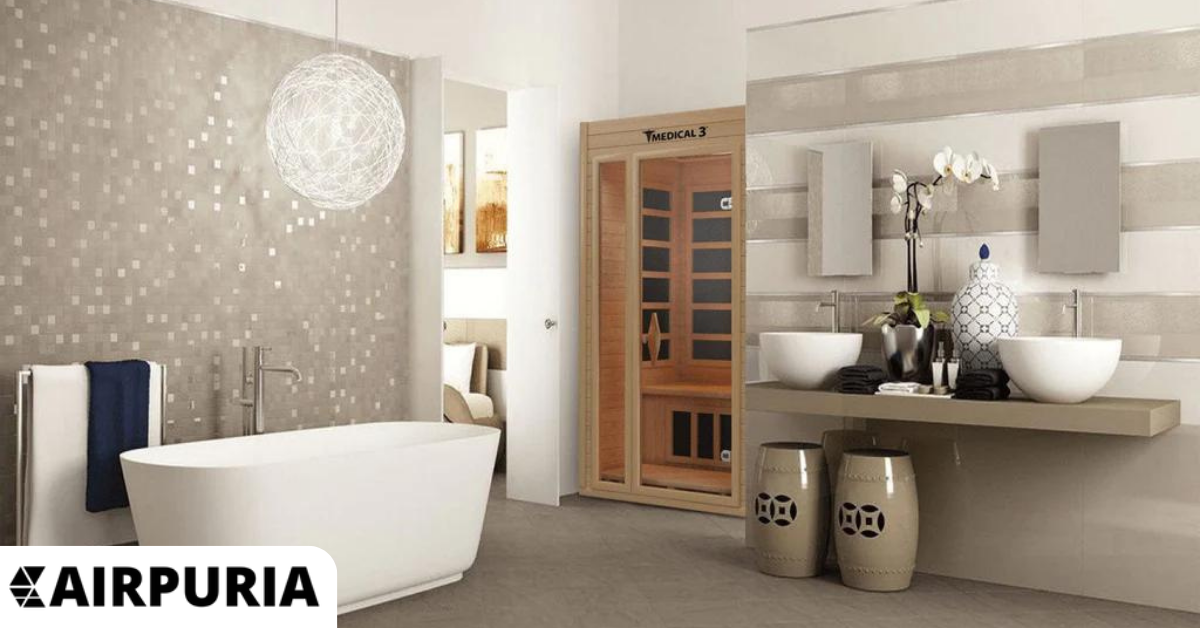 Despite the widespread availability of saunas, the vast majority aren't created with the guidance of medical doctors and professionals. After extensive testing, we concluded that Medical Breakthrough offers some of the best saunas available when it comes to obtaining real health benefits.
They've collaborated with numerous MDs, pain docs, and cardiologists to develop the most advanced medical sauna possible and have devoted a great deal of time and energy to studying the therapeutic effects of saunas. Medical Breakthrough has equipped their saunas with as many cutting-edge medical features as possible.
The course of development to create these amazing designs took over ten years. With the many thousands of design hours spent, they are now extremely effective in helping with pain management, improving cardiovascular health, strengthening your immune system, detoxifying your body and so much more! It's clear that Medical Breakthrough has a true dedication to facilitating your body's recovery. They've dubbed this collection the Medical Sauna Series.
Breakthrough Features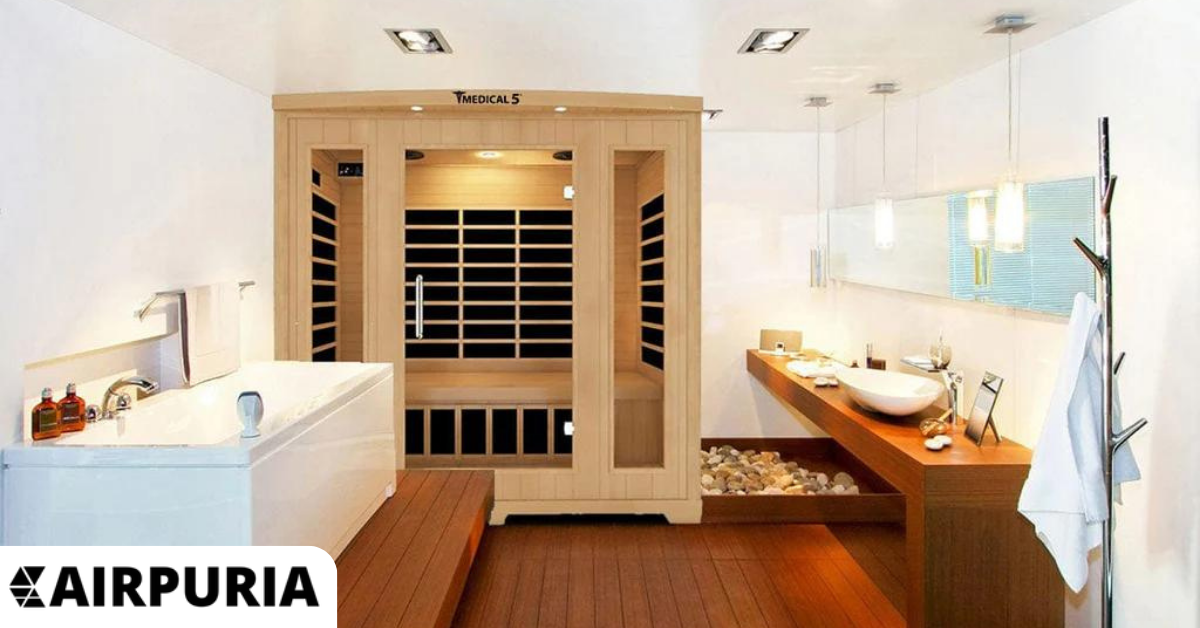 1. Durable hemlock construction
Many other saunas on the market have durability issues. Your sauna might be fine when you first get it, but after a few months of use, it might start to lose heat. This is a common issue for people who own saunas. The durability of a sauna is crucial, because to ensure that it will hold up for at least ten years of regular use.

No sauna is worth the price unless it can be used for at least a decade. After years of study, it's confirmed that natural hemlock can be used for fantastic medicinal and structural qualities. Since hemlock improves with age, this collection of saunas may even hold up better the longer you use them!

Hemlock is commonly used because of its astringent properties, which allow it to aid in skin cleansing and boost the already potent detoxification effects of Medical Saunas. These hemlock saunas have strong natural wood aromas that will leave your body feeling relaxed and rejuvenated.
2. Based on documented research
Studies show that medical saunas can help with a variety of conditions.

You should access as much reliable data as possible before making any health-related decisions. The profoundly beneficial effects of regular heat therapy are guaranteed by Traditional Saunas, which are supported by substantiated research. These saunas are a notable choice when it comes to boosting circulation and blood flow!
Medical Sauna's Rapid Internal Heating System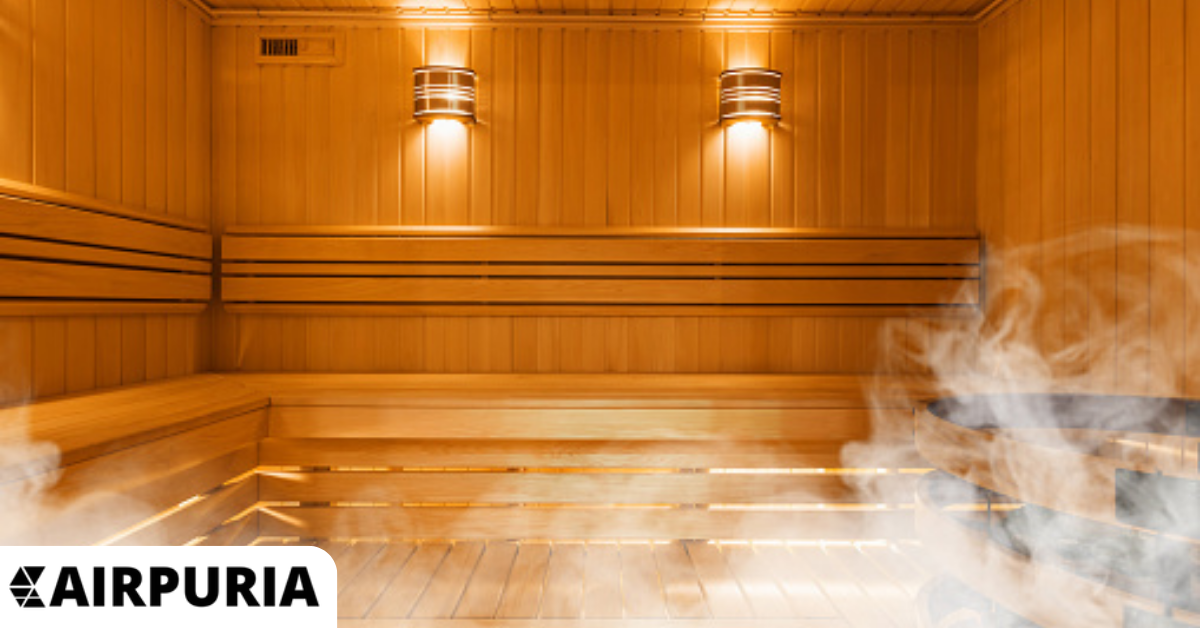 Rapid Internal Heating System
Unlike many competitors, who take an average of 90 minutes to 2 hours to pre-heat, Medical Breakthrough's Medical Saunas can reach their desired temperature in as little as 40 minutes. This is due to their Rapid Internal Heating System.

As a result, you can spend more time in the sauna while waiting less and spending less on heating costs. This is a great benefit for busy bodies who want a quick sauna session!
Benefits of the Rapid Internal Heating System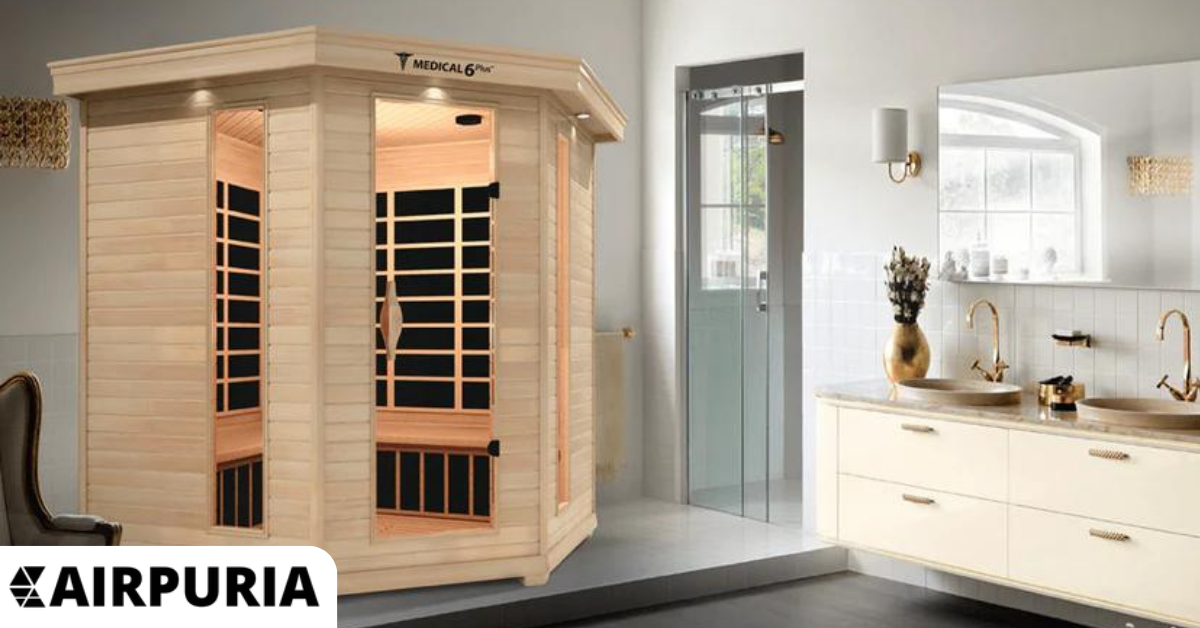 The Rapid Internal Heating System also has the additional benefits of boosting stamina and protecting against illness. When you enter these saunas, you will begin to sweat almost immediately, whereas it may take up to 15 minutes in other saunas before you start to feel the effects.

A fast-heating sauna can make you feel as though you've just finished a workout because it raises your core temperature rapidly, which helps to heal your muscles. This not only improves your athletic performance by allowing you to withstand higher temperatures but it also improves cardiovascular health and strengthens your immune system, giving you relief for a better chance to ward off illnesses.
Hot/Cold Cleansing System
The benefits of warming up and cooling down in rounds, recommended by many sauna users and experts, are nearly impossible to achieve due to the slow heating systems in most other saunas.

Medical Breakthrough saunas offer a Hot/Cold Cleansing system which offers fast switching between different temperatures so you can gain those extra health benefits for your body!
Medical Sauna's Detox Routine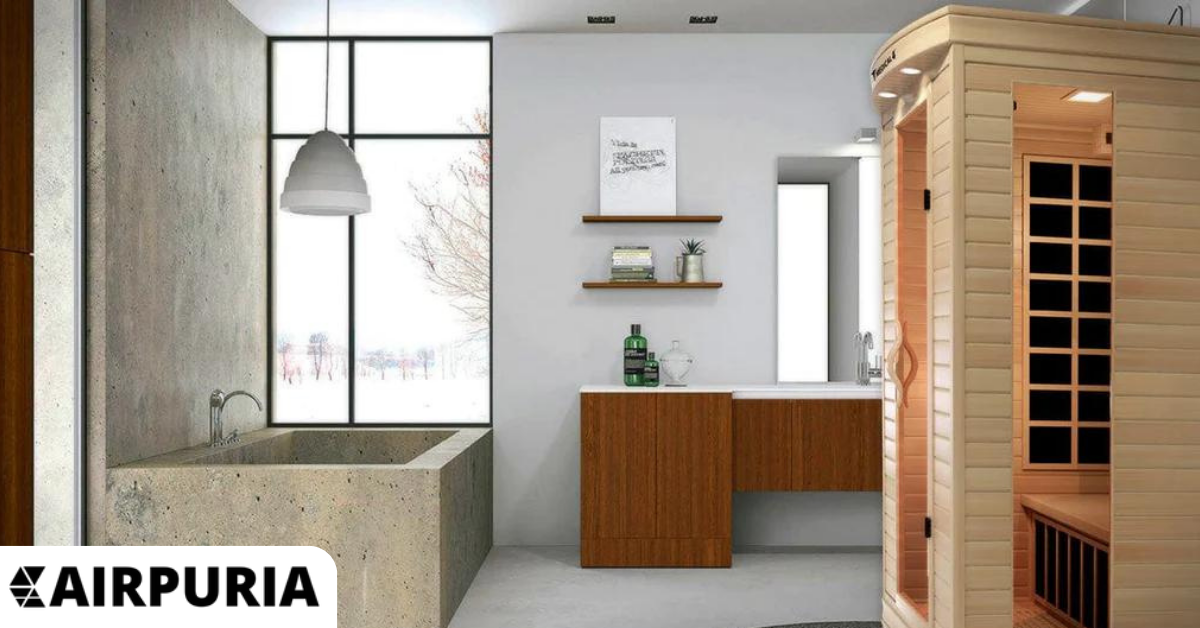 The Detox Routine
Toxins and other impurities in the body can be flushed out with regular use of a Medical Sauna.

Toxic chemicals, such as bisphenol A (found in many plastic household items), heavy metals, phthalates (found in most fast food), and nicotine are all examples of environmental hazards that we regularly encounter. When it comes to sweating out harmful chemicals, no product compares to a Medical Sauna.

Using a medical sauna regularly while following this routine will repeatedly dilate your pores, allowing the harmful toxins within your body to be flushed out. This will leave you feeling refreshed and revitalized!
Insulated Airflow System
Have you ever visited a commercial gym and wondered why they didn't seal the door to their sauna better? Us too.

Poorly constructed saunas have been causing discomforting temperature swings for far too long, negatively impacting users' health benefits and increasing the cost of sauna use. A sauna's insulation is as vital as the heating system itself in maintaining a constant temperature inside your body.

With Medical Breakthrough's heating system and the help of their innovative design that facilitates insulation, your sauna will always be at the perfect temperature. Because of this, their Medical Sauna can be maintained at the optimal temperature with minimal effort, allowing you to reap the full health benefits of your sauna session.
Medical Sauna's 3D Heat Therapy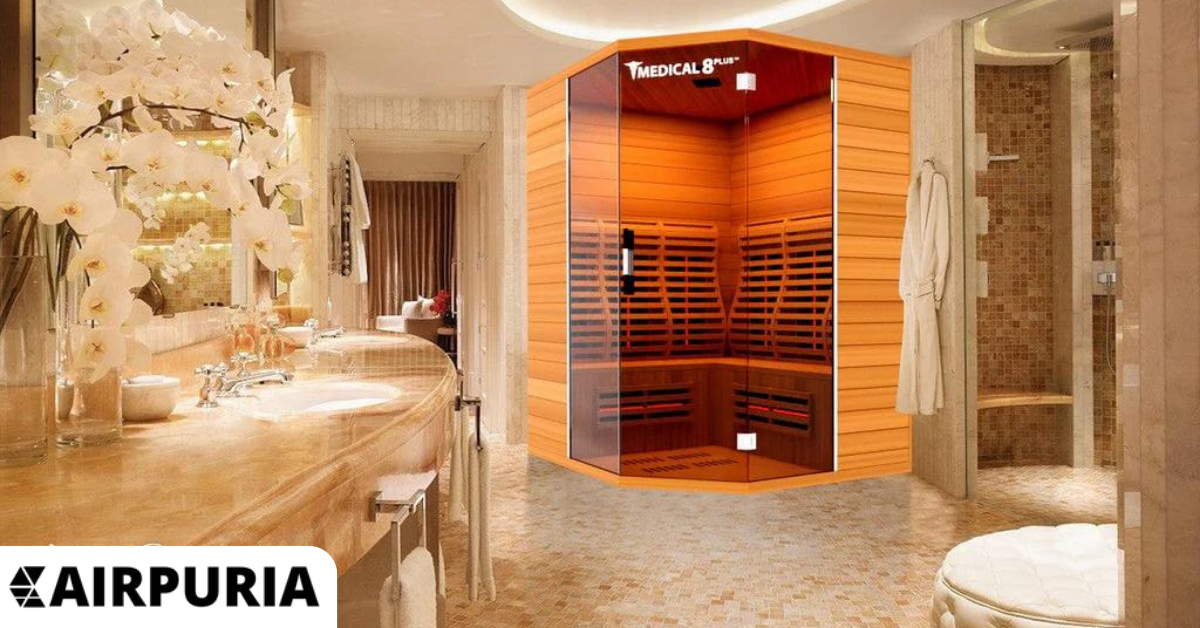 3D Heat Therapy
Medical saunas from Medical Breakthrough are the only one's available that provide 3D Heat Therapy. Sore muscles can recover faster, range of motion can be increased, muscle spasms can be reduced, and pain can be alleviated with the help of this innovative form of heat therapy.

As temperatures rise, 3D Heat Therapy penetrates deeply into the tissue and cells of the body, resulting in systemic therapeutic effects. Only in a Medical sauna can you experience an enhanced form of heat therapy that will restore your health on every level.
Safe Cool Down System
To cap off your sauna session in safety and efficiency, these units feature a unique airflow system not found in any other unit on the market. Depending on the type of effect you're searching for, it could be essential to let your body cool down gradually at the end of the session.

The slow release of heat from this brand's construction is a big help during the cooling-off period.
Skin Rejuvenation/Cleansing System
Medical saunas are the only type of sauna that have the powerful and efficient heating technology to make your entire body quickly feel warm and cozy, reduce headaches and migraines, and make your skin look and feel brand new! These robust heating systems and the use of hemlock wood in the Medical Sauna Series contribute to these effects.

Eliminating dead skin cells and expanding your pores contribute to improved blood flow to the skin's surface, promoting skin healing. Your skin will look younger and more revitalized after just one session in a medical sauna.

In addition to providing a soothing environment, medical saunas also promote physical wellness. The Medical Sauna is a product created by a collaborative effort by doctors and pain specialists representing more than 100 years of medical experience. Regular use of these saunas have shown a wide range of health benefits.
Medical Breakthrough Saunas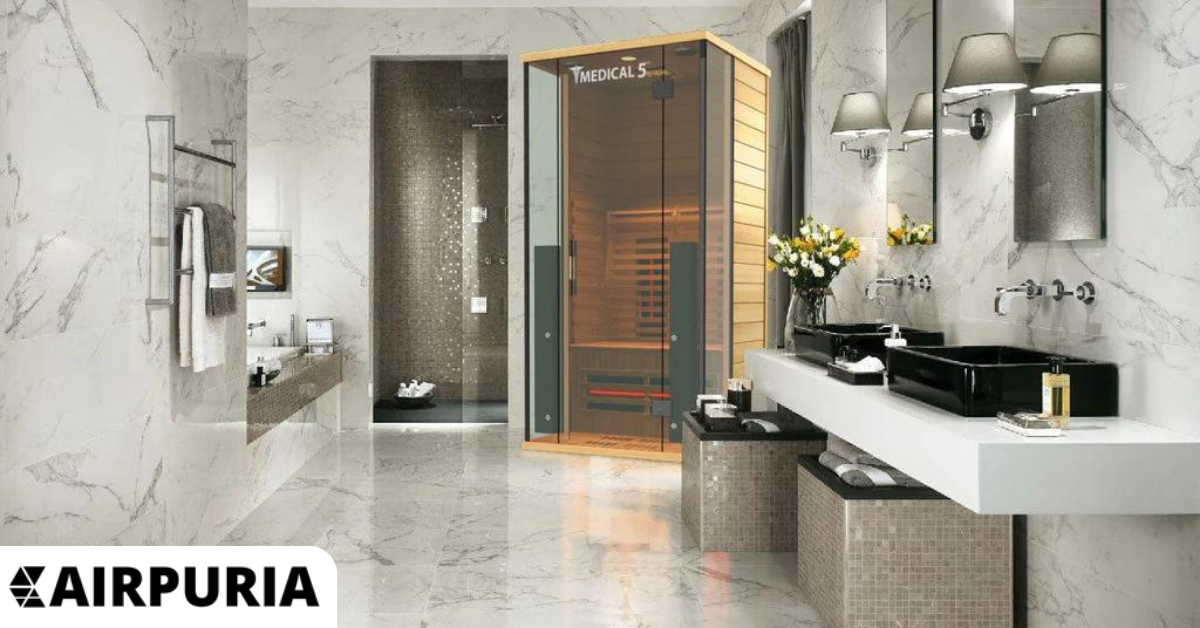 Medical 4 Version 2.0 Full Spectrum Sauna
The standardization of the Medical 4 Version 2.0 designed by doctors was achieved by comparing it to existing saunas and trying to make them better! That's why it's packed to the gills with options. It has Infrared Full Spectrum and Carbon Heater technology, Full Spectrum heaters in the front and back, Interior Reading Lights, and Beautiful Glass Corners; it also has Chromatic Therapy, 2 Speakers, Bluetooth, a Radio, an AUX port, and a USB port!

Simply put, there has never been a plusher sauna than this one. Most saunas are too cramped for yoga practice, and the benches would get in the way. Therefore, it has been designed with removable seats and benches. Once the equipment is gone, the inside becomes an open area, perfect for practicing your yoga stretches.

You can cut costs by using the Medical 4 Full Spectrum sauna. Regular saunas typically operate at 220 volts and devour a lot of juice. You can save time and money with the Medical 4 Full Spectrum Sauna — one of the most cost-effective saunas available using much less power than other types of saunas!

Extreme Relaxation Backrests are included at no extra cost in the Medical 4. They place you at the ideal distance from the heaters to enjoy a cozy, quiet, and relaxing atmosphere!
6 Heaters - They've installed heaters in key areas to ensure you get the full sauna experience.

Hot/Cold Cleansing System - Experience the therapeutic effects of both heat and cold in the Medical Sauna. This sauna will provide you with the therapeutic benefits of sauna use by allowing you to maintain a comfortable body temperature throughout your session.

Detox Routine - To achieve the desired effects of a sauna, perspiration must increase, and this version does this most efficiently and effectively. When you enter a sauna, your body will detox, which may help eliminate toxins and heavy metals.

Insulated Airflow Systems - The insulating system of your Medical Sauna, comprised of wood and tempered glass, is second to none.

Natural Hemlock Wooden Construction - Wood from a natural hemlock tree is the cleanest and most authentic option for a sauna. Allergens and synthetic chemicals are nowhere to be found.

Tempered Glass Door - The sauna's stylish tempered glass door features a tint for added privacy and protection.

Speaker System with Bluetooth/USB/AUX Connection - Use a variety of inputs to play music of your choosing while you sweat it out in the sauna.

Rapid Internal Heating System - Made to help you work out harder for longer and recover faster, you'll start sweating almost as soon as you enter our sauna. A powerful and efficient heating sauna can make you feel like you've just finished a workout because it raises your core temperature rapidly.

Energy Efficient Heating System - This Energy Efficient sauna won't leave a huge dent in your wallet thanks to its low energy consumption.

Simple Touch Interior LED Control Panels - The sauna's on/off switch is conveniently located on the sauna's interior control panels. In addition to its modern aesthetic, this sauna's panel comes equipped with all the features you'll need to run it smoothly.

Chromatic Light Therapy / Interior Mood Lighting - Use proper lighting to prepare your sauna for reading, stretching, or relaxation.
Check out the Medical 4 Version 2.0 Full Spectrum Sauna here!
Medical 3 Infrared Saunas
This sauna was created with collaboration from numerous MDs, pain docs, and cardiologists to develop the most advanced medical sauna possible.

The Medical 3 Sauna is exquisitely made with premium natural hemlock and is ideal for single use. Traditional medicine has long relied on hemlock for its resilience and healing properties. Because of the hemlock construction and the Skin Rejuvenation/Cleansing System, your skin will feel cleaner and more youthful after use.

The Medical 3's six infrared heaters provide a soothing sauna experience with their uniform heat distribution. The Medical series is made to help you relief for a better night's sleep to improve blood flow, heal your muscles, and achieve absolute pain relief.

Insulated Airflow Systems and 3D Heat Therapy enhance the infrared heating method by circulating air and heat optimally, allowing the heat to penetrate the tissue and cells of the body. The sauna's temperature and lighting can be easily and precisely adjusted with the help of the sauna's Simple Touch Exterior LED Control Panel. The Medical 3 also features an inbuilt speaker system!
Specifications
Power Usage/Amps
Amperage: 15 Amp

Voltage: 120 V
Internal Dimensions
Width: 36"

Depth: 32"

Height: 66.5"
External Dimensions
Width: 39"

Depth: 36"

Height: 77"
Check out the Medical 3 Sauna here!
Medical 6 Plus Sauna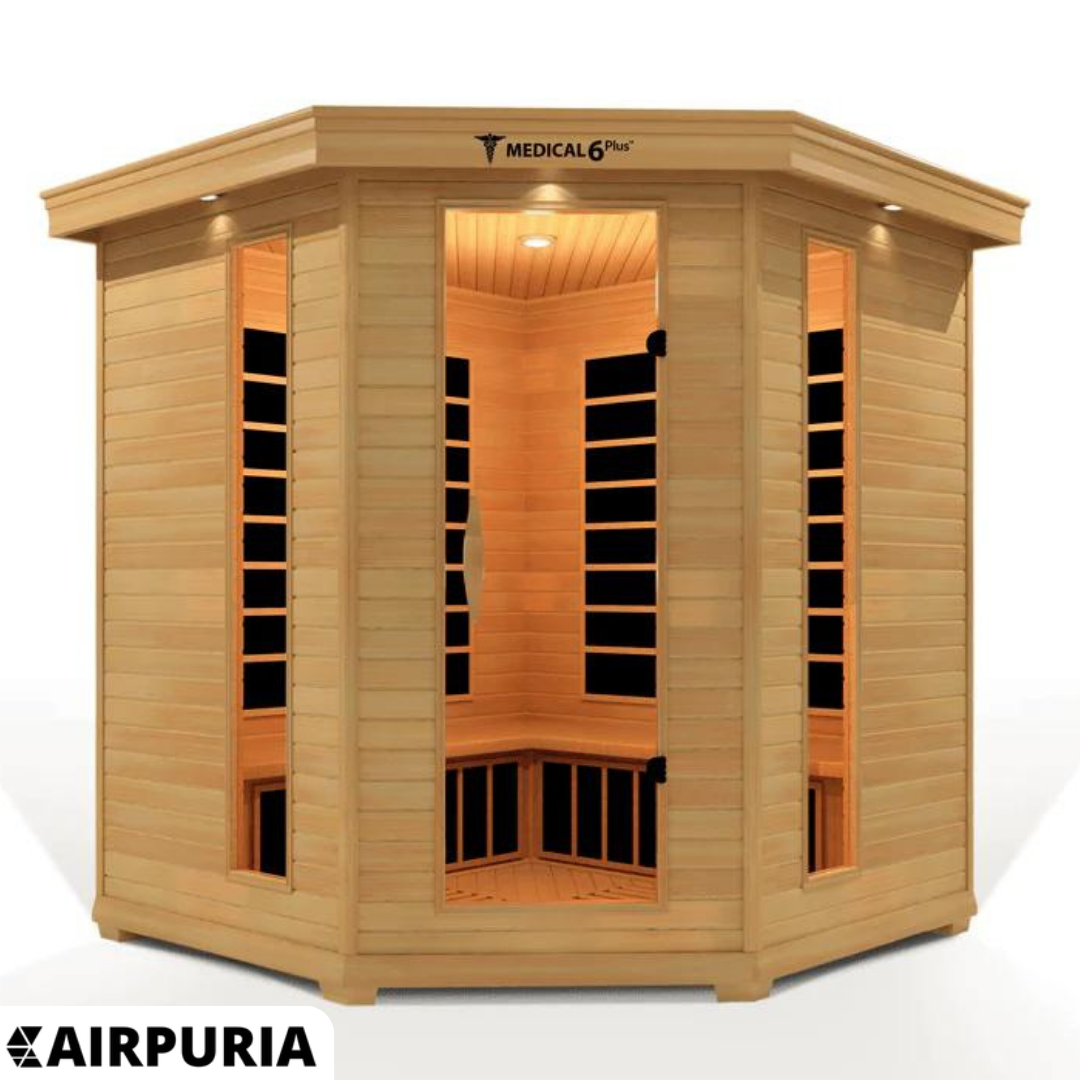 Customers have raved about this home sauna in the reviews! The health advantages of this sauna for four to six people are extensive. If you suffer from poor circulation, frequent headaches, sore muscles, or chronic pain, the Medical 6 Plus Sauna can help.

The Medical 6 Plus Sauna's features and advantages don't stop there. This home sauna offers a variety of therapeutic treatments, including hot and cold therapy, a detox routine, an insulated airflow system, 3D heat therapy, and much more.

The Medical 6 Plus Sauna from Medical Breakthrough is one of the best home saunas on the market today. Some of the 6 plus features are listed below:
Features
Capacity of 4-6 People

Contains 12 Heaters

Hot/Cold Cleansing System

Detox Routine

Insulated Airflow System

3D Heat Therapy

Wooden Construction with Natural Hemlock

Simple Touch Exterior LED Control Panel

Roof Vent

Tempered Glass Door

Speaker System with MP3 Connection

Rapid Internal Heating System

Energy Efficient Heating System

Simple Touch Interior & Exterior LED Control Panels

Radio & Auxiliary Player Functionality

Mood Lighting

Omni-Directional Heating

Chromatic Therapy System

Extra Comfort through Deep Bench Seating

Interior Reading Light System

Inaudible Heating System

Media Theater System

Additional Energy Efficient

Executive Corner Unit Design

Extra-Insulated Airflow System

Extra-Rapid Internal Heating System
Check out the Medical 6 Plus Sauna here!
Expert Advice for Choosing a Medical Sauna
When considering a Medical Breakthrough Sauna, it's essential to understand the unique features and benefits that set them apart from other saunas on the market. Medical Breakthrough has collaborated with numerous MDs, pain doctors, and cardiologists to develop the most advanced medical sauna possible. They've devoted a great deal of time and energy to studying the therapeutic effects of saunas and have equipped their saunas with cutting-edge medical features.

Here are some expert tips to help you choose the right Medical Breakthrough Sauna for your needs:
Consider the size and capacity of the sauna, ensuring it fits your space and accommodates the number of users you expect.

Look for saunas with durable hemlock construction to ensure longevity and improved medicinal and structural qualities.

Opt for a sauna with a Rapid Internal Heating System, which allows for faster heating times and more efficient energy use.

Make sure the sauna has a Detox Routine and an Insulated Airflow System to maximize the health benefits of sauna use.

Prioritize saunas with 3D Heat Therapy for faster muscle recovery, increased range of motion, and reduced pain.
Frequently Asked Questions
1. Does my sauna come assembled?
The Sauna is delivered unassembled, but it's easy to install. When your medical breakthrough sauna is ordered you will be sent videos and instructions to make the entire setup process as simple and easy as possible! These saunas are shipped to you on pallets, ready to be assembled. Most of these saunas can be assembled in less than a couple of hours.
2. What kind of flooring can an indoor sauna go on?
Specifically, we suggest:
Tile: To clean, simply wipe it down! Don't let your guard down. Sometimes it's slick.

Concrete: Ideal for those who wish to install their sauna in an unfinished basement or garage. You can lay down duckboard flooring or just wear sandals if you're worried about your feet getting cold. For this time of flooring, please make sure the ground is level for the best results!

Vinyl: Quick assembly, simple cleanup, and a wide range of stylish options. Choose something that can withstand moisture if at all possible.
3. Can I put my indoor sauna outside?
Saunas designed for indoor use are not safe for use in the open air. By putting your inside sauna in the outside air, you'll run the risk of ruining the exterior or your sauna which will render the warranty null and void. We have a large selection of reasonably priced outdoor saunas if you want to try one out.
4. Can I just plug my sauna into a standard outlet?
It all depends on the sauna. Sometimes, saunas can be powered by connecting them to an electrical socket. However, some saunas may need their own circuit because of the electrical load they produce. Read the sauna's electrical requirements and then check with a local electrician to ensure your home can handle the power draw.
5. What are the monthly electricity costs associated with running a sauna?
This depends on how much you use your sauna. Sauna owners who use their sauna daily for 30-minute sessions or longer have reported that the slight hike in their electric bill was comparable to the increase you would expect when using your air conditioner.  
6. How hot do your saunas get?
A typical sauna can reach temperatures of up to 190 degrees Fahrenheit, while infrared saunas rarely exceed 145 degrees.
7. What's the difference between an infrared sauna and a traditional sauna?
There are many infrared heaters in an infrared sauna, each of which sends out its own unique wavelength of infrared light. As opposed to traditional saunas, infrared saunas only get to about 145° F as they heat the body rather than the surrounding air. Heating up an infrared sauna usually takes about 15 to 25 minutes. Electric heaters or wood stoves are used to warm the air in a traditional sauna. When water is poured over the sauna rocks, which are placed directly on top of the heater or stove, steam is generated to increase the sauna's humidity and temperature. The average temperature in a traditional sauna is 190 degrees Fahrenheit, but some enthusiasts heat theirs to well over 200 degrees!
Airpuria's Take — Medical Breakthrough Saunas
Whether you're looking to relieve pain, improve cardiovascular health, help strengthen your immune system, or simply relax, Airpuria can make that happen with Medical Breakthrough saunas!

Airpuria is the best way to purchase Medical Breakthrough saunas. Our customer service is the best in the industry, and we're always excited to help you find the product that's going to change your life. Feel free to call us at 773.337.8822 or email us at sales@airpuria.com. We're more than happy to answer all of your questions. Thank you for reading!
Financing Options for Medical Breakthrough Saunas
Purchasing a Medical Breakthrough Sauna can be made more affordable with financing options offered by providers like Airpuria. They provide financing for all customers with rates as low as 0% for up to 18 months, as well as business financing with flexible terms and competitive rates.
Here's what you need to know about Airpuria's financing options:
They offer financing options for all individuals, with 0% interest rates for up to 18 months.

Business owners can also apply for special financing programs tailored to their needs.
Links: