Hyperbaric oxygen therapy (HBOT) has been gaining popularity in recent years as an effective treatment for various health conditions. HBOT involves breathing pure oxygen in a pressurized chamber, allowing your body to absorb higher oxygen levels. This increased oxygenation may promote healing and recovery.
While HBOT is often used in clinical settings, having your own hyperbaric chamber at home provides convenience and can be more cost-effective over time.
Airpuria offers a range of OxyHealth hyperbaric chambers for home use. In this guide, we'll explore OxyHealth chamber options and their costs!
A Brief Overview of Hyperbaric Oxygen Therapy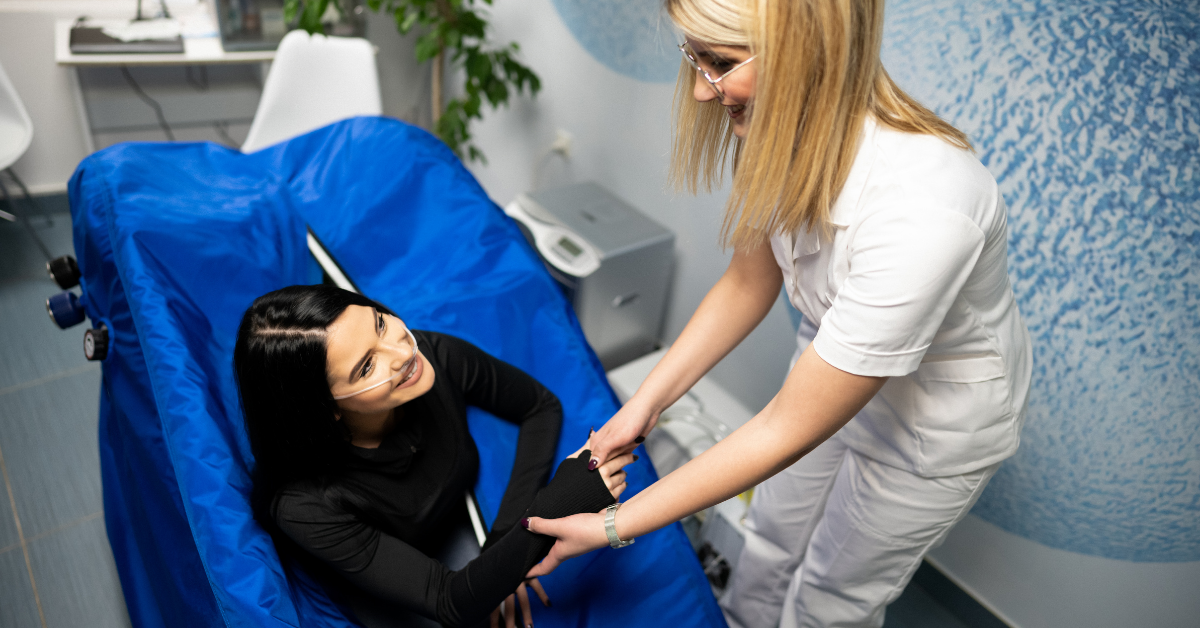 Let's start with a quick overview of how hyperbaric oxygen therapy works.
Hyperbaric chambers allow you to breathe oxygen at higher than normal atmospheric pressure - usually between 1.5 to 3 times higher than the norm. The enclosed pressurized environment, combined with pure oxygen, enables your bloodstream to transport an increased quantity of oxygen molecules. This process can yield a range of therapeutic effects for various metabolic processes in the body.
Getting extra (concentrated) oxygen into your bloodstream promotes healing in several ways:
Increasing oxygen delivery to injured tissues

Reducing swelling and inflammation

Stimulating the growth of new blood vessels

Killing bacteria for certain infections

Providing relief for decompression sickness
The increased oxygen levels bring a wealth of benefits and medical applications, from helping heal stubborn wounds to potential relief from health conditions like Lyme disease.
HBOT is a generally safe, non-invasive treatment with minimal side effects. Sessions typically last 60 to 90 minutes. Some conditions require 20-40 sessions or more, depending on severity.
Why Consider an At-Home OxyHealth Hyperbaric Chamber?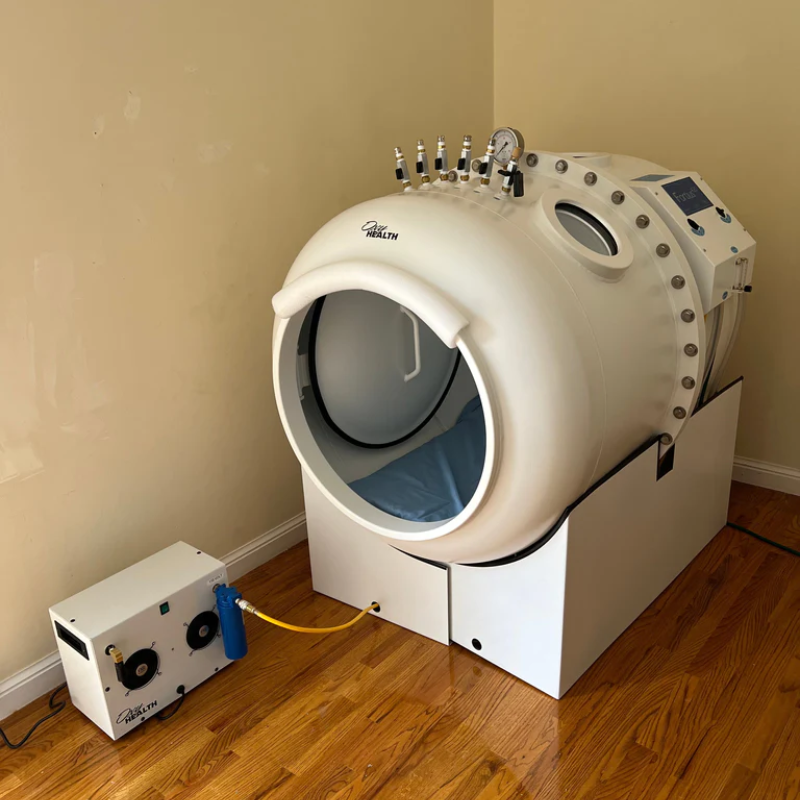 Purchasing your own hyperbaric chamber from Airpuria provides several advantages:
Convenience: With your own chamber, you can undergo HBOT in the comfort of your home instead of traveling to appointments.

Cost savings: Over time, an at-home chamber can be cheaper than paying per session at a clinic.

Flexibility: You control the timing and frequency of your sessions.

Portability: Certain OxyHealth chambers are portable, allowing you to pack up and transport easily anywhere.

Safe for self-operation: All OxyHealth chambers come with safety systems and are designed for you to self-operate - always consult with your doctor before undergoing hyperbaric oxygen therapy.

FDA-approved: OxyHealth maintains FDA 510(k) clearance for their chambers.
While most insurance plans don't cover HBOT, having your own chamber eliminates fees for clinical sessions, providing savings in the long run. Please check with your insurance provider to determine if any of your expenses are reimbursable.
Now let's explore the different OxyHealth chamber models that Airpuria offers and compare their costs.
OxyHealth Hyperbaric Chamber Options from Airpuria
Airpuria provides the full range of OxyHealth's soft portable hyperbaric chambers. Models range from more compact chambers designed for one person up to dual-occupant chambers with spacious interiors.
Here is an overview of the different OxyHealth chamber options available through Airpuria:
OxyHealth Solace 210®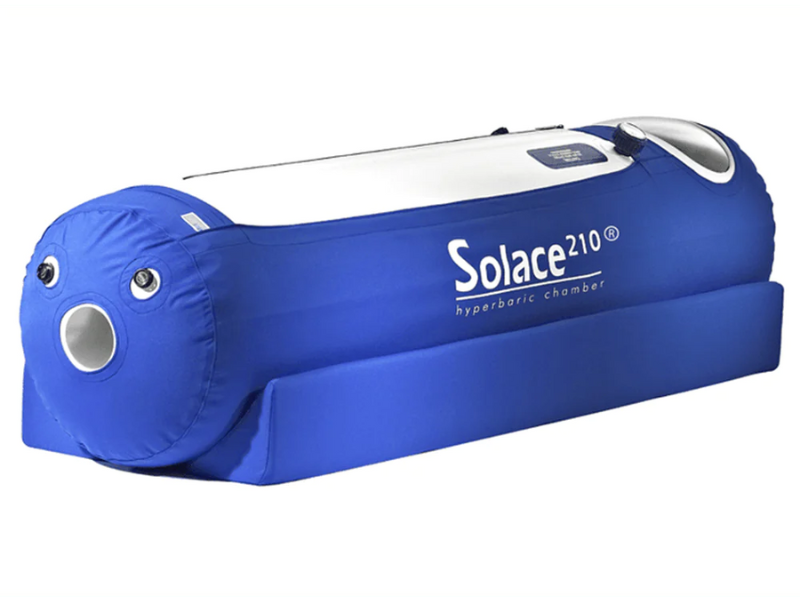 21" diameter chamber

Fits one adult

1.3ATA (4 psi) operating pressure

Portable and lightweight
This compact chamber provides a peaceful sanctuary for healing with room for one adult. The Solace 210® is OxyHealth's most affordable and portable model.
Price: Starts at $9,000
OxyHealth Respiro 270®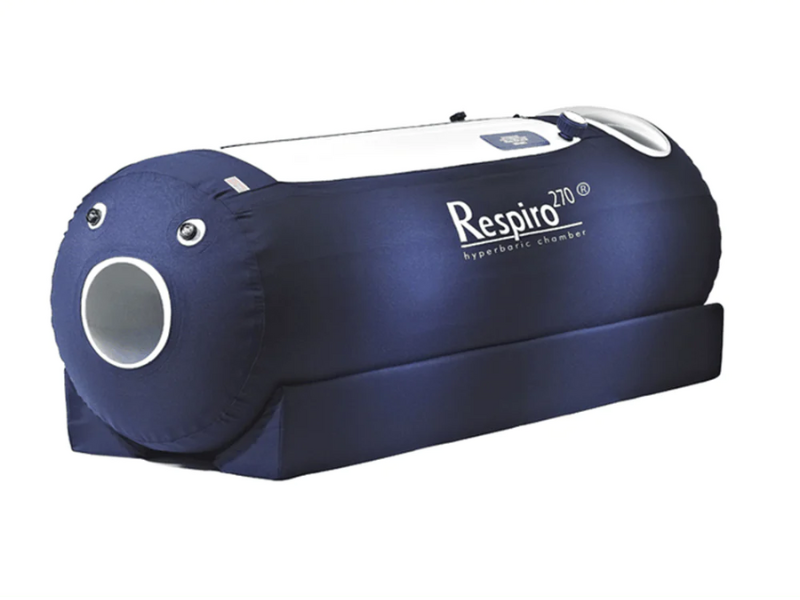 27′′ diameter

Fits 1 adult

1.3ATA (4 psi) operating pressure

Increased interior size
With a larger 27′′ diameter, the Respiro 270® gives patients more freedom of movement while maintaining a convenient portable size.
Price: Starts at $15,000
OxyHealth Vitaeris 320®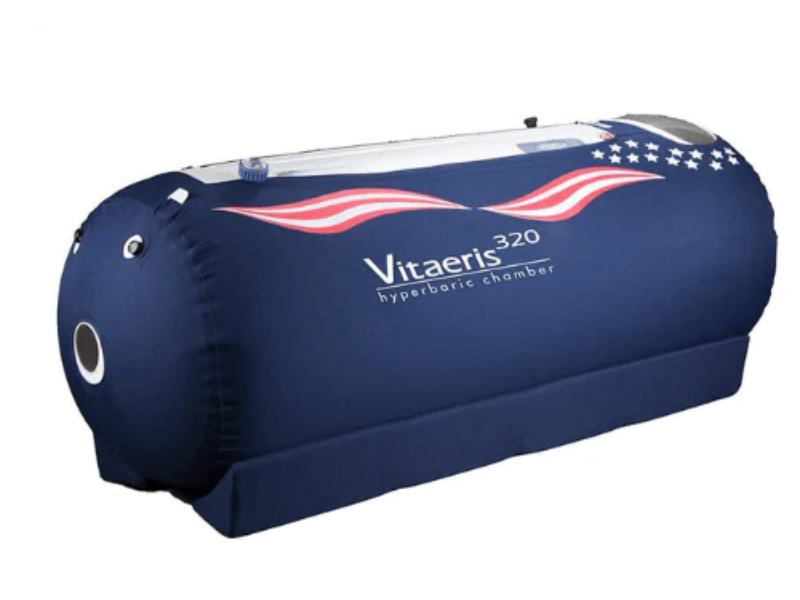 32′′ diameter

Spacious dual-person chamber; fits 1-2 adults

1.3ATA (4 psi) operating pressure
The Vitaeris 320® is OxyHealth's most popular chamber among parents, celebrities, and professional athletes, providing enough room for two adults to self-treat simultaneously. This chamber offers complete freedom of movement within a safe, spacious interior.
Price: Starts at $23,000
OxyHealth Quamvis 320®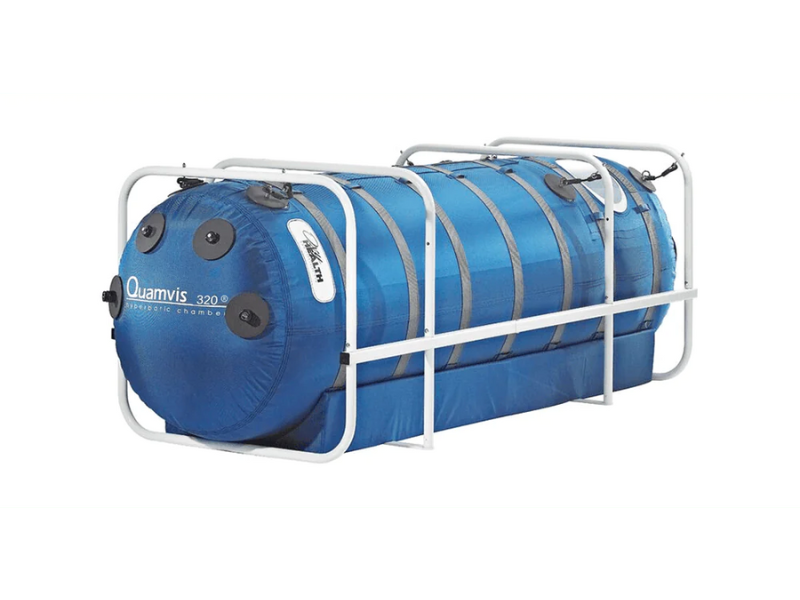 32" diameter

Fits 1-2 adults

"SafeSet" buckling system

1.3ATA (4 psi) operating pressure
OxyHealth's newest chamber, the Quamvis 320® has an external frame for stabilization and improved patient comfort. This chamber accommodates two adults.
Price: Starts at $27,000
All of OxyHealth's soft shell chambers are constructed using durable urethane bladders and high-quality components. The materials are non-toxic and specifically designed for safe hyperbaric use.
The chambers come equipped with essential features for delivering optimized HBOT, including:
Medical-grade technology

High-efficiency air filters

Redundant safety valves

Interior mattress

Chamber jacket and carrying bag
Airpuria focuses specifically on providing OxyHealth's portable soft shell chambers for convenient at-home use.
OxyHealth also offers hard shell chambers equipped with medical grade technology that is durable and functional, ideal for clinics and hospitals:
OxyHealth Fortius 420®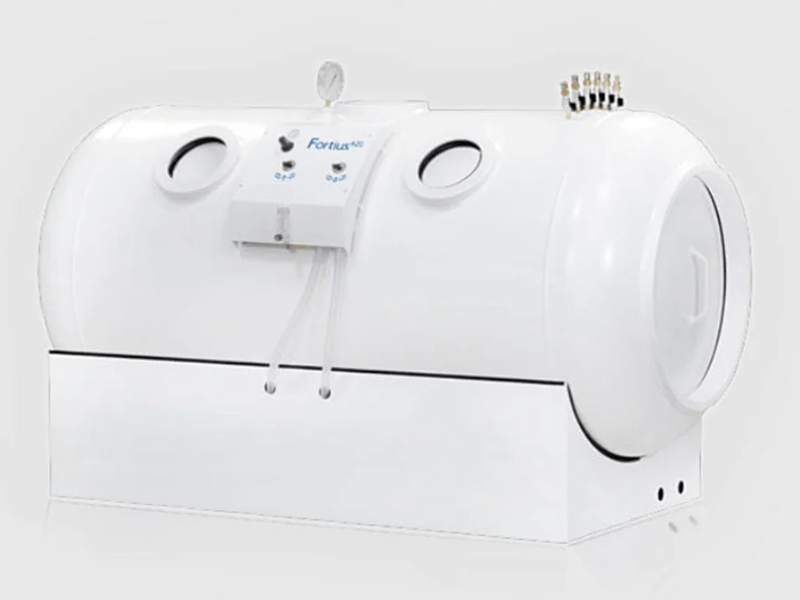 42′′ diameter

Treatment pressure up to 3.0 ATA (29 psi)

Mirrored controls inside and out
The Fortius 420® is OxyHealth's largest and most versatile chamber, capable of delivering pressure up to 29psi. This hyperbaric chamber delivers oxygen through a hood assembly system which is cost-effective and safe.
Price: Starts at $136,100
OxyHealth Fortius 420®-EXP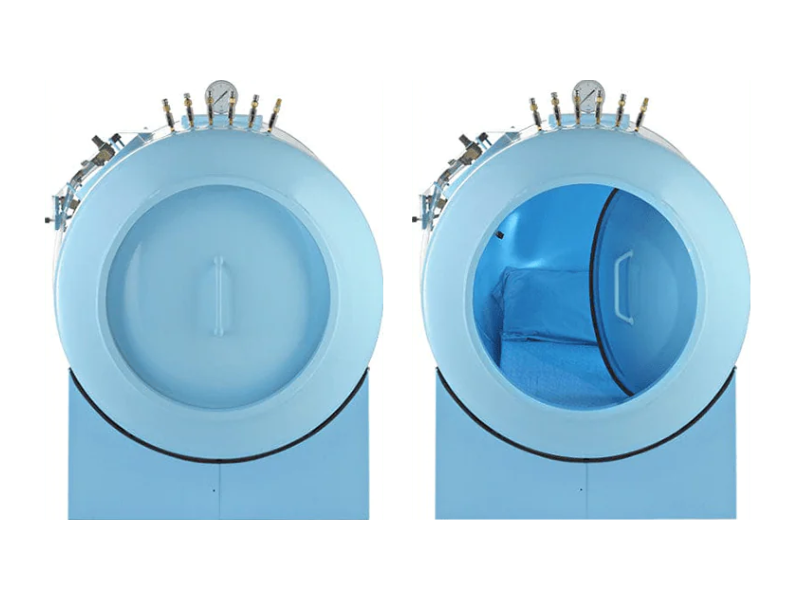 Analog pressure gauge

42" diameter interior

62" in length
Despite its size, the Fortius 420®-EXP can release 100% oxygen at up to 3.0 ATA through a hood assembly system, making treatments both safe and cost-effective. With an industry-leading safety record, a 5-year warranty, and FDA certification, the Fortius 420®-EXP is constructed with powerful, non-toxic materials and medical-grade components.
Shop OxyHealth Hyperbaric Oxygen Chambers
Prescription or Doctor's Note
To purchase an Oxyhealth Hyperbaric Oxygen Chamber, we require a prescription or a doctor's note. You can either upload the document by clicking the link on any of our HBOT pages or send it to sales@airpuria.com. You must send in your doctor's note within 2 weeks of purchase. Contact the Airpuria team for assistance if you have any questions or need to speak to one of our licensed doctors.
Financing Options for OxyHealth Hyperbaric Chambers
Investing in an OxyHealth hyperbaric chamber can be a significant purchase. That's why Airpuria offers financing options to make owning your own chamber more affordable.

Airpuria has financing plans available for qualified buyers, including:
0% interest financing for up to 18 months

Business financing programs
To learn more and apply for financing, visit:
Owning your own hyperbaric chamber can provide ongoing value through improved health, convenience, and cost savings. Work with the Airpuria team to find the best OxyHealth chamber option for your needs and budget.
Research Supporting Hyperbaric Oxygen Therapy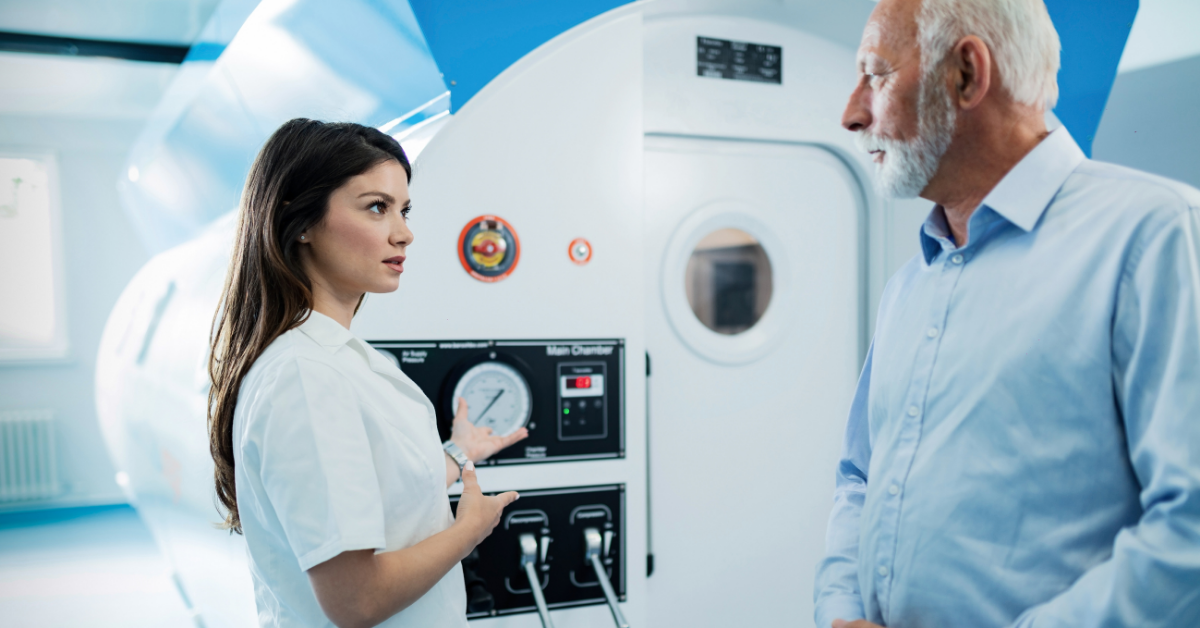 It is commonly accepted that HBOT can successfully treat decompression sickness. However, there is extensive research demonstrating the benefits of HBOT for various other conditions.

Here are two critical studies on the efficacy of hyperbaric oxygen therapy:

Hyperbaric oxygen therapy has been shown to help conditions such as breast cancer-related lymphedema and veterans suffering from PTSD.

Research continues to demonstrate the positive impacts of harnessing the power of oxygen under pressure to heal the body. HBOT's applications continue to expand as more studies elucidate benefits.
Key Features of OxyHealth Hyperbaric Chambers
All of the OxyHealth soft portable chambers from Airpuria include standard features to deliver optimized and safe hyperbaric oxygen therapy.

Medical-Grade Components

OxyHealth chambers use high-quality medical-grade materials designed specifically for hyperbaric use. The durable urethane bladders maintain integrity under pressure and the non-toxic materials provide a safe enclosed environment.

Redundant Safety Systems

Redundant safety valves and tamper-proof pressure regulators maintain consistent airflow and prevent over-pressurization. These redundant systems allow patients to safely self-operate in the chambers.

High-Efficiency Air Filtration

Integrated compressors filter incoming air to 0.01 microns to guard against contamination. Consistent, circulatory air flow is maintained by the angled air-in ports.

Spacious Interiors

Even compact models have a roomy interior for patients to relax comfortably. The larger chambers allow complete freedom of movement.

Illuminated Viewing Windows

Large, vividly clear patient-viewing windows illuminate the chamber's interior with natural room light to create a peaceful environment for treatment.

FDA-Cleared and Approved

All OxyHealth chambers maintain FDA 510(k) device clearance and are compliant with industry standards for quality and impeccable safety specifications.
Ideal Uses for OxyHealth Hyperbaric Chambers
OxyHealth's portable chambers are designed for convenient at-home use to make hyperbaric oxygen therapy accessible and affordable.

Here are some of the top uses and applications for having your own OxyHealth chamber:
Speeding recovery from sports injuries

Helping heal diabetic wounds and ulcers

Reducing inflammation from autoimmune conditions

Improving symptoms of chronic fatigue or Lyme disease

Recovering from traumatic brain injuries or concussions

Minimizing side effects of radiation therapy

Anti-aging and cosmetic benefits
HBOT provides a wide range of wellness and medical benefits. An at-home OxyHealth chamber makes achieving these benefits more convenient and cost-effective.
Final Considerations for Purchasing an OxyHealth Chamber
Here are some final tips as you consider getting your own OxyHealth hyperbaric chamber from Airpuria:
Consult your physician to see if HBOT is right for your needs

Measure room dimensions to ensure enough space for the chamber

Evaluate your budget and financing options

Contact Airpuria to get personalized guidance from our team

Take advantage of free shipping within the continental US
OxyHealth Pricing FAQ
How much does a personal hyperbaric chamber cost?

The cost of a personal hyperbaric oxygen chamber varies depending on the size and features. Smaller entry-level chambers from OxyHealth, like the Solace210® start around $9,000. Larger, dual-occupant models like the Vitaeris 320® start from $23,000. OxyHealth's largest chamber, the Fortius 420®, starts around $136,100.

What does a Vitaeris 320 do?

The OxyHealth Vitaeris 320® is a soft-shelled hyperbaric chamber. It has a large, portable design that provides enough room for two adults to undergo hyperbaric oxygen therapy simultaneously.

This spacious 32" diametric chamber allows patients complete freedom of movement within a safe enclosed space. It can deliver sessions with up to 1.3ATA of pressure to get additional oxygen circulating through the body.

This model is one of OxyHealth's most popular chambers since it allows dual occupancy while remaining portable for at-home use. The Vitaeris 320® hyperbaric chamber comes equipped with the necessary medical-grade components for optimized delivery of hyperbaric oxygen therapy.

Is hyperbaric oxygen therapy expensive?

Hyperbaric oxygen therapy can be expensive if you pay per session at a clinical facility. Costs range from $200 to $600 or more per session. However, purchasing your own hyperbaric chamber from Airpuria provides cost savings in the long run.

OxyHealth chambers are an investment and offer the opportunity to administer your own treatments at home as frequently as needed. This eliminates recurring clinical fees. Models like the Solace210® start at $9,000 - then provide years of value without ongoing session costs.

Airpuria also offers financing options to make owning an OxyHealth chamber more affordable. Explore your financing options here:
Is HBOT covered by insurance?
Most insurance plans do not cover hyperbaric oxygen therapy treatments. However, there are some cases where insurance may reimburse or partially reimburse sessions for specific diagnosed conditions.
It's best to contact your insurance provider directly to find out if any portion of your HBOT treatments are covered.
The advantage of purchasing your own chamber from Airpuria is not having to pay per-session fees at a clinic, eliminating insurance considerations altogether. An at-home chamber provides convenience, independence, and savings over time.
Start Your HBOT Journey with an OxyHealth Chamber from Airpuria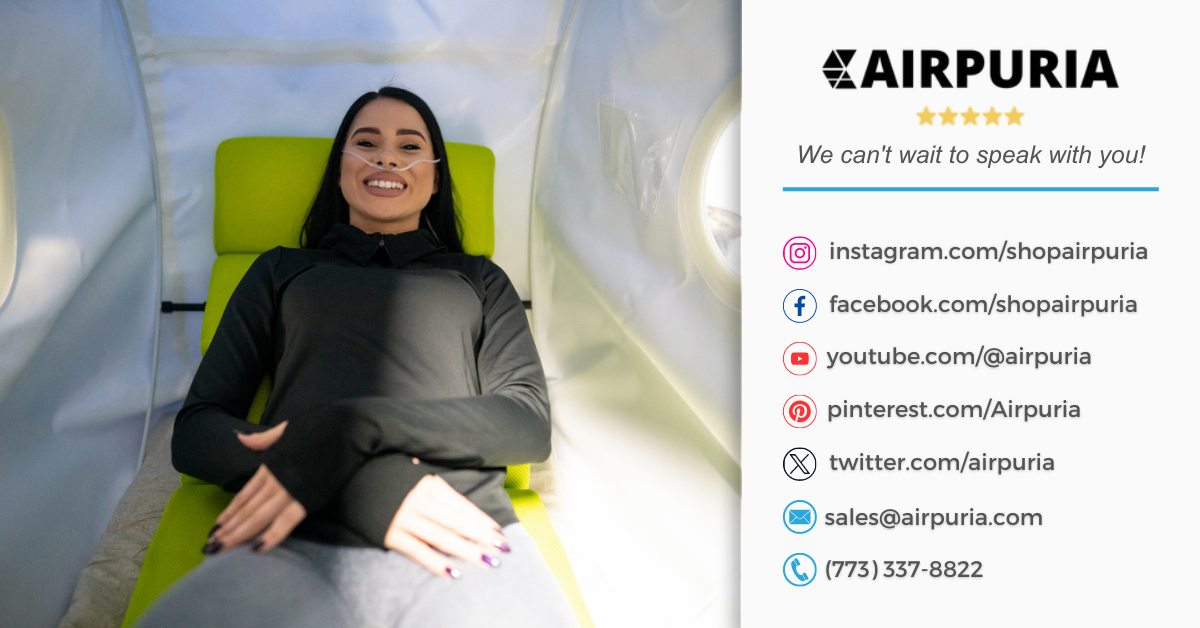 Now that you understand the costs and benefits of OxyHealth's hyperbaric chambers, you can make the best decision for your health needs and budget.

Contact the Airpuria team at 773.337.8822 or sales@airpuria.com to learn more about purchasing your own hyperbaric oxygen chamber.

Airpuria provides free shipping within the continental US, financing options, and a price-match guarantee. Investing in an OxyHealth chamber allows you to harness the power of hyperbaric oxygen therapy in your own home for years to come.
Additional HBOT Resources: