What Is The Oxyhealth Vitaeris 320 Hyperbaric Chamber?
The Vitaeris 320 Hyperbaric Chamber is a deluxe and compact home-use hyperbaric chamber that has been widely used by OxyHealth clients.
It is one of the most popular hyperbaric chambers that OxyHealth offers and is used by celebrities, professional athletes, and professionals alike.
The best part is that the Vitaeris 320 is made out of medical-grade materials and is built with patient safety as the number one priority.
If you have ever wanted to take advantage of the health benefits that hyperbaric oxygen therapy has to offer but was unsure about where to start, keep reading to learn more about the OxyHealth Vitaeris 320 hyperbaric chamber and hyperbaric oxygen therapy.
The Design and Medical Grade Technology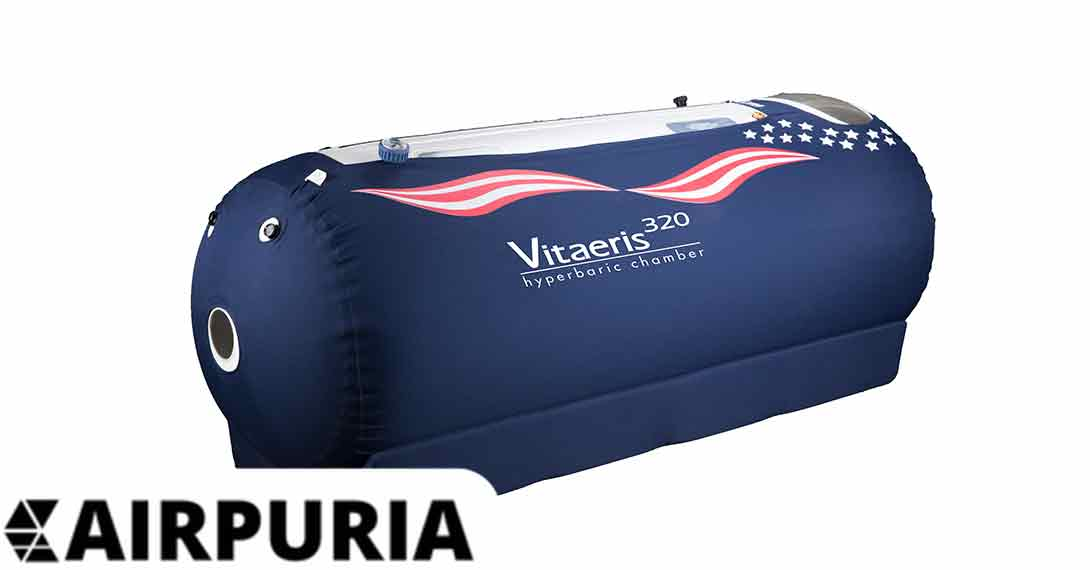 The Vitaeris 320 Hyperbaric Chamber was designed specifically for comfort and has enough room for two adults to fit inside and self-treat simultaneously. In addition, its spacious design allows for complete freedom of movement. A 32-inch diametric chamber allows adults to sit upright for treatment.
It is made out of medical-grade technology that maintains the integrity and shape of the chamber when deflated and adds convenience when entering and exiting during use. A strategically angled air-in port and tamper-proof redundant pressure regulators maintain consistent circulatory air flow within the chamber during treatments.

Each material and design decision was made with our impeccable safety specifications in mind. This includes three patient-viewing windows that are completely illuminated by room light and a single mold chamber manufactured to promote safety and durability over time. The durability of the chamber can also be extended with basic maintenance.
The Vitaeris 320 hyperbaric chamber features a frame that maintains form when deflated and is designed for improved airflow.

OxyHealth continues to have the industry's best safety record throughout the product line. Each chamber is evaluated by experts as part of OxyHealth's vigorous multi-point inspection. They are then certified to provide patients with safe functionality that will last for years to come, whether in the office or patient home.

The Vitaeris 320 is also designed to be portable and comes with a chamber carry bag. While deflated, the chamber's rigid frame helps maintain its shape. This means that wherever you take your OxyHealth hyperbaric chamber, it will be ready to use.
Chamber Specifications
1.3 ATA (4 psi) operating pressure

Durable, double-head 44 oz. urethane-coated polyester bladder

Tamper-proof, dual redundant pressure regulator valves that stabilize the chamber when inflated

Patented 2-zipper seal assemblies

Designed for improved airflow through the chamber during treatments

Additional port for external medical pass-through devices

Manufactured with nontoxic, medical-grade components

A rigid frame that maintains form when deflated

Mattress contoured to fit inside the chamber
WEIGHT
Bladder: 35 lbs (15.87 kgs)

Bolsters: 7 lbs (3.17 kgs)

Compressor: 37 lbs (16.78 kgs)

Frame: 16 lbs (7.25 kgs)

Mattress: 10 lbs (4.53 kgs)
DIMENSIONS
Length: 92 in (233.68 cm)

Diameter (inflated): 32 in (81.28 cm)

Inflated circumference: 109 in (276.86 cm)
CLEAN AIR COMPRESSOR
Double-headed, oil-less, 1/3 hp compressor with dual intake filters with cooling radiator

High-efficiency inline air filtration that filters air to 0.01 microns

Analog pressure gauge
Who Uses The Vitaeris 320 Hyperbaric Chamber?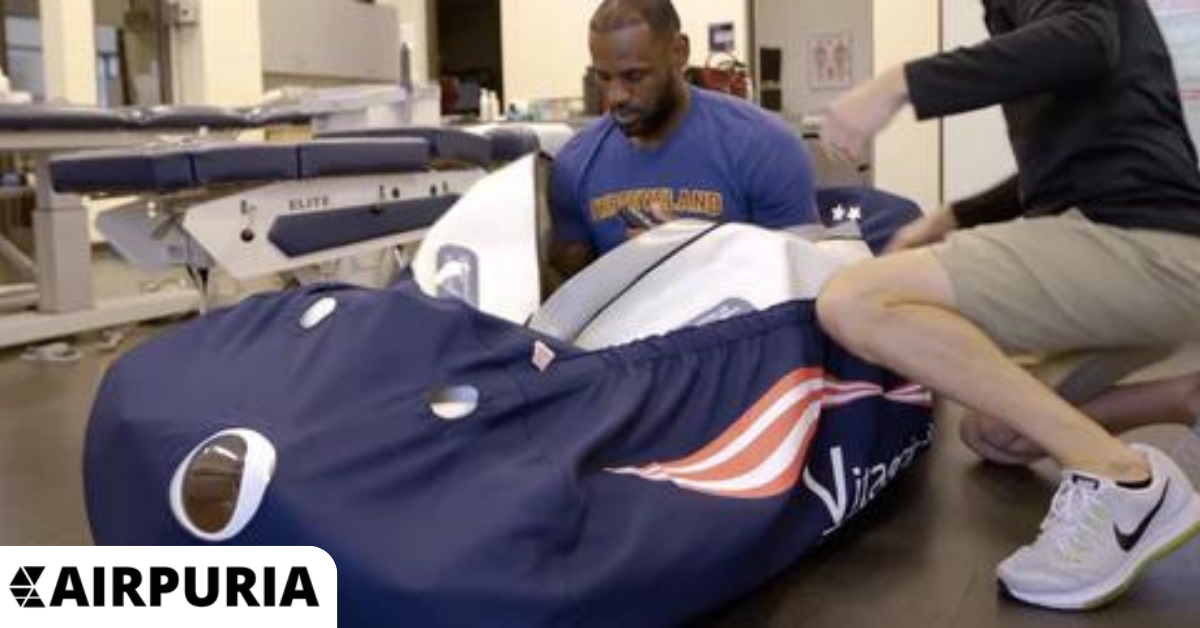 The Vitaeris 320 Hyperbaric Chamber is used by professional athletes, musicians, and professionals of all kinds. It is even used extensively by celebrities such as Justin Bieber, LeBron James, Kendall Jenner, and Usher.

These celebrities use the Vitaeris 320 Hyperbaric Chamber to rejuvenate their skin and increase their energy after demanding performances and competitions.

For some, the health benefits provided by hyperbaric oxygen therapy allow them a way to "reverse aging."

For others, like Michael Phelps, the Vitaeris 320 allows them to keep competing at peak performance. It also allows them to remain injury free as hyperbaric oxygen therapy promotes the healing of wounds and soreness.

The Vitaeris 320 is also used by professionals the world over to refresh and recover from their daily responsibilities. Whether you are a professional athlete, or a professional of a different nature, OxyHealth's hyperbaric chambers can provide relief and rejuvenation.
How Easy Is The Oxyhealth Vitaeris 320 Hyperbaric Chamber To Use?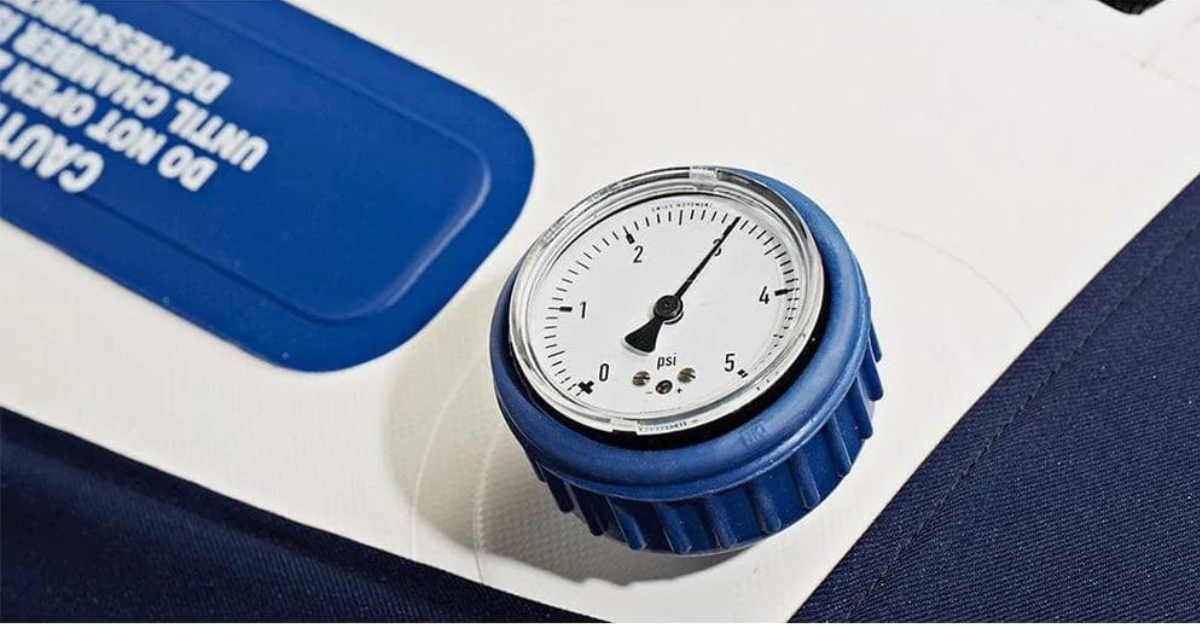 Oxyhealth chambers are extremely easy to use with straightforward training and can be used in any office or patient home. The Vitaeris 320 is FDA-approved for in-home use, making it our most popular chamber.

OxyHealth provides training services and video resources to help ensure the effectiveness and safety of the Vitaeris 320 hyperbaric chamber. They also provide basic maintenance training for new users.

In addition, it is also incredibly safe because of its design. Thanks to its roomy design, the Vitaeris 320 can fit patients of all sizes while the patient viewing windows illuminate the chamber ensuring absolute visibility when the chamber is in use.

Overall, the Vitaeris 320 is one of the easiest and most beginner-friendly ways to try hyperbaric oxygen therapy.
What Does The Oxyhealth Vitaeris 320 Do?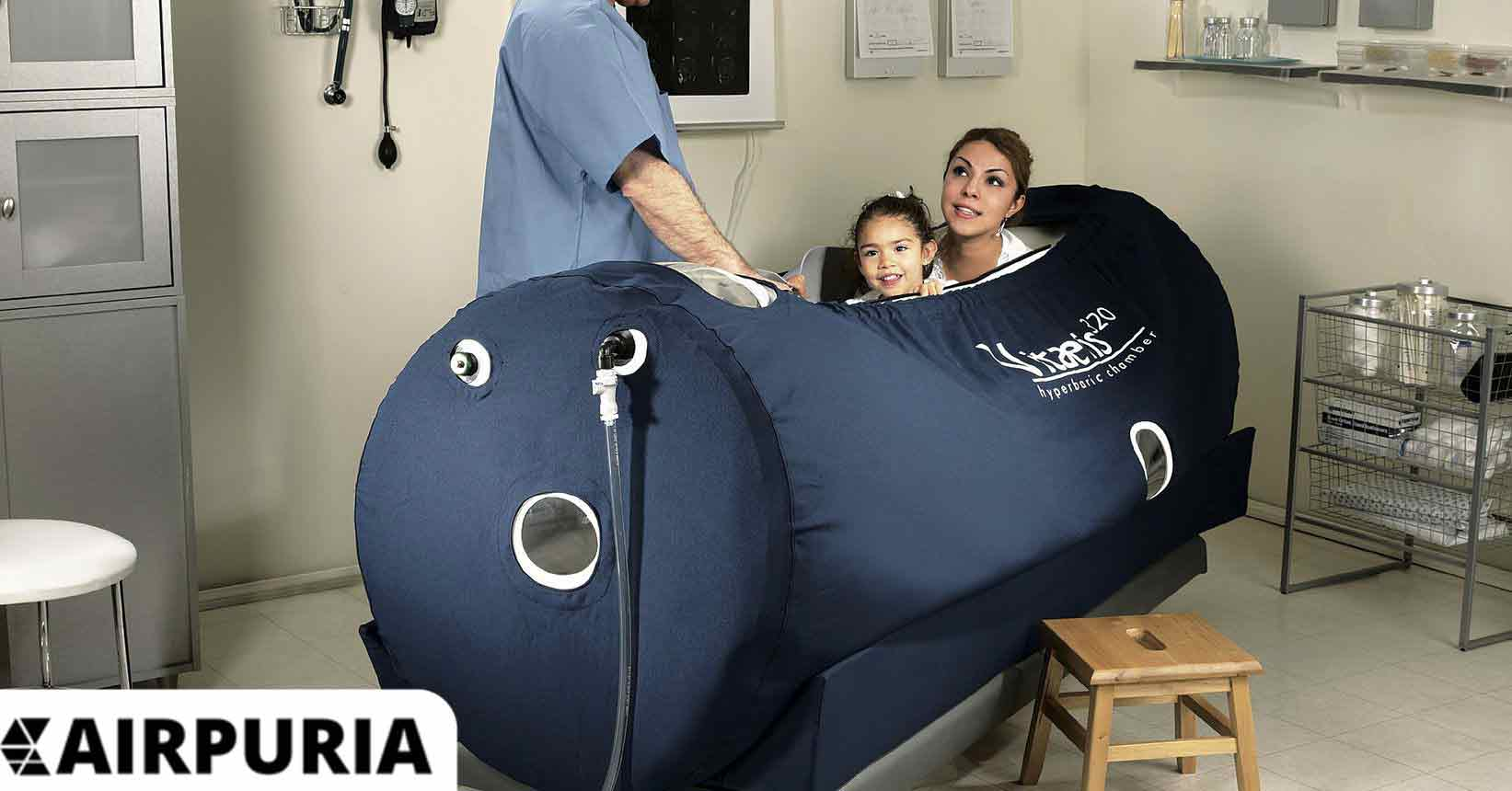 The Oxyhealth Vitaeris 320 Hyperbaric Chamber is used for hyperbaric oxygen therapy.

A high-efficiency inline air filtration system, equipped with dual intake filters and improved airflow, filters air to 0.01 microns and ensures a completely dust-free environment. This clean air compressor is also oilless and features a cooling radiator, analog pressure gauge, and tamper-proof redundant pressure regulators.

The clean air compressor stabilizes chamber pressure to ensure maximum healing.
What Is Hyperbaric Oxygen Therapy?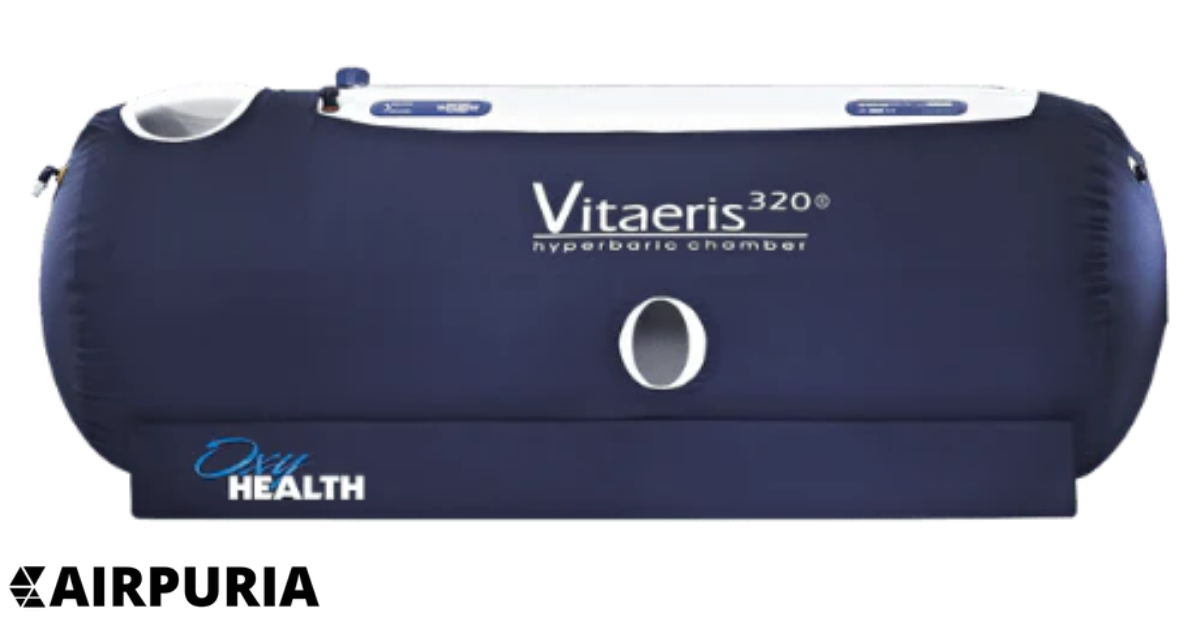 Hyperbaric oxygen therapy (HBOT) is the medical use of oxygen in a pressurized environment, which yields a broad variety of positive physiological, biochemical and cellular effects. Hyperbaric Chambers are the most trusted way to increase oxygen levels in all organs of the body.

During hyperbaric oxygen therapy, the pressure of air is increased in a chamber 2 to 3 times higher than normal. Under these conditions, a patient's lungs can gather more oxygen than would be possible at normal air pressure levels. The extra oxygen provides many benefits such as fighting bacteria.

It is generally used as a type of treatment to speed up the healing of carbon monoxide poisoning, gangrene, skin infections, and wounds that will not heal.

It was first used in the early 20th century in the United States before finding uses in the 1940s to treat deep-sea divers who had decompression sickness. It would go on to be used to treat carbon monoxide poisoning and more.
What Are Hyperbaric Chambers Good For?
Hyperbaric oxygen therapy (BHOT) has been developed to improve blood flow and oxygen supply to tissues that are starved of oxygen by oxidizing them. This process can improve skin quality and restore energy, as well as encourage the growth of new collagen and skin cells.

Hyperbaric oxygen therapy can help heal wounds by providing oxygen-rich plasma to tissue that is starved for oxygen. This is because wounds damage the body's blood vessels and release fluid into the tissues, causing swelling. The swelling then causes the damaged cells to lack the oxygen they need and start to die off.

Due to the higher pressure, hyperbaric oxygen chambers allow these wounds to heal faster by increasing the amount of oxygen in the blood.
How Long Does It Take To See Results From A Hyperbaric Chamber?
In general, everyone needing oxygen therapy should think about committing to at least two sessions a week for minimal cost. Many people get effective treatment for five days and the maximum treatment duration is 20-40 sessions. Generally, each session takes between 90-120 minutes or more.
How Much Does the Vitaeris 320 Cost?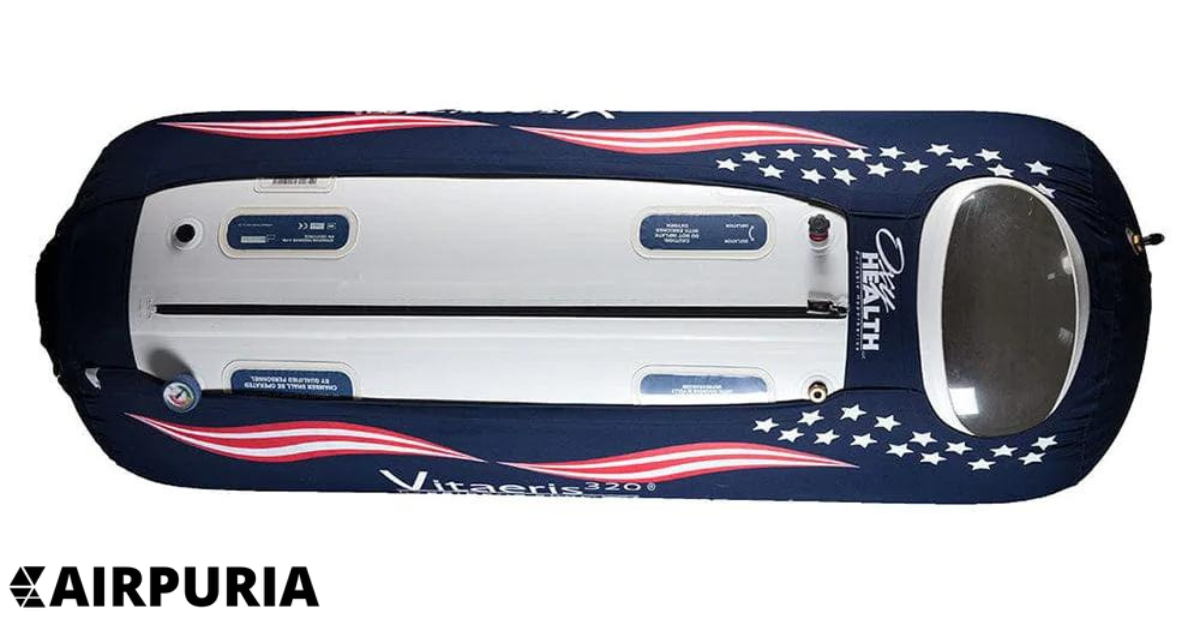 The OxyHealth Vitaeris 320 provides immense value for its cost. Combined with its ease of use, safety, portability, and maintainability, the Vitaeris 320 is the best solution for those who want to take advantage of the health benefits hyperbaric oxygen therapy provides.

For the current pricing of the Vitaeris 320 and other models, check our online store here.
What Is Included With The Vitaeris 320?
The Vitaeris 320 Hyperbaric Chamber comes with a durable internal frame, chamber, chamber carry bag, clean air compressor, 10ft medical grade hose, custom-designed mattress, and operation manual.

Combined with the service and training provided by OxyHealth, the Vitaeris 320 comes with everything that you need to begin using hyperbaric oxygen therapy at home or elsewhere.

This package provides incredible value for those who are wanting to get involved in the world of hyperbaric oxygen therapy.
Airpuria's Conclusion | The Vitaeris 320 Hyperbaric Chamber

Hyperbaric oxygen therapy can help people from all walks of life to find healing and pursue a healthier life and even experience wonderful anti-aging effects. Likewise, because of its incredible healing properties, it has revolutionized the skin and beauty industries.

Thanks to the Vitaeris 320, it has never been easier to enjoy the health benefits of a hyperbaric oxygen chamber. Whether patients are at home or in the office, the roomy interior of the Vitaeris 320 allows everyone the opportunity to feel their best.

Find out more about the Vitaeris 320 Hyperbaric Chamber and more here.
Contact Airpuria
If you have any questions at all, please feel free to contact us through the following channels:

You can either give us a call (773) 337-8822,

Or, create an inquiry with us via email.

For more info, visit our website.

We're looking forward to speaking with you!
FAQs | | The Vitaeris 320 Hyperbaric Chamber
How Long Should You Use A Hyperbaric Chamber?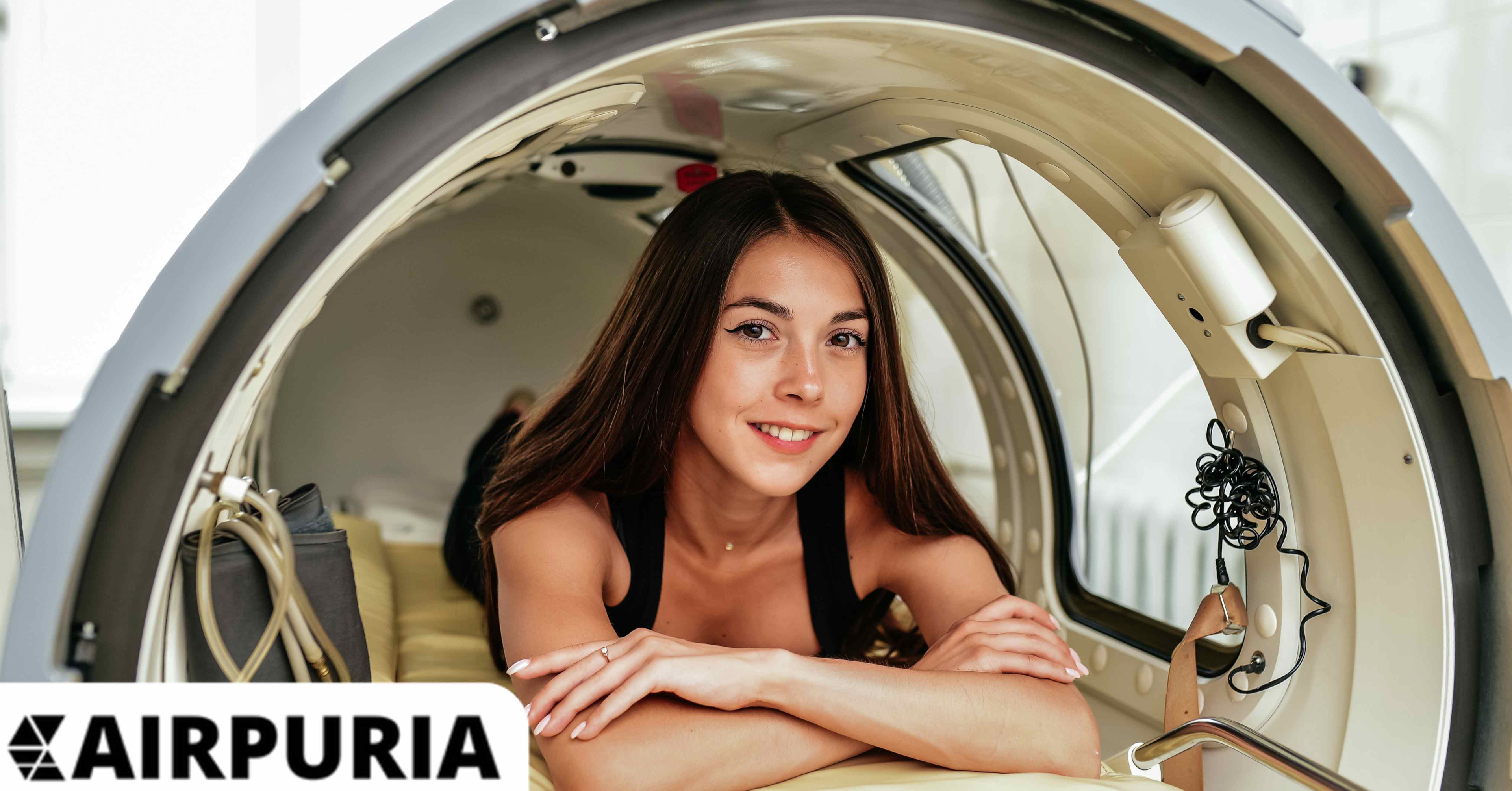 Hyperbaric oxygen treatment can last up to two hours, depending on the conditions. The amount of time a patient spends in the chamber depends on the type of injury they are attempting to heal or effect they are trying to achieve.

Some injuries will take longer to heal, while others may only take a few sessions.
What Other Ailments Can Hyperbaric Oxygen Therapy Help With?
Hyperbaric oxygen therapy can help with a large variety of wounds and ailments. Some of these include:
Cyanide poisoning

Crush injuries

Acute or traumatic reduced blood flow in arteries

Delayed radiation injury

flesh-eating diseases

Actinomycosis (chronic infection)

Diabetic wounds
While the complete list of potential uses for hyperbaric oxygen therapy is much longer, this is just a small taste of its uses.

Hyperbaric oxygen therapy can be used for everything from infections to reversing anti-aging, which is why it is growing in popularity.
Can The Vitaeris 320 Hyperbaric Chamber Help With Anti-Aging?
The Vitaeris 320 is considered OxyHealth's most popular chamber due to its many healing benefits. One of the most popular of these benefits is its anti-aging properties.

Hyperbaric oxygen therapy provided by the Vitaeris 320 has many potential anti-aging benefits, including reducing wrinkles and inflammation, boosting collagen production, and improving skin tone and texture.

Hyperbaric oxygen therapy can also increase telomere length and the amount of oxygen the body can absorb by delivering pure oxygen at higher-than-normal pressure. The Vitaeris 320 features oil-less, dual-intake filters that can increase the pressure in the chamber to this desired rate.

For those that want to do all that they can to reverse aging or minimize its effects, hyperbaric oxygen therapy is one of the most effective solutions.