Imagine stepping into your own private sauna oasis anytime you need to unwind and recharge.
At Airpuria, we make owning your personalized sauna an attainable reality. We can help you achieve a complete custom sauna design, building, and installation to create a dream indoor or outdoor sanctuary tailored to your lifestyle and space.

Our team guides you through choosing the ideal sauna type, size, aesthetics, features, and more based on your preferences. From traditional cedar saunas to modern infrared models, we have the perfect option to fit your needs and vision.
Sauna Questionnaire
Start designing your ideal personalized sauna by completing our comprehensive online questionnaire. This gives us an understanding of key details like the number of users, indoor vs. outdoor preference, desired features, and more.

After submitting the form, our team will follow up within 24 hours with custom sauna recommendations along with available discounts. Using the questionnaire, we can help you determine the perfect sauna for your needs.
Types of Saunas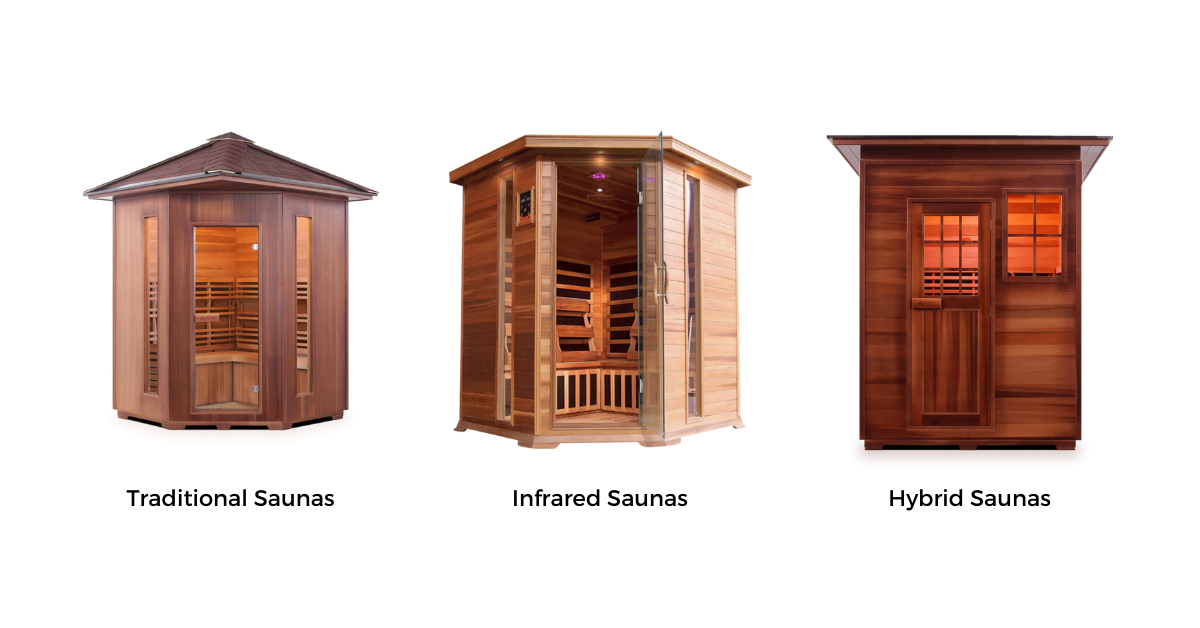 There are a variety of sauna types available and you can experience the unique benefits of each.
Traditional Saunas
Traditional saunas available at Airpuria use electric heaters to create a hot and humid atmosphere. Temperatures can range from 140-190°F, depending on the model. These saunas induce a deep, detoxifying sweat to promote total relaxation.

Traditional saunas come in a range of sizes so you can choose an option that accommodates 1-6 people. All the traditional saunas we offer feature ergonomic benches, adjustable ventilation, interior lighting, and premium wood construction. Add glass walls or doors for a modern design. Choose from accessories like chromotherapy lighting and an ionizer (both free) for the ultimate therapeutic experience.

Shop traditional saunas
Infrared Saunas
Infrared saunas use light waves to penetrate the body directly and more deeply, inducing sweating at lower temperatures of 120-150°F. This makes them suitable for those who cannot tolerate the high heat of traditional saunas. The waves also emit the same healthy frequencies as natural sunlight.

The infrared saunas we offer surround you in gentle infrared heat to boost circulation, ease pain, and elevate your mood. The radiant warmth activates the body's natural detoxification processes for deep cellular cleansing. We offer high-tech infrared saunas with low EMF carbon fiber heating panels in various sizes. All of the infrared models available at Airpuria include chromotherapy mood lighting and ergonomic benches for comfort.

Shop infrared saunas
Hybrid Saunas
Hybrid saunas (dynamic saunas) combine the best of both worlds - traditional electric heating combined with infrared heat. You can alternate between the two modes for the benefits of a full-body sweat along with the ambiance and humidity of the traditional sauna heaters.

The hybrid models allow you to customize each session to your needs. Our customers enjoy a user-friendly touchscreen control to easily switch between traditional and infrared heating. Also, the included benches provide a comfortable place to relax when you need a break from the heat. As always, Airpuria offers optional accessories (included) to customize your experience.

All the saunas and heaters we offer come with a manufacturer's warranty for peace of mind. Contact our team to learn more about our high-quality traditional, infrared, and hybrid sauna options. We're happy to help you select the ideal model for your home.

Shop hybrid saunas
Sauna Health Benefits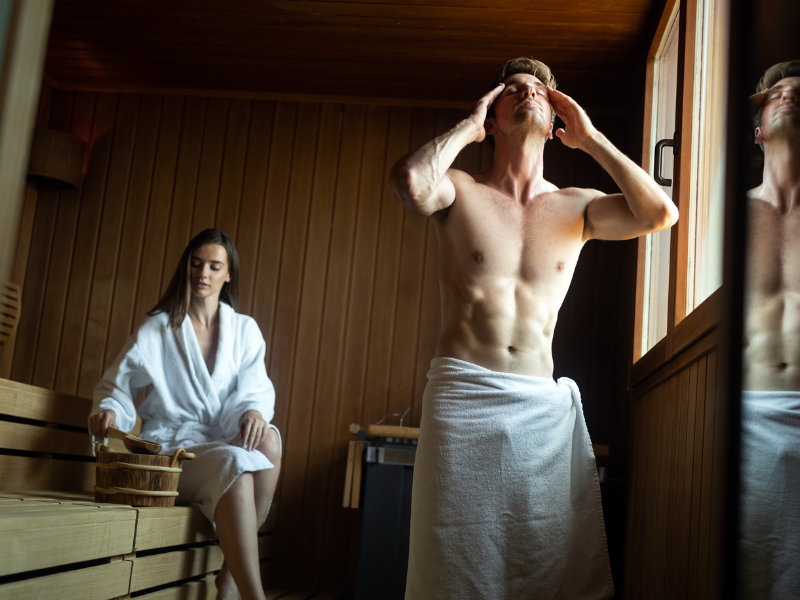 In addition to relaxation and stress relief, using a sauna offers powerful health and wellness benefits. Here are some of the top ways saunas can improve your health:
Detoxification - Heating the body makes you sweat, helping eliminate toxins, heavy metals, and other impurities. Saunas are like a deep clean for your body.

Immune System Support - Sauna use can boost white blood cell production and activity, strengthening your immune defenses.

Pain Relief - The heat of a sauna stimulates endorphins for natural pain relief and can reduce inflammation.

Heart Health - Saunas have been shown to improve cardiovascular function and lower blood pressure over time.

Skin Health - Sweating deeply cleanses skin and improves tone, elasticity, and complexion.

Stress Relief - The warmth and relaxation of saunas reduce cortisol levels and ease mental tension.

Weight Loss - Infrared saunas in particular can burn calories and boost metabolism over time.
With regular use, saunas provide cumulative health benefits that make them an excellent addition to a healthy lifestyle. At Airpuria, we're ready to help you start reaping the wellness rewards of owning your own personalized sauna.
Indoor or Outdoor Installation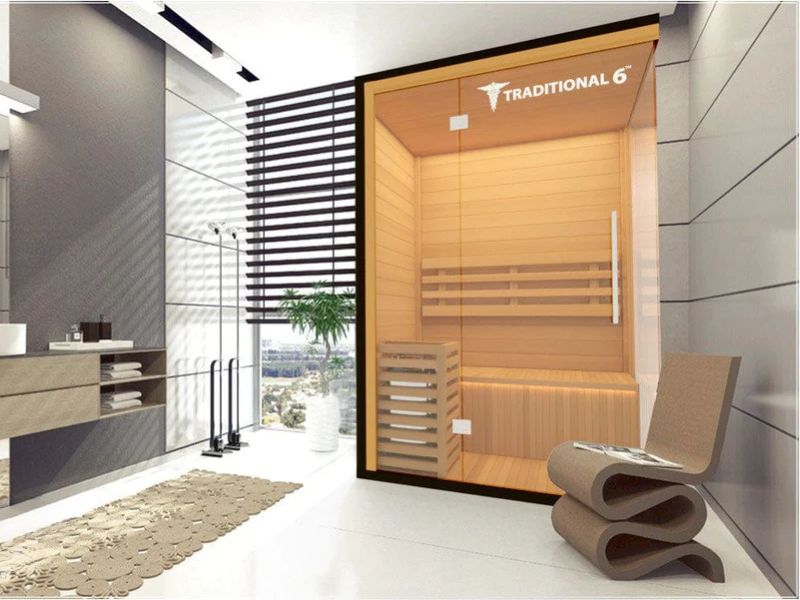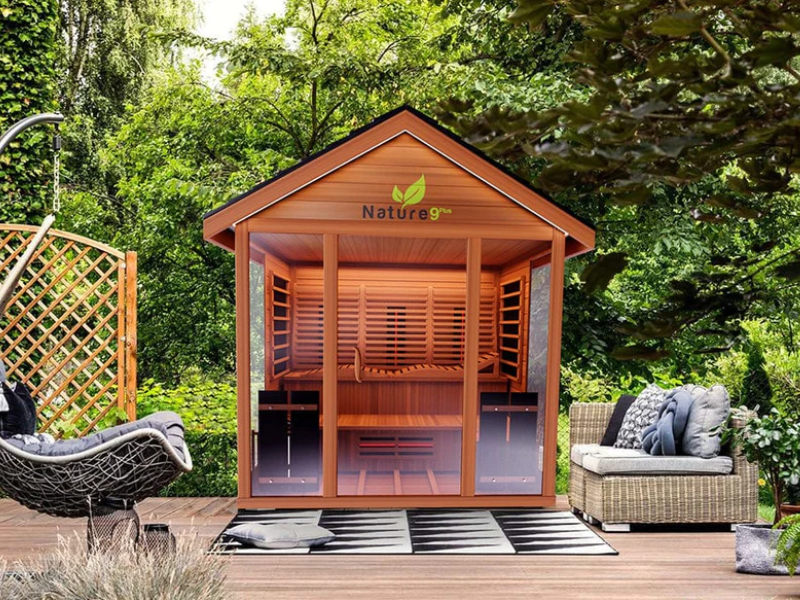 Decide if you want the convenience of an indoor sauna in your home or an outdoor sauna to enhance your backyard relaxation.

Outdoor saunas are available with slope, peak, or barrel roof styles. You can also install your new sauna in a shed, pool house, or anywhere on your property with enough space.
Customization Options
With Airpuria, you can fully customize your sauna to match your personal style and space.

Select from glass doors or wood paneling in high-quality finishes. In addition to materials and layout, customize the shape, seating, lighting, accessories, and more based on your vision. We'll help you determine the perfect size sauna for your available area. 

For a truly one-of-a-kind sauna, we will connect you with a Medical Breakthrough technician for a fully customized build. You can have a made-to-order sauna tailored to your specific needs and wishes, whether that's extra seating, all-glass walls, or a wheelchair-accessible design.

Our experts provide guidance and recommendations to ensure your custom sauna is perfectly suited to your space and lifestyle. Contact us today to start designing your dream sauna.
Financing Made Easy
Purchasing a sauna is an investment in your health and wellness that pays dividends for years to come. At Airpuria, we make financing your sauna purchase easy and affordable.

For individuals, we offer 0% interest financing for up to 18 months when you apply and qualify. Spreading out your payments over time makes owning your own sauna more accessible.  

For businesses, our financing programs provide competitive rates and flexible terms tailored to your needs. We understand investing in employee wellness and want to help you reap the benefits.
Financing through Airpuria also includes perks like:
Fast online application process

Quick credit decisions

Easy monthly payments

No prepayment penalties
Invest in your health and happiness with the sauna of your dreams. Visit our financing links below to get started:
Ready to Relax?
A customized sauna from Airpuria can enhance your health, happiness, and home. To get started designing your perfect sauna sanctuary, complete our questionnaire, and a sauna specialist will contact you with recommendations.
Expert Support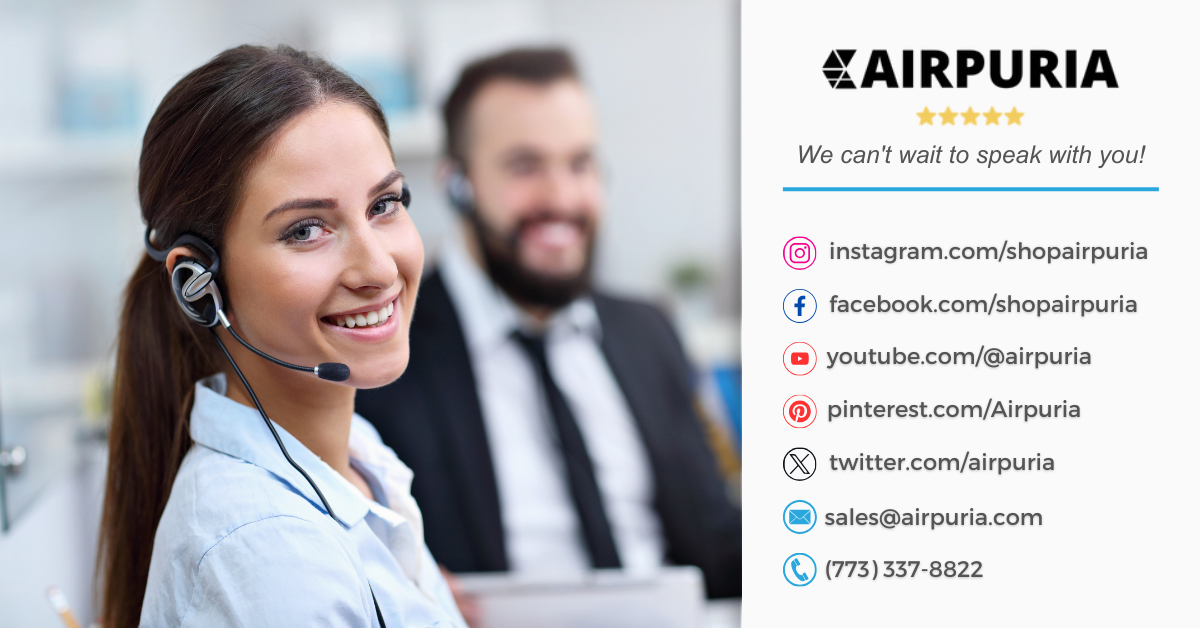 Our sauna experts are here to support you every step of the way. Call us to discuss the differences between traditional, infrared, and hybrid saunas to help you choose what's best for your needs. Our team is also happy to provide recommendations on size, design, and optional features.
Contact us at:
All of the saunas and heaters we offer come with a manufacturer's warranty for peace of mind. If any issue arises, our dedicated support staff is ready to quickly resolve it. We're here to make your sauna experience exceptional from start to finish.

Shop Traditional Saunas, Infrared Saunas, and Hybrid Saunas
Personalized Sauna FAQ
Can you custom-build a sauna?
Yes! At Airpuria, we offer the option to make fully customized saunas tailored to your unique specifications. You can choose between any size, shape, seating layout, wood type, lighting, accessories, and more. 
Is it cheaper to build a sauna or buy one?
In almost all cases, it is more cost-effective to purchase a pre-built sauna rather than build one yourself. When you factor in the costs of materials, labor, and expertise required for proper wiring and installation, a DIY sauna build can end up being significantly more expensive. 

The saunas we have available are manufactured in state-of-the-art facilities and sold at direct-to-consumer pricing, making them very competitively-priced compared to custom builds.
How much are personal saunas?
The cost of a personalized sauna depends on the size, construction, features, and customizations selected. Our standard saunas start at about $2,000, while custom sauna builds typically range from $5,000 to $50,000. This will all depend on the specifics and your personal preferences, which is why we recommend taking a look for yourself.

Some factors that affect the price include:
Size - The number of people and overall dimensions

Materials - Cedar, hemlock, glass, etc.

Location - Indoor vs. outdoor

Features - Traditional, infrared, hybrid, lighting, Bluetooth, etc.
We provide free quotes for your ideal sauna based on your needs and budget. Our team will work with you to create the perfect sauna at a competitive price, including any customizations.
What is the best type of personal sauna?
The optimal sauna type depends on your individual preferences and needs. Here are some key differences:
Traditional saunas use electric heaters to create a hot, humid environment up to 190°F. They offer a deeply relaxing and detoxifying experience.

Infrared saunas use light waves to penetrate tissue more deeply and gently, inducing sweat at lower temperatures up to 150°F.

Hybrid saunas combine traditional electric heaters with infrared light providing the benefits of both. You get a full-body sweat along with the ambiance of a traditional sauna.
Our sauna experts can assess your goals and make personalized recommendations on the best sauna for you. We offer top-quality traditional, infrared, and hybrid saunas to meet any need.
What type of infrared sauna is best?
At Airpuria, we offer several high-quality infrared sauna models so you can find the best one for your needs. The full-spectrum infrared saunas we have available use a combination of near, mid, and far infrared waves for comprehensive health benefits. The varying wavelengths target different tissues to induce a deep, detoxifying sweat. Full-spectrum models such as the Medical Breakthrough and Enlighten saunas provide the most complete infrared therapy. Make sure to talk to our Airpuria team about Enlighten sauna installations.

If you prefer a gentler infrared experience, Airpuria offers far infrared saunas like the Sunray that emit only the far infrared band. The long waves safely and comfortably raise your core body temperature. Far infrared penetrates tissue deeply to aid weight loss and relaxation.
How do I find a good infrared sauna?
To find a high-quality infrared sauna, look for the following features:
Low EMF heating panels for a safe, pure infrared experience

Durable construction from quality sustainably-sourced wood

Insulated walls for efficient heating

Ergonomic design with comfortable seating

Options like chromotherapy mood lighting and Bluetooth sound system

Good customer reviews and long warranty period
Our infrared sauna collection offers all of these features and more. The saunas we offer are always created with the best materials and craftsmanship. This is done to create therapeutic sanctuaries built to last. You can read our rave customer reviews for assurance, or give us a call to make sure you're getting an excellent infrared sauna.
Is an infrared sauna a good investment?
Yes, an infrared sauna is an excellent investment for improving your health, relaxation, and home. The benefits of infrared therapy have been extensively studied and proven over decades. Just a few sessions per week can lower stress, aid detoxification, boost immunity, reduce inflammation, and ease joint pain. This leads to better sleep, mood, skin, and more.

The initial investment pays off over time with better health and vitality. The infrared saunas Airpuria has available are always built to provide years of consistent use. With routine use, an infrared sauna is a smart investment in your overall wellness. We even offer 0% interest financing to make the purchase more affordable.