Artificial Intelligence (AI) has revolutionized industries across the globe. Modern AI tools have made it super easy to depend on robots for carrying out complex tasks. Bear Robotics is an AI enterprise influenced by restaurant experts and tech entrepreneurs. These innovative manufacturers have recently introduced Servi robots — changing the restaurant industry forever.

Food and Hospitality is one of the largest and most essential industries in the world. As technology advances, it becomes more and more vital to supply innovative ideas that reshape and improve the restaurant business. Foodservice robots are an essential additional tool for your restaurant staff to assist them in their daily tasks. These robots can help you run food from your kitchen, while helping bussers carry heavy buss bins! This amazing technological innovation will save your staff time and effort, all while improving your bottom line.

Finally — restaurants can employ Servi foodservice robot units to make serving food, food running, and bussing easier. 
What Is Servi? 
Servi is a food service robot that can run orders between different restaurant tables and take the dirty dishes back to the washing area. The Bear Robotics Servi robot also acts as an assistant to waiters to help them serve food. As an AI product, Servi meets every restaurant demand. Restaurant chains and stand-alone, mom and pop shops have already started improving their work environment while also increasing their bottom lines.
Why Is It Becoming SO Popular?
There are tons of amazing features when it comes to Servi bots.
Servi robot servers can move without bumping into people or tables at a restaurant.

They can sense the hindrances in their way and change their course accordingly.

The sensors on Servi enable it to find its way in the crowded environment of restaurants.

Currently, restaurants use Servi bots to assist waiters in serving tables. 
Bear Robotics has also introduced other models of the food server robot. You can choose from the variants that suit your hospitality needs. If you need a version that can carry more weight, you can opt for Servi Plus. It is great for a heavy-duty operation. It offers more space for loading more dishes, making it more efficient than the standard model. The drawer capacity and expanded payload power make it an optimal choice for restaurants who frequently serve large parties or host large events.
How Does Servi Work?
Each unit of Servi can load two large trays with a drawer below to collect dishes. With measurements of 17.5 x 16.9 x 41.2 inches and a total weight of 72.8 lbs, Servi can easily carry a load of dishes in the drawer. The manufacturers have introduced a 3D camera with a LiDAR sensor to navigate its surroundings. 

You'll also find user-friendly touchscreens on each Servi robot. Restaurant management can operate different functions of Servi with an easy-to-use remote control. Most of Servi's functions and movements are self-assisted. You can simply place dishes on the trays and return to work. Servi will take the food to the tables without bumping into the walls and creating a scene (which is good, because Servi service robots have always had trouble blushing). 🤭

Each Servi model has slight variations in payload power, storage capacity, and functionality. All of them have the potential to impress restaurateurs around the world. We've listed the capabilities of each restaurant-optimized Servi model below to help you choose your best fit. 
Servi - Base Model
Servi is perfect for serving food in restaurants. It comes with rectangular trays to carry dishes. It also features a bus tub to store dirty dishes. With its 100% self-driving ability, Servi returns to its job once you take the food off the trays. 

You can get this model in two sizes, Servi and Servi Mini. The mini variant is best suitable for assisting in small food serving tasks and returning dishes to the washing area. However, the overall potential and functionality of Servi Minis are the same as its standard version. 
Servi Plus 
Servi Plus caters to the needs of more crowded and spacious restaurants. If you want to serve a large table in your restaurant, you would require more waiters to bring food to the table which may be difficult on busy nights. Servi Plus solves this problem. It offers you an increased serving capacity and payload power potential to suit your rush hour needs. 

You can load 10+ dishes on your Servi Plus. This unit can handle the table serving needs of large and busier restaurants. You may also employ Servi Plus robots for weddings, formal events, exclusive parties, etc. 
Why Does Every Restaurant Need Servi? 
The idea of Servi resulted from the labor shortage in Japan's post-pandemic days. With very few waiters available to serve tables, Bear Robotics created a solution that will end up paving the way for the future of the restaurant industry as a whole. The launch of Servi has encouraged restaurants around the globe to focus on automation technology and the latest news surrounding it.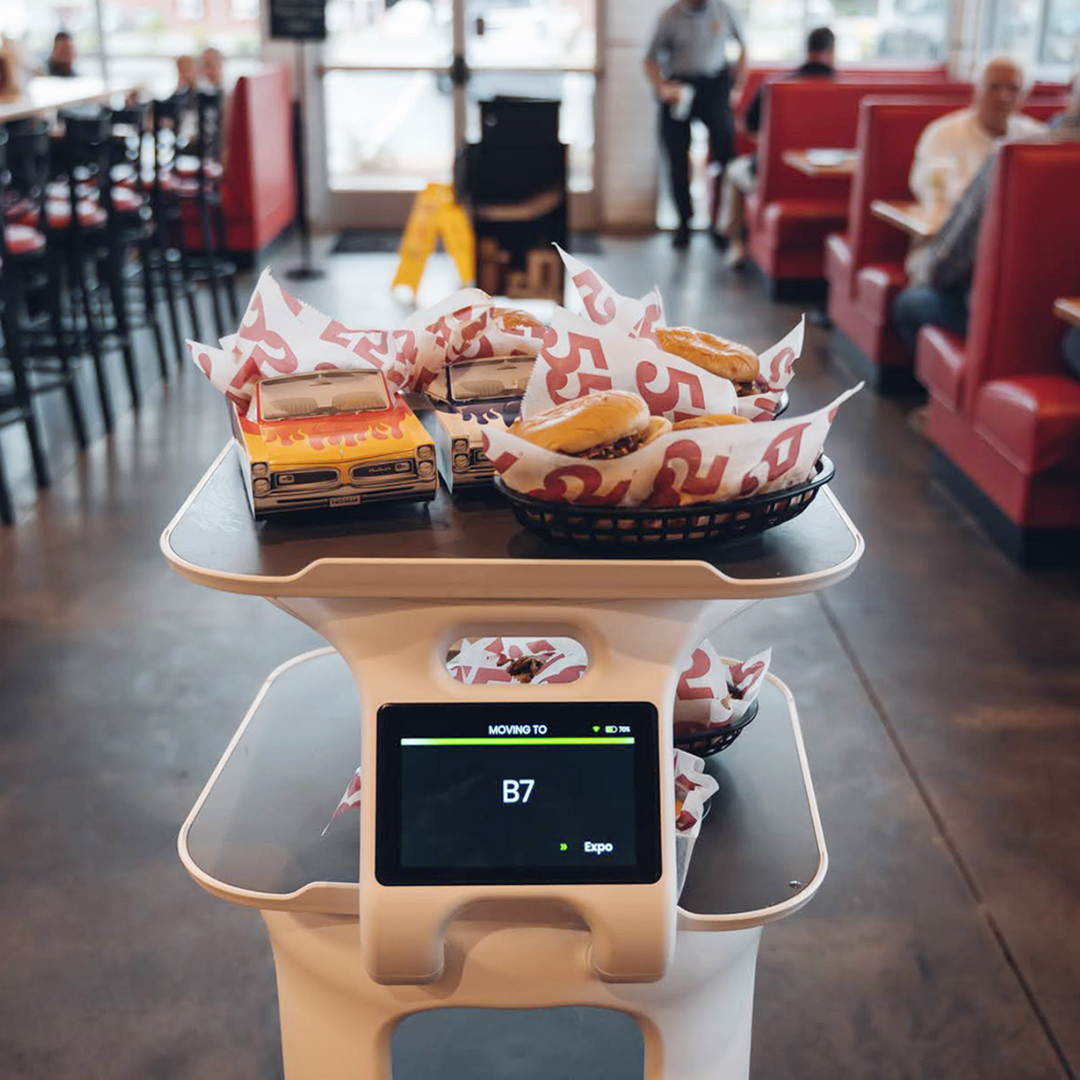 According to a recent report, about 50% of U.S. restaurants aim to use automation technology. It's the best time to opt for service robots like Servi to improve the fine dining experience. Currently, the competition is in the early stages. Restaurants can use Servi to rise above the competitive market and increase customer satisfaction and retention.

Everyone has eaten at an understaffed restaurant at least once. So you must have an idea of how a lack of staff can affect a restaurant's reputation. Restaurant owners are often at the risk of losing their profits due to one bad review. Additionally, business listing platforms like Google and Yelp have made it quick and easy for the average restaurant-goer to post these crucial reviews. 
The Role of Customer Reviews
Customers rely on reviews listed on the business profile of a restaurant. If they find unhappy customers ranting in the reviews section, it can significantly minimize their chances of deciding on that restaurant.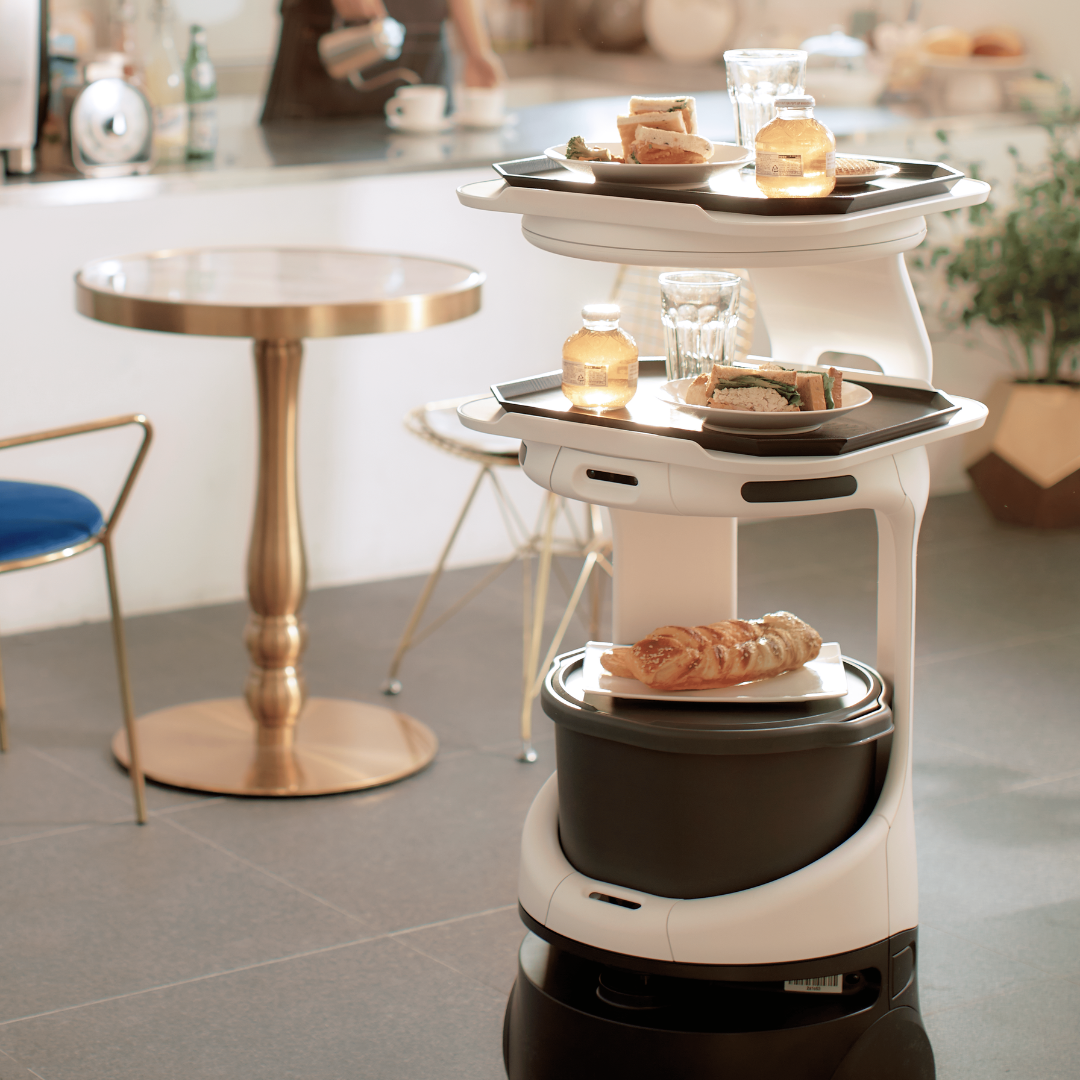 While some customers complain about food quality, others call out the restaurant owners for not hiring enough staff — which is often the result of a lack of available workers! Although AI robots may not be able to resolve food quality problems, they can change the entire game when it comes to serving tables.

Servi can help restaurants in many ways. Here's a few of them:
Servi can help reduce the wait time for different tables by making up for the shortage of workers.

Servi allows restaurant management to focus on the quality of food instead of managing the sitting areas.

Servi improves a restaurant's bottom line by filling in staff gaps and reducing costs.
Another critical factor is the overall impact of the restaurant. Since the concept is new, not many customers might expect to find a robot serving the food. The use of AI in restaurants can attract more customers every day — just to see the novelty. Those who love interacting with robots may come for a cup of tea or coffee to interact with the Servi units. Once they have great experiences with these robots, they'll keep coming back for more (which is something to think about in terms of your competitors).

The automated function of Servi allows you to cut down your daily costs. Each Servi unit is an investment that goes a long way. An understaffed restaurant can fill in the gaps with Servi while spending less than they would on an employee. This robot is a great choice for restoring any restaurant's reputation. 
How Can Servi Save Your Restaurant Costs? 
A restaurant that's struggling to hire waiters can employ Servi in their stead. This will allow your restaurant to flourish while reducing the normal cost of labor.

Math might not have been your favorite subject in school, but the following equations are SURE to get you excited.
Average Waiter Cost: The average waiter in the US is being paid anywhere from $5 to $15 per hour.

Monthly Waiter Cost: If we take the median cost and multiply it with 40 hours a week, you're paying $1600 a month for one waiter - not including taxes!

Cost of Servi: With Servi, you'll be paying only $950 a month for an employee, that assists with serving tables from open to close!
With Servi serving the tables, you have more chance for customer engagement than ever before. People are more likely to love the idea of restaurants with robot servers - especially after they experience it for themselves. As your daily budget increases, you can start optimizing and improving your business - or, finally start living comfortably!

Unlike big restaurants, smaller ones often pay more than their earnings. The shortage of staff, space, and cooking capacity can lead to avoidable issues.

When a Chef is cooking meals and there isn't enough staff to deliver the meals while hot and fresh, the quality of the food may decrease by the time it gets to the table! Servi can help deliver the Chef's masterpiece in a timely manner, while preserving all of the essential elements that make it delicious.

Additionally, restaurant owners manage the customers and orders throughout the day and shouldn't be out on the floor helping to deliver food. Servi will save you the time and money required to improve and scale up your smaller restaurant.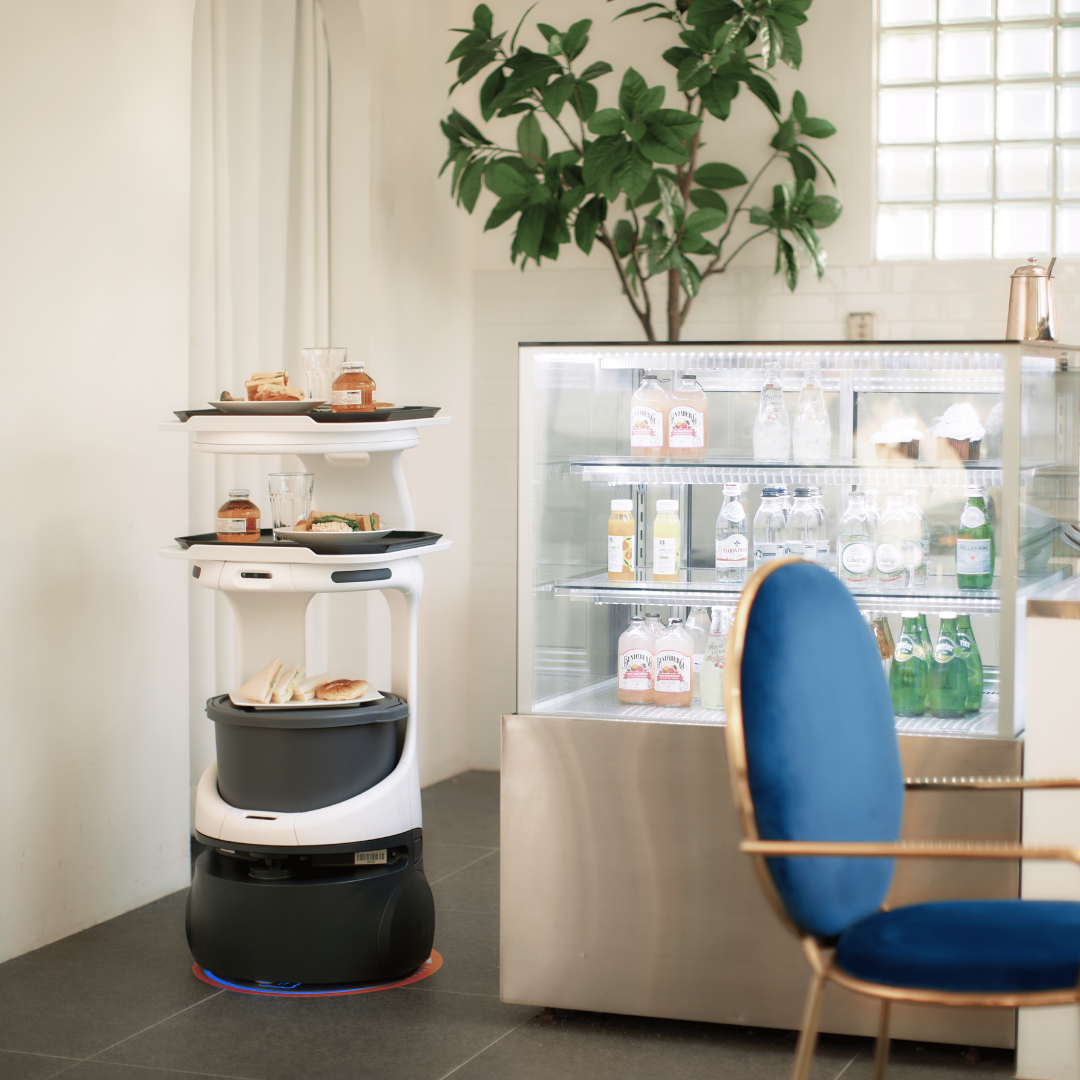 While many restaurants may be doing well, many others shut down after a long period of struggle. By using Servi robots, small restaurants can empower multiple domains. They can enhance the serving experience for customers, increase the number of customers on a daily basis, and improve their kitchen menu management. 

For those planning to kick-start their restaurant business, opting for a robot-based model can benefit them more than previous, outdated ones. With more restaurants aiming to switch to AI, it's a good time to start using Servi to promote your restaurant. 

Another important factor is the financing options. Restaurant owners do not have to worry about spending hefty amounts all at once. Bear Robotics allows its customers to choose from plenty of attractive financing options. You can select the number of robot units and apply for financing. This way, you can save on the high initial costs that you may find with other robot service companies. 
Who Will Set Up Servi Service Robot for You? 
You can apply for Servi robots on Airpuria's website. Our company offers you a customized range of Servi units to fit your exact needs. You may choose your desired robot and apply for financing options. Once leased, Bear Robotics will deliver Servi to your restaurant AND set everything up for you. Bear Robotics will come for around 2-3 days and help with:
Digitally mapping Servi to your restaurant.

Training your staff to use Servi to the fullest.

Optimizing & configuring Servi to work best for meeting your restaurant's goals.
Since the use of AI in the hospitality industry is new, it may seem like a daunting task to understand how to use Servi. To skip the trial and error phase, Bear Robotics takes the responsibility with helping you set up your Servi units while providing you and your staff with basic understanding, remote control operation, setting different instructions, and more.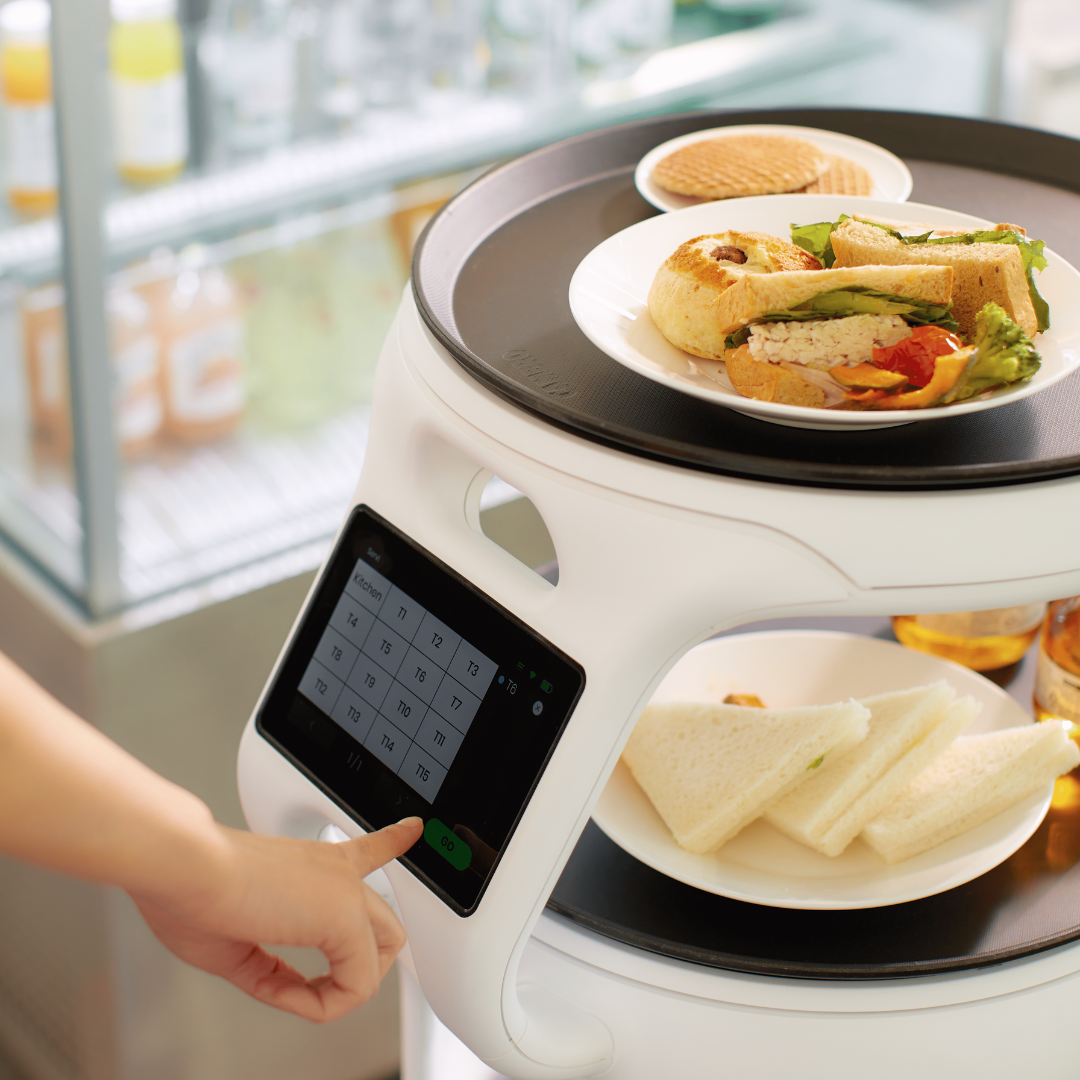 You may also ask the experts to run a demo for you with a varying number of dishes. Despite the similar function of different Servi models, you may need to operate each using different sets of instructions (as guided by the company). 

You can reach out to customer support via chat or call to seek assistance from the Bear Robotics staff. This professional team will provide the necessary instructions for you to operate Servi quickly and successfully. If you would like to ask additional questions about the product, hit the chat icon in the bottom right and we can help you out!
Servi From Bear Robotics — The Bottom Line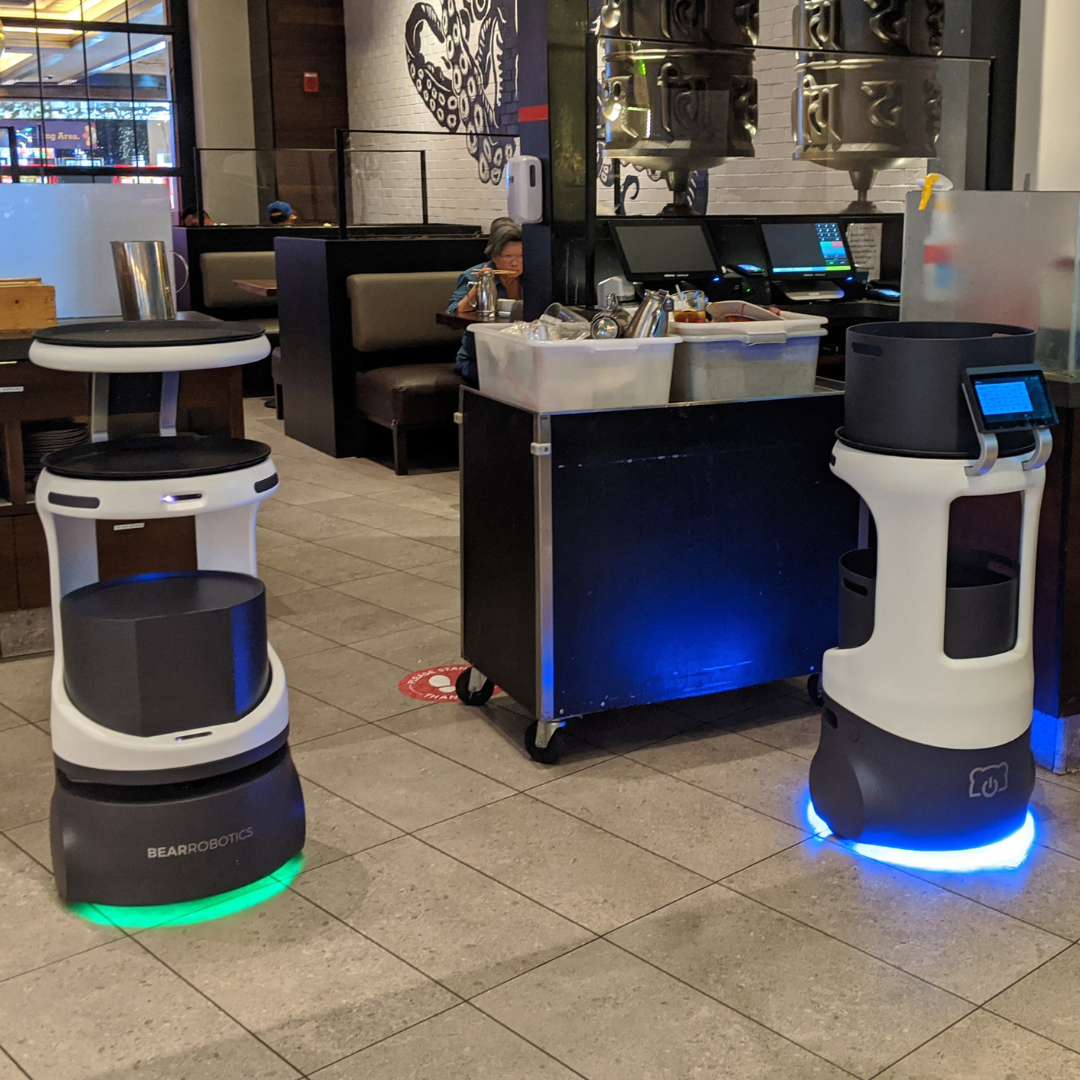 Servi units from Bear Robotics have forever changed the direction of the restaurant industry. Restaurant owners can employ food server robots for better customer satisfaction, lower costs, and increased profitability. The use of AI in the food and hospitality industry is a smart and essential next move. It can effectively fill in the gaps for an understaffed restaurant. 

Servi is a one-of-a-kind robot that aims to make things easier for people. Its self-operating software and high-end sensors make it perfect for human interaction. Unlike lab robots that require proper training to operate in a specific environment, you'll need little assistance to understand its operation. 

If you want to make your mark in the restaurant industry, you can start by employing food Servi AI robots to serve your tables. It can help you grow your bottom line in the competitive market in a short time.

If you have any questions, would like to know more information, or would simply like to chat, give us a call here - 773.337.8822

Can't call? Click or tap here to send us an email !

We'd love to talk to you!
BONUS VIDEO 
Check out this awesome video showing Servi first hand!

[Embed video link: "https://www.youtube.com/watch?v=e6TbcU7h_ko"]