You might have read some recent news articles related to restaurants turning to robotics to improve their customer experience.

Well, you can do the same for retirement facilities too!

The new AI food service machinery by Bear Robotics is a one-of-a-kind technology that could increase efficiency in retirement homes. While already popular in restaurants all over Japan for waiting on tables and serving meals to customers, this unique AI tech can actually make it easier to manage hospitality tasks in retirement homes as well.

While COVID expanded the use of such robots for business, their ease and efficiency have definitely made them stay.

Bear Robotics has three different robots that have revolutionized how we think about servers and meal delivery. They can carry out the daily operations of moving dishes in retirement communities, ensuring that meal management is a fun, unique, and productive time of the day!

Utilizing AI technology and machinery in the hospitality management of retirement homes can dramatically improve the senior experience. Read on to learn how you can improve the dining and home experience of the elderly in a meaningful way.

Your search is over; the most efficient hospitality robot has arrived!
Improving Meal Delivery with Servi in Retirement Homes
Retirement homes are often inundated with a copious amount of tasks. Nurses, medical staff, and helpers must work long hours to ensure that their patients are cared for. They must consider transport, grooming, cooking, feeding, medicine management, and more every day.

Servi by Bear Robotics can actually help! It can take some load off the staff and make delivering meals throughout the retirement community easier. The quality of the operation can make it easier to manage everyday tasks.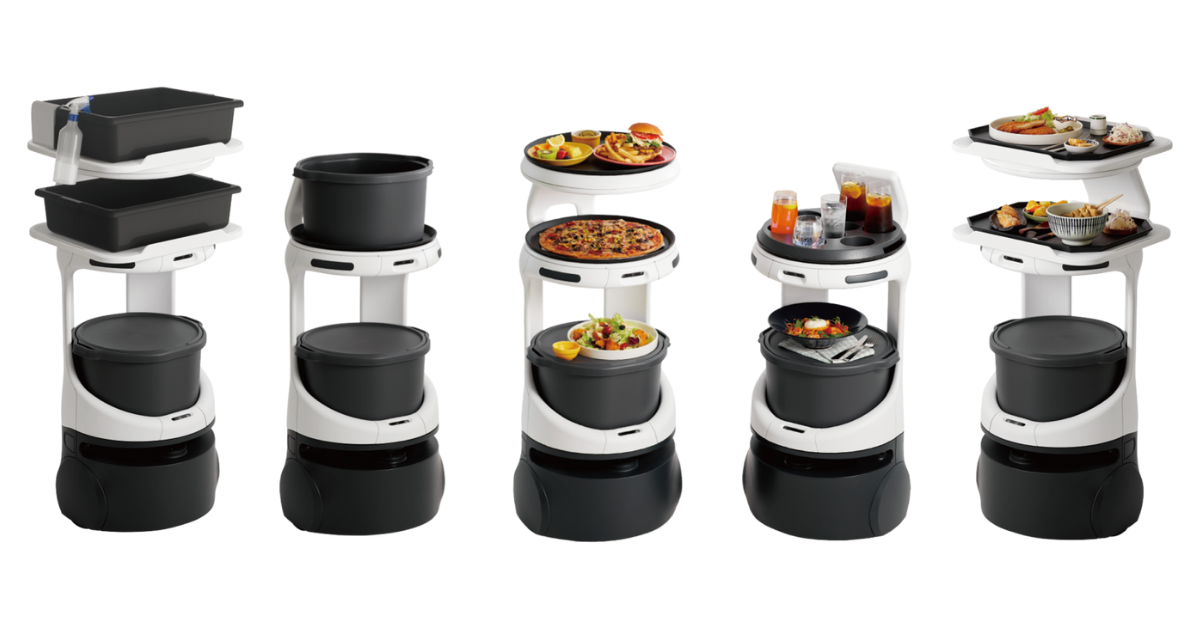 These robots are all designed to make meal service easier on site. They have plenty of storage space for trays, dishes, and other items while they move down hallways to their specified rooms.

This AI technology greatly assists staff, saving time so they can actually focus on more important tasks. The staff will be able to improve room service by having one on every floor or unit in the retirement home.

Usually, retirement homes have a strict menu. They need to consider their patients' dietary and medical needs when creating a menu for them. This means, delivering the correct trays is important in retirement homes since it can directly impact their health. So, assigning one to homes can be a good idea since their processes are programmable and will work perfectly every time.

If you have a cafeteria, it can transport meals right to the table, which can be helpful for retirees that have trouble walking. The staff can save energy while serving with Servi handling most of the weight.

If a retirement community is large, you can lease multiple AI units to manage the meal transportation on different floors and areas.

Managing large food orders through the retirement community can also be difficult. Since many retirement homes take charge of daily breakfast, lunch, and dinner, it can be tough to transport all the meals throughout the community. Scheduling these bots to work alongside you can save valuable effort and time.

The Servi Lift will even be able to move between the floors via an elevator through its elevator integration system. You'll be able to assign one unit for multiple floors. This model is expected to be released soon. We can't wait!

Bear Robotics technology and machinery will consistently deliver the dishes to their assigned rooms, homes, and floor without compromising on time or quality.

You won't have to worry about communication barriers or a staff shortage when it comes to the machines.

Having one on your team means you can provide services 24/7 without changing staff or worrying about overtime. You will be able to automate various labor tasks such as transporting the empty dishes back to the washing area, transporting food, serving as a bussing station with one click, and delivering meals to the home. This can help you save on time, costs, and effort.
Servi Plus Can Cater to Large Groups
This is a heavy-duty model that can cater to the retirement community in a major way.

Retirees may choose to eat in their homes, in dining halls or cafeterias, or have meals during regular activities. This can require catering a large community of retirees at the same time, three times a day.

Since the staff at the retirement communities have to cater to all different retirees with different dietary restrictions and needs, you will need all the help you can get. The AI technology and systems can take on the extra tasks of food running assistance, transporting dishes, returning dishes to the washing area, and more.

Coming soon — the Servi Plus will be able to move ten dishes in one go, catering to many people at once!
Dining Halls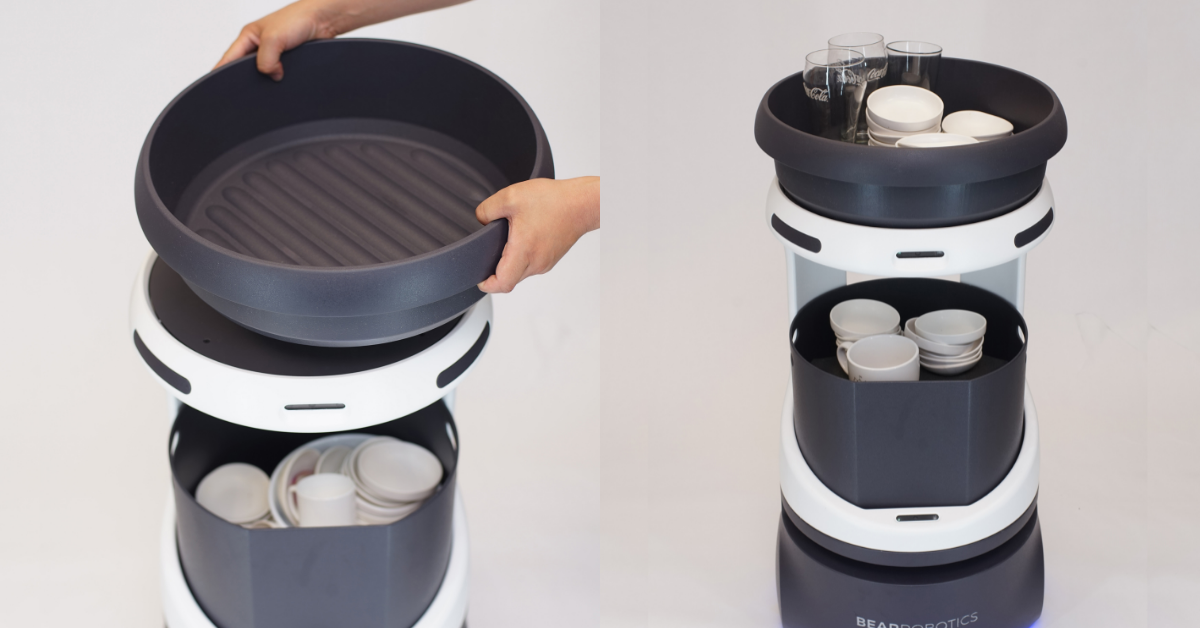 Servi can cater to your local cafeteria or dining halls by safely taking large orders to each table. You can use them to take a large number of dishes to each table, catering to a large number of diners at the same time. Multiple units can take on the entire hall, easing the burden on your staff.
Catering for Activities
Retirement homes often host different events and activities to keep their community entertained and preoccupied. Catering for such events means transporting meals in a secure manner. To ensure the event goes on without any pauses or interruptions, you can depend on the innovative tech to cater to the entire event!
Delivering on Dietary Needs
With Servi's innovative AI technology taking care of handling dishes and transporting food to designated areas, the retirement home kitchen staff will have more time to cater to the dietary needs of each resident — increasing safety throughout the entire home!
Servi Can Improve Retirement Homes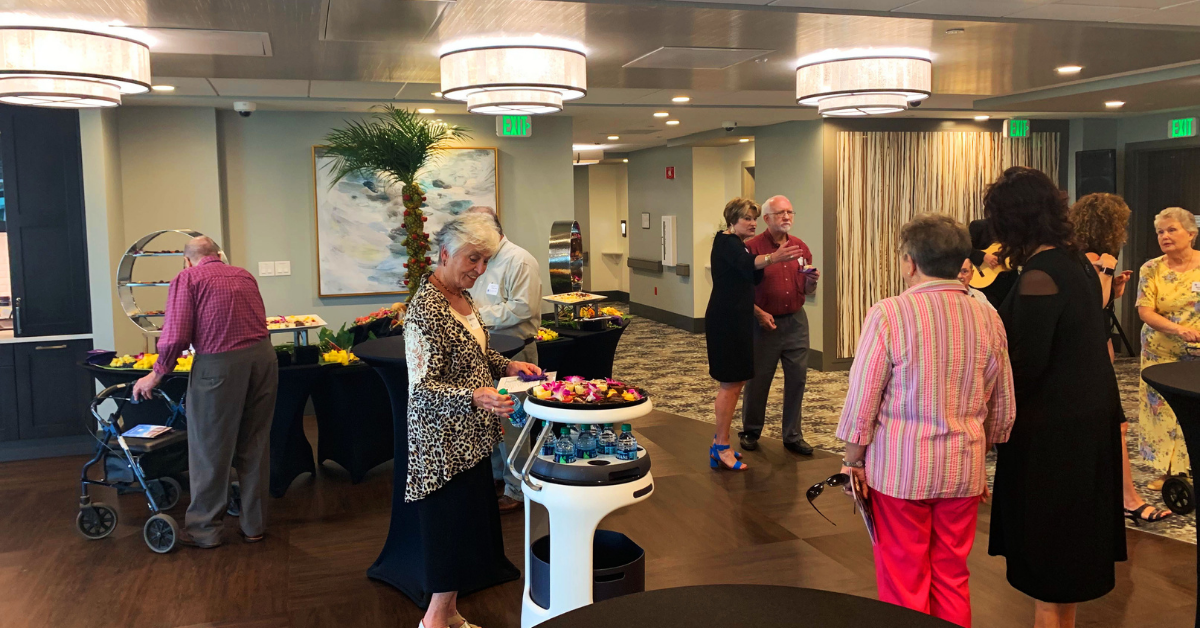 The unique technology is becoming quite popular due to its immense benefits in any industry. Turning to AI technology and the efficiency it provides for retirement homes can revolutionize the customer dining experience. Retirees love the AI tech since they can bring a new change to the same old retirement experience while increasing the quality of meal transport services. As for the company, saving on extra tasks, time costs, and effort can change how a retirement community works.

Having Servi by your side, will help to maintain a great reputation in the market as a leading retirement home facility. The human-friendly interactive abilities of Servi make them a cheerful and fun sight in the cafeteria or dining halls.
The Servi Robot Is Popular Among Retirees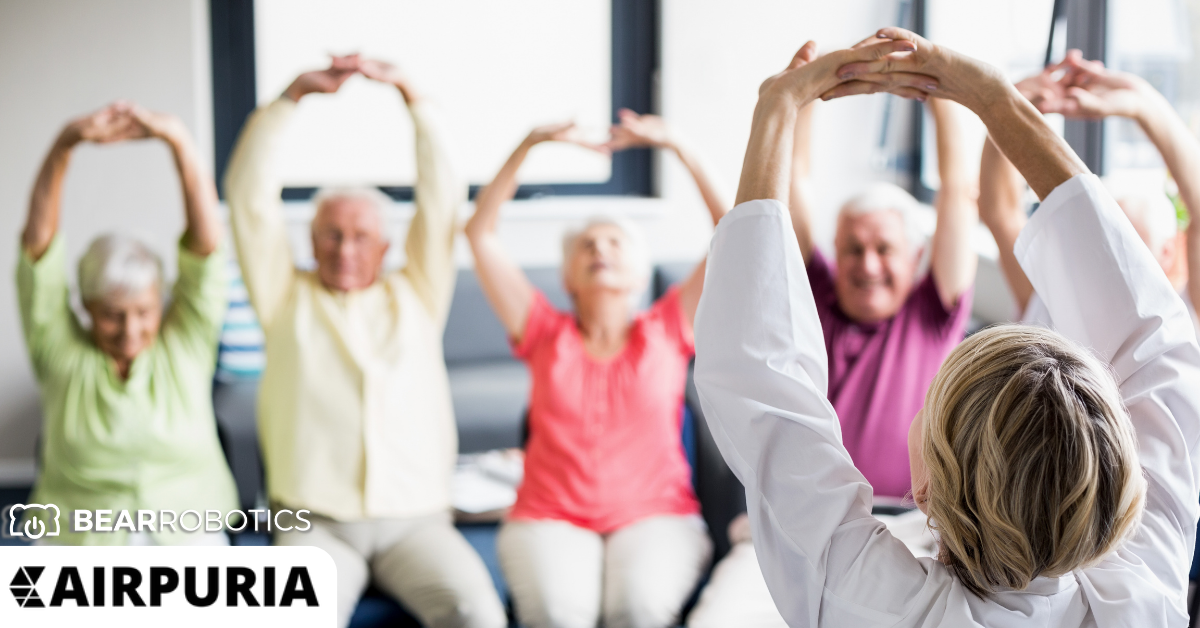 Servi is already quite popular in restaurants and bars. And now they are even becoming popular for retirement homes! It can meet all the community's and large groups' needs without hitches, which can greatly improve the entire experience for residents.

This innovative robot is quite popular among retirees and patients since they add a new change and fun cheer for everyone involved. You can lease multiple robots based on the appropriate lease/subscription options, making it easier to have enough units for the entire community.

You will be able to create a high-tech meal transportation network through your AI tech units that you can combine with the staff to enhance the retirees' dining and eating experience.

Bear Robotics has introduced three different types of robots, so you can choose different ones depending on where you plan to use them. For example, catering to larger groups becomes easier with Servi Plus. Maneuvering through different floors via an elevator is easier with Servi Lift. And the Servi base model is the best for catering to tables, returning dishes to the washing area, and managing orders.

With many retirement homes and communities planning on expanding their service transportation options with robot servers, owners should adopt the new wave of technology and make a huge dent!
Using the Servi Robot in the Kitchen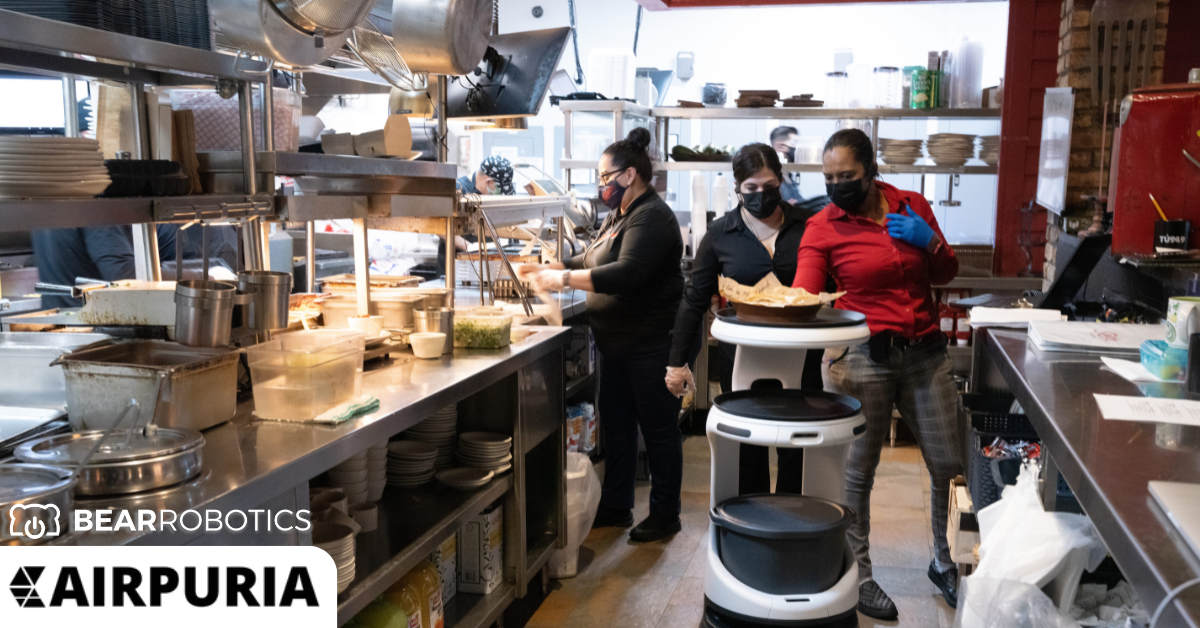 This fantastic AI innovation can also assist staff inside the retirement home kitchen.

In the kitchen, Servi can help transport tools and ingredients from one counter to the other without requiring Chefs or other kitchen staff to take a break from their important cooking tasks.

Cooking so many dishes several times a day means long cooking hours, and increased prep times. You might even have to hire more staff on special days or for events. Servi solves the staffing shortage problem so owners can focus more on optimizing the customer experience.

Servi can help kitchen staff clear workstations and counters of dirty dishes and containers, then transport them to the correct area. They can also deliver clean plates to the plating area for a quicker plating process.

Expo/nurses/service/food delivery, item delivery, save time, useful tool
Bear Robotics Will Set Up Servi For You!
You can apply for Servi robots on Airpuria's website. Our company offers you a customized range of Servi units to fit your exact needs at a low low price. You may choose your desired robot and apply for lease/subscription options. Once leased, Bear Robotics will deliver Servi to your retirement home AND set everything up for you. Bear Robotics will come for around 2-3 days and help with:
Digitally mapping Servi throughout your retirement home.

Training your staff to use Servi to its maximum capabilities.

Optimizing & configuring Servi to work best for meeting your retirement home's goals.
Our Thoughts on Servi
Bear Robotics is changing the way retirement homes and communities view hospitality and food service. The Servi robot can help reduce management issues and errors, meaning the correct dish is transported to the right table or home in a timely manner. Their efficiency can change how you deliver, search for the right table, and serve meals.

Owners and managers can overcome staffing shortages, create a cost-effective transportation network, and implement practical measures to improve the hospitality in your retirement home, kitchen, or cafeteria. Servi offers the opportunity to become a unique retirement home facility known for its keen and fun robots that allow for providing extra care to residents.

Employing Servi robots allows retirement homes to create great reputations for their communities.
Contact Airpuria
Want to learn more about Servi? Give us a call here - 773.337.8822.

Or, feel free to send us an email by clicking here!
BONUS VIDEOS
Check out these awesome videos showing Servi's helpfulness in retirement communities first hand!

[Embed: https://youtu.be/vS36IKhXntI]

[Embed: https://www.kmov.com/video/2022/06/16/senior-living-center-adds-robot-server/]