With the Earth's climate slowly deteriorating and the environment becoming polluted, we need to adopt healthy practices. Focusing on skincare is an integral part of a healthy lifestyle.
Spa capsules are an excellent, all-encompassing choice for making healthy lifestyle choices. They are very relaxing and provide fantastic health benefits.
Let's take a moment to understand what these anti-aging capsules are and how they can change our lives!
What Is a Spa Capsule?
A spa capsule typically looks like a long oval chamber, although its design can differ depending on its features.
Beauty salons use spa capsules to promote health and wellness. The capsule combines natural elements, such as aromas, light, sounds, water, and heat to provide a relaxing experience that reaches all of your senses.
You can comfortably relax inside for a set period while a computer controls the operation of the spa capsule. Mobile device-enabled models also exist for those who prefer to stay on their phones.
History of Spa Capsules
Surprisingly, spa capsules are not a newly emerging technology and have been around for some time.

The first spa treatments involved different freshwater and saltwater based procedures that utilized different species of algae. The clay in mud is said to possess health benefits, so it was also gradually incorporated into different spa treatments.

As new technologies emerged, researchers and healthcare professionals developed several unique therapies, such as aromatherapy, color therapy, and sound therapy. Spa treatments began incorporating them in their procedures, as the sounds and aromas help the user relax and rest their body. Steam output from different treatments also became known for restoring and rejuvenating the body. It also helps prevent diseases!

Spa capsules were designed to combine all of the amazing features from normal spa treatments into an easy-to-use technology that can be enjoyed in the comfort of your own home.
Major Benefits of Spa Capsules
Spa capsules offer major benefits to people with certain diseases. Therefore, they're sometimes referred to as medical capsules. Let's review some of the benefits below.
Non-Invasive
One of the major benefits of using spa capsules is that they're a non-invasive and automated technology that can be operated using a computer or mobile device.

A spa capsule is the perfect choice for treating acne, weight loss, and de-stressing — all at once. It also utilizes anti-aging techniques and provides self-automated treatment to promote health and wellness, beauty, and fitness.
Weight Loss
In addition to its utility in beauty treatments, a spa capsule can help you burn more than 500 calories in a single session! We mentioned it employs complex procedures; here's how it helps tackle obesity and weight-related issues:
The spa capsule reduces heavy metal ions in the body. These digestive inhibitors cause poor digestion, causing metabolism to slow down, resulting in weight gain.

The spa capsule is excellent in removing harmful toxins from the body. These toxins, such as lipophilic or fat-stored toxins, can sometimes prevent the body from shedding excess weight unless removed.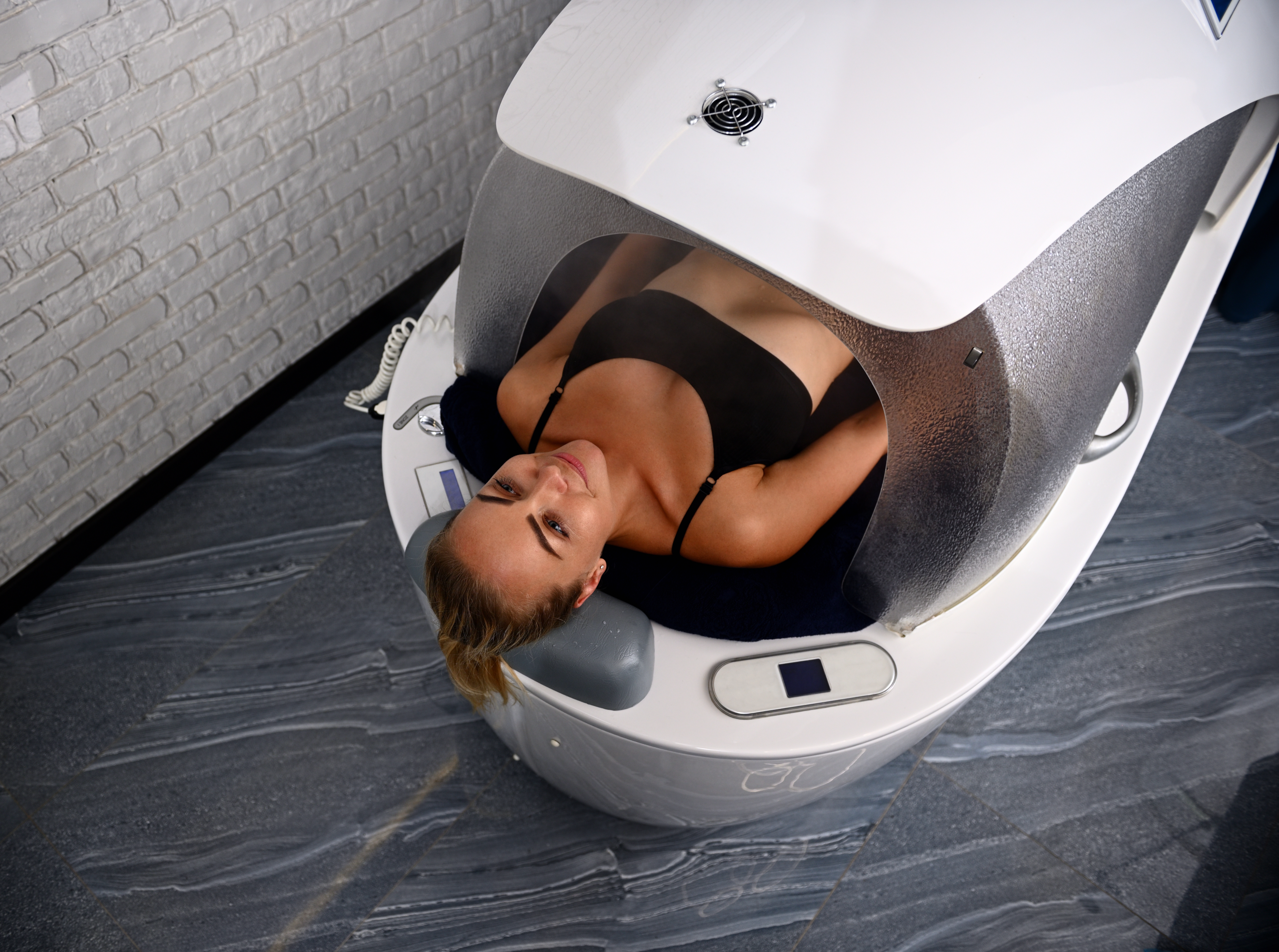 Mental Health Benefits
Much like traditional saunas, the spa capsule does not only provide physical health benefits but promotes mental health as well. The chamber is quite comfortable to relax in and helps one deal with stress and hypertension.

You might not realize it, but our body is constantly in a state of stress from coping with today's fast-paced world. Whether you hold a desk job or engage in regular physical activity, the body can break down and cramp up if you don't take care of it.

Consequently, a spa capsule can help in hydrating dry skin which is essential for maintaining a healthy appearance. It also helps relieve the day's stress by promoting healthy blood circulation that reduces muscle pain. Muscle tightness, anxiety, and headaches can have detrimental health effects, but the spa capsule can help alleviate these conditions quickly.

Promoting healthy blood circulation also alleviates inflammation and helps drain tissues of fluid buildup after injuries or surgery.

As a result of the capsule's various treatments, you will have more energy, which will improve your mood and mental health. It will also help prevent future health risks and injuries.
When to Use the Spa Capsule?
Here's a list of conditions that can be treated using a spa capsule:
Obesity

Intoxication

Cellulite

Musculoskeletal Diseases and Injuries

Muscle Pain and Soreness

Headaches

Depression and Anxiety

Low Immunity

Dry or Wrinkly Skin
When Not to Use?
If you have one or more of the following conditions, don't use a spa capsule without consulting a doctor first:
Chronic diseases or conditions affecting the internal organs

Dermatitis or other skin conditions

Angina Pectoris

Ischemia
A doctor can help tailor the capsule parameters according to your needs and monitor your condition.
Essential Points to Remember
A spa capsule is a long oval chamber that combines natural elements to provide a relaxing experience for health and wellness.

Spa capsules have been around for some time, evolving from traditional spa treatments to incorporate new technologies like aromatherapy, color therapy, and sound therapy.

Major benefits of spa capsules include non-invasive treatment, weight loss, and mental health promotion.

Spa capsules can be used for a variety of conditions like obesity, intoxication, cellulite, musculoskeletal diseases, and injuries, among others.

Consult a doctor before using a spa capsule if you have chronic diseases, dermatitis, angina pectoris, or ischemia.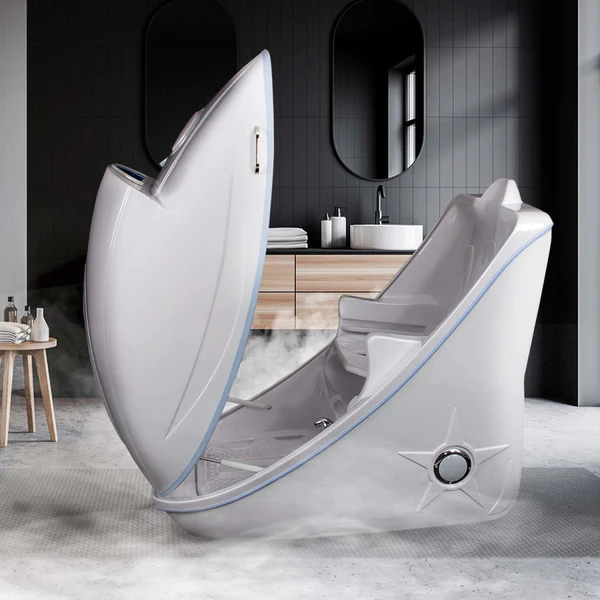 Spa Capsule Features
A spa capsule can have eight to nine features that help provide different types of benefits. Let's break it down based on the following technologies.
Steam Machine

The spa capsule has a steam machine that can create the environment you typically feel inside a steam room. The feature enables users to relax, as the effective steam bath hydrates the skin and opens its pores.

As a result, the excess steam from the efficient steam generators helps your skin readily absorb any active ingredients in your spa beauty treatments.

Sauna Feature

In addition to having the most efficient steam generators, spa capsules also function as an at-home, traditional steam sauna.

The heat penetrates the muscles and soothes them. This improves circulation and releases tension from sore muscles. Users have reported feeling completely relaxed after using this spa capsule feature.

Water Massage

Spa capsules are often equipped with a water jet that blasts pressurized water at the body. Different parts or the whole body can be massaged using the feature, depending on the chosen treatment.

Vibration Massage

Spa capsules also have a vibration massage feature, which is made possible due to pulsation technology. The technology allows the spa capsule to provide a pulsating massage which helps disperse muscle spasms and improves blood circulation in the tissues.

Music

Almost all new spa capsule models come with a music accompaniment option. The feature lets users update the stereo system with their own music from their phone.

Spa capsules are also able to play their own music, typically sounds of nature and wildlife, which facilitate the relaxation process. Advanced spa capsule models have more high-end capabilities, such as offering a true surround sound experience mid-treatment! Listening to nature sounds, like raindrops, on surround sound audio is bound to produce a peaceful and enjoyable experience.

Color Therapy

Color or Chromotherapy is only recently being added to the modern spa treatment practice. This practice involves the use of individual or combinations of colors.

Chromotherapy programs are based on the mental, emotional, and physical state of a patient and the desired result of exposure to the treatment.

For instance, the colors yellow, red, and orange form a combination that treats hypotensive patients, while green and purple combinations promote relaxation.

Providing relaxing chromotherapy is a remarkable feature that helps offer a genuine spa experience.

Air Ionization

Air ionization is an innovative feature with incredible benefits. The spa capsule supplies a steady stream of cool ionized air to the face of the client. While remaining health-conscious and treating themselves to moist air from the external steam generator, the user stays protected by the layer of ionized air which makes it easier to breathe inside the chamber.

Oxygen Therapy

Some models of the spa capsule have an oxygen tank that increases the amount of oxygen in the chamber.

Increased oxygen in combination with heat and cosmetic beauty treatments offers a better skin rejuvenation effect on the whole body.

Increased oxygen concentration helps remove free radicals from our body, which are toxic for our cells.

Aroma Therapy

A spa capsule treatment can also be offered in combination with aroma oils, which help the user relax.

Aromatherapy produces a pronounced tonic effect on the body. It can also be used to brighten the body and remove dark spots caused by melanin production.
Spa Capsule Types
The spa capsule design is predominantly based on two types of models, dry and hydrofusion.

The difference between both types of capsules is primarily based on how they impact the body. Where one relies on dry heat, the other combines heat and moisture to produce a series of effects.
Dry Spa Capsule
The dry spa capsule does not use steam but rather dry and heated air. It provides numerous features, such as music, chromo- and aromatherapy, vibration massage, and oxygen therapy. Different models provide different features, and their price also depends on the number of features present.
Hydro-Infused Spa Capsule
These models are larger than their dry heat-providing counterparts. Therefore, the maximum space required to place these capsules is more than what dry spa capsules require.

Steam generators have different capacities depending on the model. For instance, the Osaki spa capsule (LK-219) uses a one-gallon steam generator, which can provide 90 minutes of moist heat. This model also has two high fidelity speakers and one removable foot massager, which makes it a more popular choice in the at home sauna market.
Benefits
Moist heat warms up the muscles without drying the skin and deep skin penetration helps in removing toxins and breaking down lipids in the adipose layer of the skin.
Since this spa capsule uses water, it can easily provide features like aroma therapy, hydrotherapy, hydromassage, shower, and even aromatics and steam baths.
Convenient Maintenance
Finally, a spa capsule involves easy and convenient maintenance. You can take care of the capsule using the following tips:
Do not use abrasive cleaners for the interior of the spa capsule.

Use liquid soap or mild detergent to clean the dust, grime, and oil from under the bed.

Wash the steam generator twice a month using the Service and Clean Heating functions of the spa capsule.
Our Conclusion On Spa Capsules
If your goal is to improve your personal health and wellness routine, Spa Capsules shine brightly against the competition.
These wonderfully innovative devices combine traditional spa treatment methodologies with newer, more technologically advanced treatments to provide you the best of both worlds... in your very own home!
If you're interested in making the jump into a healthier lifestyle, feel free to give us a call. We'd love to answer any questions you may have!
Important Final Takeaways
Spa capsules offer several features, including steam machines, saunas, water massages, vibration massages, music, color therapy, air ionization, oxygen therapy, and aroma therapy.

There are two main types of spa capsules: dry spa capsules and hydro-infused spa capsules. The main difference is the use of dry heat versus moist heat.

Hydro-infused spa capsules, like the Osaki LK-219, offer additional features like aroma therapy, hydrotherapy, hydromassage, shower, and steam baths.

Maintaining your spa capsule is easy and convenient with proper cleaning and regular steam generator maintenance.
Financing Options for Spa Capsules
If you're considering purchasing a spa capsule, look for providers like Airpuria that offer financing options to make your purchase more affordable. Airpuria provides financing for all customers with rates as low as 0% for up to 18 months, as well as business financing with flexible terms and competitive rates.
Airpuria offers financing options for all individuals, with 0% interest rates for up to 18 months. Business owners can also apply for special financing programs tailored to their needs.
Links:
Spa capsules are an innovative and effective way to improve your personal health and wellness routine. By combining traditional spa treatments with advanced technologies, these devices offer a wide range of benefits in the comfort of your own home. With financing options available, there's never been a better time to invest in a spa capsule for a healthier lifestyle.