Introduction to OxyHealth
Humanity's search for the fountain of youth has been a noteworthy part of our journey since the beginning of time.

The amount of time, money, and resources that have been spent looking for ways to improve or maintain our health is incomprehensible!

One therapy that has been getting a lot of attention is hyperbaric oxygen therapy (HBOT). It can help people with a wide range of conditions, from traumatic brain injury and Alzheimer's disease to diabetes and autism.

This amazing therapy started as a treatment to help scuba divers recover from decompression sickness. After its immense success, scientists and medical professionals proved that it was also highly effective for wound care. Now, they've even realized that hyperbaric oxygen therapy can be used for rejuvenation and anti-aging!

If you're considering HBOT, you might be wondering which provider is the best. In this article, we will discuss OxyHealth! They are one of the leading providers of hyperbaric oxygen therapy.

Read on to learn more about this amazing therapy and how OxyHealth can help you get the oxygen you need!
Hyperbaric Oxygen Therapy
Hyperbaric oxygen therapy (HBOT) is a treatment that uses 100% oxygen to raise the levels of oxygen in the blood. The therapy is delivered through a versatile chamber, known as a hyperbaric chamber, where atmospheric pressure is higher than normal air pressure, and patients can lie down.
It can be used to treat a variety of medical conditions successfully. The history of hyperbaric oxygen therapy dates back to 1937, when it was first used to treat decompression sickness. However, the therapy has also been beneficial for treating other medical conditions over the years. It can even be used for an anti-aging treatment!
Benefits Of Hyperbaric Chambers
There are many benefits of having these versatile chambers in your home, which is why they are becoming increasingly popular. Check out a few of the benefits below:
Effective treatment for diabetic foot ulcer, and wound healing.

Hyperbaric medicine improves cognitive function and memory.

Hyperbaric oxygen therapy can help reduce inflammation and pain.

This therapy can also boost the immune system.

Promote better sleep.

Increases oxygen rich blood flow to the injured area via blood vessels.

Faster healing time.
Football Players And Use Of HBOT Chambers For Quick Recovery
Hyperbaric oxygen therapy can be used in the healing process for injuries. Many people don't know that some of the top football players in the world use HBOT chambers to help them recover from injuries quickly!
Cristiano Ronaldo
Marca reports that Cristiano Ronaldo went to a clinic to use hyperbaric oxygen therapy to heal his injuries faster. He was injured during the Euro 2016 final and could not continue playing due to the pain. Using the chamber, he exposed himself to pure oxygen, which helped him recover faster and more effectively.
Mohamed Salah
Mohamed Salah used the chamber after a pivotal match against Manchester City to help with the healing process. He got injured in the second half of the quarter-final win, which he posted about on Instagram.
Jonny May
Leicester Tigers star Jonny May used the hyperbaric chamber to heal his cheekbone injury. The clip was released in 2020. May had set up the chamber in his home to help with the healing process.
He got the injury during a Six Nations match against Wales and decided that the chamber would be beneficial since hyperbaric oxygen therapy is designed to help improve high air pressure conditions and provide additional oxygen, promoting healing in tissue damage.
All these great football players use hyperbaric oxygen therapy chambers to help them recover quickly from injuries. If you're looking for a way to speed up the healing process, consider using a hyperbaric chamber. But what is the best way to get one?
Well, the best chambers on the market for the home are currently made by Oxyhealth. Let's dig a little bit deeper into what they have to offer.
Oxyhealth
OxyHealth is a pioneer manufacturer and leading provider of hyperbaric oxygen therapy (HBOT) chambers, with more than 15,000 users worldwide. The manufacturers combined their years of experience in the medical field to develop a product that is not only effective but also affordable. The company has a long-standing reputation for producing quality products.

OxyHealth makes chambers that are fully compliant with federal safety standards, and their designs focus on quality and performance. Their commitment to quality and safety has made them the industry leader, with their products meeting or exceeding all federal safety standards.
Their products are backed by solid research and development, making them the top choice for those seeking the best in hyperbaric oxygen therapy technology.
OxyHealth profoundly cares about the well-being of its patients and provides patients with the best possible care. They have specifically designed the chambers to be safe and durable. At OxyHealth, every patient is essential, and they deliver personalized care.
Click here to learn more about OxyHealth from Airpuria!
Choice Of Professionals
OxyHealth chambers are the top choice for athletes and medical professionals worldwide when it comes to recovery and health benefits. Over 500 NFL, MLB, NBA, PGA, MMA, and Olympic athletes trust OxyHealth. Over 3,000 physicians also utilize the chambers. Hundreds of thousands of patients have been treated with OxyHealth chambers. The health, safety, and recovery rates of their hyperbaric oxygen chambers speak for themselves. Choose OxyHealth from Airpuria for the best care possible.
Hyperbaric Chambers By OxyHealth
OxyHealth offers both portable and stationary chambers. The portable OxyHealth hyperbaric chambers are convenient for those who want to receive treatment at home or on the go. Softshell OxyHealth chambers have the ability to be transported effectively. They can be inflated and deflated quickly, so you can get the treatment you need — when you need it. Some of their federally registered and trademarked names are Solace, Respiro, Vitaeris, Quamvis, and Fortius. Let's take a look at each of these portable chambers.
The Solace is an affordable, mild hyperbaric chamber. It is portable and has a double-sided bladder, dual control valves, and three viewing windows. An air-in port and pressure regulators provide a consistent flow of air. It is durable and has medical-grade technology.

This package includes the Solace 210 chamber, jacket, carrying bag, bolsters, clean air compressor, medical grade hose, and operation manual. The internal frame and mattress are included by Airpuria at no extra charge!
Click here to learn more about the OxyHealth Solace 210® from Airpuria!
The Respiro 270 chamber has a 21" diameter design that is comfortable and functional. It has dual control valve technology. It also features a double-sided 44 oz—urethane coated polyester. The design is ergonomic, and the safety specifications are impeccable.

Tamper-proof redundant pressure regulators maintain consistent circulatory air flow during treatments, ensuring that patients receive the correct dosage of oxygen. The Respiro also has an air-in port. The design is practical, and the medical-grade components ensure durability and functionality.

Click here to learn more about the OxyHealth Respiro 270® from Airpuria!
The famous Vitaeris 320 is a large chamber that can accommodate two adults simultaneously. It offers freedom of movement for patients and maintains strict safety specifications. The angled air-in port and pressure regulators keep the circulatory air flow consistent during treatments. The chamber is practical and ideal for clinics and homes, with a spacious interior that provides patients with peace of mind during treatments. The windows allow room light to illuminate the interior.

Professional athletes, celebrities, parents, and physicians rely on the Vitaeris 320 for its durability and functionality!

Click here to learn more about the OxyHealth Vitaeris 320® from Airpuria!
The Quamvis 320 is a portable, soft-walled chamber designed to be the most secure on the market. The chamber has a spacious 32" diametric interior that allows for easy entry and exit for patients. The exterior frame concept provides outstanding support and prevents obstruction. The Quamvis is OxyHealth's strongest soft shell chamber and one of the only soft shell chambers on the market that can reach a 1.75ATA (oxygen level).

The Quamvis 320 has dual pressure control valves, an air-in port, tamper-proof redundant pressure regulators, and a ballistic nylon jacket. The "SafeSet" buckling system ensures that safety specifications are met when reaching higher oxygen levels. This also allows the Quamvis to push past 1.5 ATA all the way to 1.75 ATA! The Quamvis 320 has a cutting-edge design that is safe and long-lasting.
Click here to learn more about the OxyHealth Quamvis 320® from Airpuria!
The powerful Fortius 420 is designed to withstand and function efficiently in many protocols. Its 42" diametric interior is the largest size while still being able to fit in offices and clinics.

The 100% oxygen delivery at up to 3.0 ATA (29 psi) operating pressure in the chamber is made possible through a hood assembly system, making this chamber cost-effective and safe for patients. With mirrored controls inside the chamber, this design feature provides safety for users.

The Fortius 420 is shipped and installed with white glove service by Oxyhealth. This chamber's design and medical-grade technology guarantee durability and functionality that will last for years.

Click here to learn more about the OxyHealth Fortius 420® from Airpuria!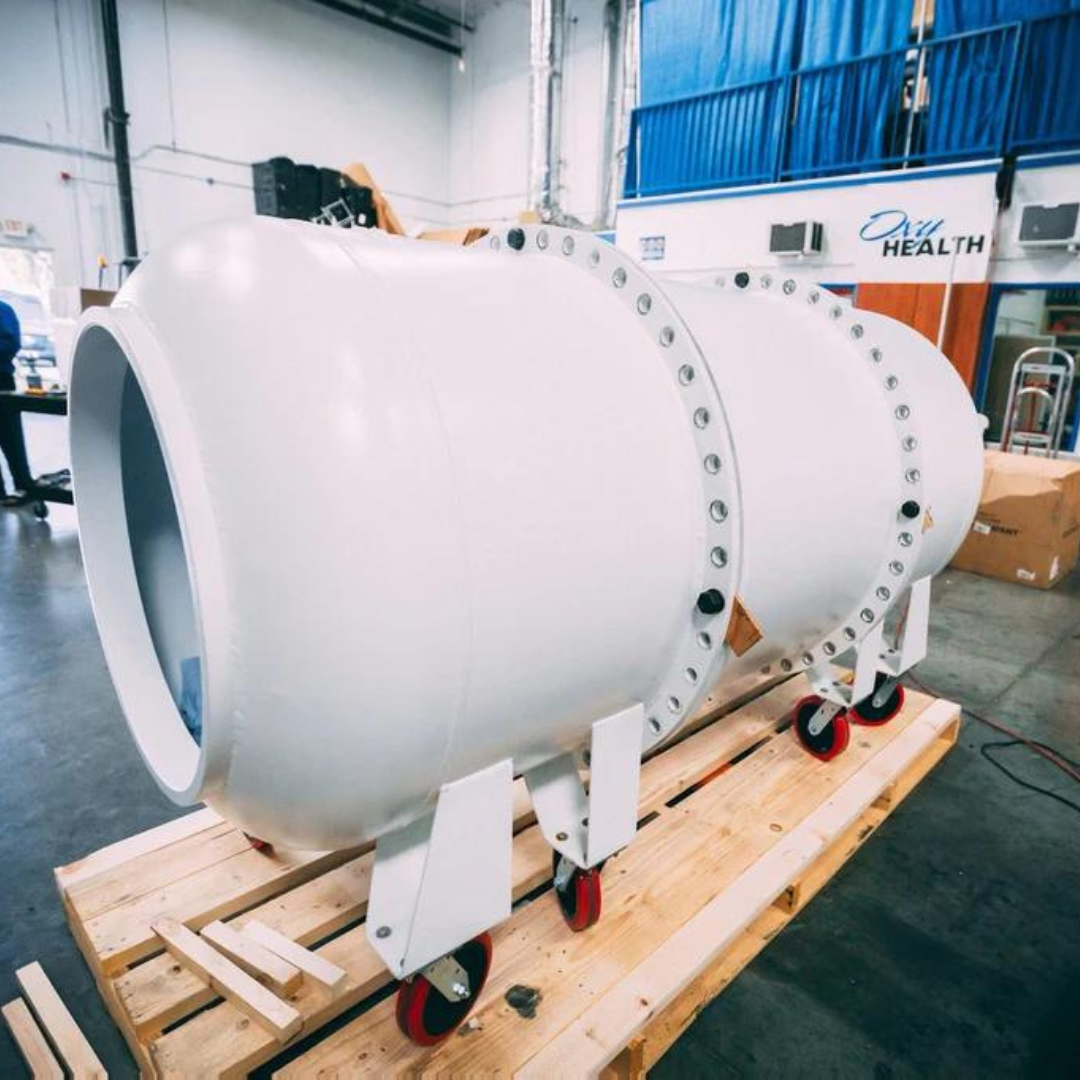 The Fortius 420 - EXP is a tremendous hyperbaric chamber for treating patients. It can operate up to 3.0 ATA (29 psi) and has a large 42" diametric interior. It is also 62 inches in length. Despite its size, the Fortius 420 - EXP is designed to fit in most offices and clinics.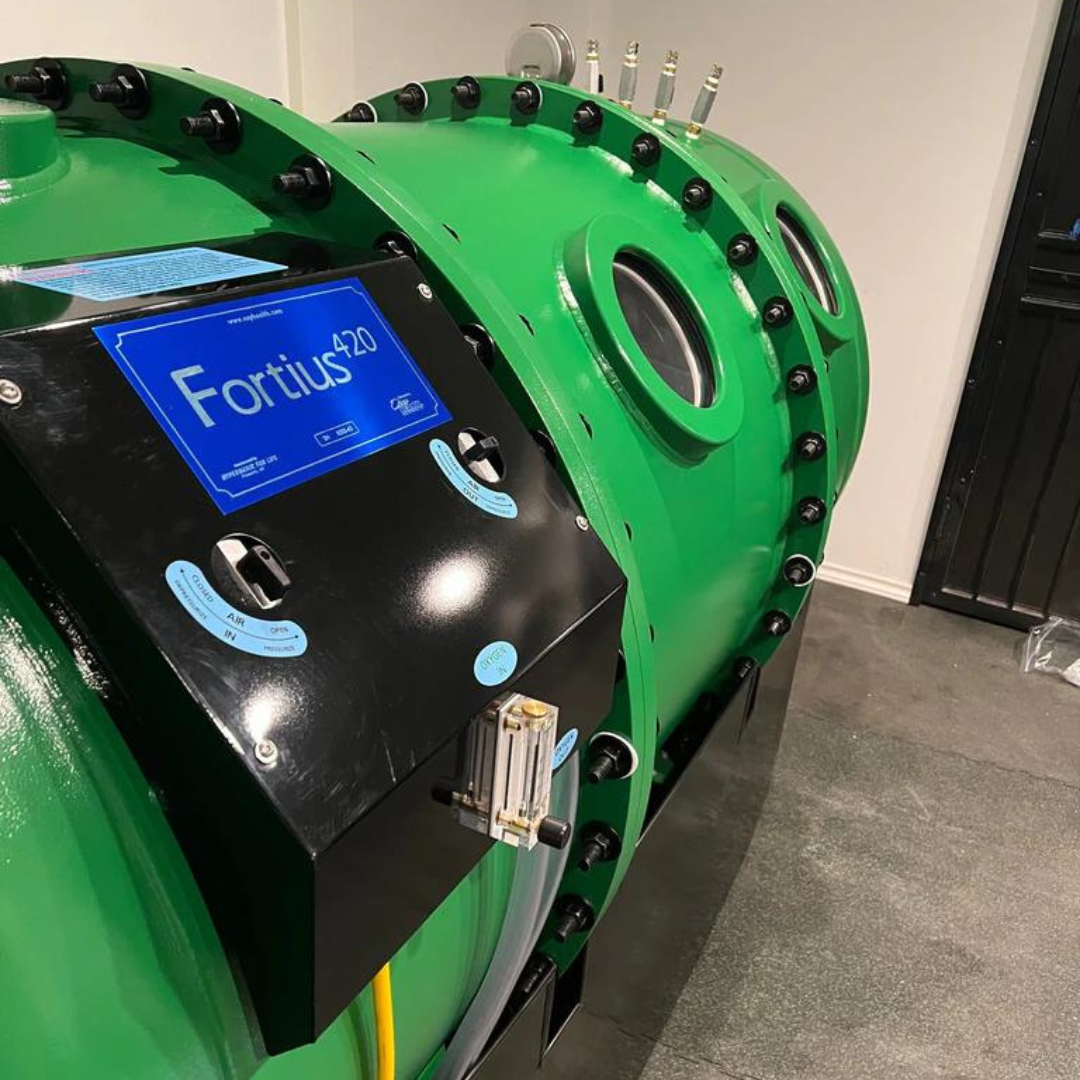 With the Fortius 420 - EXP, you are able to connect up to 3 chamber pieces, which increases capacity. You can also customize it by painting it different colors which some avid users will absolutely love.

This hybrid chamber comes with mirrored controls on the interior and exterior. 100% oxygen can be released at up to 3.0 ATA through a hood assembly system and high pressure concentrator — hand made and designed with your color of choice.
Click here to learn more about the OxyHealth Fortius 420®-EXP from Airpuria!
Essential Points to Remember: First Half
Hyperbaric oxygen therapy (HBOT) is an effective treatment for a wide range of conditions, including traumatic brain injury, Alzheimer's disease, diabetes, and autism.

HBOT has its roots in treating decompression sickness in scuba divers, but it has evolved into a versatile therapy for various medical conditions and even anti-aging purposes.

OxyHealth is a leading provider of hyperbaric oxygen therapy chambers, with a reputation for quality and safety.

There are numerous benefits to using a hyperbaric chamber, such as improved cognitive function, wound healing, reduced inflammation, and better sleep.
FDA-Approved Applications For Hyperbaric Chambers
The FDA (Food and Drug Administration) is responsible for ensuring that medical devices marketed in the United States are safe and effective. FDA clearance of hyperbaric oxygen chambers indicates that these devices meet the FDA's safety and effectiveness standards.
The FDA has cleared the use of hyperbaric oxygen therapy (HBOT) in chambers for the following indications:
Refractory osteomyelitis

Decompression sickness

Chronic wounds, including diabetic foot ulcers

Radiation injury or tissue damage

Crush injury, compartment syndrome, and other acute traumatic ischemia

Enhancement of healing in selected problem wounds

Bone marrow infection

Severe anemia

Hearing loss

Air or gas embolism

Brain abscess

Gas gangrene

Necrotizing soft tissue infection

Compromised skin grafts and flaps

Traumatic brain injury

Acute thermal burn injury

Severe carbon monoxide poisoning
Choose Airpuria To Buy HBOT Chambers
Ready to start on your HBOT journey? OxyHealth hyperbaric oxygen chambers are available (with discounts) online from Airpuria.

Airpuria offers the most popular and reliable health and wellness products available on the market, so of course, we help with HBOT Chambers too!

Airpuria is dedicated to helping you find the best product for your needs, whether it's an air purifier to keep your family breathing healthy, a home sauna to help you relax, or a hyperbaric chamber for recovery & anti-aging!
Financing Options for Hyperbaric Chambers
When purchasing a hyperbaric chamber, it's essential to consider the financial aspect of your investment. Airpuria offers financing options for both individuals and businesses, making it easier to afford the chamber that best suits your needs.
In addition to providing financing options, Airpuria also offers a wide range of health and wellness products, such as air purifiers, home saunas, and hyperbaric chambers, ensuring you have the best possible options for improving your health and well-being.
Side Effects Of HBOT
It's always recommended to first speak to your doctor before using one of these chambers. But you can actually use these chambers without the supervision of a trained professional — right in the comfort of your own home! However, there are a few potential side effects and risks associated with the treatment. The most common side effects include:
Middle Ear Pain Or Temporary Hearing Loss
Ear pain is the most common side effect of HBOT and is usually caused by a change in air pressure. It typically goes away on its own within a few hours or days.
Oxygen Toxicity
It is a rare but potentially severe complication with HBOT. It happens when the lungs are exposed to too much oxygen, damaging the lungs and other organs.
Sinus Pain
A change in air pressure can cause sinus pain. However, your doctor may recommend taking a decongestant before your HBOT session if you have sinus problems.
Temporary Vision Loss
Another rare complication that can occur with HBOT is vision change. It happens when the retina is exposed to too much oxygen, damaging the retina.
Due to its side effects, it is always recommended to consult with a doctor before starting HBOT to ensure safety
Frequently Asked Questions
What Are the Main Advantages of Buying From Airpuria?

Buying an Airpuria product is easy and convenient. We offer high-quality products that can improve your health while providing excellent customer service. Insane promos and discounts are also available from time to time so it's important to get on the email list.

What Are the Different Types of Products Offered by Airpuria?

Airpuria offers a wide range of health and wellness products, including air purifiers, filters, humidifiers, home and medical saunas, hyperbaric oxygen chambers, and more. Home, living, and garden décor items are also available. Massage chairs and other relaxation products are also part of the company's product line.

What Are the Shipping and Delivery Options Offered by Airpuria?

The lower 48 states in the USA enjoy free shipping on all orders. Secure checkout is used for all transactions, so your personal information is always safe. You can also track your order online.

What is the Price Range for hyperbaric oxygen therapy chambers at Oxygen?

The price starts from $9,600 and goes up to $150,000. This range is a discounted price for the standard retail price.

Contact Us to Learn More

Airpuria is the best way to buy OxyHealth Products. Our customer service is the best in the industry, and we're always happy to help you choose the perfect product for your needs.

You can call us at 773.337.8822 or email us at sales@airpuria.com, and we'll be happy to answer any of your questions.

Thank you for considering Airpuria!