With allergies and asthma on the rise, many people are looking for ways to improve their indoor air quality.
Air purifiers and dehumidifiers are two devices that can help to remove harmful airborne particles and improve the overall air quality in your home.
AlorAir is a leading drying and restoration equipment manufacturer, and its products are some of the most popular on the market. This blog will look at the best air purifiers and dehumidifiers from AlorAir available at Airpuria (all with free shipping).
Best Dehumidifiers To Consider - Crawl Space Dehumidifiers
Some of the best dehumidifiers on the market recommended by Airpuria include:
1. AlorAir Sentinel HD55 Dehumidifier - For Crawl Spaces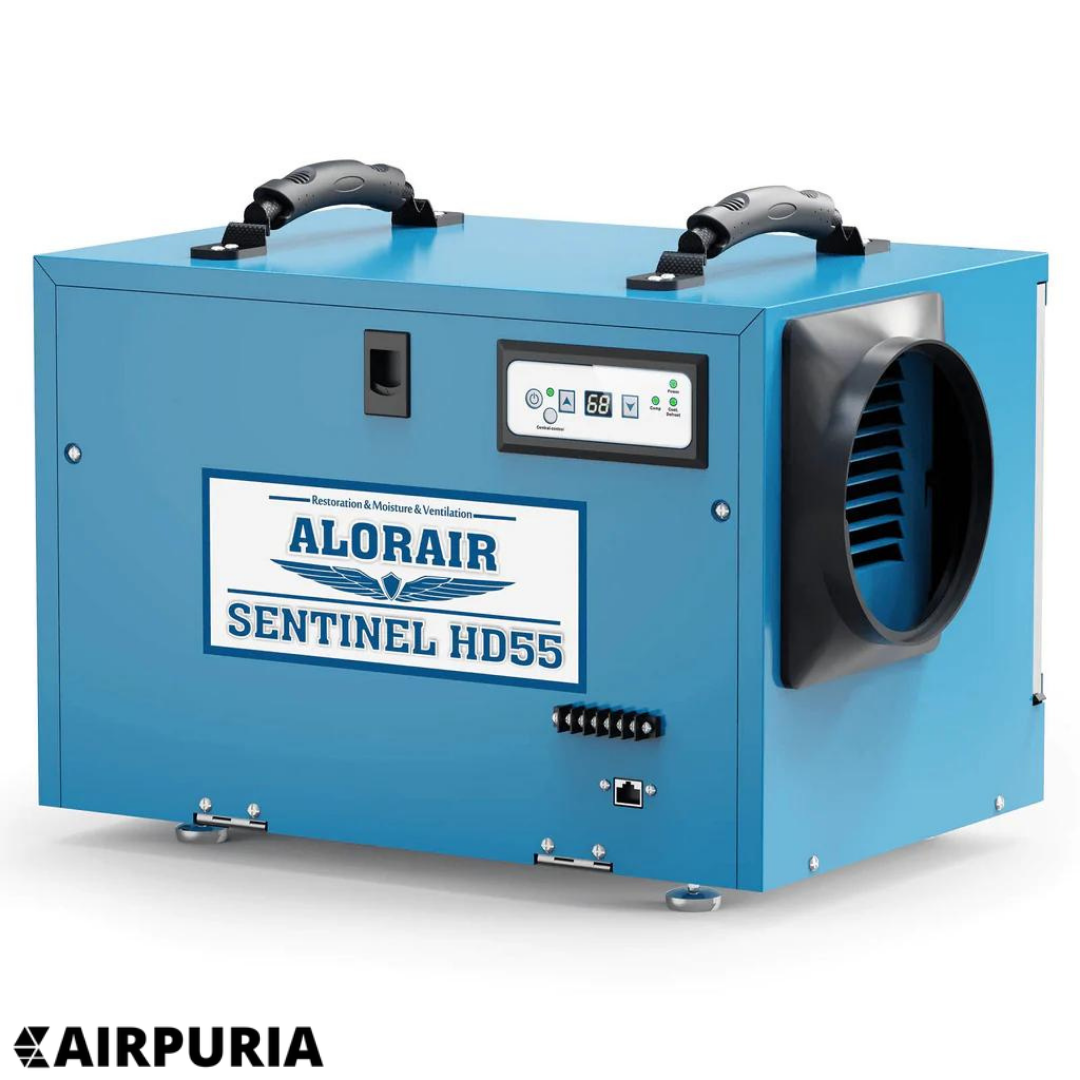 With the AlorAir Sentinel HD55 dehumidifier, you can get up to 113 pints of moisture removed from the air each day. This unit is perfect for crawl spaces, basements, warehouses, offices, factories, shops, apartments, and more. It also does an excellent job restoring water damage and drying out structures quickly.
This dehumidifier has many features that make it the perfect choice for your humidity needs. It is pre-assembled and has an external condensate connection point. Also, the side sliding filter makes installation a breeze.
For an added convenience layer, you can get the optional remote control. This will allow you to monitor and control the dehumidifier from anywhere remotely.
This unit will maintain consistent humidity without ice build-up with auto defrost. Use the built-in wheels and handles to move the dehumidifier around as needed easily.
2. Alorair Sentinel HD90 Dehumidifier - Crawl Space Dehumidifier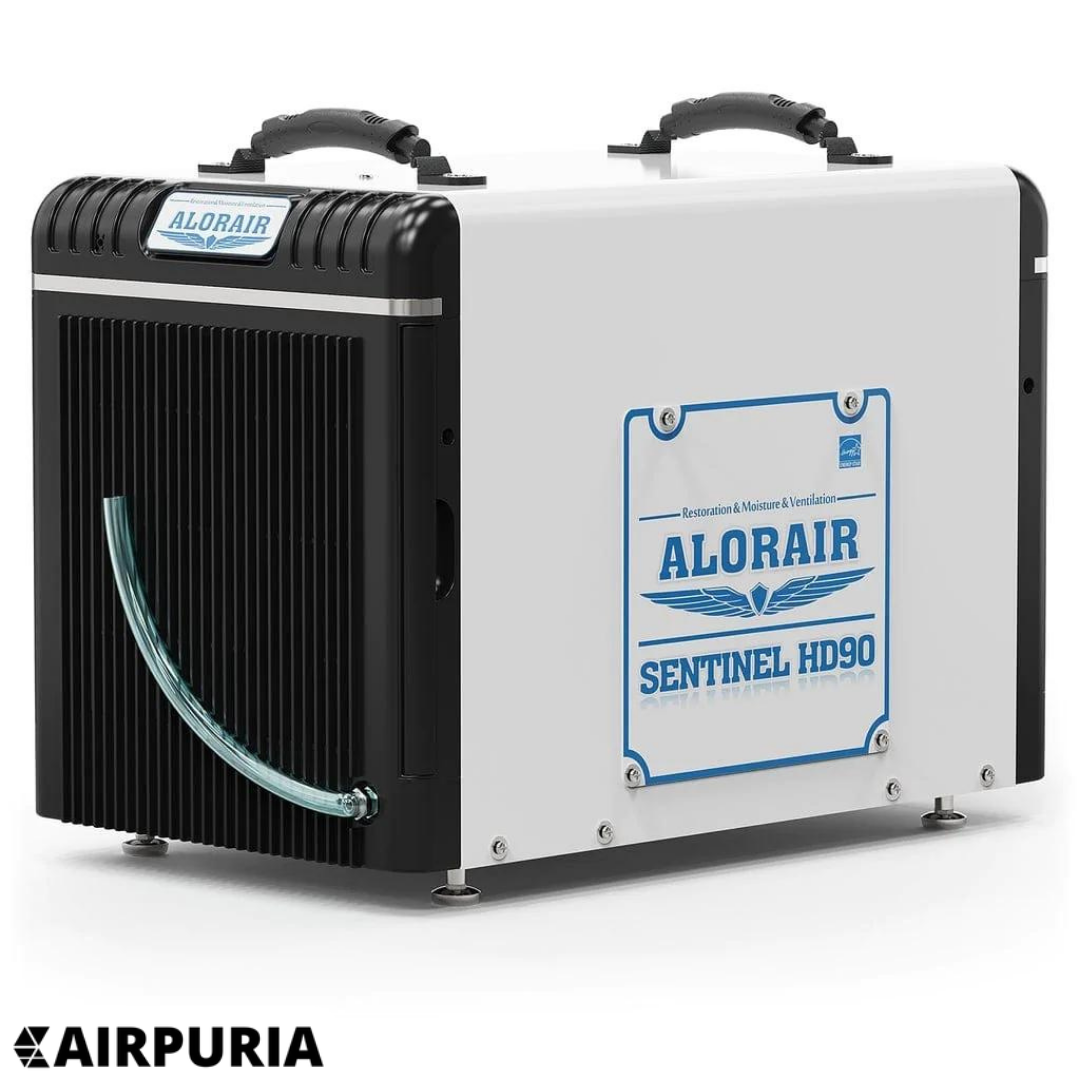 With a 90 pint per day excess moisture removal capacity, the Alorair Sentinel HD90 crawl space dehumidifier is designed for basements up to 2,600 square feet. Featuring a modified version of Alorair's powerful compressors, the HD90 is one of the market's most rugged and durable dehumidifiers. With a steel chassis and corrosion-resistant coating, it is designed to withstand the tough conditions of a crawl space or basement environment.
The auto-defrosting system prevents ice buildup on the coils, a remote control system that allows you to monitor and control the unit from a distance. The low-temperature operation makes it ideal for use in cooler environments. The HD90 also features a MERV-8 filter that captures dust, pollen, and other airborne particulates.
Utilize the Alorair Sentinel dehumidifier to create a healthy, dry environment in your crawl space or basement. Whether you're looking to prevent mold and mildew growth, eliminate musty odors, or create a more comfortable living space, the HD90 is up to the task.
Click here to check out our full selection of AlorAir Dehumidifiers with free shipping!
Top Air Purifiers For Your Home
With so many air purifiers on the market, choosing the right one for your home can be hard. Here are some of the best rated air purifiers for 2023, so you can make an informed decision.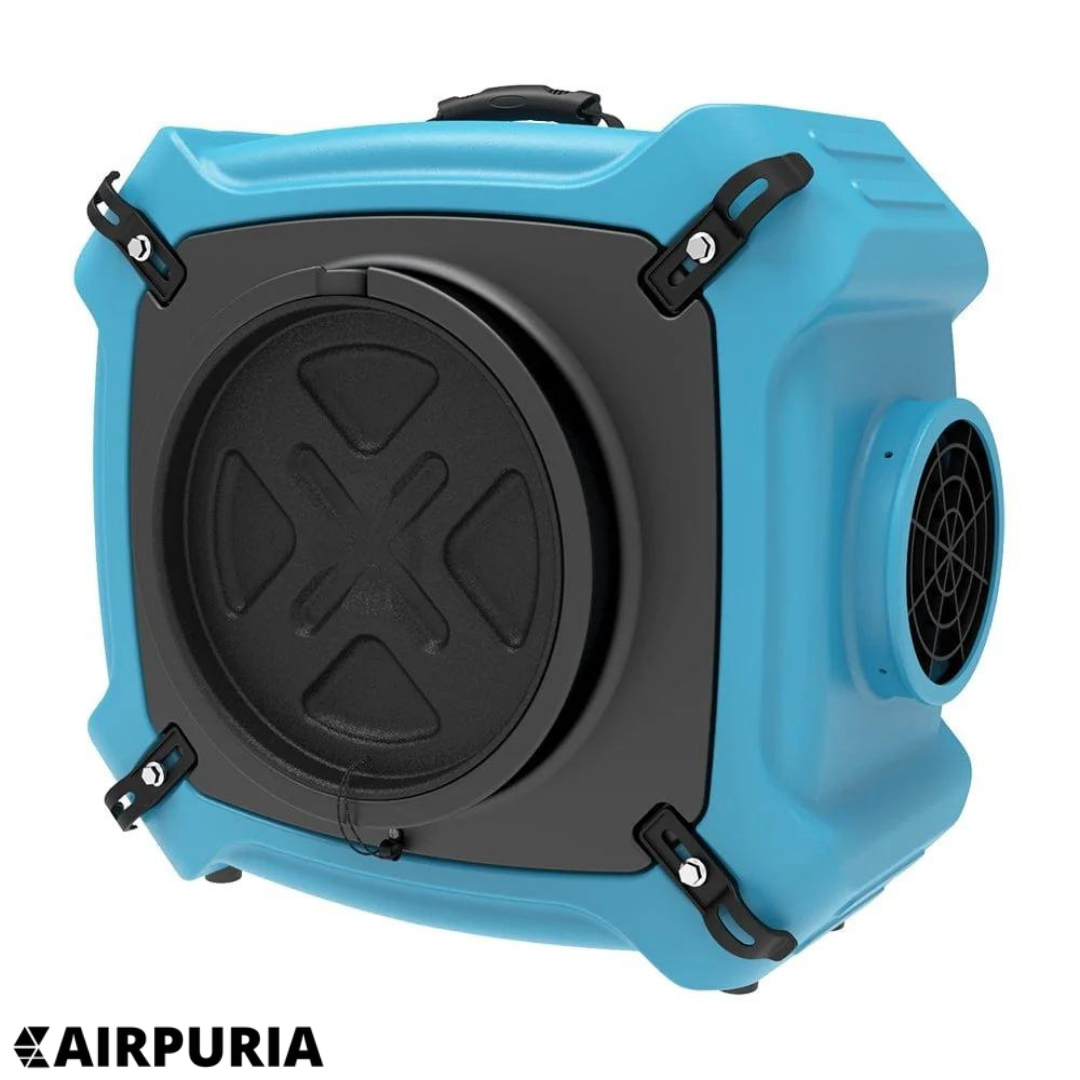 Being one of the most convenient filtration systems, the PureAiro HEPA Max 870 cleans the air with its 3 Stage Filtration System. It not only consists of a Pre Filter and HEPA/Activated Carbon Filter but also features UV-C light technology that works in conjunction with the filters to provide maximum efficiency.
Also, the air machine has a Filter change light and hour meter display that keeps you updated on the conditions of your work environment. In addition, it has a daisy chain GFCI Duplex, which is stackable and has variable speed control and regulator. The circuit breaker protector protects connected loads and onboard components.
Stacking is made easy during storage and handling because it is designed for reliability and safe use. Also, it is ETL and cETL listed. You can use it for home repair, construction sites, sewage remediation, water, and fire damage restoration.
Click here to learn more about the ALORAIR PUREAIRO HEPA MAX 870 Air Scrubber!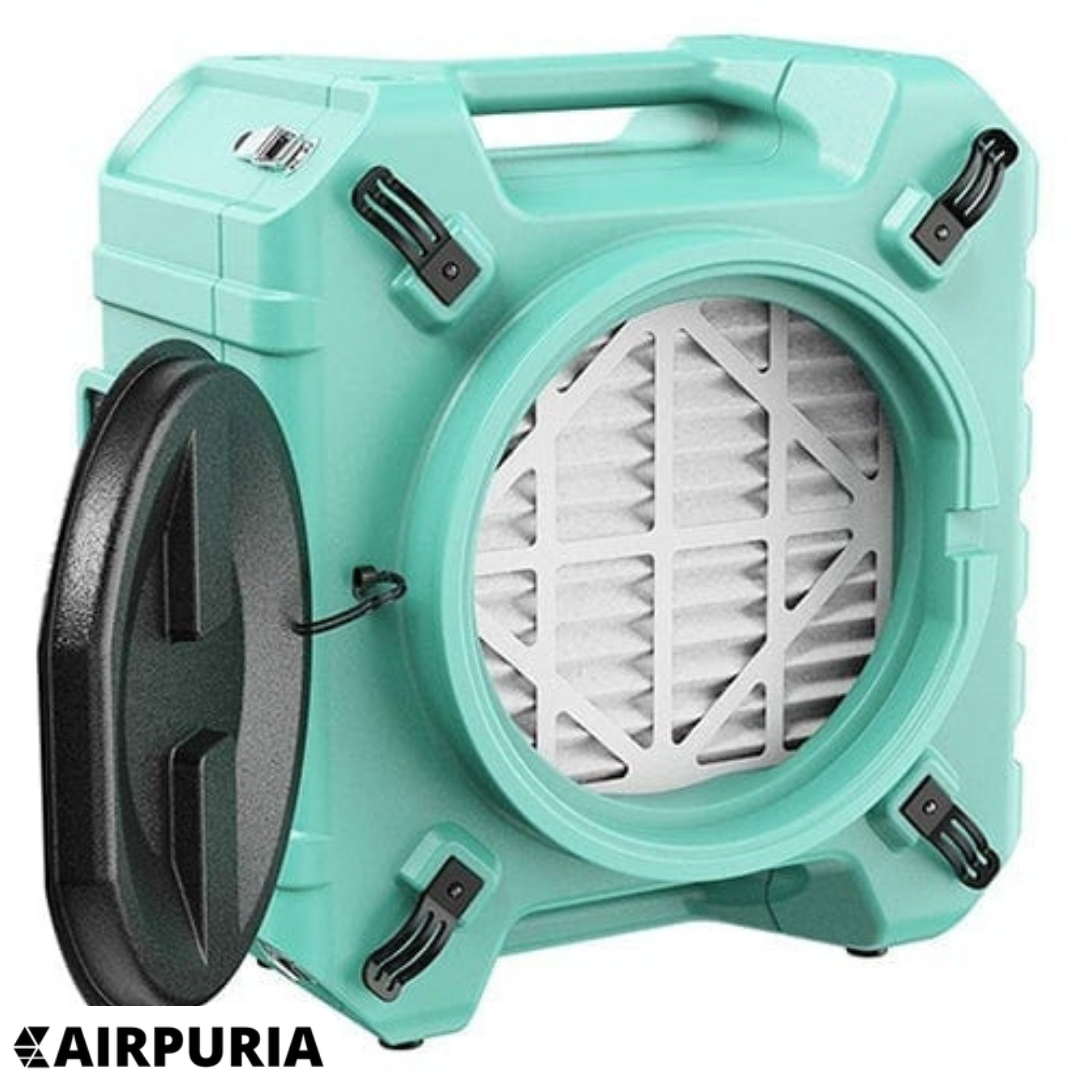 With variable speed control, this portable HEPA air purifier can be used in 3 stages of filtration. Pre-filters and activated carbon/HEPA filters can be used to ensure the quality of your work environment. They are also stackable and made from rotomolded plastic for durability.
The bigger air intake allows for an airflow of up to 550 CFM, and the machine has a filter change light and an hour-meter display. You can also use the daisy chain GFCI Duplex feature to connect multiple units.
The regulator provides safe and reliable operation while the small size makes it easy to move from one room to another. This air scrubber is perfect for home repair, sewage remediation, and fire damage restoration.
Maintenance is simple with this unit as it has a see-through window that lets you know when the filters need to be changed. The compact size and stackable design make it easy to store when not in use.
Click here to learn more about the Alorair Pureairo HEPA Pro Industrial Air Scrubber!
Featuring a variable speed control, this air purifier is perfect for work environments that need to be constantly monitored. With a filter change light and an hour meter display, you can keep track of the conditions of your work environment. Also, the stackable design and rotomolded plastic body make it easy to move from one room to the next.
Equipped with a regulator, this 14-inch inlet machine is perfect for salon or print shop use. It is also ideal for restoring construction sites, water, and fire damage.
The filtration system of this air scrubber is top-notch, with the ability to use up to 3 levels of filtration, pre-filters, and activated carbon/HEPA filters. It is also stackable for easy storage.
This product is reliable and safe, making it perfect for home use. Its durable construction and superior performance make it a great air purifier for your needs.
Click here to learn more about the Alorair Pureairo Hepa MAX 770!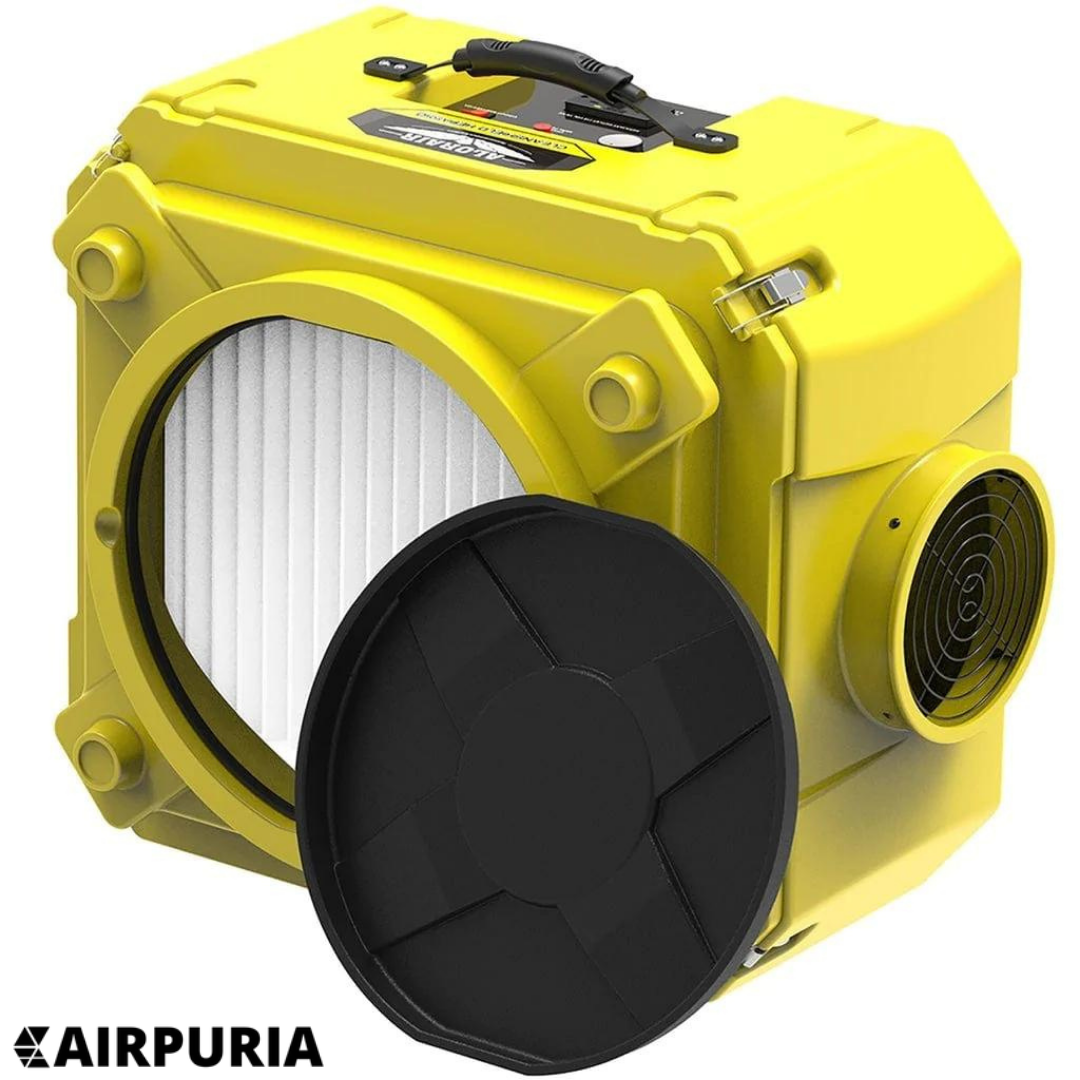 Last on our list of the best air purifiers is the Alorair Cleanshield Hepa 550. This powerful little machine is perfect for removing airborne debris like pollen and pet dander. The three-stage filtration system (pre-filter, HEPA filter, and activated carbon filter) ensures that all harmful particles are removed from the air.
It can also clean air horizontally and vertically, making it perfect for use in any room. With a weight of only 6.0 lbs., this compact purifier is perfect for small spaces.
The maintenance-free motor and rotomolded polyethylene housing make this unit low maintenance and long-lasting. With a 550 CFM airflow and a power-on indicator light, the Alorair Cleanshield Hepa 550 is a great choice for anyone looking for an air purifier that can do it all.
Click here to learn more about the Alorair Cleanshield Hepa 550 Air Scrubber!
For a full list of AlorAir Air Purifiers from Airpuria, click here!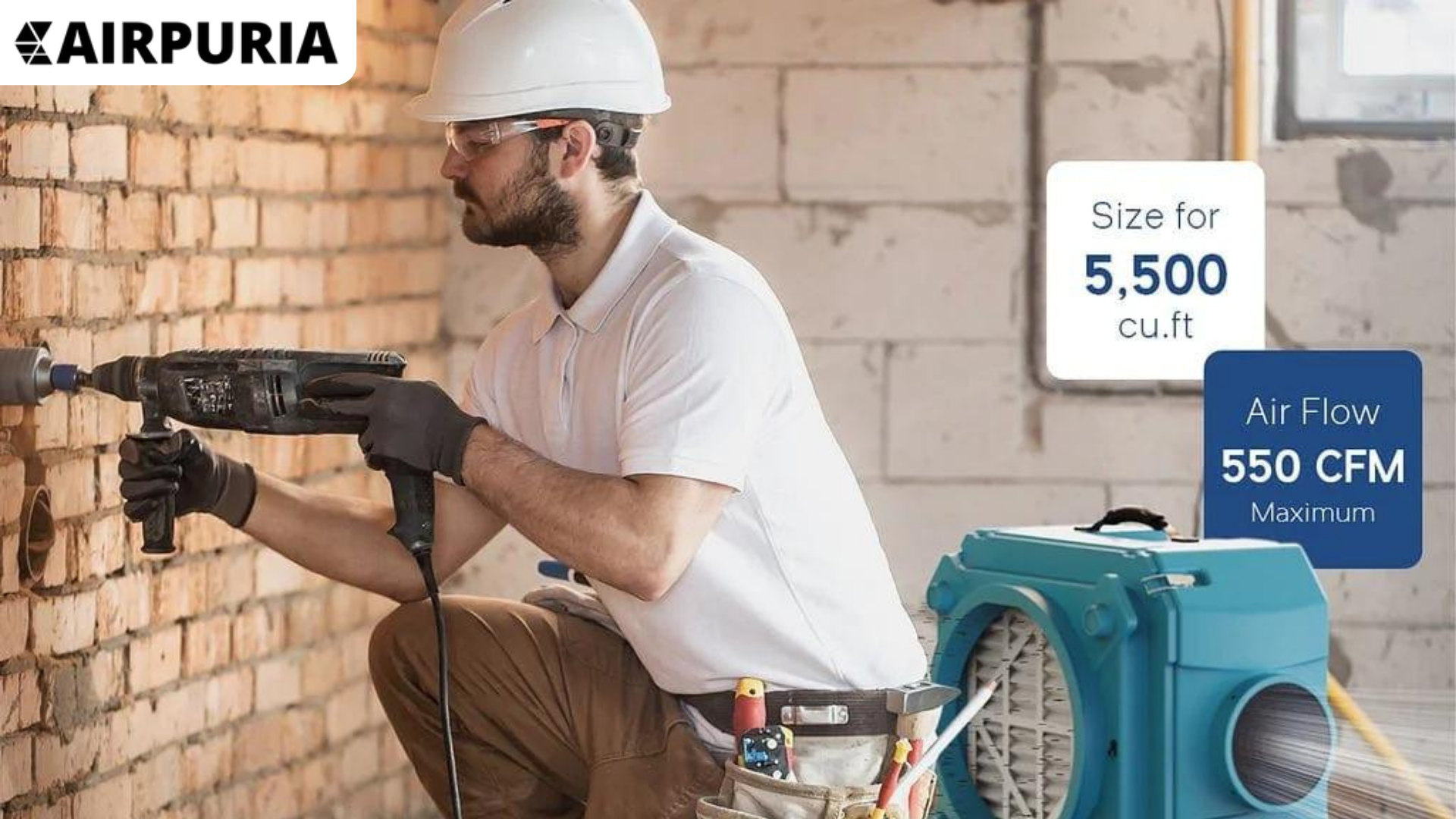 Choosing The Best Air Purifiers And Dehumidifiers
When shopping for commercial air purifiers or crawl space dehumidifiers, several factors must be considered. The following features will help you choose the best product for your needs.
1. Size and Coverage Area
The first thing to consider is the size of the unit. Air purifiers and dehumidifiers come in various sizes, so it is important to choose one that can circulate the air in the room properly if you plan on using it. The size of the unit will also determine the coverage area. Choose a unit that can cover the area (sq. ft.) you wish to purify or dehumidify.
2. CADR Ratings
CADR refers to a rating that reflects the air volume in CFM (cubic feet per minute) an air purifier can clean. The ratings are based on the unit's ability to remove smoke, dust, and pollen from the air. The higher the CADR rating, the better the unit will perform. Also, choose a unit with high CADR ratings for the specific airborne contaminants you wish to remove from your indoor air.
3. Filters
Most air purifiers come with one or more filters. These filters help to remove airborne contaminants from the air. The type of filter will determine the size of particles that can be removed from the air. HEPA (high-efficiency particulate air) and activated carbon filters are the most common.
4. Air Quality Indicators
The air quality indicator is a feature that allows you to see the current air quality in a room. This is valuable because it helps you know when to change the filter or when the unit needs to be cleaned.
5. Controls
The controls on an air purifier or dehumidifier allow you to set the unit to your desired settings. Some units come with manual controls, while others come with digital controls. Choose a unit with controls that are easy to use and understand. Also, ensure the unit has a filter change indicator or light to let you know when it is time to change the filter.
6. Warranty
When choosing an air purifier or dehumidifier, check the warranty. Most units come with a one-year warranty. However, some units may come with a longer warranty. Choose a unit with a warranty that meets your needs.
7. Price
The price of an air purifier or best crawl space dehumidifier will vary based on the size of the unit, the features, and the brand. Compare prices before buying to ensure you get the best deal.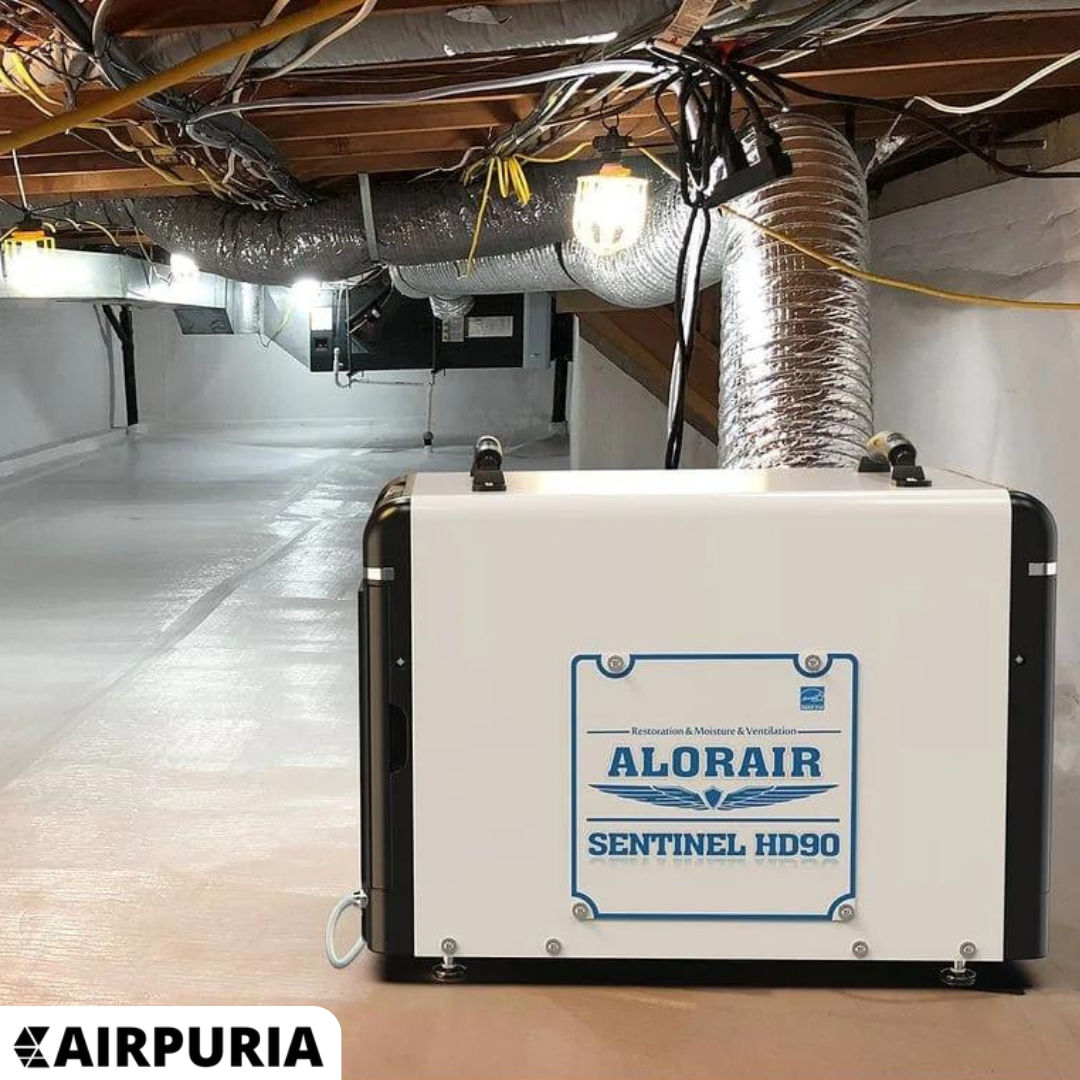 FAQs
1. Can You Have an Air Purifier and a Dehumidifier in the Same Room?
Yes, you can have both. But be sure to keep them at a distance of at least 3 feet from each other. This is because the activated carbon filter of air purifiers can be damaged by the high humidity levels produced by dehumidifiers.
2. How Do You Clean an Air Purifier?
The best way to clean your air purifier is to follow the manufacturer's instructions. But generally, you'll need to replace your filter every 12 months. Afterward, we recommend wiping the inside and outside of the unit with a damp cloth.
3. How Do I Know if I Need an Air Purifier or a Dehumidifier?
To get rid of air moisture and musty odors, use a dehumidifier. If you want clean air to breathe, use an air purifier. Air purifiers remove dust, allergens, mold spores, bacteria, and other contaminants commonly found in basement areas. Also, using an air purifier can help eliminate pet dander and other airborne pet allergens if you have pets.
4. Will the AlorAir Units Work for My Home?
Yes, with the right model, you can enjoy clean and healthy air in your home. AlorAir units are available in various sizes to accommodate any space, from small rooms to large homes.
5. How Long Will the Units Last?
With proper care and maintenance, your AlorAir unit will last for many years. Follow the manufacturer's instructions on cleaning and maintaining your unit.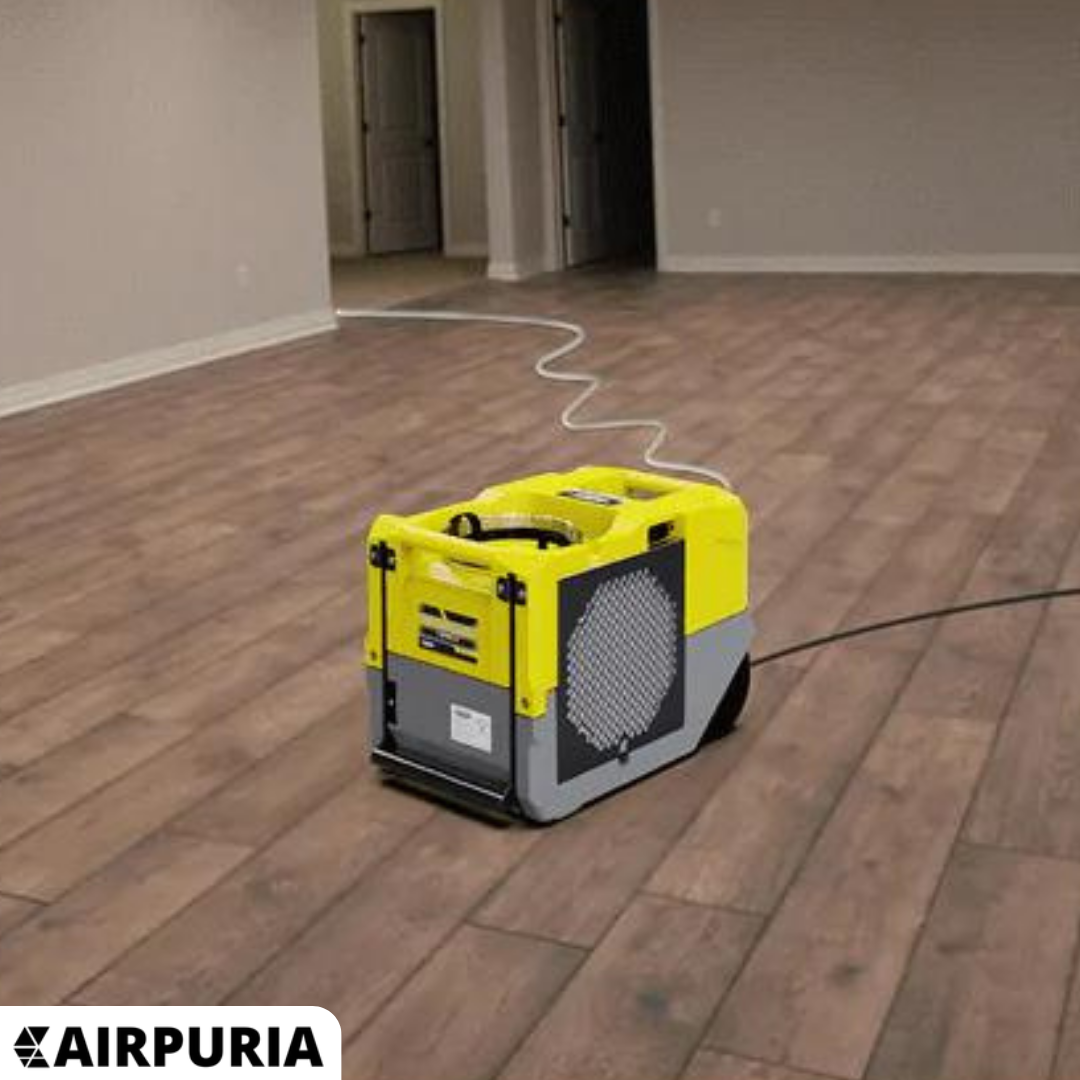 Our Final Take
With all of the features and benefits that AlorAir's air purifiers and dehumidifiers offer, it is no wonder they are some of the best on the market for 2023. Not only do they remove harmful contaminants from the air, but they also help to improve indoor air quality and prevent mold growth. Preventing mold growth is especially important in homes with high humidity levels, as mold can cause various health problems.
Try Airpuria's wide selection of AlorAir air purifiers and dehumidifiers today to improve the air quality in your home and protect your family's health.
For a full list of AlorAir products that have free shipping, click here!
Expert Advice on Choosing the Right Dehumidifier
When selecting the perfect dehumidifier for your home, consider the following factors to ensure you make the best choice:
Determine the size of the space you need to dehumidify, as this will help you choose a unit with the appropriate coverage area.

Look for a unit with a high CADR (Clean Air Delivery Rate) rating, which indicates the volume of air it can clean.

Opt for a dehumidifier with an auto-defrost feature, especially if you plan to use it in a cold environment, as this prevents ice buildup on the coils.

Consider a unit with a remote control system for added convenience, allowing you to monitor and control the dehumidifier from anywhere in your home.

Make sure the unit has easy-to-use controls, a filter change indicator, and a warranty that meets your needs.
Essential Points to Remember: Air Purifiers and Dehumidifiers
AlorAir offers a wide range of air purifiers and dehumidifiers, with products suitable for various room sizes and needs.

The AlorAir Sentinel HD55 and HD90 are excellent choices for crawl space dehumidifiers, both offering powerful moisture removal and durable construction.

Top air purifiers from AlorAir include the PureAiro HEPA Max 870, PureAiro HEPA Pro Industrial Air Scrubber, PureAiro Hepa MAX 770, and Cleanshield Hepa 550 Air Scrubber.

Consider factors such as size, coverage area, CADR ratings, filters, air quality indicators, controls, and warranty when choosing the best air purifiers and dehumidifiers for your needs.
Contact Us to Learn More!
Interested in learning more about air purifiers and dehumidifiers from AlorAir? Airpuria has all the information you need and we'd be more than happy to answer any of your questions!
You can either call us at 773.337.8822 or send us an email at sales@airpuria.com. Talk to you soon!
Financing Options for Crawl Space Dehumidifiers
Airpuria understands that investing in air purifiers and dehumidifiers can be a significant expense, which is why they offer financing options to make your purchase more affordable. For individuals, Airpuria provides financing with 0% interest rates for up to 18 months. Business owners can also apply for special financing programs tailored to their needs, with flexible terms and competitive rates.
For more information on financing options, visit the following links:
If you have any questions about AlorAir products or financing options, feel free to contact Airpuria by calling 7733378822 or emailing sales@airpuria.com. The team at Airpuria is always ready to help you find the perfect air purifier or dehumidifier for your needs.