Saunas are a great addition to any home. For centuries, people have been working on the interior and exterior structures of already existing saunas. This is because people realize the importance of heat and the health benefits associated with it.

Saunas were first introduced in Finland. Since then, they have expanded to other parts of the world where people have modified the traditional saunas according to their needs. Be it Turkish hammams or modern-day saunas, the main goal is the same.

Over time, saunas have been used for cultural reasons, socializing, and medical benefits.

The Dundalk Leisurecraft is an excellent addition to already existing saunas for many reasons. Here's a guide to the different types of Dundalk saunas.

But first...
What is a Sauna?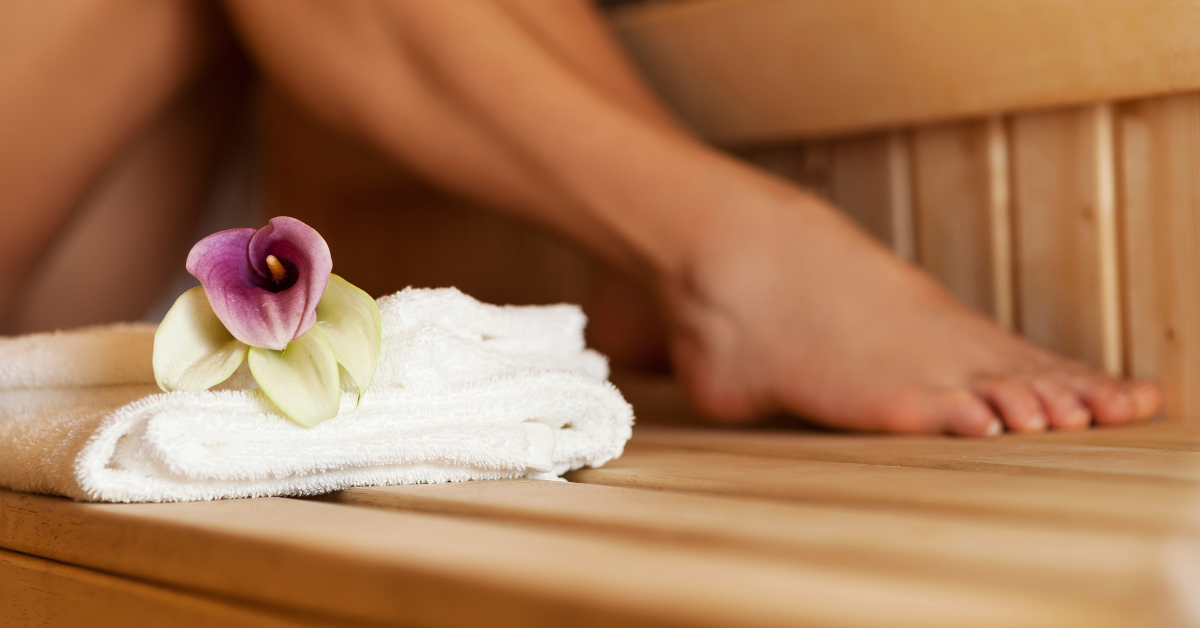 Saunas are enclosed spaces incorporating heating mechanisms to generate steam or internal heat.

This heat promotes sweat which can lead to many therapeutic and medical benefits. Most saunas are wood based and vary depending on their size and internal structure.

No matter how luxurious the interior, saunas are known for one purpose. They encourage perspiration which ultimately solves many issues ranging from muscle pain to stress, sleep deprivation, blood pressure, and more.

Dundalk Leisurecraft is a type of sauna that uses different structures to optimize relaxation and health benefits for users.
Sauna Types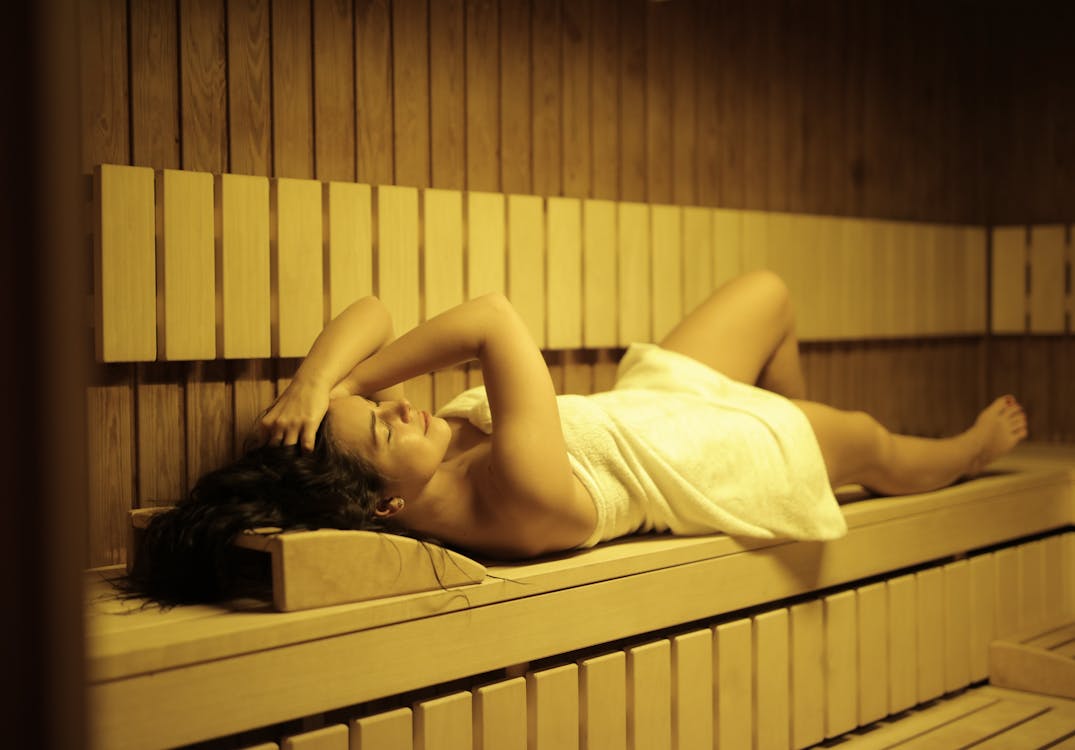 While most saunas work to achieve the same target, different saunas reach the same goal in different ways.

Let's discuss saunas' variations, mechanisms, and unique benefits.

Although many different types of saunas exist, the benefits are similar.

The main question is, "Which technology will you use to achieve that goal?"

No matter which sauna you opt for, you will reap its medical benefits. However, knowing which sauna works best for your home and your goals is an essential first step for achieving optimal comfort.
Traditional sauna
The traditional sauna depends mostly on steam. If you are someone who enjoys sweating and can tolerate extreme temperatures along with interaction, this sauna is best for you. These saunas can be located inside or outside of your home.
dry sauna
Dry saunas depend on dry heat, which usually emanates from a heater. The material used in making the sauna plays a big part in heat generation. The better the quality of wood used in construction, the easier it is for the heater to generate and maintain dry heat.
turkish sauna
This works best with steam and is used to create moisture in the air through condensation. It involves heating water which generates steam. The Turkish sauna is usually a public bath used to socialize or relax, not commonly found in the United States.
infrared therapy sauna
An Infrared Therapy Sauna is best for people who cannot tolerate higher temperatures. This sauna produces heat triggered within the body.
Sauna Health Benefits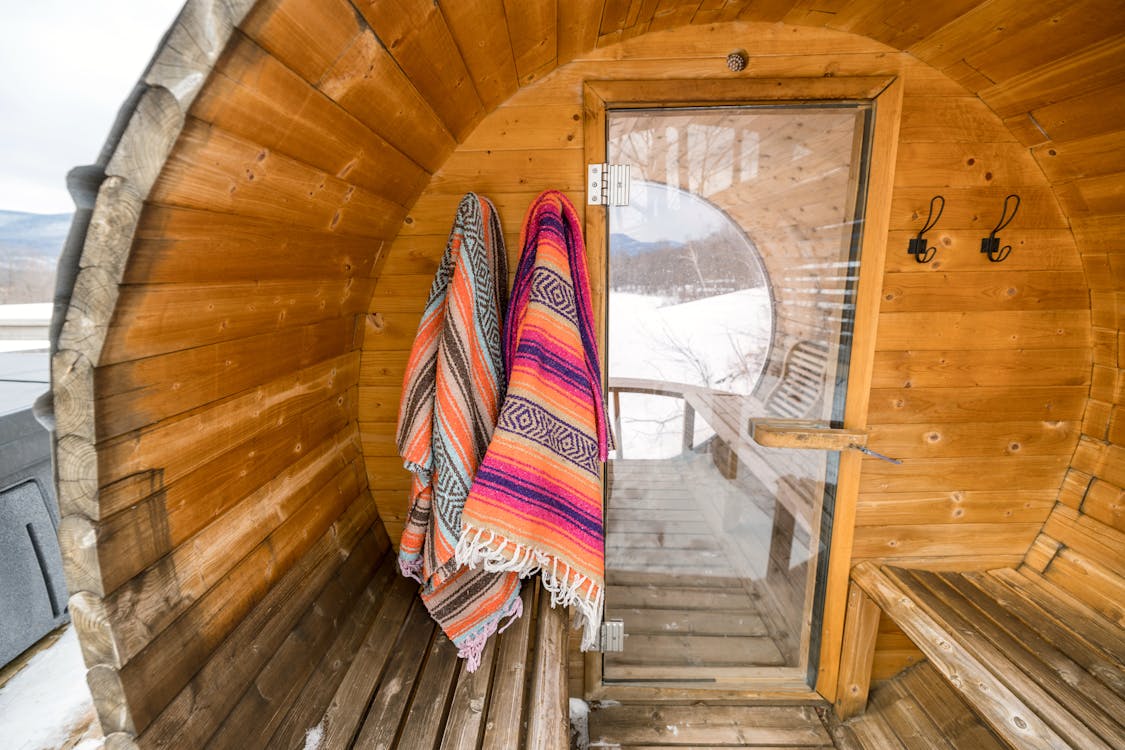 The sauna is considered a fantastic health spa as it optimizes the benefits of heat therapy and allows you to live your best life.

Here are some of the most common sauna health benefits.
1.     A sauna provides therapeutic relief
Saunas are known for their mental benefits. The heat hits the surface of your skin as soon as you enter and makes you feel rejuvenated when you exit the sauna. These saunas can be tiny havens within your home where you always have the option to relax. Dundalk saunas are customizable, and you can optimize them based on your preferences!
2.     A sauna can repair your muscles
It may take years to build up to your peak performance as your muscles take time to repair and get used to your intense athletic routine. Tiny tears created in muscles during exercise can make it harder to get back up the next day. Heat therapy can help the muscles repair themselves quicker for many different reasons. Learn more here.
3.     A sauna is a great place to socialize
Saunas are a great place to meet your friends or relax with your family. Many people even meet new business partners while relaxing in the sauna! If you don't go out that often, you may benefit from calling your friends and having a spa day in your own home sauna.
4.     A sauna provides medical benefits
Saunas are helpful for people suffering from chronic pain or other conditions. They can improve cardiovascular health, promote skin elasticity, prevent health conditions, and finally get you a good night's sleep!
Why The Wood Used in a Sauna Matters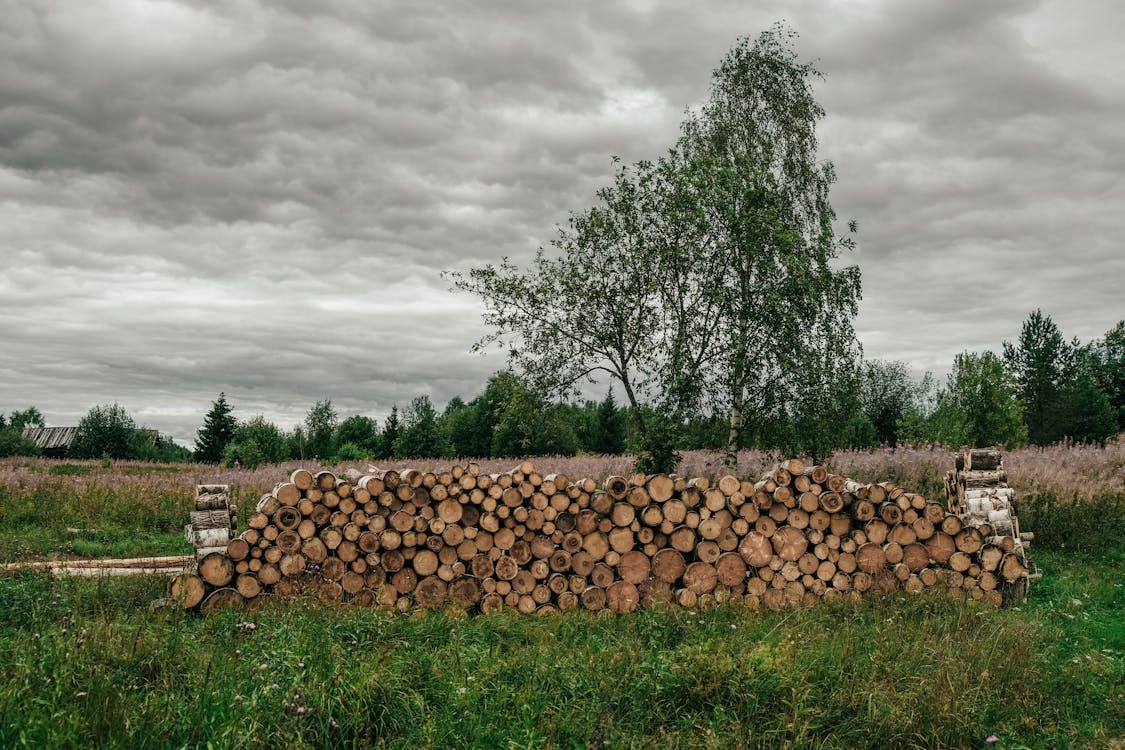 The wood used in a sauna is vital for the functioning of the sauna. Dundalk Saunas are an excellent addition to your home simply because they have one of the market's most beautiful red cedar saunas.

Most saunas are made of wood such as spruce, redwood, cedar, or poplar, which is great for maintaining infrared saunas. However, this wood can be hard to extract sustainably.

The best quality of cedar is that it doesn't crack when heated, which means that it lasts much longer than other kinds of wood. It destroys mold and bacteria and doesn't have a distinct smell, which optimizes your comfort and your senses.
Which Sauna is Right for You?
It is important to understand the features of the saunas you come across to differentiate between the ones that are right for you and others that aren't a great fit.

Some of the questions you should ask yourself are listed below.
Do I want an electric or wood-burning heater?

Do I need to install a porch?

Do I need a luxurious interior?

Do I want a customized door?
Keep these questions in mind when shopping for your perfect home sauna.
The Size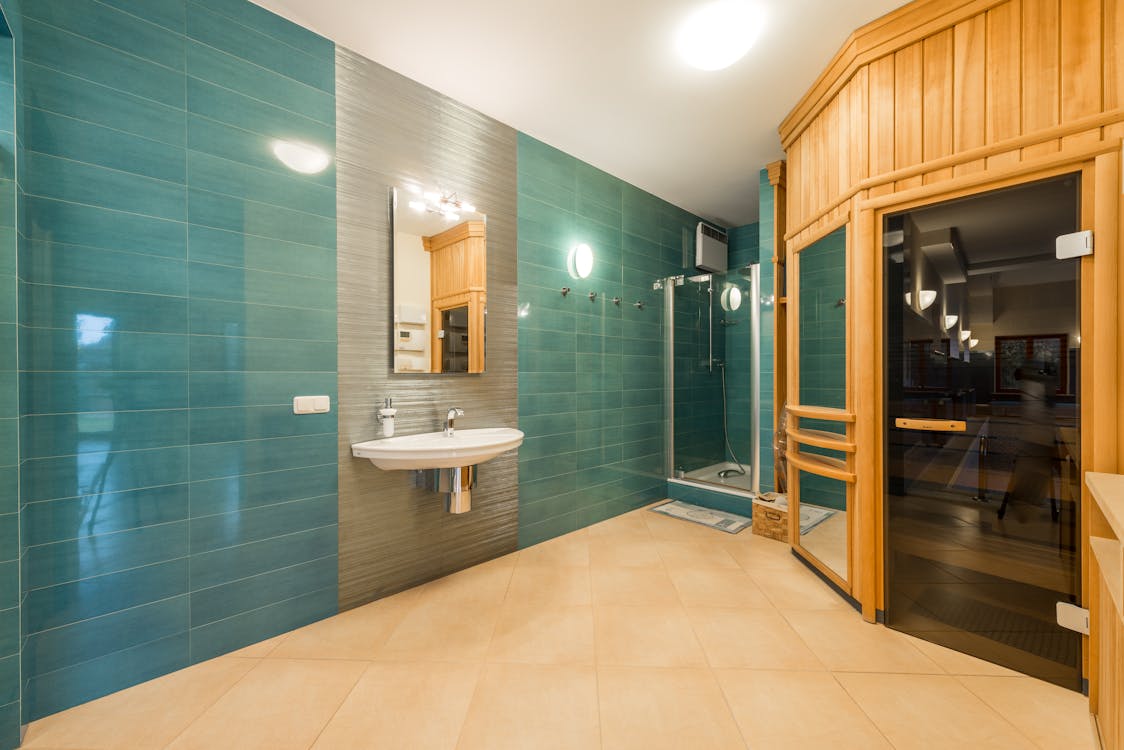 Before you settle on a particular sauna, ask yourself how often you will use it and if you expect company. The size of your saunas depends on how many people use them. You may have a large family, but not everyone loves a sauna.

However, not having many people to share your sauna with doesn't mean you would prefer a smaller one. Perhaps you are more comfortable with extra space; opting for three to four additional seats is best.
The Wood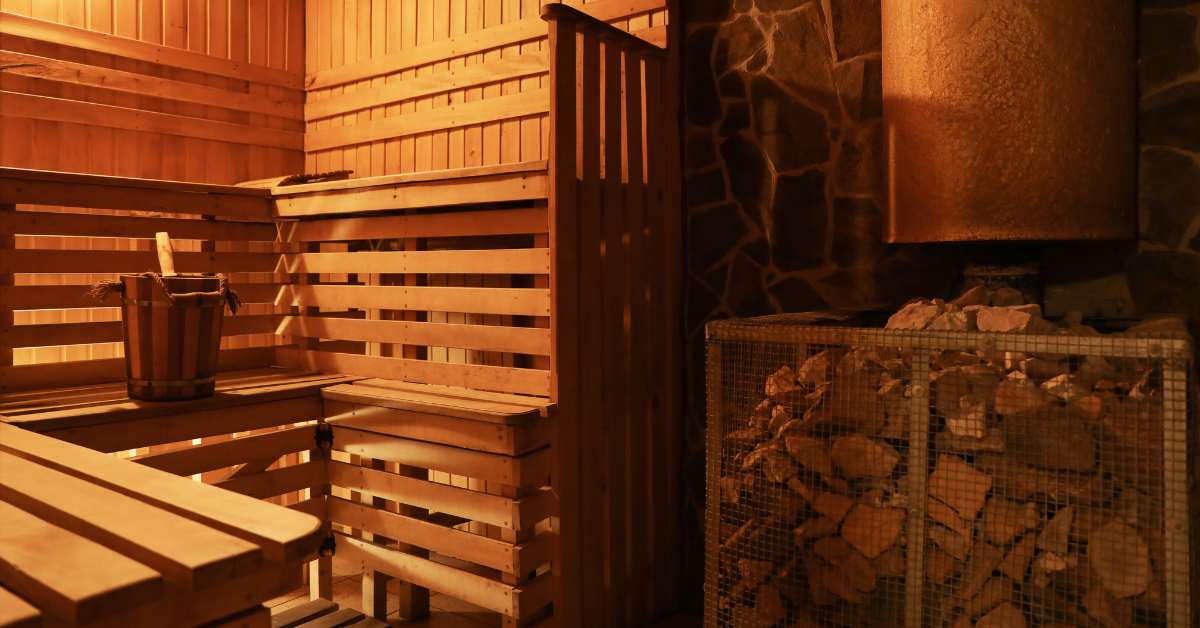 The red cedar from Dundalk Leisurecraft is perfect for your sauna.

Red cedar can survive harsh weather and remains cool no matter how sunny it is outside. Red cedar is also the most durable sauna material on the market.
The Heaters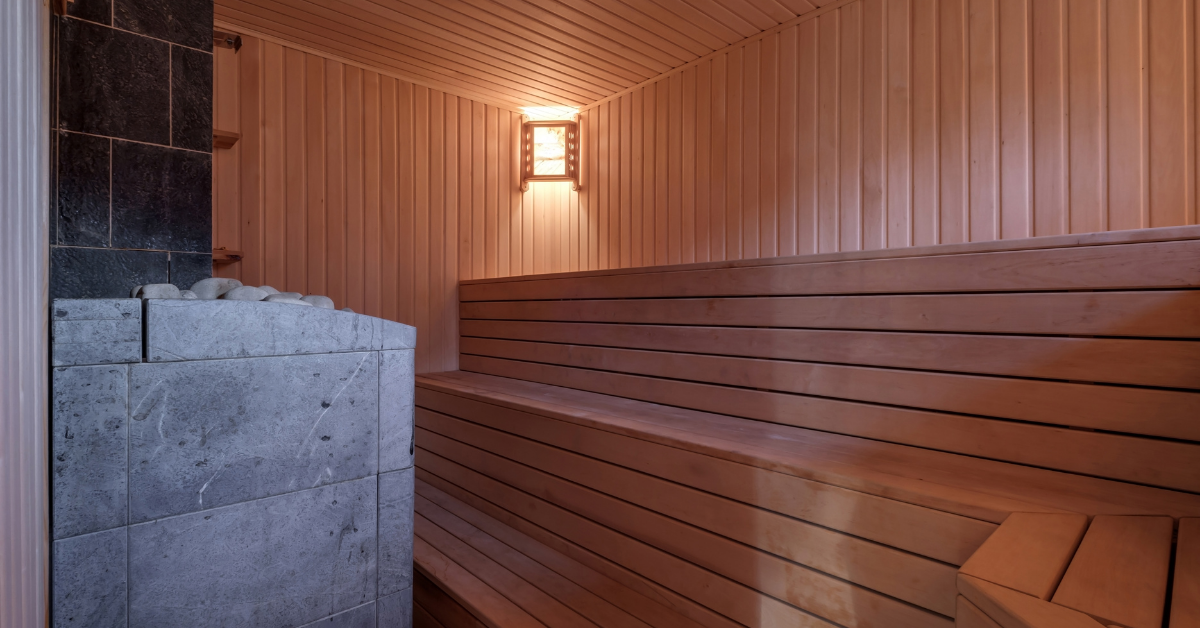 The heater you use in your sauna can make a big difference.

This is because wood-burning heaters and electric heaters work in vastly different ways. The choice depends on which one is more budget-friendly and more practical for you.

It's a good idea to lean towards wood-burning heaters since the heat that emanates from them doesn't overwhelm the senses. However, you may not be able to use wood heaters in some regions, and electric heaters can also be a great option.

Wood-Burning Heaters

These heaters are some of the oldest and most reliable heaters when it comes to saunas. They normally take around 30-60 to fully heat up. However, this all depends on the type you're using and the size of the space it's required to heat. Many people don't mind the longer start-up time because of how much they enjoy the natural, wood-burning scent that accompanies wood-burning saunas.

Electric Heaters

These heaters are a great option if you're looking for a quick, clean, in-and-out sauna experience. These heaters normally can fully heat your sauna room in around 10 minutes and can reach a maximum temperature of 194° F, which is optimal for achieving some of the amazing health benefits we're going to outline further in this article!
Leisurecraft Saunas
Dundalk Leisure Craft is a company that started manufacturing saunas 15 years ago. Since then, they have invented different techniques to perfect wood-based indoor and outdoor saunas. Their high-quality creations involve eco-friendly materials and concepts that optimize comfort.

The Canadian Timber Sauna Collection is one of the most popular collections of Dundalk Leisurecraft. They have also managed to keep the Dundalk sauna price consistent over the years.
Dundalk Collection
The Dundalk Leisurecraft is a barrel sauna, a unique invention that prioritizes luxury and comfort. You can gain all the benefits of a sauna in your home without searching for a nearby place online. Dundalk Leisure Craft has managed to invent a sauna that is cylindrical, portable, and compact.

This design allows the sauna to fit anywhere and everywhere. It's a great addition to your home and a clever way to utilize your free time. Due to the structure, materials, and size, less heat is required to heat the room. The heat also spreads through the room much faster.

A barrel sauna is a great investment since the same material is used in the exterior and interior of the sauna, which means the space is insulated against the heat and cold outside.
Why is the Sauna a Good Investment?
The barrel-shaped sauna model is unique and beneficial for many reasons. Since the Dundalk saunas are made of red cedar, they can withstand harsh weather, insulate against external temperatures, and maintain a fresh smell despite burning for a long time.

The sauna is also customizable — which means you can get exactly what you want rather than opting for the same thing everyone else is getting.

You can easily use it for extra space to entertain guests outside. Since the sauna is made of red cedar, it doesn't absorb excess water, so you don't need to worry if you spill a liquid or drink!

Dundalk saunas ensure that the wood used in the making is of high quality. The structure of the sauna does not include gaps from which heat can escape. All of the wood used in making the sauna is tight-knotted, which eliminates defects.
Types of Dundalk Saunas
1. Clear Cedar Barrel Saunas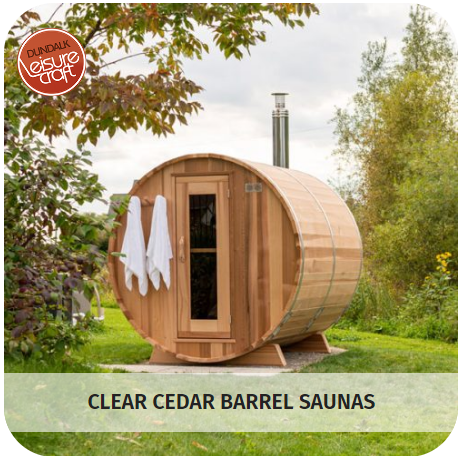 These saunas incorporate a unique design that reaps many benefits. It is durable and can last longer than saunas made by other organizations. The Western Red Cedar Barrel Sauna boasts ½-inch thick walls, which are great for insulation. It also allows for ample space and a heat transfer area to optimize comfort and effectiveness.
2. Panoramic View Cedar Barrel Saunas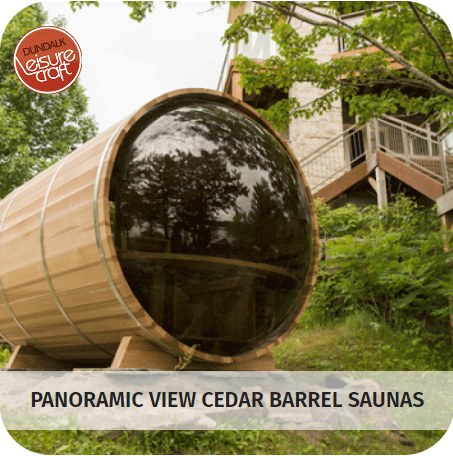 This barrel sauna includes ½-inch thick walls with the same sturdy insulation. This one is smaller than the previous sauna, yet it doesn't take away from the space. It also includes customization options, allowing you to adjust the bench for family and friends.
3. Luna Sauna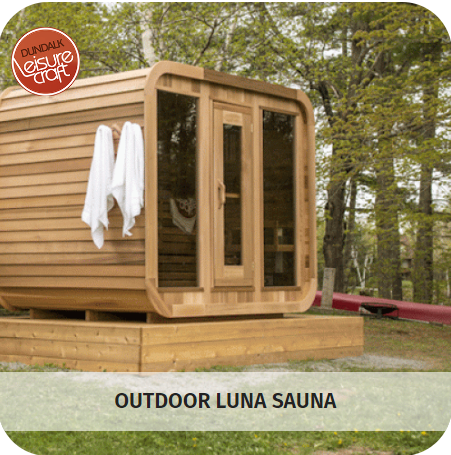 This is another great external sauna that is also made of a distinct, uniquely styled cedar which gives an outdoorsy, cabin-like feel. It provides beautifully curved edges and ample space for guests inside. The Luna Sauna is incredibly durable and sturdy.
4. Outdoor Cabin Sauna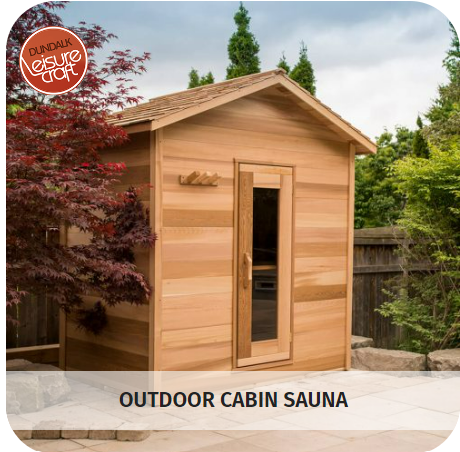 Similar to the Luna Sauna but vastly different in shape, this combines luxury with practicality as it attaches all the benefits of a barrel sauna and delivers them in a rectangular sauna. It is small enough to fit in many different places throughout your patio and yard.
Pure Cube Collection
Another great addition to the Dundalk Leisure Craft collection, this one is a pure cube version that fits nicely both inside and outside your home. The collection is easy to install and customizable so you can focus on choosing your favorite features!
This Pure Cube Collection speaks for itself. It is made in a cubic style incorporating square structures highlighted by the beautiful glass door and tiny details. These details include natural light that escapes through the installed windows and doors.
The Indoor Pure Cube Collection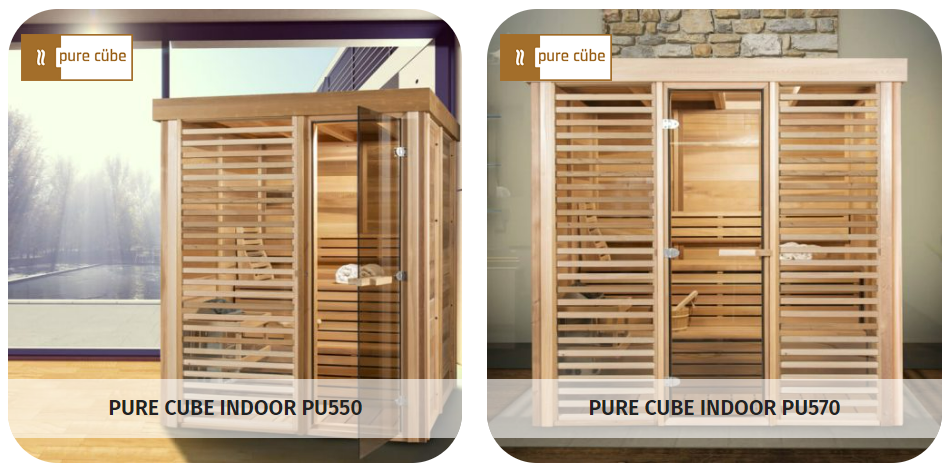 The Indoor Pure Cube Saunas are a comfortable fit within your home. You can choose between the PU570 or the PU550.
1. PU570
This model incorporates a full glass door and full-length windows that add a sophisticated touch to the otherwise compact sauna. These glass additions are customizable, and blinds can be added for privacy. This model is for people who frequently host numerous visitors in their sauna.
2. PU550
This model allows for much of the same amenities as the last. However, it is a much smaller structure suited for you and your family.
The Outdoor Pure Cube Collection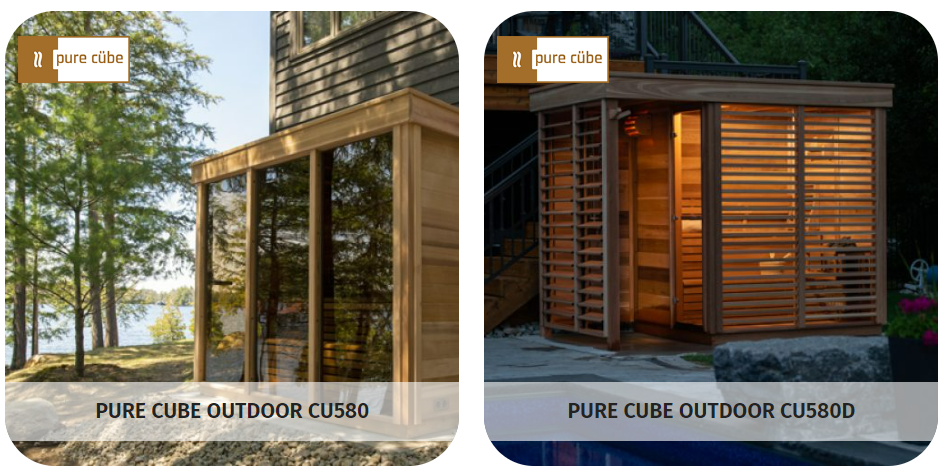 The Outdoor Pure Cube Collection is much more suited to the exterior of your home. This includes both large and small saunas. One of the most popular saunas is the CU580 which comes with the same glass windows as the indoor collection. However, these are installed on additional sides to let in the natural light.
This model comes with an attached outdoor shower; you can customize it to include panels that increase your privacy.
These collections involve pure Canadian wood and are customizable. The kits that come with these saunas make them easy to install.
Canadian Timber Collection
Last but not least, Dundalk Leisurecraft also offers the Canadian Timber Collection, which uses White Cedar in its design. White Cedar is a great addition to any sauna since it introduces a mild fragrance that makes for a therapeutic sauna experience.
White cedar is also great for people who prefer lighter colors. The wood comes with intricate patterns, which results in a unique look. The white cedar is also much more customizable, which is why it is a much-preferred option for many avid sauna adventurers.
White cedar is known for its health benefits and qualities, which add to the overall sauna experience.

White cedar fights against fungus and bacteria, which allows for a reduction in deterioration over time.

The sauna is customizable according to the user's and their family's unique needs.
Canadian Timber Serenity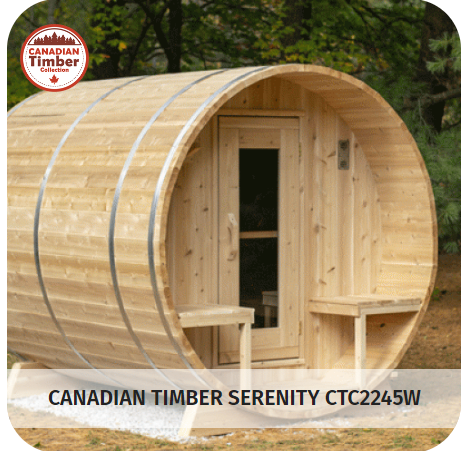 This is the first sauna model introduced in this collection and it quickly became a popular choice. This was due to the affordability and the structure's beauty. The barrel structure allows for better airflow and energy efficiency.
People love serenity not just for its functionality but for its look. The model includes:
Tempered glass door.

White cedar patterns.

And a front porch with benches where you can relax post-session.
Canadian Timber Luna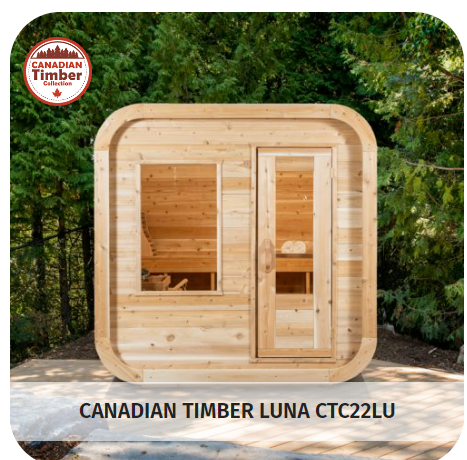 The Luna sauna includes large windows and the same rounded corners as in the first collection. It is a modern take on a traditional design that adds tempered glass to the front door to enhance the look. You can customize the sauna to include extra benches.
Canadian Timber Harmony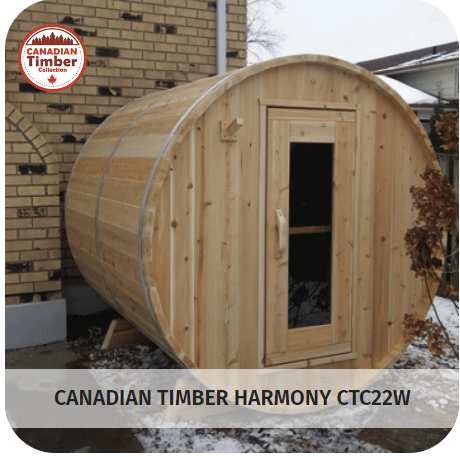 This is another barrel sauna that uses Eastern White Cedar from Canada. The kit has:
An instruction manual.

Your choice of heaters.

A backrest with two benches.

Glass door.

And interior lighting.
Canadian Timber Tranquility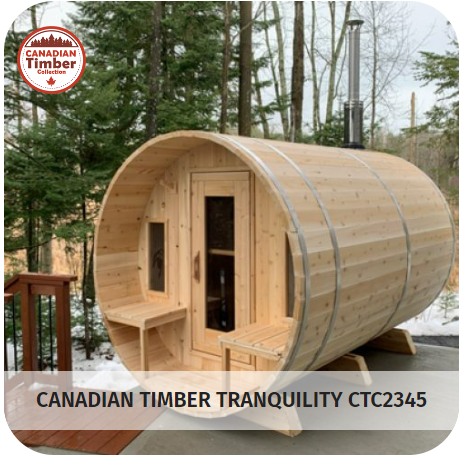 This is a cylindrical design made from hemlock and western cedar wood. It also provides a porch for a cool-off post-session.
Click here to learn more.
Frequently Asked Questions
What is a Dundalk sauna?
A Dundalk sauna is a type of sauna made by Dundalk Leisurecraft, a company specializing in high-quality, wood-based indoor and outdoor saunas. These saunas often feature red cedar wood, which is durable, resistant to harsh weather, and insulating against external temperatures.
What are the different types of saunas?
There are various types of saunas, including traditional saunas, dry saunas, Turkish saunas, and infrared therapy saunas. Each type offers unique mechanisms and benefits, but all share the goal of providing therapeutic heat for relaxation and health benefits.
What are some health benefits of using a sauna?
Saunas can provide therapeutic relief, help repair muscles, serve as a socializing space, and offer various medical benefits such as improved cardiovascular health, enhanced skin elasticity, and better sleep quality.
Why does the wood used in a sauna matter?
The wood used in a sauna affects its functionality, durability, and insulation properties. Dundalk saunas often feature red cedar wood, which is long-lasting, resistant to mold and bacteria, and does not emit a strong smell when heated.
How do I choose the right sauna for my needs?
Consider factors such as the type of heater (electric or wood-burning), the need for a porch, interior preferences, and customization options when selecting a sauna. Additionally, think about the size, wood material, and heater type that best suit your preferences and practical requirements.
What is a barrel sauna?
A barrel sauna is a cylindrical, portable, and compact sauna designed to fit in various spaces. Its unique structure requires less heat to warm the room and distributes heat more efficiently. Barrel saunas, such as those made by Dundalk Leisurecraft, can be excellent investments due to their durability, insulation properties, and customizable options.
Final Thoughts
You might have come across a Dundalk sauna for sale and wondered whether it would be an appropriate fit for your home. The many variations, customization options, and durability of the collections speak for themselves.
Airpuria is here to help you customize your Dundalk Leisurecraft sauna and create one that is perfect for your specific needs!
Essential Points to Remember
Dundalk Leisurecraft offers various sauna collections, including the Barrel Sauna Collection, Pure Cube Collection, and Canadian Timber Collection.

Each collection features unique designs, customizable options, and high-quality materials.

Consider factors such as size, shape, and additional features when selecting a sauna from one of Dundalk's collections.

Dundalk saunas are a good investment due to their durability, customization options, and health benefits.

Airpuria can help you customize your Dundalk Leisurecraft sauna to create the perfect sauna for your needs.
Contact Us
Questions? If you'd like to know more information, or would simply like to chat, give us a call here, we'd love to talk to you!
Can't call? Click or tap here to send us an email!
Financing Options for Dundalk Saunas
Investing in a Dundalk sauna doesn't have to break the bank. Look for providers like Airpuria that offer financing options to make your purchase more affordable. Airpuria provides financing for all customers, with rates as low as 0% for up to 18 months. They also offer business financing with flexible terms and competitive rates.
Some key points about financing options for Dundalk saunas:
Airpuria offers 0% interest rates for up to 18 months for individuals.

Business owners can apply for special financing programs tailored to their needs.
For financing options for individuals, visit https://www.7figures.app/Airpuria. For business financing, visit https://reliantcapitalgrp.com/airpuria