The best home and medical saunas of 2023 offer a unique, relaxing break from daily life and make any day more luxurious. You can avoid going to the spa by getting your sauna right at home. You can also expect to notice a substantial improvement in your physical health. And there's research to back it up! Research has indicated many advantages of using a sauna for those with rheumatoid arthritis, headaches, high blood pressure, type 2 diabetes, and other illnesses.
However, the most significant benefit is that a home sauna enables you to enjoy a magnificent spa experience in the comfort of your own home; you can enjoy privacy at home, allowing you to rest and unwind anytime you choose. This makes purchasing a home sauna the perfect choice for homeowners who lead a busy and stressful lifestyle. Home saunas are designed for the ultimate combination of comfort and relaxation. 
With that said, let's have a look at some of the best home and medical saunas that you can start using to improve your life today.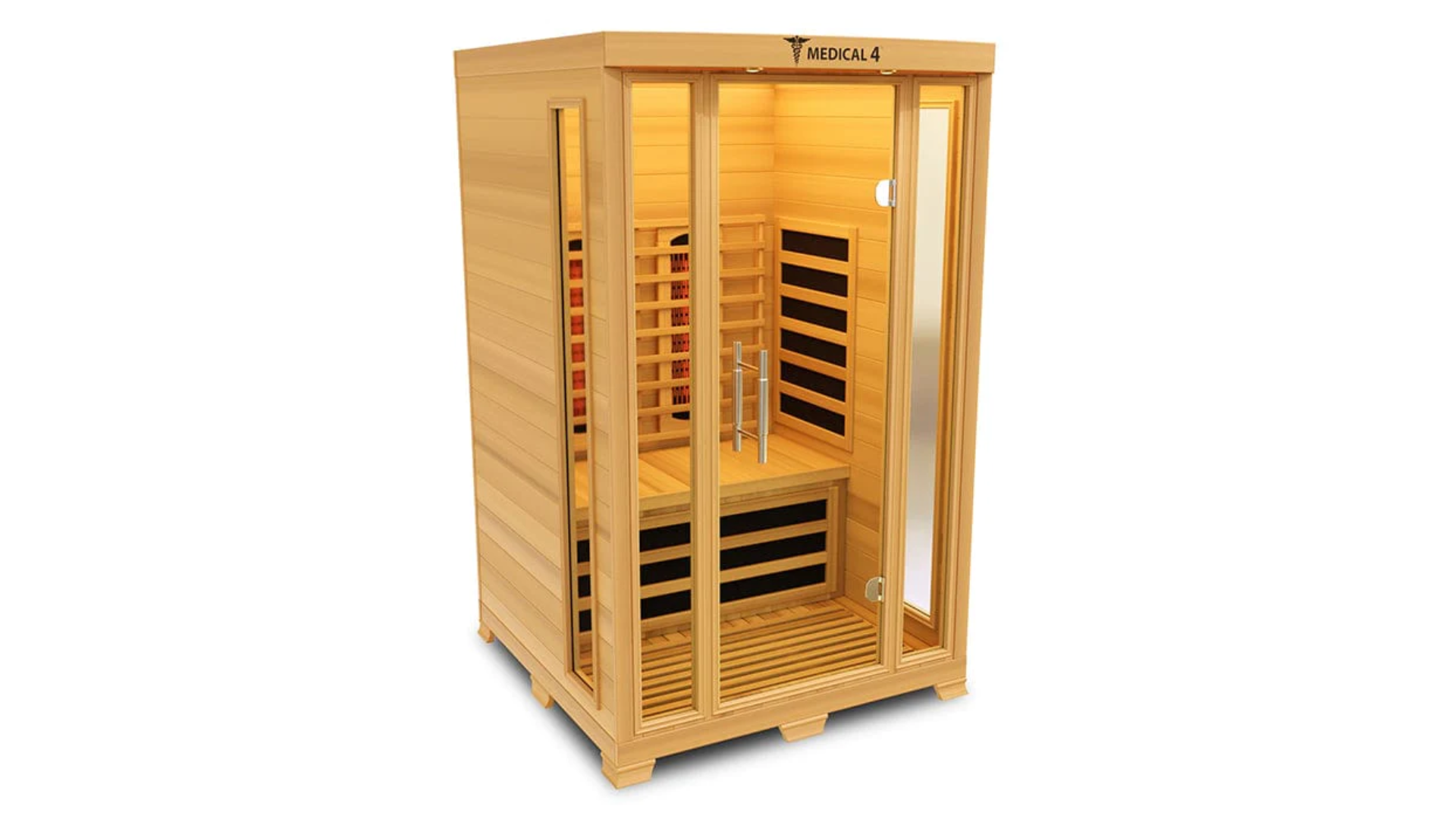 We've ranked the Medical 4 home sauna as the best of the best! It incorporates a unique Rapid Internal Heating System that can get the sauna temperature to perfect in just 40 minutes, surpassing other models that take up to 2 hours to preheat. This means you'll spend less on energy costs while saving more time.
The Medical 4 system enhances endurance and strengthens the immune system. You will start to sweat immediately upon entering, clearing the body of toxins and relaxing the muscles. Impurities in our bodies can lead to numerous physical conditions that a few minutes in the sauna can alleviate. During your session, your pores will open, and toxins will begin to exit the body through sweat. This heating process flushes out the impurities from deep within the tissues. 
Spending time in your home sauna a few times during the week can also improve athletic performance and increase your body's heat tolerance. Sauna sessions can provide you with better overall gym performance since it increases your body's natural production of human growth hormone, which will afford you a quicker recovery post-workout. 3D heat therapy penetrates deep into your muscle and tissues, helping strained or tired muscles recover faster. 
The Medical 4 Version 2.0 Full Spectrum Sauna also has a hot/cold cleansing system that allows the body to go through expert-recommended warming and cooling periods. It is known to improve flexibility and relax the muscles.
Benefits:
Rapid Internal Heating System offers a low 40-minute preheat period 

Strengthens the immune system 

Increases athletic performance 

3D Heat Therapy 

Hot/cold cleansing system 

Made with durable and long-lasting Hemlock

Made in the US

Made in consultation with cardiologists, physicians, and pain specialists
Expert Advice
When choosing a home sauna, consider factors such as preheat time, heat therapy features, materials used, and the sauna's intended purpose. For instance, the Medical 4 Version 2.0 Full Spectrum Sauna offers a rapid internal heating system, while the Traditional 5 Steam Sauna focuses on rejuvenating your skin. Consider your specific needs and preferences before making a decision.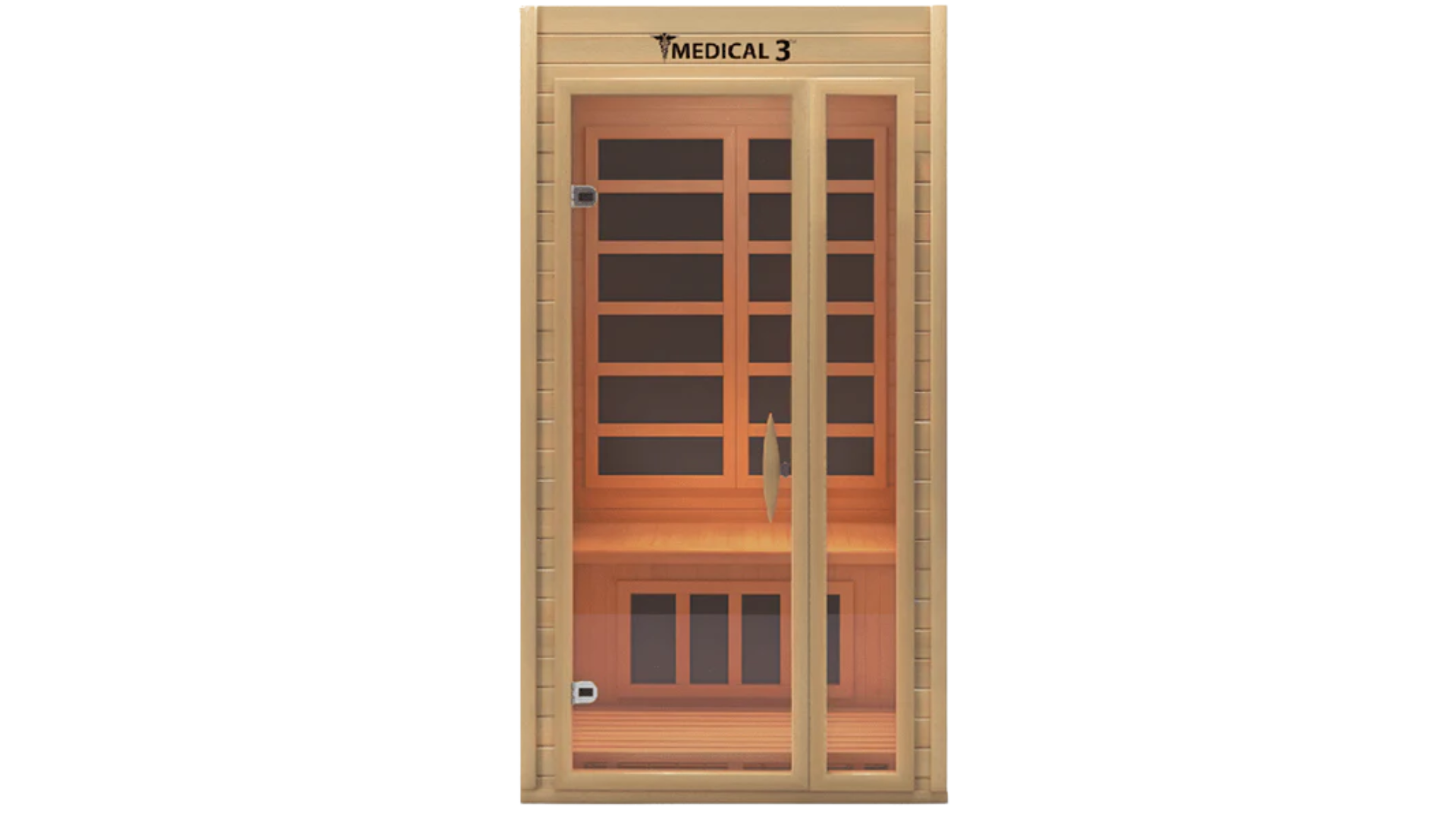 If you're spending time asking the common question, "are saunas good for you?" We're about to answer that right now! The Medical 3 Sauna is designed to provide excellent medical and physical benefits to the body. And it comes at a very affordable price.
The sauna can provide relief from pain with its excellent heat therapy features. It targets sore muscles and decreases spasms in the muscles. The relaxation can help release endorphins, which is great for long-term health. It features a 3D Heat Therapy system that allows the heat to penetrate deep into the body's cells and tissue. 
The medical sauna has a natural hemlock design created with 10+ years of research. Hemlock tends to harden with age; it is one of the best materials to make home saunas with since it becomes more durable as it ages. Hemlock also has astringent properties, which enhance the detoxification capabilities of the sauna and the cleansing of your skin. 
The natural wood aroma of the sauna is also known to help one's body feel refreshed and relaxed.
For the price, this is a truly fantastic product that is designed to last for a long time. For this reason, many customers who purchase this sauna think of it the same way they think about making a long-term investment. 
Durable, reliable, and packed with unique features, the Medical 3 sauna is a great option for users looking for long-term spa relaxation. 
Benefits:
The most affordable medical home sauna 

Made with durable and long-lasting Hemlock materials 

Comes with award-winning 3D heat therapy 

Provides numerous medical benefits to the body 

Provides quick relief from bodily aches and pain

Made in the USA

Made in consultation with cardiologists, physicians, and pain specialists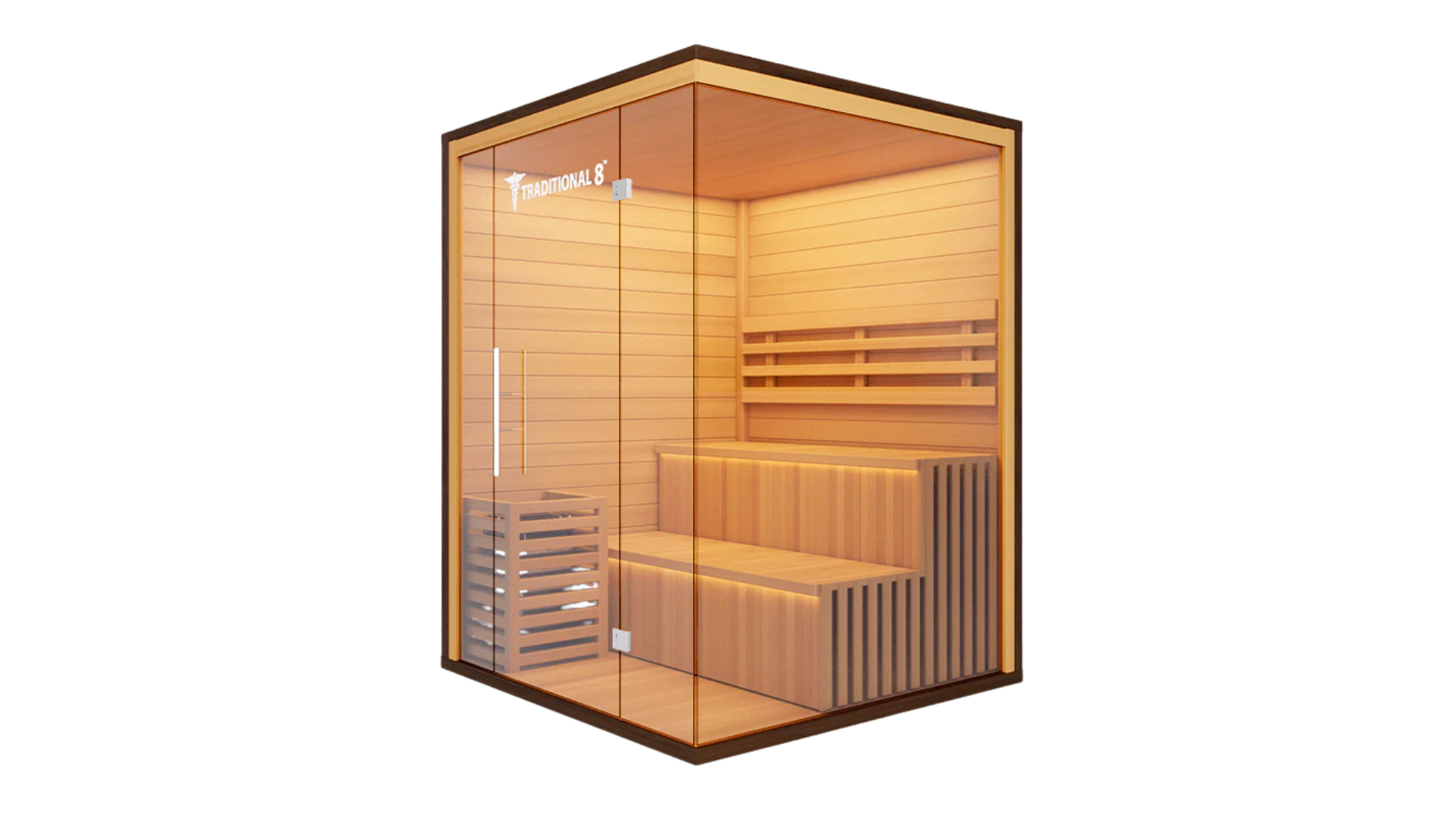 If you're searching for the best infrared outdoor saunas, the Traditional 8 is a home sauna that guarantees an amazing detox routine. 
While a lot of sauna manufacturers highlight detox as a feature, they may not target the most dangerous toxins. The Traditional 8 is designed to remove all impurities and detrimental toxins from deep within the body. Regular use can remove toxins like BPA, which is absorbed by the body from household plastic products. This sauna also helps target heavy metals, nicotine, and phthalates from fast food consumption. The Traditional-8 Steam Sauna works by enlarging your pores, drawing harmful impurities to the surface, and flushing them out. This can leave you feeling refreshed, energized, and rejuvenated. 
You will never experience unwanted sauna temperature fluctuations since the high-quality construction ensures steady heating and cooling. It has an insulated airflow system that keeps temperature constant for the best results. The engineering on this airflow system also enhances the cool-down process for a premium and luxurious sauna experience. Medical experts agree that allowing the body to gradually cool down after being in the sauna is vital for the body. This sauna allows the steam and hot air to escape steadily and slowly. This extra feature allows the body to cool down slowly, which is the best course of action for achieving optimal results. 
Benefits:
Clears away any harmful toxins and impurities from the body 

Insulated Airflow System for consistent temperatures

Cools down the body slowly after a session

Made with high-quality construction and materials

Made in the US

Made in consultation with cardiologists, physicians, and pain specialists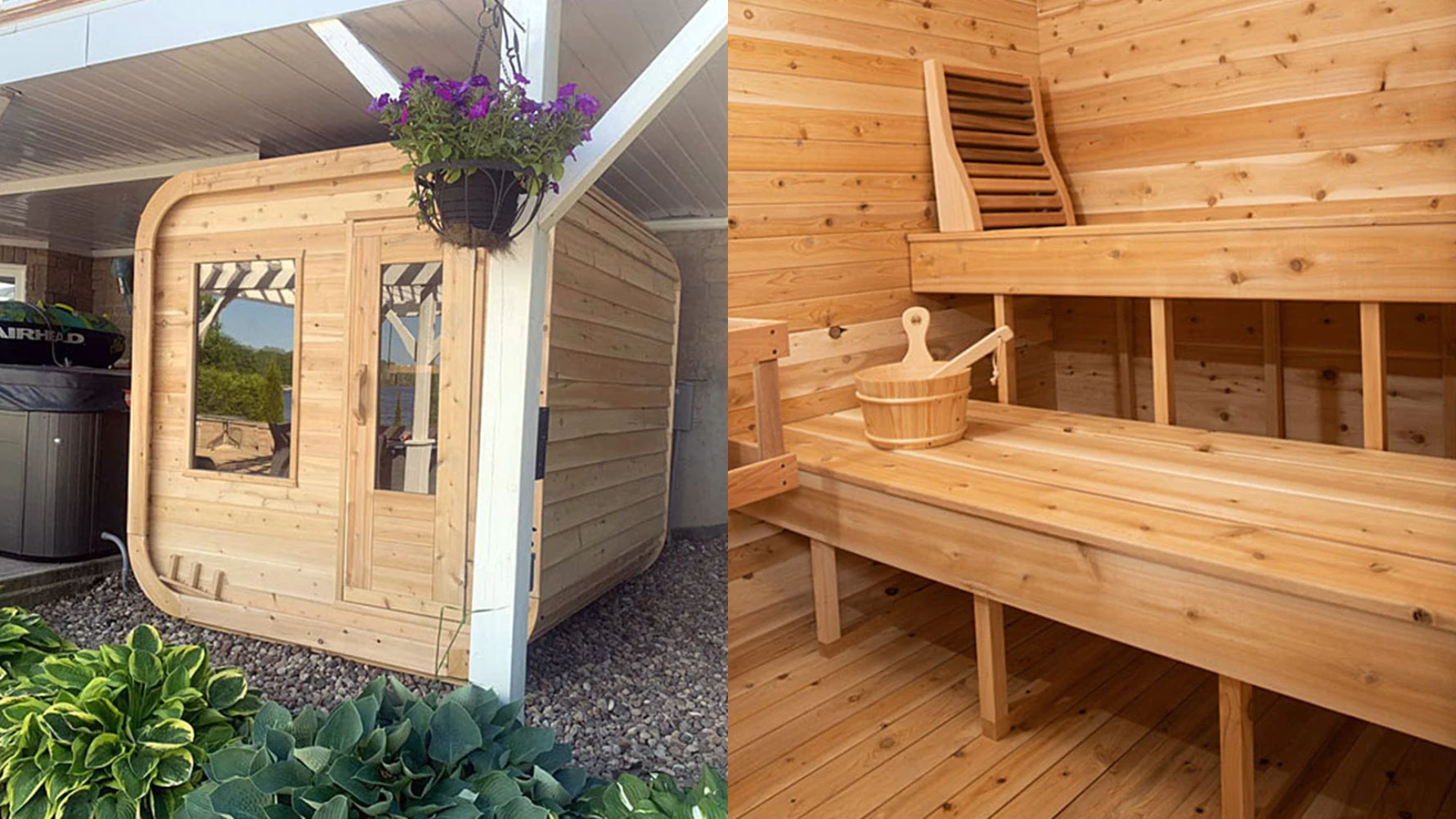 Made with sustainably-sourced Canadian timber, the Luna Sauna is a handcrafted marvel. The Eastern White Cedar make looks absolutely stunning outdoors with its light color and tightly knotted wood. The Luna Sauna features a 5mm thick door made with bronze-tempered glass for the best temperature control.
It is quite easy to install since it comes pre-hung in its wooden frame. This is great for users that really prioritize avoiding setup issues. The kit comes with solid cedar floor, walls, floor joists, and bevel siding, which makes it relatively easy to assemble compared to some other saunas.
This modern sauna offers a rustic look with its rounded corners and large window. You will be able to look out the window at your garden or keep an eye on your kids while relaxing in your sauna. You can choose between two heating options: the 6KW electric heater or the harvia with a heat shield and chimney set. The sauna has plenty of room, so you can invite others to relax with you; it can comfortably house 2 to 3 people comfortably. 
This outdoor sauna has an EPDM membrane roof designed with a stainless steel barrier to protect against water damage. This is the ideal standard of design for areas with heavy rains and high amounts of moisture. It is also an affordable option for homeowners that prioritize their long-term health but don't want to break the bank for their ultimate home sauna experience.
Click here to check out our other Dundalk Saunas!
Benefits:
Beautiful White Cedar construction 

Sustainably sourced Canadian timber is used 

EPDM membrane for water-resistance 

Tempered glass is used for windows and doors for temperature control 

Comes in two heating options 

Easy to assemble 

Perfect for outdoors

Free shipping in the US 

3-year warranty 

Made in the US

Made in consultation with cardiologists, physicians, and pain specialists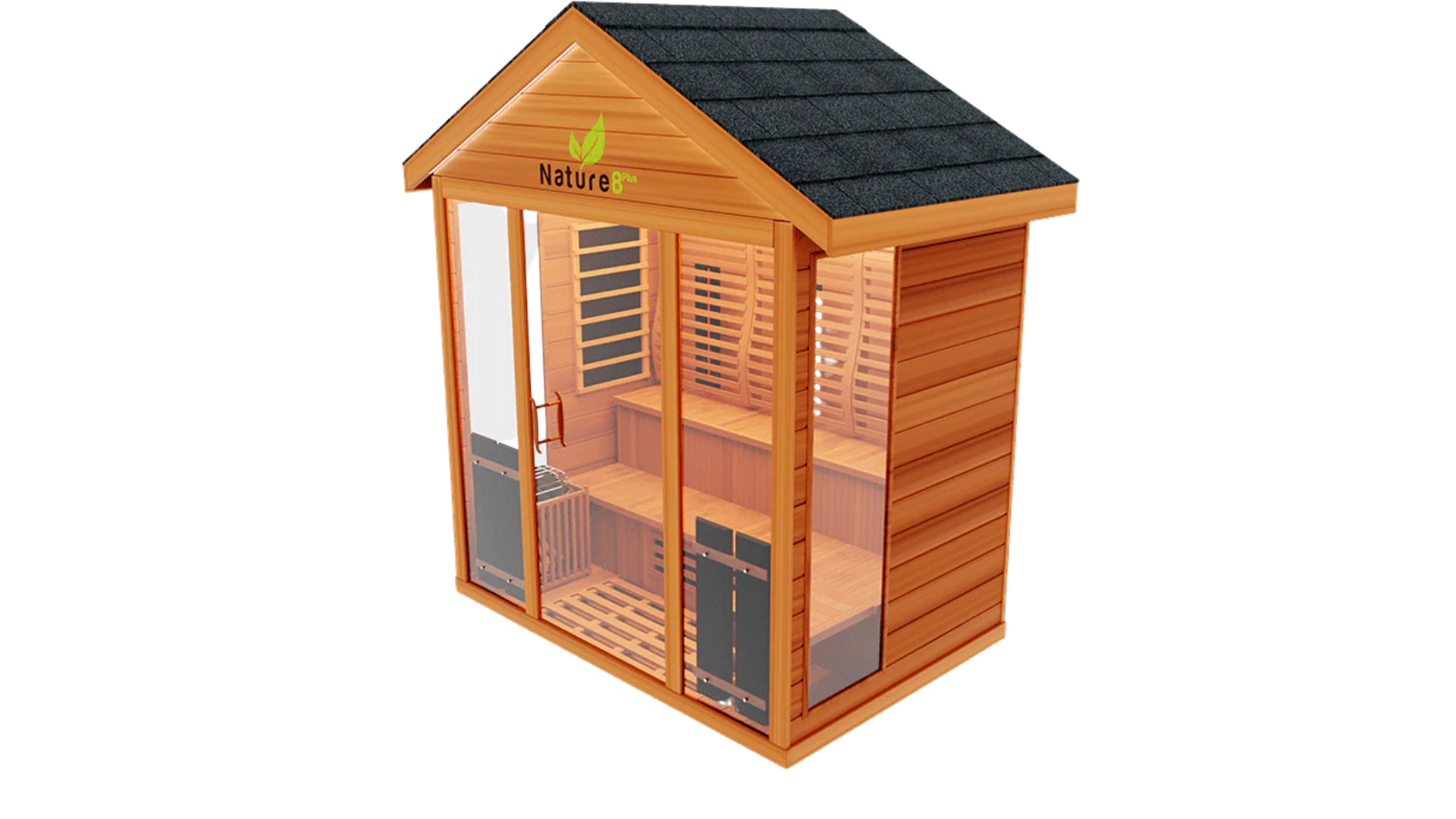 If you're searching for the best home infrared saunas, the Nature 8 Plus is your best bet! 
Compared to other infrared saunas, this one offers a more invigorating session of heat therapy. It incorporates the full-spectrum heater that uses infrared waves for light therapy and deeper skin-penetration levels. 
The Nature 8 Plus comes with a custom-made heater cover to protect the user from injuries, made with the same high-quality wood as the sauna itself. The Nature 8 Plus has a removable bench that allows you to customize the sauna according to your relaxation preferences. This sauna also offers more standing room if you need it. The ergonomic backrests of the sauna offer luxurious comfort and back support which facilitates very comfortable experiences during your sauna sessions. 
The best infrared outdoor sauna is made with natural and durable red cedar. Many saunas on the market tend to start losing heat after a few months of use; this doesn't happen with the red cedar construction. Years of research have proved its efficacy. Red Cedar also has astringent and medicinal properties, allowing for powerful detoxification benefits. 
The Nature 8 Plus guarantees that the heat penetrates deep into the tissue and muscles, which can reduce muscle pain. It heats up in just 40 minutes, which means the quick preheat period can reduce energy costs and provide you with extra time! 
Pros:
Full-spectrum infrared heating

Comes with a custom-made heater cover

Made with high-quality red cedar wood 

Great detoxification benefits 

Quick preheat in 40 minutes

Made in the US

Made in consultation with cardiologists, physicians, and pain specialists
The Traditional 5 steam sauna offers amazing heating technology that rejuvenates every inch of your skin. You will leave the session with your skin feeling new, fresh, and soft. 
The sauna is made with high-quality wood construction combined with a heating system designed to energize and revitalize your skin. The steam and heat enlarge the pores resulting in a unique experience that will help you get rid of skin impurities and remove all of your dead skin cells. This sauna stimulates the sebaceous glands in the skin. When stimulated, these glands increase the production of sebum, keeping your skin healthy, moisturized, and lubricated.
During your session, you will have increased blood circulation throughout your entire body. Increased blood circulation can help reduce soreness in the muscles, which is great for workout enthusiasts. The heat therapy penetrates the tissue and muscles so that you have fewer body aches, pain, and sore muscles when navigating your daily life.
This sauna is crucial if your focus is 4. It is made with consultation with doctors and aestheticians who advocate for its numerous medical and beauty benefits. 
Benefits:
Removes dead skin cells 

Enlarges the pores and flushes out impurities 

Improves blood circulation 

Deep heat therapy 

Great for athletes 

Reduce body aches and pain 

Rapid internal heating system for quick preheat  

Made in the US

Made in consultation with physicians and aestheticians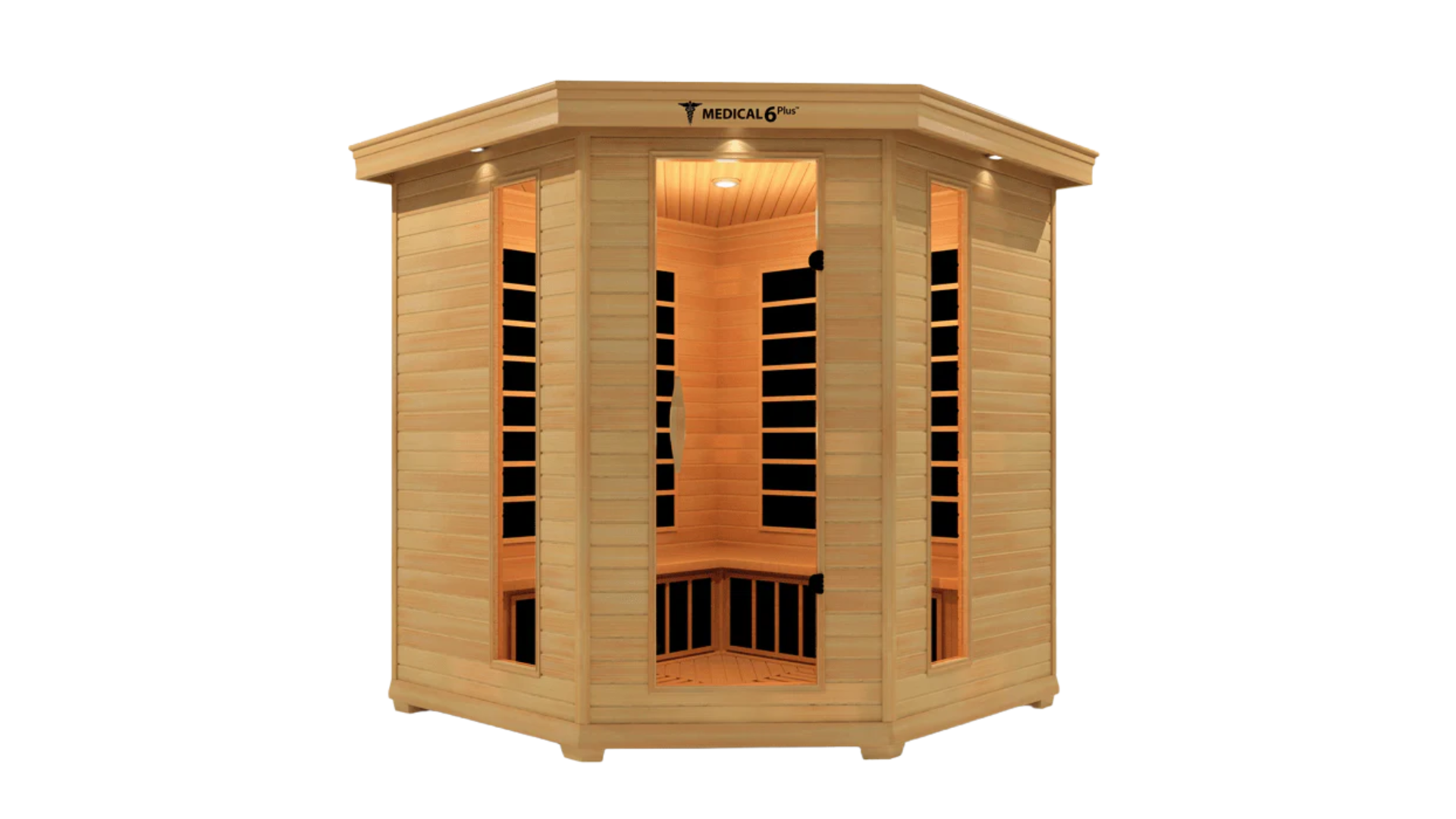 7. The Medical 6 Plus is a home sauna that offers multiple health benefits for your muscles, body, skin, and more! And it's truly a perfect choice for relaxation at home. 
You need to make sure that your skin and tissues are cleansed from all of the hazardous pollutants we often intake from our environment and diet. The sauna helps you sweat out the toxins and impurities from the body, keeping you healthy! This will help you feel revitalized, invigorated, and renewed.
By facilitating a deeper heat penetration than other sauna brands, this sauna helps activate the heat shock proteins in your body more effectively.  When heat shock proteins are activated in the right way they can help you retain muscle mass, have better cardiovascular health, and reduce the risk of developing dementia later in life! They can even mimic the effects of cardiovascular exercise.
The heat therapy and relaxation from this sauna are truly amazing for the body. The home sauna can improve your skin, making it softer and smoother. 
Pros:
Low 40-minute preheat period 

Heat Shock protein activation

Strengthens the immune system 

Increases athletic performance 

3D Heat Therapy 

Cools down the body slowly after a session

Made with high-quality construction and materials

Made in the US

Made in consultation with cardiologists, physicians, and pain specialists
Essential Points to Remember
Medical 4 Version 2.0 Full Spectrum Sauna is the best overall option with a rapid internal heating system

Medical 3 Sauna is the most affordable medical home sauna

Traditional 8 Steam Sauna is best for detox

Dundalk Canadian Timber White Cedar Luna Sauna is perfect for outdoor use

Nature 8 Plus Outdoor Sauna offers the best infrared sauna experience
Financing Options and Other Considerations
When purchasing a home sauna, consider providers like Airpuria that offer financing options to make your purchase more affordable. Airpuria provides financing for all customers with rates as low as 0% for up to 18 months, as well as business financing with flexible terms and competitive rates.
0% interest rates for up to 18 months for individuals

Special financing programs tailored for business owners
Links for financing options:
Frequently Asked Questions About Home Saunas
What is the difference between an indoor infrared sauna and traditional saunas?
An indoor infrared sauna uses infrared light to heat the body directly, providing a more efficient and comfortable experience. Traditional saunas, on the other hand, use heat sources like wood, electric, or gas heaters to heat the air, which then warms your body. Both types of saunas offer different benefits, so it's essential to understand your preferences and needs before making a decision.
How do traditional steam saunas differ from dry indoor saunas?
Traditional steam saunas use heated rocks to produce steam, creating a humid environment with temperatures typically between 150-195°F. In contrast, indoor dry saunas use heaters to warm the air, resulting in a less humid atmosphere with temperatures ranging from 180-220°F. Steam saunas are known for their detoxifying properties, while dry saunas are considered better for muscle relaxation and stress relief.
Are there any advantages to installing an indoor sauna over an outdoor home sauna?
Indoor saunas can be more convenient for many homeowners, as they can be easily accessed and used throughout the year without being affected by weather conditions. Outdoor home saunas, however, can provide a more authentic and luxurious experience, especially if they're situated in a beautiful and natural environment. Ultimately, the choice depends on your preferences, available space, and budget.
Can I get the benefits of both traditional and infrared home saunas in a single unit?
Yes, some indoor saunas offer both traditional and infrared heating options, allowing users to enjoy the benefits of both types in a single unit. These combo saunas can provide a versatile and customizable experience, catering to various preferences and health needs.
What are the primary health benefits of using steam saunas regularly?
Regular use of steam saunas can help improve cardiovascular health, boost immunity, detoxify the body, and promote relaxation. Steam saunas are also known to help alleviate symptoms of respiratory issues, soothe sore muscles, and improve skin health. However, it's essential to consult with a healthcare professional before incorporating sauna use into your wellness routine, especially if you have any pre-existing health conditions.
Is it safe to use an infrared home sauna if I'm pregnant or have a medical condition?
If you're pregnant or have a pre-existing medical condition, it's essential to consult your healthcare provider before using an infrared home sauna or any type of sauna. While saunas can offer numerous health benefits, they may not be suitable for everyone, and certain conditions may require specific precautions or adjustments to ensure safe usage.
Contact Us to Learn More About Home Saunas
At Airpuria, we believe in the science supporting home and medical saunas. For this reason, we've made it a point to spread our knowledge about these unique products so that you might have the chance to improve your daily routine like we have. Choosing between the best home saunas can be overwhelming, so we've done the legwork and tested all of the most popular brands for you! It was a hard decision that took a lot of careful examination, but we believe we've narrowed it down and provided you with a fine selection of the best home and medical saunas for every category.
Fortunately, if you were googling "saunas near me," you've stumbled upon the best of the best! We believe this list of the best home and medical saunas of 2023 can be the beginning of your journey towards finally pulling the trigger and finding your ultimate sauna experience right at home.
If you'd like to learn more about home saunas, please give us a call at 773.337.8822 or send us an email at sales@airpuria.com. We'd love to hear from you!