Are you a company relying heavily on the effectiveness and size of your team? Are you a restaurant owner who is looking for a new and improved way to bring value and efficiency to your customers' dining experience?

Airpuria is now offering an all-in-one solution: the Servi service robot from Bear Robotics.

You may have stumbled upon one of these amazing modern-technology innovations while trying somewhere new for dinner. This may have left you with a feeling of, "Wow, this is so cool!" The fact is, you are not alone. Restaurant guests all across the world are now beginning to experience this brand-new service phenomenon and just like you, they are loving it!

While the idea of having a service robot seems like a possibly daunting task, we can assure you that it is actually quite easy to add these service robots to your team. Read on to discover how you can easily lease Servi service robots for your own restaurant that will create an amazing experience for your guests while tremendously helping your team... and your bottom line!

Let's get started.
What are Servi Robots?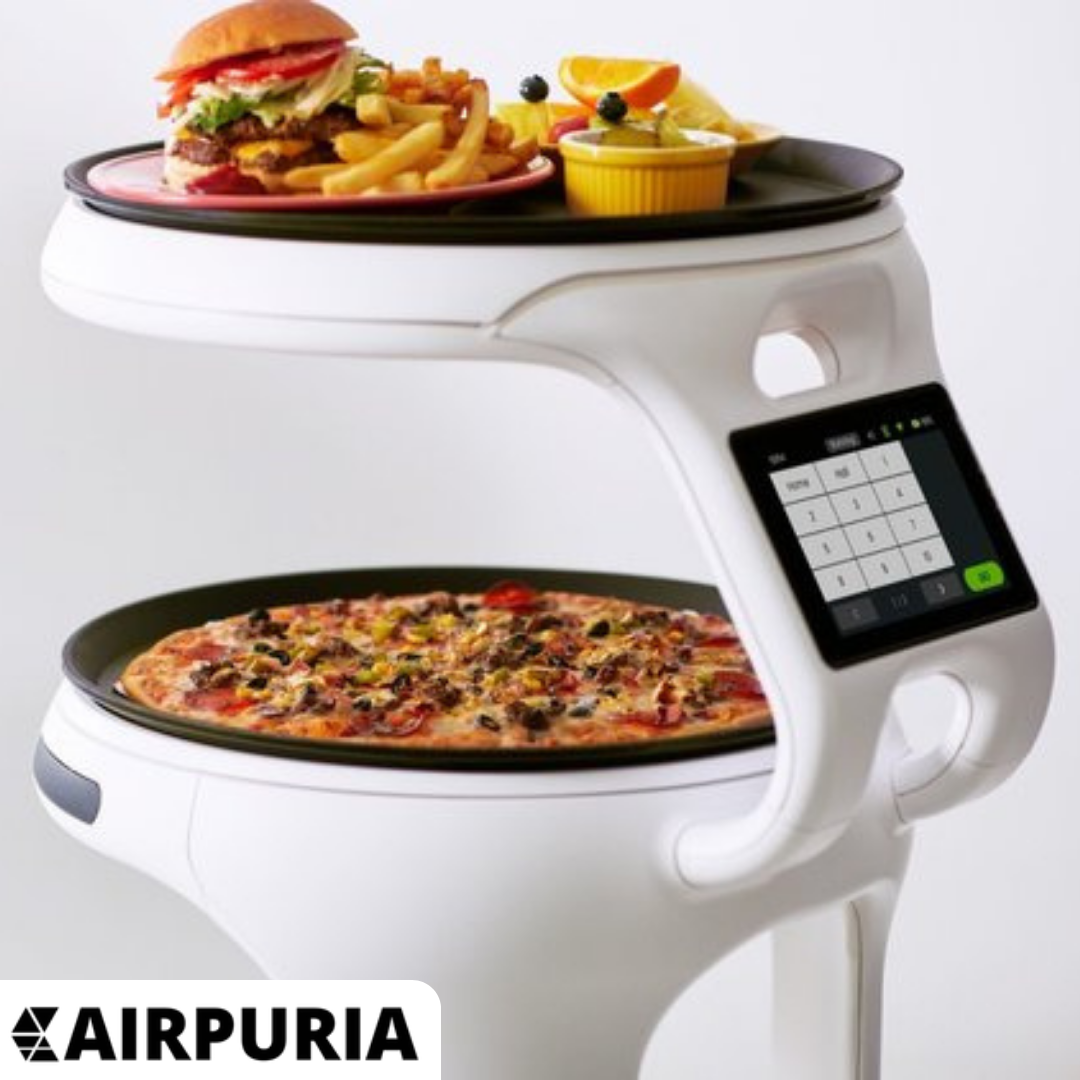 Servi robots, created by Bear Robotics, are service robots designed to help restaurant owners and restaurant staff by repeatedly completing tasks that improve the workflow of your restaurant. Some of these tasks include:
Transporting food.

Food running.

Table bussing.

Taking dirty dishes back to the kitchen.

And more!
Servi has built-in LiDar sensors and multiple cameras to ensure safe navigation throughout your establishment. When operating a fleet of Servi robots, they will intelligently avoid each other, which makes for a seamless and automated experience that any restaurant owner will love.
How Can I Lease Servi Service Robots for my Restaurant?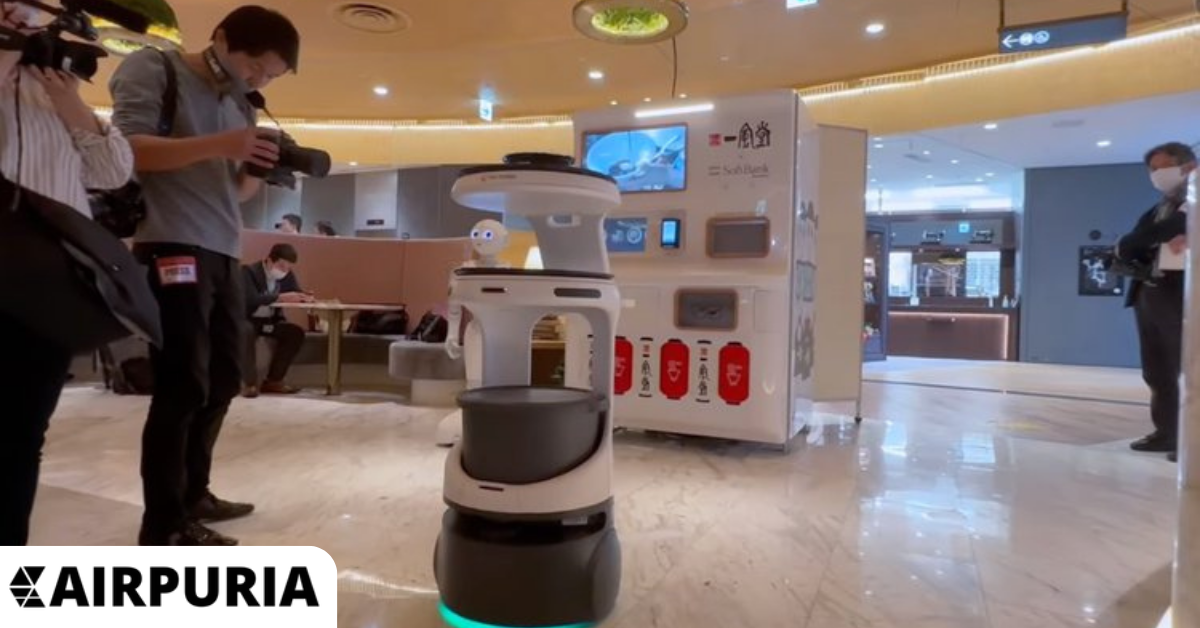 Currently, Airpuria offers two different types of Servi robots to choose from. Firstly, there is the Servi service robot. This is the standard model offered by Bear Robotics designed to effectively transport normal amounts of food to your guests. Airpuria offers another model, known as the Servi Mini. This one-tray version of Servi is perfect for assisting the larger Servi fleet that handles your restaurant tasks, but can still handle an entire restaurant by itself.

Each model comes with 24/7 customer service offered by both the Airpuria team AND Bear Robotics. We want you to love where you work, and this is just one of the many ways we can help make that happen!

Considering that the average price of a service robot is currently $1,215, Airpuria offers an incredibly competitive price.
Servi Leasing Plans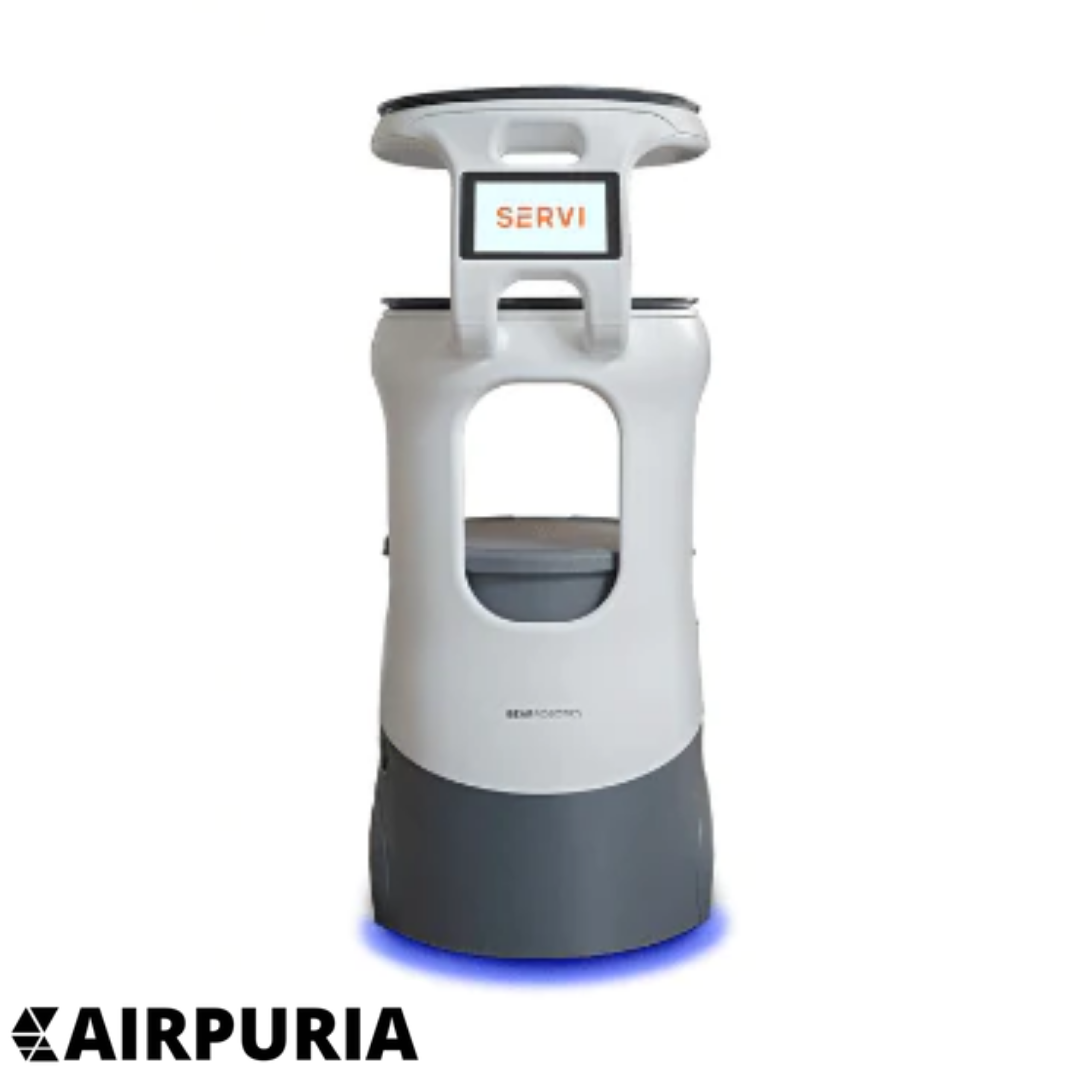 Airpuria offers the ability to lease Servi service robotics at these highly competitive timeframes and prices:
12-Month Lease: $850 per month.

24-Month Lease: $800 per month.

36-Month Lease: $750 per month.
Here are some of the features included in every Servi model:
100% Self-Driving

Multi-Robot Mode

Auto Return

Extended Battery Life

24/7 Monitoring and Analytics

And Quick Installation
Click here to learn more about our one-on-one setup & 24/7 support!
Servi Mini Leasing Plans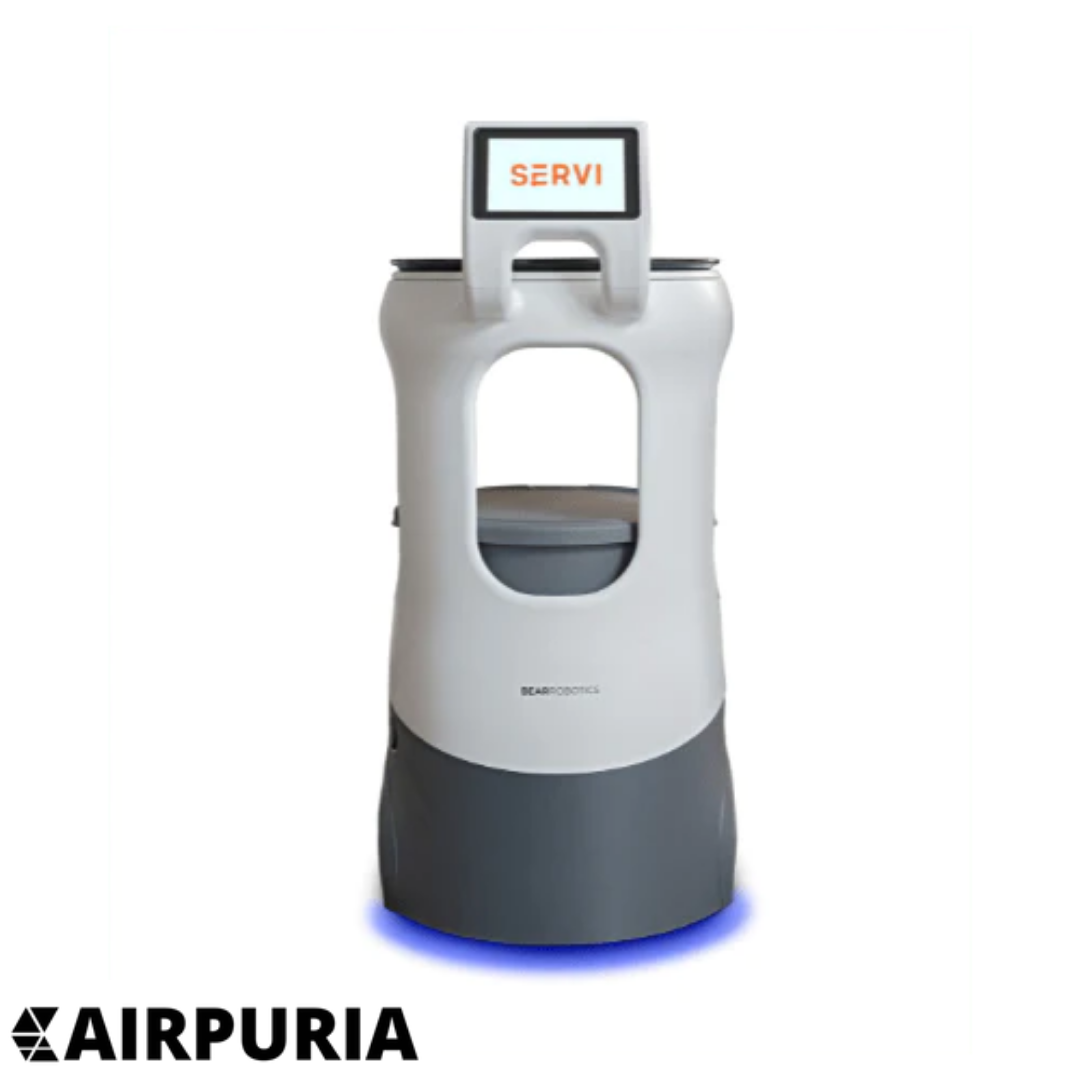 You can lease your fleet of Servi Mini service robots from Airpuria at the following timeframes and prices:
12-Month Lease: $850 per month.

24-Month Lease: $800 per month.

36-Month Lease: $750 per month.
Here are some of the features included in every Servi Mini model:
100% Self-Driving

Multi-Robot Mode

Auto Return

Extended Battery Life

24/7 Monitoring and Analytics

And Quick Installation
Click here to learn more about our one-on-one setup & 24/7 support!
Bear Robotics Will Set Servi Up
When you lease a unit, members of the Bear Robotics staff will help to familiarize you with the robot's user-friendly controls. Once leased, Bear Robotics will deliver Servi to your restaurant AND set everything up for you. Bear Robotics will come for around 2-3 days and help with:
Digitally mapping Servi to your restaurant.

Training your staff to use Servi to the fullest.

Optimizing & configuring Servi to work best for meeting your restaurant's goals.
Although the experts provide you with all of the necessary training to operate your AI robot, you can seek assistance from the company's customer service department anytime. If you want to explore different Servi models, visit our Servi collection page for everything you need to know.
Expert Advice: Leasing Servi Robots for Your Restaurant
Leasing a Servi robot for your restaurant can be a game-changer in terms of efficiency and customer satisfaction. Here are some helpful hints to get the most out of your Servi robot:
Choose the right model for your restaurant's needs. Airpuria offers the standard Servi service robot and the smaller Servi Mini to suit different requirements.

Take advantage of the 24/7 customer support offered by both Airpuria and Bear Robotics. They are there to help you and ensure that your Servi robot is working optimally.

Make sure your staff is well-trained and familiar with Servi's features and operations. Bear Robotics will help with the initial training and setup, but ongoing training will ensure a smooth integration of the robot into your team.
The Benefits of Using Servi Robots in restaurants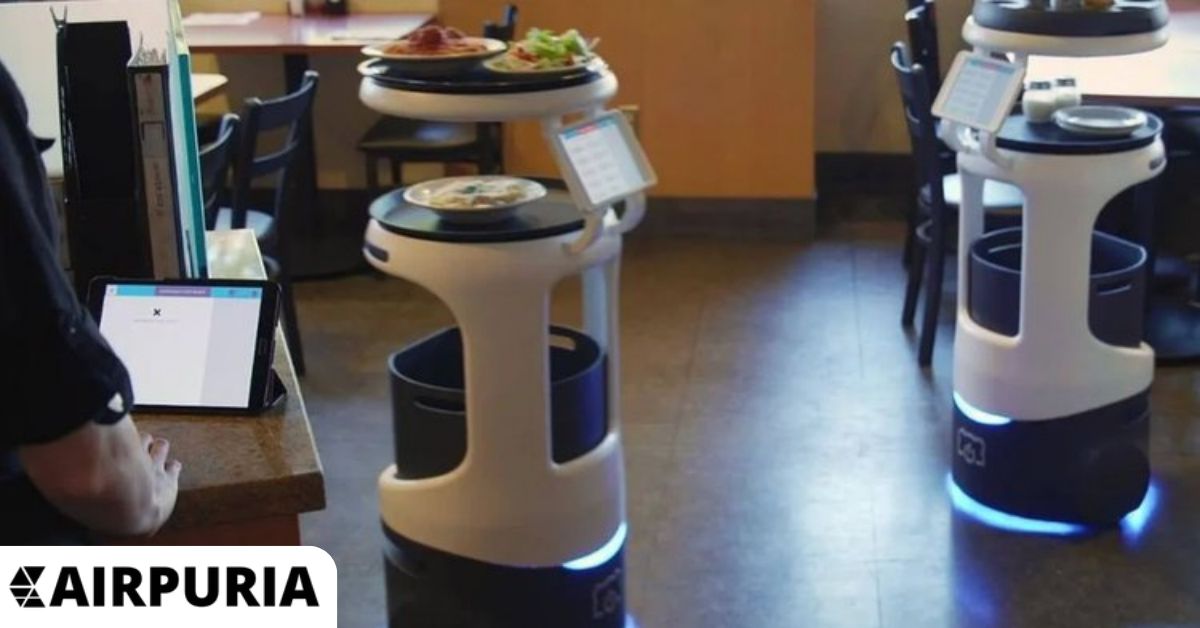 Servi robots are a new and innovative way for restaurants to get food from their kitchen to the table. Bear Robotics spent years developing a solution tailored specifically for restaurant owners. Many restaurants are already adopting Servi as part of their team and gaining quite a competitive advantage in their industries.

Check out some of the benefits of using Servi in your restaurants:
Servi Can Assist Your Human Waiters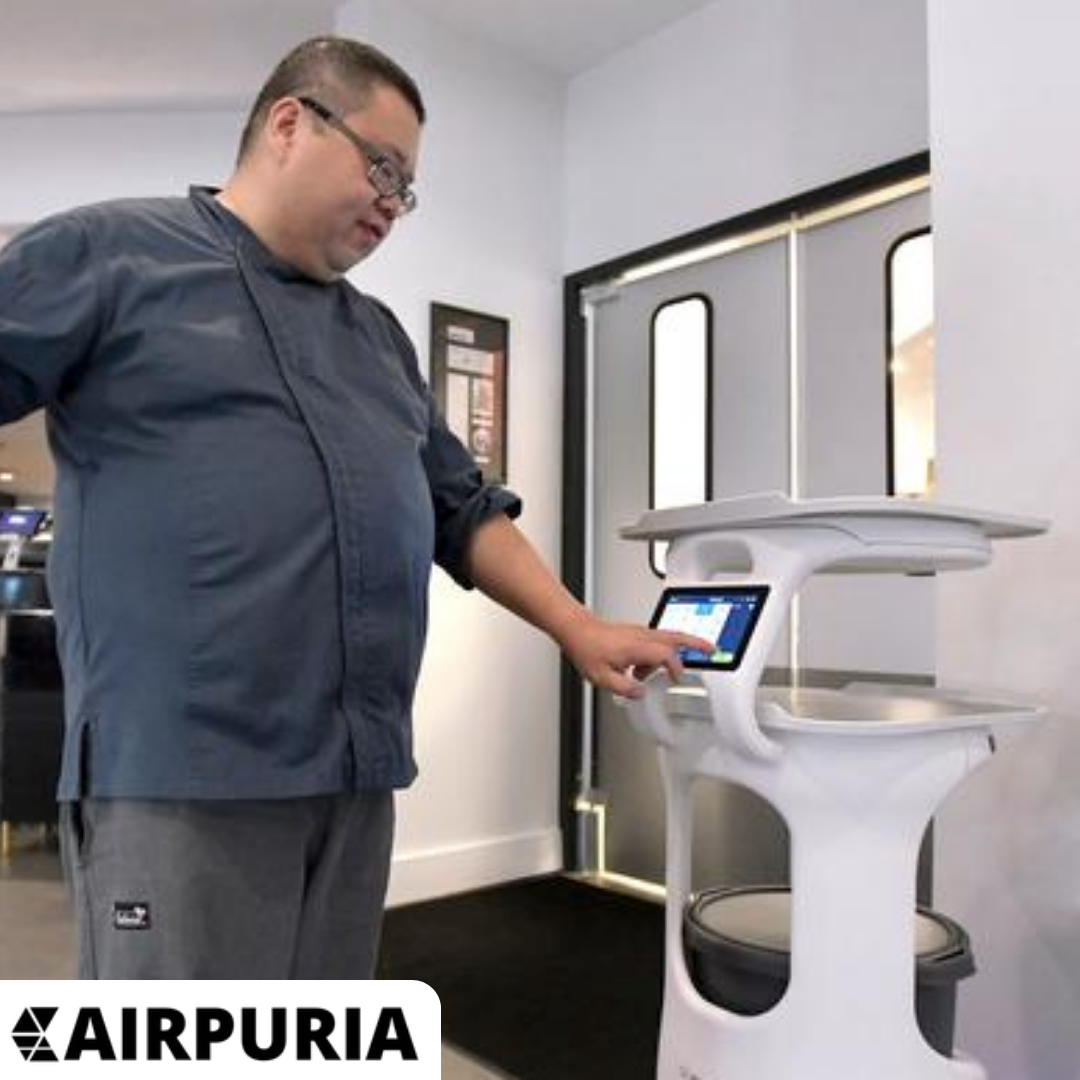 The Servi robot waiter has been around for a few years now, and it's been making life easier for restaurant owners and workers all over the United States. Servi works independently and needs little assistance from humans, making it extremely efficient.

Servi can perform various tasks such as transporting food, serving as a bussing station, and performing other small jobs like taking dirty dishes to the kitchen. Many restaurant owners have adopted Servi into their teams because they consider it a cost-effective way to supplement labor costs while assisting their existing team members!
Servi Can Work For 12 hours
Experiencing a twelve-hour shift can be a long day for any worker. Servi, the service robot from California-based Bear robotics, solves this problem. This robot is the first robotic server in the hospitality industry that can work 24 hours a day with short time intervals for charging. Plus, this robot from a California-based startup aims to help restaurant owners maintain consistency across all of their locations. Every restaurant is treated equally and gets the same amazing experience with Bear Robotics. Bear Robotics comes to you and installs Servi while digitally mapping your location and training your staff.
Servi Can Help Transport Food
Servi can help transport food to customers. Servi starts in its home base, the kitchen (or wherever you prefer your home base to be set) and allows your staff to add food to Servi when it's ready. This makes for a more efficient experience for both the customer and the restaurant staff. When an order is ready to be delivered, Servi will be alerted. This means your guests will happier with shorter wait times!
Servi Can Help as a Busser
Servi the restaurant service robot is an incredibly versatile and efficient machine. Not only can it assist servers with transporting food, but it can also help with bussing tables by serving as a bus station. With just one click on the monitor control panel, Servi can be sent back to the dish area to unload dirty dishes, where it can be quickly and easily unloaded by the dishwasher. Once its dish compartment is empty, Servi can then be sent back out to the dining room to assist with bussing additional tables, helping to keep the restaurant clean and organized. This allows staff to focus on providing high-quality service to diners, rather than spending all their time on tedious tasks like cleaning up.
Conclusion | Lease Servi With Airpuria

The restaurant industry is a demanding and fast-paced business. With the food service robot Servi, owners of restaurants can spend more time focusing on improving their businesses and less time assisting the serving staff or performing other hands-on tasks. Servi from Bear Robotics and Airpuria is helping to reduce industry labour shortages AND reduce supply chain pressures. Servi is customizable to suit any restaurant's needs. It can be programmed to perform specific tasks such as bussin tables, transporting food, and bringing dishes back to the kitchen.

Restaurant owners who use Servi's report an increase in customer satisfaction. This means more return customers which leads to better business!

If you have any questions at all, please feel free to contact us through the following channels:

You can either give us a call at (773) 337-8822,

Or, create an inquiry with us via email.

We're looking forward to speaking with you!
FAQ: How To Lease a Servi Robot For Your Restaurant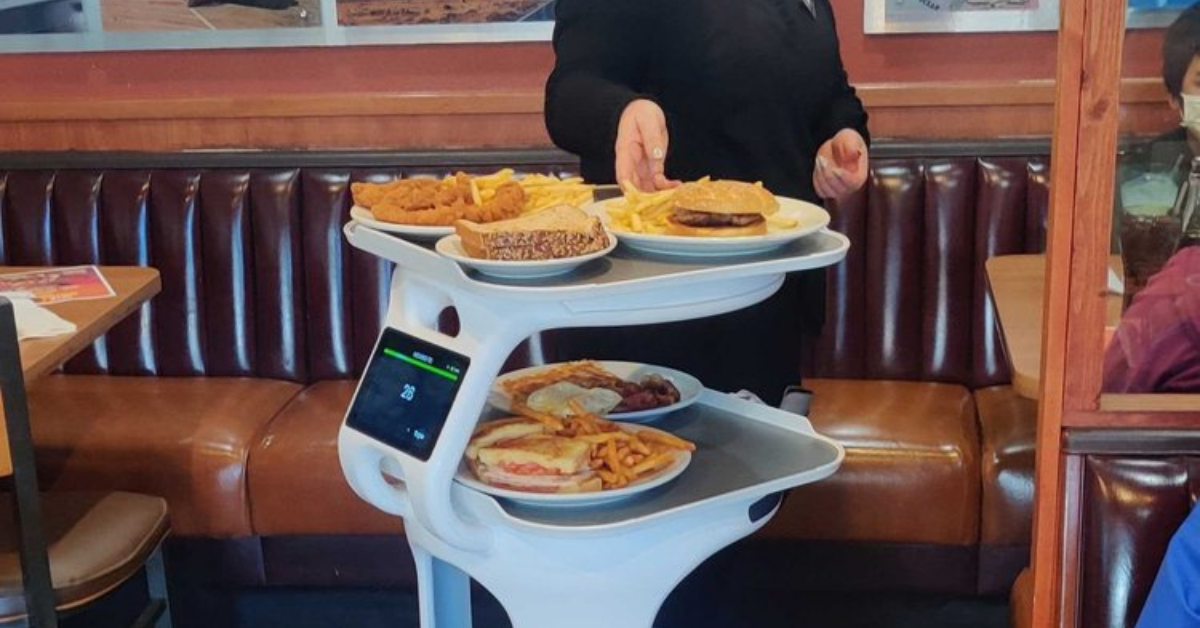 If you have questions about Servi robots from Airpuria, we are here to help. Since we firmly believe in just how much Servi can help every restaurant owner across the country, we've gathered some frequently asked questions here in our FAQ section to make things easier!

Whether you're just curious or you're thinking of leasing a robot to help run your restaurant, check out the following questions to learn more!
What are Servi robots?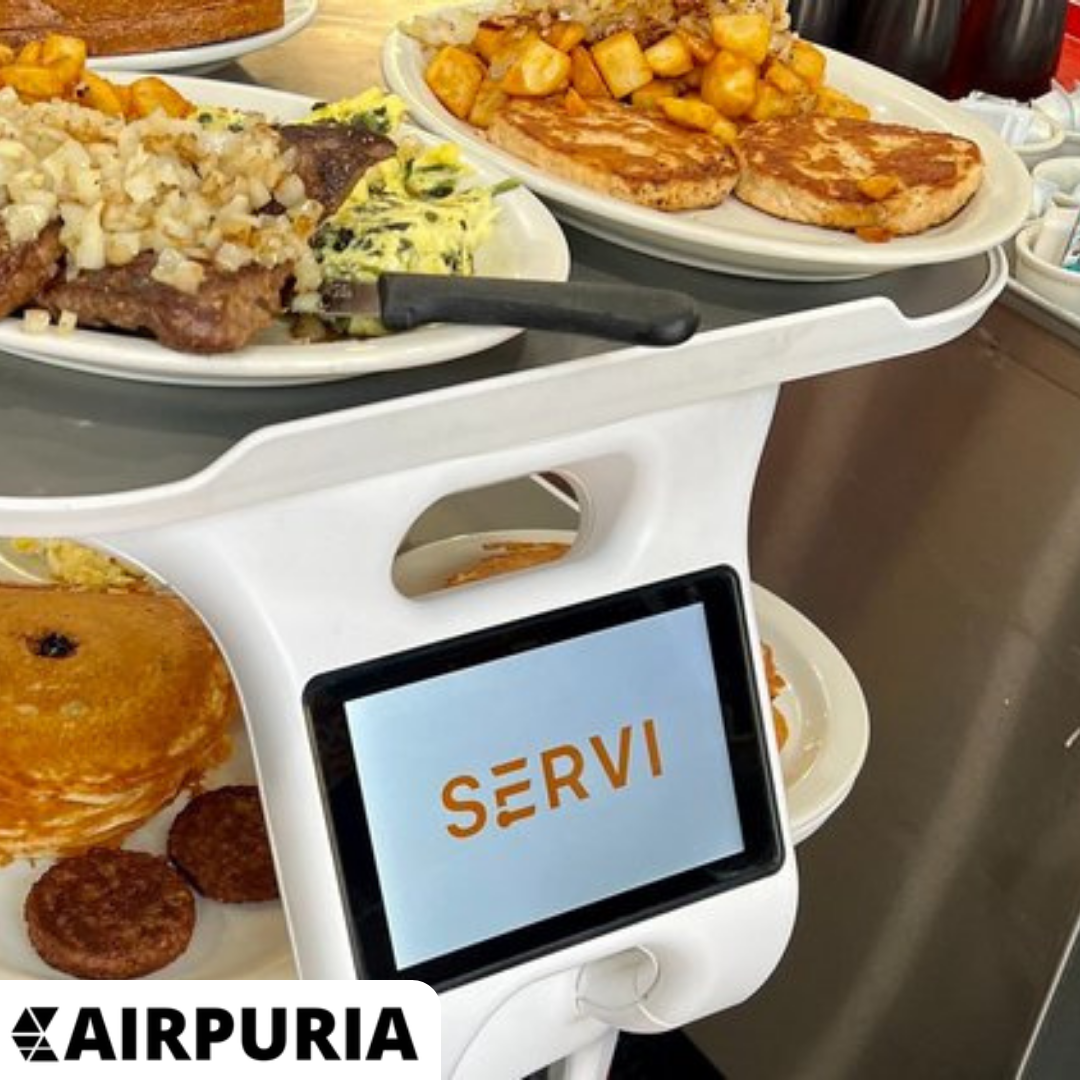 Servi is a line of food delivery robots for restaurants and other hospitality venues. The robot can navigate through an environment easily using its advanced LiDar sensors, carrying plates of food from the kitchen or storeroom to the front counter.  This way, even if you're running low on staff, you'll still have a team member ready to transport food. We've demonstrated that Bear Robotics charges their Servi's battery fully within four hours and can last for 12 hours.
What are service robots?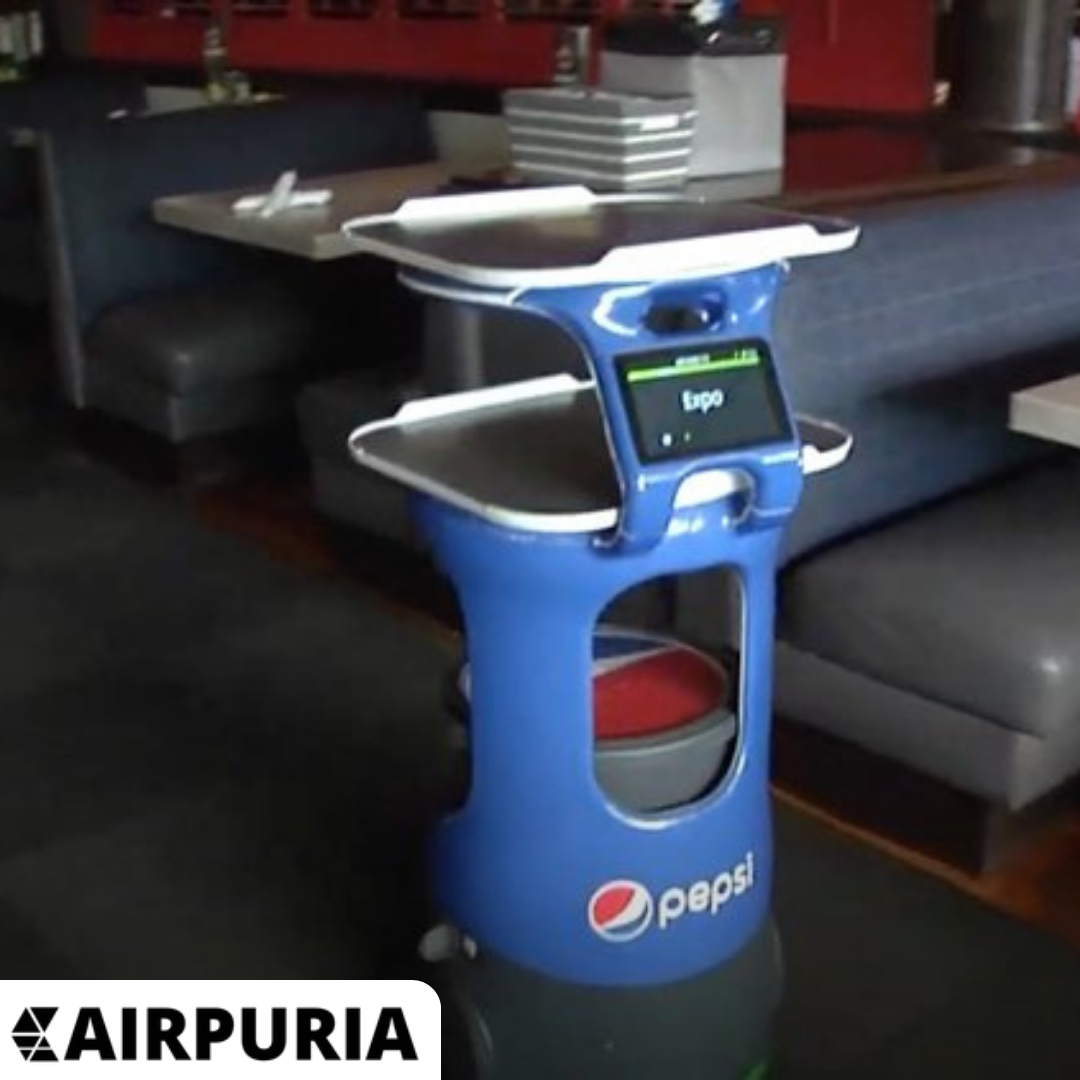 Service robots are robotic devices that help make the restaurant staff and customer's life easier. They can do things like take their order and bring them their food.

These automatons reduce wait time for customers and also allow restaurants to supplement their short staff. These machines will be especially beneficial for establishments with limited seating capacity.
How much does Servi cost?
Here are the leasing options for Servi service robots from Airpuria:
12-Month Lease: $850 per month.

24-Month Lease: $800 per month.

36-Month Lease: $750 per month.
The upfront investment is worth it because they pay themselves back over time by saving money in operational costs (fewer labor costs). Most service robots need only 3 feet x 3 feet in order to operate properly - this is usually plenty of room in most eateries!
Who makes Servi food service robots?
Servi is designed and manufactured by a venture capital firm founded by Food Concepts International, Bear Robotics. They are located in Redwood City, California, and have been in business since 2017. Servi was designed to provide flexible and affordable robotic solutions for restaurants. With a projected price point of $850, bear robotics makes it much more accessible than other restaurant robotics systems on the market today.
How much does a food service robot cost?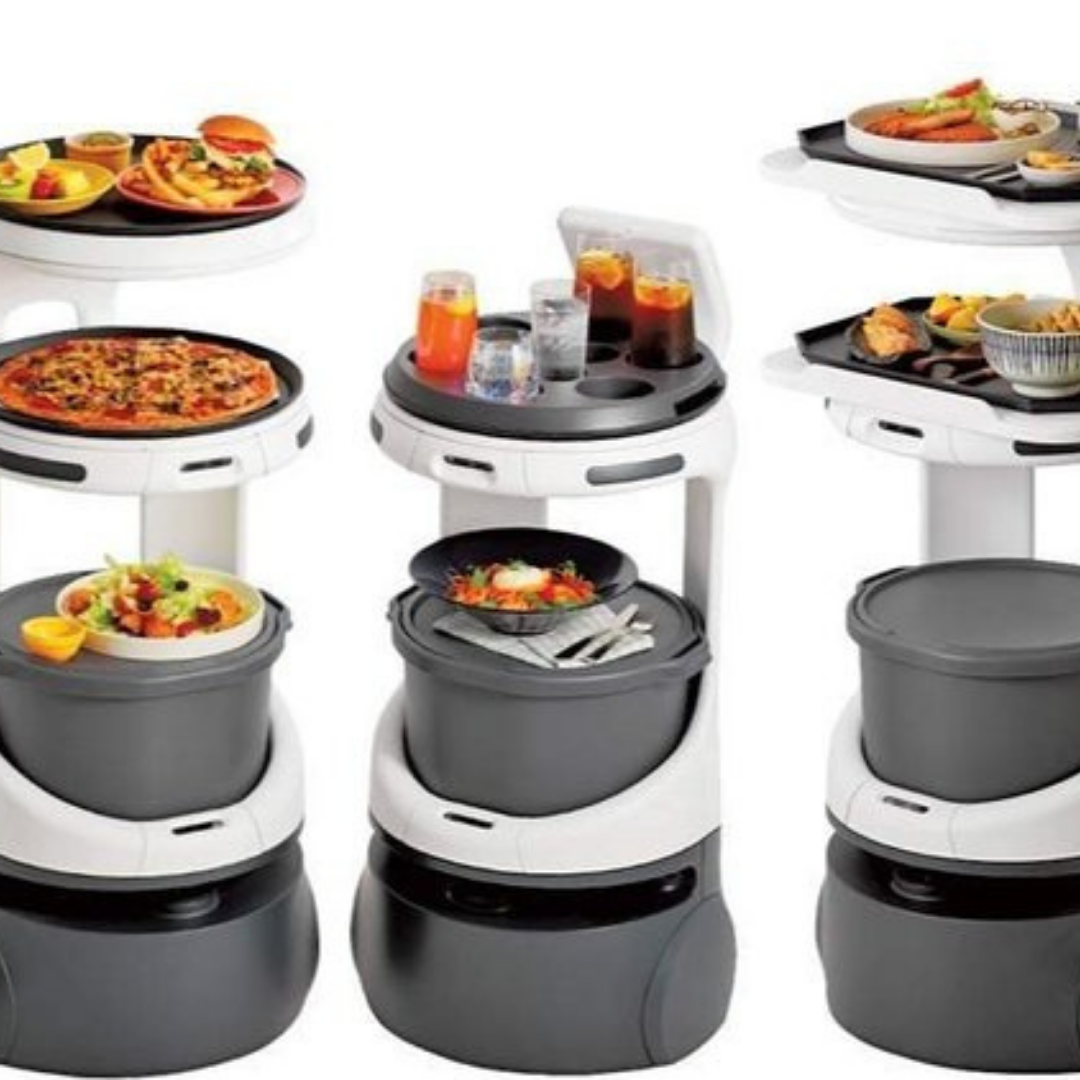 On average, most food service robots will cost around $1,215 per month. At Airpuria, you can lease Servi service robots for as low as $750 per month - making Airpuria the obvious choice for all of your food service robot needs. Contact Airpuria today to learn more about how Servi can improve the entire infrastructure of your restaurant!
What are the benefits of using Servi robots?
Servi robots are designed to make life easier for restaurant staff by handling tasks like taking transporting food and returning dirty dishes. Not only does this free up staff time for more important duties, but it also means more efficient service for guests. In fact, clients report that their wait times decreased by an average of 25% after implementing Servi robots in the business. Servi also offers a wide range of added features to help restaurants work smarter and faster.