Finding tranquility and better health with a proper sweat session is easier than ever with an at-home sauna. Airpuria is a company committed to delivering innovative and effective health and wellness products to individuals and businesses.
Our selection of indoor and outdoor saunas, which utilize infrared, traditional, and hybrid heating technologies, offers the perfect solution to transform your space into a tranquil sanctuary that enhances your mental and physical well-being daily.
Whether you wish to unwind after a long day, alleviate sore muscles, bond with loved ones, entertain guests, or relax in your spa environment, our luxurious saunas cater to all your needs.
Our team of experts is always available to assist you in every step of the process. To ensure that customers receive the highest level of service, Airpuria provides free shipping to 48 states, financing alternatives, and a price match guarantee.
Continue reading to learn more about the various amenities we offer and how to select the ideal sauna that suits your lifestyle, space, and budget.
Choosing the Right Sauna for You
Choosing the appropriate sauna for your home is a significant investment in your health and well-being. With the multitude of sauna types available, it can be challenging to determine the best one for your specific needs.
Airpuria offers saunas that cater to a variety of lifestyles and spaces, including infrared heat, traditional, and hybrid saunas.
Infrared Saunas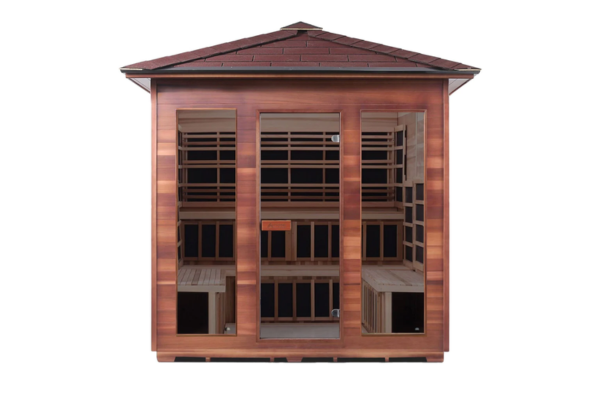 Each infrared sauna uses infrared heating panels to gently warm the body directly, allowing you to sweat and reap all the benefits at a lower temperature than a traditional steam sauna. The ambient air temperature generates typical heat ranges from 120-149°F at maximum temperature.
Some key benefits of infrared saunas include:
- More tolerable heat for those sensitive to high temperatures.
- Lower electricity costs since less power is needed to maintain lower temperatures and Saunas offered at Airpuria are well-insulated.
- Smaller footprint allowing infrared sauna to fit in more spaces.
- Optional chromotherapy lighting for complete relaxation.
- Infrared saunas offered by Airpuria can accommodate 1-2 or up to 8 people, making them a perfect home sauna.
Traditional Saunas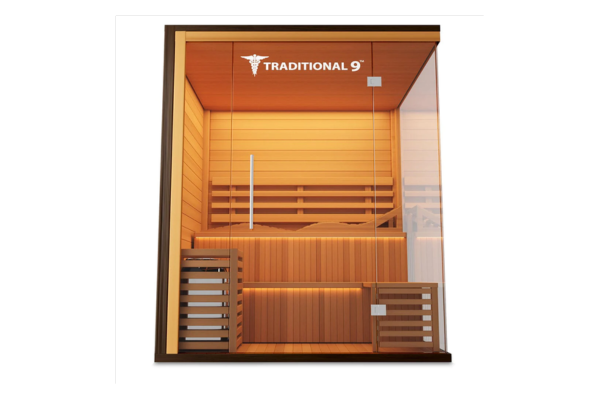 A traditional sauna uses dry heat created by an electric stove, with temperatures between 165-185°F. The maximum temperature induces an intense sweat in a shorter period.
Benefits of traditional saunas include:
- Traditional dry sauna experience with very high heat.
- Large capacity with options for up to 6 people.
- Long-lasting and durable construction.
- Customizable designs to match your style.
- A traditional dry sauna offered by Airpuria is always built to the highest quality.
Consider your needs, space, and the experience you want when deciding between a far infrared sauna or a traditional sauna. Our experts can also help you determine the best sauna for your home.
Hybrid Saunas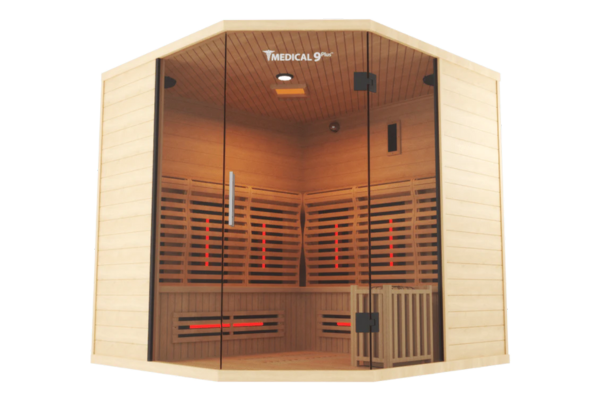 Hybrid saunas offered by Airpuria combine infrared heating panels and traditional heating technologies in one unit. This allows you to experience the benefits of both sauna types.
A Hybrid sauna uses traditional sauna heaters along with infrared emitters. The infrared helps heat the sauna faster, while the traditional elements provide intense dry heat.
Some key advantages of a hybrid sauna:
- Enjoy both infrared and traditional sauna benefits
- Faster warm-up time than a traditional sauna
- Reach higher temperatures than infrared sauna alone
- Energy-efficient and cost-effective operation
- Contemporary and visually appealing designs
With custom hybrid saunas, you don't have to choose between an infrared sauna or a traditional one. Get the best of both worlds with the latest in sauna technological advancements.
Different Places to Put Your Sauna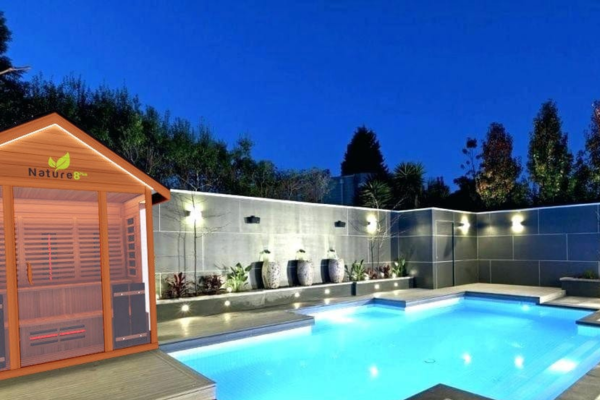 Bathroom - Many homes have space in a bathroom or master bath to integrate a sauna. This allows for convenience after showering. Ensure proper ventilation.
Patio/Outdoors - An outdoor sauna is a great way to unwind in nature. Add enhancements like sound systems. Requires weatherproofing.
Basement / Spare room - Dedicate a space for your sauna oasis. Customize the design and add enhancements.
Garage - Garages provide another convenient option for a private sauna experience at home. Allow time to heat up and ventilate.
Closet / Corner - A smaller infrared sauna can fit into tight spaces like closets or corners. Perfect for small homes.
Sauna Collections Offered By Airpuria
Airpuria offers premium sauna options from top brands to transform your home into a relaxing oasis.
Choose from three collections tailored to your needs:
Enlighten Saunas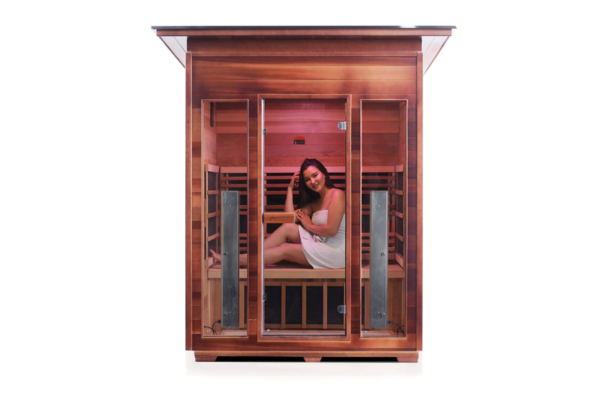 Custom crafted, high-quality traditional and infrared saunas, with options ranging from 1 to 8-person capacities in contemporary designs. An Enlighten sauna features red cedar wood, chromotherapy lighting, built-in sound systems, and more. Talk to Airpuria about Enlighten Sauna installations.
SunRay Saunas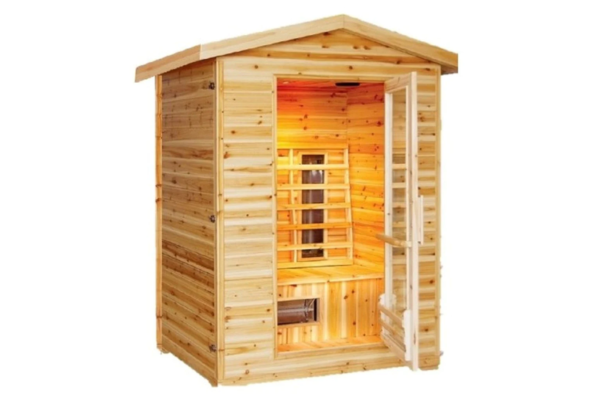 Affordable and durable traditional and infrared sauna made from eco-friendly hemlock. SunRay offers a portable indoor sauna with a capacity of 1-2 people, and up to four-person saunas.
Learn More About SunRay Saunas
Indoor Saunas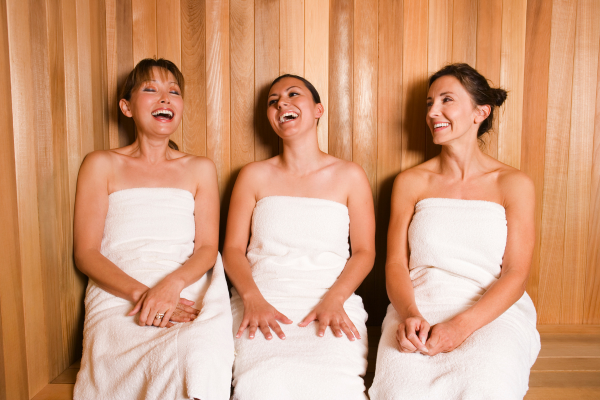 Browse our expansive selection of indoor home saunas across infrared, traditional, and hybrid heating styles. Leading sauna brands offer high-quality indoor saunas to match any decor. Capacities from 1-2 person up to 8-person traditional luxury saunas.
With an indoor or outdoor sauna from Airpuria, you can create a relaxing oasis tailored to your needs and budget. Contact our sauna experts to design and install your dream sauna sanctuary.
Learn More About Indoor Saunas
Indoor vs. Outdoor Saunas
Deciding between an indoor or outdoor home sauna depends on your climate, space, and preferences. Airpuria offers sauna solutions for any location.
Indoor Sauna Benefits and Considerations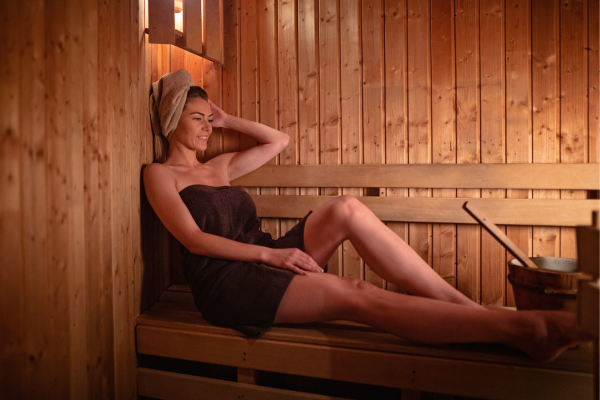 Benefits of an indoor sauna:
- Use your at-home sauna at any time, regardless of the weather.
- Keep your sauna private.
- Customize the design and features.
- Enhancements like built-in speakers, lighting, oxygen ionizer, and chromotherapy.
Consider sufficient ventilation and humidity control if installing a sauna indoors. Our experts can help design the ideal at-home saunas for indoor use.
Outdoor Sauna Benefits and Considerations
An Outdoor sauna offers the opportunity to relax while surrounded by fresh air and beautiful scenery.
Benefits of outdoor saunas:
- Enjoy the outdoors while sauna bathing.
- Install a larger capacity sauna.
- Ventilate naturally with fresh outdoor air.
- Add enhancements like outdoor stereo systems.
- Custom design and finishing options.
Consider sufficient insulation, durable weatherproof materials, and electric heating for reliable operation outdoors. Outdoor saunas may also require a cover in harsh weather climates.
An outdoor sauna can be enjoyed year-round, even in cold climates. Contact the sauna experts at Airpuria to discover the ideal outdoor sauna for your home.
Remember that sauna covers are available for harsher climates.
Financing Options to Fit Your Budget
For individuals who qualify, Airpuria offers 0% interest rates for up to 18 months. Business owners can also apply for special financing programs tailored to their needs. Explore these financing options through the following links:
Financing for individuals: https://www.7figures.app/Airpuria
Financing for businesses: https://reliantcapitalgrp.com/airpuria
Product Warranty
Three-year warranties are available for the saunas on our site. Visit our website or call us today for more information on warranties.
Home Sauna FAQ
What type of sauna is best for home?
For residential use, both infrared and hybrid saunas offer a highly effective experience without the need for excessively high temperatures. An infrared sauna, characterized by its compactness, affordability, and practicality, represents a particularly attractive option.
Alternatively, outdoor barrel saunas are ideally suited for those seeking a relaxing and immersive experience amidst natural surroundings.
We also offer environmentally friendly saunas that are both environmentally friendly and energy-efficient, constructed from planks of reforested Canadian hemlock wood.
Are home saunas worth it?
A home sauna can be a great investment for your health, relaxation, and entertainment if used properly. The infrared warmth penetrates deeply into the body to relieve muscle tension, improve circulation, and promote detoxification through sweating. Regular use has been linked to benefits like clearer skin, pain relief, weight loss support, reduced inflammation, and boosted immunity. Just be sure to stay hydrated and start with short 5-15 minute sessions. Work with a reputable authorized distributor like Airpuria when installing your sauna for optimal safety, quality, and functionality. Their experts can help you find the right sauna solution for your space and budget.
How much is a good home sauna?
The definition of a "good sauna" completely depends on the preferences of the individual. The pricing of home saunas varies depending on their size, design, and technological features. For instance, some options are available for less than $2000, while a luxurious built-in sauna with premium finishes may be over $10,000.
Our team of professionals can assist you in optimizing the value of your investment following your financial resources.
Are home saunas expensive to run?
Infrared home saunas are relatively energy efficient. A Traditional sauna requires more power to heat up but costs are still reasonable. Compare costs vs. gym fees or spa visits to maximize value.
Are personal saunas good for you?
Yes, research studies have shown health and wellness benefits from using infrared and traditional saunas. Regular sauna therapy promotes muscle relaxation, mental clarity, pain relief, skin purification, detoxification, lower blood pressure, immunity boosting, injury recovery, and more. Just be sure to stay hydrated before and after use and start with short 5-15 sessions slowly building up to 20-30 minutes max as your body adjusts. An infrared sauna designed for 1-2 people represents an excellent option for safe at-home sauna therapy.
Is there a personal sauna?
Absolutely - an infrared sauna designed specifically for individual use provides a compact and affordable option to enjoy sauna benefits at home. These small 1-2 person infrared saunas deliver targeted infrared warmth that penetrates deeply into the body. They are controlled digitally for personalized comfort and feature low EMF emissions for safe regular use. Reputable authorized distributors like Airpuria offer high-quality low-EMF infrared saunas custom-designed for convenient in-home daily use by individuals or couples.
Is it safe to have a sauna in your house?
Yes, with proper installation and safety precautions, a home sauna can be completely safe. Be sure to work with qualified professionals and follow all manufacturer guidelines for electrical, ventilation, construction, and usage. Airpuria ensures that we only offer saunas that are optimally designed and built for safe residential use. Their experts can consult about the best placement and installation for your space. Maintain your sauna properly and use caution when entering and exiting. With the right sauna and smart usage, you can safely unlock all the wellness benefits a home sauna has to offer.
Airpuria: Leaders in Home Wellness
Airpuria is dedicated to transforming homes into personal sanctuaries of health, relaxation, and well-being through innovative wellness products. Their team of experts provides personalized guidance to find the perfect sauna, air purifier, massage chair, and other products to meet your needs and budget. Airpuria is committed to delivering an unmatched customer experience and optimizing the safety, quality, value, and enjoyment of your home wellness investment.
Contact Airpuria Today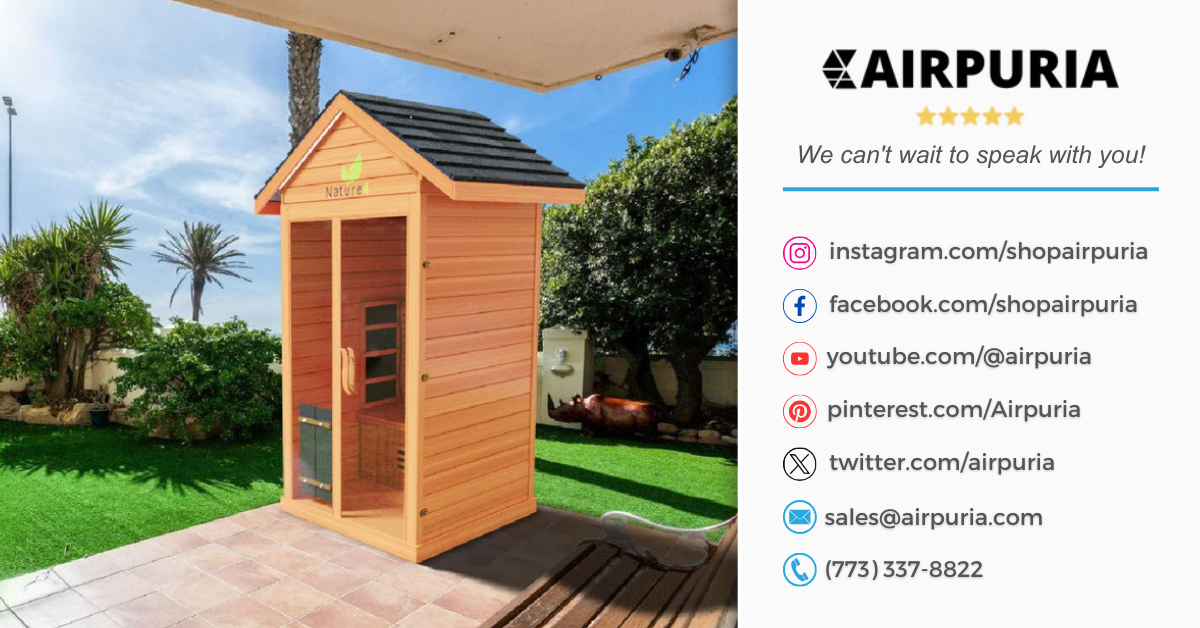 Investing in a sauna with Airpuria offers a convenient means of incorporating wellness into your residential or commercial space.
Our team of professionals is available to assist you in selecting the optimal sauna for your residence. We invite you to contact us at your earliest convenience.
Reach out today to get started:
Phone: 773.337.8822
Email: support@airpuria.com
Website: https://airpuria.com/
Live Chat: Available on our website during business hours
We can't wait to speak with you!