Investing in a home sauna can provide incredible health and wellness benefits. With regular sauna use, you can relieve stress, relax muscles, improve cardiovascular health, remove toxins, and boost overall well-being. However, with different types of saunas to choose from, it's important to select the right one for your needs. This home sauna buying guide covers the key questions we should be asking when choosing an indoor or outdoor sauna for your home.
How Many People Should Your Sauna Fit?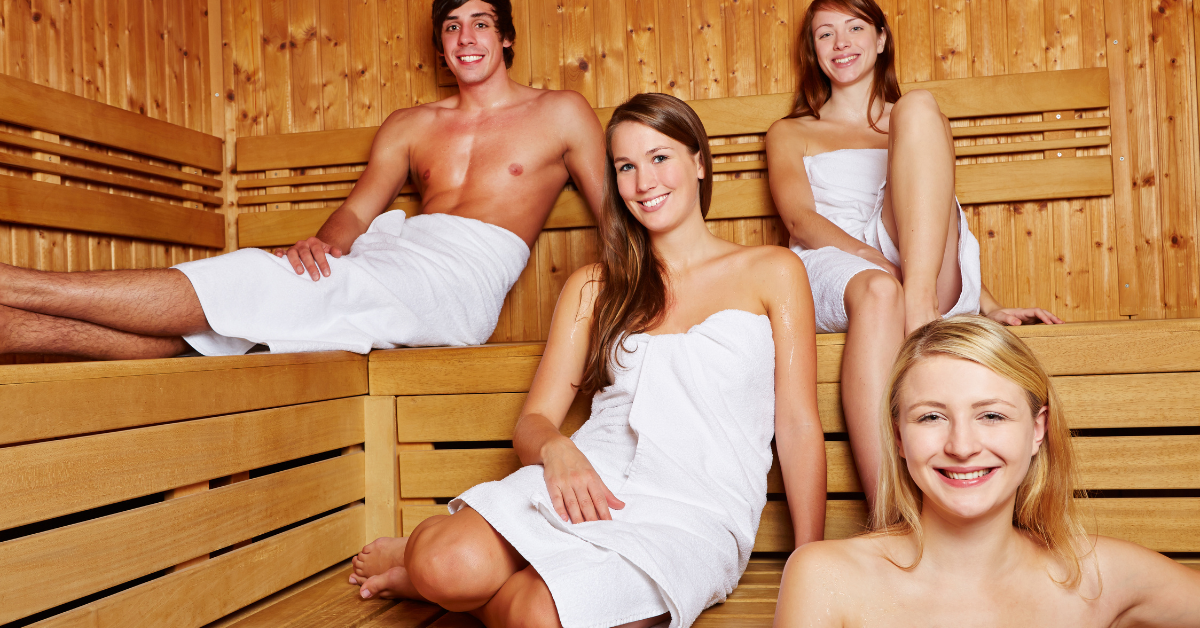 One of the most important considerations when buying a home sauna is making sure to get one that fits the number of people who will be using it. You want to make sure everyone can sit comfortably and enjoy the sauna experience. Here are some tips on selecting the right size:
For 1 Person – A one-person sauna is great for individuals who will be mainly using the sauna alone as part of their self-care routine. Opt for a compact size with a single bench seat.

For a Couple – Select a sauna made for two people so you and your partner can relax together. Having two bench seats allows you to sit facing each other.

For a Small Family – For a family of 3-4, look for a sauna sized for 4 people or more. This gives kids and teens space to bring a friend while allowing parents to use it too.

For Large Groups – If you want a sauna for gatherings with 5+ people, choose a large 6-8 person size. This allows the entire group to de-stress together after a long day.

For Fitness Centers – Get a commercial 8+ person sauna to accommodate members and classes. Go even bigger for up to 9 people so the whole yoga group can wind down.
No matter who will be using your new sauna, be sure to get one properly sized to fit everyone comfortably. Our sauna specialists can help you determine the right capacity sauna for your needs.
[INSERT QUESTIONNAIRE FORM FIELD]
What Type of Sauna Are You Looking For?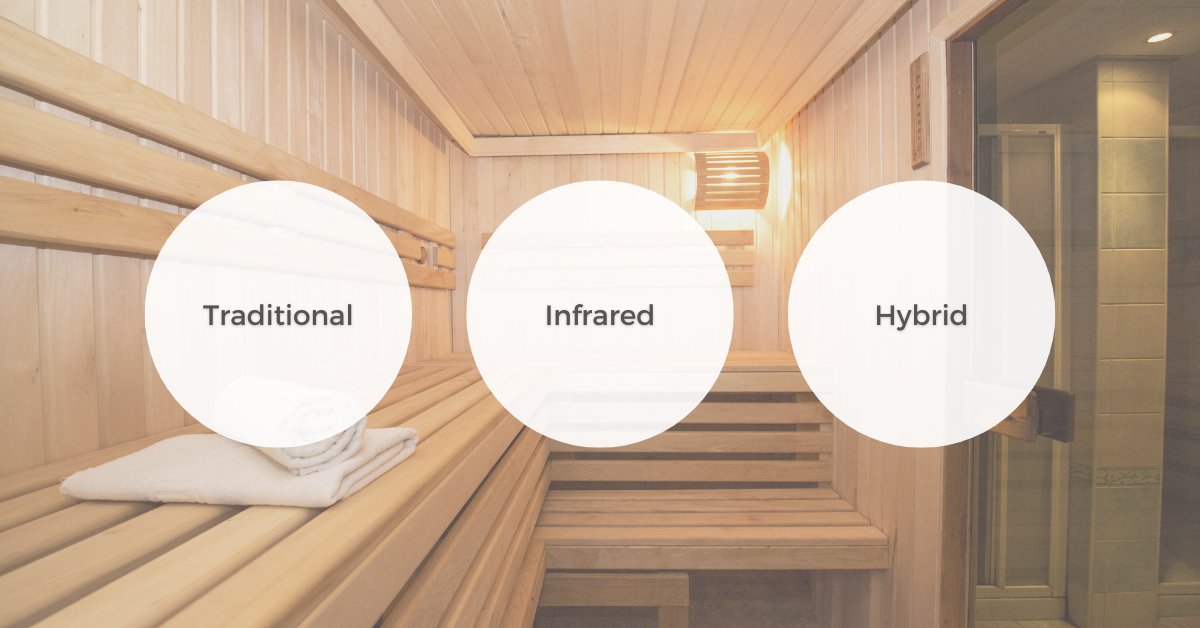 The first decision to make when buying a home sauna is whether you want a traditional sauna or an infrared sauna. Here is an overview of the differences:
Traditional Saunas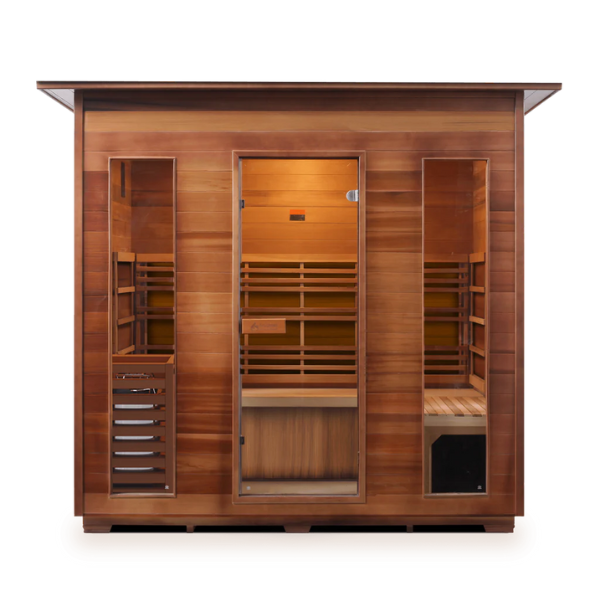 Traditional saunas, also known as Finnish saunas, use heat from hot rocks to warm the air. An electric sauna heater heats up stones, then as water is poured over the stones, steam is produced to create a hot, humid environment. The temperature in a traditional sauna typically ranges from 150 to 185°F.
Benefits of traditional saunas include:
The ability to control temperature and humidity levels by pouring different amounts of water over the rocks

Provides a deeply relaxing and rejuvenating experience

Offers high heat therapy known to provide health benefits
At Airpuria, our traditional saunas use advanced electric carbon heaters to deliver consistent, clean heat without the hassle of wood-burning stoves.
Infrared Saunas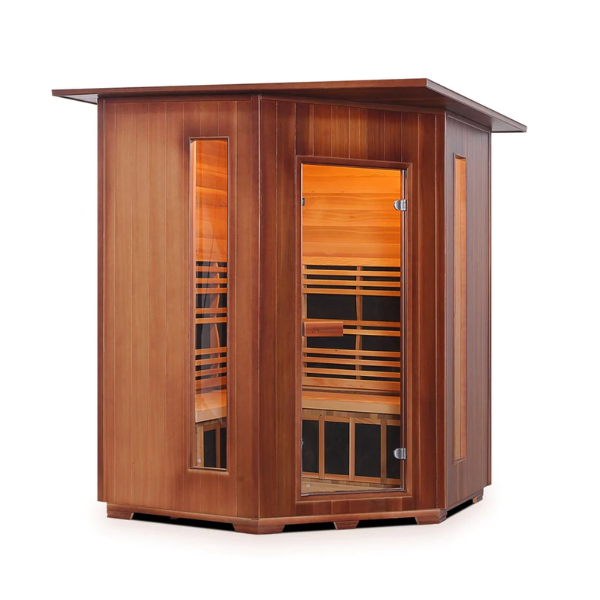 Infrared saunas use infrared heaters to produce infrared waves that are absorbed by the body, heating you from the inside out. The temperatures are lower than traditional saunas, usually ranging from 100 to 150°F.
Benefits of infrared saunas include:
Lower operating costs since less energy is required to heat the sauna

Reach therapeutic temperatures faster than traditional saunas

Provide targeted relief by penetrating deep into joints and tissues

Emit no harmful EMFs thanks to advanced low EMF/ELF infrared heater technology
Airpuria offers premium low EMF/ELF infrared saunas made with quality Canadian Hemlock wood for a soothing sauna experience.
Hybrid Saunas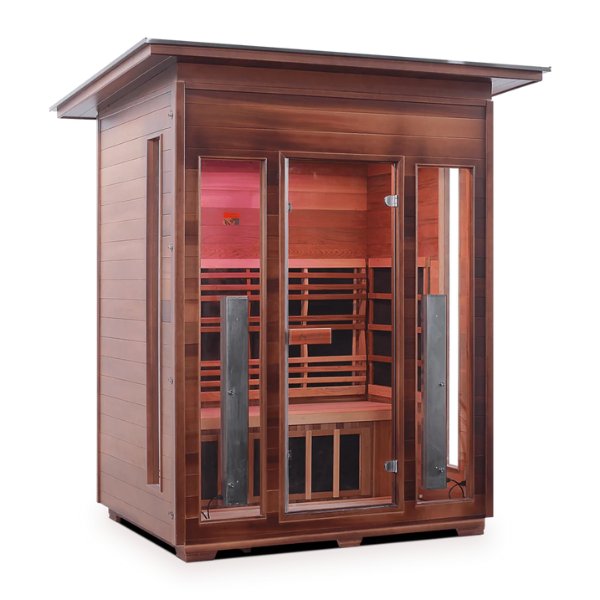 For the best of both worlds, hybrid saunas combine traditional and infrared heating technologies in one sauna. This allows you to experience intense dry heat as well as gentler infrared warmth.
At Airpuria, our hybrid saunas feature traditional heaters paired with our exclusive infrared heating system to provide total comfort and maximum health benefits.
Select your preferred sauna type:
[INSERT QUESTIONNAIRE FORM FIELD]
Do You Want an Indoor or Outdoor Sauna?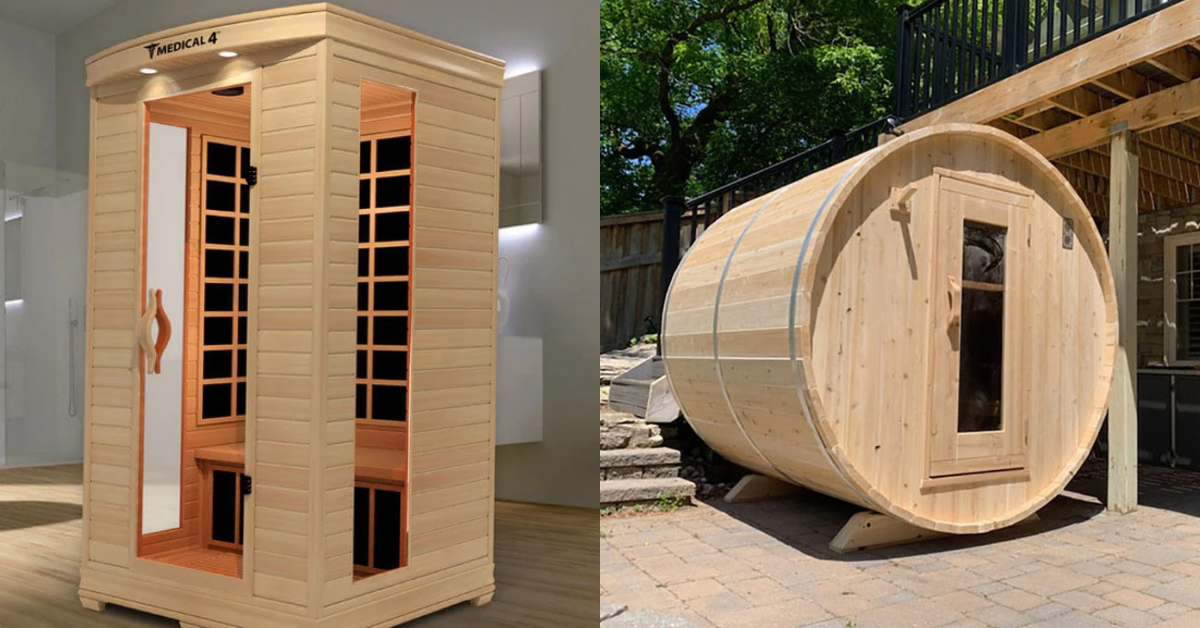 The next choice is whether you want an indoor or outdoor sauna. At Airpuria, we offer premium indoor and outdoor saunas to suit any preference. Here are some factors to help decide:
Considerations for Indoor vs. Outdoor
Indoor Sauna Benefits:
More privacy

Protected from weather

Easier to access year-round

Keeps backyard free for other uses

Safer for small children
Outdoor Sauna Benefits:
Brings the tranquility of nature into your sauna experience

Frees up indoor space

Ambient ventilation and fresh air

Inviting focal point for your backyard

Fun sauna parties and gatherings
Indoor or Outdoor Sauna?
Decide whether you want your new sauna located inside or outside your home based on space, privacy, aesthetics, and how you plan to use it. An indoor sauna offers year-round convenience and protection from the elements while an outdoor sauna immerses you in nature.
Select indoor or outdoor:
[INSERT QUESTIONNAIRE FORM FIELD]
For versatile installation, consider a custom sauna sized to fit your existing closet space or craft room. Our sauna specialists can help create the perfect custom sauna design for your indoor or outdoor setting.
Selecting an Outdoor Sauna Style
If you choose an outdoor sauna, the next step is picking a style. At Airpuria, our outdoor saunas are crafted from quality weather-resistant wood and available in these popular styles:
Slope Roof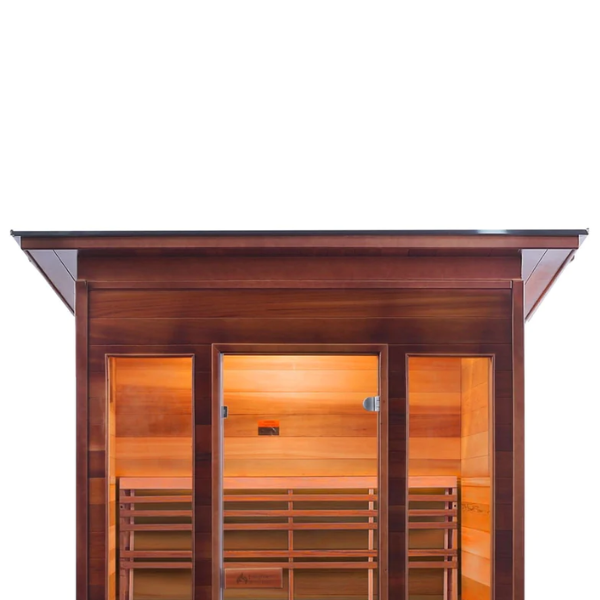 Slope roof saunas feature an angled roofline that adds stylistic interest to your backyard. The sloped shape also makes snow slide off easily in winter.
Peak Roof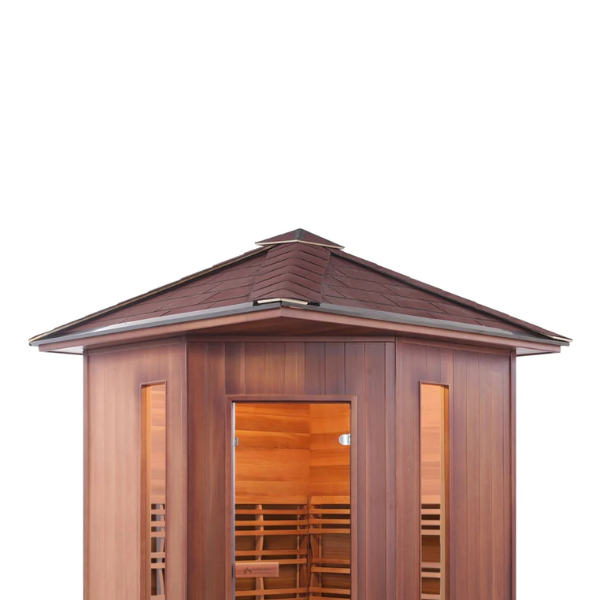 Peak roof saunas have a triangular roof shape resembling a small cabin or cottage. The charming peak roof gives a quaint, countryside look.
Barrel Sauna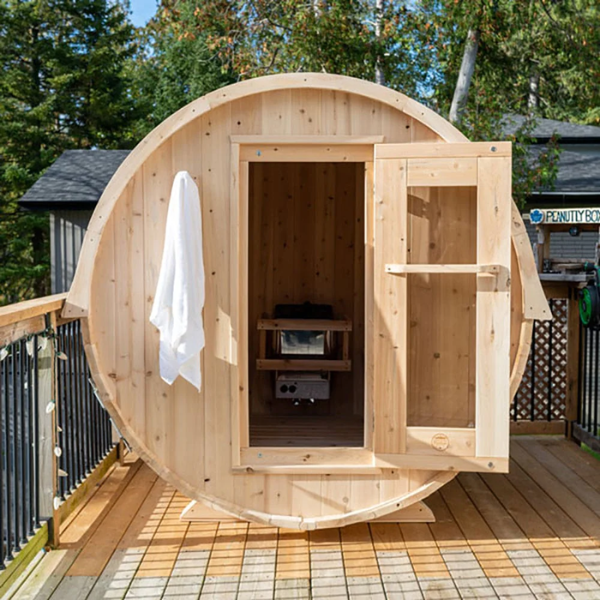 Barrel saunas are rounded with a tunnel-like design. Their curved shape provides a unique look and spacious feel. Barrel saunas are extremely durable and hold heat well.
If you want an outdoor sauna, would you like a slope roof, peak roof, or barrel sauna?
Select your preferred outdoor sauna style:
[INSERT QUESTIONNAIRE FORM FIELD]
The shape and roof design of your new outdoor sauna should match your backyard environment. A barrel sauna is ideal for a rustic, natural landscape while a peak roof sauna complements traditional homes. For contemporary spaces, a slope roof adds modern flair.
Whatever your style, an Airpuria outdoor sauna crafted from resilient woods like Western red cedar or Nordic spruce will enhance your backyard and become a wellness sanctuary for years to come.
Customizing the Glass vs. Wood Ratio
The mixture of glass and wood you choose impacts the look, feel, and privacy of your sauna. Consider these options:
All Glass
An all-glass sauna provides a contemporary, minimalist look with maximum views and an open feel. Floor-to-ceiling glass walls make the sauna seamlessly blend into your surroundings.
Glass & Wood
Combining glass walls with wood accents gives you both transparency and privacy. The wood adds warmth while the glass allows you to still enjoy views from the sauna.
Mainly Wood
Primarily wood construction offers a traditional, enclosed sauna experience. Hardwood lining the interior provides soothing warmth with small glass accents to allow in natural light.
Would you like your sauna to have more glass or more wood?
Decide on the right mix of glass walls vs. wood construction for your needs:
[INSERT QUESTIONNAIRE FORM FIELD]
An all-glass sauna provides an open, airy interior while mainly wood lends a cozy, sheltered feel. At Airpuria, we use premium safety glass along with your choice of quality wood types like Western red cedar, hemlock, or Nordic spruce. Choose the ideal ratio of glass to wood for the sauna design you envision.
Providing Price Range and Size Parameters
To match you with the perfect sauna option, please provide:
Price Range
Enter your budget or price range for your new sauna:
[INSERT QUESTIONNAIRE FORM FIELD]
We offer saunas to fit every budget. Share your ideal price point and we'll recommend affordable options that match.
Size of Space for Sauna (sq. ft.)
Specify the dimensions of the area where you plan to install the sauna:
[INSERT QUESTIONNAIRE FORM FIELD]
Providing the exact size of your available sauna space allows us to recommend the appropriately sized sauna model to perfectly fit the area. We can also explore custom sauna sizes tailored to your unique space.
Interested in a Custom Sauna?
For a sauna that meets your exact specifications, consider having us custom-build your sauna.
Would you be interested in a custom sauna?
Let us know if you would like pricing and details on a fully custom sauna design just for you:
[INSERT QUESTIONNAIRE FORM FIELD]
A custom sauna allows you to select special features and customize each detail - size, layout, wood type, accessories, and more. Our sauna design experts can make your dream sauna a reality.
Get Personalized Recommendations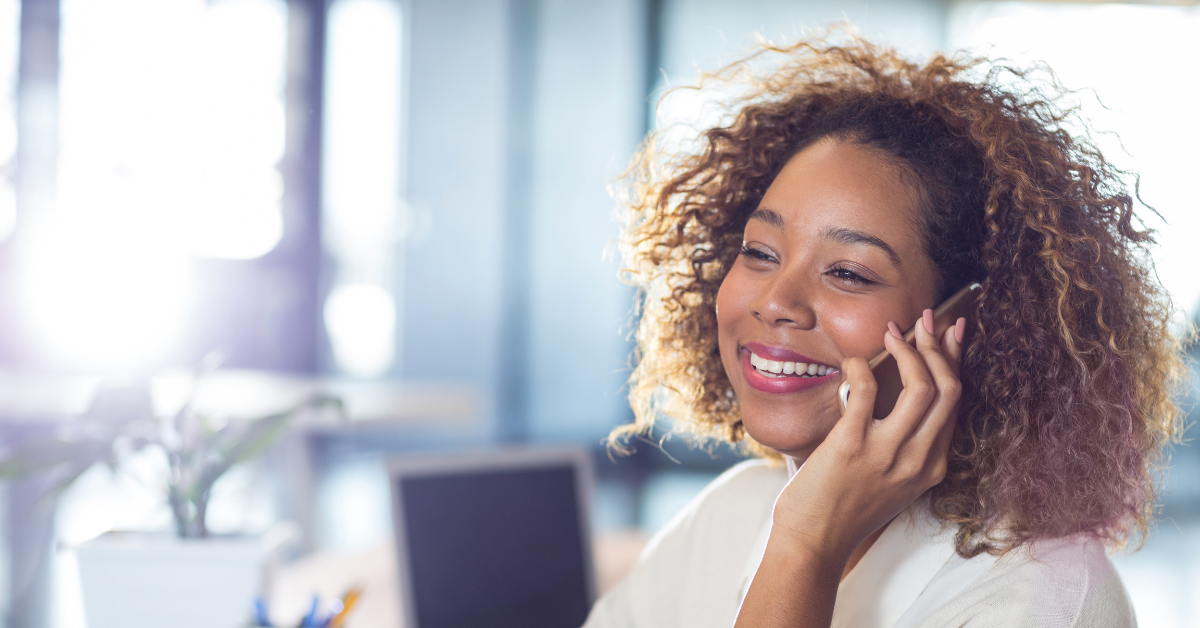 Now that you've completed the sauna questionnaire, it's time to find your ideal sauna match!
Submit your sauna questionnaire and our team will follow up shortly with recommendations and available discounts on the perfect sauna for your needs and budget. Let us guide you to the health, relaxation, and beauty a new home sauna provides.
To take the first step towards your new sauna today, contact us at:
Phone: 773.337.8822
Email: sales@airpuria.com
We look forward to helping you discover the perfect sauna for your home wellness retreat!
Frequently Asked Questions
What are the main health benefits of using a sauna?
Regular sauna use provides many science-backed health benefits. These include:
Improved cardiovascular health and circulation

Reduced inflammation and relief of muscle and joint pain

Removal of toxins through induced sweating

Enhanced immune system function

Decreased stress levels and improved relaxation
The combination of heat therapy, circulation boost, and detoxification make saunas excellent for overall well-being.
How often should you use a sauna for maximum benefits?
For optimal results, aim to use your infrared or traditional sauna 2-3 times per week for 10-20 minutes per session. Frequency is key to gaining the full benefits, so regular sauna sessions are ideal. Be sure to drink plenty of water before and after use.
What precautions should you take when using a sauna?
Stay safe in your home sauna by following these precautions:
Remain hydrated before, during, and after use

Start with shorter sessions at lower temps and gradually increase over time

Avoid alcohol before sauna use

Check with your doctor if you have any health conditions

Closely supervise children at all times

Never sleep inside the sauna when it's on
How much do home saunas cost?
Sauna prices vary based on size, design, construction materials, heating technology, and additional features. Budget-friendly options start around $2,000 while high-end luxury saunas with custom designs can cost over $10,000. At Airpuria, we offer saunas across all price points to meet your needs and budget. Click here to find out more: https://airpuria.com/collections/saunas
Should I choose an indoor or outdoor sauna?
Consider your climate, available space, and how you plan to use the sauna. Indoor saunas provide year-round access with maximum privacy. Outdoor saunas let you relax surrounded by fresh air and nature. You can also get quotes for both so you can compare costs. Our sauna specialists are happy to help you decide.
Do you offer financing options for sauna purchases?
Yes, we provide financing options for qualified buyers to help make your sauna purchase more affordable. Our financing partners offer competitive rates and flexible terms. Depending on credit approval, 0% interest financing is available for up to 18 months. Learn more about our financing options here.
How long does it take for a sauna to heat up?
Traditional saunas generally take 30-45 minutes to reach optimal temperature. The rocks need time to thoroughly heat up to maintain the proper moisture level when water is poured over them.
Infrared saunas heat up more quickly, usually around 10-15 minutes, since they raise the temperature of your body directly rather than heating the entire space.
What temperature should you set a sauna to?
A traditional sauna is typically set between 150-185°F. Infrared saunas don't need as much heat to be effective, so the optimal temperature is about 120-130°F. Start low and work your way up to find your comfort zone. The goal is to induce light sweating without overheating.
How much electricity does a home sauna use?
Saunas require up to 220-volt outlets. Energy costs vary by sauna size, frequency/duration of use, and if you have an infrared or traditional sauna. For example, a 4-person traditional sauna costs $0.75-$1 per hour used. A 2-person infrared sauna may use only $0.30-$0.50 per hour. Using an outdoor sauna can also conserve indoor heating/cooling costs.
See Our Sauna Sizes: 1-9
Ready to discuss your new sauna? Reach out today!
Phone: 773.337.8822
Email: sales@airpuria.com
Our sauna experts are here to guide you to the perfect wellness-boosting sauna for your home. Contact us now to get started!
Affordable Financing Options for Your New Sauna
Purchasing a sauna is an investment in your health and well-being that will pay dividends for years to come. That's why Airpuria offers flexible financing solutions to help make your sauna more affordable.
For qualified buyers, we provide:
0% APR financing for up to 18 months, allowing you to pay off your sauna over time interest-free

Extended-term financing up to 84 months with competitive rates

Special financing programs for military members and first responders

Business financing options for gyms, spas, and other wellness facilities

Easy online applications and fast approvals
To learn more and apply for sauna financing, visit:
Investing in a sauna is an investment in your health. With our financing solutions, you can experience the benefits of sauna therapy on your own terms and budget. Contact us today to explore your options!