Alorair Cleanshield Hepa 550 Air Scrubber With Filter Change Light And Variable Speed - CleanShield HEPA 550
Share
Regular price

Price:

$497.00

Regular price

List Price: $777.00

Sale price

Price:

$497.00

You save:

$280.00 (36%)

Unit price

per
CleanShield HEPA 550-Yellow
CleanShield HEPA 550-Yellow
FINANCING AVAILABLE

Airpuria is excited to announce that we have financing options available for all customers.

If you have any questions please contact the Airpuria Team. Call: 773-337-8822 or email us at support@airpuria.com.
The AlorAir CleanShield  HEPA 550 air scrubber, with the smallest and lightest design, is unbeatable compared with other brands in removing airborne miscellaneous debris at 0.3 microns in size including pollen, plant spores, mold spores, pet dander.
Pre-filter, HEPA filter, and activated carbon filter are all adopted in the CleanShield 550. The CleanShield  HEPA 550  is absolutely powerful in cleaning contaminated air with pre-filter and activated carbon filter capturing larger particles and the HEPA filter drawing in smaller particles.

CleanShield  HEPA 550 is capable of cleaning air horizontally and vertically with electricity consumption no more than 3 amps. CleanShield  HEPA 550  can produces 550 CFM airflow volume at its peak, which virtually adsorbs all hazardous particles from the air.

During restoration work and drying after water damage, the driving airflow can stir up particulates and particles adhering to the carpet or other materials. Then those dirty particles can be filtrated by the device with the of clean, odor-free air.

FEATURES 
Weighs 6.0 lbs less than competitive units
Size 2 in" Smaller than competitive units
More Effective than competitive units
Less than 3.0 amps on High Speed
Power-on indicator light
Filter change light
GFCI protection promotes operator safety in wet applications
25 ft AC cord with cord management
Units interlock for ease of stacking during storage and handling
550 CFM on the highest setting
Maintenance-free Bearing Motor
Rotomolded polyethylene Housing

EASY MAINTENANCE
Filter Change Light indicates restricted airflow, easy maintenance and toolless filter changes.
This HEPA/Activated Carbon Filter is designed for use in the AlorAir CleanShield HEPA 550 Air Scrubber. Removable black cover for isolation of G3 Filter and HEPA/Activated Carbon Filter.

CONTROL PANEL
GFCI outlet allows daisy-chaining. The control panel is that there are some unique features.
Switch, On-Off-On

Variable Speed Control

Auxiliary Outlet GFCI

HEPA Filter Change light

Circuit Breaker
Use this rigid, reinforced ducting on theinlet and outlet of your air scrubber to prevent suction-induced collapse. It's also a great accessory for jobs where you need to route ducting around a bend or corner – where lay flat ducting could kink and result in reduced airflow. (Sold separately.)

SPECIFICATIONS
Power 3 amps, 115V, 60 Hz
Duct sizes inlet Intake: 12 in.
Duct sizes Outlet Intake: 8 in.
Cord 25 ft Power Cord
Outlet 15A UL Rated GFCI Duplex Receptacle
Static pressure 2.8 in. (H2O)
Air flow 270~550CFM
Sound Pressure Level <69DBA
MERV-8 Filter
HEPA/Activated Carbon Filter
Weight: 39.6Ibs(18.0KG)
Shipping Dim(W × H 

× 

D) 25" 

× 

23.5" 

× 

16.5"

KEY DESIGN FEATURES
Indicates when primary (HEPA) filter needs to be changed
Plug up to three units together for a total of 1650 CFM on one 15 amp circuit
Size 2 in" Smaller than competitive units
Weighs 6.0 lbs less than competitive units
More Effective than competitive units
Long-life Maintenance free Bearing Motor
Low noise, quiet operation
Both Inlet and outlet can be ducted

APPLICATION
CleanShield  HEPA 550, a versatile air scrubber and negative air machine that can effectively complete your water damage restoration tasks, mold remediation works, fire damage restoration, dust control, odor control and sewage remediation.
Water Damage
In a standard Category 1 water damage situation, place the CleanShield  HEPA 550  in the middle of the affected area. Airmovers can stir up particles into the air. The HEPA 550 can reduce particle levels by filtering the air in the restoration process.
Mold Remediation
In most cases, the remediation process requires the affected area to be well sealed. Space sealing prevents the spread of mold spores and dust. Professionals with specialized remediation techniques use the CleanShield  HEPA 550  can bring about a striking effect of air cleaning.
Formally trained remediation professionals
Run the CleanShield  HEPA 550  as a negative air machine without interruption for the duration of every remediation job. The 550 HEPA can filter up to 99.96% of particles with 0.3 microns or larger size, such as mold spores and fungi.
Manifold Filters
Besides the standard prefilter and HEPA filter, CleanShield  HEPA 550 also equipped with activated carbon filter which is able to capture a wide variety of volatile organic compounds (VOCs), including soot and smoke, food odors, fumes from paint and paint thinners, sewer odors, and many other compounds. Individually wrapped filters with pellets ensure the maximum airflow and maximum contact while minimizing filter dust
---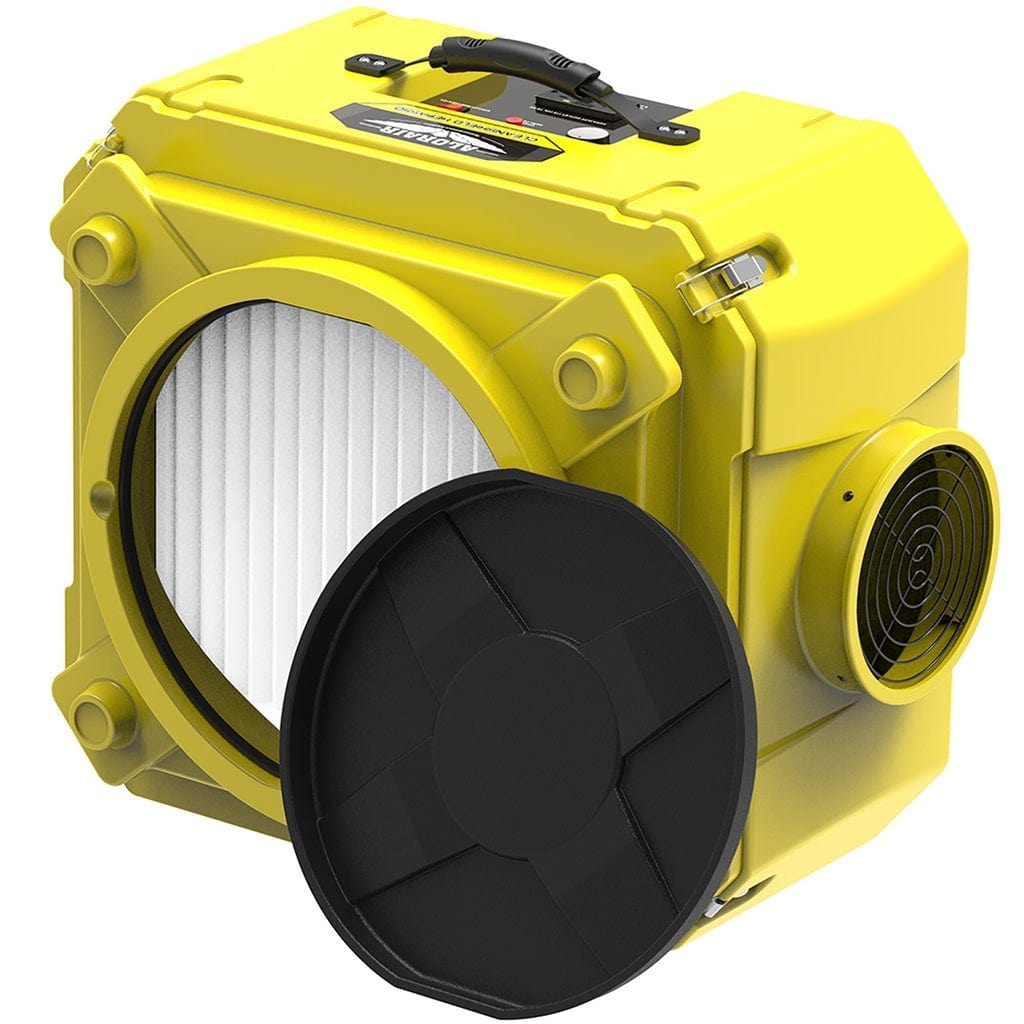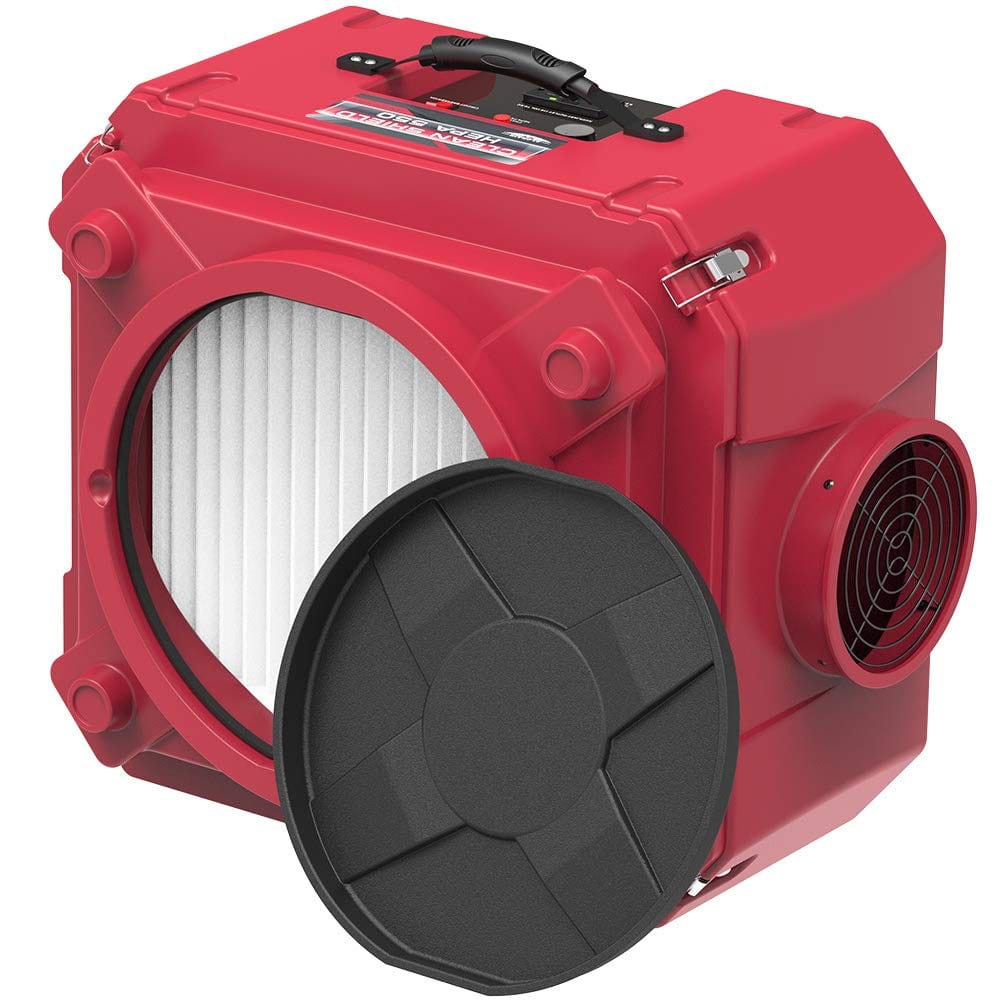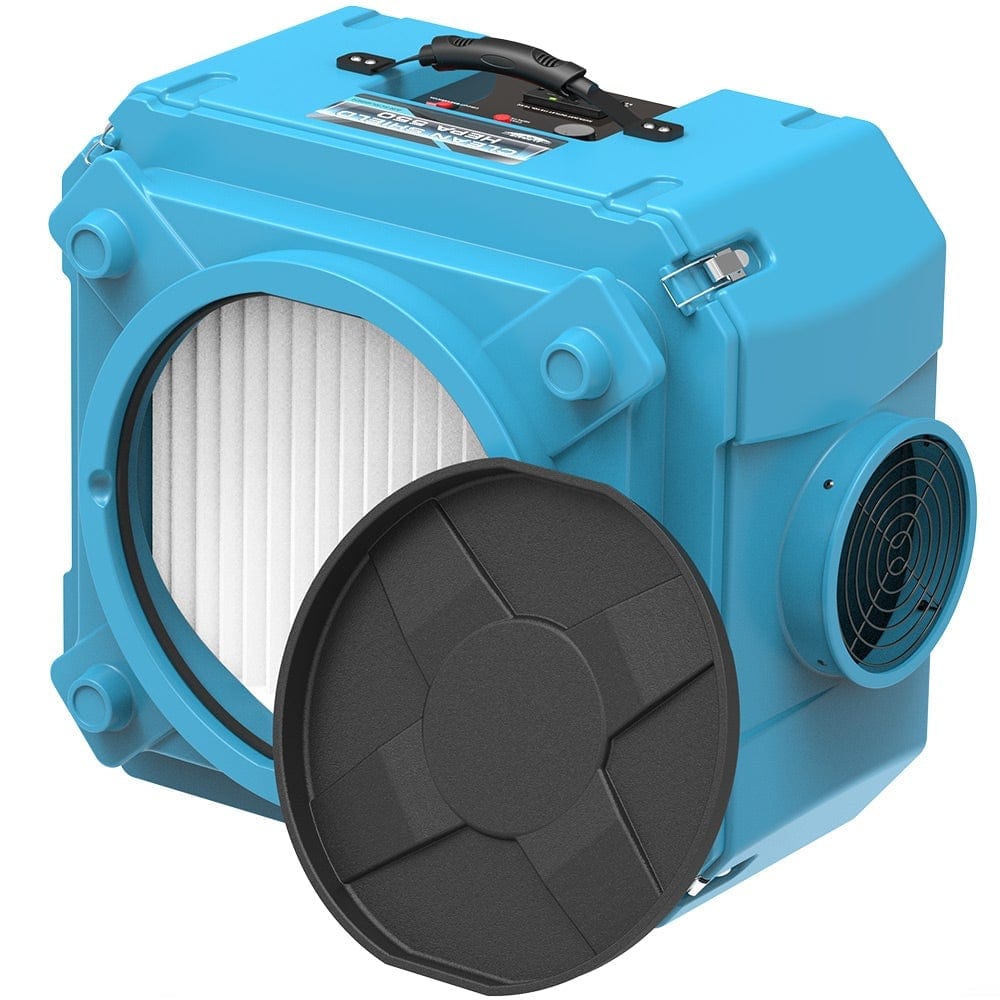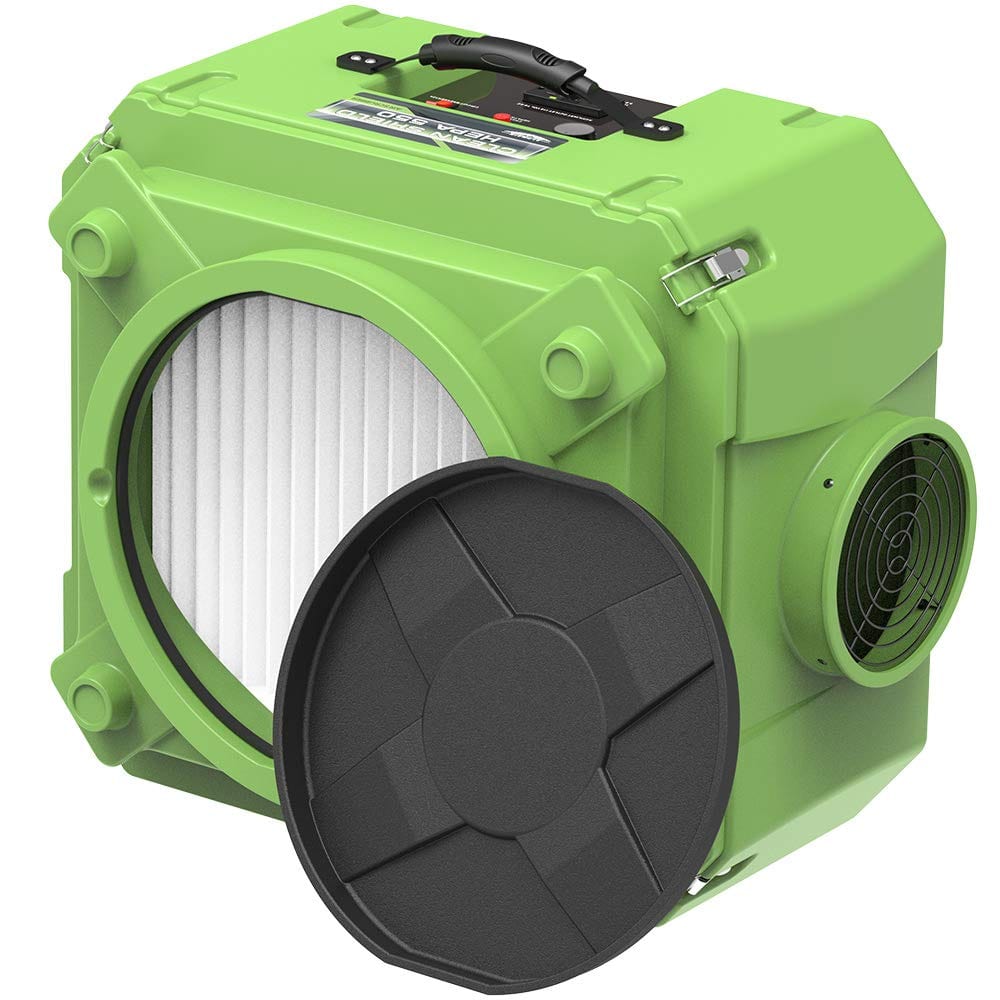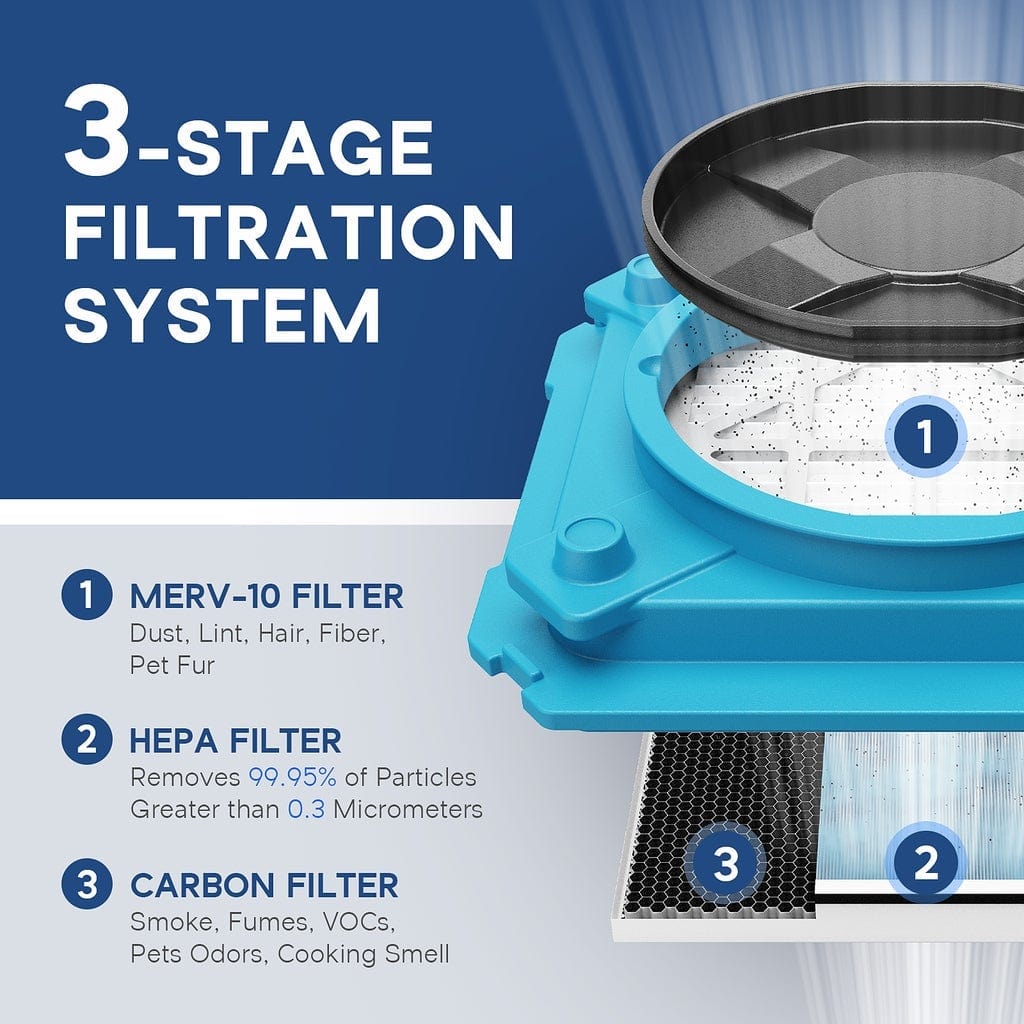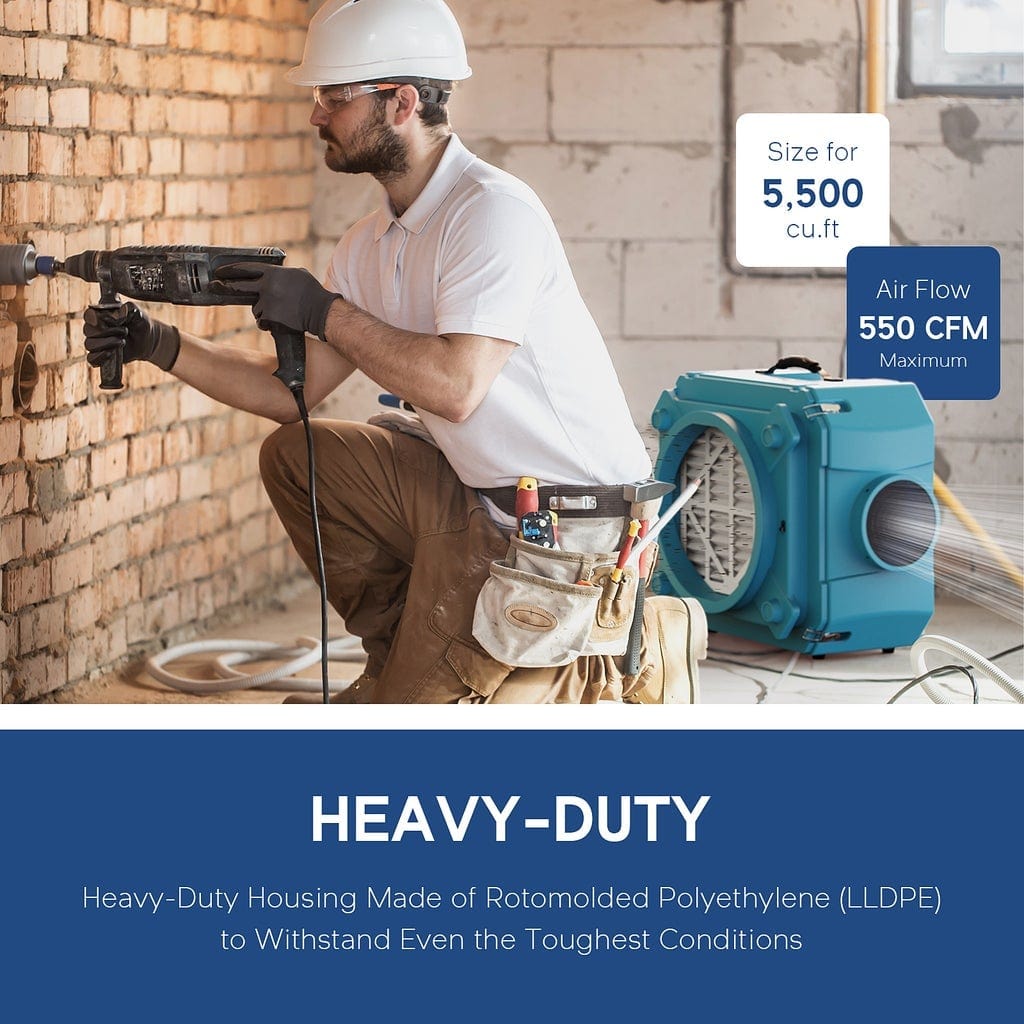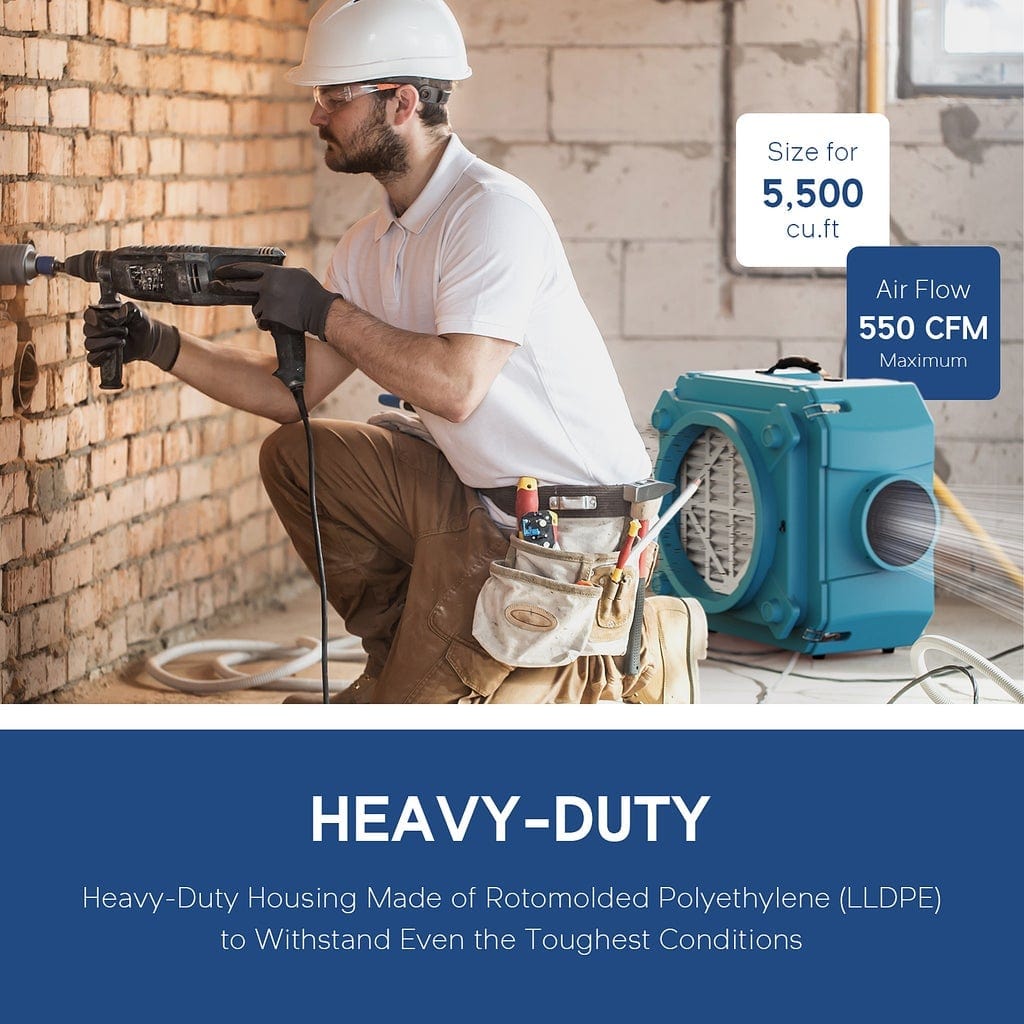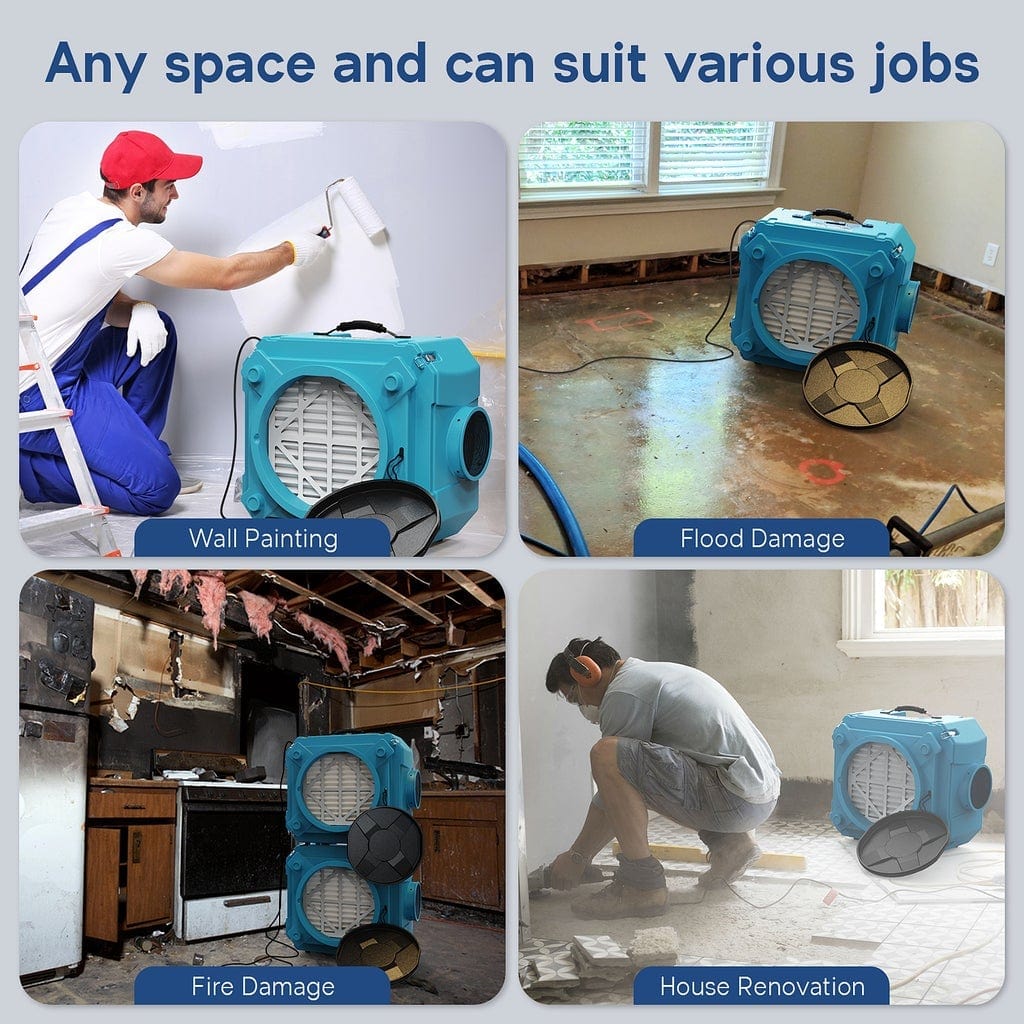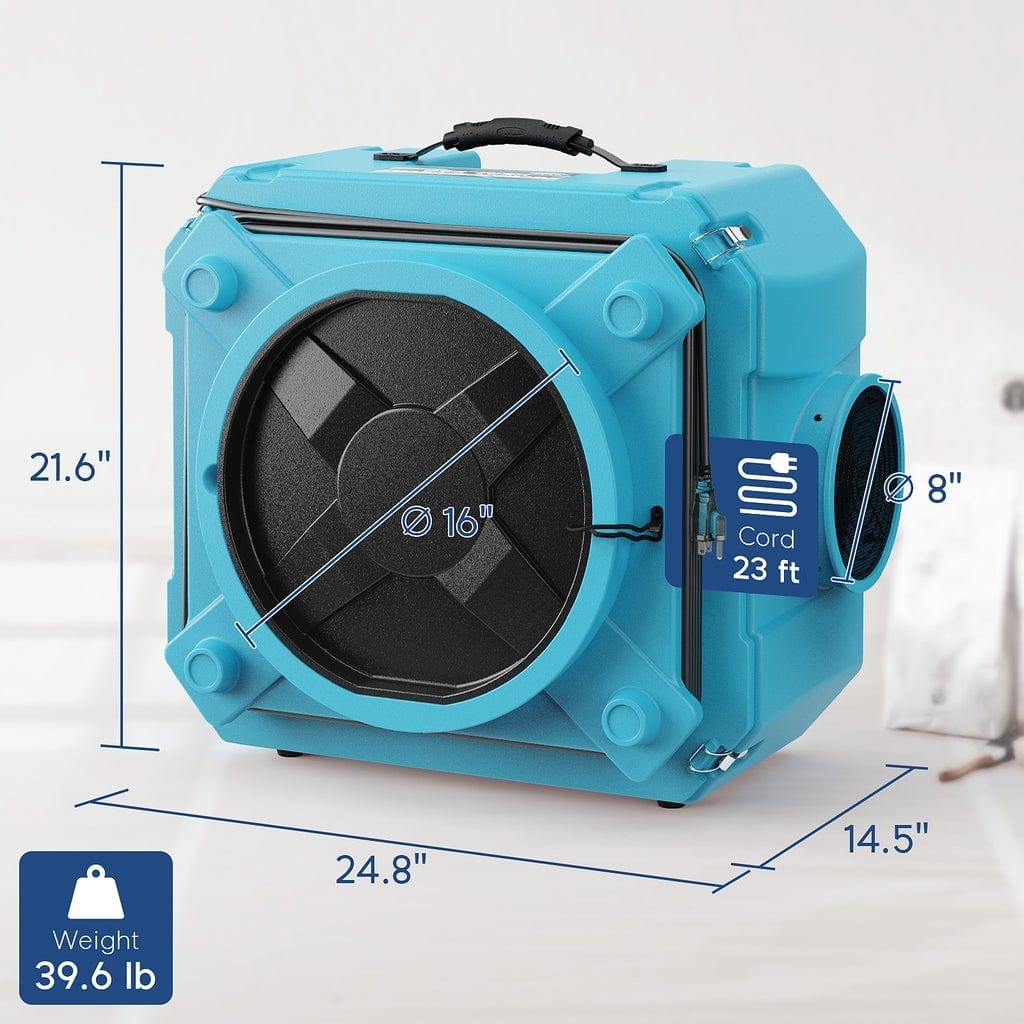 VERY EFFECTIVE IN CLEANING THE AIR
I bought this to control the smell and dust in the cat box. It's really well done. Of course, there are realistic expectations, but the device can indeed achieve its claimed function. Since I bought it, I have never smelled the cat box smell from the laundry room. If you want to quickly eliminate odors, this device is your choice. recommend.
HIGHLY RECOMMENDED
We have one of these air scrubbers in our office, and the quality has left me so impressed that I bought one for my own house. I have other brands that work well, but they have never been so good.
BEST ONE I'VE TRIED
I like this air scrubber. It has a sleek and modern appearance, is very quiet, and the filtering effect is better than anything I have seen. It greatly reduces the amount of dust, which is not only amazing for air quality, but now I don't have to clean that much. I am so glad I got this, the difference in air quality is significantly better, my room smells better, and my sinuses are clean when I wake up now! It is quieter, has a better filtering effect, and handles more air. It also has a better filter. I can judge by comparing the amount of dust in each space. I definitely recommend buying this air scrubber!
BREATHING SO MUCH BETTER
This air scrubber is great value for money! I have been there for two weeks now, my breathing must be much better! It is very quiet at low speeds, but you can hear sound at high speeds. Sleep better!
CLEAN AND FRESH
I bought this unit to use in my home and business. After running the device for a few hours before going to bed, I was impressed with the air quality in the bedroom. You can definitely tell the difference. The air is so clean and fresh. I also like the UVC lamp of this unit