AlorAir 180 PPD Commercial Dehumidifier with WI-FI - Storm LGR 850X
Share
Regular price

Price:

$1,277.00

Regular price

List Price: $1,577.00

Sale price

Price:

$1,277.00

You save:

$300.00 (19%)

Unit price

per
Storm LGR 850X-Red-WIFI
Storm LGR 850X-Red-WIFI
FINANCING AVAILABLE

Airpuria is excited to announce that we have financing options available for all customers.

If you have any questions please contact the Airpuria Team. Call: 773-337-8822 or email us at support@airpuria.com.
ALORAIR 180 PPD  Commercial Dehumidifier, Built-in Pump, App Controls, Includes Drain Hose And Merv-10 Filter - Ideal For Large Basements, Garage Or Industrial Spaces And Job Sites, Storm LGR 850X
✔【Commercial Grade Dehumidifier with smart Wi-Fi】: Monitor and control your machine, wherever you are. This large capacity dehumidifier can removal 180 PPD at Saturation and 85 pints at AHAM, suitable for 2,300 sq. ft. When faced with particularly challenging water damage restoration jobs where higher amounts of water are involved, the AlorAir SLGR dehumidifier is your best bet for achieving maximum results.
✔【Dehumidifier with pump for easy drainage】: There is no doubt how a commercial dehumidifier with a built-in pump can ease your life. The build-in pump is the key  'set it and forget it' feature.
Ideal for removing damp and moisture from flood & restoration, carpet cleaning, basements/cellars, Laundry, de-flooding, or anywhere you need to extract moisture at a professional level.  
✔【Commercial, industrial, and basement use】: High +60% relative humidity can lead to all kinds of problems in any industry. This commercial dehumidifier with pump standing at just 21×11.6×17.3 inches (L×W×H), the volume of the whole machine is 40% smaller than others on the market, Because of its compact size, retractable handle with wheels for transport, superior stacking features, and easy service access.
✔【Plug and go, easy read & operation】: Simplified user controls include a large LCD display and APP control. The APP can control the dehumidifier remotely anytime and anywhere. It has no complicated function button, temperature, and humidity display at both Inlet and outlet sides, is ideal for water damage restoration projects, has a clear LCD display, easy to read even from a far distance, so you can get any job site done with just a few buttons.
✔【5 Years Warranty】: Safety tested our Storm LGR 850X industrial dehumidifier is fully compliant with the electrical safety ETL. Every AlorAir dehumidifier comes with a 5-year warranty with a professional customer support team ready to assist at any time. Please feel free to contact us. You deserve the best after-sales service.

Description
ALORAIR is glad to introduce the industry dehumidifier with the APP control faction.
THE DEHUMIDIFICATION PROCESS MADE IT EASIER!
The Storm LGR 850X High-Performance Commerical Dehumidifier, the roto-molded polyethylene housing is dent resistant, offers superior durability.
Ideal for water damage restoration projects, its high-efficiency rotary compressor ensures the maximum moisture extraction, of up to 180 pints per day (85 PPD AHAM), at the lowest running cost.
The Storm LGR 850X is the right dehumidifier to tackle water damage restoration projects of all scales and is perfect for industrial, commercial, and personal use, design with professional-grade performance, and portability.
This dehumidifier has an operating temperature range of 33.8-105 degrees F and processes air at a rate of up to 210 cubic feet per minute (CFM).
The water pump basin is attached to a 20' hose for the removal of condensate across wide spaces.
This dehumidifier has a 20' power cord for access to the power supply across large spaces.

Features
cETL Certified

Easy clean – the shell can be opened to access all components

Easy to store wires and hoses

Built-in Condensate Pump

Environmental R410A Refrigerant

Sturdy handle-2 Wheels

Rotational Molded Body

Superior Stacking

Rotary Compressor

Ducting Options

Water-Full Protection

Automatic Humidistat Control

Quick Connection to Cable/Hose

Memory Starting

MERV-8 Filter

Easy Cord and Hose Storage
For added convenience, the power cord and condensate hose stored on the top of the unit helps maximize your storage capacity.

HEAVY-DUTY CONDENSATE PUMP
With a 19.6' lifting distance, the condensate pump gives you the freedom to drain anywhere.
Drain Height: 19.6 ft.
Drain Pipe:19.6 ft.

EASY FILTER ACCESS
The high-dense MERV-8 Filter protects internal components from damage due to dust and other particles, ensures efficient operation and long-term use. Please wash the filter once per 2-3 months.

RETRACTABLE HANDLE AND WHEELS FOR TRANSPORT
Rotomolded housing, practically Indestructible. 2 Wheels and Retractable Handle, Easy to transport anywhere high-efficiency dehumidification is needed.
---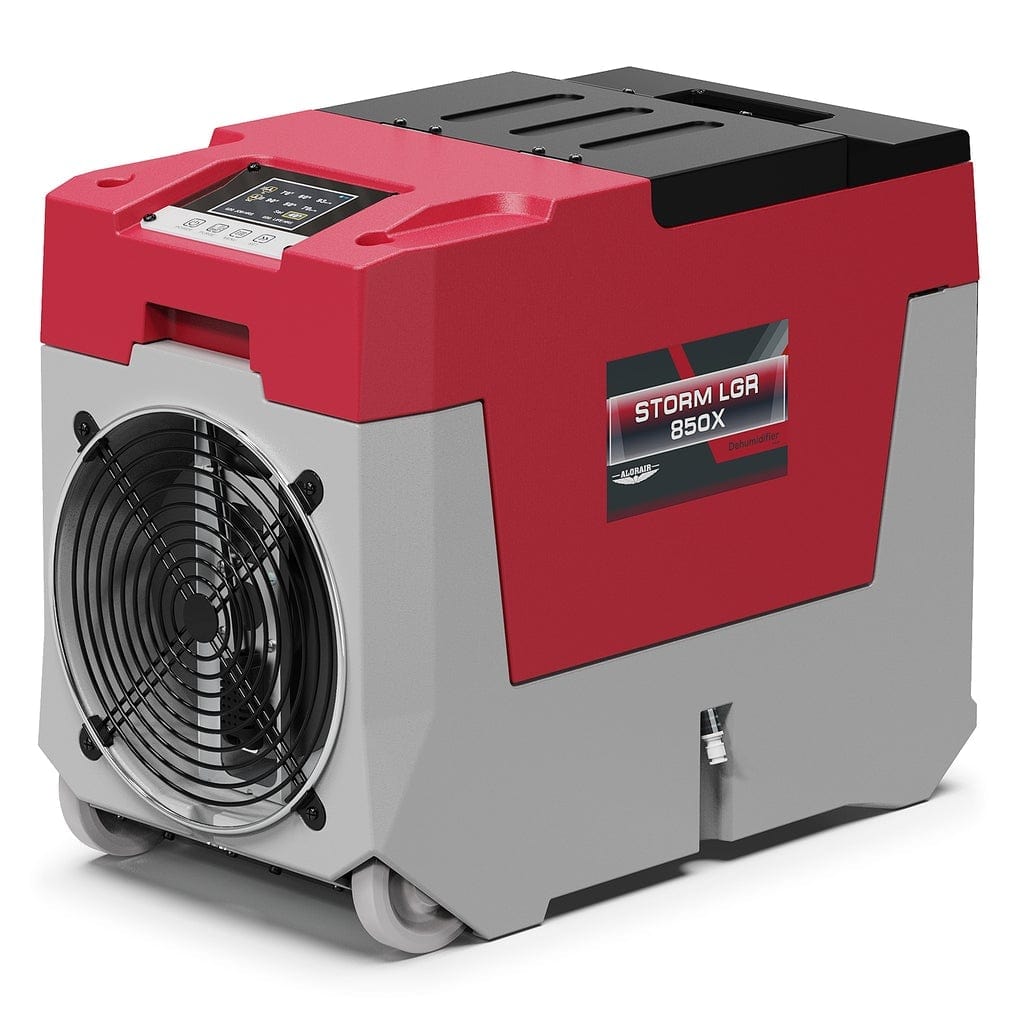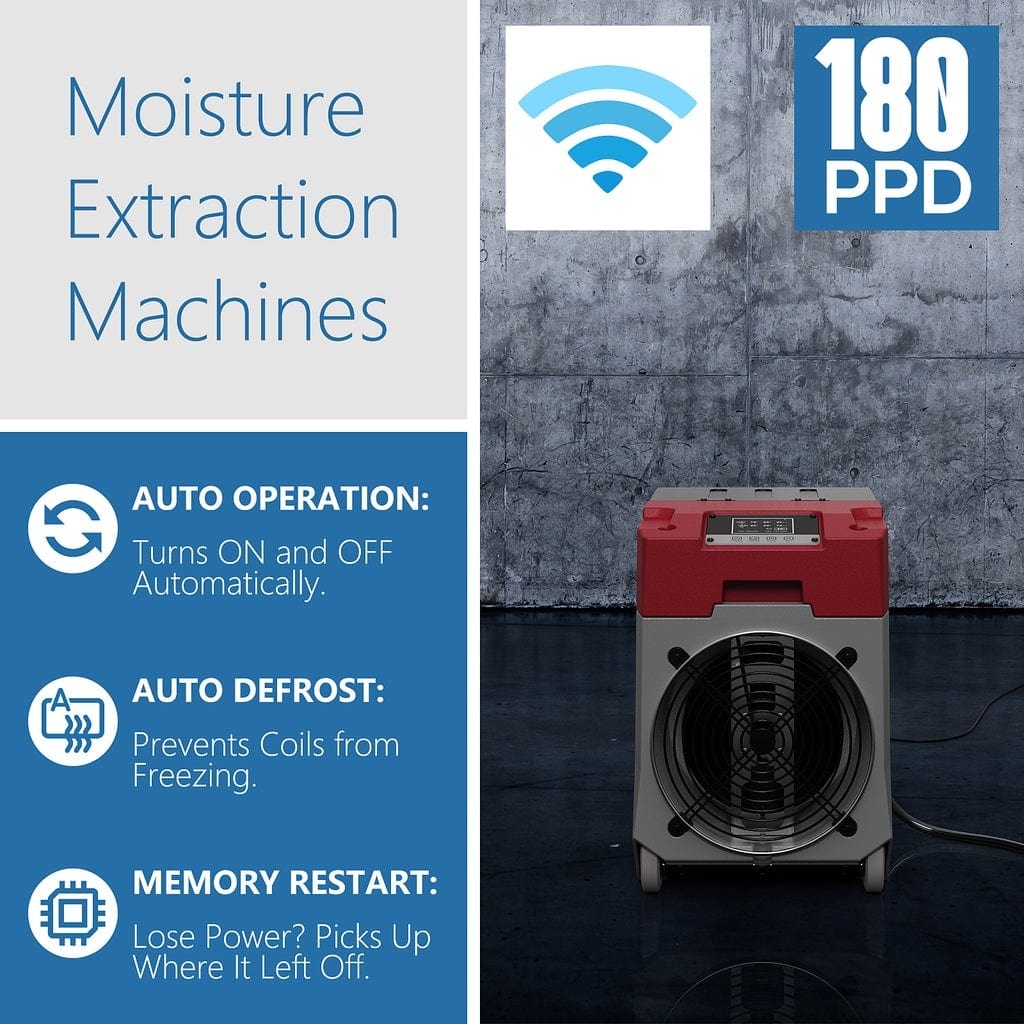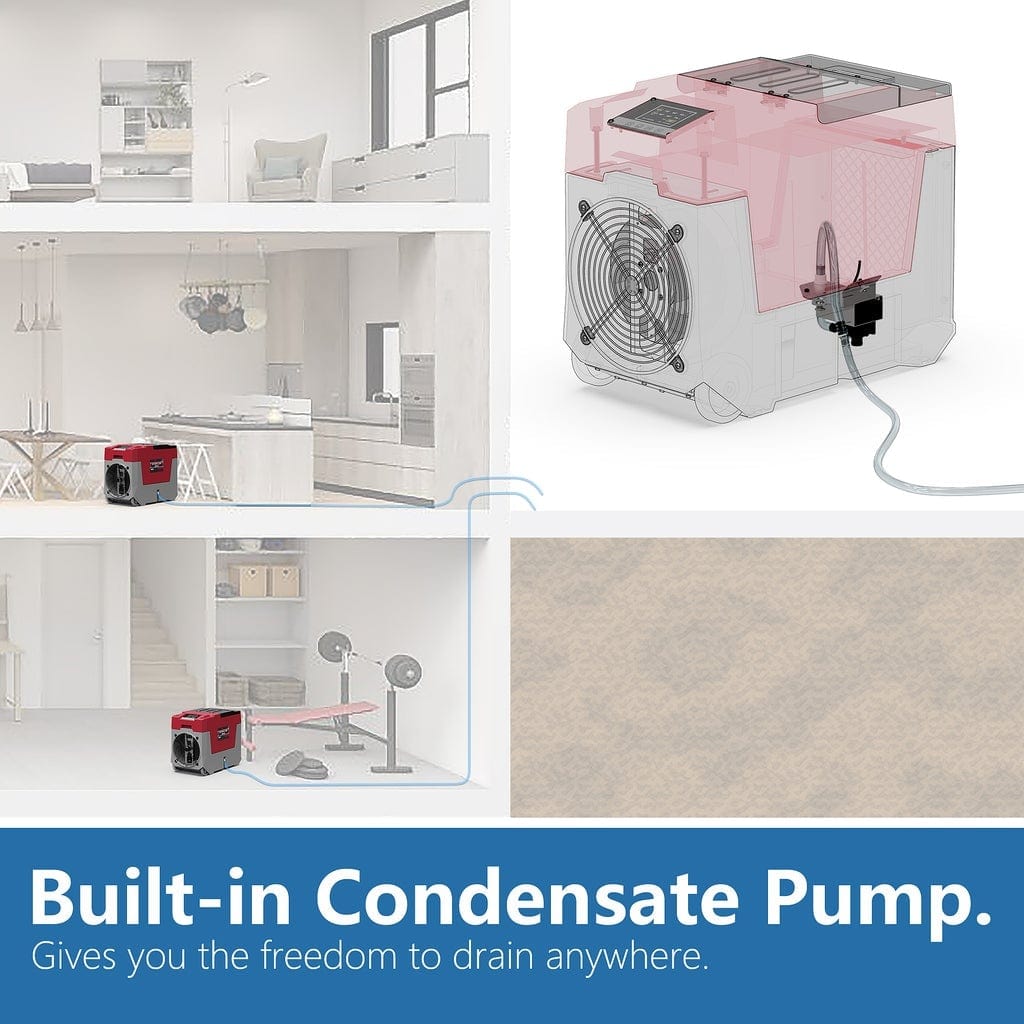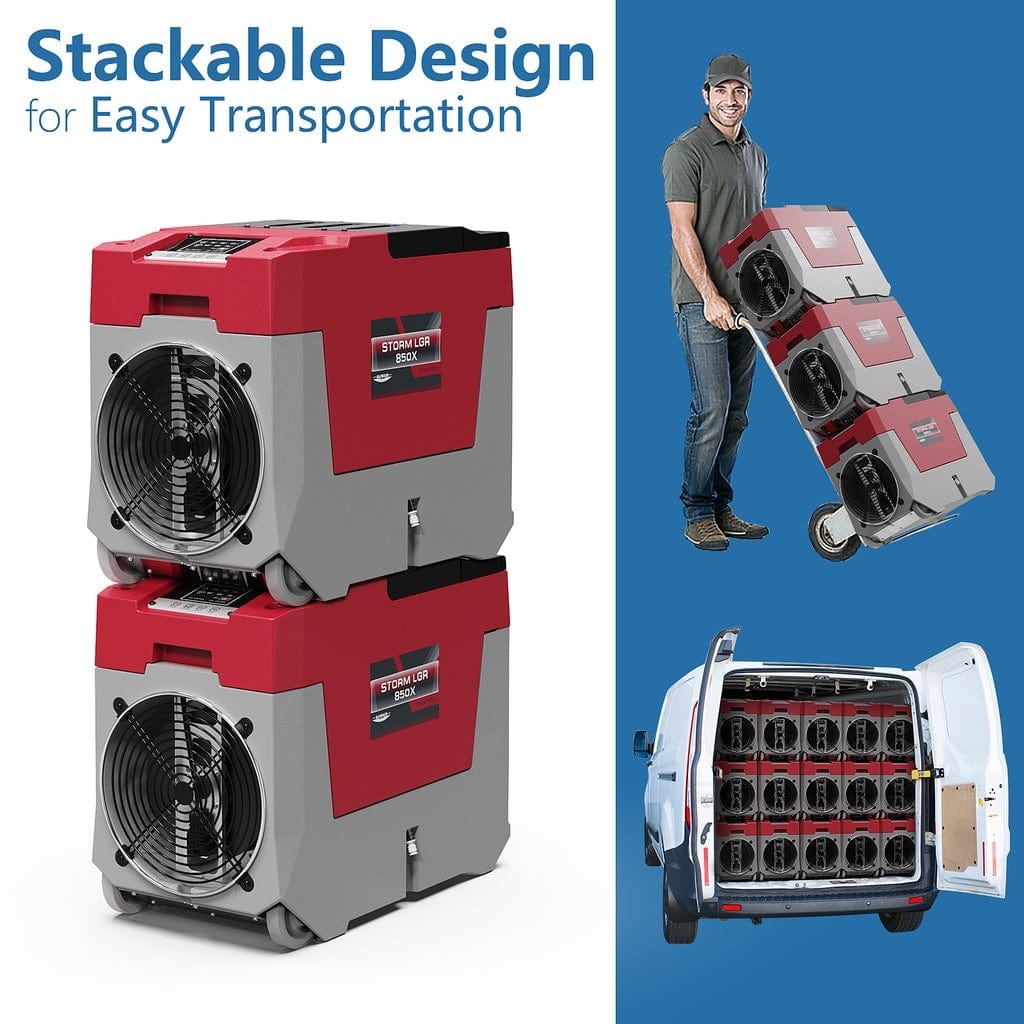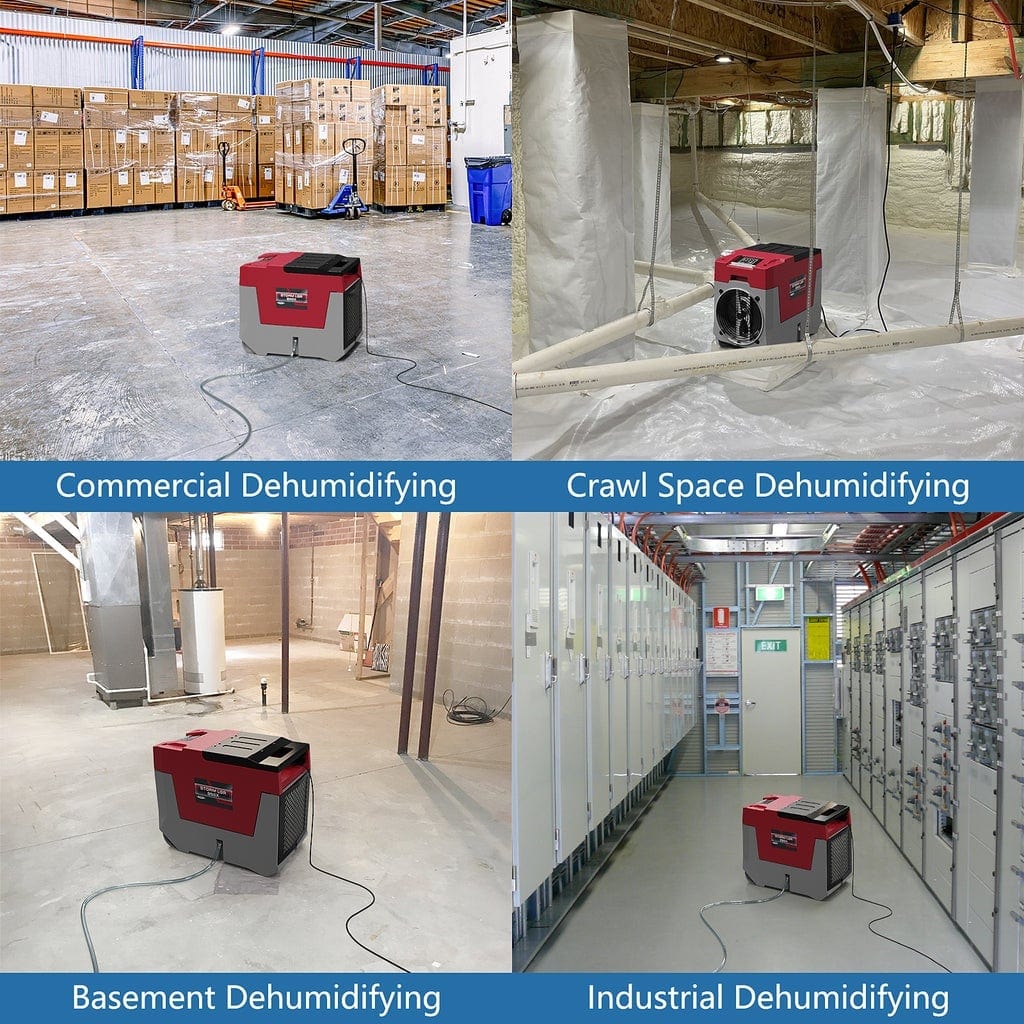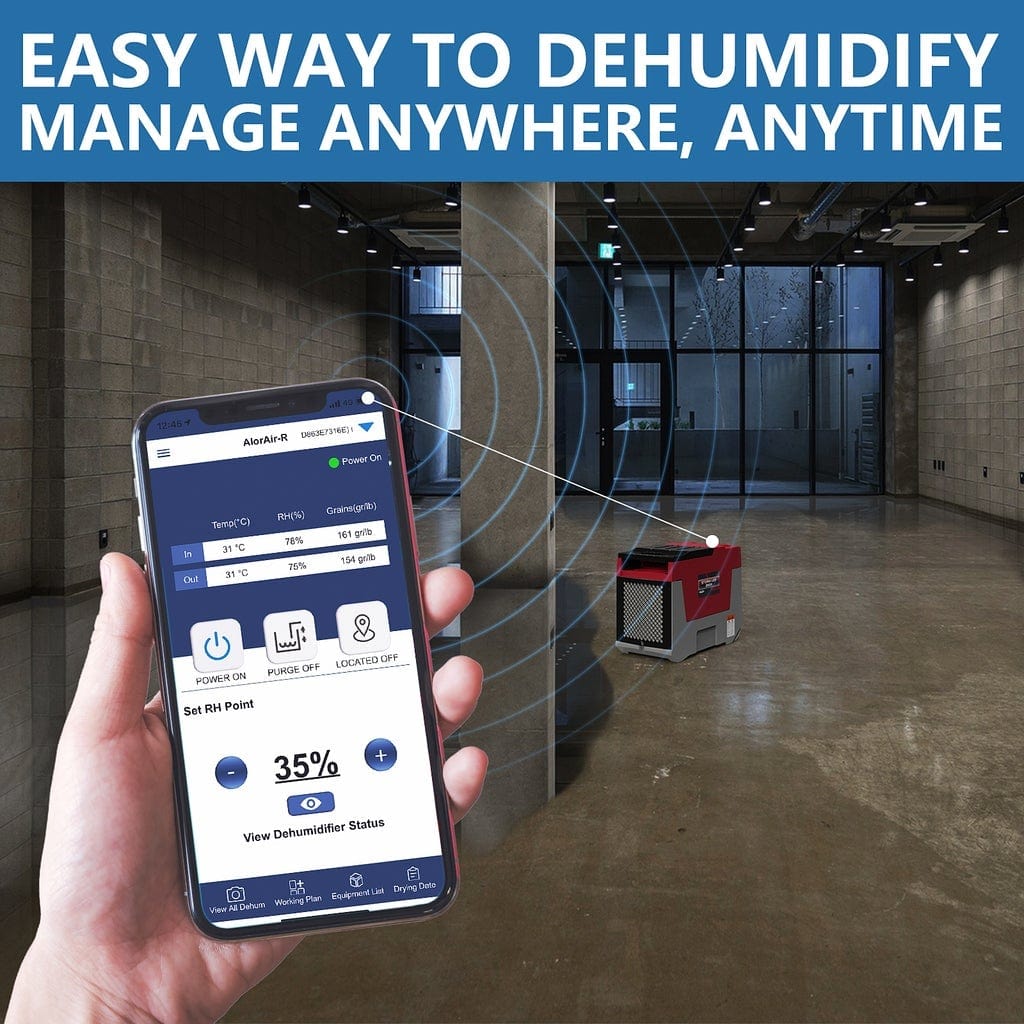 EXCELLENT REMOTE CONTROL
This is a powerful machine. Recently, I found that my crawling space is very humid, so I bought this dehumidifier. It is a good brand with good customer service and after-sales service. What I like most is that this machine has an app remote control. After setting it up, I don't need to go to my crawling space. It's really a great machine.
QUIET AND EXTREMELY EFFICIENT
I had condensation on my windows. I am afraid that may lead to mold problems. This unit has cleared my issue right up. It's compact and versatile, especially the remote control feature, it is very convenient. I wish I had gotten it years ago. It's energy-efficient because my bill doesn't go high very much. If you are looking for a practical dehumidifier, get this one right now!
GREAT PRODUCT AND OPERATE WELL
Great product and service! I bought it to remove the humidity of the basement, cause there exists high humidity and release odor, the dehumidifier dries the floor quickly and low energy consumption.Choose the dehumidifier without any hesitation , worth it !