AlorAir 180 PPD Large Dehumidifier for Commercial with Pump - Storm LGR Extreme
Share
Regular price

Price:

$799.11

Regular price

List Price: $1,600.00

Sale price

Price:

$799.11

You save:

$800.89 (50%)

Unit price

per
Storm LGR Extreme-Yellow
Storm LGR Extreme-Yellow
FINANCING AVAILABLE

Airpuria is excited to announce that we have financing options available for all customers.

If you have any questions please contact the Airpuria Team. Call: 773-337-8822 or email us at support@airpuria.com.
 ALORAIR 180 PPD LARGE DEHUMIDIFIER FOR COMMERCIAL WITH PUMP, CAPACITY UP TO 180 PPD AT SATURATION CONDITION, 5 YEARS WARRANTY, CETL LISTED, FOR LARGE SPACE, JOB SITES
KEY FEATURES:

● Moisture Removal Capacity (115V/60Hz): 85 Pints/Day@AHAM (80°F-60%)
180 Pints/Day@saturation (90°F,90%)
● Moisture Removal Capacity (220V/50Hz need to be customized): 85 liters/Day (179 PPD)@ (30°C-80%)
● Coverage Area: Up to 2,300 Sq. Ft.
● COP: 2.44L/kWh (115V/60Hz), 3.0L/kWh (220V/50Hz need to be customized)
● Ideal for removing Damp, Mould, Rot, and Moisture from Museums/Sports Halls, Water Damage Restoration, Vehicle Storage, Basements / Cellars, Storage Areas, Garage, and Basement. Keep Dry and Restrain Bacterial Growth.
● Intelligent Control system: Automatic humidistat control.

SPECIFICATIONS:

● Filter: MERV-8
● Airflow: 210 CFM, 350 CMH
● Sound Pressure Level: <58 dB(A)
● Refrigerant: R410A
● Draining: Condensate Pump
● Defrosting Control System: Auto Defrosting
● Functioning Temperature Range:  33-104°F
● Functioning Humidity Range: 35~90%


KEY DESIGN FEATURES:

● Auto Defrosting System
● Supper COP 2.44 L/Kwh
● Rugged Condensate Pump (Developed only for Dehumidifier)
● Rare earth alloy Tube Evaporator
● Quick Access to Service
● Smallest Size
● HVAC Remote System


FEATURES:

● Compressor Type: Rotary
● More Thorough, And More Quicker√
● Ducting Options √
● Auto Defrosting √
● Easy Handling √
● Environmental R410A Refrigerant √
● Automatic Humidistat Control √
● Memory Starting √
●Rare Earth Alloy Tube Evaporator√
● Continuous Model √
● Low Temperature √
● Bypass Air sensor √





STACKABLE
Its stackable design cannot only save flood restorers more space but also make numbers of the machine been transported to the destination for after-flood restoration tasks.

EASY CORD AND HOSE STORAGE
Extra Long Cord,19.6ft and 19.6 ft long drain hose makes extension unnecessary, offering great convenience in installation.
Once your job is complete, the power cord and condensate hose stored on the side of the unit helps maximize your storage capacity and simple transport or neat storage.
EASY OPERATION AND INTUITIVE CONTROL PANEL
SET IT AND FORGET IT control automatically starts dehumidification when humidity above target is sensed. After auto or non-auto turns on, the dehumidifier will start or restart with the setting data before the outage, no need to reset the data.

APPLICATION:

IN THE BOX:

● Storm LGR Extreme Water Damage Restoration Dehumidifier ×1
● Drainage pipe ×1
● MERV-8 filter×1
● User Manual ×1
---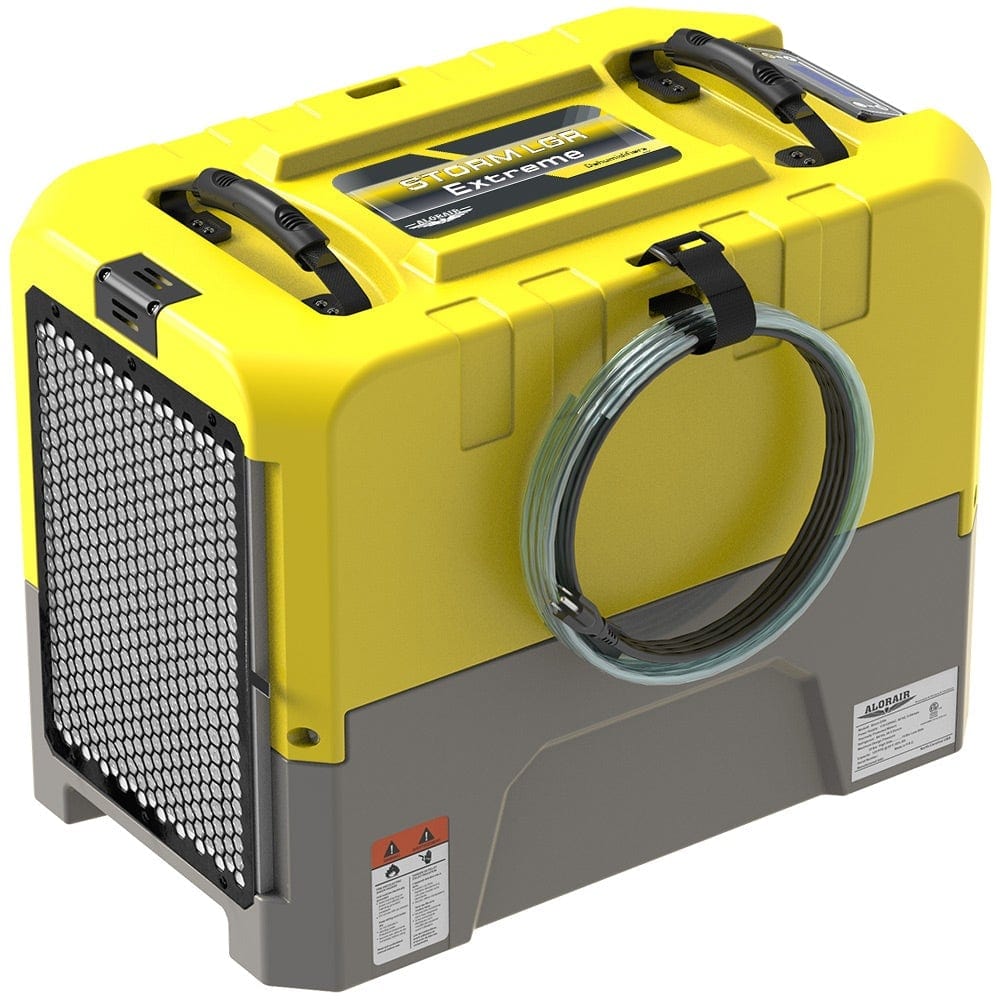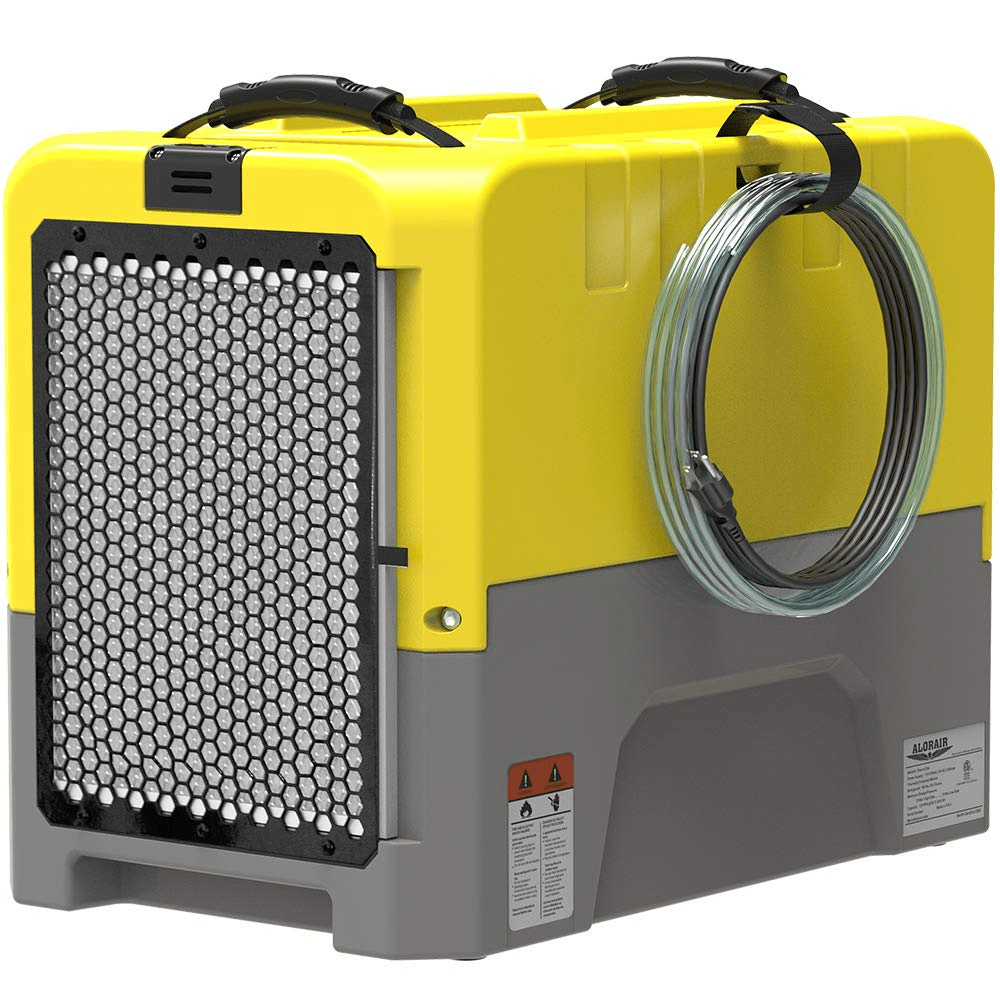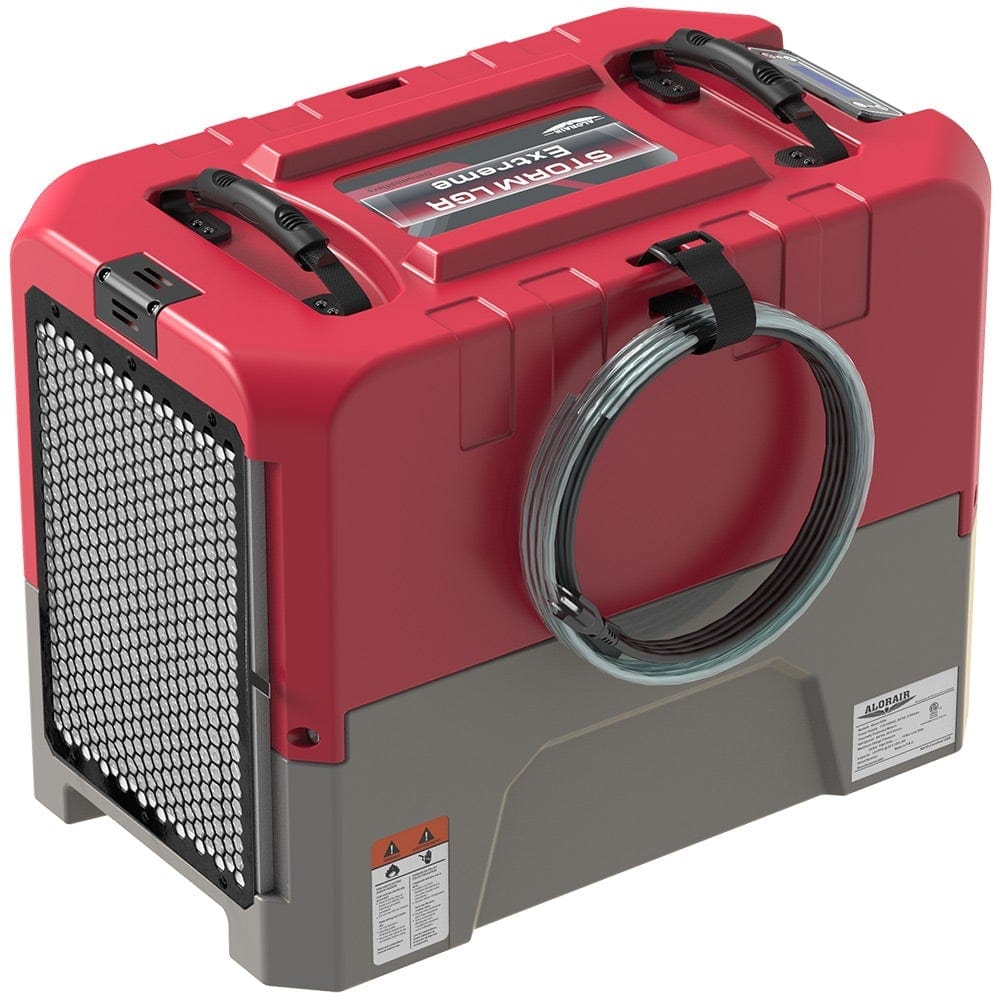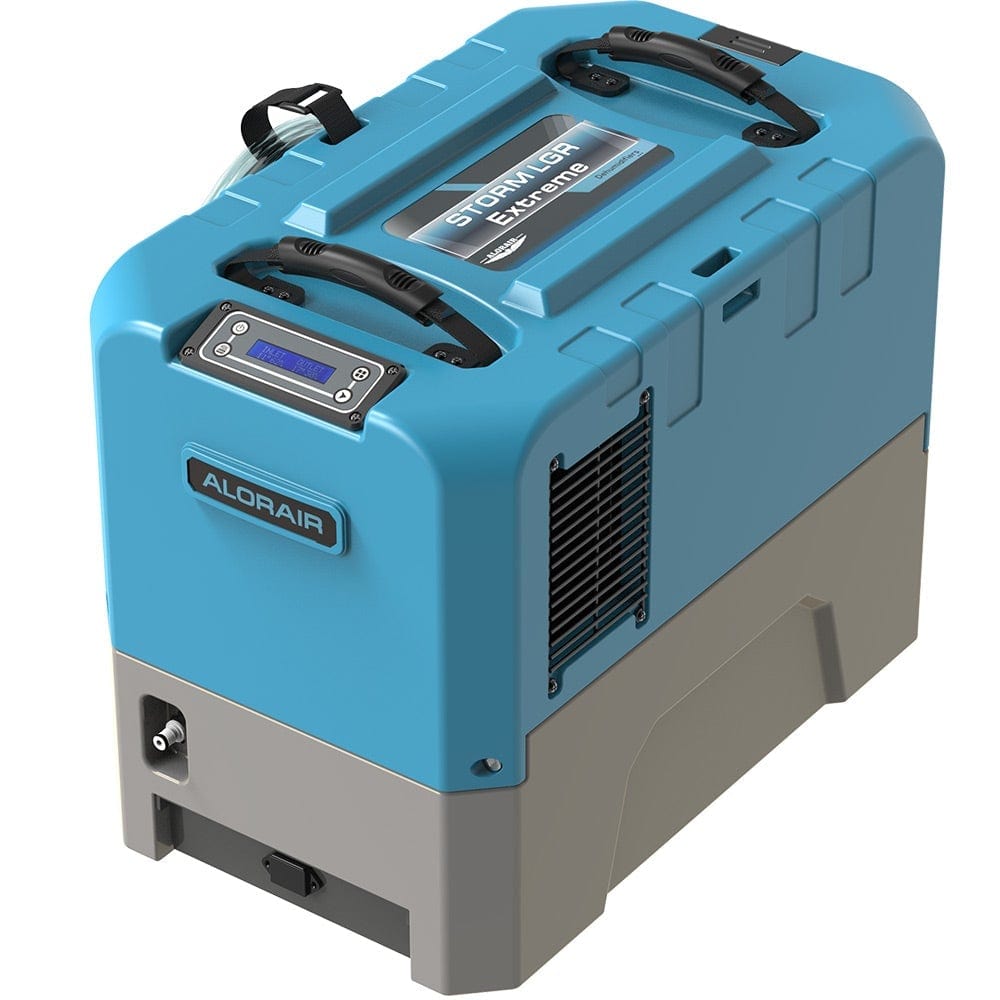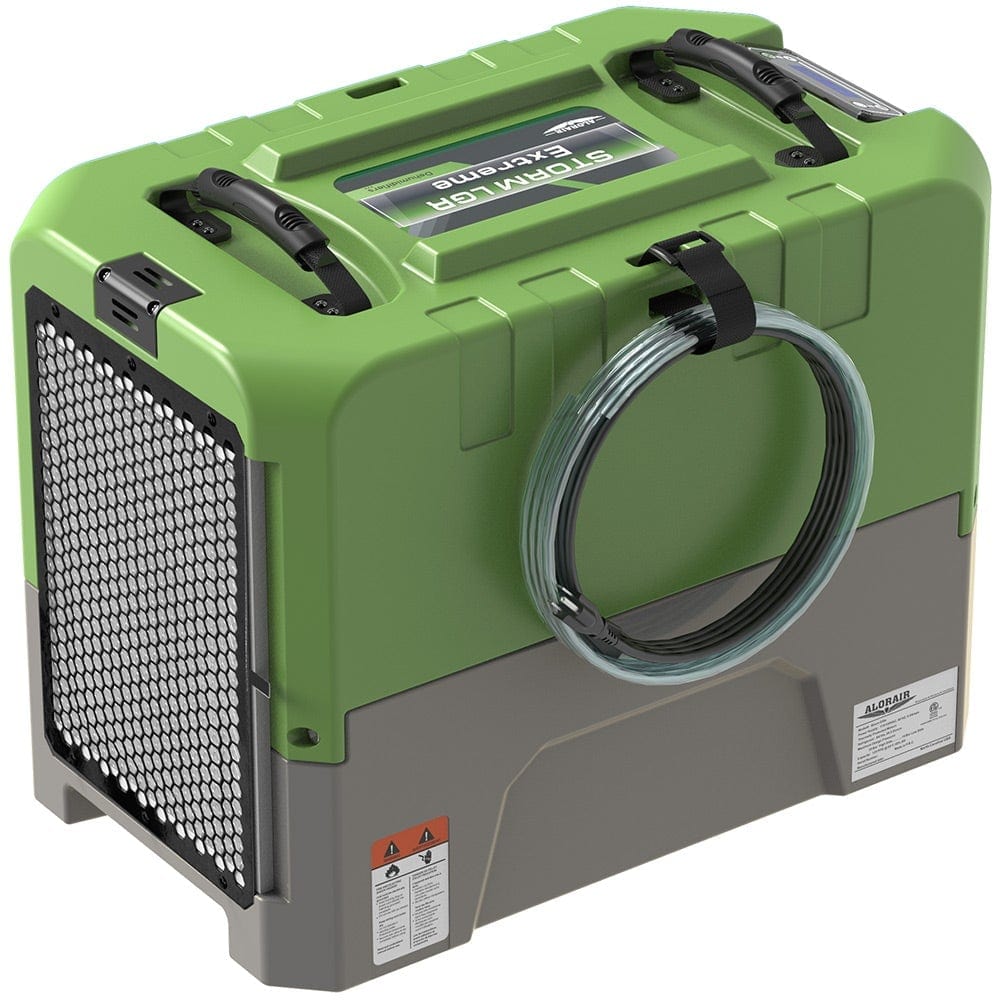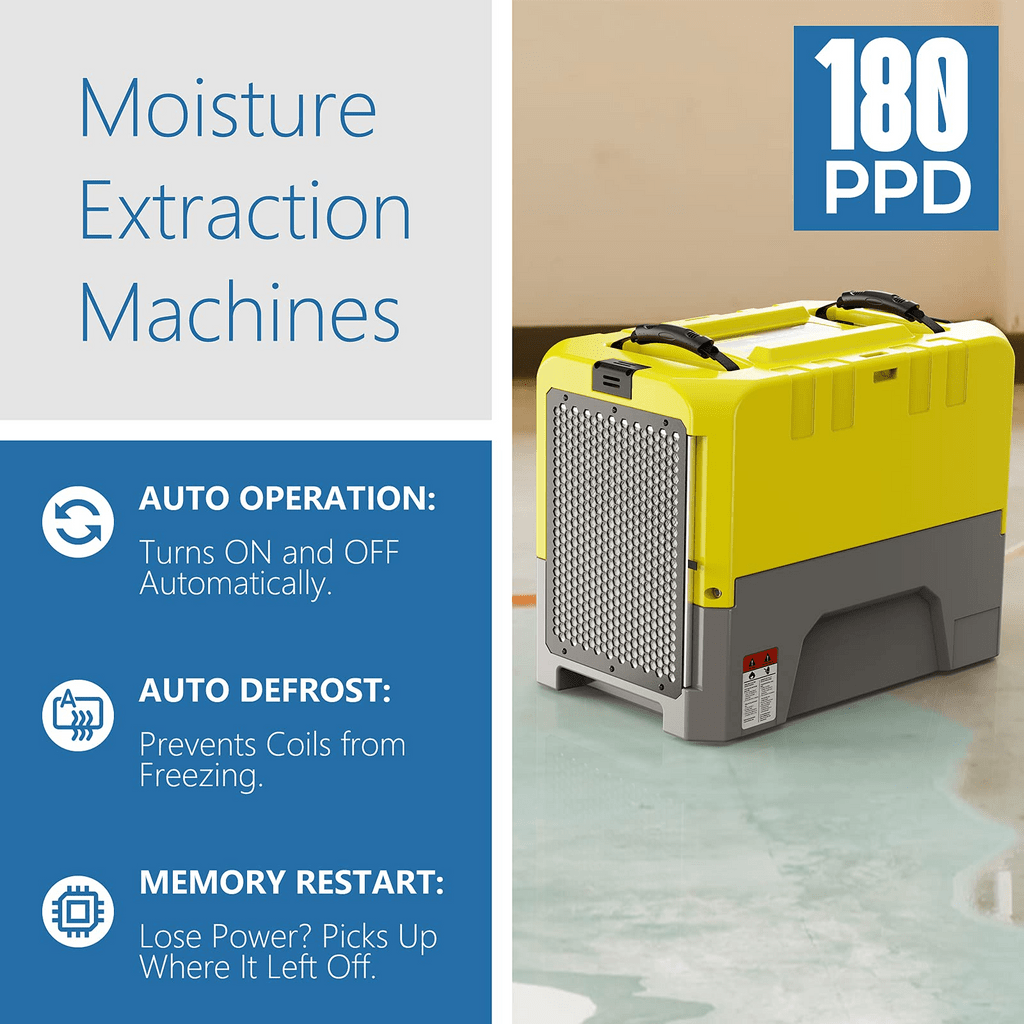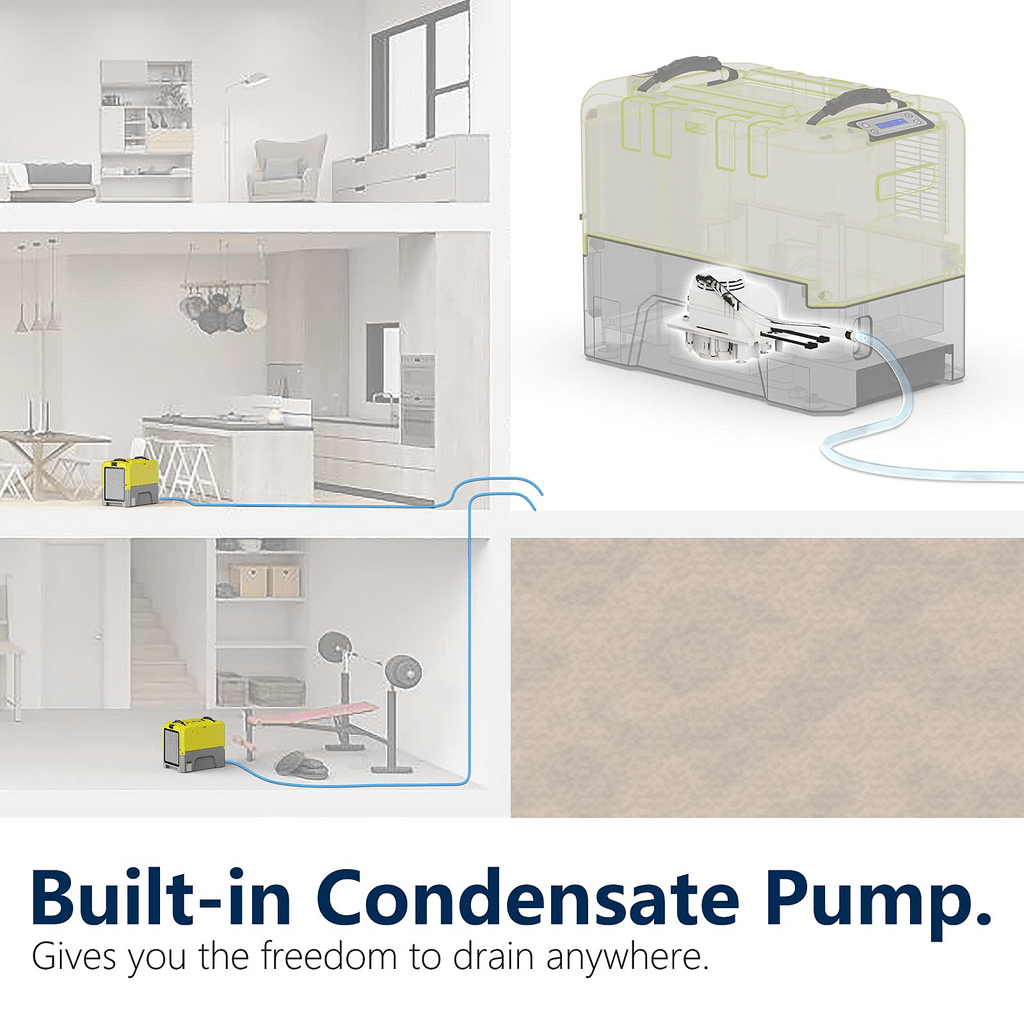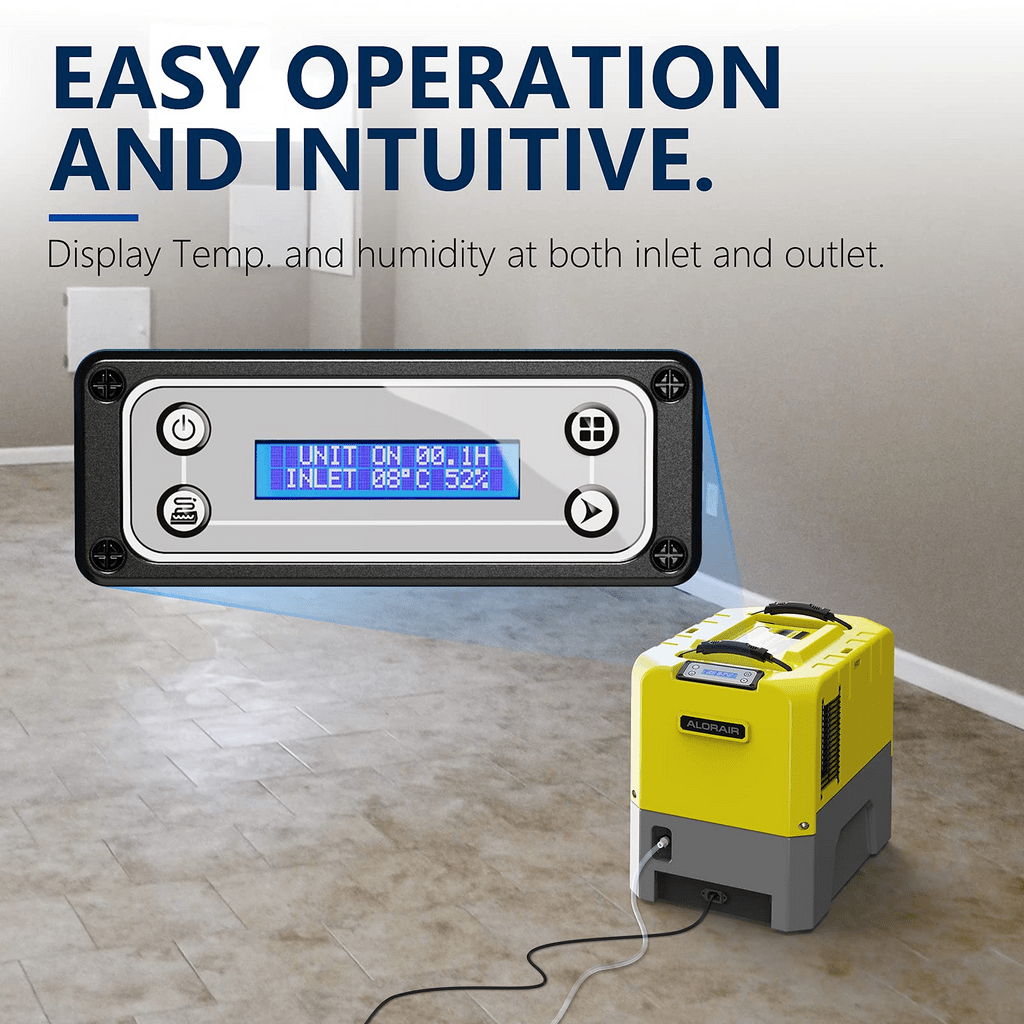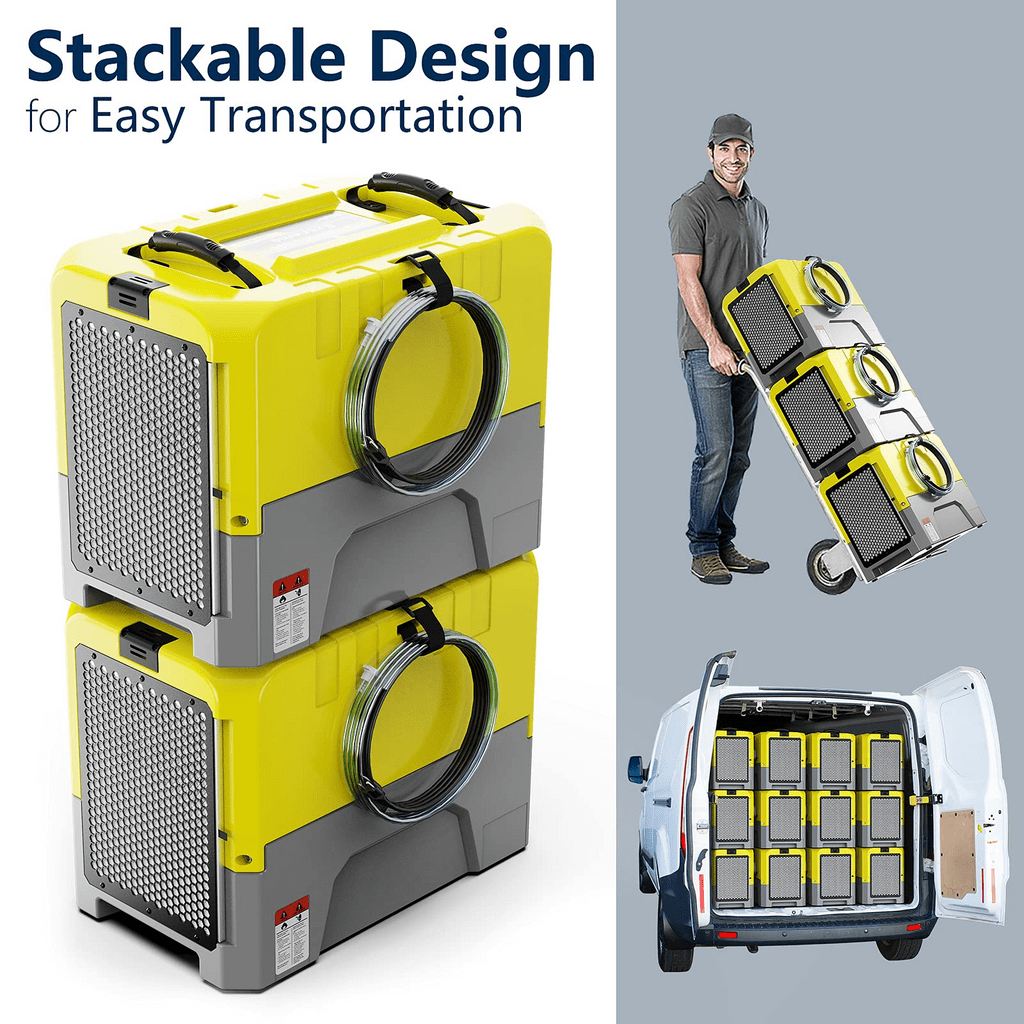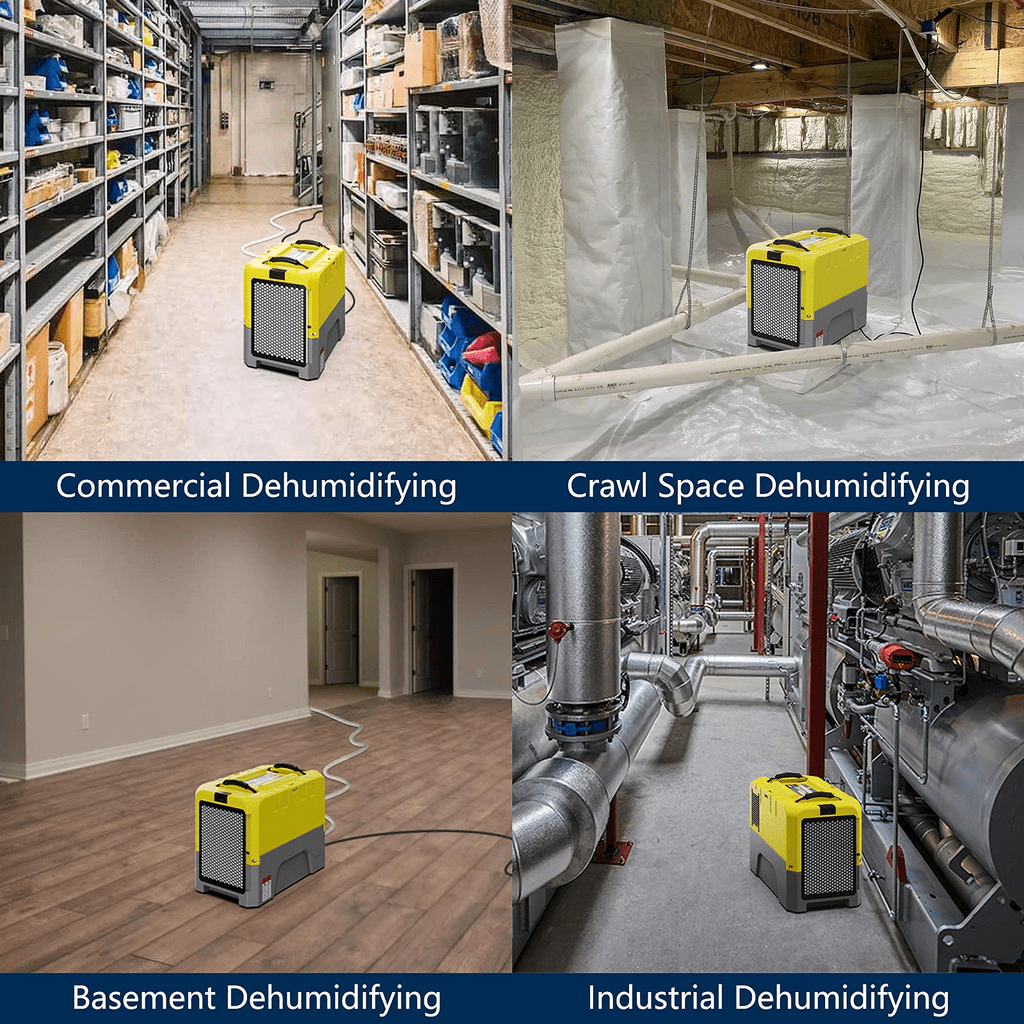 HIGH QUALITY AND GREAT VALUE PURCHASE
Starting the device is easy and there are no troublesome instructions. Initially, I connected the drain hose so I can see how well it removes water from the air, and it does a great job. Just set the humidity level and let it do the job automatically. I used it in an unfinished basement, the damp basement smell disappeared within three days and now it smells fresh and pleasant. I highly recommend this unit.
GREAT PRICE AND WORKS GREAT!
I place this dehumidifier in the basement to keep the air clean. It does a good job to circulate air. It intakes lots of water. I to hook it up with a hose to my sump pump to automatically dumping the water out. It works well with that method. The filter is easy to take out and clean. When it runs, it is quiet and does not sound like other dehumidifiers I have in the house.
IMMEDIATELY EFFICIENT!
I have used several 30-40 pint dehumidifiers in the past. They are loud and run all the time, but they cannot reduce the humidity. So I decided to use this 85 pint dehumidifier, even though I only have 1,100 square feet of space. However, this is a very humid basement, I hope it is dry, because it has a strange smell! I got this dehumidifier, I really doubt it. Plug in the power source, remove all straps, and let go. Within a day, I can feel the changes in the air. There is no more musty smell, the sound is a bit louder, but much better than my previous ones! This machine is efficient. I am very happy about it!
VERY TOUGH BEAST
This unit is a beast! I have been using it for about 2 weeks and the results are very impressive. In the past 10 years, I have tried several residential units and the results are mediocre, running two 70 pint dehumidifiers 24/7. The best life I can get from these units is about 2 years. I can reduce the humidity in the basement to about 58%. My basement started with a humidity of 72%, and I have reduced the humidity to 45%. The temperature in my basement is about 65 degrees and I take 5 gallons of water from my basement every day. As with any dehumidifier, only time will tell whether it will last. So far, I am very happy.
GOOD EQUIPMENT
I have two houses with basements. One has a humidity of 76% and the other has been flooded. In both cases, I was able to reduce the humidity to 45% in just a few days and keep it there and dry out the flooded basement. It is really a very powerful device.