AlorAir Air Scrubber PureAiro HEPA Pro 970. UV-C Light Sterilization - PureAiro HEPA Pro 970-Orange
Share
Regular price

Price:

$799.00

Regular price

List Price: $1,077.00

Sale price

Price:

$799.00

You save:

$278.00 (26%)

Unit price

per
PureAiro HEPA Pro 970-Orange
PureAiro HEPA Pro 970-Orange
FINANCING AVAILABLE

Airpuria is excited to announce that we have financing options available for all customers.

If you have any questions please contact the Airpuria Team. Call: 773-337-8822 or email us at support@airpuria.com.
ALORAIR AIR SCRUBBER UV-C LIGHT STERILIZATION PROFESSIONAL 3-STAGE FILTRATION NEGATIVE MACHINE AIR PURIFIER HEPA SCRUBBER UP TO 750 CFM WATER DAMAGE RESTORATION FOR AIR CLEANER PUREAIRO HEPA PRO 970
【Advanced UV-C Light Technology】: An air scrubber is essential to improve the air quality in any room in your home or at work. Surprisingly, Our newly developed air scrubber also built-in UV-C Light. UV-C light technology works with filters to enhance the elimination of airborne pollutants, decompose remaining odor molecules caused by smoking, cooking, and pets.
【Higher Purify Performance】: ALORAIR PureAiro HEPA Pro 970 Air Scrubber adopts Upgraded Motor to creates stronger airflow, up to 750 CFM with Variable Speed as a Portable HEPA Air Purifier. It can be used with up to 3 levels of filtration, Pre-filters, 2 in 1 Activated Carbon/HEPA Filters. This way, you can be certain the entire room is benefiting from cleaner air.
【Air Machine for Water Damage Restoration】: PureAiro HEPA Pro 970 structured compact, makes it easy to move from one room to the next and made from Rotomolded Plastic for maximum durability. This Air machine has a Filter change light, an Hour Meter Display, a daisy chain GFCI Duplex, Stackable, and variable speed control and regulator. These features allow you to keep track of the conditions of your work environment.
【Commerical Grade Air Purifilters】: ALORAIR PureAiro HEPA Pro 970 Air Scrubber Ideal for home repair and construction sites, sewage remediation, water, and fire damage restoration, Get Rid of Pesky Smells to improve indoor home air quality.
【10-YEAR Warranty】: 10-year housing and 1-year parts and labor warranty. We stand by our quality product and We believe in quality and after-sales-service, It is sure to last long and still keep its shape look.


PureAiro HEPA Pro 970
4 in-1 True HEPA Filter & UV-C Light Air Scrubber




The HEPA Pro 970 is a convenient filtration system that cleans the air. It features a highly effective 3 Stage Filtration System, Pre Filter, HEPA/Activated Carbon Filter. The air scrubber features a UV-C light technology that works with filters.


Benefits:

Clean air should be everywhere, not just near the purifier. Combat Seasonal Allergies. 3-Stage Filtration system Effectively destroys dust, cigarette smoke, pollen, pet dander, and other airborne irritants. UV-C light technology works with filters, captures, and destroys pollutants to ensure the whole room benefits from purified air.


Upgraded Motor

The motor features greater stability, improved efficiency, and a longer lifespan. Portable air scrubber and negative pressure machine has a 16-inch air intake, than any competitor's units. The Airflow is up to 750 CFM. This way, you can be certain the entire room is benefiting from cleaner air.


Application:

During water/flood restoration, construction, crawlspace, and attics, home repairs, remodels, painting, sewage, mold remediation, water, and fire damage restoration. It is perfect for a salon or print shop.


Designed with you in mind:

1. Switch for Regulating Air Flow

simple to use

2. Two Sockets for daisy chair

Auxiliary Outlet

3.Sturdy Hasp Ensures Stability

Carry handle easily move room to room

4. It is a bigger air intake than any competitor's units.

Airflow up to 750 CFM

5. Hour Meter

Used to time the running time of the device

Specification:

cETL

Lightweight, compact, and Rotomolded polyethylene housing design.

Power-on indicator light.

Filter change indicator light.

Ease of stacking during storage and handling. 

Includes
Air Scrubber Machine with UV-C Light technology, 750 CFM x1
---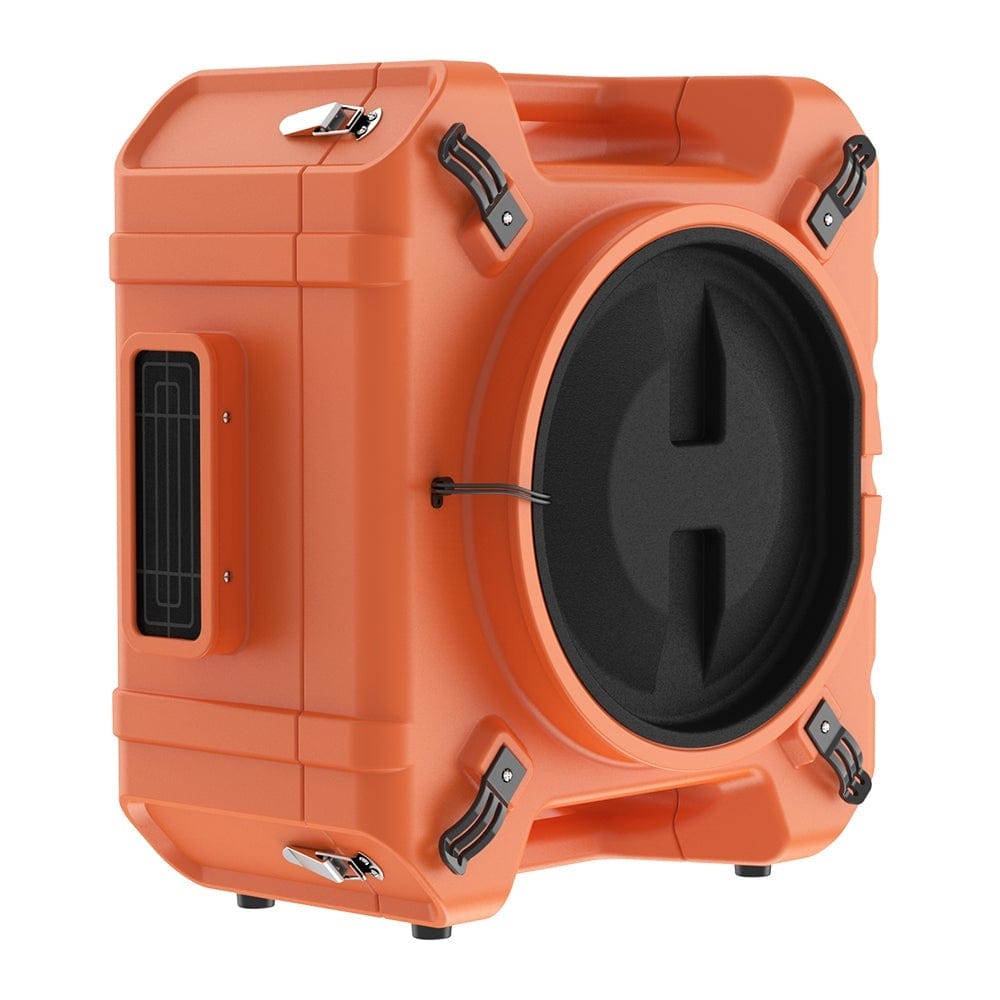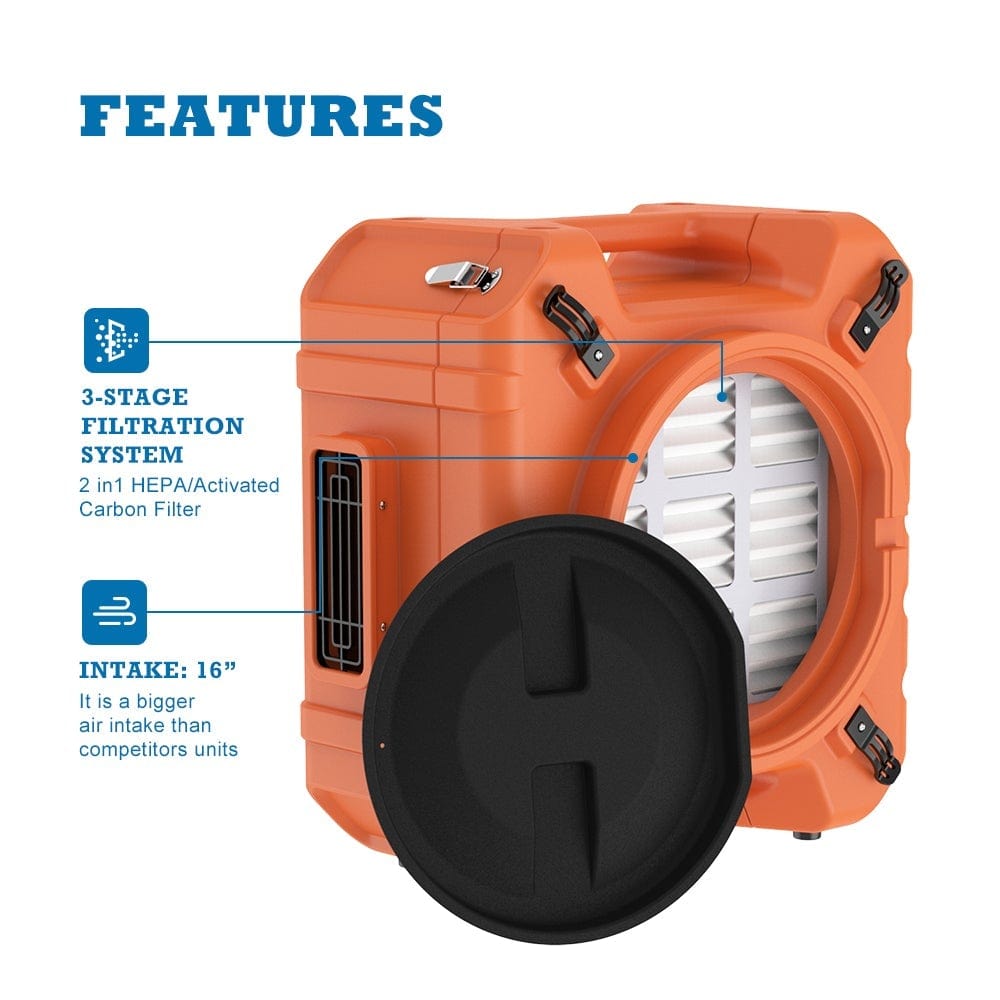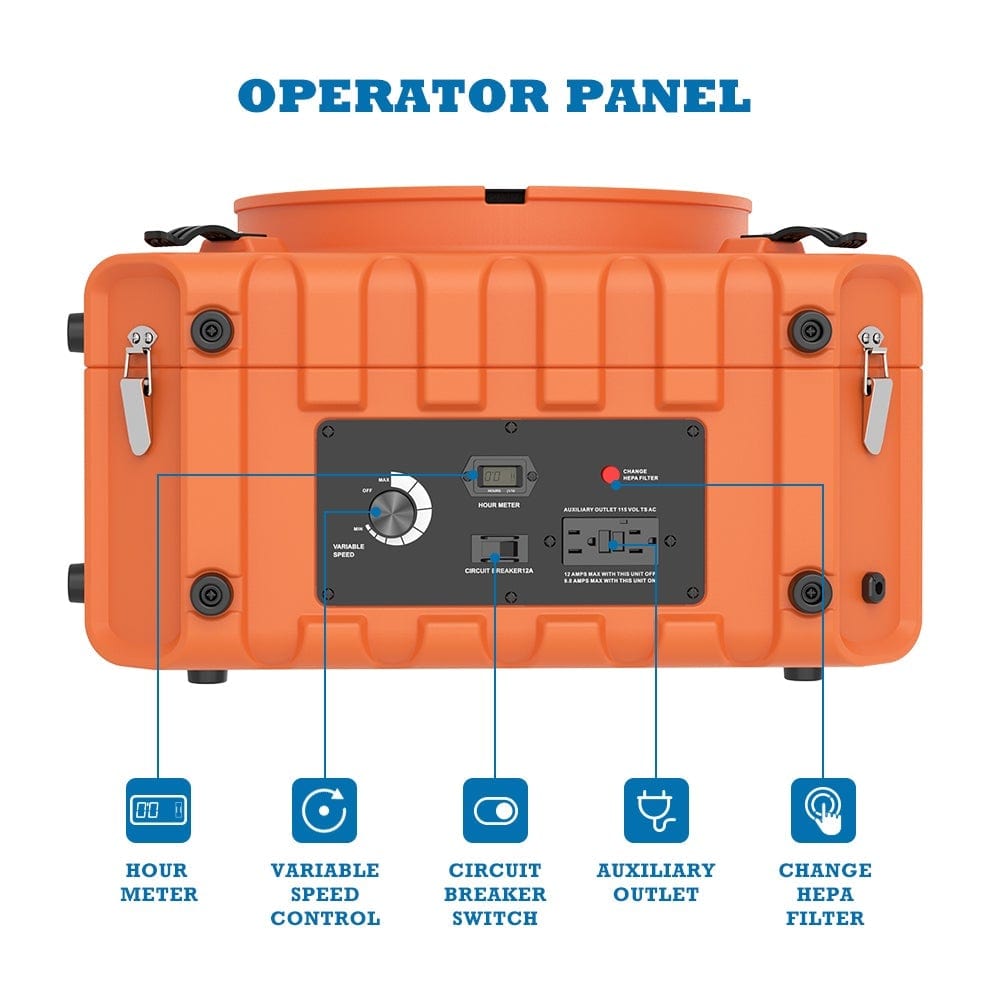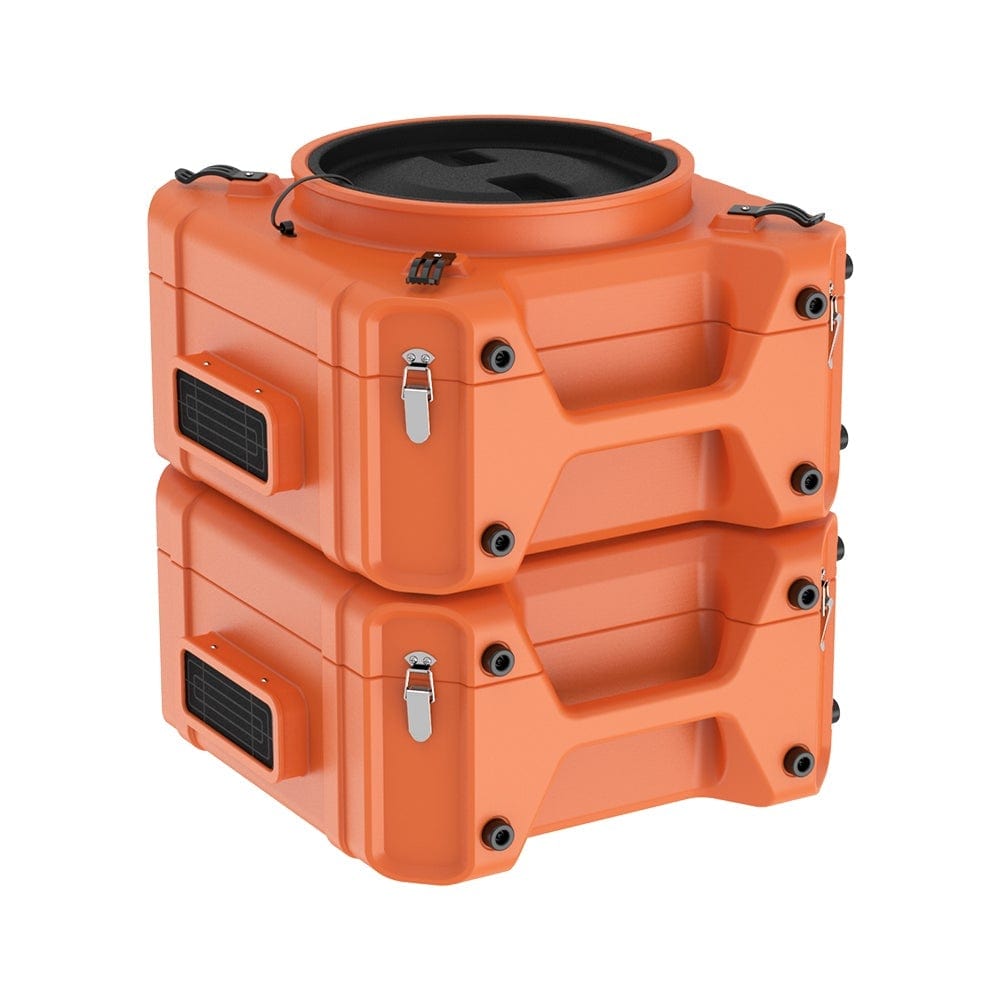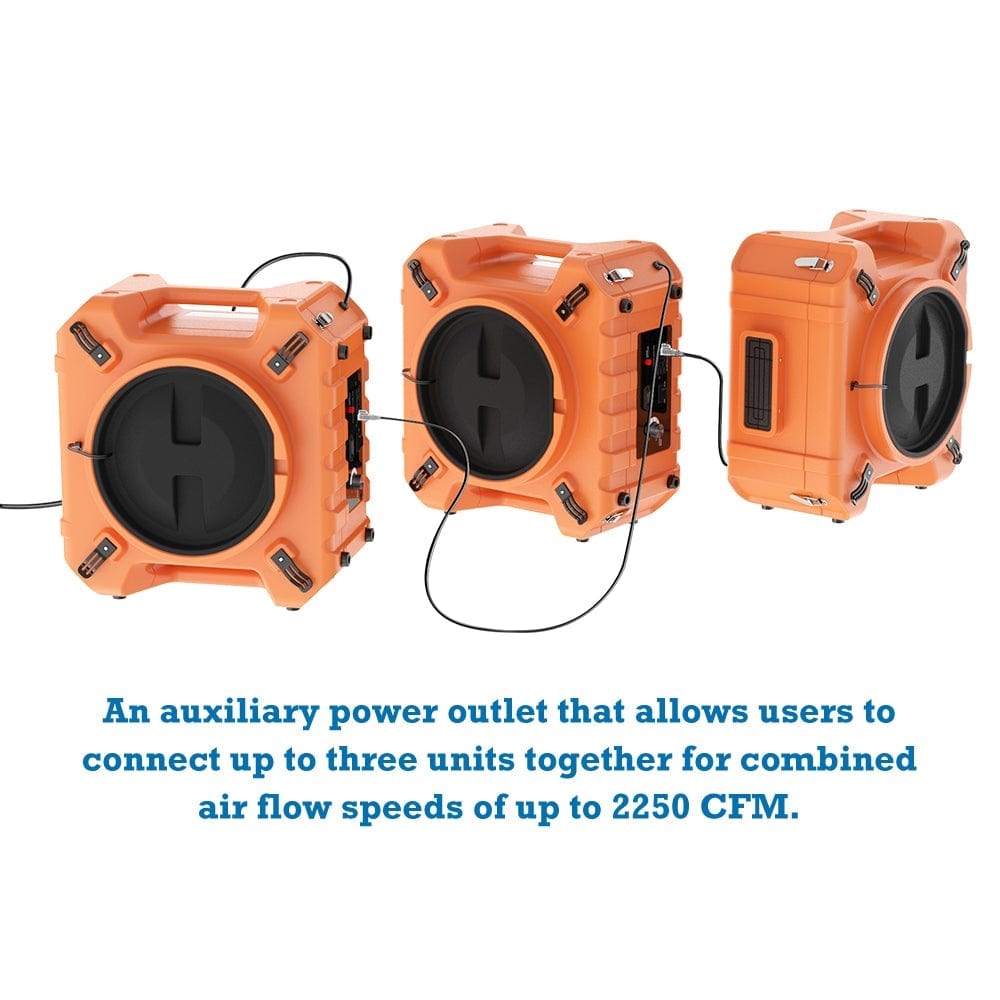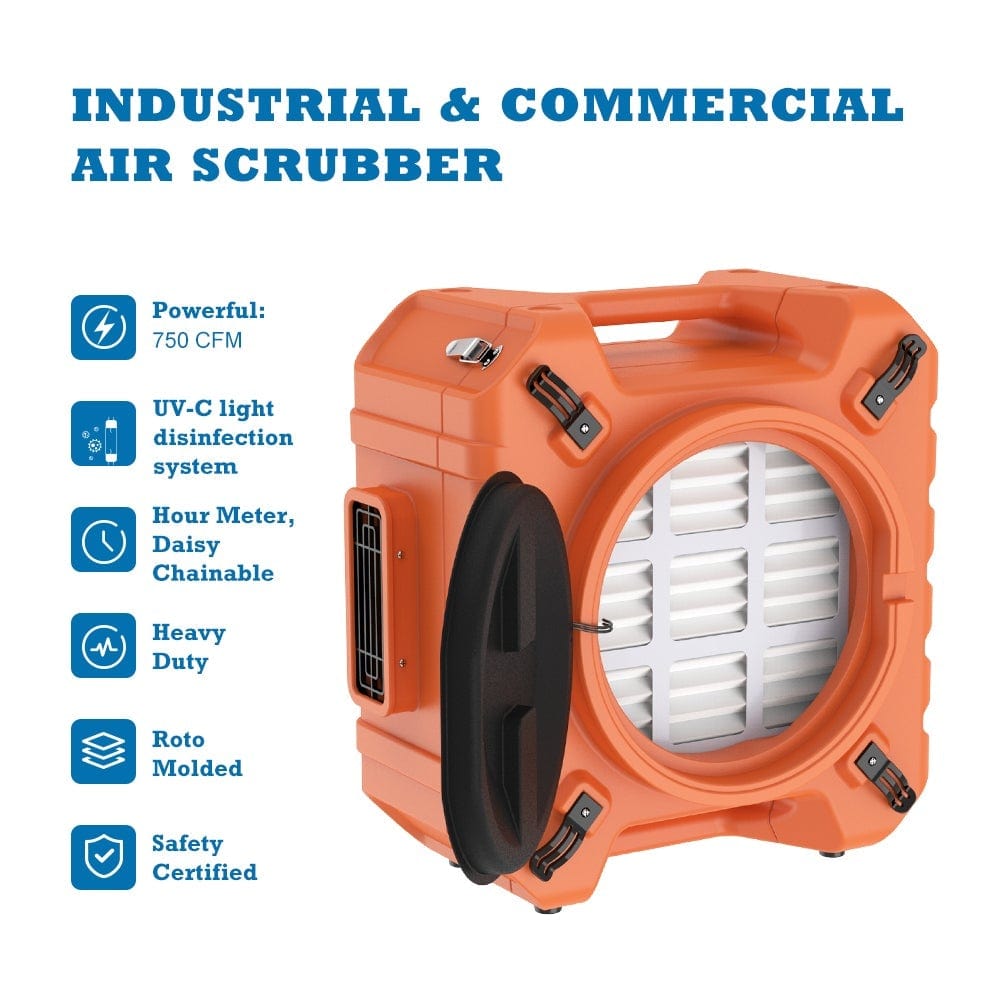 HIGHLY SATISFIED
The basement of my house emits an odor, which may come from wooden joists, and they may remain damp. When the air scrubber works in these places, almost all odors can be eliminated. It is easy to move. I think that in addition to odor, it can also filter pathogens, but this cannot be directly proved.
GREATLY HELPED MY ALLERGIES
Throughout the university, I lived in the same family and had a very annoying allergy problem. Woke up with a runny nose many times in the morning and felt much better after leaving the house. After a while, we realized that we had a major mold problem, which was caused by moisture and water leakage at the bottom of the house (which was later completely repaired). The allergy still exists. I finally bought this air scrubber. Let me tell you, this is a miracle. My allergy problem after installation is almost not as serious as in the past. Feel good after going to bed and feel good after getting up. Would recommend 100%!
GOOD SERVICE
We bought this air scrubber as a new year gift, so far, this is the best investment. We need something like this during a pandemic. High-quality air filter, easy to maintain. We have been running it. It helps our family stay healthy.
QUIET AND EXTREMELY EFFICIENT
A few days ago, after laying tiles and painting some cabinets, the contractor used one of them in our kitchen. The activated carbon filter is very effective in removing odors. Recently, we purchased this equipment to deal with the smell of paint, glue, carpet, and chemicals that seep into our living spaces. It works well and makes our life more comfortable. In addition, the scrubber also contains a HEPA filter for fine particles, and a pre-filter can be used before the carbon filter.