AlorAir Commercial Dehumidifier 113 Pint with Drain Hose. Water Damage Unit -Sentinel HD55
Share
Regular price

Price:

$587.48

Regular price

List Price: $899.66

Sale price

Price:

$587.48

You save:

$312.18 (35%)

Unit price

per
Sentinel HD55-Blue
Sentinel HD55-Blue
FINANCING AVAILABLE

Airpuria is excited to announce that we have financing options available for all customers.

If you have any questions please contact the Airpuria Team. Call: 773-337-8822 or email us at support@airpuria.com.
ALORAIR Commercial Dehumidifier 113 Pint, With Drain Hose For Crawl Spaces, Basements, Industry Water Damage Unit, Compact, Portable, Auto Defrost, Memory Starting, 5 Years Warranty, Sentinel HD55
Product Description:
[113 PINT DEHUMIDIFIER] AlorAir Sentinel HD55 commercial dehumidifier can removal 113 PPD at saturation, 53 pints per day at AHAM, up to 1,200 sq. Ft, lowering the humidity to comfortable levels in a short period of time. On the other hand, this ETL-listed dehumidifier is made of a metal outer casing that withstands more rugged conditions, ensuring long-term use and easy maintenance. Fit any crawl spaces, basements, warehouses, offices, factories, shops, storage areas.
[SUPER CONVENIENT USAGE] This high-quality dehumidifier simply adjusted to the ideal humidity setting to minimize moisture and reduce odor. The MERV-8 Filter can protect internal components from dust when dehumidifying. the most convenient point is that you are not requested to pour away the water every hour like a normal domestic dehumidifier, there is no tank inside, it drains automatically.
[AUTO DEFROSTING SYSTEM] The auto defrost is important, as ice buildup on the dehumidifier's coils can cause the units to malfunction. Alorair commercial dehumidifier can truly make the dehumidifier able to work at the Low temperature (36 degrees Fahrenheit), makes the unit work continuously and efficiently without periodic stopping during the defrosting process, not only saving the energy but also making the unit last longer.
[SAME FIT FOR CRAWL SPACES & BASEMENTS] We designed this professional dehumidifier with the modern consumer in mind, smaller size, compact design, rugged handle, easy and safe to transport from job to job, and even from downstairs to upstairs. All special features make it the best for crawlspace, basement, and commercial applications, auto defrosting system, optional remote control system, strong as the tank, Low-temperature operation, C-ETL.
[5 YEAR WARRANTY AND STRONG LOCAL SERVICE TEAM] 5 YEARS Warranty-We believe in quality and after-sales-service, all our high-quality AlorAir basement/crawlspace dehumidifiers are made for your full utilization. It is sure to last long and still keep its shape look, even in some cruel commercial USES. Your 100% satisfaction is with 5 Years and a great after-sales-service team countrywide


Features:



The Sentinel HD55 Dehumidifier has CETL approved. Up to 113 pints (8 gallons) moisture removal per day (53 PPD AHAM). This unit has a wide range of applications including crawl spaces, basements, warehouses, offices, factories, shops, apartments, storage areas, restaurants, bars, and museums, also works well for urgent water
damage restoration, fast structural drying, and other jobs that require fast dry.
It can also help to resolve damage to inventory and building maintenance due to dampness. Sentinel HD55 was introduced to provide a one-stop service for your humidity problem, the preassembly, external condensate connection point, and side sliding filter, make the installation process simple.

Optional REMOTE CONTROL – This professional dehumidifier is designed with the remote monitoring function, it makes this unit an ideal choice for places where remote sensing and controlling is required, It is also a good choice for sound insulation and saving space usage. Contact the Airpuria team to purchase a remote control. 
Specification:

Filter: MERV-8 Filter

Airflow: 120 CFM, 205CMH

Supper COP: 2.27 L/kWh

Sound Pressure Level: <52 dB(A)

Draining: Gravity Draining

Functioning Temperature Range: 33.8~104 ℉

Functioning Humidity Range: 35~90%

Rare earth alloy Tube Evaporator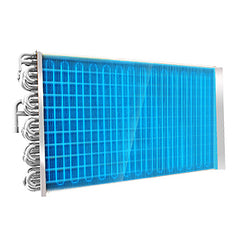 To avoid Freon leakage, a fatal flaw for a dehumidifier, AlorAir has introduced a Rare earth alloy Tube Evaporator. This innovative feature extends the life of the coils by providing protection against, maintaining the coil's heat transferability.

Easy Filter Access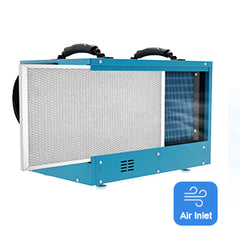 The high-dense MERV-8 protects internal components from damage due to dust and other particles ensure efficient operation and long-term use. Please replace the filter once per 2-3 months.

Optional Remote Control: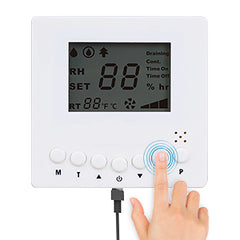 This professional dehumidifier is designed with the remote monitoring function, which makes this unit an ideal choice for places where remote sensing and controlling is required, It is also a good choice for sound insulation and saving space usage, you can buy the remote control from our Amazon store as well.
Full Features List:

Auto-Diagnosis System: Get troubleshooting tips by the error codes.

Auto Defrosting Function allows low-temperature operation.

Auto-Restart – Smart technology remembers your settings in case of a power outage.

Adjustable feet and handle – Allow you to easily adjust the height, and transport the unit from room to room.

Washable MERV-8: Protects internal components from the damage of dust.

Built-In humidity sensor– Reads ambient temperature and relative moisture in the room; communicates with optional remote controller for remote monitoring and control.

Optional Duct-Hot air exhaust for focused Dehumidification.
IN THE BOX

Blue Sentinel HD55 Basement Dehumidifier ×1 

Drainage pipe ×1 

MERV-8 Filter ×1 

User Manual ×1
---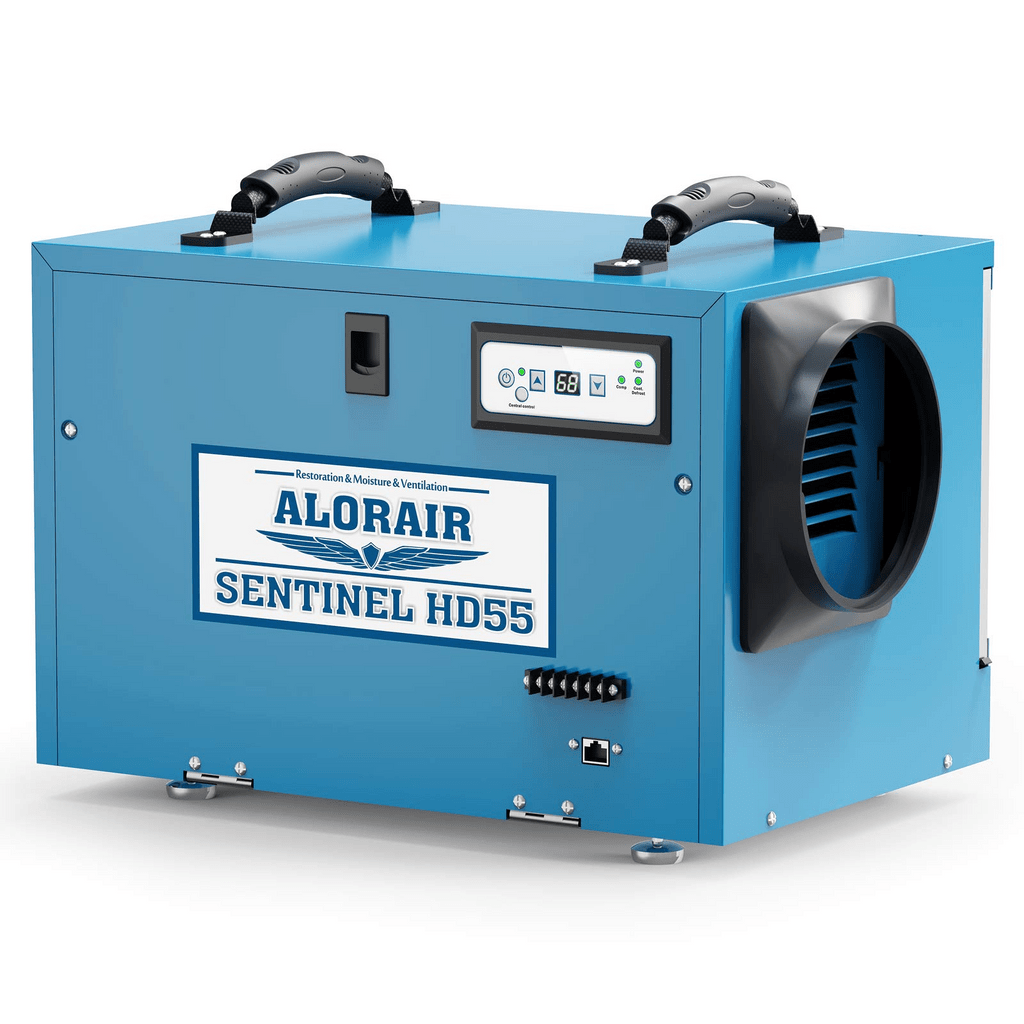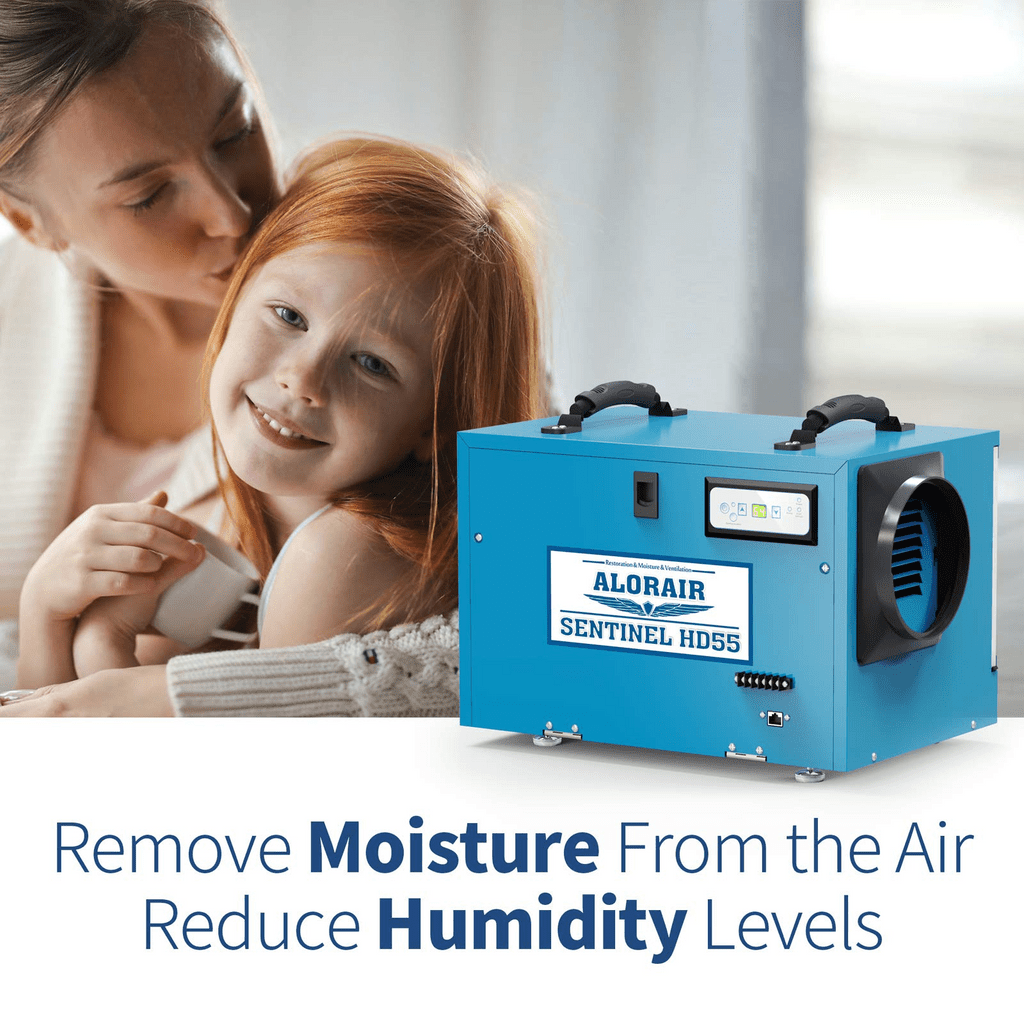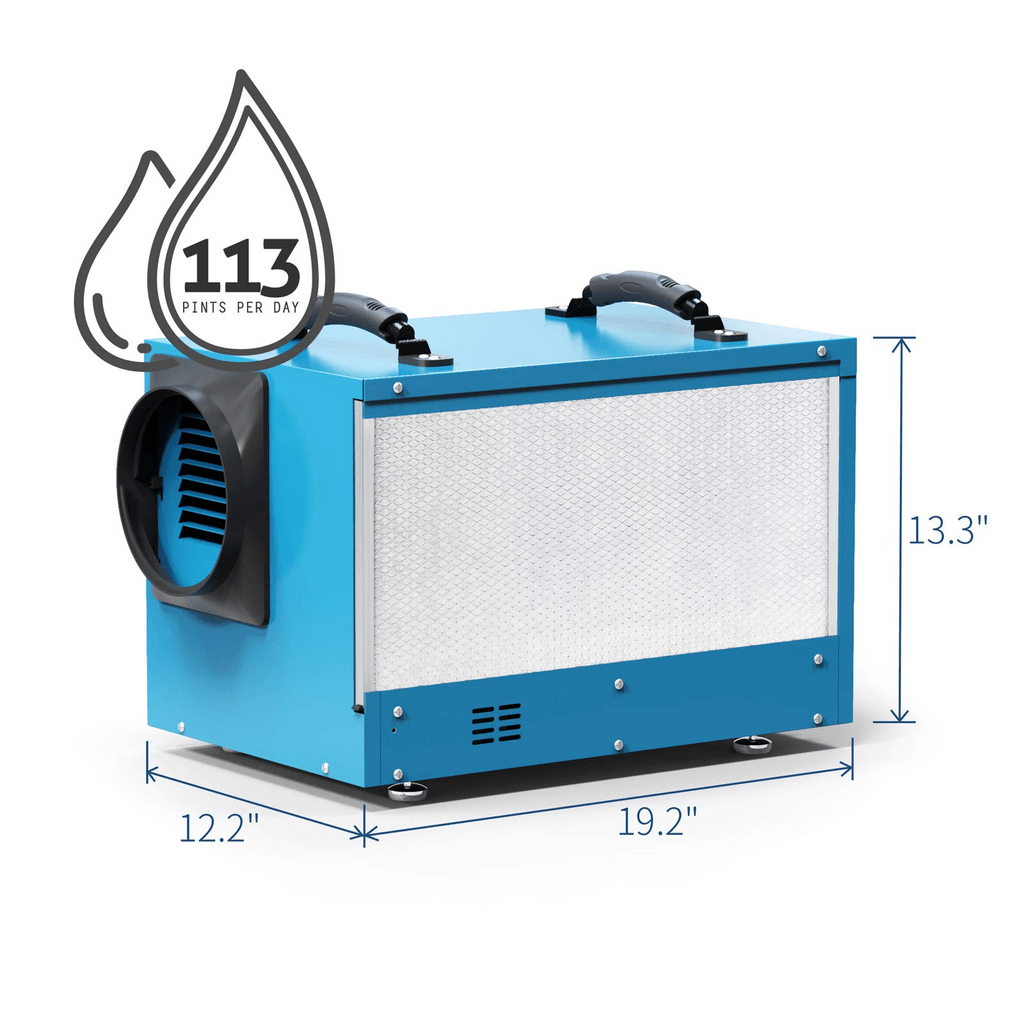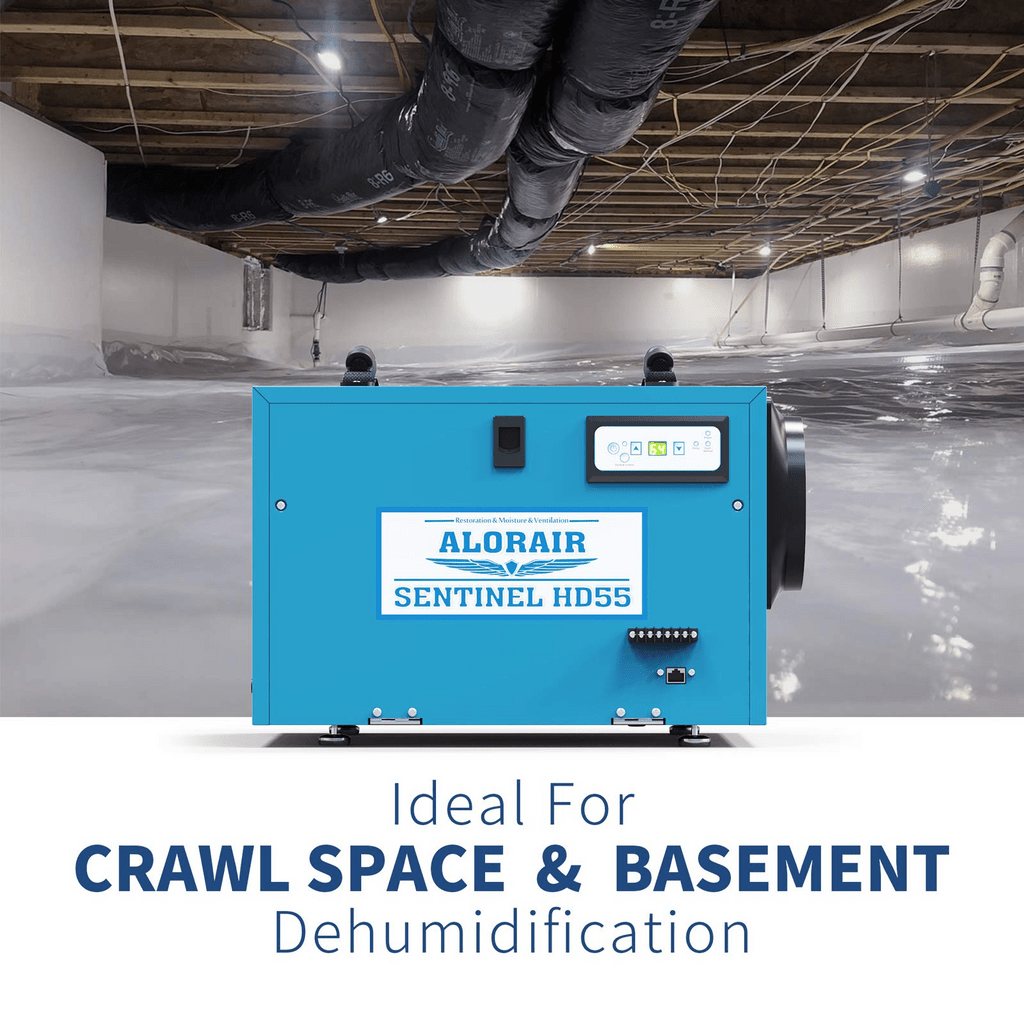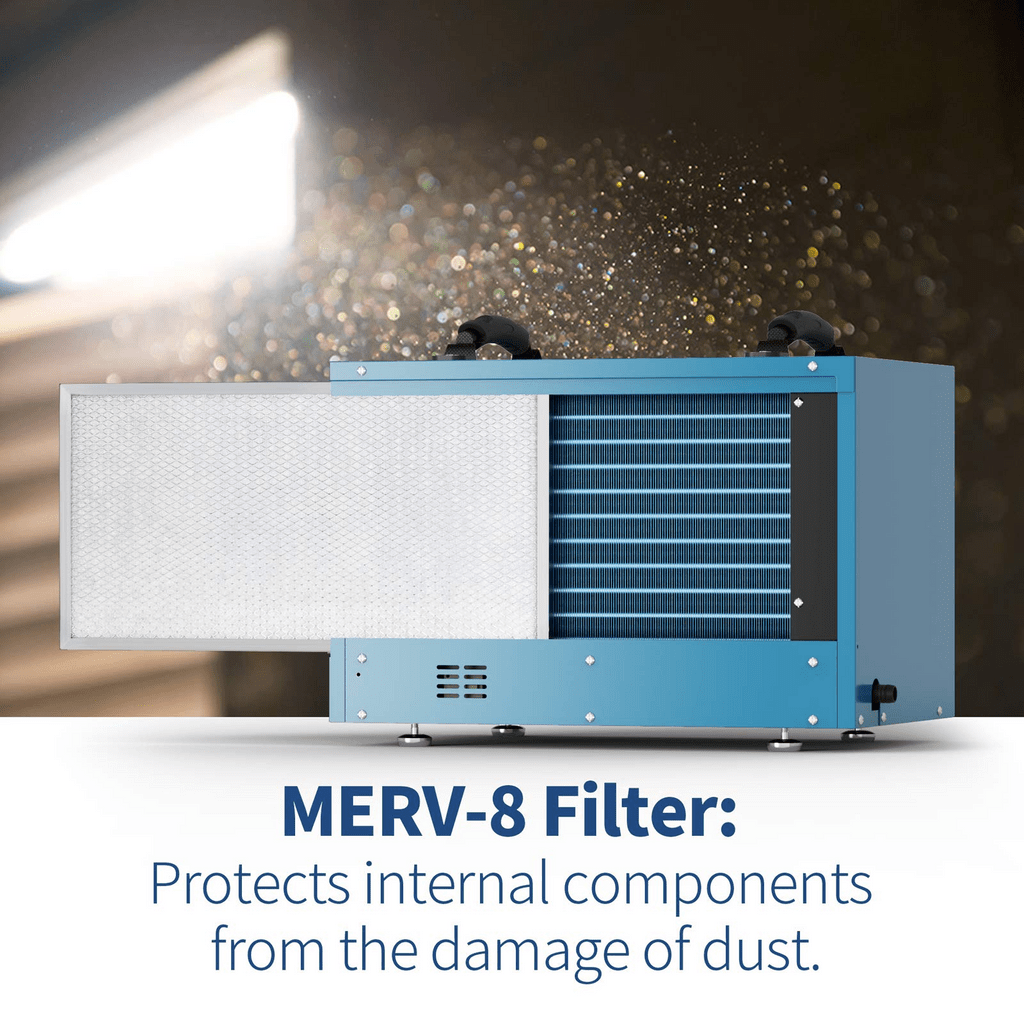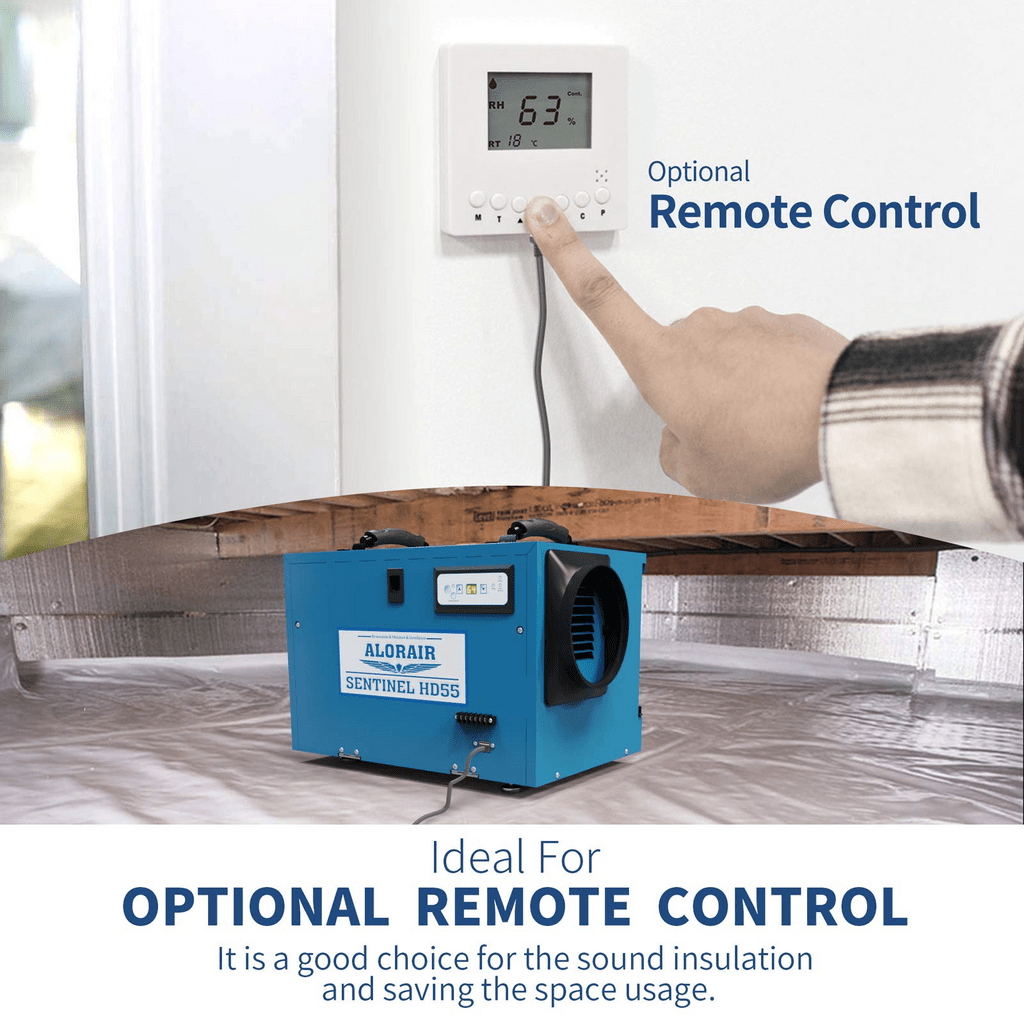 Awesome service!
Outstanding customer service---prompt, professional, and very friendly and easy to work with. Excellent pricing---I highly recommend Ceara and her team at Airpuria!
EXCELLENT MACHINE
Great product ! after the usage of one week, I certainly feel the improvement of the air quality, it is obvious that the dehumidifier can control the dehumidifier well, and provide a healthy living environment for us, I will buy one more in the next week.
Choose it all the way!
Easy for me to operate, with strong quality, I was satisfied with the compact size, lightweight, also designed with a handle works effectively, I put it in my crawlspace, with a large area, but it can cover all the area, I will choose it all the way!
OBVIOUSLY GOOD
Small size and convenient handle, when I opened the package, I really like the appearance of the machine, what's more, it works with high efficiency, less energy consumption,cost-saving, perfect one!
SO QUIET AND EFFECTIVE
This unit is of great value. We have budgies and they are very sensitive to air quality and were concerned about the smoke in the air from recent wildfires. We choose this air purifier to help.
It is so easy to use. Love the indicator of air quality in the room as it improves.