AlorAir Commercial Dehumidifier 120 PPD - Sentinel HD55-White
Share
Regular price

Price:

$648.66

Regular price

List Price: $999.00

Sale price

Price:

$648.66

You save:

$350.34 (35%)

Unit price

per
Sentinel HD55-White
Sentinel HD55-White
FINANCING AVAILABLE

Airpuria is excited to announce that we have financing options available for all customers.

If you have any questions please contact the Airpuria Team. Call: 773-337-8822 or email us at support@airpuria.com.
APPLICATION



This dehumidifier has a wide range of applications including crawl spaces, basements, warehouses, offices, factories, shops, apartments, storage areas, restaurants, bars, and museums where occur corrosion, mold growth. It can also help to resolve damage to inventory and building maintenance due to dampness. Sentinel HD55 was introduced to provide a one-stop service for your humidity problem, The preassembly, external condensate connection point and side sliding filter, make the installation process simple.
Moisture Removal Capacity (115V/60Hz): 55 Pints/Day@AHAM (80°F-60%), 120 Pints/Day@saturation (90°F,90%)

Moisture Removal Capacity (220V/50Hz need to be customized): 60 liters/Day (125 PPD)@ (30°C-80%)

Moisture Removal Capacity (115V/60Hz): 34.53 Pints/Day @DOE (60˚F, 60% RH)

SAVES YOU MONEY: Since it is Energy-Star rated, this dehumidifier will quickly remove moisture from the air without running up your utility bill. Energy Star appliances are not just better for the environment, they also cost 30% less to operate compared to non-Energy Star appliances.


PRODUCT DESCRIPTION:
RUGGED CRAWL SPACE/BASEMENT DEHUMIDIFIER - This will be the best Crawl space/basement dehumidifier you will ever use. Remove 55 Pints per day at AHAM condition Up to 1,300 Sq. Ft. fit for any basement, Crawl space, Storage Areas, Garage, or any large room, and it's COP 2.4 L/kWh, so it quickly and effectively absorbs moisture without racking up your energy bill. 
DESIGNED FOR THE MODERN HOME - For your full satisfaction, we designed this Professional dehumidifier with the modern consumer in mind, All Special features make it the best for Crawl space and Basement applications, Auto Defrosting system, Remote control system, strong as the Tank, Epoxy coated, MERV-8 filter, Low-temperature operation, cETL.
SUPER CONVENIENT USAGE - This high-quality dehumidifier offers you a very easy and convenient operation. Simply adjust to your ideal moisture setting, then let it run its continuous 24-hour cycle With Continuous Drain Hose, at which point it will automatically shut off. maximum moisture removal and odor reduction with a MERV-8 filter. the most convenient point is that you are not requested to pour away the water every hour like a normal domestic dehumidifier, there is no tank inside, it drains automatically. 
REMOTE CONTROL – This professional dehumidifier is designed with the remote monitoring function, it makes this unit an ideal choice for places where remote sensing and controlling is required, It is also a good choice for sound insulation and saving space usage. Contact the Airpuria team to purchase a remote control.
5 YEARS WARRANTY- We believe in quality and after-sales-service, All our high-quality ALORAIR basement/crawl space dehumidifiers are made for your full utilization. It is sure to last long and still keep its shape look. Your 100% satisfaction is guaranteed with a 5 Years Warranty and a great after-sales-service team countrywide. 
RARE EARTH ALLOY TUBE EVAPORATOR
To avoid Freon leakage, a fatal flaw for a dehumidifier, AlorAir has introduced a Rare earth alloy Tube Evaporator. This innovative feature extends the life of the coils by providing protection against, maintaining the coil's heat transferability.
EASY FILTER ACCESS
The high-dense MERV-8 protects internal components from damage due to dust and other particles ensure efficient operation and long-term use. Please replace the filter once per 2-3 months.
OPTIONAL REMOTE CONTROL
This professional dehumidifier is designed with the remote monitoring function, it makes this unit an ideal choice for places where remote sensing and controlling is required, It is also a good choice for sound insulation and saving space usage, you can buy the remote control from our Amazon store as well.
SPECIFICATION

• Filter: MERV-8 Filter
• Air flow: 130 CFM, 230 CMH 
• Sound Pressure Level: <52 dB(A) 
• Refrigerant: R410A 
• Feet: Adjustable Feet
• Draining: Gravity Draining 
• Defrosting Control System: Auto Defrosting 
• Functioning Temperature Range: (33.8-104°F)
• Functioning Humidity Range: 35~90%
• Unit Dim (L × W × H): 19.2×12.2×13.3 in 
KEY DESIGN FEATURE

• Auto Defrosting System 
• Supper COP
• Rare earth alloy Tube Evaporator
• Quick Access to Service
• Smallest Size
• HVAC Remote System 
FEATURE
• Compressor Type: Rotary
• Ducting Options √ 
• Auto Defrosting √ 
• Easy Handling √ 
• Water Full Protection √ 
• Environmental R410A Refrigerant √ 
• Automatic Humidistat Control √ 
• Memory Starting √ 
• 
Rare earth alloy Tube Evaporator
 √ 
• Continuous Model √ 
• HVAC Remote System √ 
• Remote Control √ 
• Low Temperature √ 
• Bypass Air sensor √ 

IN THE BOX

Sentinel HD55 Basement Dehumidifier ×1 
Drainage pipe ×1 
MERV-8 Filter ×1 
User Manual ×1
---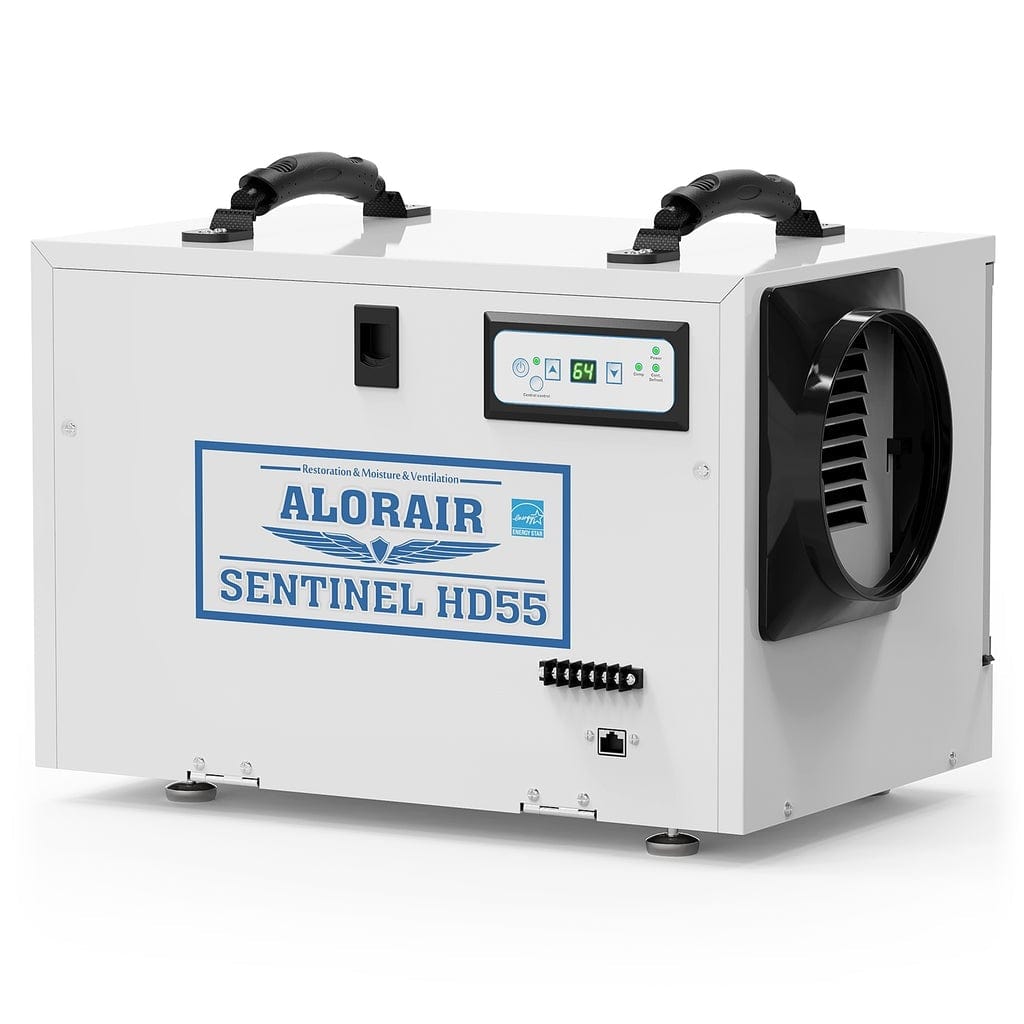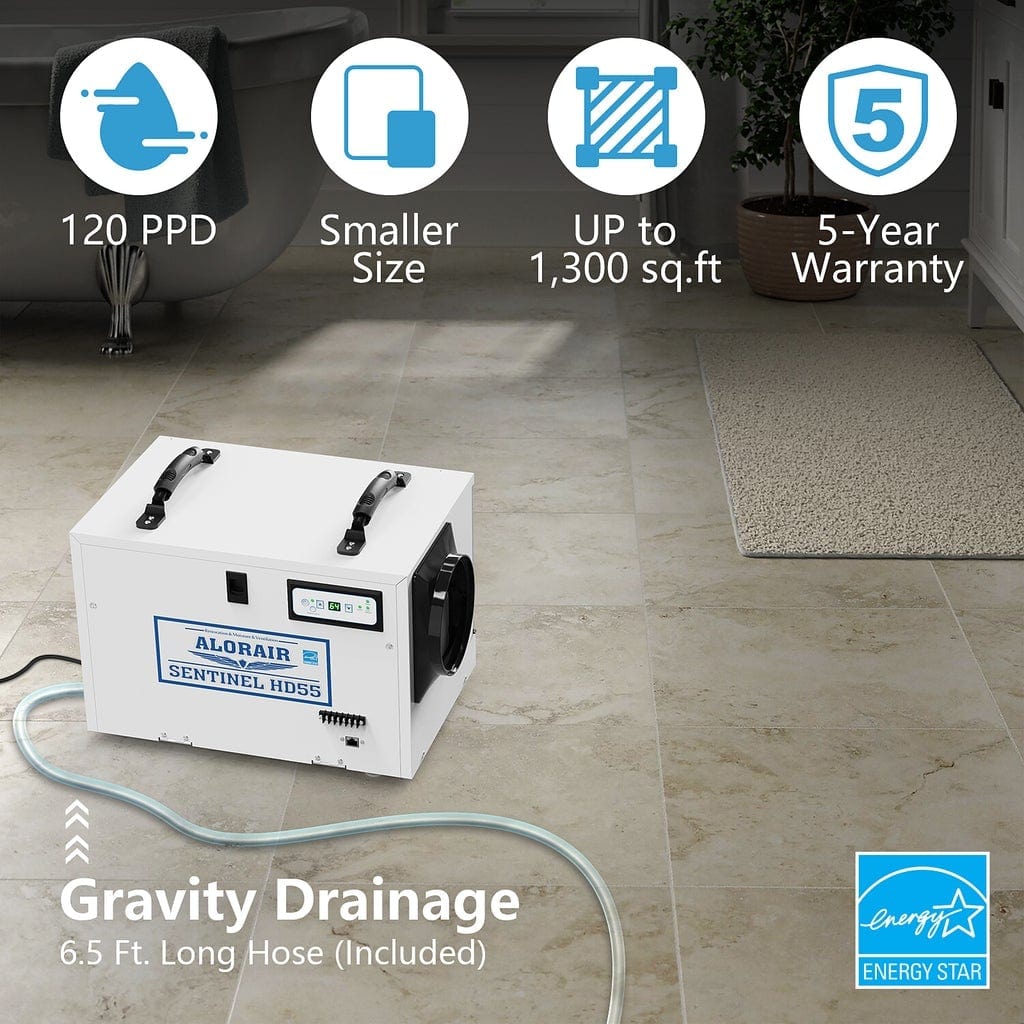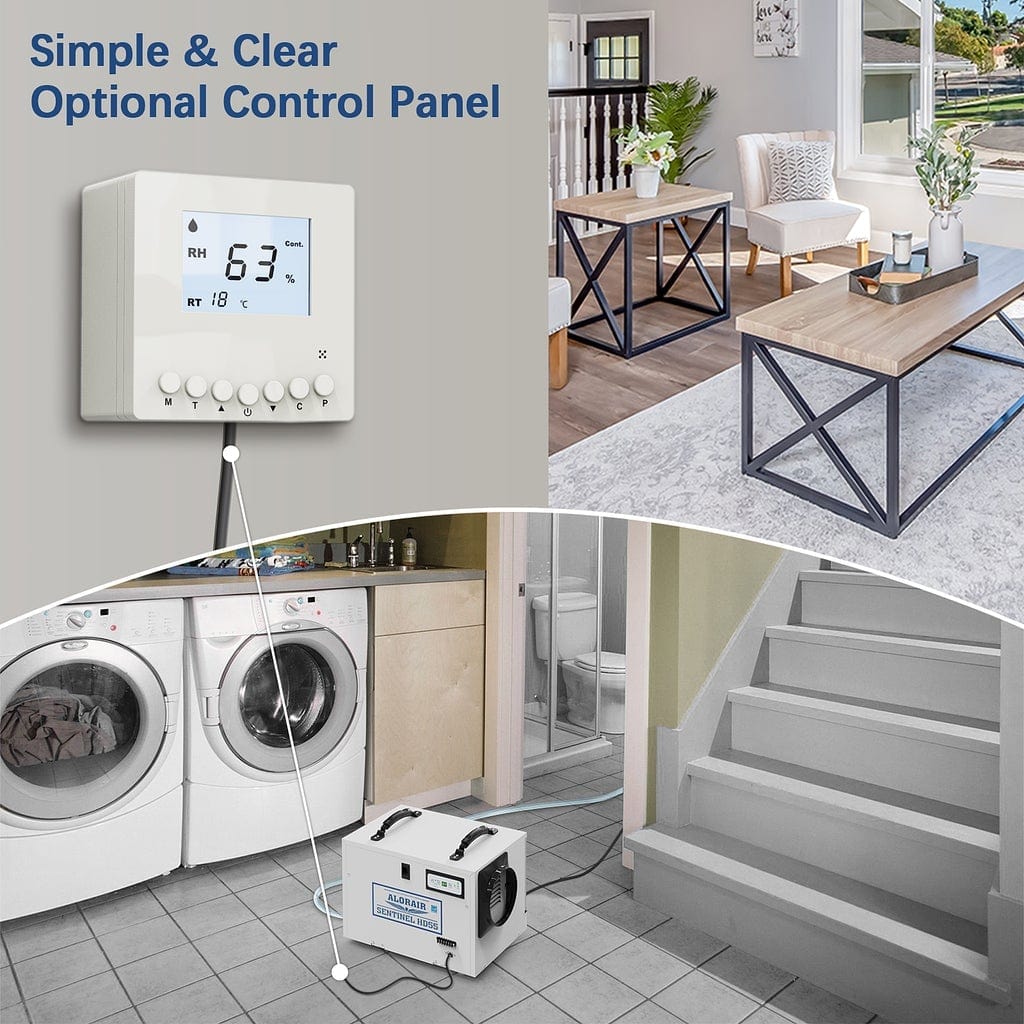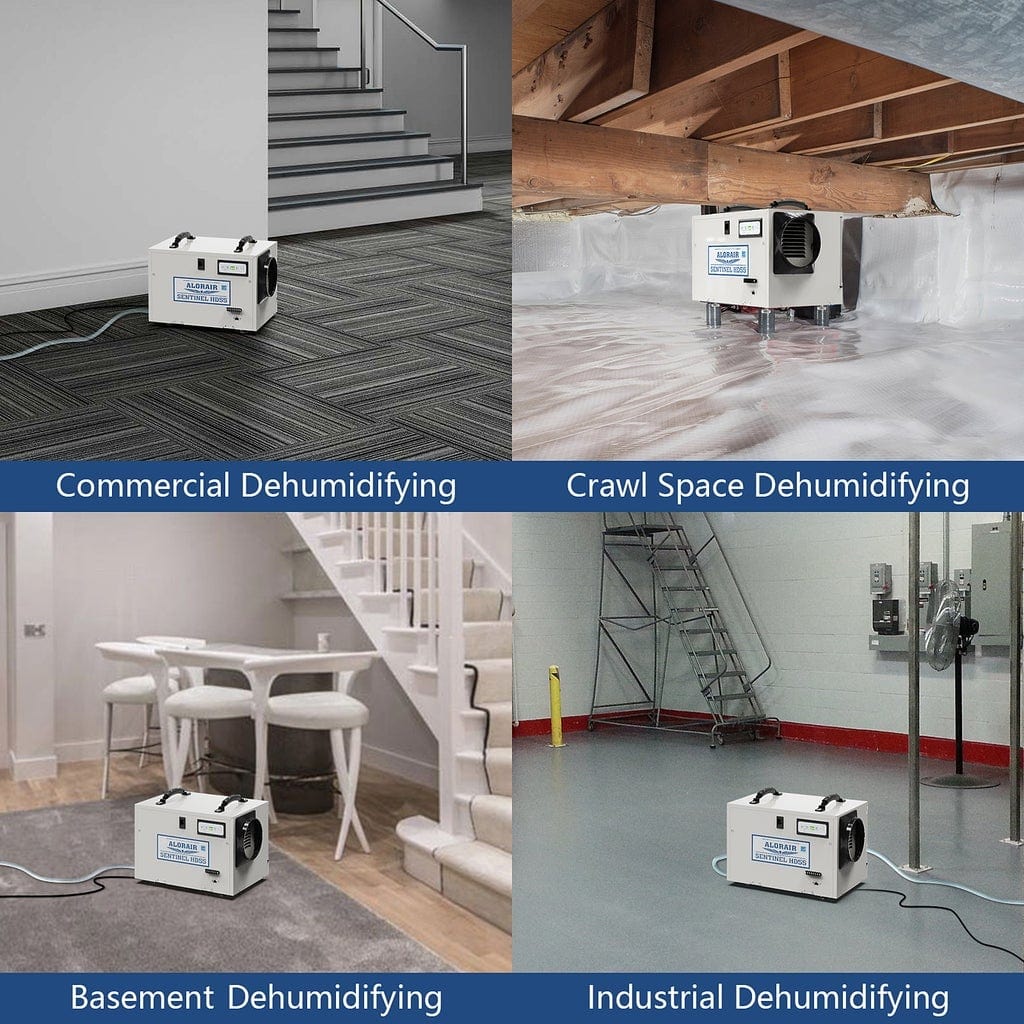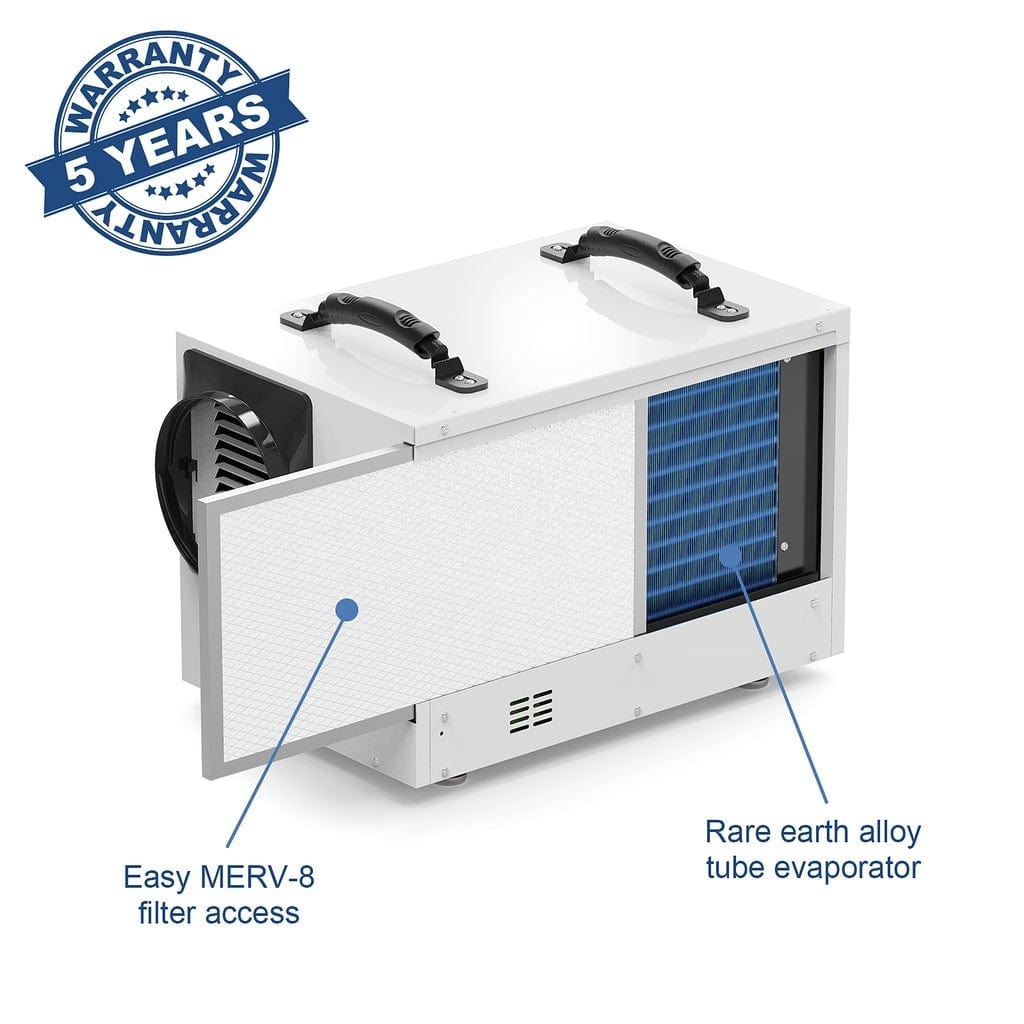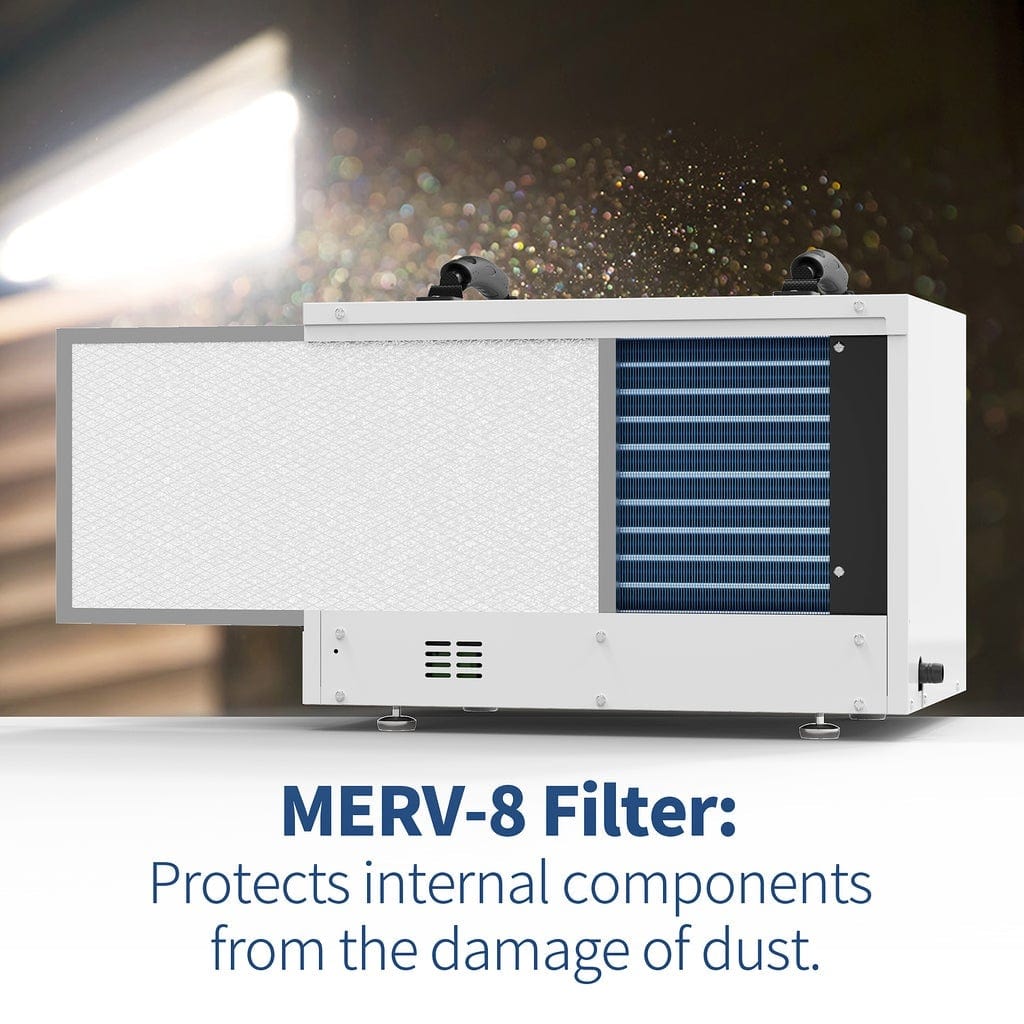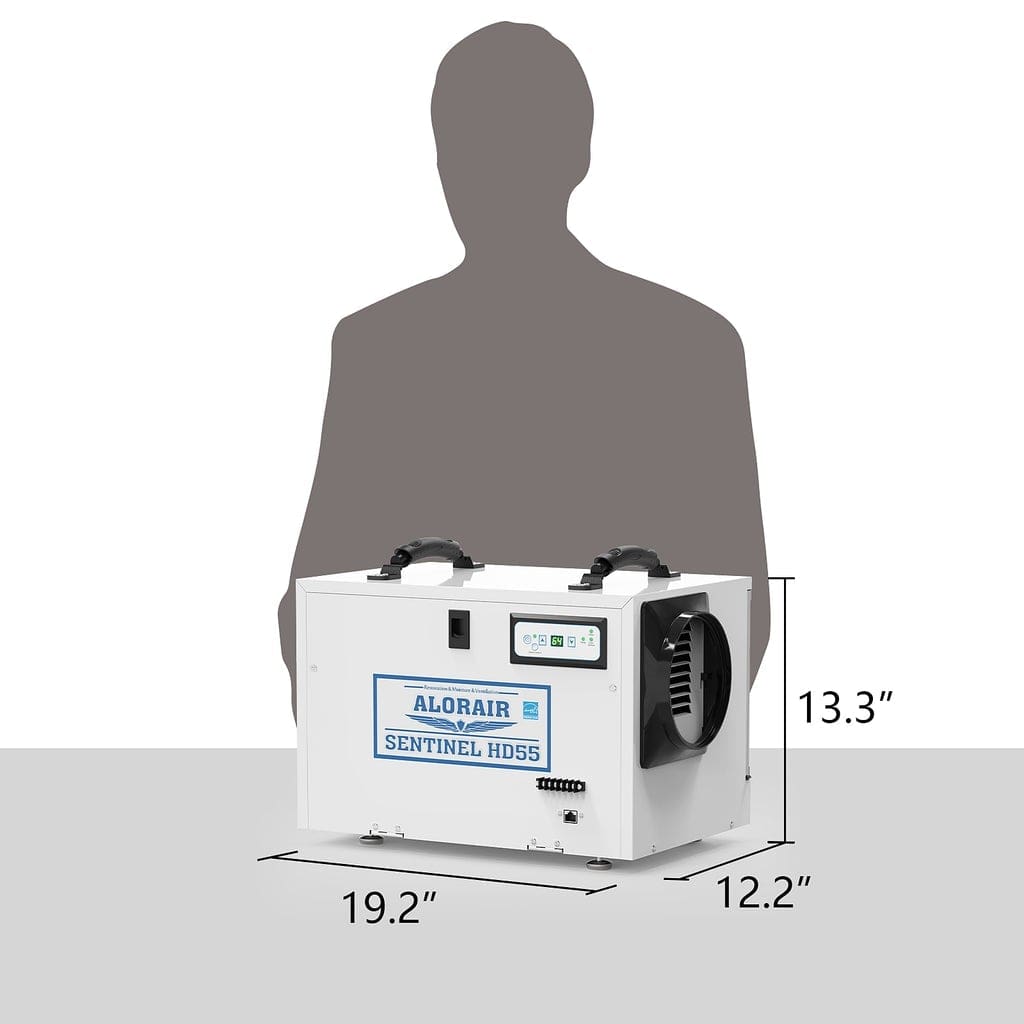 THIS IS A MUST!
This air scrubber can fully perform its due function. It can purify the air and eliminate odors and particles in our common living space. My home needs one of these. It is modern, quiet, and the effect is amazing! Everyone tells me that the air in my house is very pure. When visitors can tell the difference, you will know that it is real. This is an air purifier! I strongly recommend everyone to use it because this product is definitely a must. Quality life and air. Thank you!
ABSOLUTELY OUTSTANDING
I chose this product because I am looking for an air purifier for my living room that is equipped with a real HEPA filter and a washable filter. For whatever reason, it was bigger than I expected. I like its UV-C lamp function, which uses ultraviolet rays to kill bacteria and viruses in the air. Since using this product, my breathing condition is better.
CLEAN THE AIR EFFECTIVELY
This is the first and only air scrubber I have. For high prices, I hope it can last for ten years. Time will tell everything, but I think that as long as the filter is replaced and the inside of the motor and fan blades are kept clean, it will run for a long time.
STRONG MACHINE !
This is my first time to buying this kind of air scrubber, cause I always suffer from poor indoor air quality, and affects the health of my whole family, after the use of this air scrubber, I find the improvement of indoor air quality, that's perfect!