Alorair HDi90 - Duct-Able Version Basement/Crawl Space Dehumidifiers - Sentinel HDi90-Duct Version
Share
Regular price

Price:

$1,147.11

Regular price

List Price: $1,399.00

Sale price

Price:

$1,147.11

You save:

$251.89 (18%)

Unit price

per
Sentinel HDi90-Duct Version
Sentinel HDi90-Duct Version
FINANCING AVAILABLE

Airpuria is excited to announce that we have financing options available for all customers.

If you have any questions please contact the Airpuria Team. Call: 773-337-8822 or email us at support@airpuria.com.
Sentinel HDi90 with Round Panel Basement Dehumidifier with Pump design for connecting inlet ducting available. (Ducting needs to buy separately.)

Product Description:
Energy Star Certified Dehumidifier-quickly and effectively removes moisture with less energy than conventional dehumidifiers without racking up your energy bill, saving you money. This will be the best crawl space/basement dehumidifier you will ever use. Remove 90 pints per day at AHAM condition, 198 Pint at saturation, up to 2,600 sq. ft, fit for any basement, crawl space, storage areas, garage, any large room, or commercial use.
Heavy Duty Condensate Pump: When removing large amounts of moisture, the condensate pump keeps the dehumidifier running smoothly and efficiently by pushing collected water out of the area continuously. Optional Remote Control – This professional dehumidifier is designed with a remote monitoring function, which makes this unit an ideal choice for places where remote sensing and controlling are required. The Whole Home dehumidifiers can be ducted by attaching return ducts, supply ducts, or both.
Automatic Defrost- a quick and efficient defrosting process, truly makes the dehumidifier able to work at a low temperature (36 degrees Fahrenheit), if frost is detected on the coils, an automatic defrost cycle runs to avoid frost build-up and issues associated with that build up. Makes the unit work continuously and efficiently without periodic stopping during the defrosting process, not only saving the energy but also making the unit last longer.
Save on Costs, AlorAir High COP Dehumidifier, an investment in crawl space/basement comfort can be paid back by a few years' energy savings. You can save up to $250 per year in energy costs with dehumidifiers working for their families! Once you are able to maintain a consistent RH 50 %, no need to keep the thermostat at low, uncomfortable temperatures once used in an effort to control humidity.
5 Years Warranty-energy efficient & safety tested our sentinel HDi90 dehumidifier is energy star certified and is fully compliant with the electrical safety ETL. Every AlorAir dehumidifier comes with a 5-year warranty with a local professional customer support team ready to assist at any time. If you have any questions, please feel free to contact us, you deserve the best after-sales service. 

APPLICATION:
The Sentinel HDi90 Basement Dehumidifier is designed specifically for crawlspaces and basements. Low noise level, great COP 2.69 L/kWh (115V/60Hz), and huge capacity 90 PPD at AHAM condition. Sentinel HDi90 Dehumidifier supplements the air conditioning system in the summertime and maintains humidity levels balanced of the year.  
● 
Moisture Removal Capacity: 90 Pints/Day / 115V (80°F-60%), 90L(190 PPD) / 220V (30°C-80%)
● 
Moisture Removal Capacity: 47.71 Pints/Day @DOE (60˚F, 60% RH)
● Power Supply: 115V / 60HZ, 230V / 50HZ (need to be customized)
● Coverage Area: Up to 2,600 Sq. Ft
● COP 2.69L/kWh (115v/60Hz), 3.0L/kWh (220v/50Hz need to be customized)
● 
Ideal for removing Damp, Mould, Rot and Moisture from Museums/Sports Halls,
Water Damage Restoration, Vehicle Storage, Basements/ Cellars, Storage Areas, Garage, and Basement. Keep Dry and Restrain Bacterial Growth
Intelligent Control system: Automatic humidistat control, Water Full Protection, Timer
SAVES YOU MONEY: Since it is Energy-Star rated, this dehumidifier will quickly remove moisture from the air without running up your utility bill. Energy Star appliances are not just better for the environment, they also cost 30% less to operate compared to non-Energy Star appliances.
SPECIFICATIONS:

● Filter: MERV-8  Filter
● Airflow: 210 CFM, 350 CMH
● Sound Pressure Level: <58 dB(A)
● Refrigerant: R410A
● Wheel: Adjustable wheel
● Draining: Condensate Pump
● Defrosting Control System: Auto Defrosting
● Functioning Temperature Range: 33.8-104℉
● Functioning Humidity Range: 35~90% 
KEY DESIGN FEATURE
● Auto
 Defrosting System 
● Supper COP
● Energy Star Listed
● 
Rugged Condensate Pump (Developed only for Dehumidifier) 
● 
Rare earth alloy Tube Evaporator
● Quick Access to Service 
● Smallest Size 
● HVAC Remote System 

FEATURES
● Energy Star √ 
● Compressor Type: Rotary 
● More Thorough, And More Quicker √ 
● Ducting Options √ 
● Auto Defrosting √ 
● Easy Handling √ 
● Water-Full Protection √ 
● Environmental R410A Refrigerant √ 
● Automatic Humidistat Control √ 
● Memory Starting √ 
●
Rare earth alloy Tube Evaporator
√ 
● Continuous Model √ 
● HVAC Remote System √ 
● Remote Control (sold separately) √ 
● Low Temperature √ 
● Bypass Air sensor √ 

IN THE BOX
● Sentinel HDi90-Round Panel 198 PPD Basement Dehumidifier ×1 
● Drainage pipe ×1 
● MERV-8 Filter ×1 (roundness)
User Manual ×1
Remark:
Ducting and remote controllers need to buy separately.
---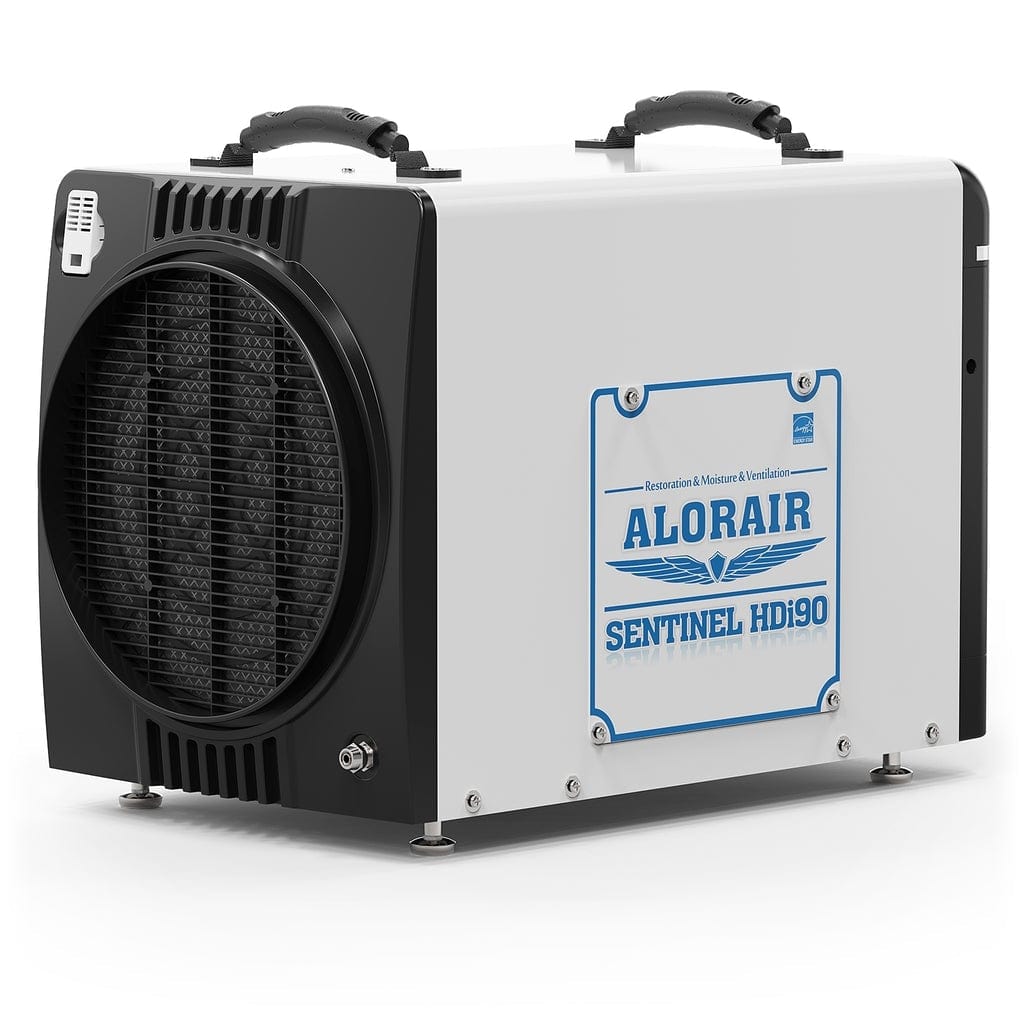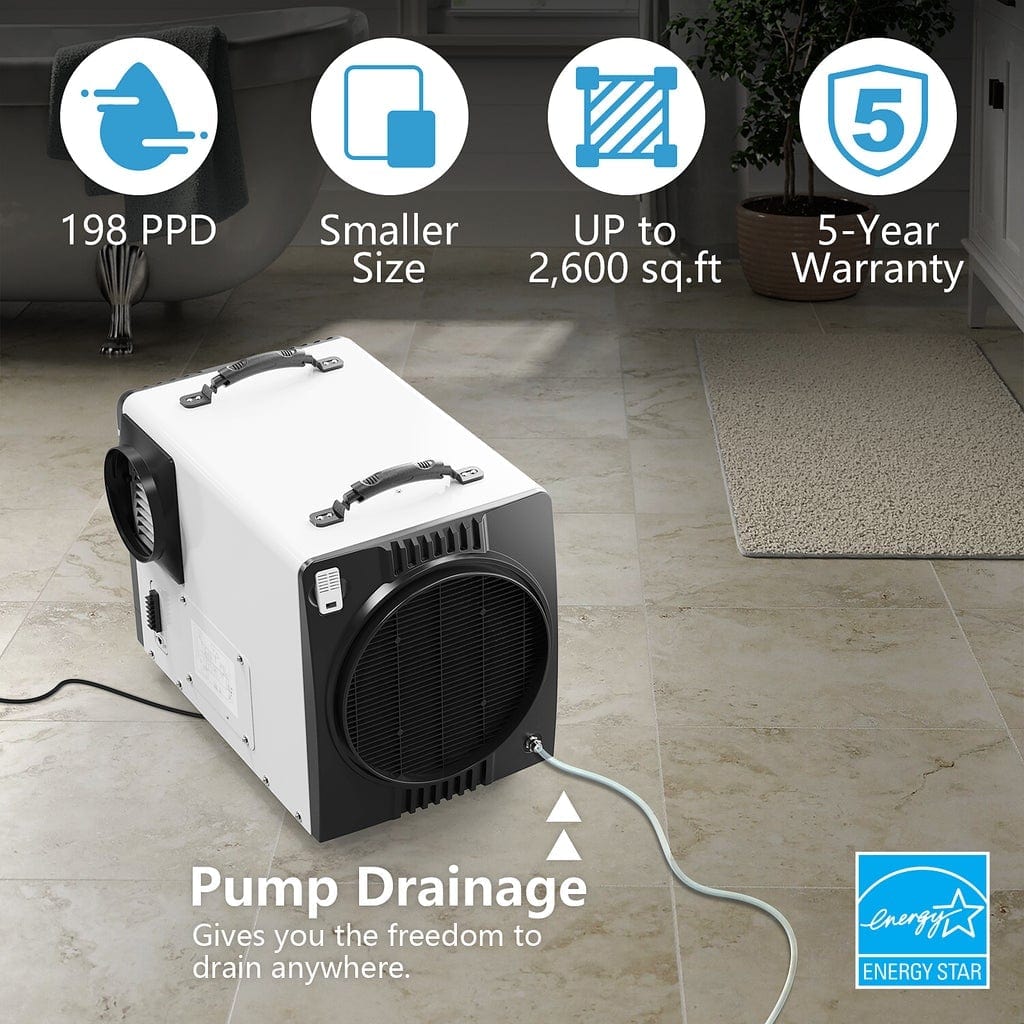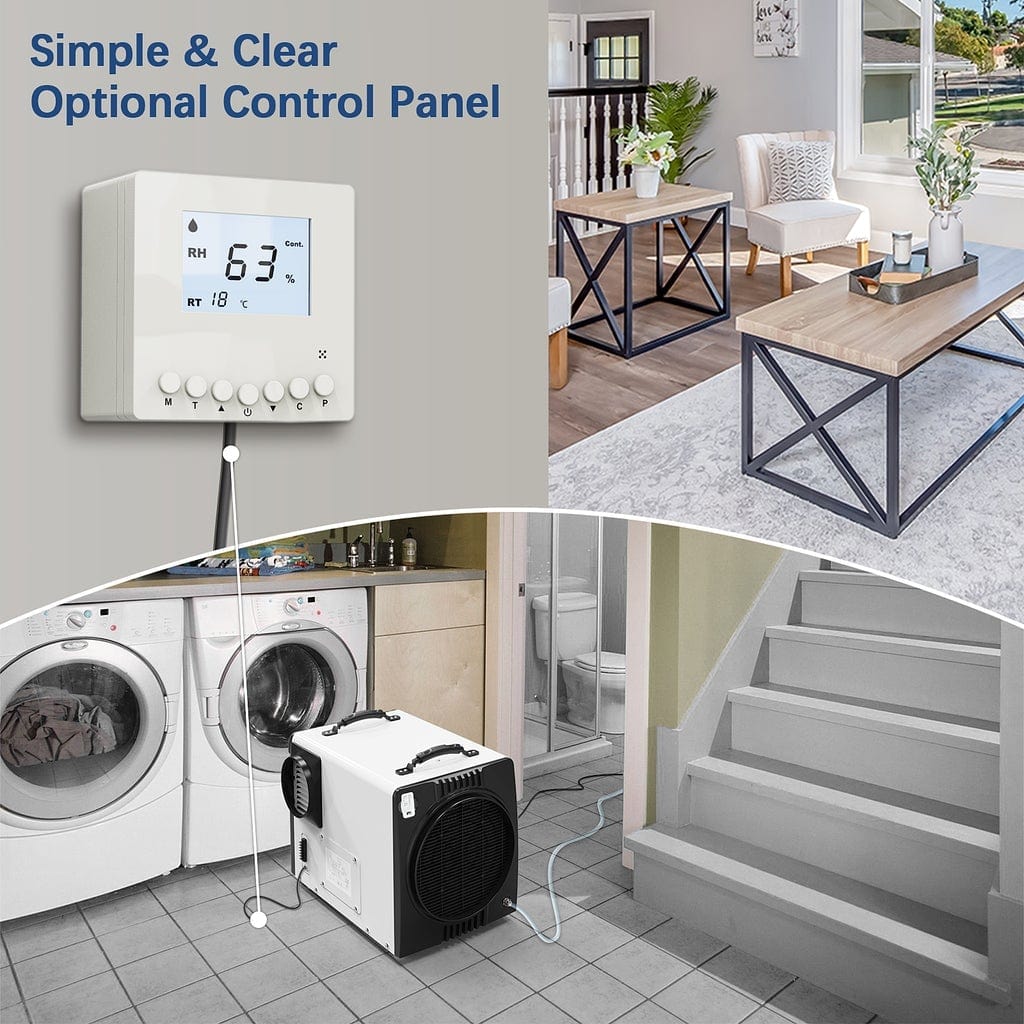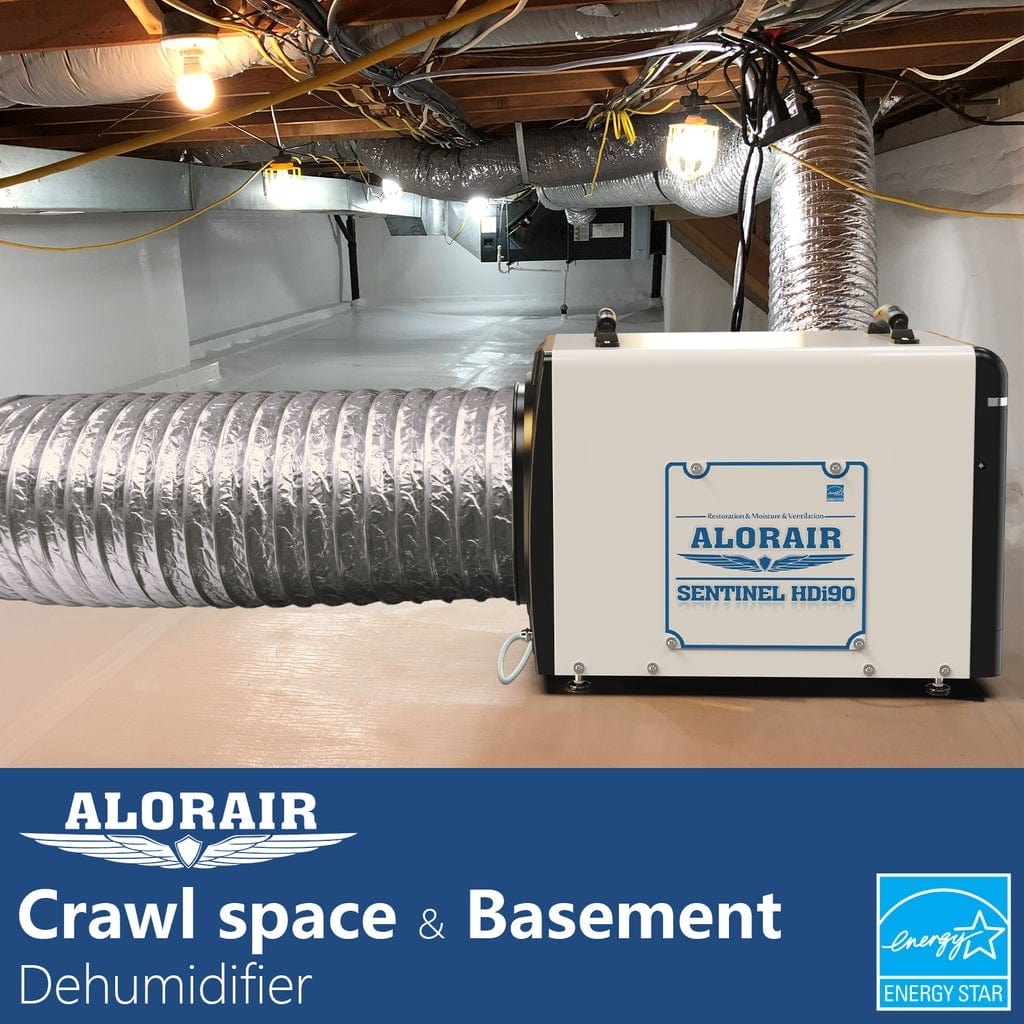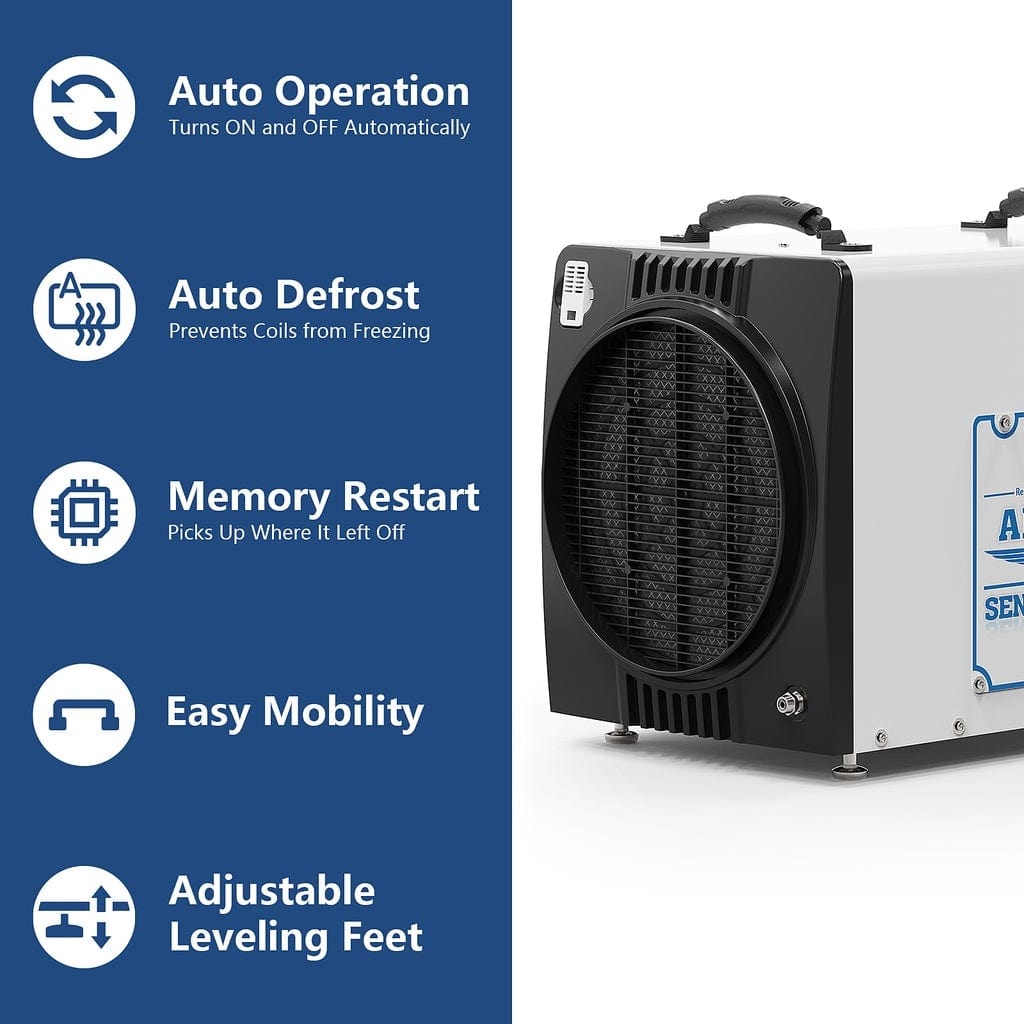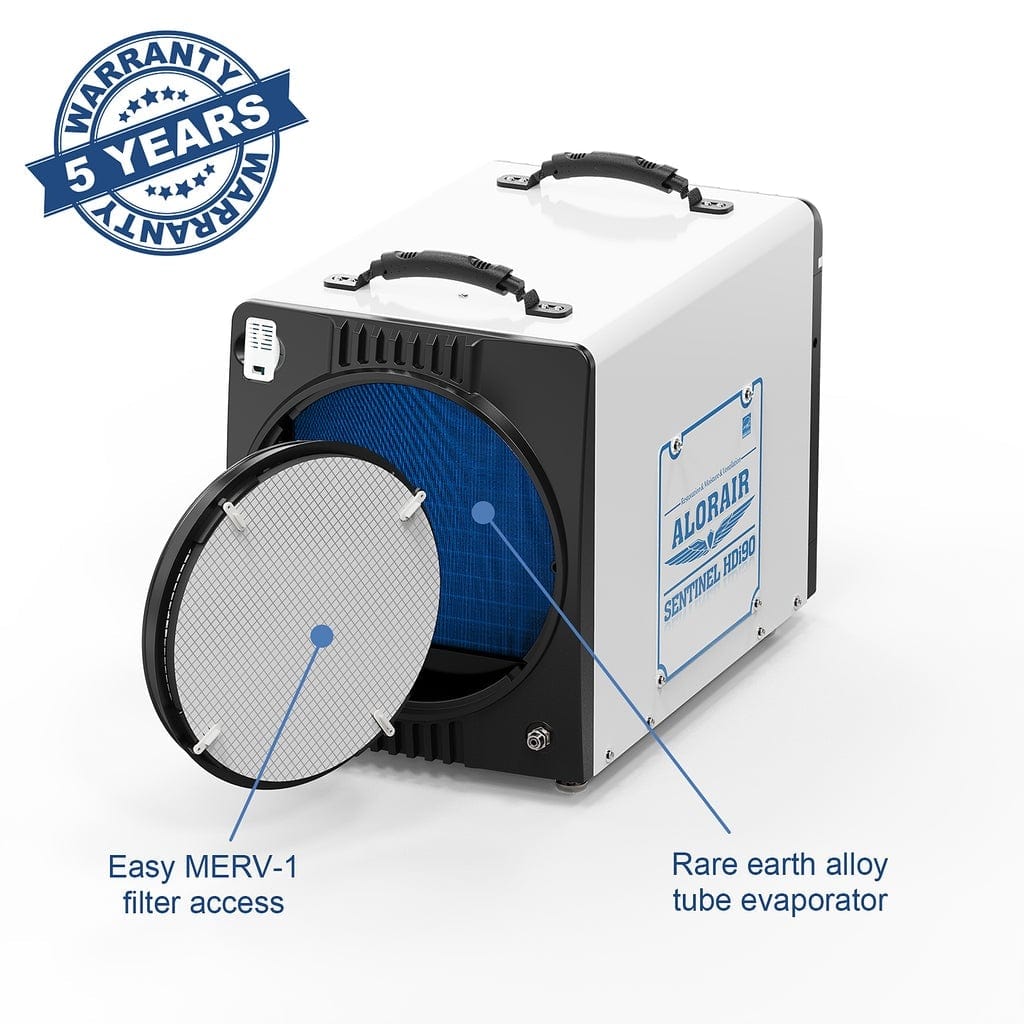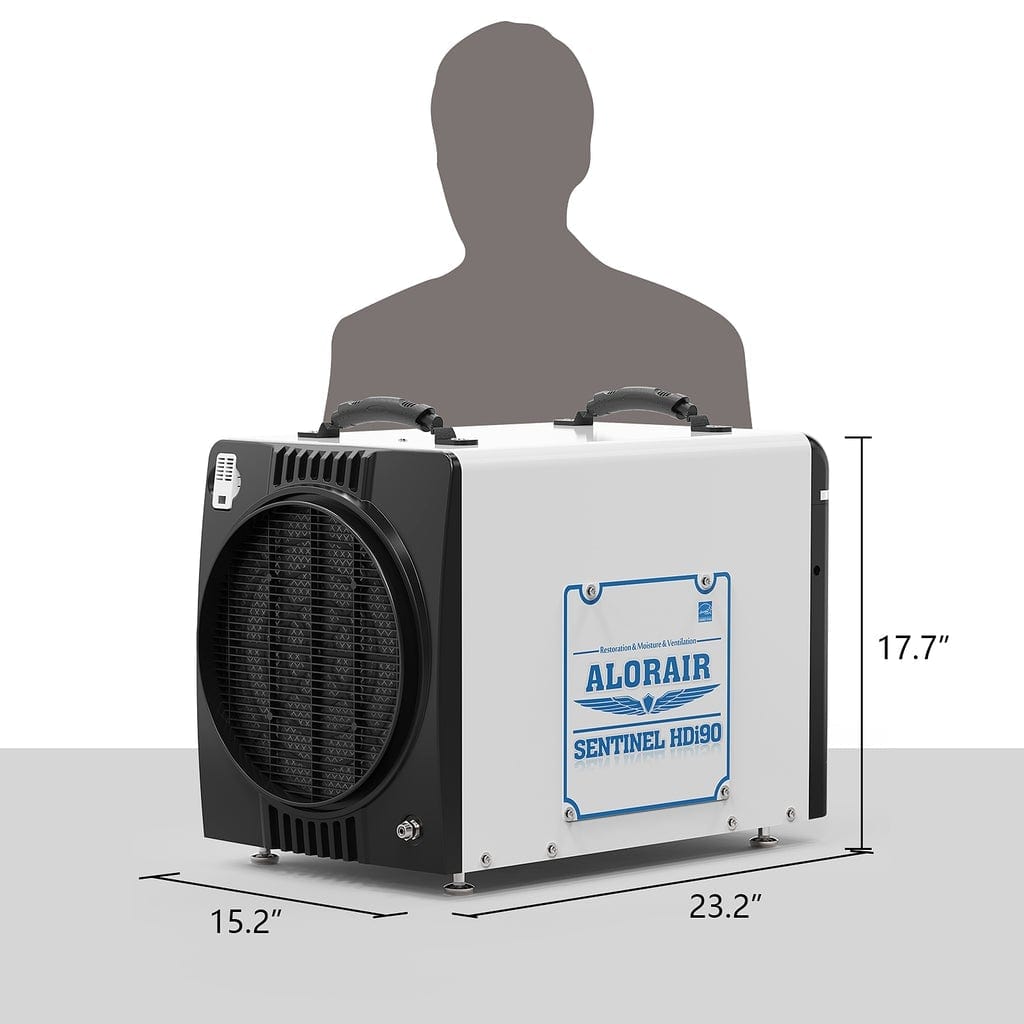 A GREAT DEHUMIDIFIER
Exactly the dehumidifier I want, put it in my basement. One of the reasons I bought this product is that it has an automatic drain function, and I am happy to let it run without worrying about emptying the water tank. I really like this unit. It is effective and efficient. And the customer service is also very good, can quickly respond to all questions. Highly recommend!
REALLY, REALLY LIKE THIS DEHUMIDIFIER
We bought this one of our previous (not a Sentinel product) is dead. It came just in time. In the few days after it arrived, we experienced a real heavy rain. The setup is simple and straightforward. The product description is very clear, but what impresses me more is the friendly tone conveyed by the text.
Also, there is a problem with the old handle. Sometimes when I emptied the bucket, I broke my handle and water splashed on the floor. I must be very careful when pouring water. So we bought this product for water pump drainage without having to empty the bucket.
Our basement is relatively dry. The air smells sweeter (no musty smell). I am glad we bought it. I would recommend it to others.
WORKS VERY WELL.
I used this dehumidifier in a 208 square foot indoor hydroponic planting space. This is approximately 2,600 square feet of space. According to the product description, the rated area of the product is 4,000 square feet.
It can handle the humidity in the growth room well and maintain a nearly stable humidity level. This is vital to the growth and survival of my plants. Previously, a dehumidifier from another manufacturer was not up to this task, so I lost a lot of moldy and rotted crops.
The humidity displayed by the humidity sensor is always stable. So I can indeed work it well. This is a good product. It is relatively quiet and can complete the work. I will buy this product again.
VERY GOOD EFFECT
Installed this in my 2500 sqft crawl space that is plastic lined. I was having a lot of humidity, around 76%-78% under the house. I set this unit up, and in about 5 days the humidity got down to 50%, it works perfectly, pumps the water out as it should and I couldn't be happier with my investment. Don't hesitate to buy it if you have humidity issues in a large space, it works great!