Alorair LGR 1250 Industrial Commercial Dehumidifier - Storm LGR 1250
Share
Regular price

Price:

$1,377.00

Regular price

List Price: $1,599.00

Sale price

Price:

$1,377.00

You save:

$222.00 (14%)

Unit price

per
Storm LGR 1250-Blue
Storm LGR 1250-Blue
FINANCING AVAILABLE

Airpuria is excited to announce that we have financing options available for all customers.

If you have any questions please contact the Airpuria Team. Call: 773-337-8822 or email us at support@airpuria.com.
【264 PPD Dehumidifier】: Removal 264 PPD at Saturation condition and 125 PPD at AHAM only with 8.2A, this large capacity dehumidifier works well for urgent Disaster Restoration, fast structural drying, and other jobs that require fast dry.
【Commercial, industrial & personal Grade Dehumidifier】: Ideal for removing damp and moisture from Flood & Restoration, Carpet Cleaning, Basements/Cellars, Laundries, De-Flooding, up to 3,000 sq. ft... Built-in Pump. DryingWork hard overnight or continuous for days at a time without you worrying about it.
【Design with humanized】: Because of its compact size, Retractable Handle with wheels for transport, superior stacking features, and easy service access. Onboard storage for 20' power cord and 20' condensate hose. The standard filter is a MERV-8 high-efficiency filter.
【Easy Read & Operation】: It has no complicated function button, Temperature, and Humidity Display at Both Inlet and Outlet Side, Ideal for water damage restoration projects, The clear LCD display, easy to read even from a far distance.
【5 Years Warranty, Robust Construction】: We believe in quality and after-sales-service. This ETL listed dehumidifier is made of a roto-mold casing, ensuring long-term use and easy maintenance.

The Storm LGR 1250 High-Performance Commerical Dehumidifier, the roto-molded polyethylene housing is dent resistant, offers superior durability.

Ideal for water damage restoration projects, its high-efficiency rotary compressor ensures the maximum moisture extraction, of up to 190 pints per day (125 PPD AHAM), at the lowest running cost.

The Storm LGR 1250 is the right dehumidifier to tackle water damage restoration projects of all scales and perfect for industrial, commercial and personal use, design with professional-grade performance and portability.

This dehumidifier has an operating temperature range of 33.8-105 degrees F and processes air at a rate of up to 324s cubic feet per minute (CFM).

EASY CORD AND HOSE STORAGE
For added convenience, the power cord and condensate hose stored on the top of the unit helps maximize your storage capacity.

EASY FILTER ACCESS
The standard filter is a MERV-8 Filter high efficiency filter. Replace as necessary- we recommend checking the filters at least 1year.

FOLD-DOWN HANDLE WITH WHEELS FOR TRANSPORT
Rotomolded housing, practically Indestructible. 2 Wheels and Fold-down Handle, Easy to transport anywhere high-efficiency dehumidification is needed.

The water pump basin is attached to a 20' hose for removal of condensate across wide spaces.

This dehumidifier has a 20' power cord for access to power supply across large spaces.

AlorAir manufactures dehumidifiers, air movers, and air scrubbers for water damage restoration applications, They are commonly used for drying applications in the cleaning, building maintenance, and restoration industries.
---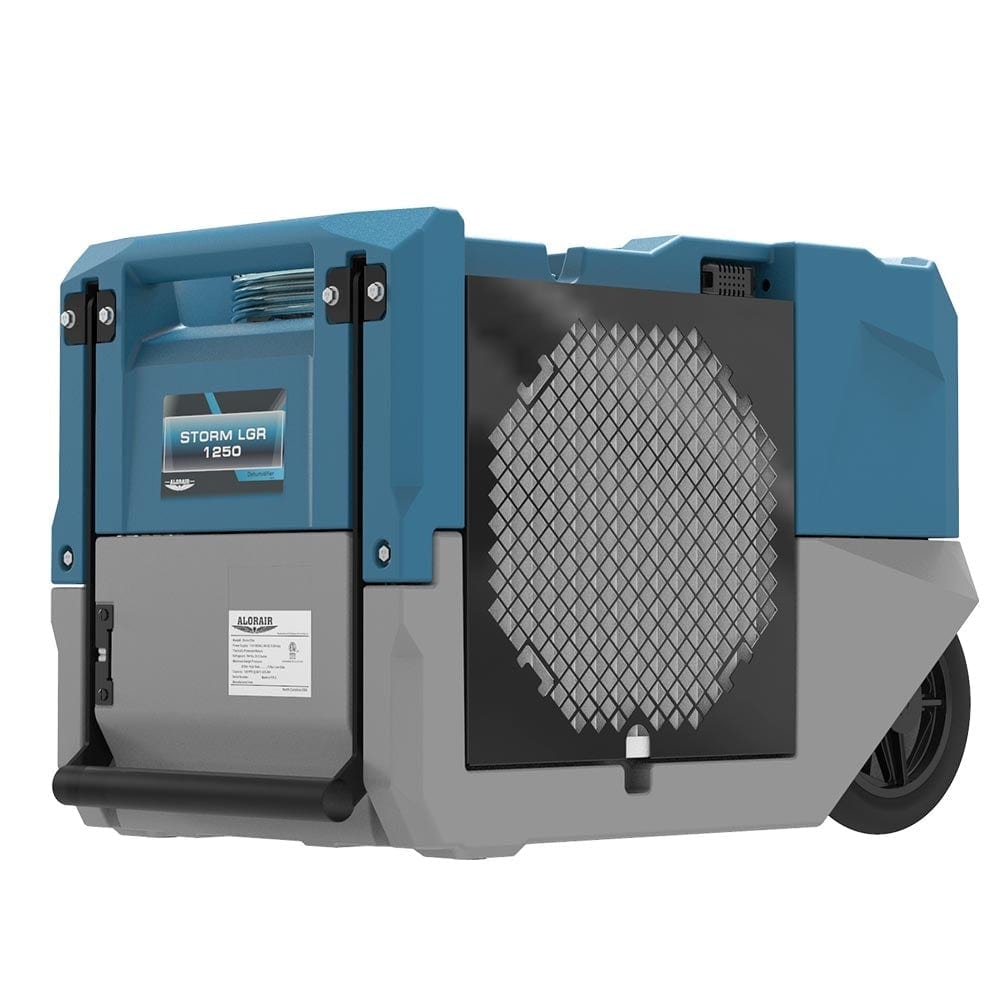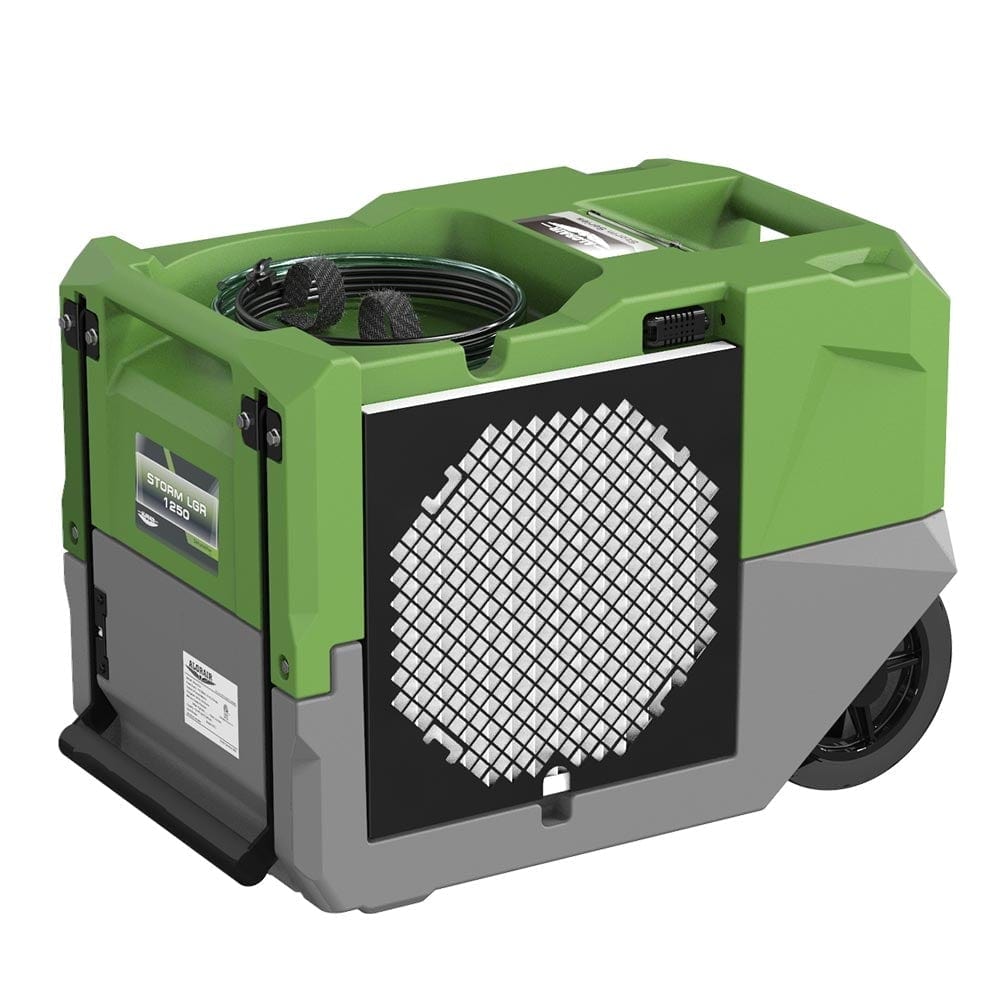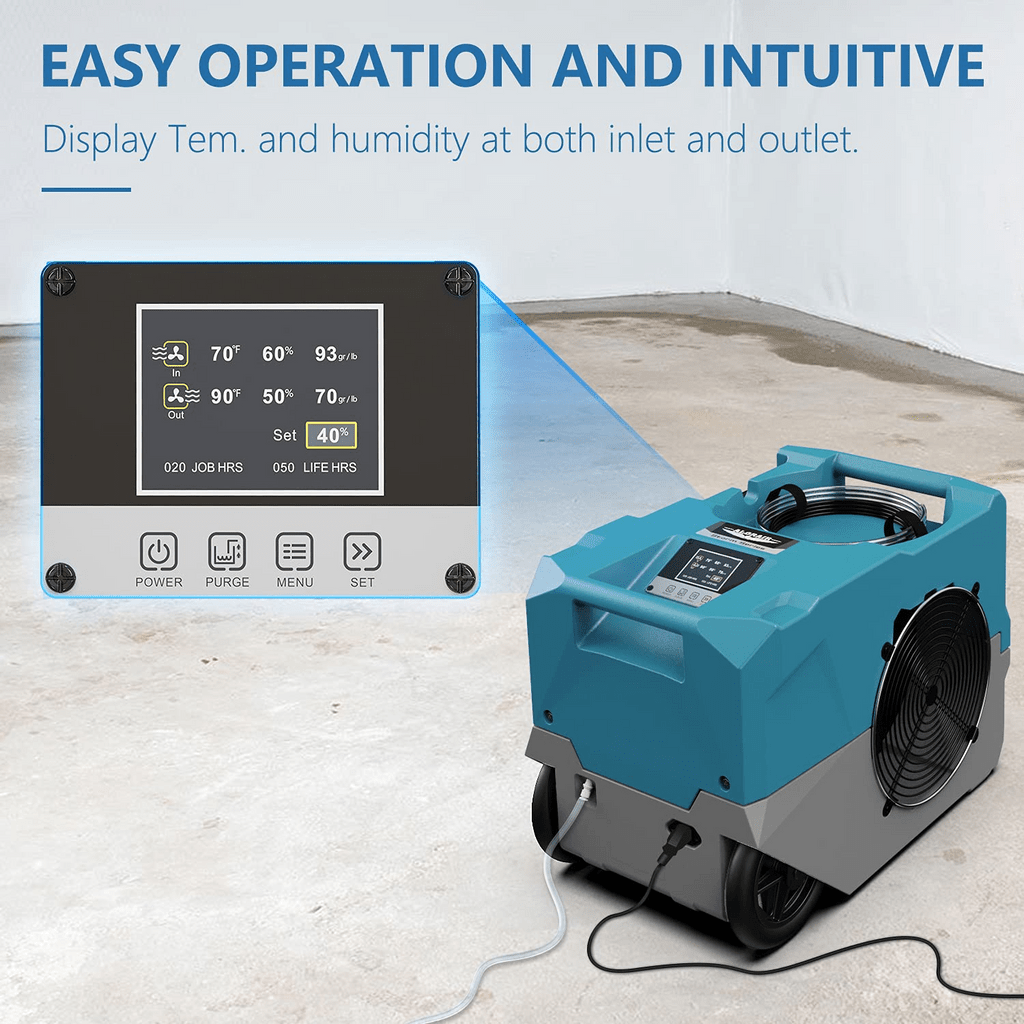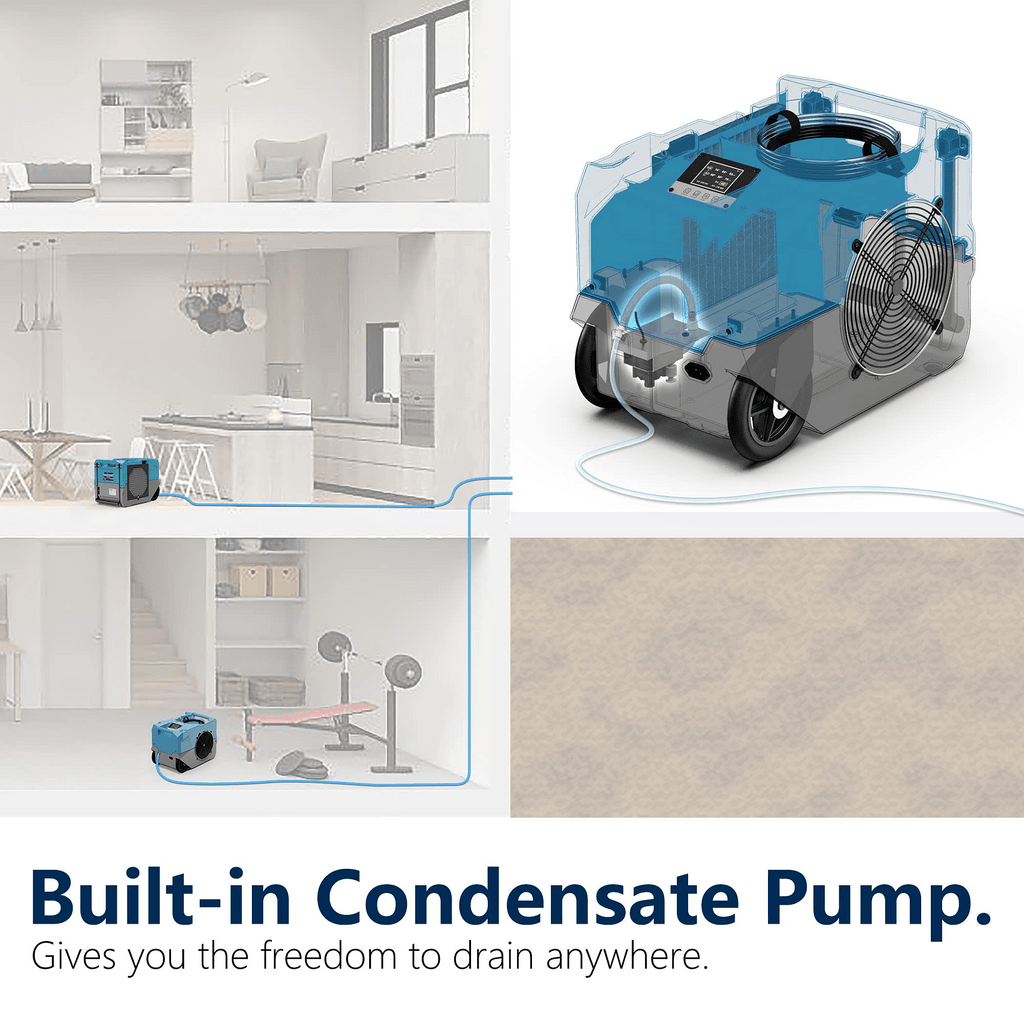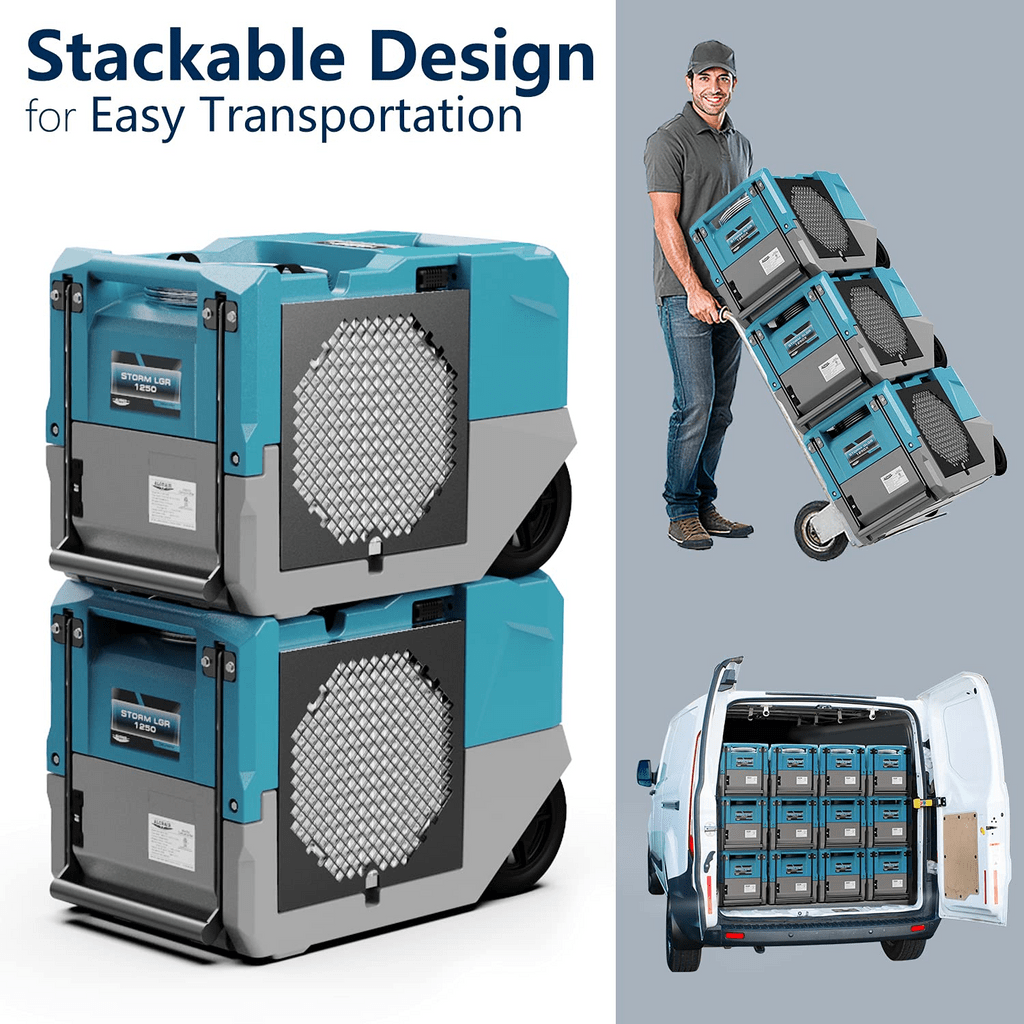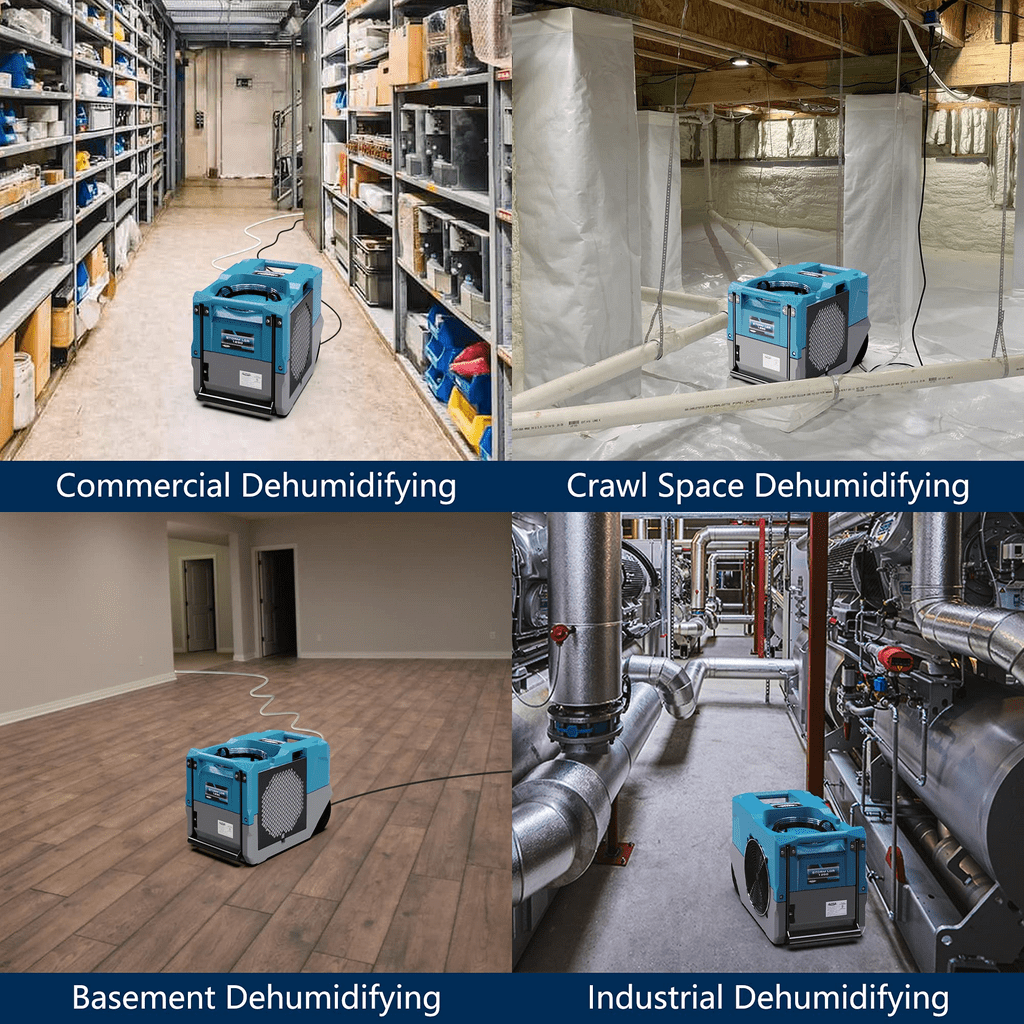 DID AN AMAZING JOB
I have been waiting until all the water was out of our crawl space. So I would like to do this review. It took this machine two months and it did an amazing job. We had a lot of water and this guy was pulling 10 gallons in 24 hours. We are so happy with how well it worked. It ran for 2 months straight day and night and never once had a problem with it. Just buy it without any hesitation.
RELIABLE AND RECOMMENDED
I was so satisfied with this dehumidifier, it was recommended by my best friend, and can be used fluently, then I will choose it all the way.
USE FRIENDLY AND DURABLE
Damp garages, offices, several rooms, and basements can cause stock damage in the short run and integral damage in our daily life.
The most effective way to remove air moisture from large square footage areas are powerful commercial dehumidifiers.
Commercial dehumidifiers are HVAC devices that utilize a condenser and evaporator powered by a compressor to condense and remove indoor air humidity.
When I was looking for a new commercial dehumidifier, I checked several specifications to make sure I will get the best commercial dehumidifier for my situation. I found these specs useful for everyone who is looking for a commercial dehumidifier
WORKS AS SUPPOSED
I choose it because I live in a condo by the ocean. Outside humidity is typically over 95%. Indoor humidity ran around 70% or more even with the air conditioner running. A condo is easy to cool so the ac did not run a lot. After buying this it ran for long time, only stopping to be empty, and reach 50%. I have had no issues. I does make about the same amount of noise as the kitchen microwave vent fan. It is mounted over the stove. It is something I appreciated and I rarely even notice it now.