Alorair Sentinel HDi120 Whole House Dehumidifier, 120 Pints At AHAM - Sentinel HDi120
Share
Regular price

Price:

$1,599.00

Regular price

List Price: $1,699.00

Sale price

Price:

$1,599.00

You save:

$100.00 (6%)

Unit price

per
Sentinel HDi120
Sentinel HDi120
FINANCING AVAILABLE

Airpuria is excited to announce that we have financing options available for all customers.

If you have any questions please contact the Airpuria Team. Call: 773-337-8822 or email us at support@airpuria.com.
AlorAir Sentinel HDi120 Whole House Dehumidifier 120 Pint. It has cETL approved.

This Dehumidifier is ideal for dehumidifying your whole home removing, crawl space and basement up to 18.9 gallons (120 pints) of water per day.
For your convenience, it can be ducted to your HVAC system and designed with the remote monitoring function so it is easy to access in any location. It makes this unit an ideal choice for places where remote sensing and controlling is required, It is also a good choice for the sound insulation and saving space usage.
The AlorAir Sentinel HDi120 Dehumidifier is designed for smaller homes, townhomes, condominiums, basement and crawl space applications. It can also help to resolve damage to inventory and building maintenance due to dampness.

Product Description:
High Performance and Durably Built: This Dehumidifier is Ideal for Dehumidifying your Whole Home and Basement or Sealed Crawl Space Removing up to 18.9 Gallons (120 Pints) of Water Per Day, cover 3,300 Sq.Ft. Compact and Light also Equipped with Quality Carrier Handles.
Designed for the Modern Home-For Your Full Satisfaction, We Designed this Professional Dehumidifier with the Modern Consumer in Mind, All Special Features Make it the Best for Whole House and Crawl Space or Basement Applications, Remote Control System, Strong as the Tank, Microchannel Condenser Technology, Merv-1, and Merv-10 Filter, Low-Temperature Operation, c-ETL.
5 Years Warranty: To Give You Even More Peace of Mind, It's Backed By a 5-Year Warranty, It has c-ETL Listed. Your 100% Satisfaction is Guaranteed with 5 Years Warranty and Great After-Sales-Service Team Countrywide.
Memory Starting And Turn On/Off Automatically: This Crawl Space Dehumidifier Automatically Turns On And Off Depending On The Humidity Levels, Comes Back After a Power Failure, No Need To Turn On Manually. Ductable And Remote Controlled, Both Inlet and Outlet can be Ducted.
Long Time Lasting: Equipped with Hydrophilic Aluminium Coils to Provide Long-Term Service Without Repair or Replacement. Just Place a Hose Over a Drain, Level-it, Plug it in, Set the Target Humidity, and You're done.

ALORAIR SENTINEL HDI120 WHOLE HOUSE DEHUMIDIFIER 120 PINT, METAL BODY, STRONG HANDLE, EASIES TO TRANSPORT.
Capacity: 120 Pints/Day, AHAM (80ºF, 60%);
235 Pints/Day, Saturation (90ºF, 90%)
93 Pints/Day @ (73ºF, 60%)
Size for: Up to 3,300 Sq.Ft
Air flow: 290 CFM
Extra Long Cord: 18.9ft (5.77m)
Functioning Temperature Range: 33.8~104℉
Functioning Humidity Range: 35~95%
cETL
Memory Starting.
Turn On/Off Automatically.
Draining: Condensate Pump
Drain Height: 14.7 ft, Drain Pipe:19.6 ft
Supply and Return Duct Applications
Microchannel Condenser Technology
HVAC Remote System, Continuous Model
Ridged Handle for Easy Transport.
Simply Plug-In, Select Settings
Low Maintenance & Easy Operation
Dehumidifier Features
Easy Touch Button Control Pannel
Simple to set up: Power Key, Arrow Buttons, Continuous Mode, Manual Drain Button, Pump Trouble Warning.
SET IT AND FORGET IT control automatically starts dehumidification when humidity above target is sensed.
Dehumidifier with a Pump
Your Sentinel HDi120 is equipped with an integral condensate pump designed to pump water from the dehumidifier out to the desired drain.With a 20' lifting distance, the condensate pump gives you the freedom to drain anywhere.
Quickly Replace the MERV-10 Filter/MERV-1 Filter
Unplug the unit, slide out the MERV-10/MERV-1. Replace as necessary- we recommend checking the filters at least 1x/year.
In addition, Buy a MERV 10 for Dehumidifier accessories Replacement.

DEHUMIDIFIER KEY DESIGN FEATURES
Microchannel Condenser Technology
BUILT TO LAST with Microchannel Condenser. The use of Microchannel Condenser Technology can improve the 50% dispersion effect of condenser, 30% heat exchange area and 50% refrigerant quantity. the efficiency of the dehumidifier can be increased.
Low Maintenance & Easy Operation.
Electrical Access
Unscrew the 13 screws on the side panel.
Remove the screw on the control board cover.
Supply and Return Duct Applications
Ducting the dehumidifier allows the unit to be in one room while conditioning an adjacent room. Both the inlet/return grille and the supply grille are designed for 10" flex ducting. (Supply and Return Duct Collar Assembly need to be purchased separately.)
Dehumidifier Remote Control
All Alorair professional Whole home dehumidifiers are designed with the remote monitoring function, it makes this unit an ideal choice for places where remote sensing and controlling is required, It is also a good choice for the sound insulation and saving the space usage. Contact the Airpuria team to purchase a remote control.
---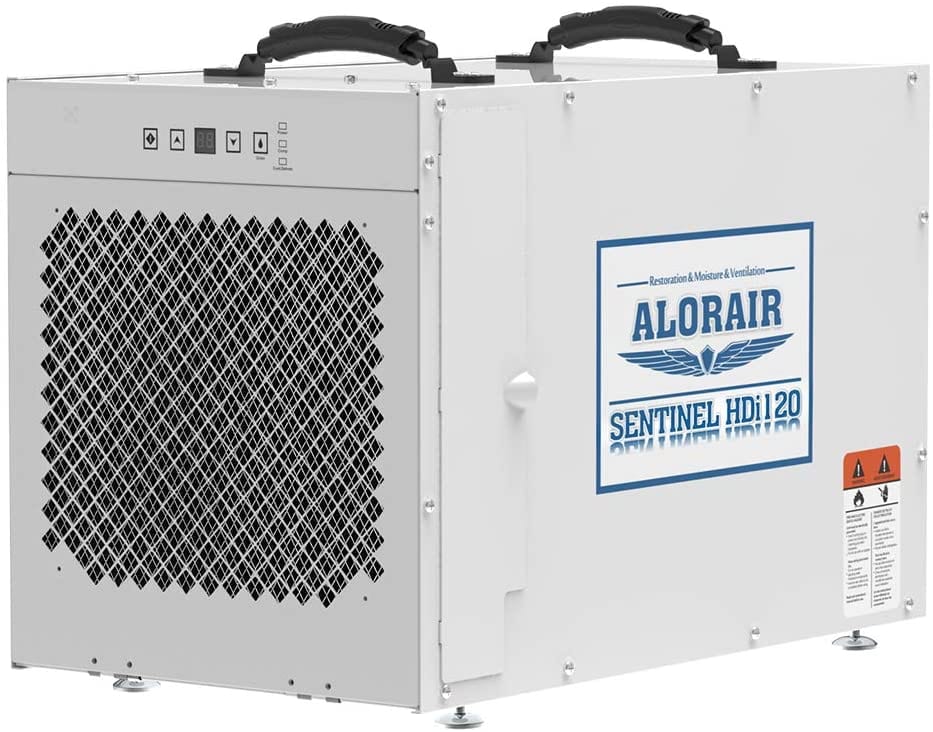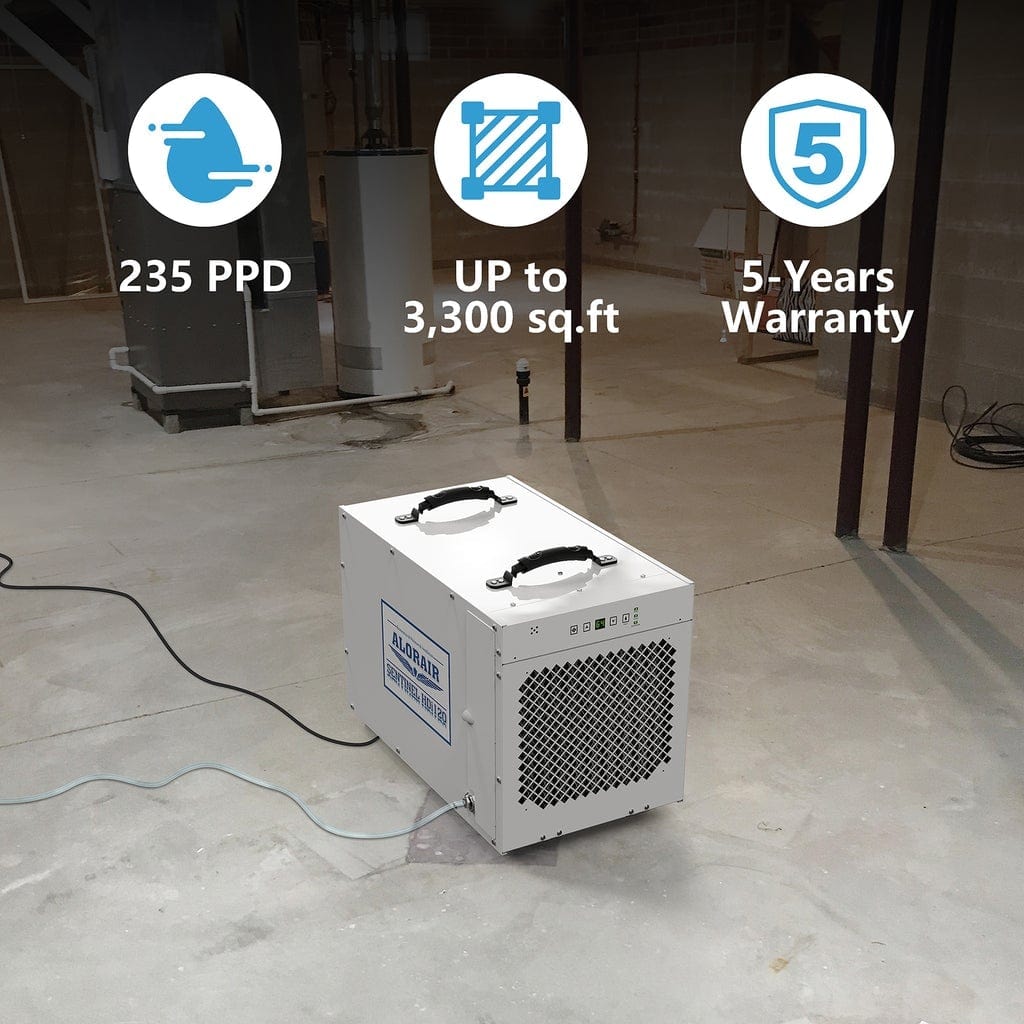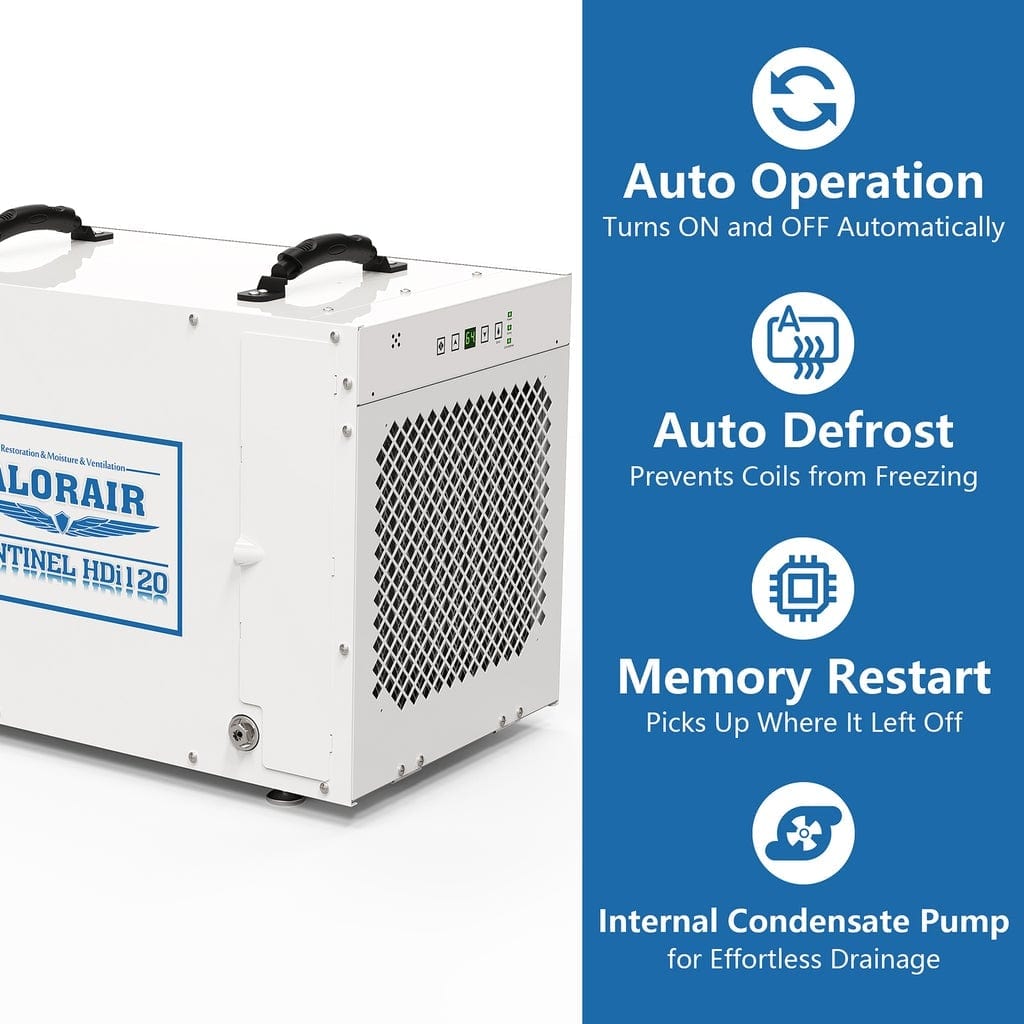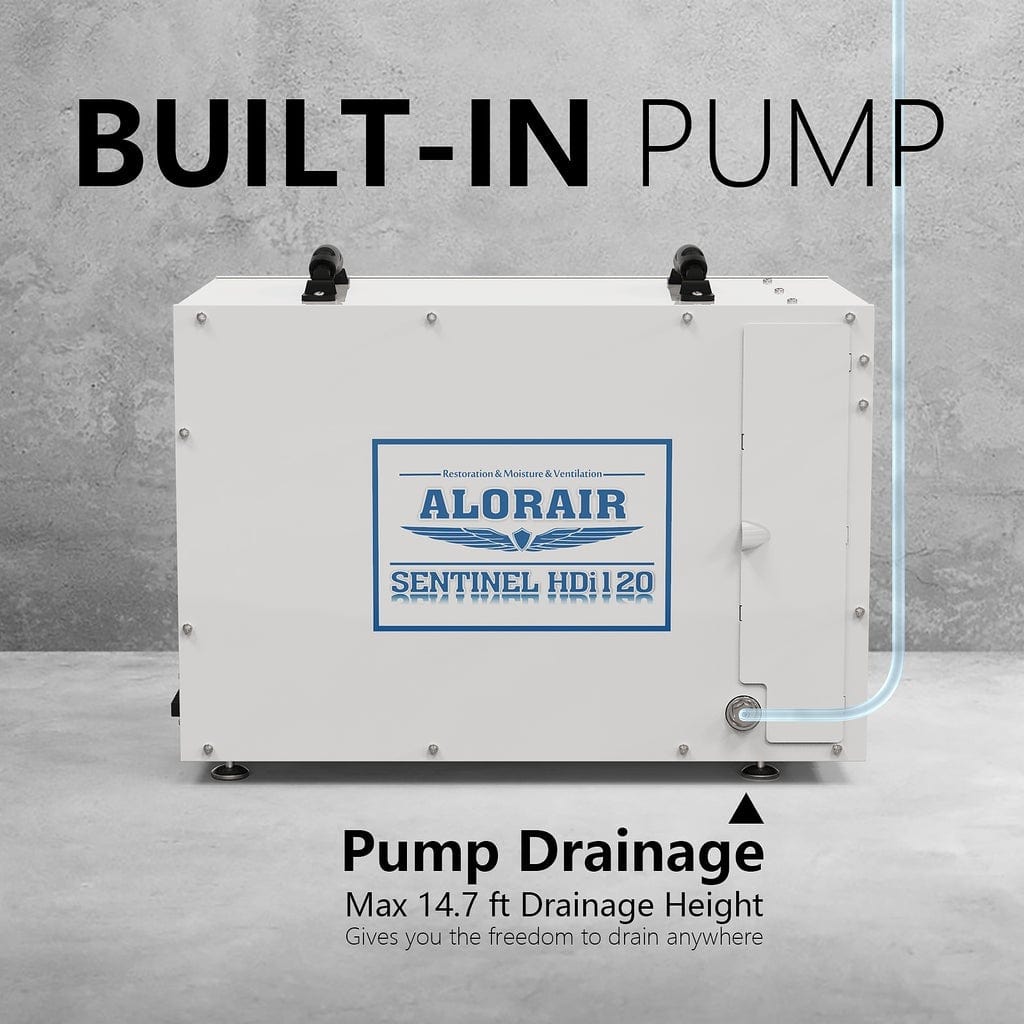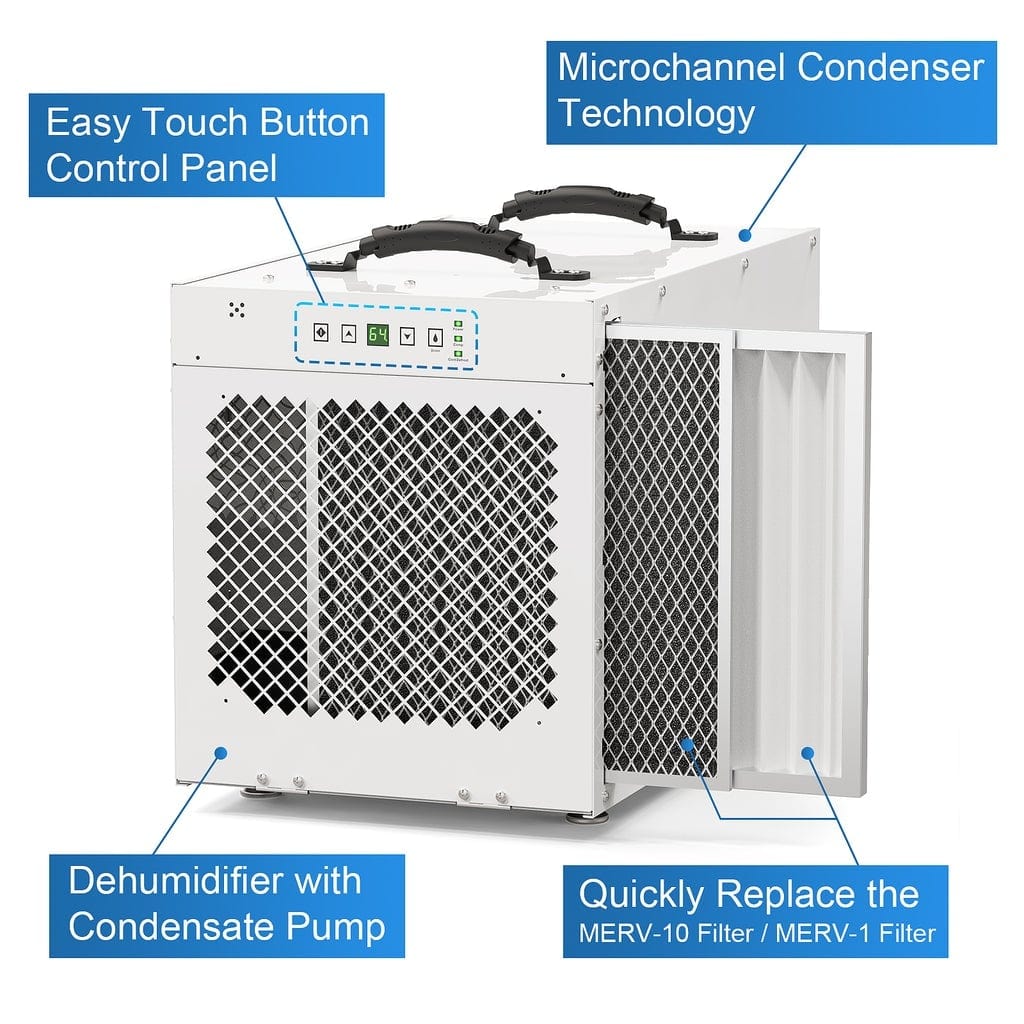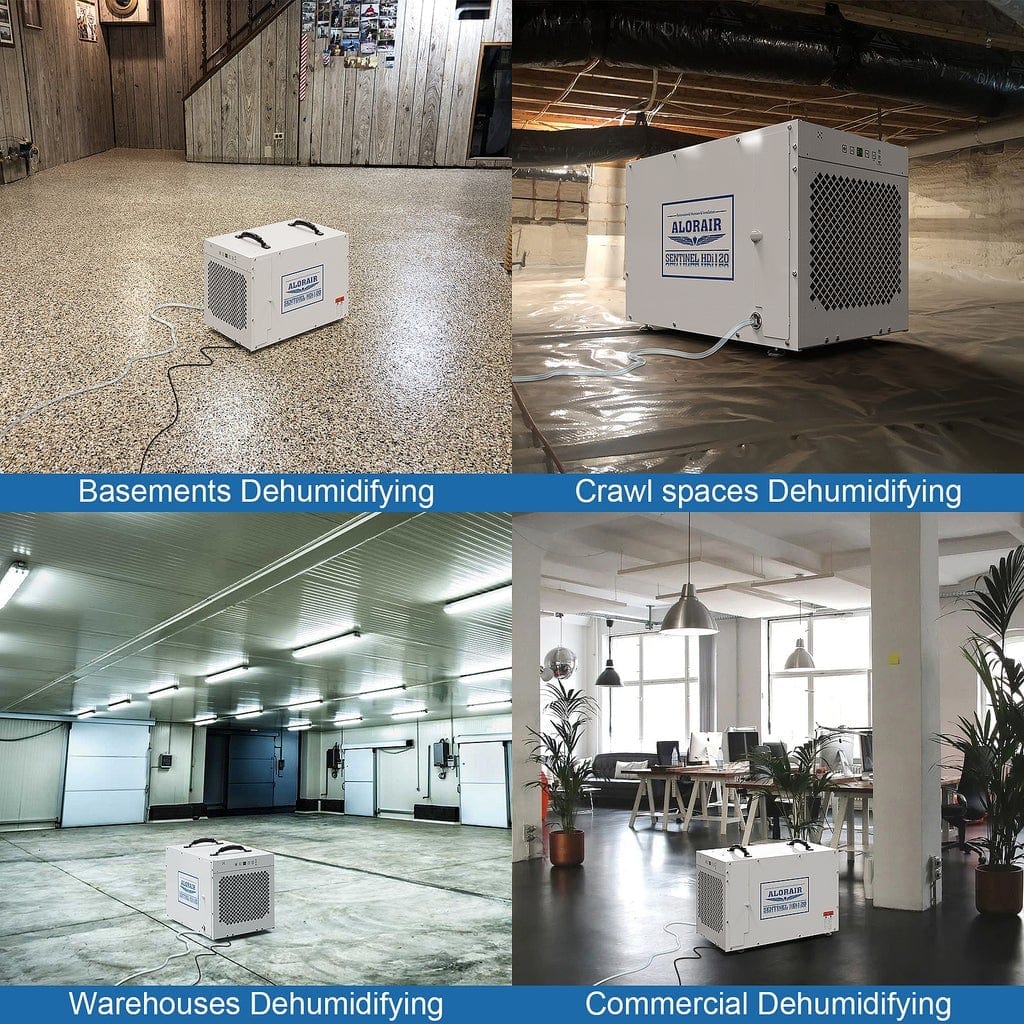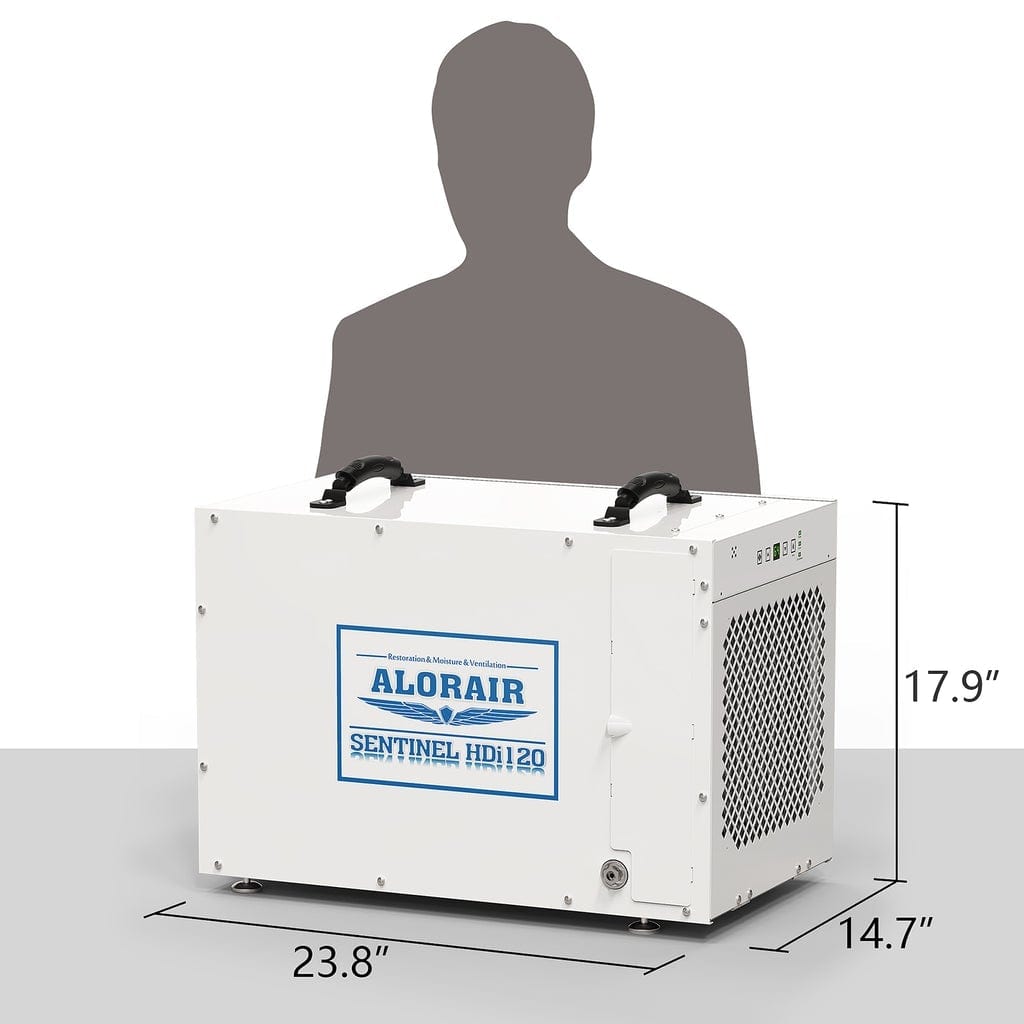 REAL DEAL
So far, I am very satisfied with this unit. Setup and operation are very simple. It works in the basement and seems to keep the room dry and comfortable. Generally, if you need a dehumidifier, you can consider using it to help you. Short-term rental is also a good choice.
GLAD WE GOT THIS
When purchasing this product, the detailed instructions provided on the product page allow me to make an informed purchase. After receiving this product, I must say that I am not disappointed with its performance. After several months of use, the dehumidifier has met my expectations. It is quiet and reliable, and can quickly remove a lot of moisture. I am satisfied with the purchase and I am willing to recommend the product to others in need.
EASY TO SET HUMIDITY LEVELS.
Have been using this unit for about 3 weeks, with no problems to date. It is very quiet, even when setting the fan to a higher level. Easy to set humidity levels.
THE MUSTY SMELL IS GONE.
This dehumidifier looks very stylish and works well! It is very simple to use. Connect the water pipe, plug in the power source and walk away. It will draw moisture from the air. Very sturdy. You can also adjust the required humidity in the air. This is a very attractive unit. In the first spring of 18 years, my 120-year-old house no longer smells of musty when it rains!