AlorAir Sentinel SLGR 1400X Commercial Dehumidifier, 140 PPD with Pump, Stainless Steel Body - Storm SLGR 1400X
Share
Regular price

Price:

$2,288.00

Regular price

List Price: $2,988.00

Sale price

Price:

$2,288.00

You save:

$700.00 (23%)

Unit price

per
Storm SLGR 1400X
Storm SLGR 1400X
FINANCING AVAILABLE

Airpuria is excited to announce that we have financing options available for all customers.

If you have any questions please contact the Airpuria Team. Call: 773-337-8822 or email us at support@airpuria.com.
▼ High Performance and Durable Built: The Sentinel SLGR 1400X Commercial Dehumidifier can Extract 140 Pints (18 Gallons) Of Water Per Day At 80℉, 60%! This is Truly a Monster Moisture Extractor, with Energy Efficiency 2.75L/Kwh, 440 CFM, cover 3,800 Sq.Ft.
▼ Built to Last with Microchannel Condenser. SLGR Microchannel Technology has Improved the Performance and Efficiency, the Alorair SLGR Technology Uses a Special Air-to-Air Heat Exchanger System to Help Bring the Air Closer to Dew Point Temperature Before it Passes over the Super-Cooled Evaporator Coils, Besides with the Combination of Microchannel Alu Condenser, Maximize the Capacity and Efficiency.
▼ 5 Years Warranty: We Provide 5 Years Warranty to this commerical Dehumidifier, It Has c-ETL Listed. Your 100% Satisfaction is Guaranteed with 5 Years Warranty and Great After-Sales-Service Team Countrywide.
▼ Super Features: Designed This Commerical Dehumidifier With Pump, Washable MERV-10, and MERV-1. Rigid Handle Designed for Rugged Service, with 2 Wheels for Easy Movement.
▼Memory Starting and Turn On/Off Automatically: This Industrial Dehumidifier Automatically Turns ON /OFF Depending on The Humidity Levels, Comes Back After a Power Failure, No Need To Turn On Manually. Ductable And Remote Controlled.
Description:
The Sentinel SLGR 1400X is a Super LGR dehumidifier that can remove up to 250 pints of water per day at saturation and 140 pints per day under the Association of Home Appliance Manufacturers (AHAM) test conditions of 80 degrees F and 60% relative humidity (RH). This dehumidifier has an operating temperature range of 33 – 105 degrees F, draws 8.3 amps on a 115V power supply, and processes air at a rate of up to 420 cubic feet per minute (CFM).
Larger and high capacity dehumidifiers offer higher energy efficiency rates compared to smaller capacity and smaller dehumidifiers.
Key Design Features
SLGR Technology                                        
Convenient storage for cable and drain tube 
Condensate pump                                      
Epoxy powder coating for corrosion protection
Quick access to internal service               
Quick connector for Drain Tube and Cable
More capacity, less power consumption
HEAVY-DUTY CONDENSATE PUMP
With a 14.7'lifting distance, the condensate pump gives you the freedom to drain anywhere.
Drain Height: 14.7 ft
Drain Pipe:19.6 ft.
MERV-1 FILTER, MERV-10 FILTER, AND COLD CATALYST
The standard of dehumidifier is equipped with MERV-1 Filter and MERV-10 Filter. The high-dense MERV-10 Filter protects internal components from damage due to dust and other particles, ensures efficient operation and long term use. Please wash the filter once per 2-3 months.
Specifications:
Supply Voltage: 115 volt - 1 phase - 60Hz
Water Removal:
140 Pints/Day, AHAM (80ºF-60%)
275 Pints/Day, Saturation (90ºF-90%)
Size For: 3,800 Sq. Ft.
Accessory: MERV 10 and MERV 1
Remote Controller: HVAC Remote System. (

Buy

 

Separately

)
Supper COP: 2.75 L/kWh
Airflow: 440 CFM
Unit Dimensions: 17.32"(L)×20.08"(H)×36.61" (W).
Draining: a condensate pump (Drain Height: 14.7 ft, Drain Pipe: 19.6 ft)
Weight: 114.6 Lbs (52 kgs)
Optimum Humidity Range: 35% to 90%
Optimum Temperature Range: 1℃ - 40℃
Key Design Features:
Memory starting
Turn on/off automatically
Quick access for easy service
Durably coated coils with the stainless side plate
Continuous draining model
Compressor type: Rotary
Rigid handle designed for rugged service
In the box:
The Sentinel SLGR 1400X Dehumidifier ×1
One drainage pipe ×1
One MERV-1 Filter ×1
One MERV-10 Filter ×1
User Manual Guide ×1
---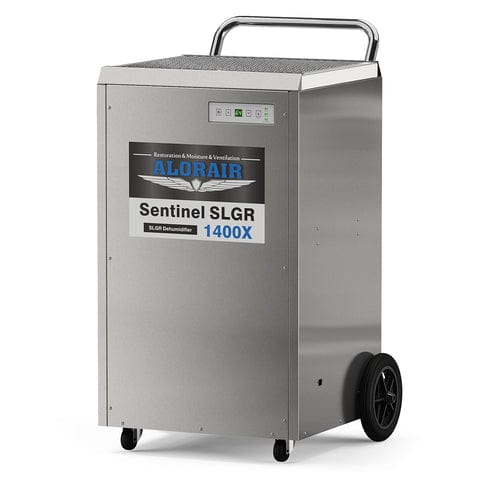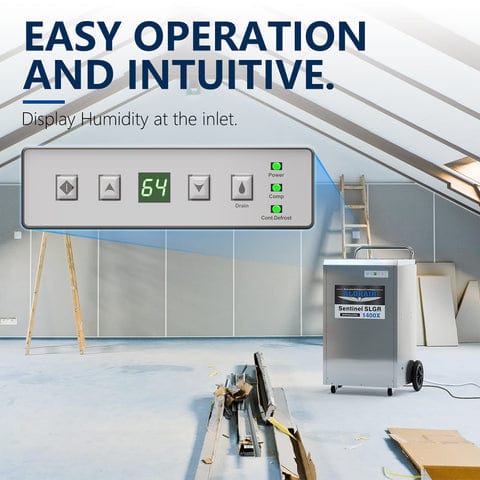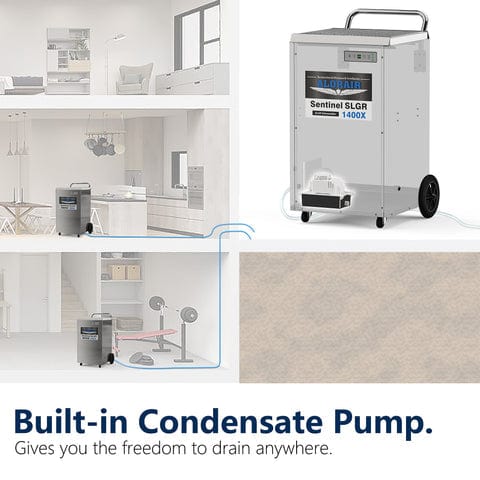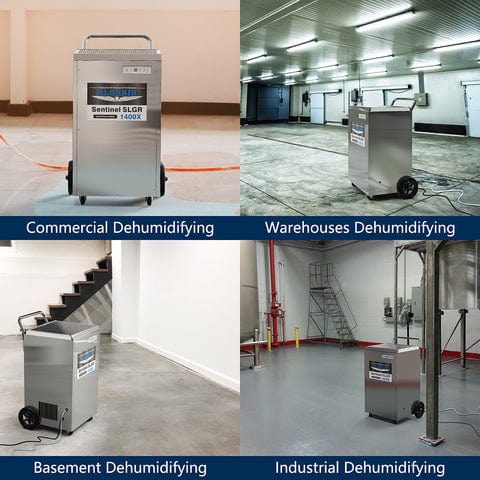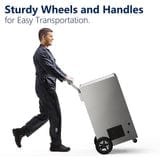 RECOMMENDED PURCHASE
When we encounter some mold problems on the walls, we use it in the basement garage to help reduce humidity. This dehumidifier is very suitable for our spacious basement garage. We connect it to the floor drain, so we dont need to empty the water tank. There is no problem with our machine. We are satisfied with our purchase and recommend this dehumidifier to anyone who wants to keep a large space dry.
VALUE FOR MONEY
This is a powerful dehumidifier. This machine is as powerful as his appearance. It can handle my large-space basement for me. Obviously, this commercial dehumidifier is excellent value for money.
SO FAR, I AM SATISFIED.
My wife and I bought this unit with a rated area of 3,800 square feet, and it also has a pump. It replaces Samsung devices that could only be manually emptied 12 years ago. So let's start with the shortcomings. In the end, I think the device cannot properly dehumidify in the 3,800 square feet of space. My basement is about 950 square feet, which is sometimes difficult. Now, where I live, summer is very humid. In most cases, it will pump water into our utility tanks. But sometimes, even if it is set to 35%, it will maintain a humidity level of approximately 50%. Now, remember that sometimes the humidity outside can reach 90% to 95%. Therefore, I like the fact that it maintains the set humidity level in most cases. I like the fact that my basement is still dry. Now, the musty, musty and smell of the old basement is gone. If it can persist, it is worth the price.
WORKS VERY WELL.
This device can well remove the moisture in the basement air and keep it at the level you set. This one has been used for more than a month without any problems. The built-in pump is very convenient. I was surprised by the moisture collected and I am very happy that I purchased the device. The sound is a bit loud, but it is very suitable for a basement.
THIS UNIT IS AMAZING!
I have a 2,000 SF house, which is very humid. So I purchased 3,800 SF units. Under the recommendation of an article, I read about home dehumidification methods. The article says to buy the largest unit you can afford, not too big, so as not to backfire and generate too much heat for your space. I am tired of having to clean the walls every day, but I am worried that the long-term presence of moisture will produce mold. The moisture covers the walls of the house, especially the bathroom, from top to bottom, so that water drops will flow down the walls. The humidity in our house has been maintained at 68-70%, and I have to wipe and dry the walls in the house every day. Now, I have this device in my home running within 24 hours. I use the drain and hose function, which is crazy! The humidity in the house has dropped from 69% to 49%. When you enter our home, you no longer feel like walking into a sauna.