Alorair Smart WIFI 125 PPD High Performance Commercial Dehumidifier
Share
Regular price

Price:

$1,999.00

Regular price

List Price: $2,399.00

Sale price

Price:

$1,999.00

You save:

$400.00 (17%)

Unit price

per
B0824C2VLV
B0824C2VLV
FINANCING AVAILABLE

Airpuria is excited to announce that we have financing options available for all customers.

If you have any questions please contact the Airpuria Team. Call: 773-337-8822 or email us at support@airpuria.com.
✔【App Control & Dry anywhere】:

 

MONITOR THE RESTORATION PROCESS ON THE GO! Our free AlorAir DryEasy mobile app is included with the unit upon purchase. Removal 275 PPD at Saturation condition and 125 PPD at AHAM only with 8.1 Amps, Super-Efficient System, This Industrial Dehumidifier has Automatic Digital Humidistat Control, Micro-channel Condenser, Timer, built-in Pump.
✔【COMMERCIAL, INDUSTRIAL, and PERSONAL USE】:

 

Precooling Circuit Technology, ideal for Removing Damp and Moisture from Flood & Restoration, Carpet Cleaning, Basements/Cellars, Laundries, De-Flooding, up to 3,000 sq. ft. DryingWork hard overnight or continuous for days at a time without you worrying about it.
✔【Design with humanized】:

 

Because of its compact size, Foldable Handle with 6'' wheels for transport, superior stacking features, and easy service access. Onboard storage for 19.6in′ power cord and 20' condensate hose. The standard filter is a MERV-8 high-efficiency filter.
✔【Easy Read & Operation】:

 

It has no complicated function button, Temperature and Humidity Display at Both Inlet and Outlet Side, Ideal for water damage restoration projects, The clear LCD display, easy to read even from a far distance. ★Please remove the protective film before use. ★
✔【5 Years Warranty】:

 

Our product is designed with a heavy-duty roto-mold technology that we with a 1-year and a 5-year housing. We believe in quality and after-sales-service, It is sure to last long and still keep its shape look.
Monitor the Restoration Process on the go!
Connection modes
Generally, the app can be connected through two options: Direct connection and Wi-Fi connection.

Add New Work Plan
It can be accessed from the google play store or App store. Once downloaded and installed, all you will need to do is to enter your work plan. To do this, you will need to click on Add New Work Plan. Here, you will enter the work plan details including contacts and have the info save.

Chamber Graph Trends
The drying log is where you will enter your daily readings. The outside conditions will be pulled from the nearest station. Smart dehumidifiers will send their information to the drying log.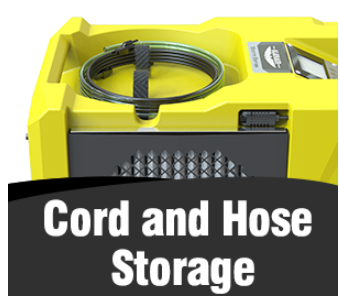 EASY CORD AND HOSE STORAGE
For added convenience, the power cord and condensate hose stored on the top of the unit helps maximize your storage capacity.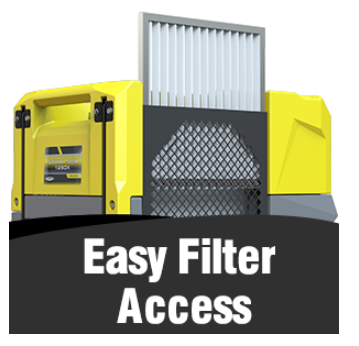 EASY FILTER ACCESS
The standard filter is a MERV-8 Filter high efficiency filter. Replace as necessary- we recommend checking the filters at least 1 year.

FOLD-DOWN HANDLE WITH WHEELS FOR TRANSPORT
Rotomolded housing, practically Indestructible. 2 Big diameter wheels (8-inch) and Fold-down Handle, Easy to transport anywhere high-efficiency dehumidification is needed.
---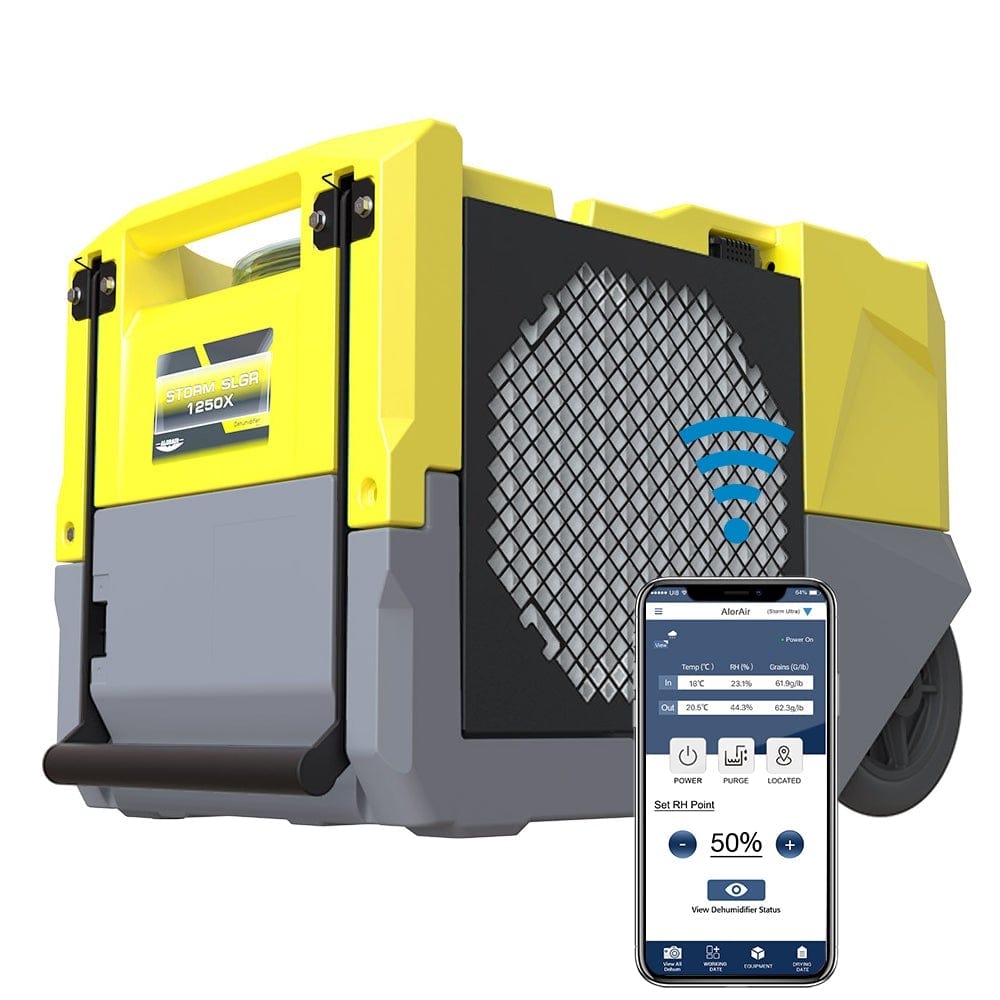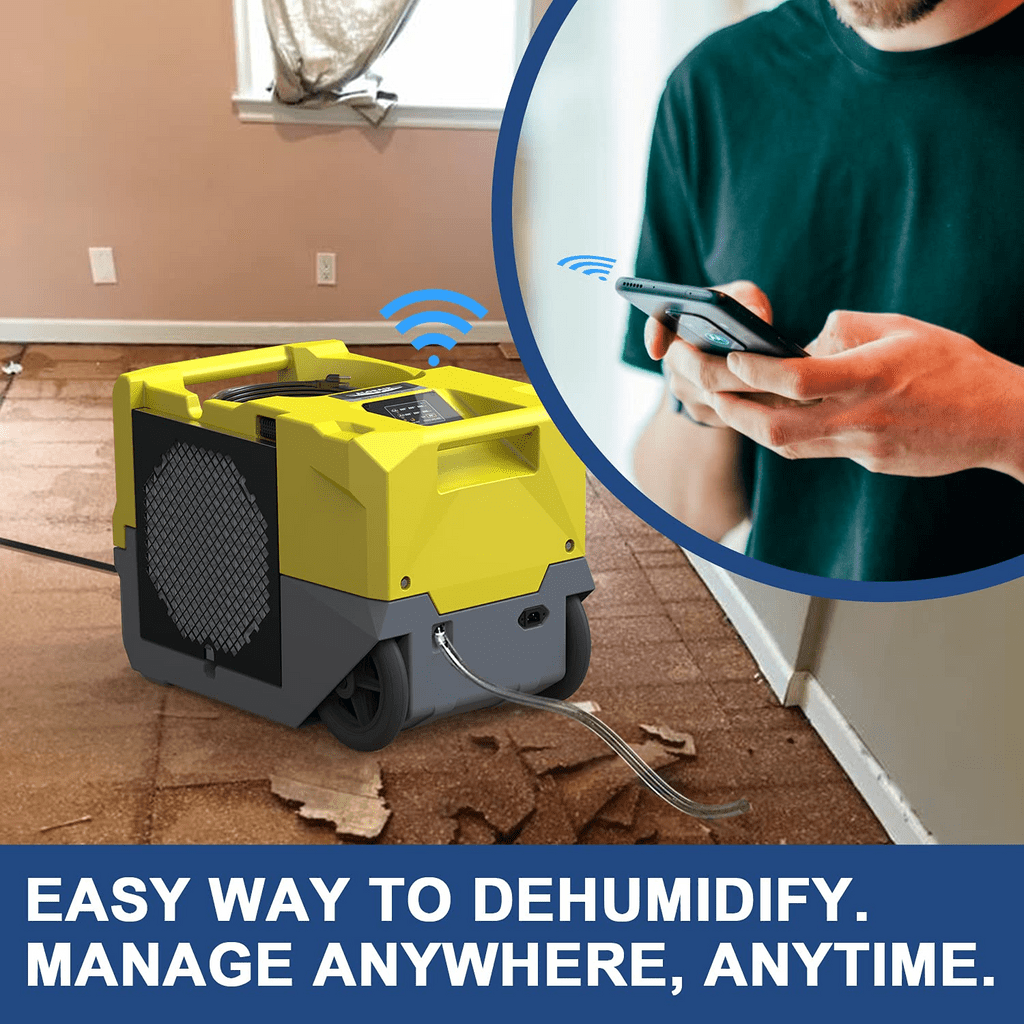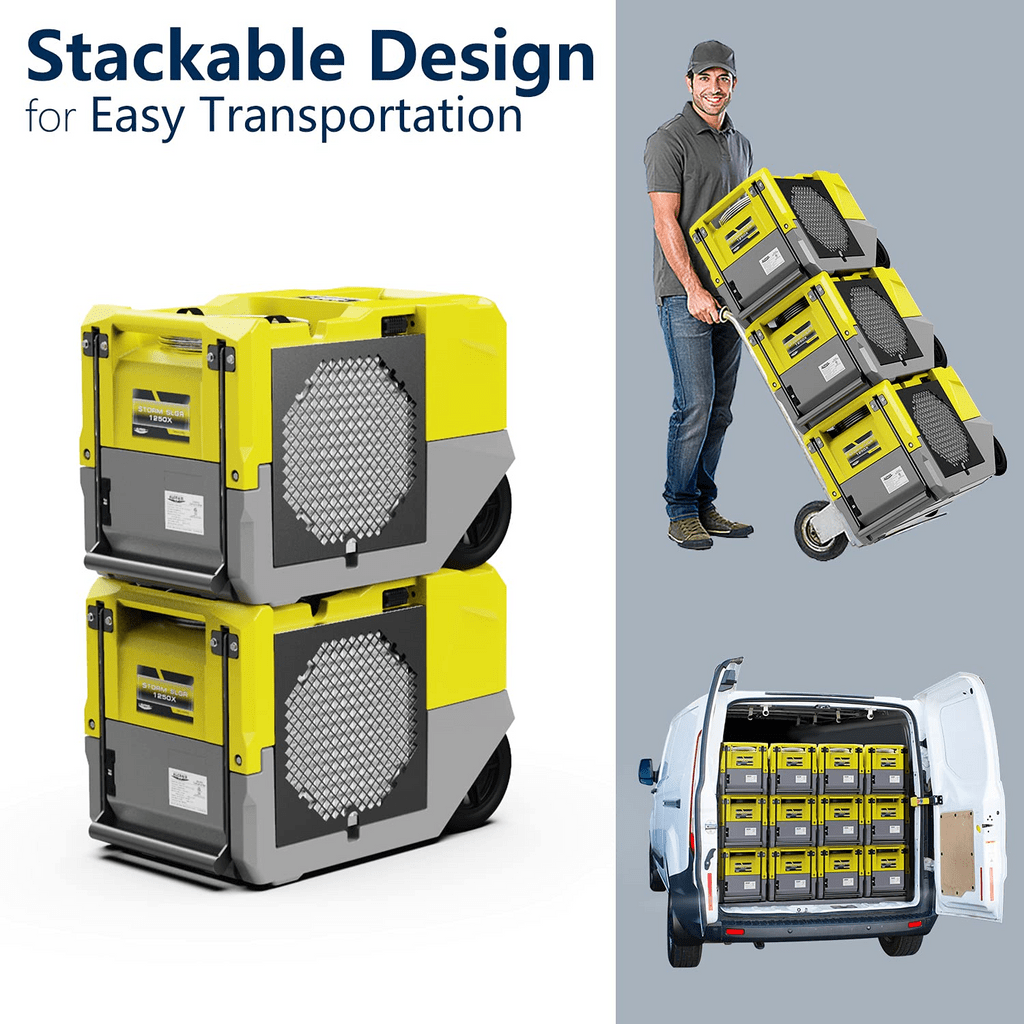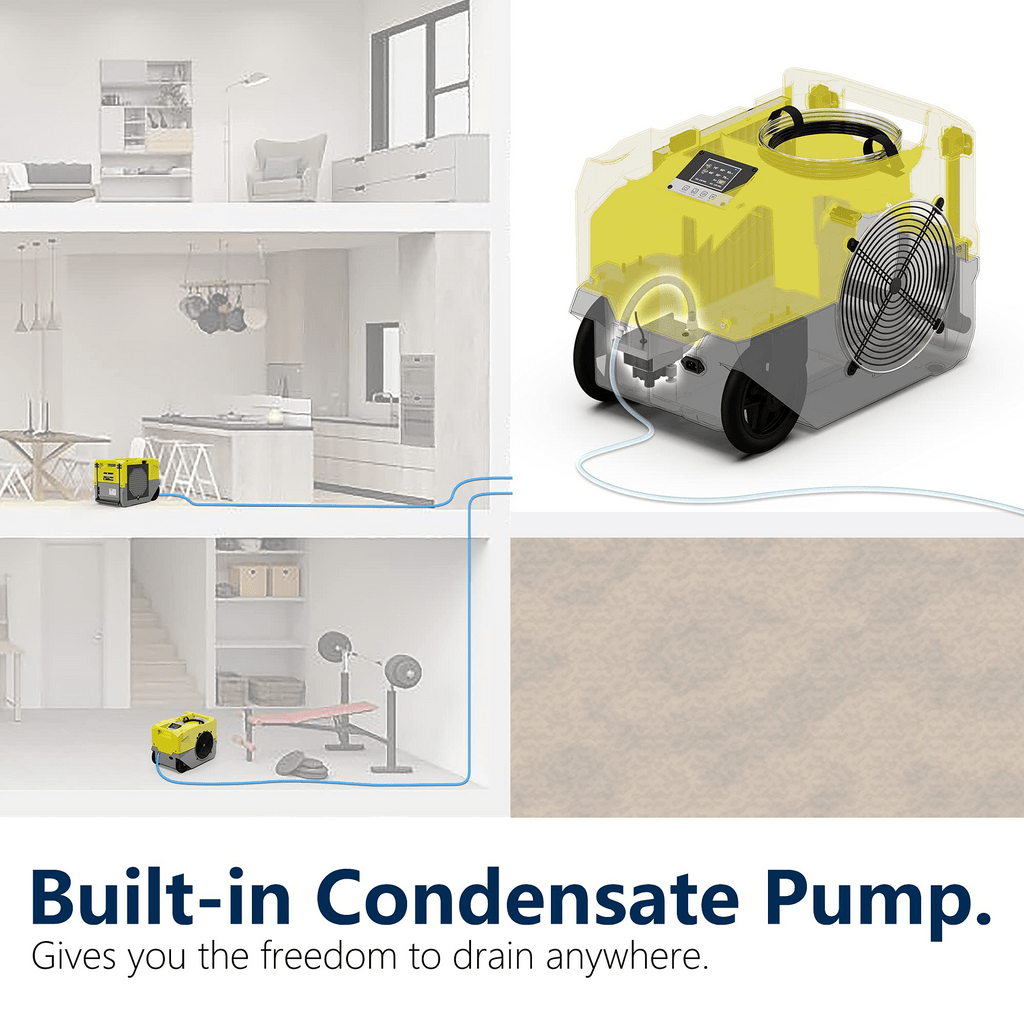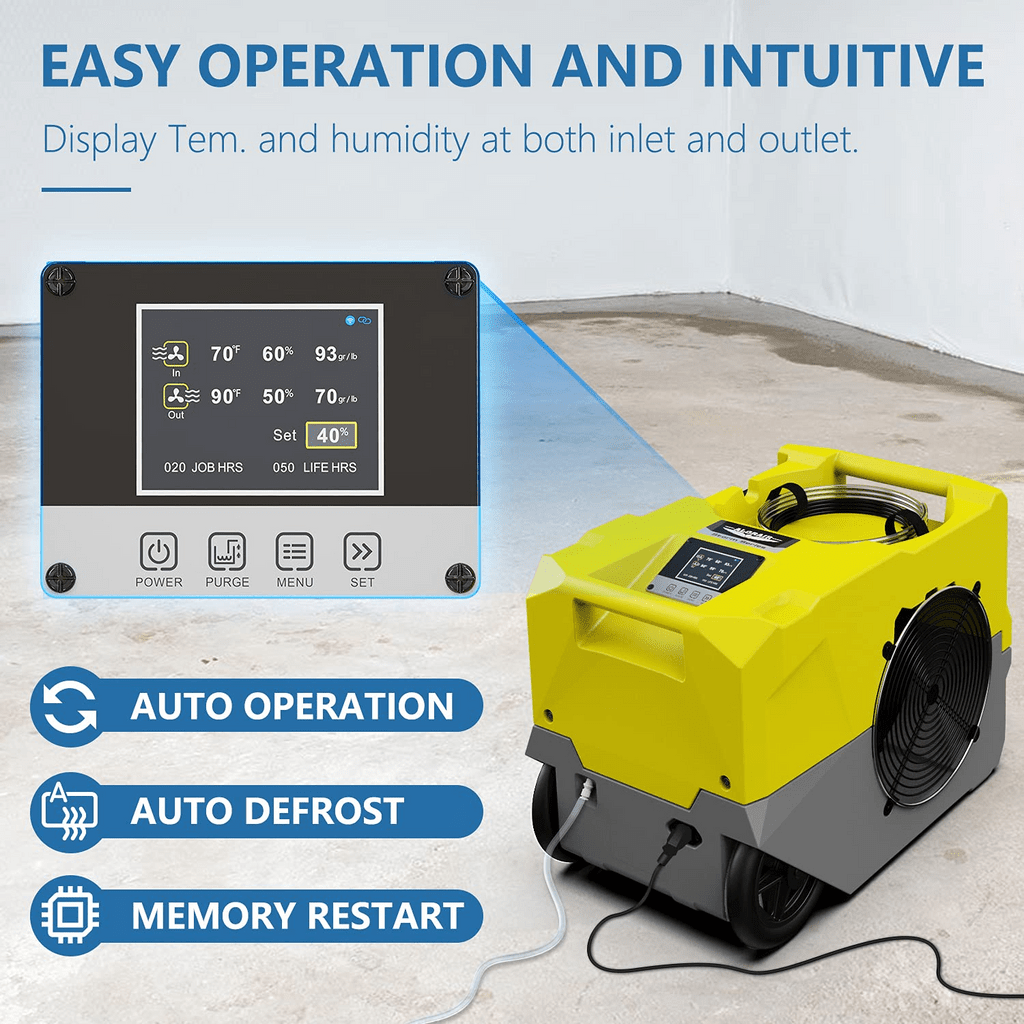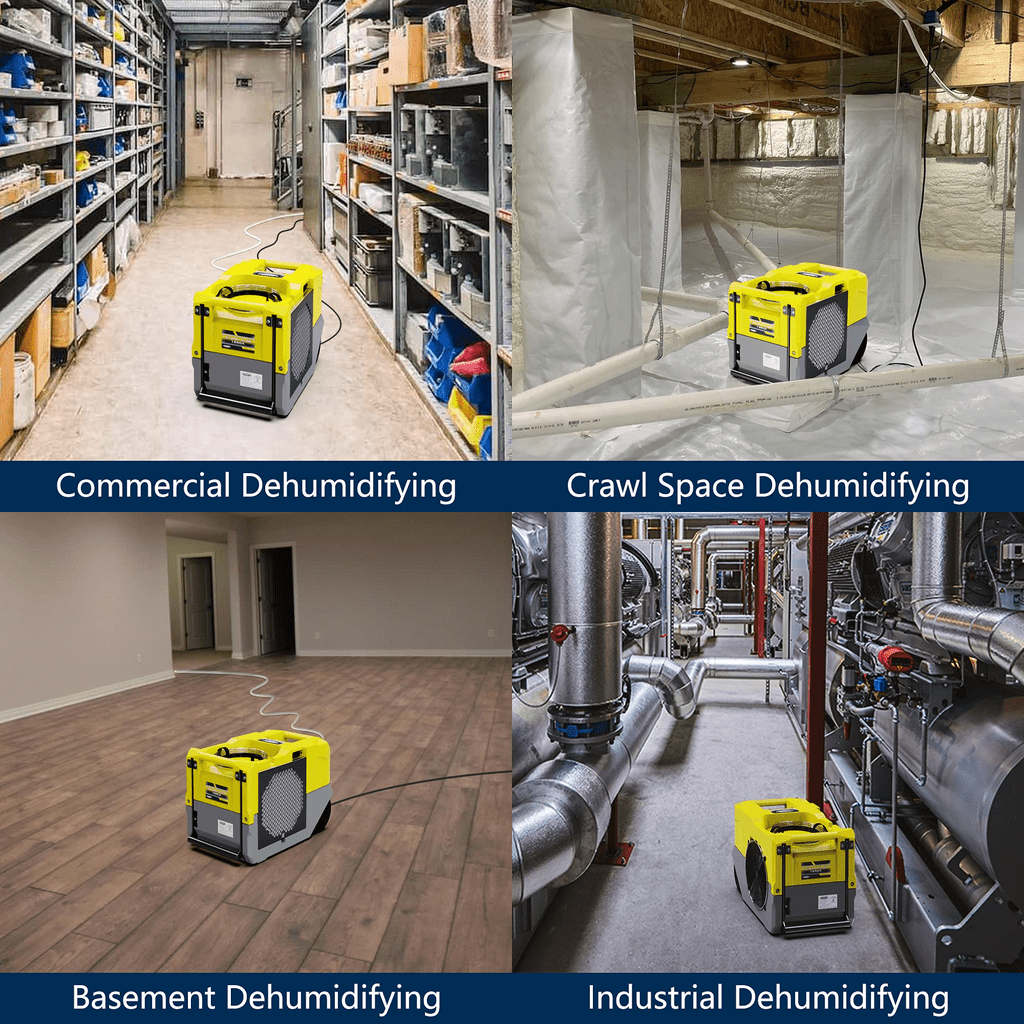 WORKS WELL, GOOD
I have asthma and I really want my apartment to feel clean and clean. So I bought this product to clean the air. I am surprised how effective it is. In addition to seeing all the dust trapped during cleaning, I also noticed that the amount of dust I saw in the air was reduced. The odor control effect is very good, and now my apartment always emits a neutral odor. I am very satisfied with this product and I have already purchased it for my parents.
SIGNIFICANT FILTERING EFFECT
I spray professional lacquers, spraying kitchen cabinets with water-based acrylic lacquer, to be exact. We masked, taped, and used plastic sheets to form a spray booth in the client's kitchen, placed the ALORAIR PUREAIRO HEPA PRO 870 AIR SCRUBBER in the kitchen, and vented it to the other side of the plastic curtain, into the living room. Amazingly, there was not one speck of paint dust when I was done spraying 4 coats on the kitchen cabinet frames and panels. The filter was caked, as it collected every speck of overspray.
CLEAN AIR, CLEAN ROOM, CLEANER LUNGS
I am a freelance anesthesiologist, which means I am staying in a hotel when I am not at home. For decades, I have been suffering from asthma and various environmental allergies. This little machine is great! I bought it in June and have used it every day since I "moved into" a hotel in Bangor, Maine. I adjusted it down when I was sleeping, and medium when I was out, but I adjusted it up when I was cleaning. The hotel only serves once a week, which is great for me! The fewer people entering my room, the better. When they were in the room, the reason I kept it high was that I didn't know if the staff was wearing the mask correctly. Covid19 is spread by droplets, which are suspended in the air after they leave. But with this HEPA filter device, I feel more at ease, because the UV-C lamp can play a role in sterilization! The room is very clean!
HIGHLY RECOMMENDED
I have owned this unit for several months and highly recommend this product. It not only made my homeowners feel comfortable because I was worried about the air quality in their homes, but it also reduced the cleaning work I had to do after the project. The device is very well built with high-quality materials. I have other "air scrubbers", this brand is quieter and lighter. When working in a damp "mildew" basement, the UV-C sterilizer is an added benefit. I have some Alorair products, and this is another product that did not disappoint me.