Kahuna Chair – SM 7300S [Black] - Massage Chair
Share
Regular price

Price:

$2,999.99

Regular price

List Price: $7,000.00

Sale price

Price:

$2,999.99

You save:

$4,000.01 (57%)

Unit price

per
KCMSM7300SBlack
KCMSM7300SBlack
FINANCING AVAILABLE

Airpuria is excited to announce that we have financing options available for all customers.

If you have any questions please contact the Airpuria Team. Call: 773-337-8822 or email us at support@airpuria.com.
SL-Track Zero-Gravity Space-Saving with double length leg extension Full-Body Kahuna Massage Chair with 9 Auto Programs including stretching and heating therapy
Features
Total 13 Auto programs – 4 Stretching programs – Yoga Stretching, Active Stretching, Sv-Chiro Stretching, Dynamic Stretching. 5 programs – Fast Recovery, Pain Relief, Relaxation, Athlete and 4 special programs – Office Person, Golfer, Senior Mode, Dynamic Sport
A progressive Kahuna chair SM-7300S collaborated with top-performing technology programmed with a variety of different techniques which are kneading, tapping, knocking, tapping + knocking, and shiatsu massage on selective body proportion of whole or partial or fixed point on the body.
Superior Kahuna Massage Chair SM-7300S accommodates all body types including heavier and bigger body figures adding 3 more inches to the shoulders and hip area to accommodate all body types up to 6ft 5inches and 320 lbs.
The upgraded Space saving technology uses ameliorated forward sliding mechanism allowing a quieter transition that only requires 3 inches off from the wall
The SM-7300S functions with 6 rollers to provide the experience of being massaged by 6 different hands and the whole body being embraced while the massage is being processed
Heating therapy on the back and leg area with separate on/off button
Built in Castor for easy movement
---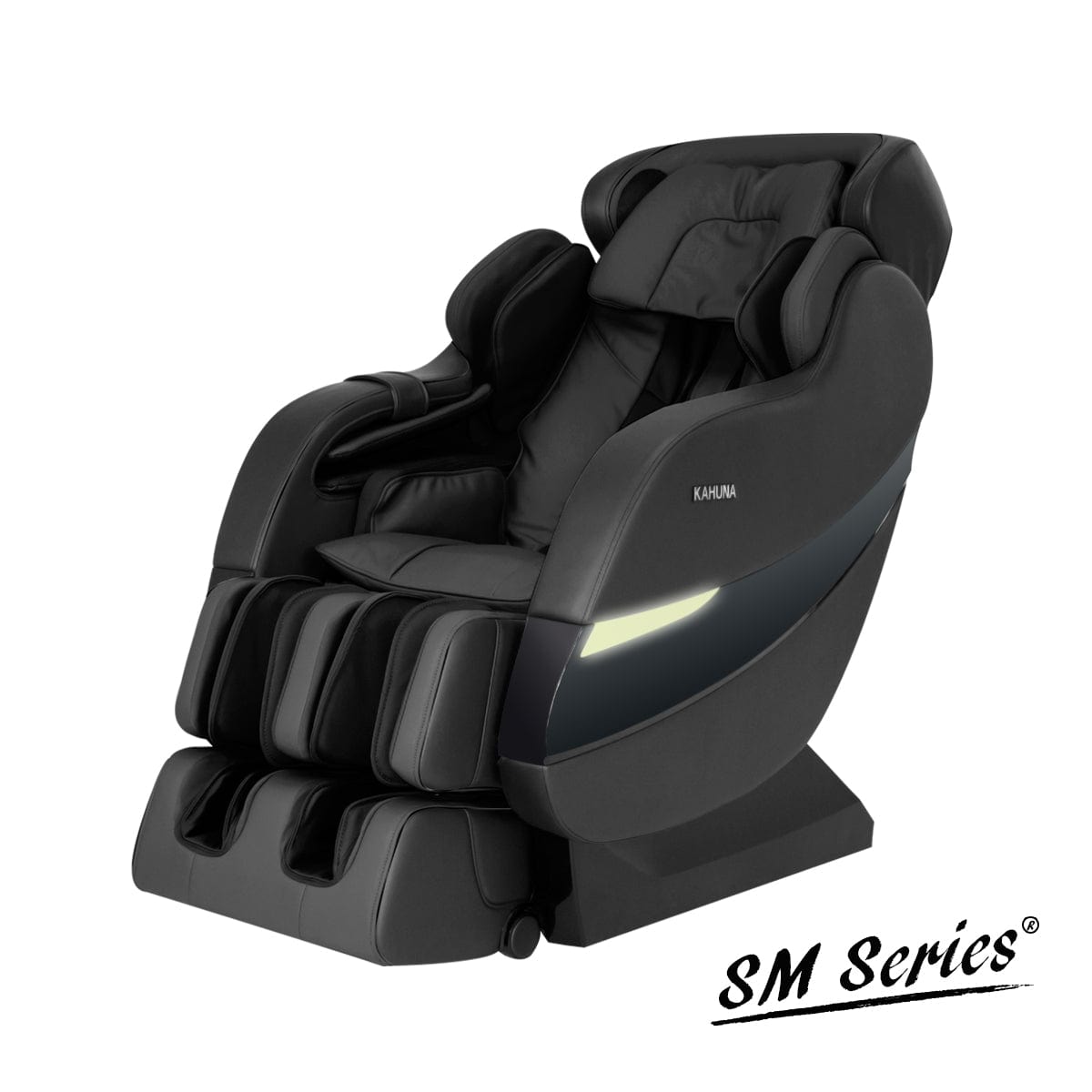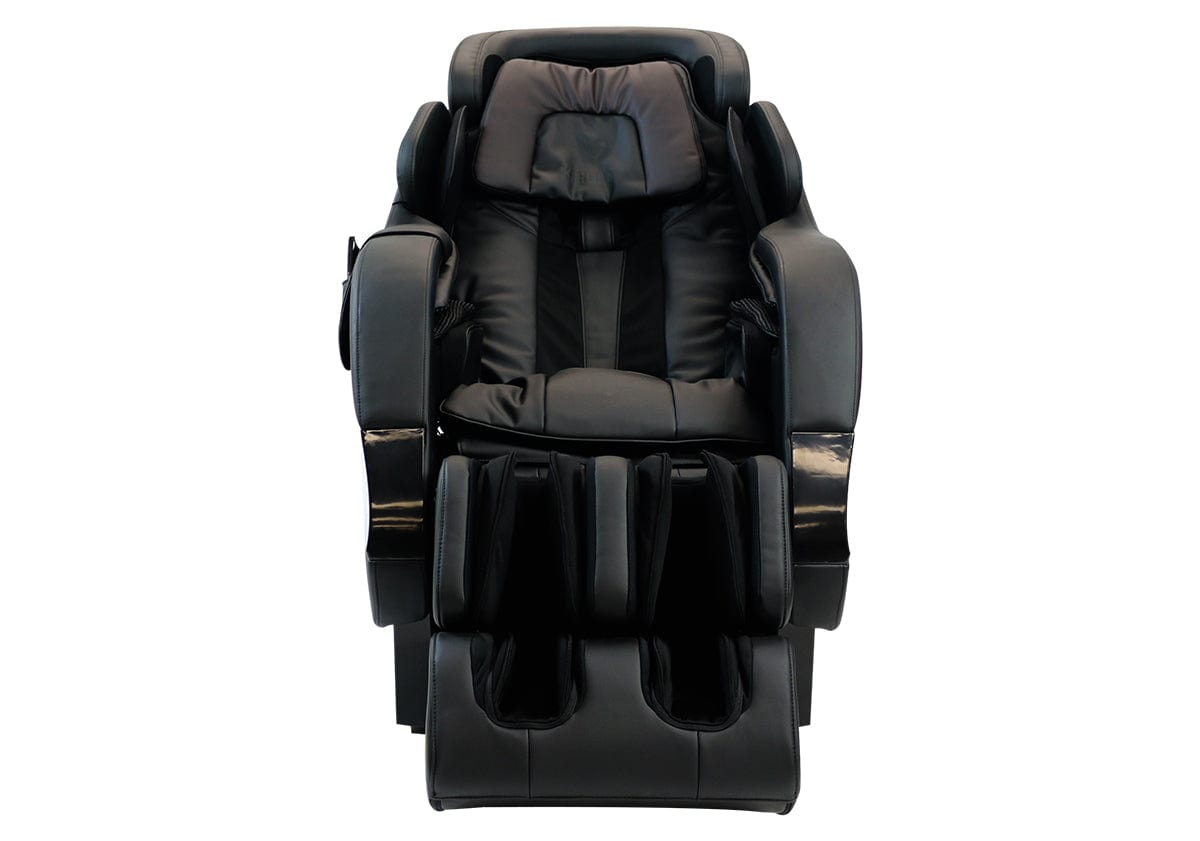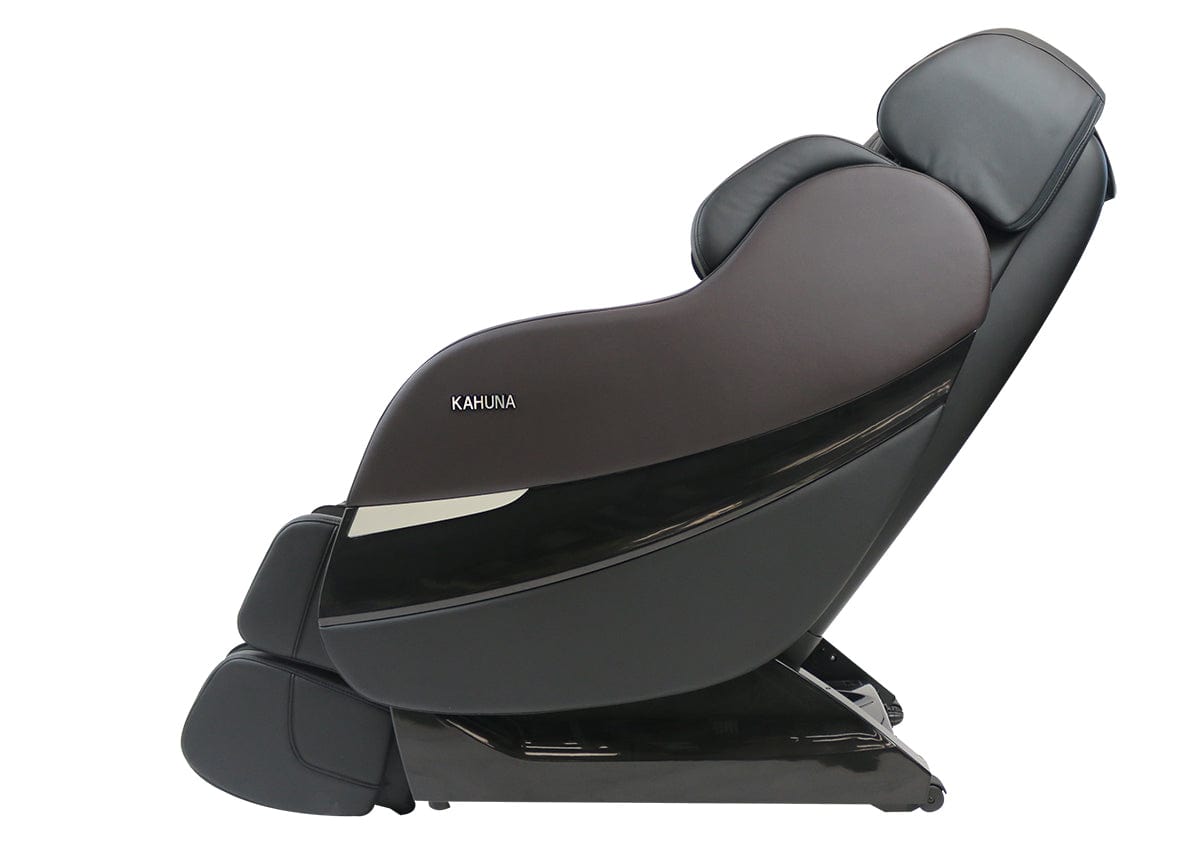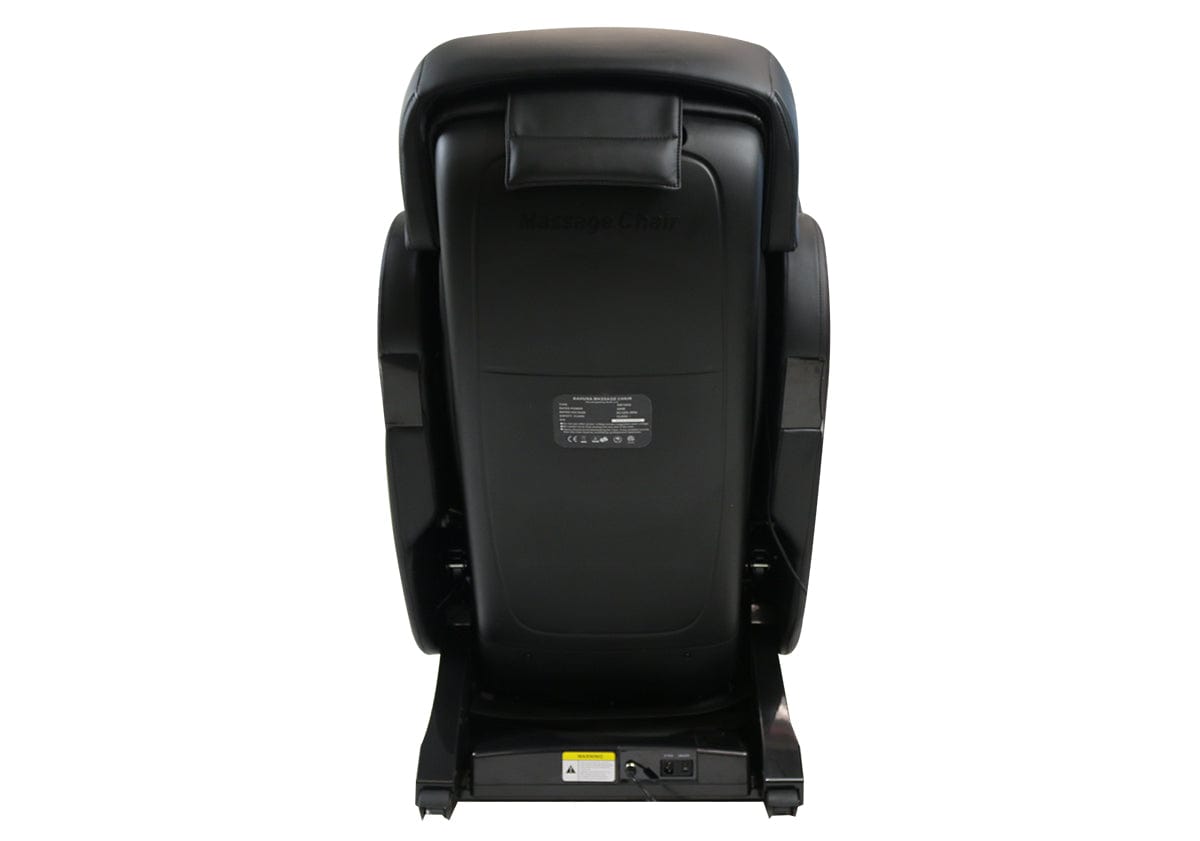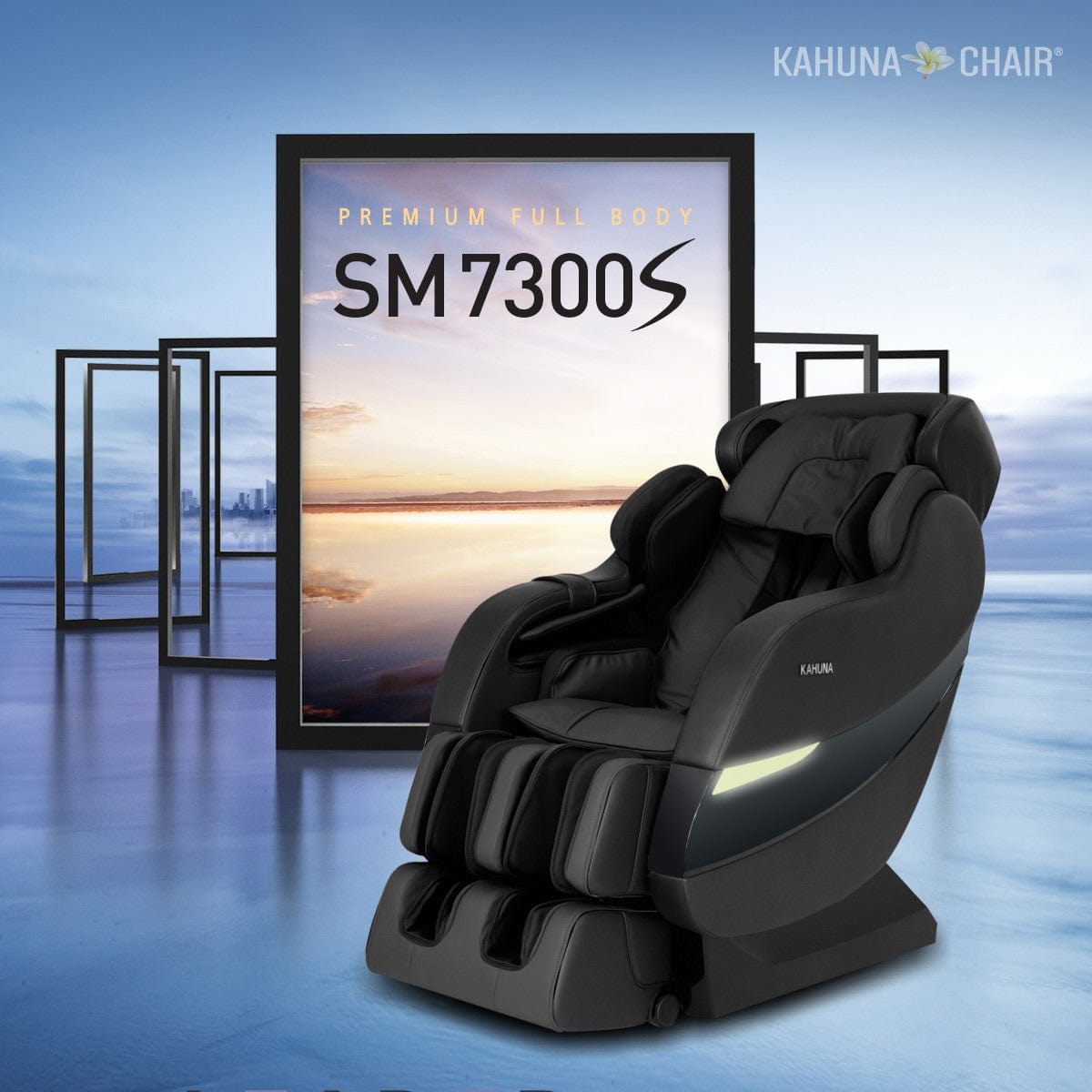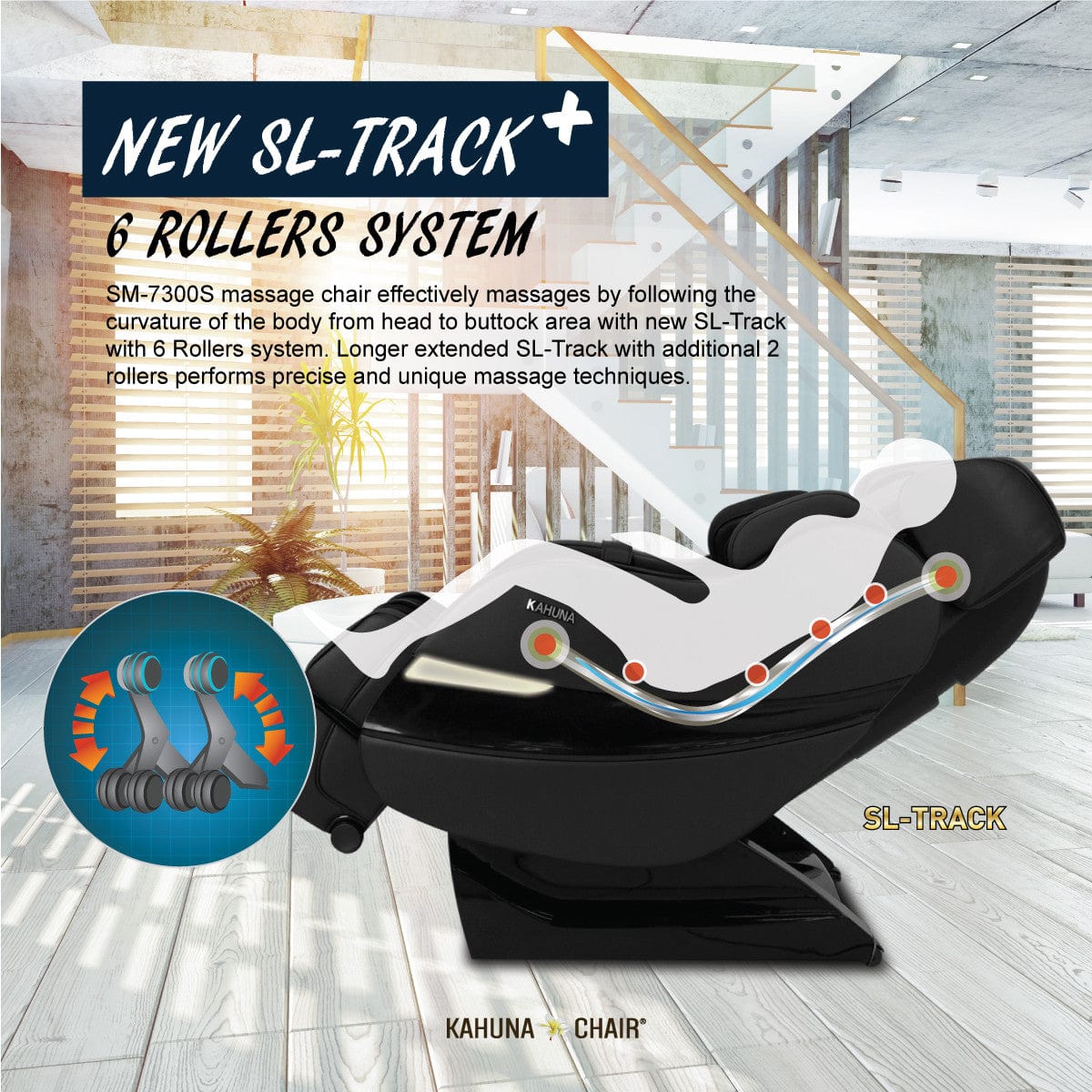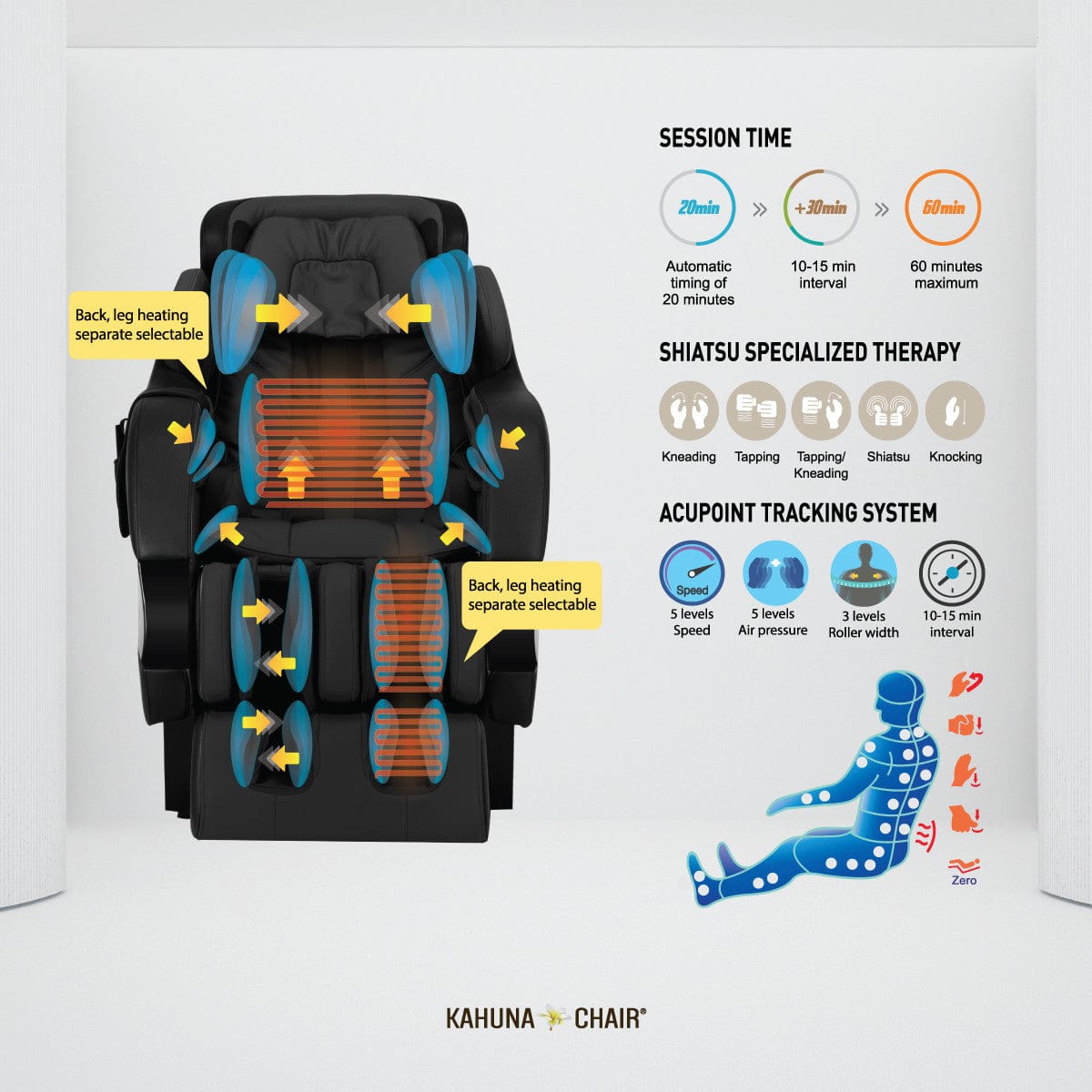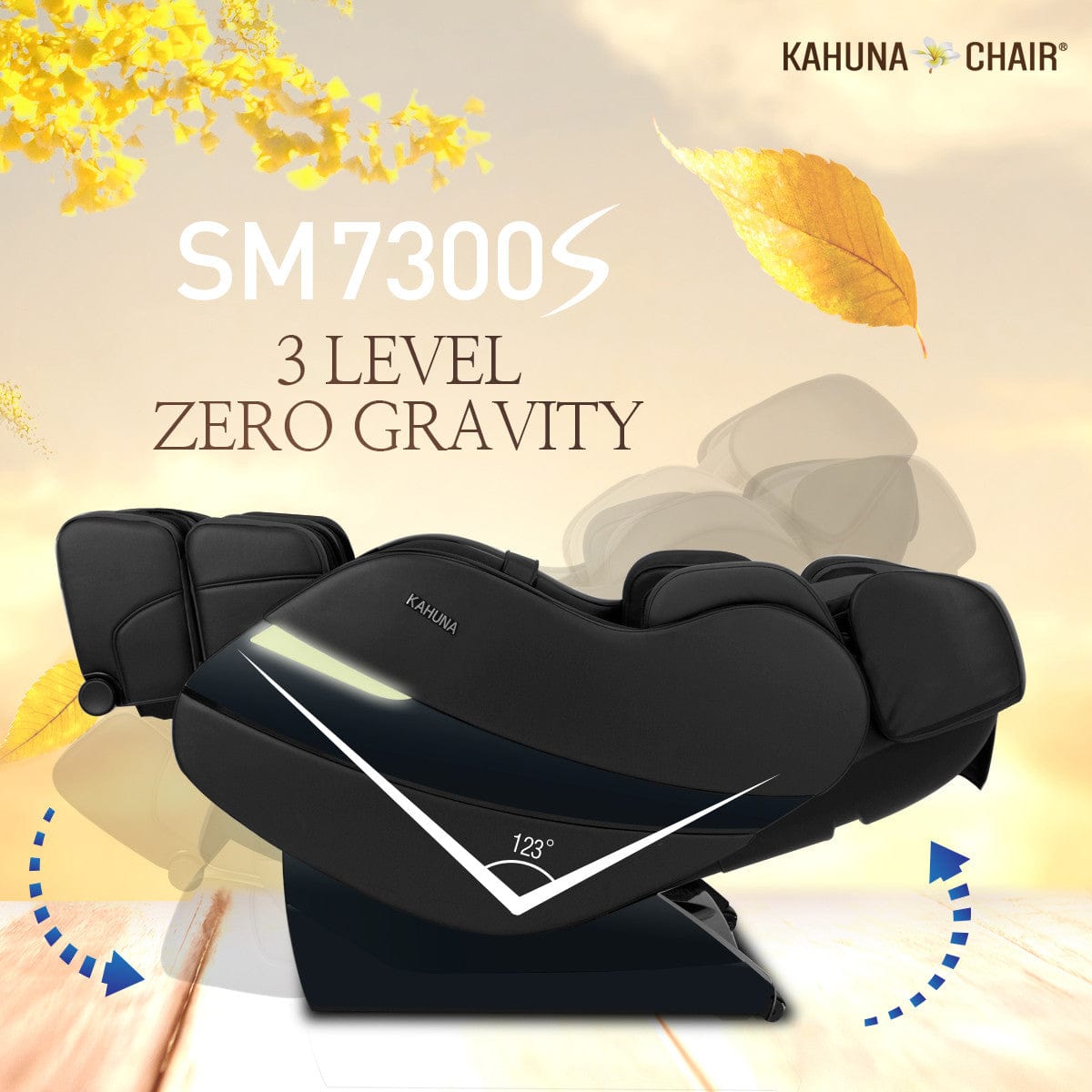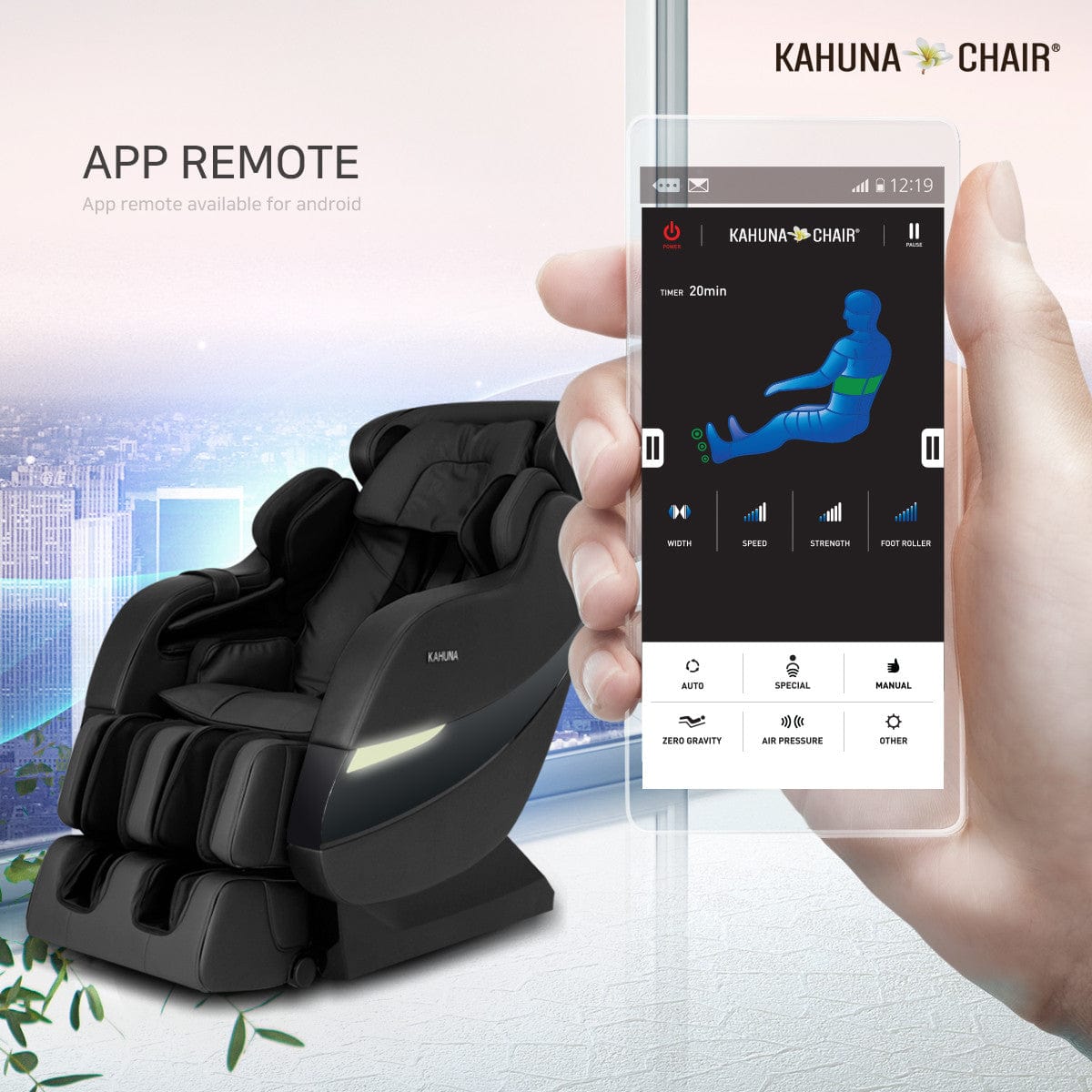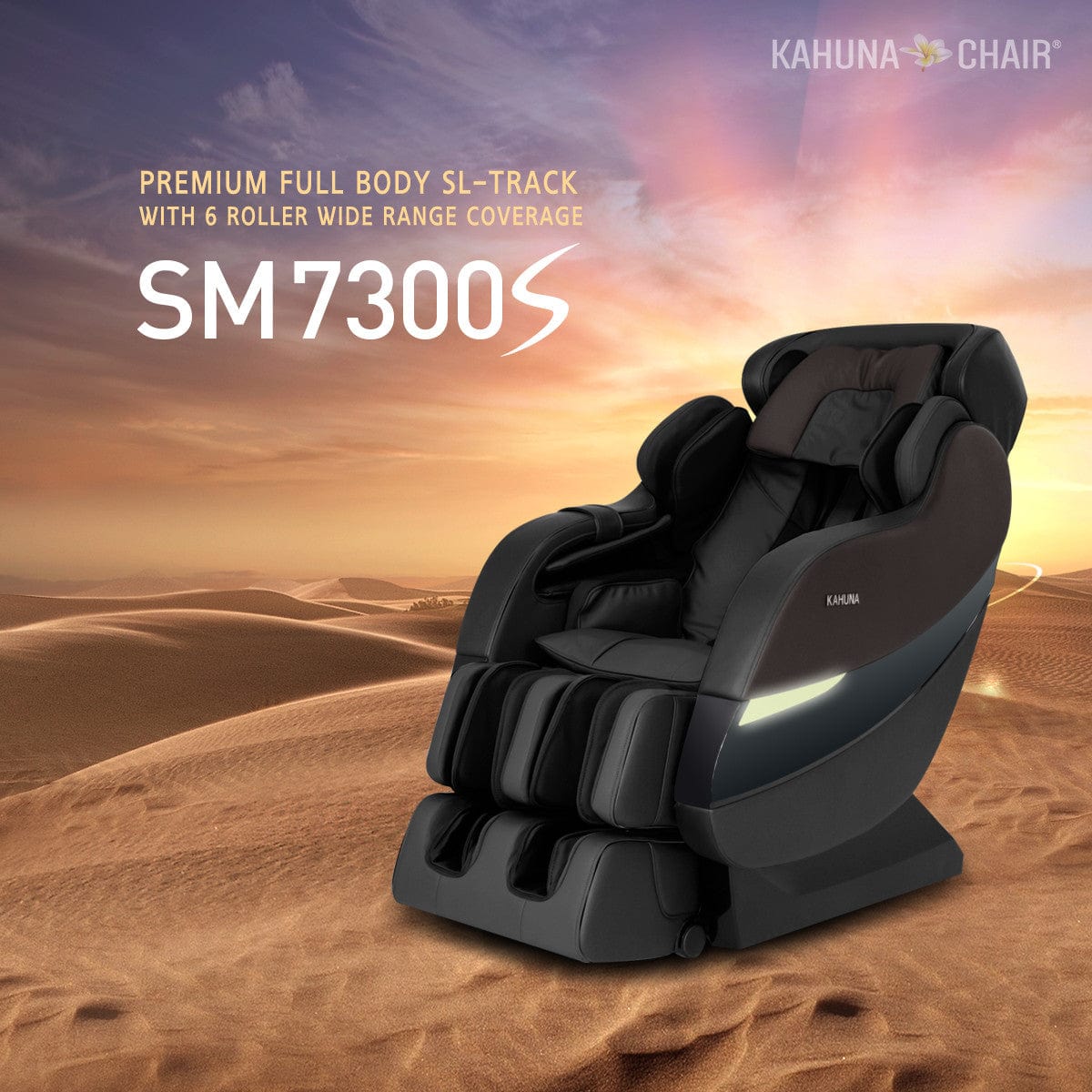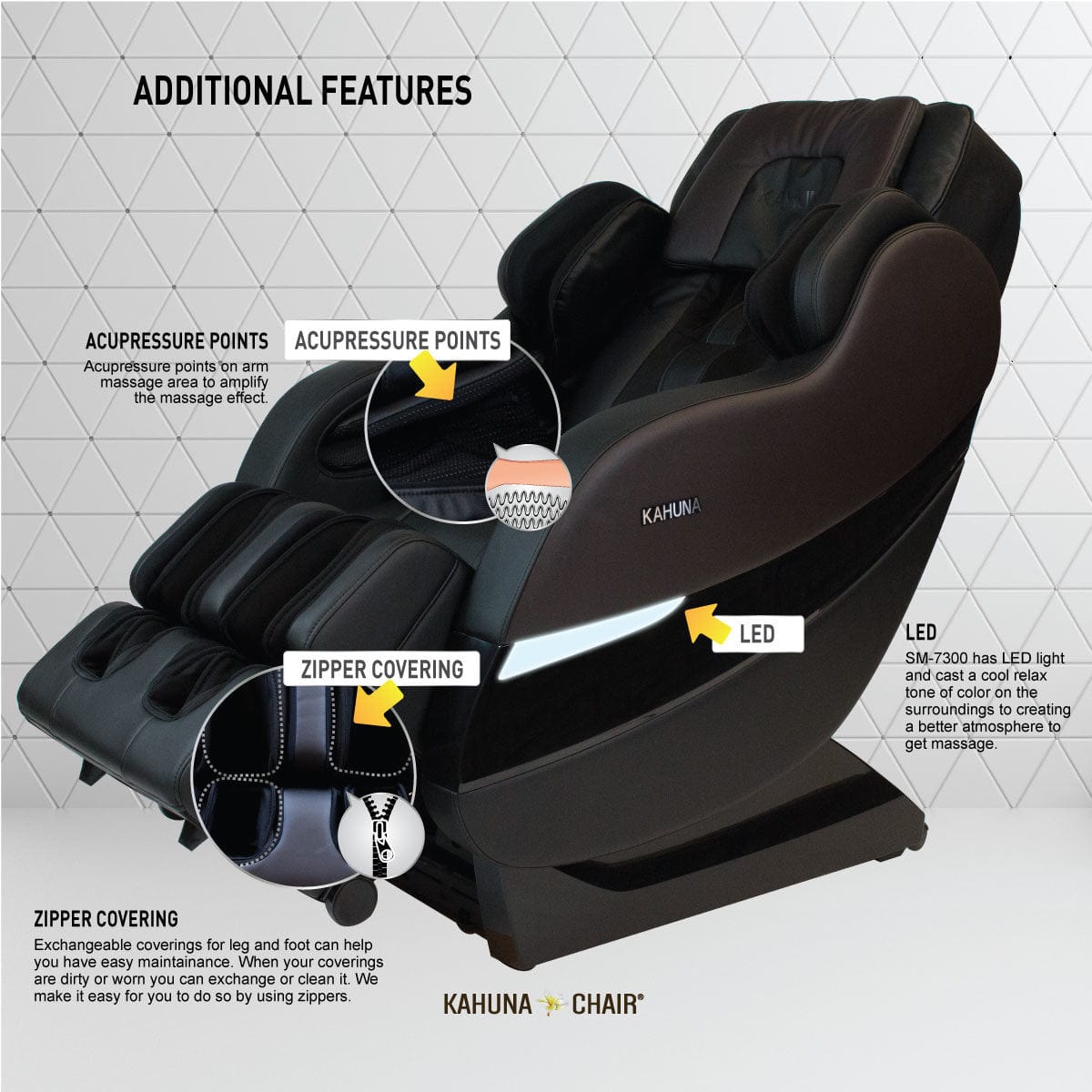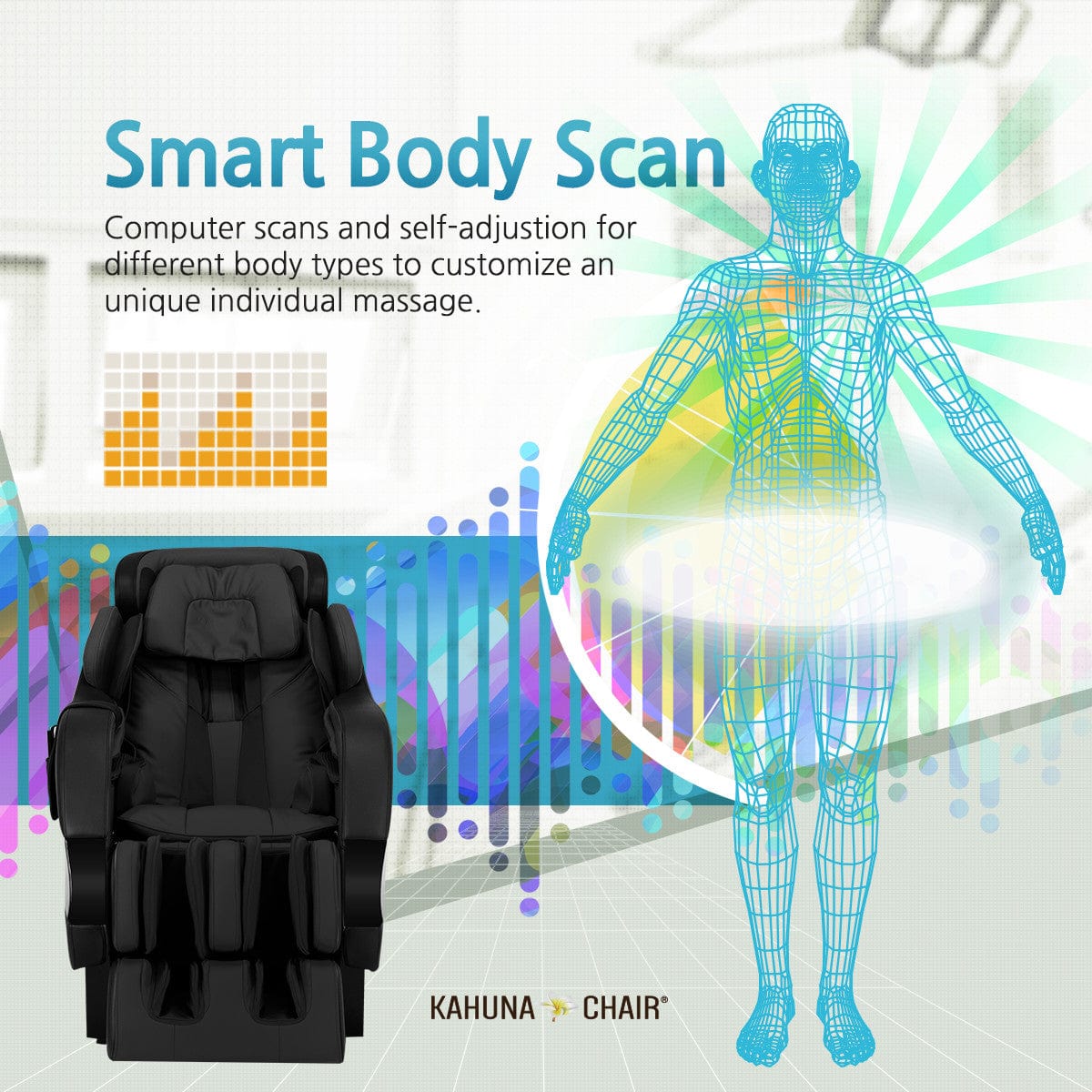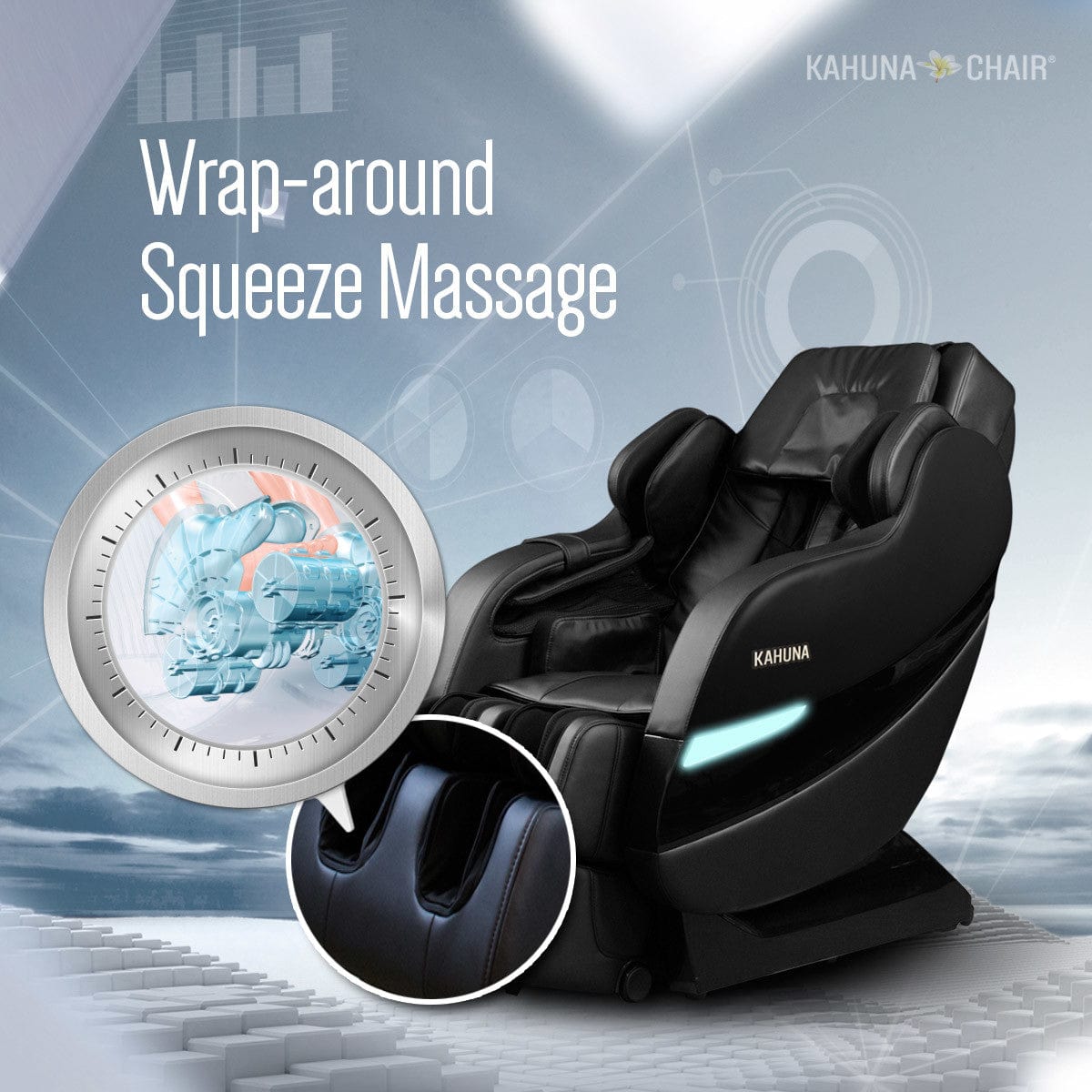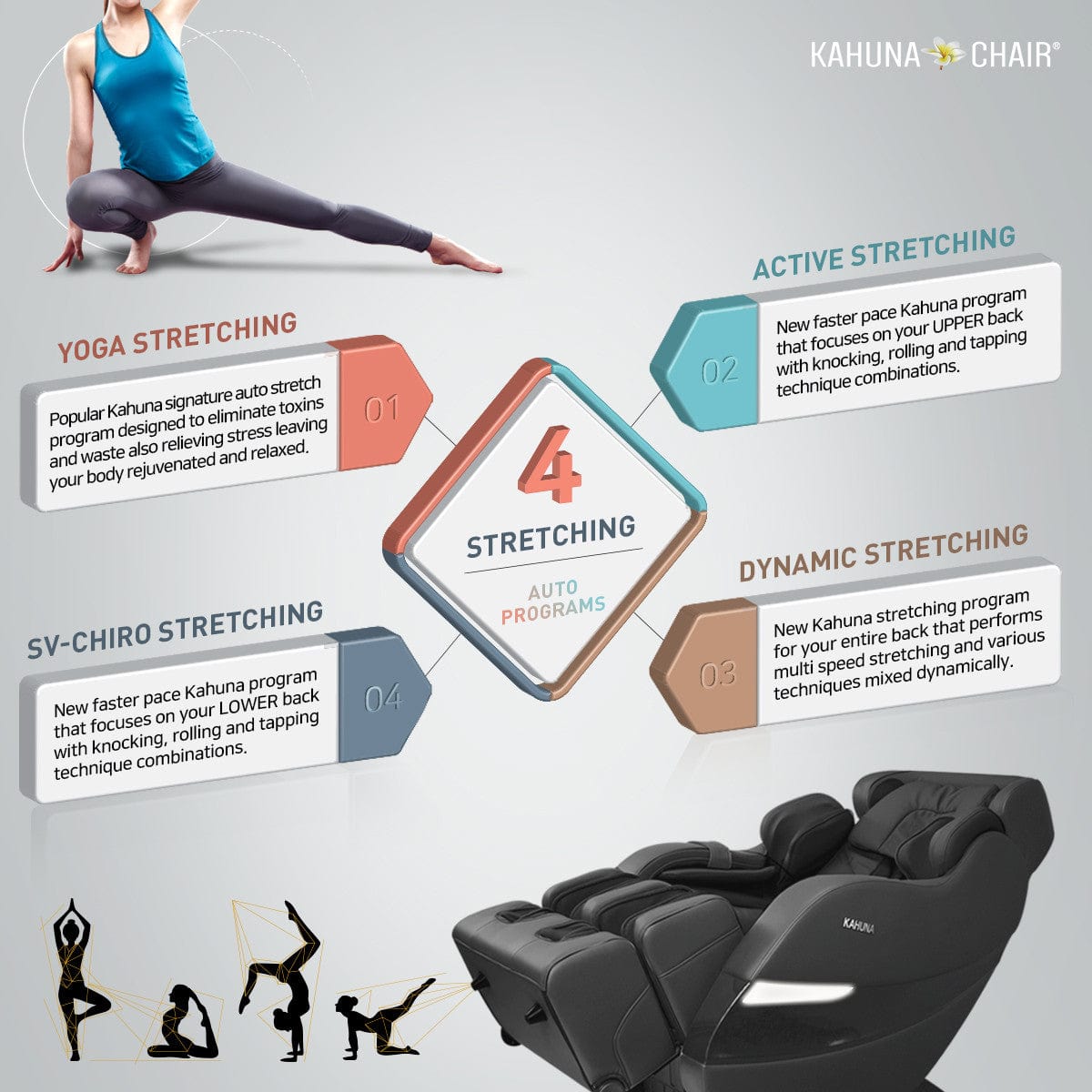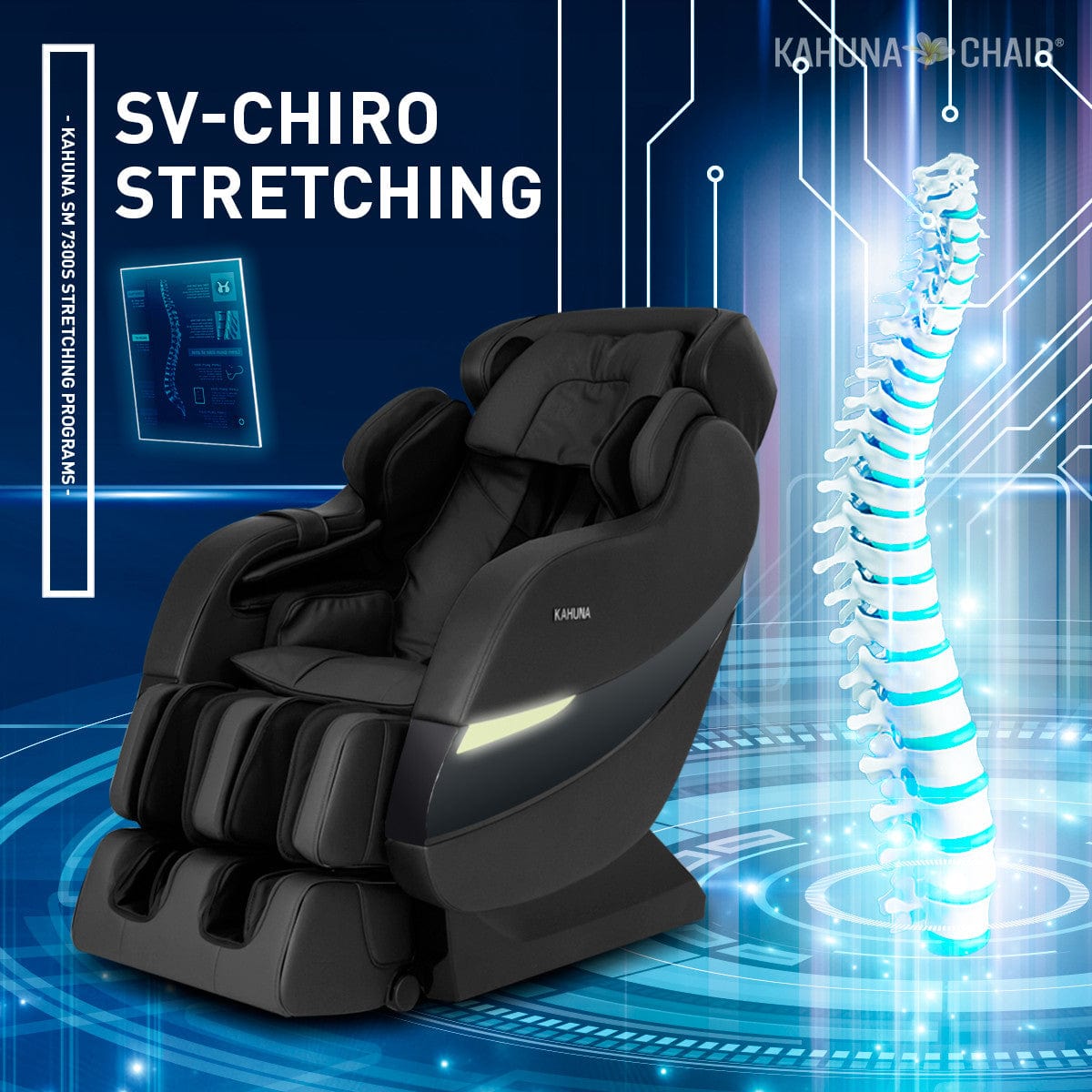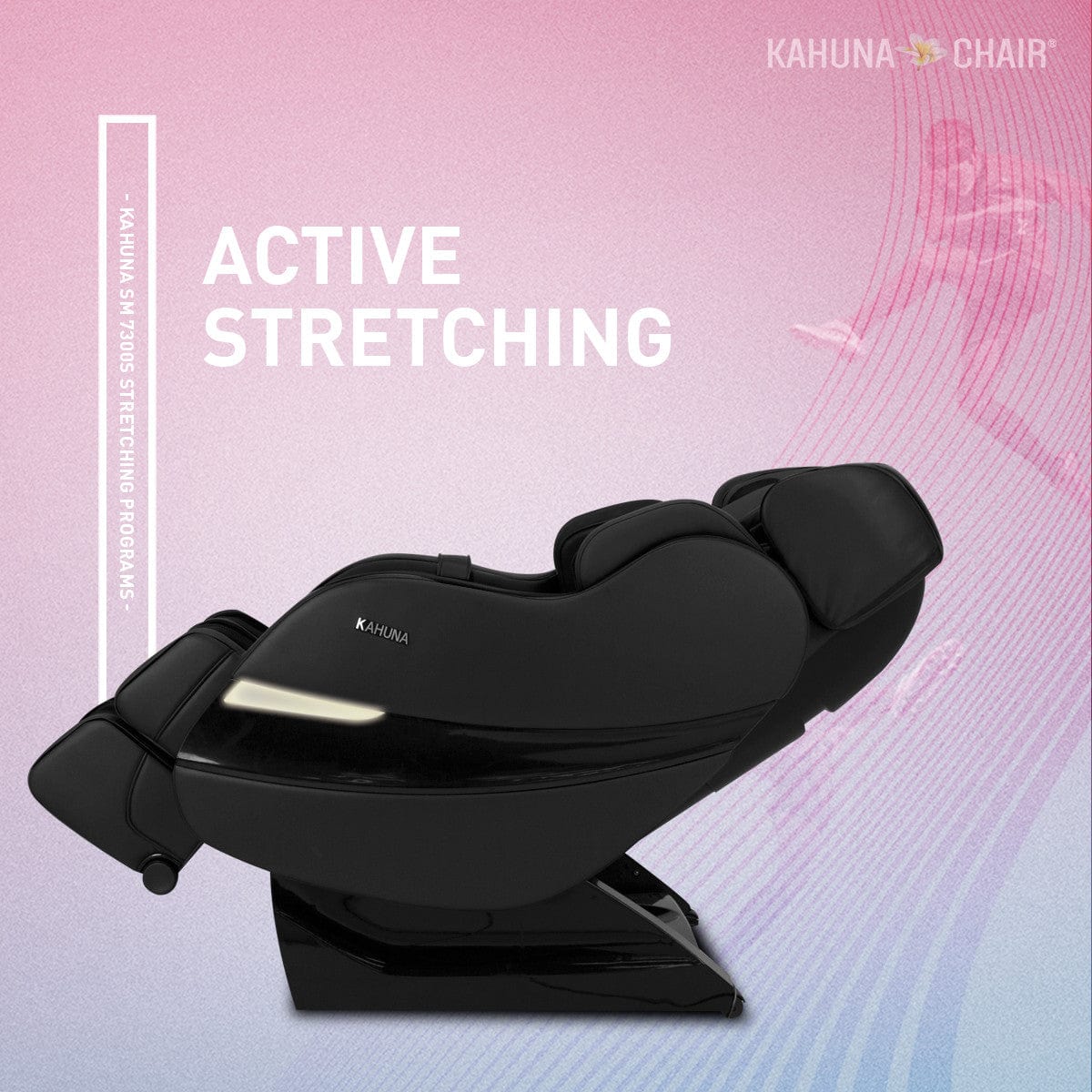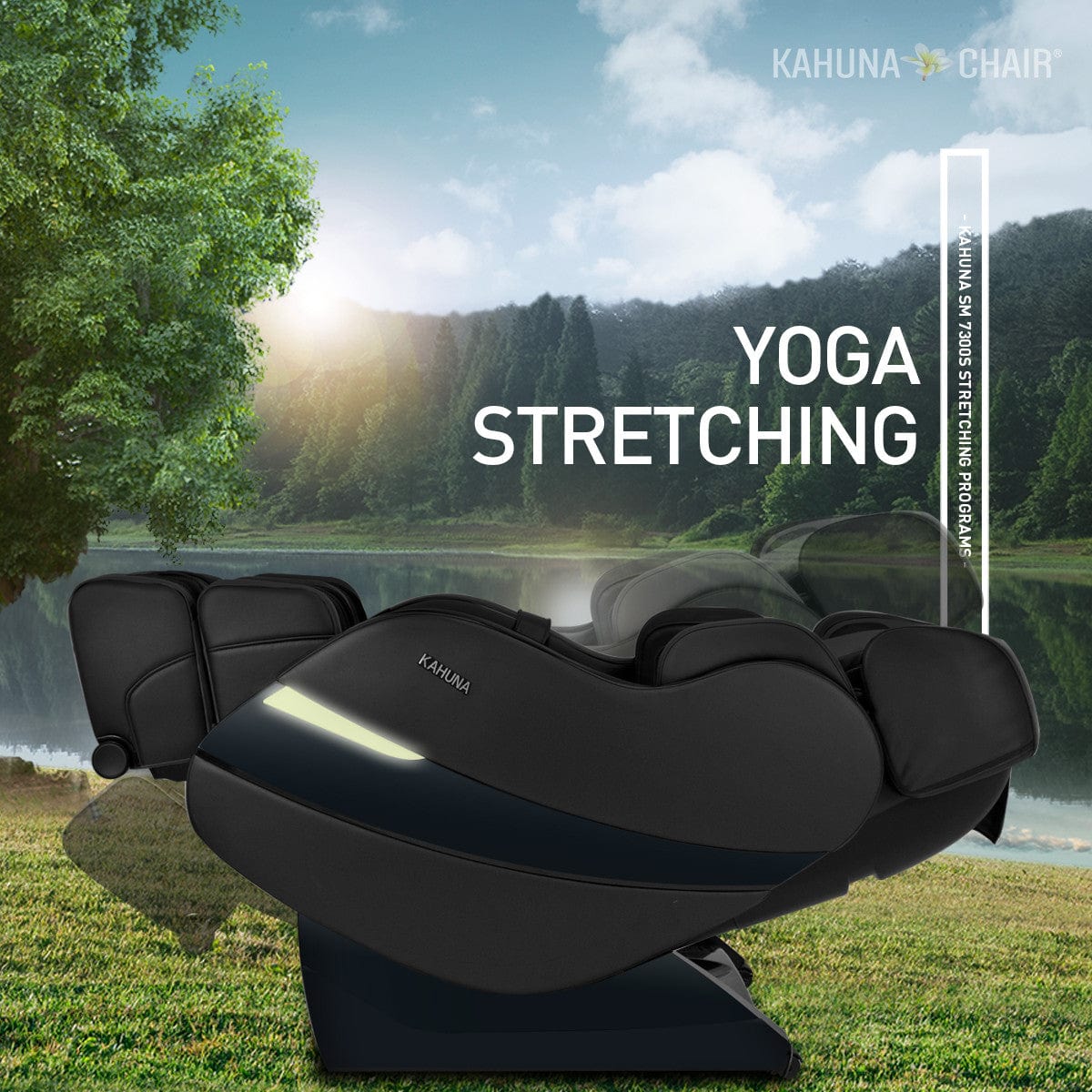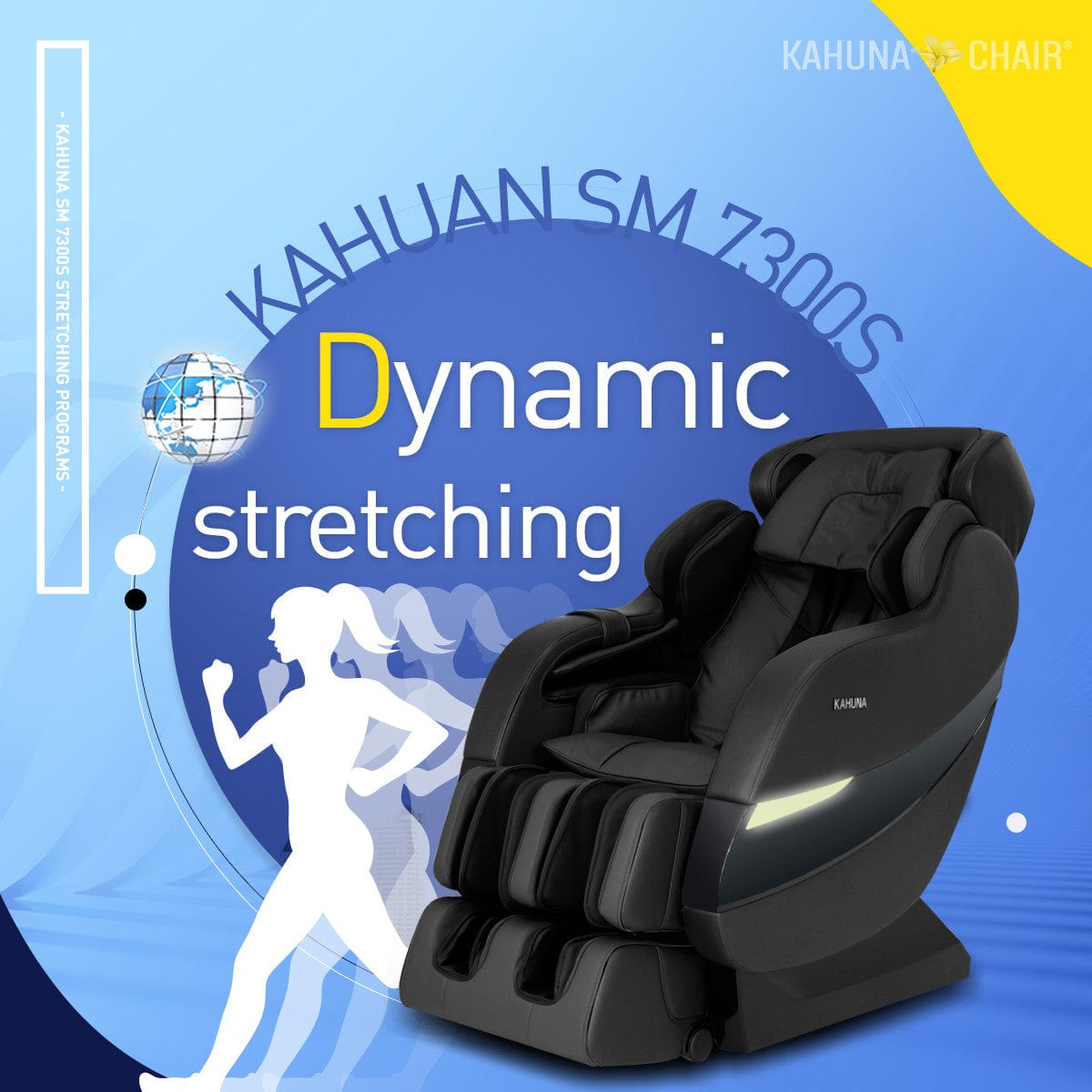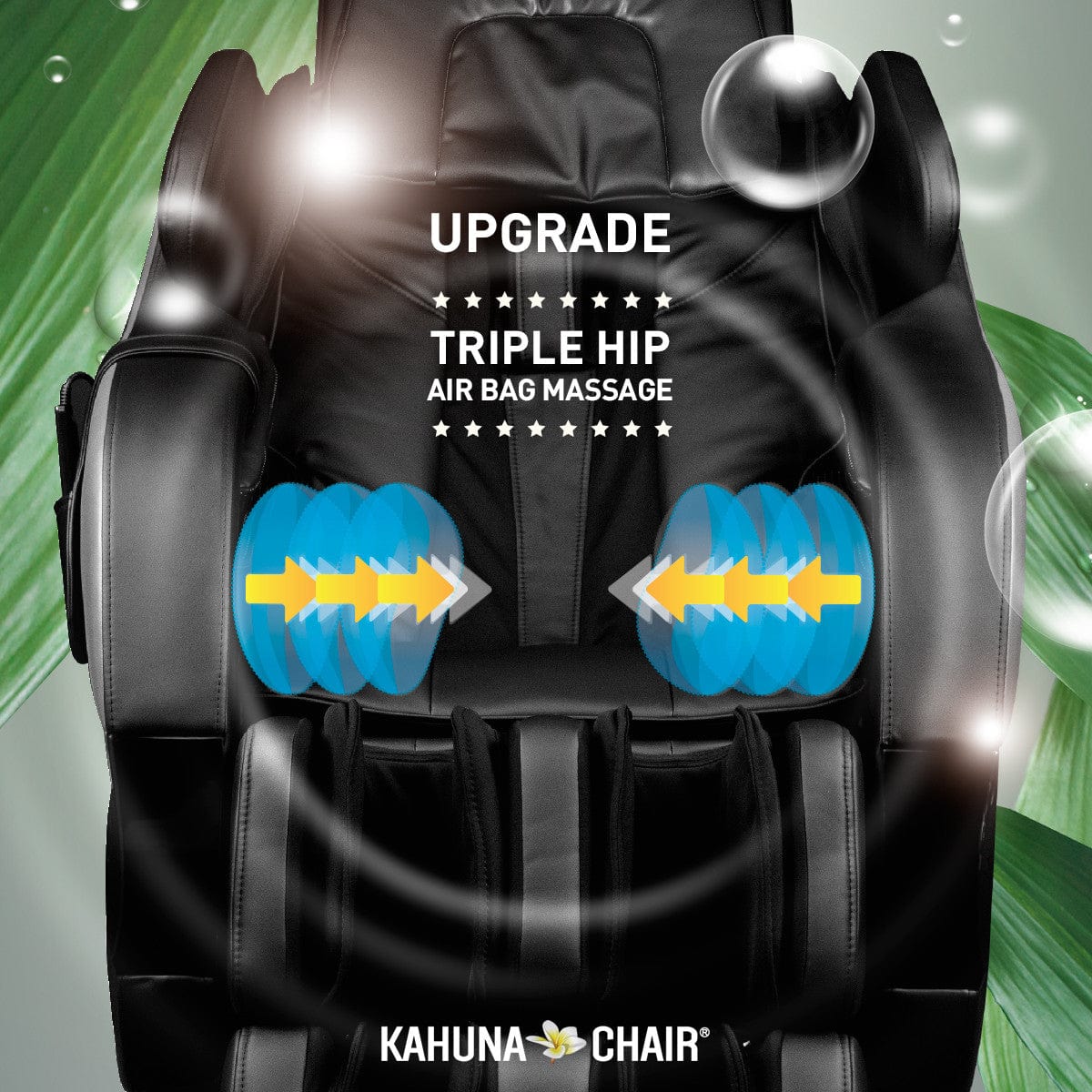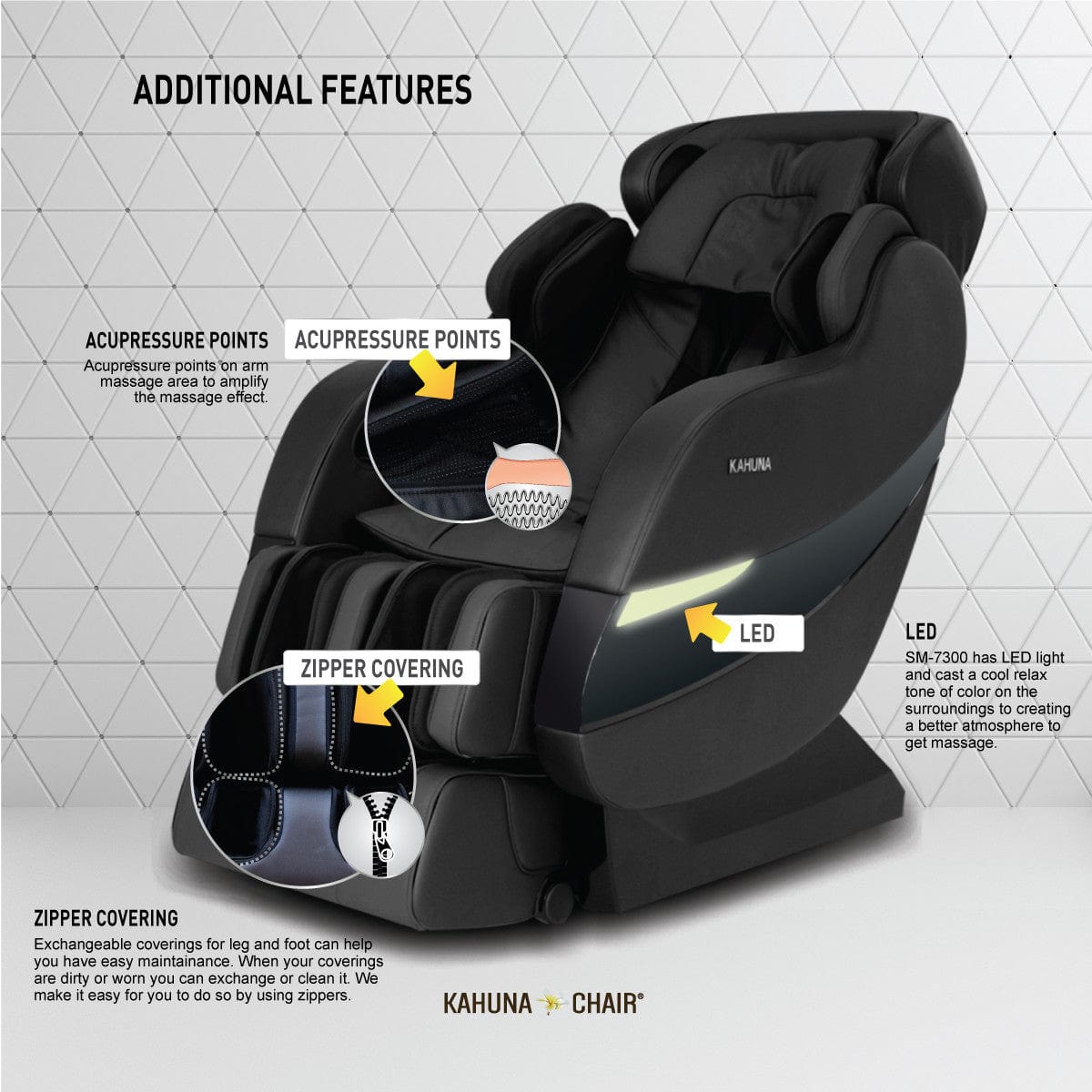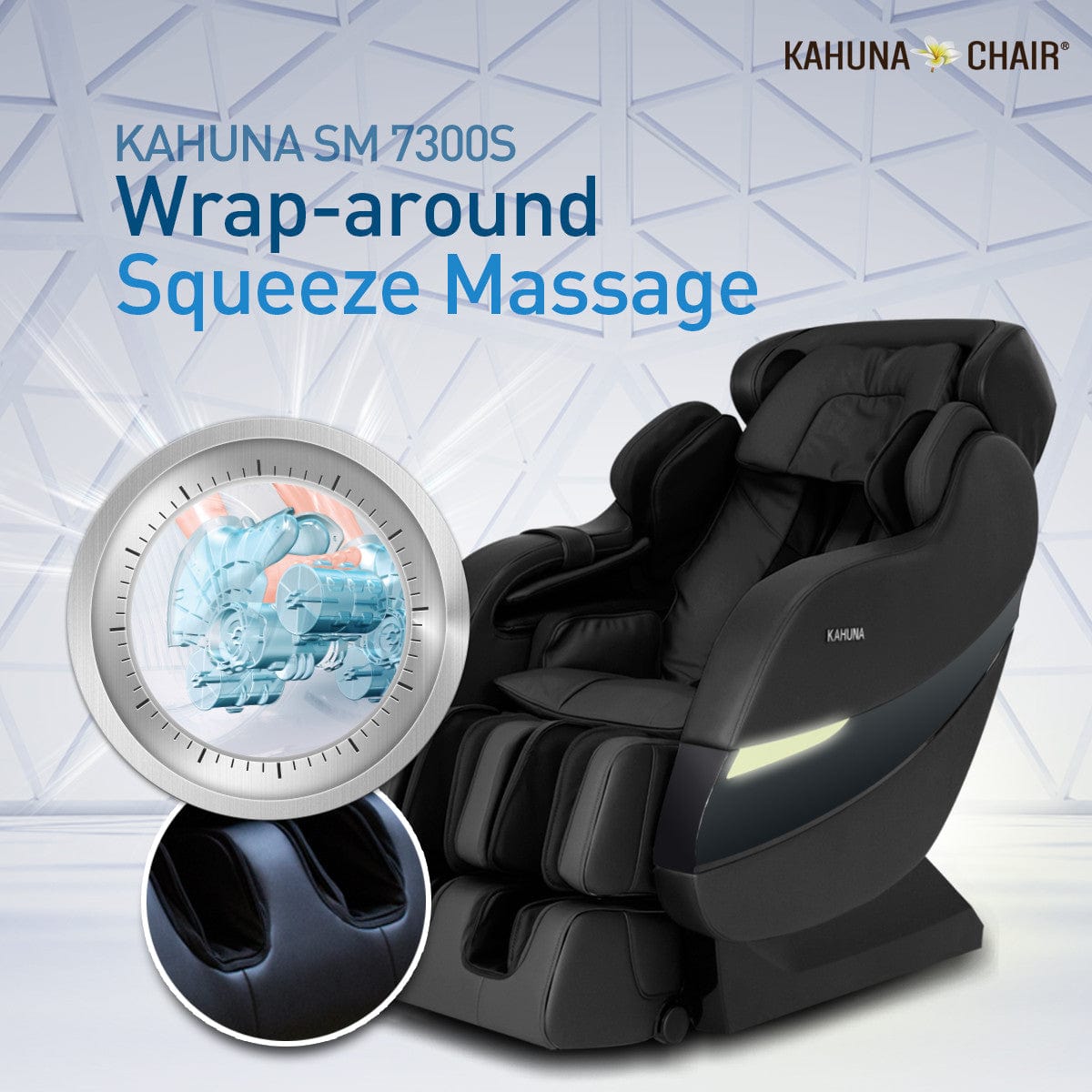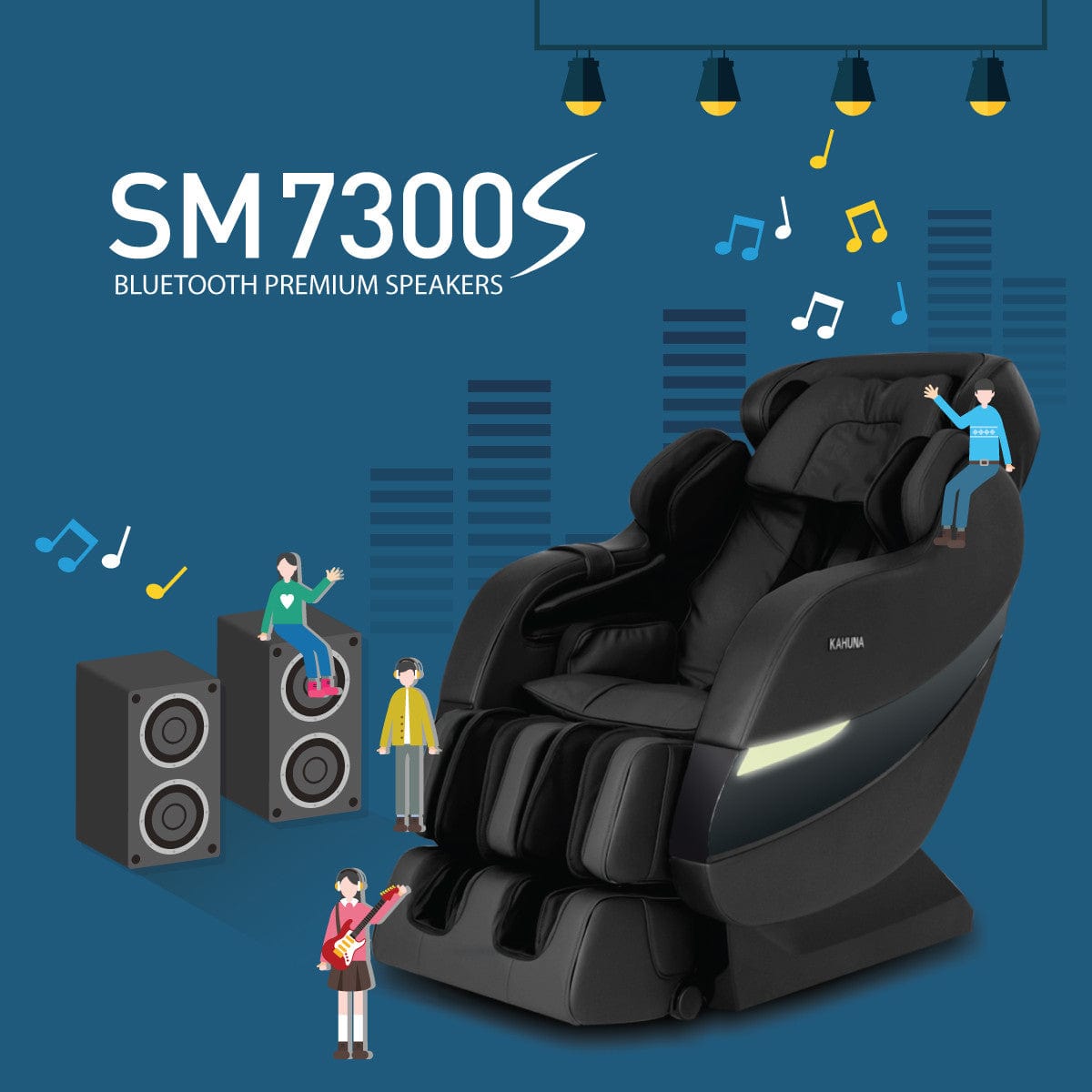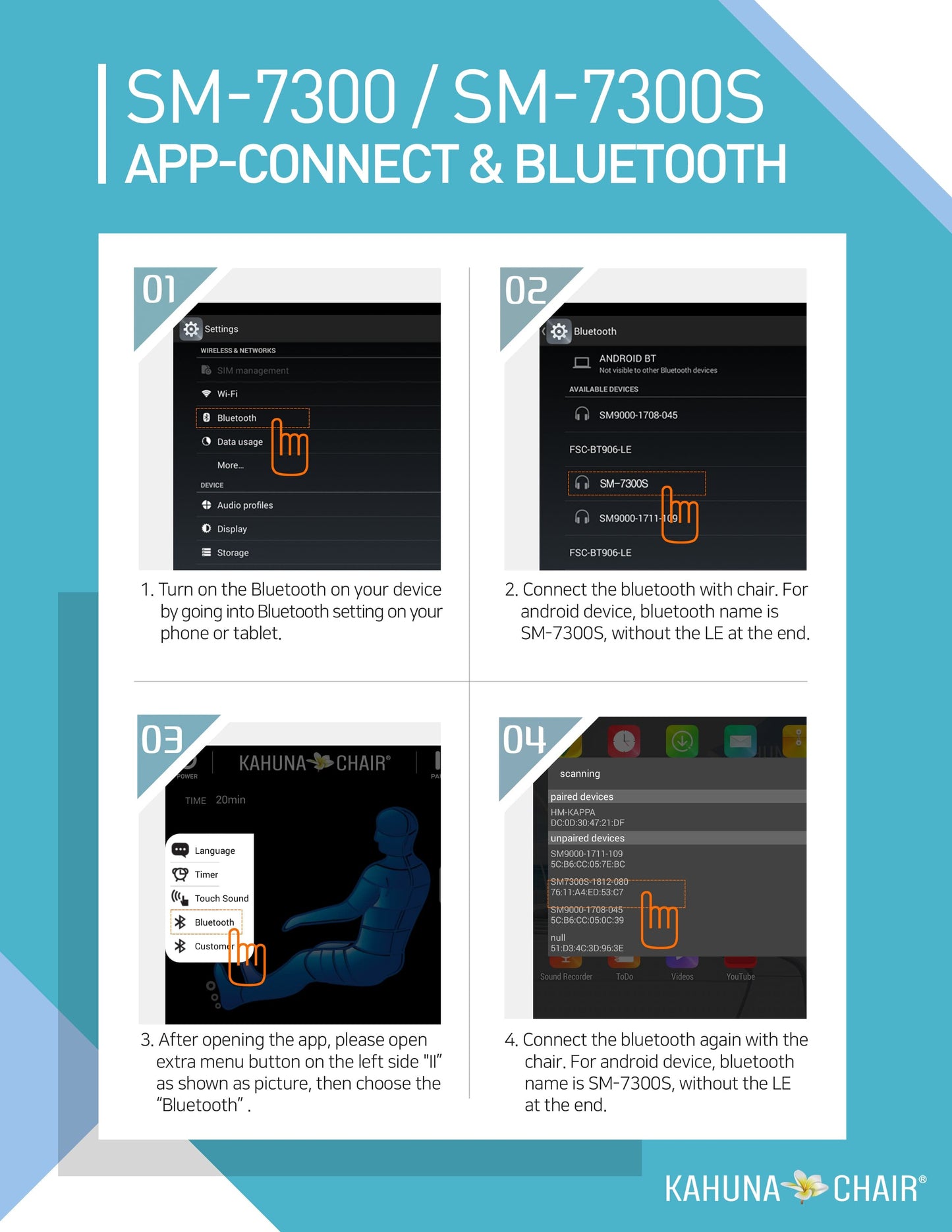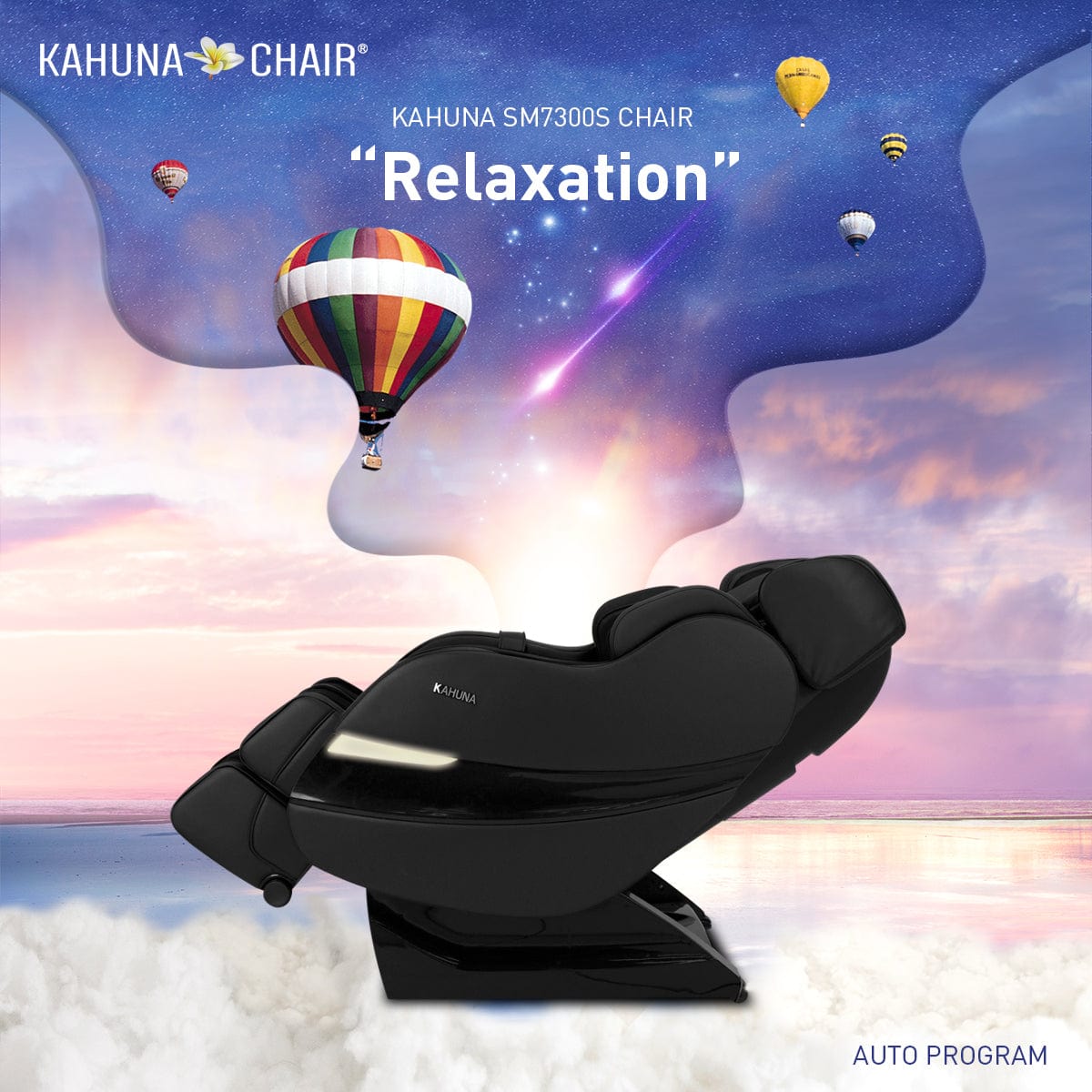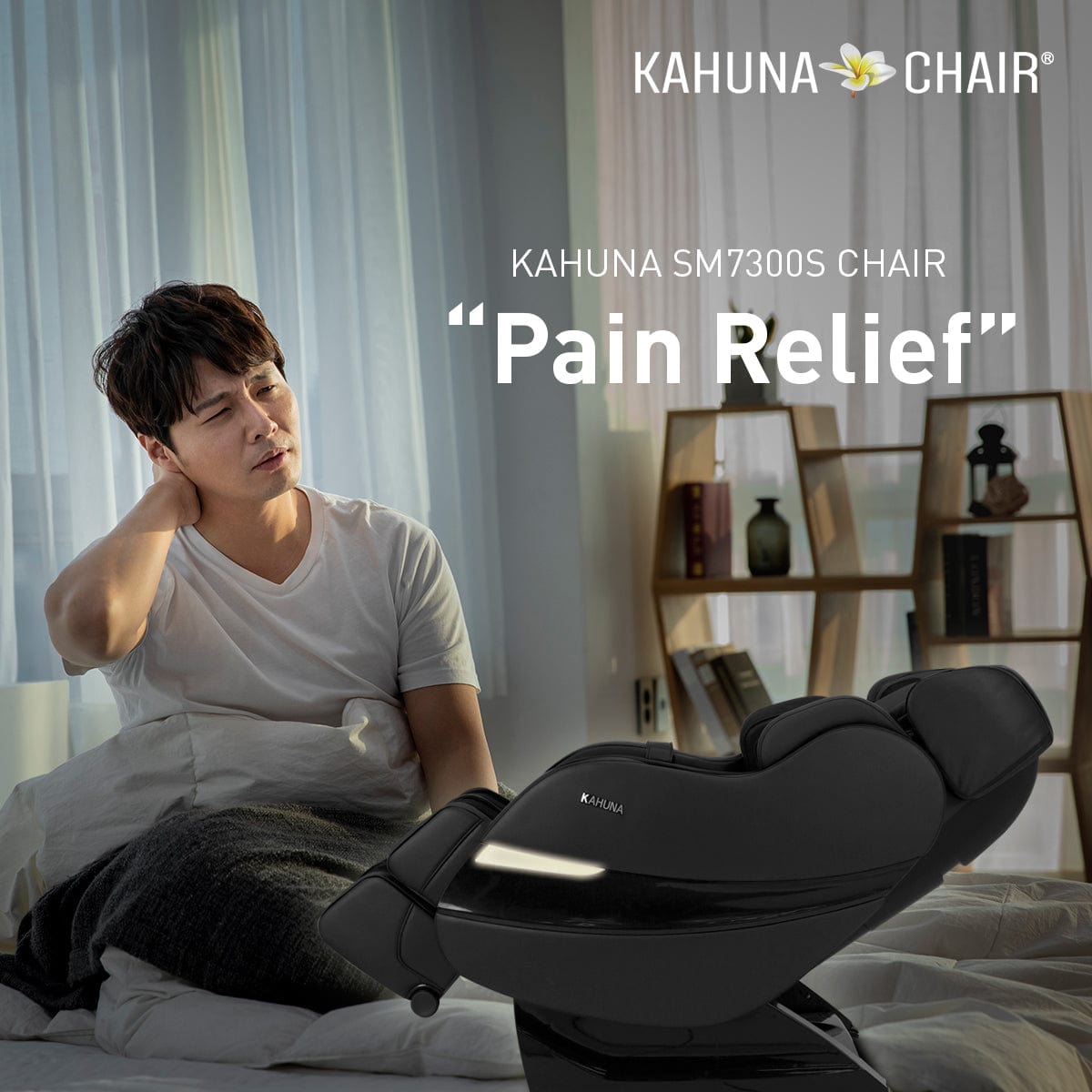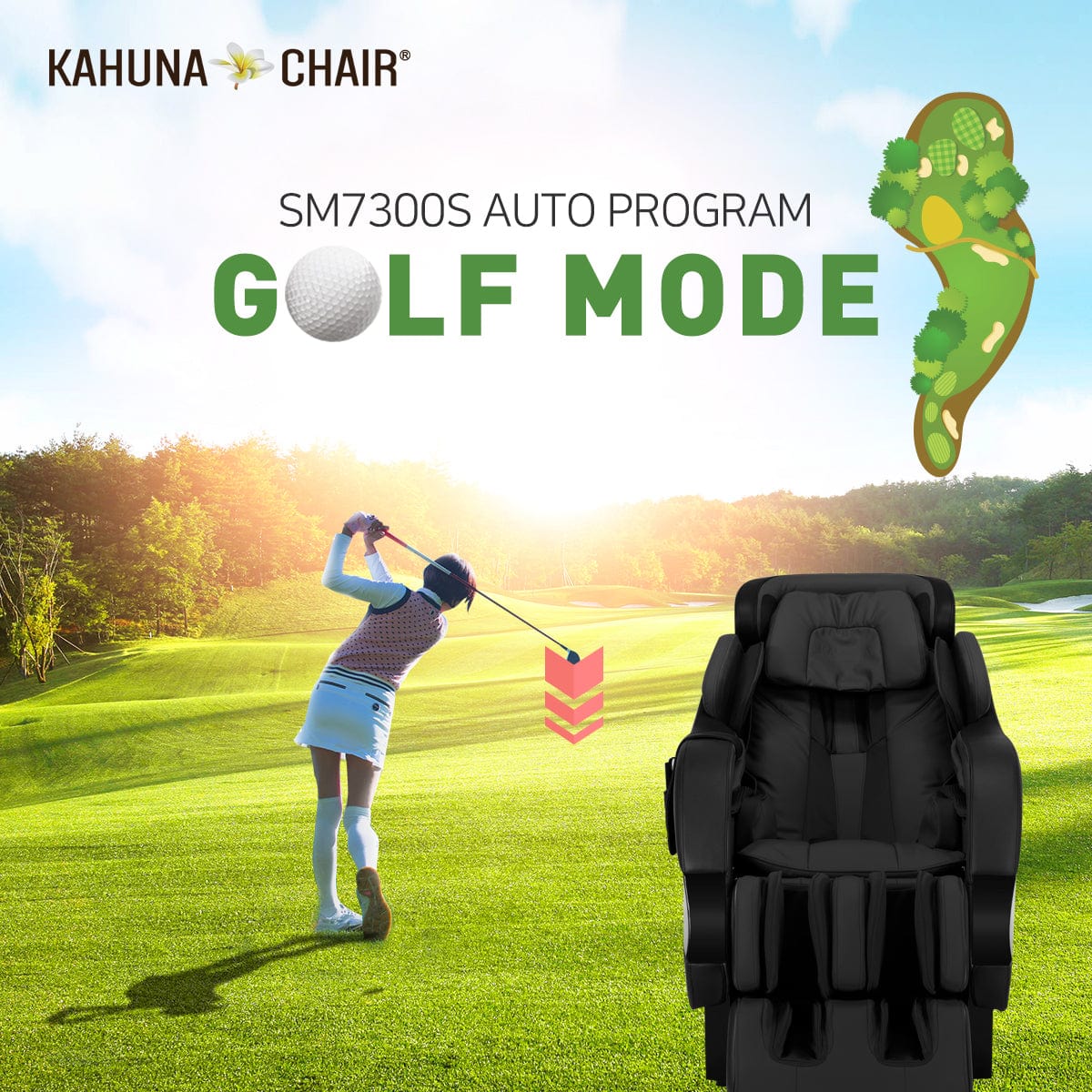 Have had this for a few weeks now and we are very happy with our purchase. The chair was delivered in 2 well packed boxes. We watched the YouTube video on how to assemble put it together without any issues. Everything fit as expected. As far as the massage part of the chair it is much better than we had expected. Zero G is perfect and very comfortable. Speakers were easy to connect to my phone and sound nice enough. Rollers can be a little rough, but there are ways to adjust including the additional pad. I personally love the automatic Office Person program in Zero G. Has a nice mix of air bags and rollers.
my only complaint is my wife and 4 kids are always in it, so I have to wait my turn. far exceeded our expectations and have used it everyday since we got it.Wish I had paid for the installation as putting it together was not very easy (But I am also not inclined to assembly either, probably not that bad for the more handy) The You tube installation video did help quite a bit, but was also not comprehensive enough.size is big enough for me at 6-1 225, but also fine for our 5ft 100lb 13 year old too.
I have had this chair since Jan of 2019 and registered on line right away. Now I find the bottom right foot compression is not working. Its supposed to hold your foot in place and the right one does not do this. I contacted the company and they have not replied to this problem. So buyer beware in the long term. I fixed the problem with the right side foot, but the company doesnt seem to care about the customer.
First off, I am not a paid spokesperson by Kahuna. Overall this is a great massage chair, if I could I would give it a 4.5/5. I have had two different massage brand chairs so far and this is by far the best one I have owned. I selected this chair over the 7300 and 6800 series as it has the most updated software, better zero gravity setting and offers the additional calf/leg heating functions. Some other reviews have had issues with speakers and the body scanner which I would also find aggravating, but I have had no issues with regard to quality control or assembly.ProsEasy to setup and install myself, with some 12 yr old help. The hardest part was getting a zipper started on the lower seat cushion.Very comfortable chair to sit in. The synthetic leather is nice and looks like a quality piece of furniture.Several multi-functions, preset massages and stretching programs preloaded. Coupled with the back and leg heating, it really helps loosen muscles and relieve pains. You can make a program last up to 60 minutes if you want.6 roller S-L track. Massages all the way from the middle of the thighs/buttocks up to the base of your skull. Very accurate between different body types. I am 61? 185lbs and my wife is 52? around 115lbs and works well for both of us.Hip airbags do a nice job of holding you in place for lower back and butt massages or stretching programs. The air bags also help in sliding your hips side to side for greater coverage over your entire lower back.ConsRemote +/- Allows you change intensity, location and duration of the massage but it resets back to default at shut-off. It takes about 30 seconds of 20 clicks or so on the remote to customize the program to your liking prior to each massage. At least it is customizable. Just wish you could save your own settings or change the default somehow. (Hopefully they release an iOS/Android bluetooth version of the remote with these options!)Foot Massage- The foot rollers are amazing on it but my wife and I feel the air bags on the feet squeeze way too hard for the normal setting. So hard sometimes that my feet would be forced off the massage rollers. We both always turn them down to the lowest intensity prior to starting the program of our choosing. In this setting it works great.When the massage is finished the chair leaves you reclined in zero gravity position and you have to manually move the chair back down to standard seating position yourself. It would be nice if the chair just returned to the standard sitting position at the end of the massage.This is really and great chair for the money and the few issues I have with it pale in comparison to my overall satisfaction with the product. I use this nightly and it has really helped with my lower back and neck pain. Bottom line, I would buy this chair again knowing what I know about it. If they fixed the above minor issues, this chair would be downright perfect.
Great massage chair! Automatic programs provide great variety and the built in speakers make the massage a much more relaxing experience!