Kahuna Chair – SM 7300S [Dark Brown] - Massage Chair
Share
Regular price

Price:

$2,999.99

Regular price

List Price: $7,000.00

Sale price

Price:

$2,999.99

You save:

$4,000.01 (57%)

Unit price

per
KCMSM7300SBrown
KCMSM7300SBrown
FINANCING AVAILABLE

Airpuria is excited to announce that we have financing options available for all customers.

If you have any questions please contact the Airpuria Team. Call: 773-337-8822 or email us at support@airpuria.com.
SL-Track Zero-Gravity Space-Saving with double length leg extension Full-Body Kahuna Massage Chair with 9 Auto Programs including stretching and heating therapy
Features
• Total 13 Auto programs – 4 Stretching programs – Yoga Stretching, Active Stretching, Sv-Chiro Stretching, Dynamic Stretching. 5 programs – Fast Recovery, Pain Relief, Relaxation, Athlete and 4 special programs – Office Person, Golfer, Senior Mode, Dynamic Sport
• A progressive Kahuna chair SM-7300S collaborated with top-performing technology programmed with a variety of different techniques which are kneading, tapping, knocking, tapping + knocking, and shiatsu massage on selective body proportion of whole or partial or fixed point on the body.
• Superior Kahuna Massage Chair SM-7300S accommodates all body types including heavier and bigger body figures adding 3 more inches to the shoulders and hip area to accommodate all body types up to 6ft 5inches and 320 lbs.
• The upgraded Space saving technology uses ameliorated forward sliding mechanism allowing a quieter transition that only requires 3 inches off from the wall
• The SM-7300S functions with 6 rollers to provide the experience of being massaged by 6 different hands and the whole body being embraced while the massage is being processed
• Heating therapy on the back and leg area with separate on/off button
• Built in Castor for easy movement
---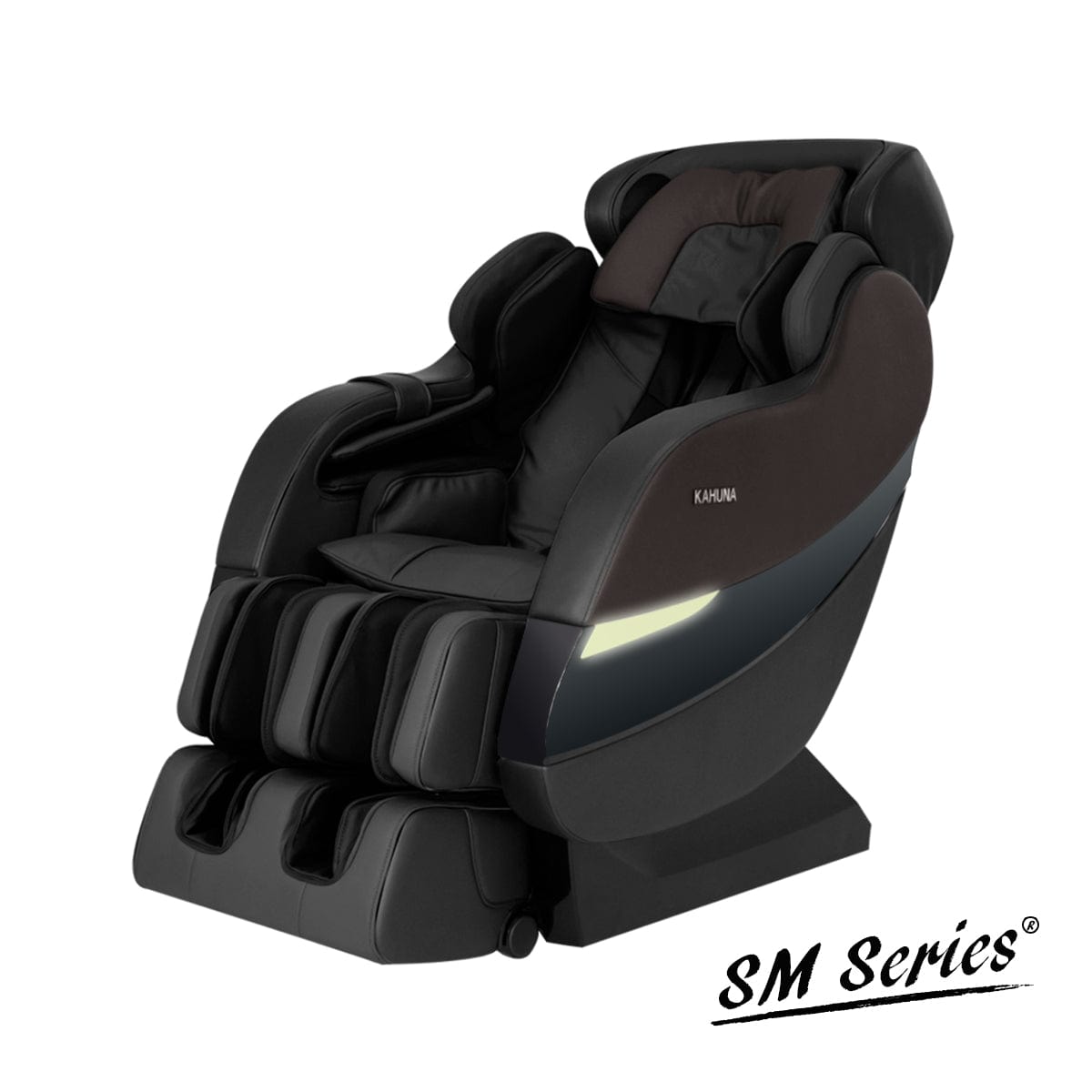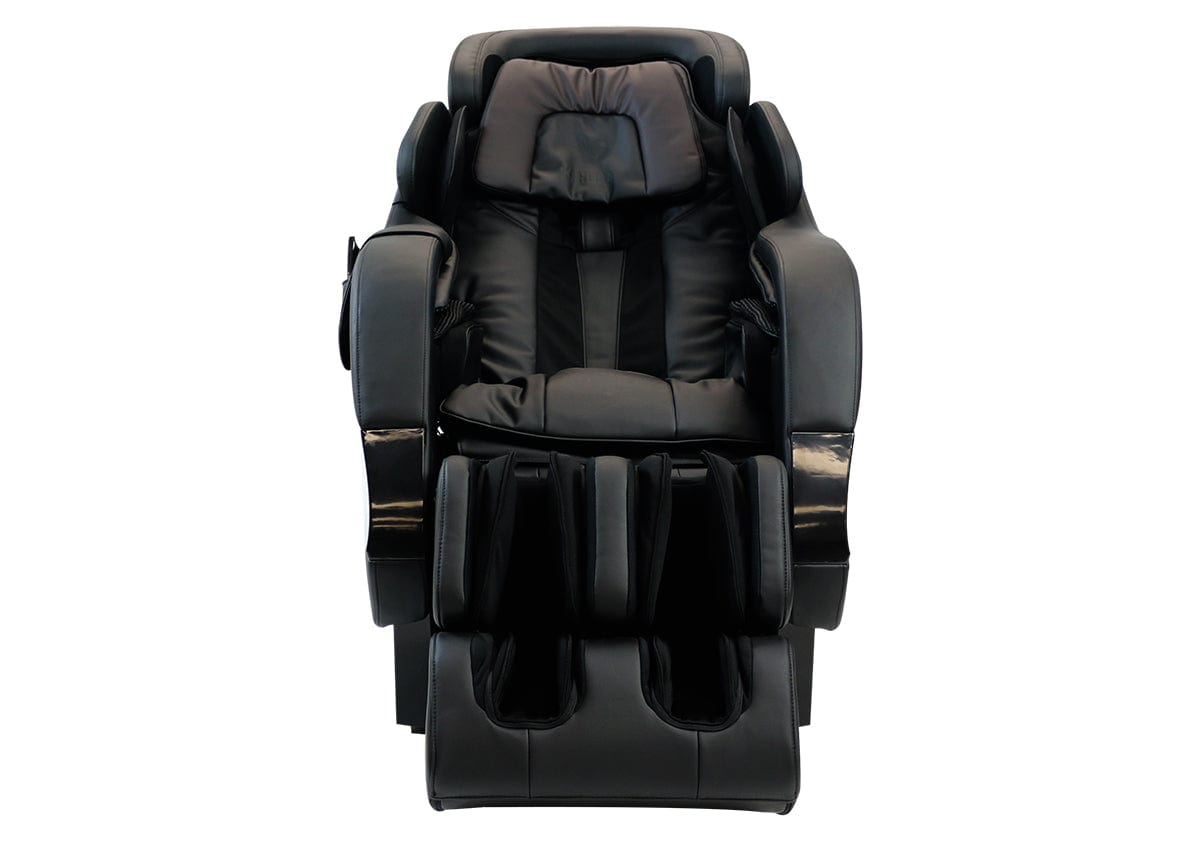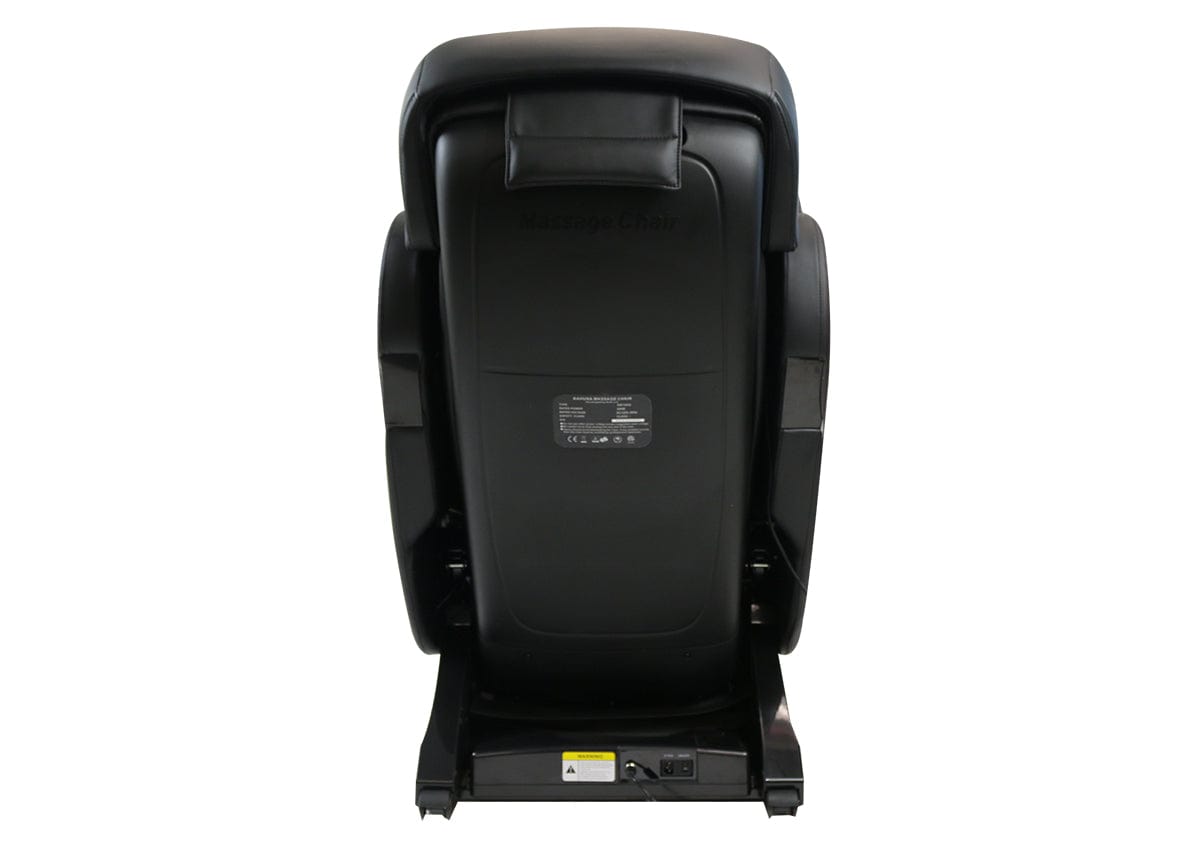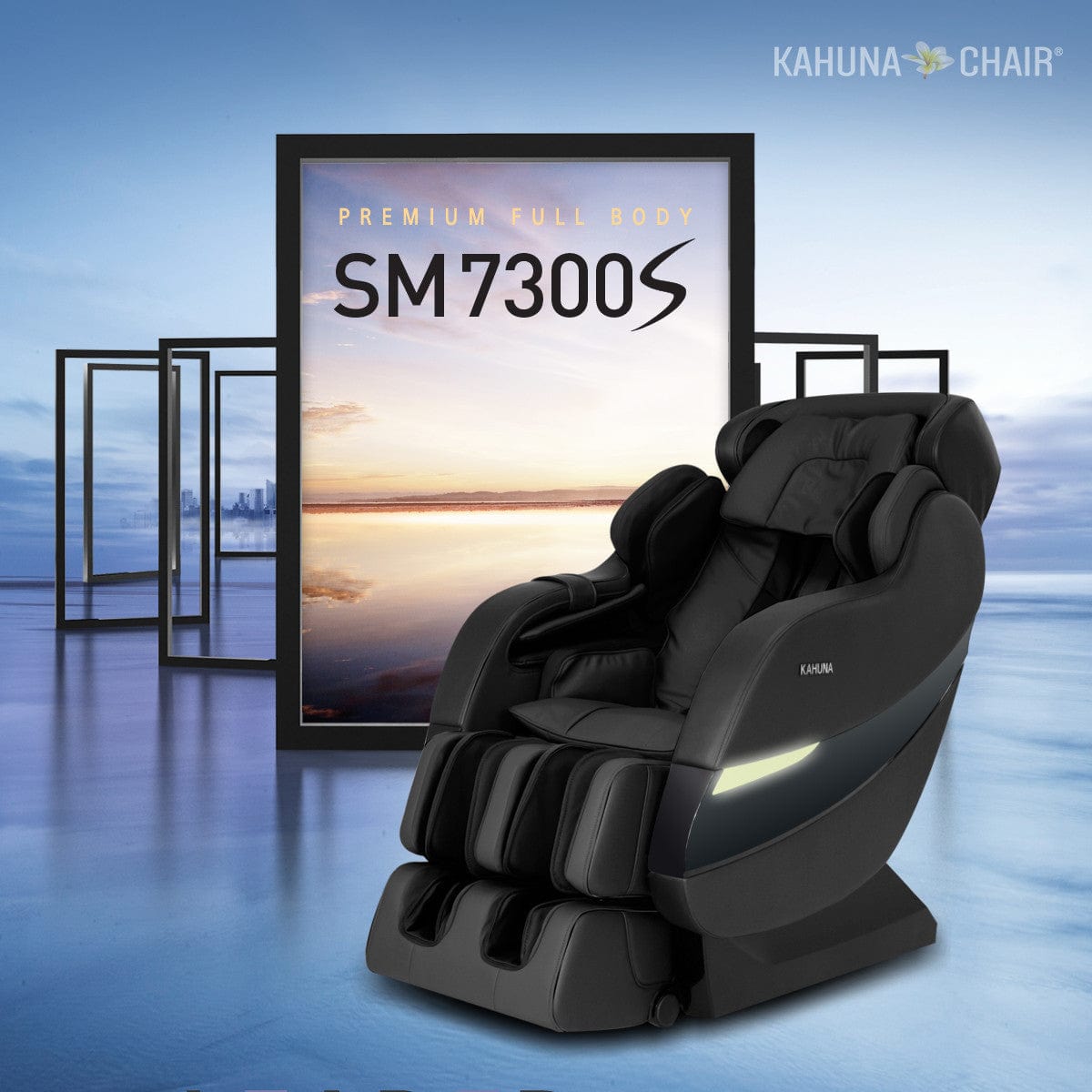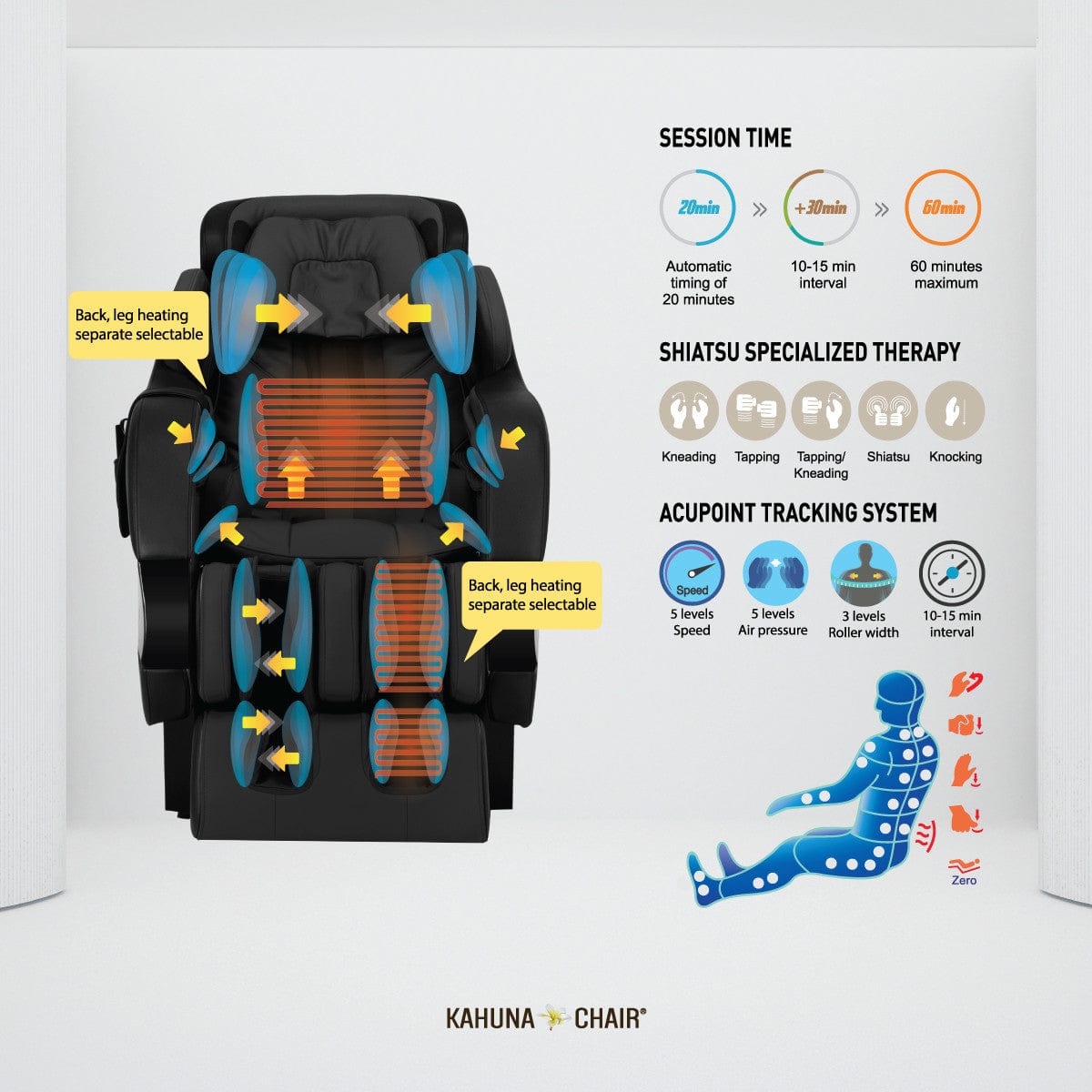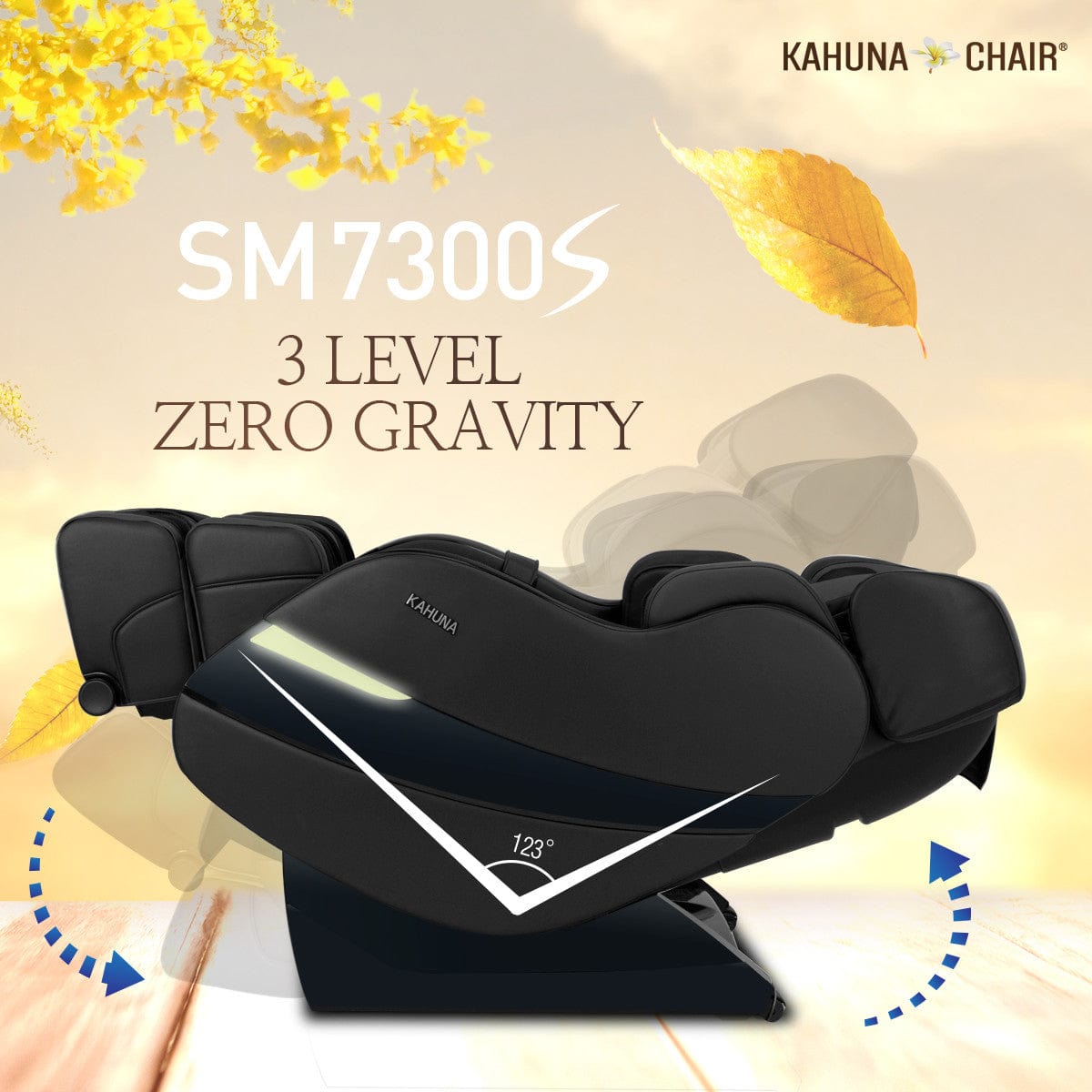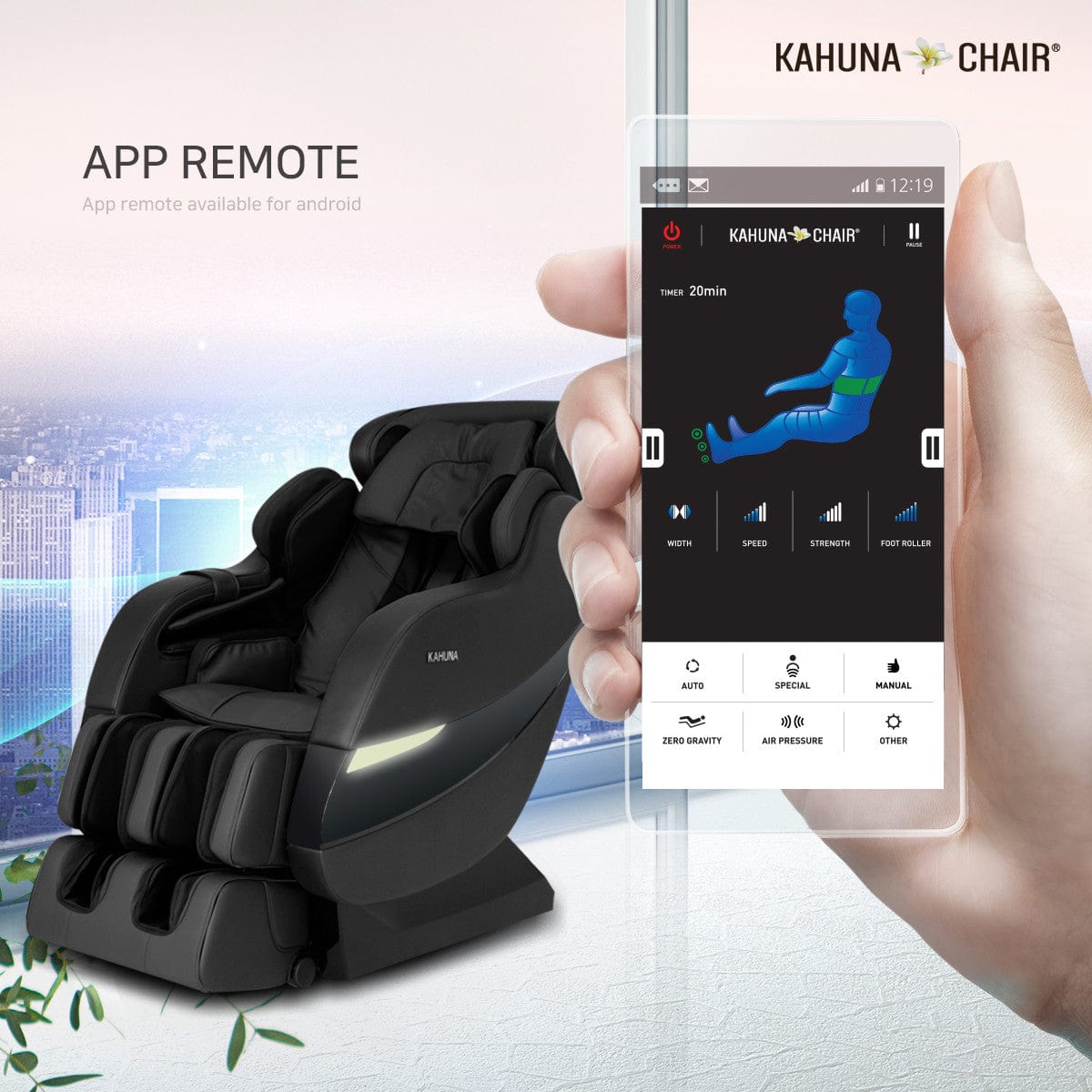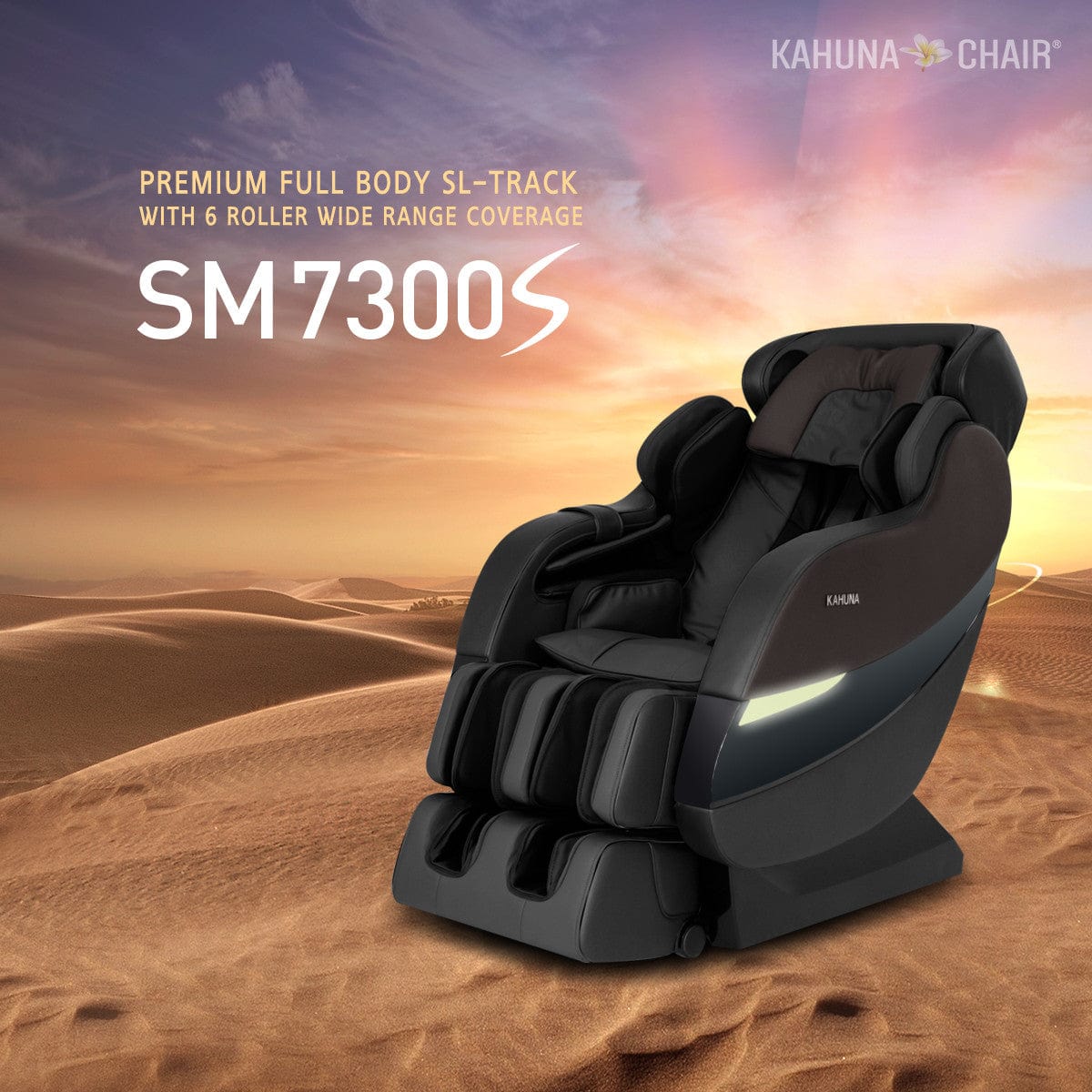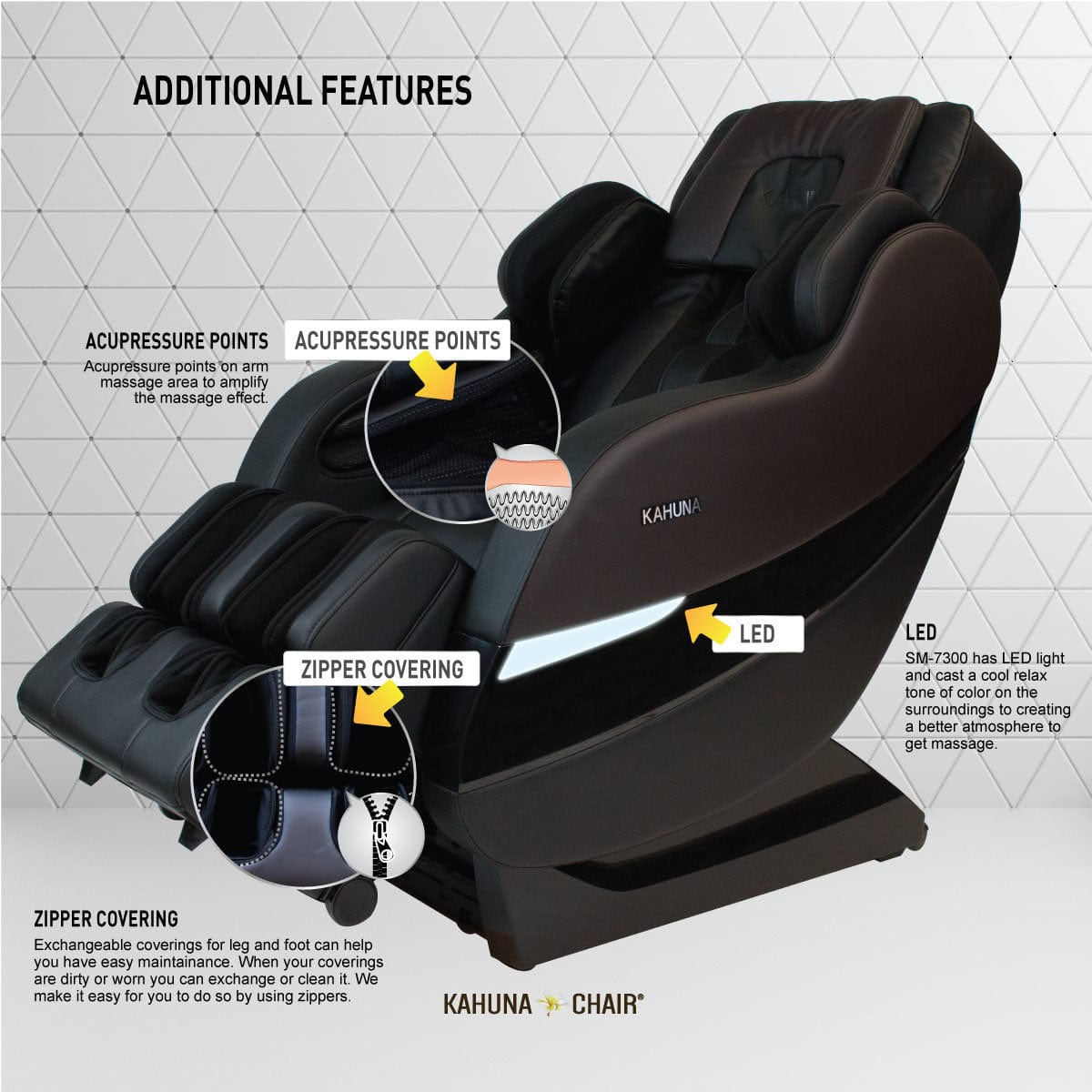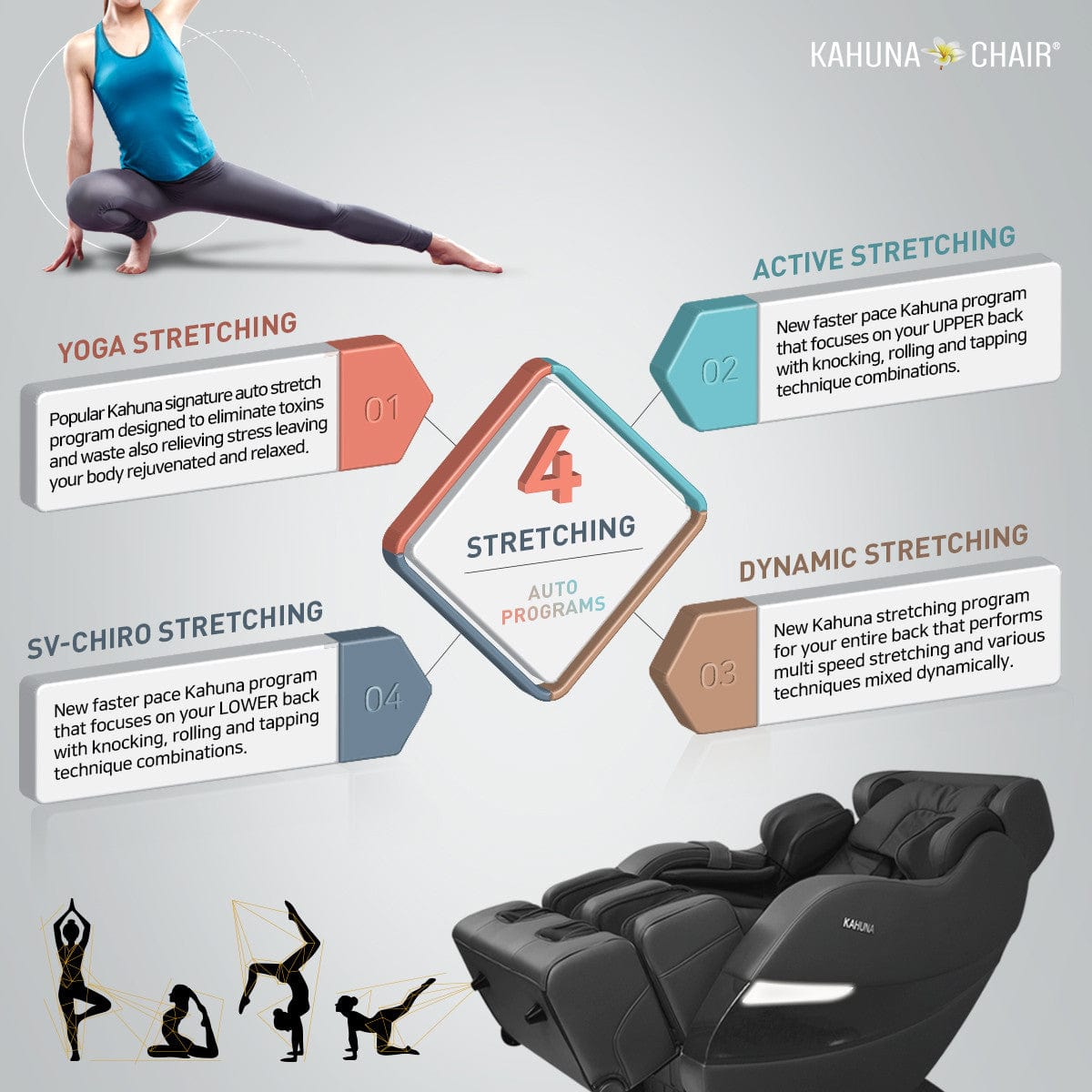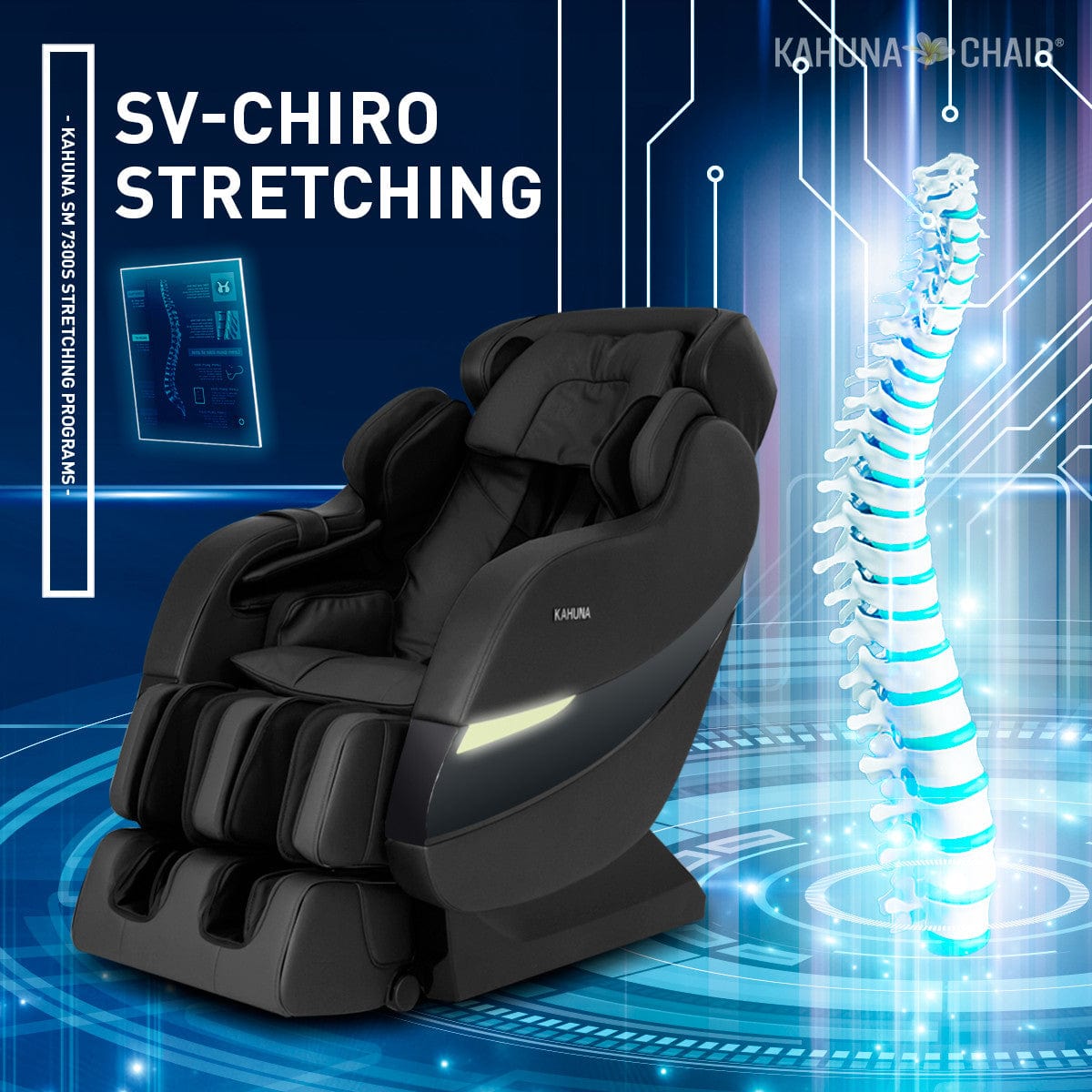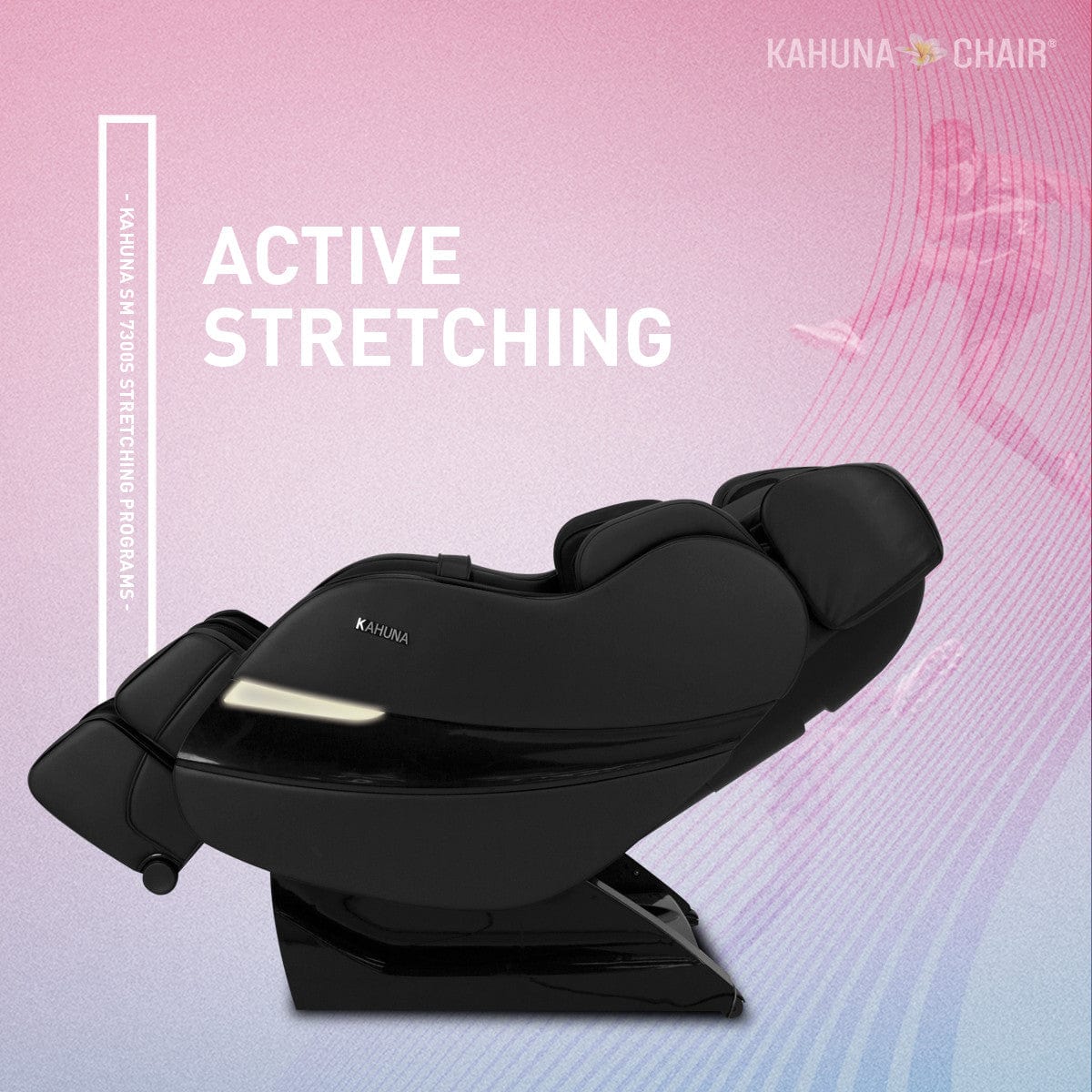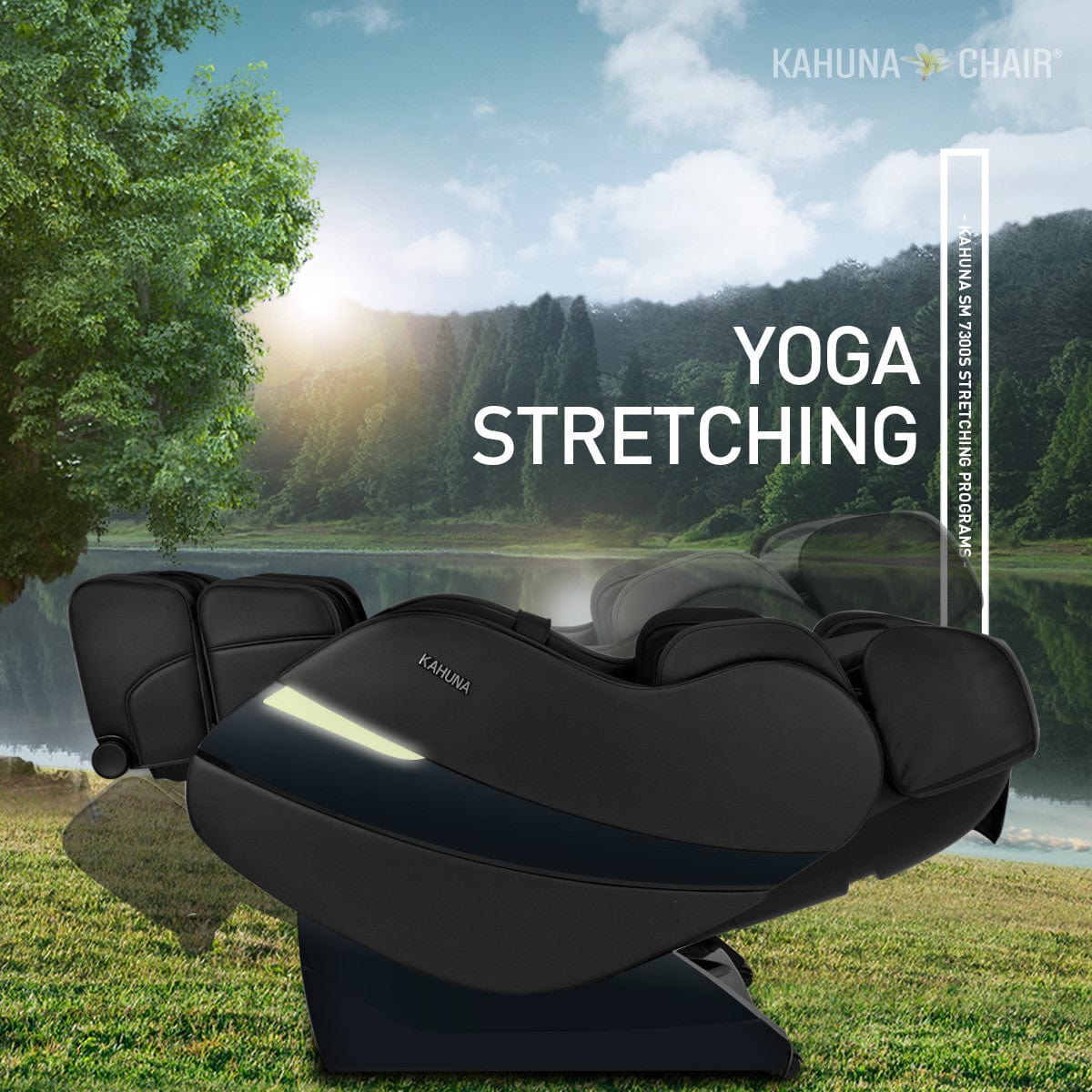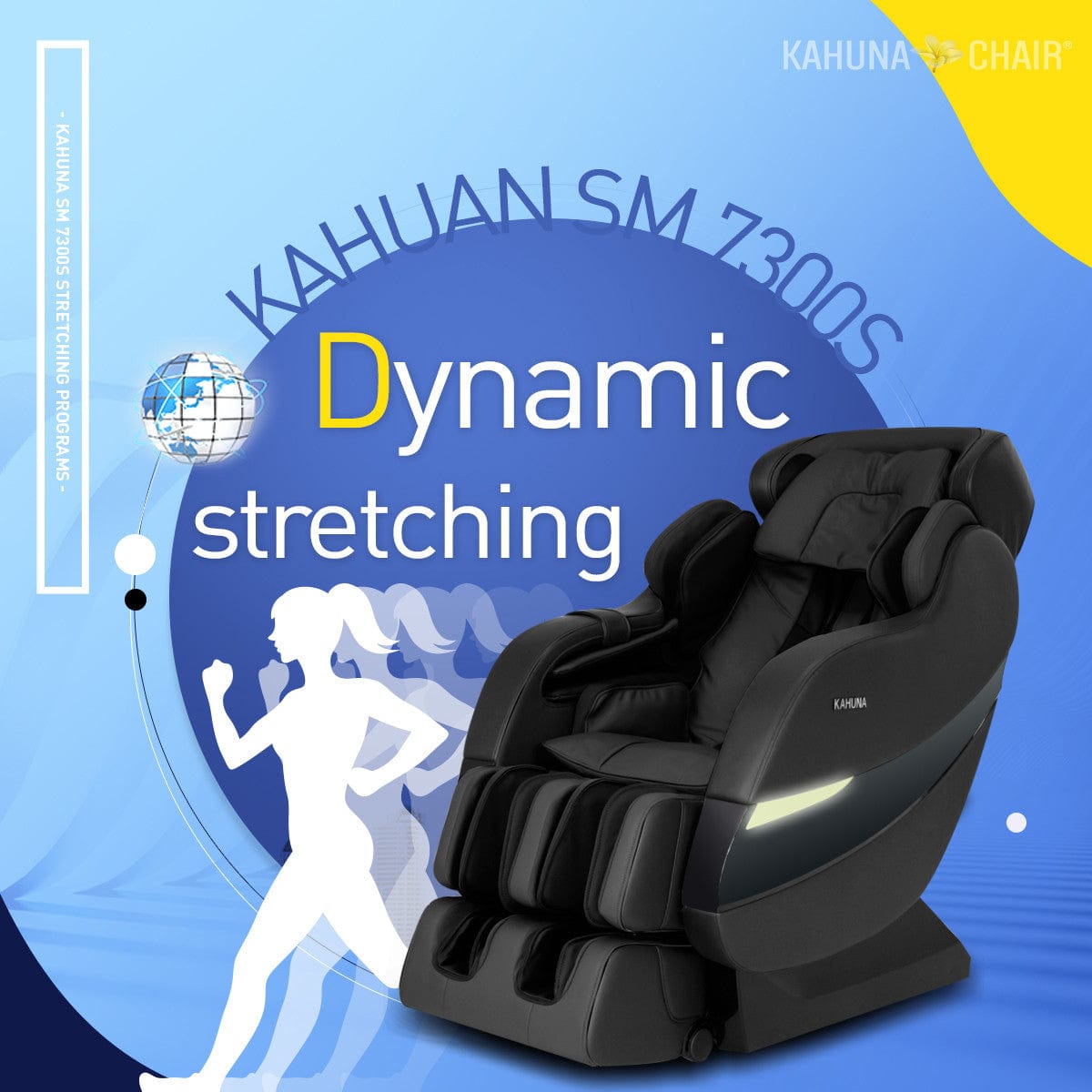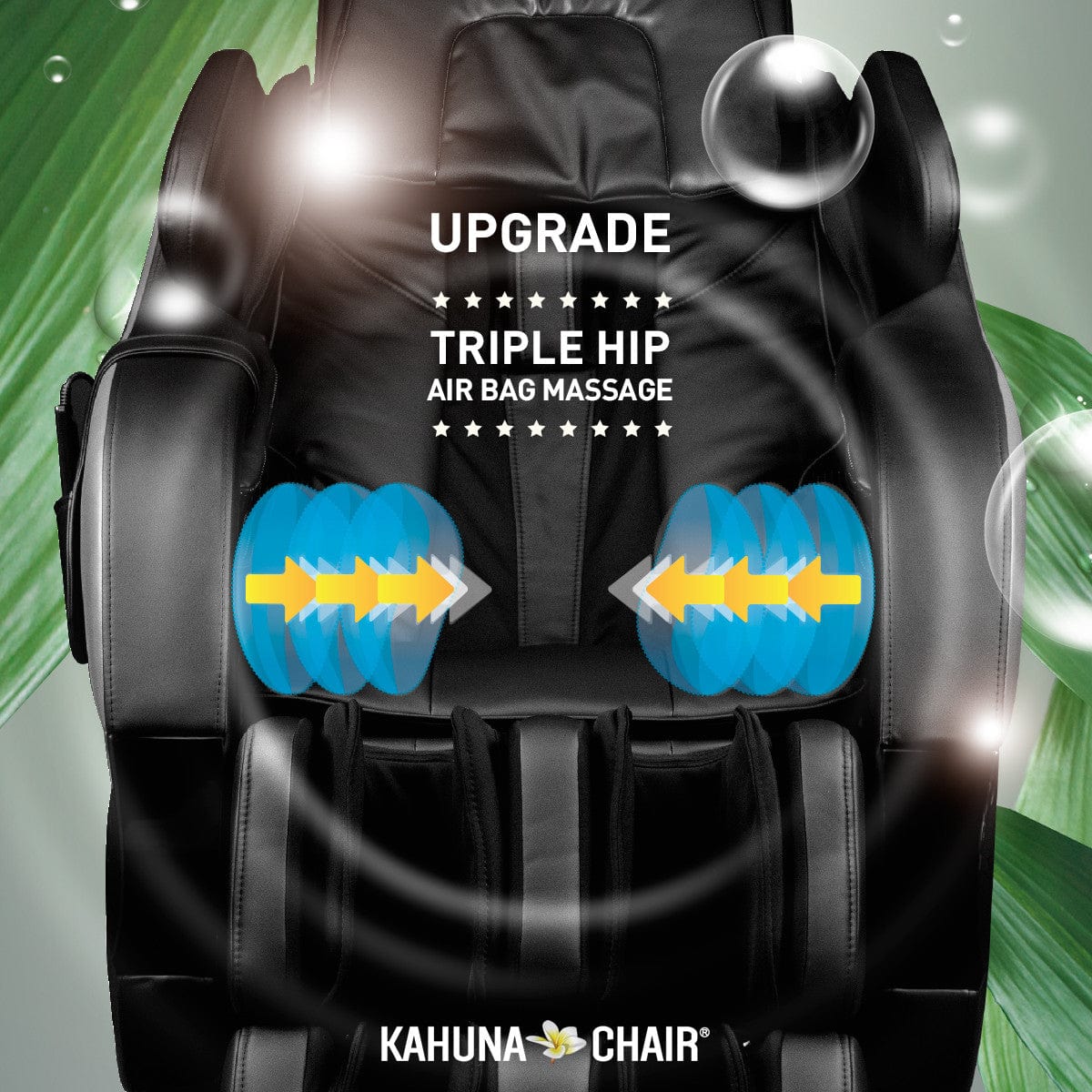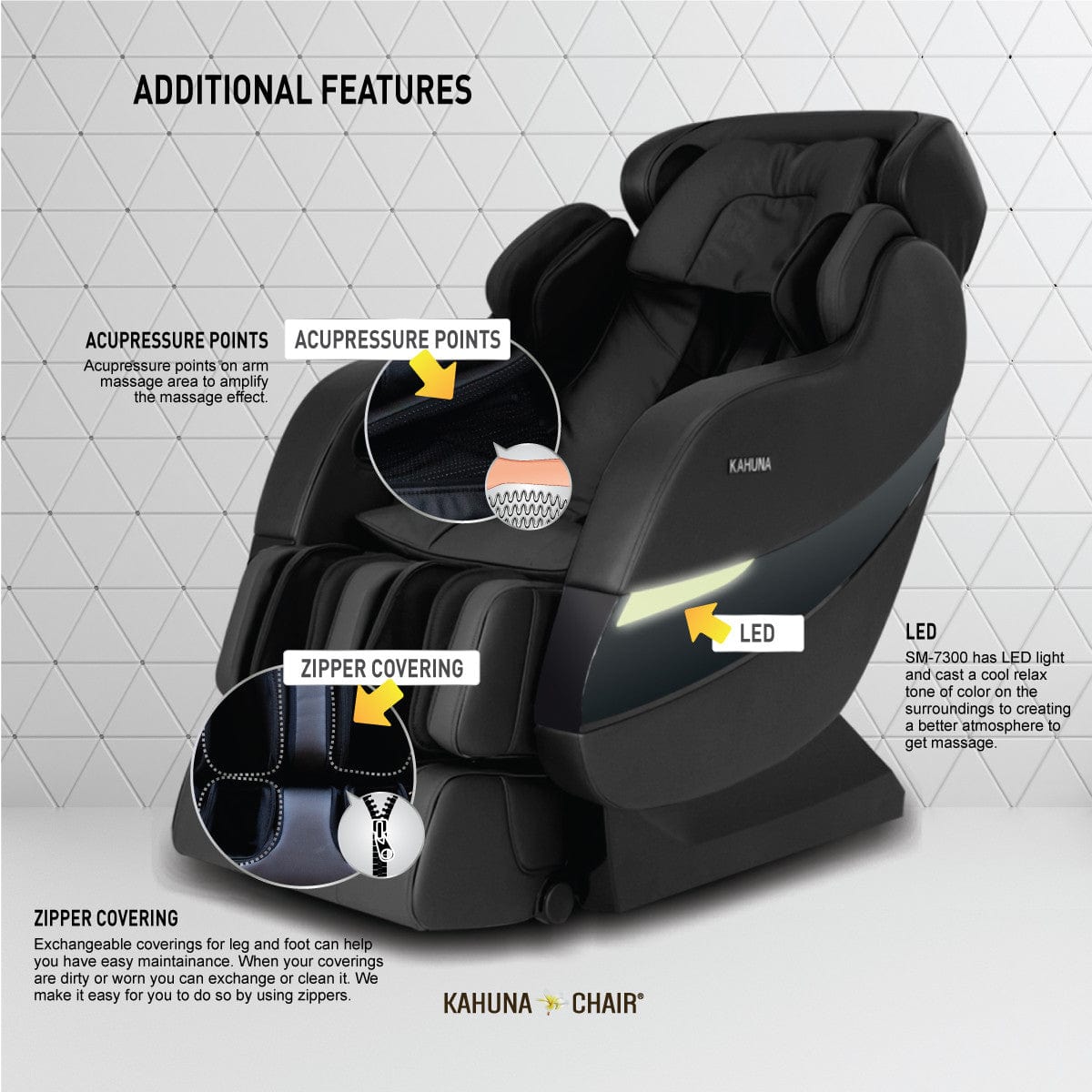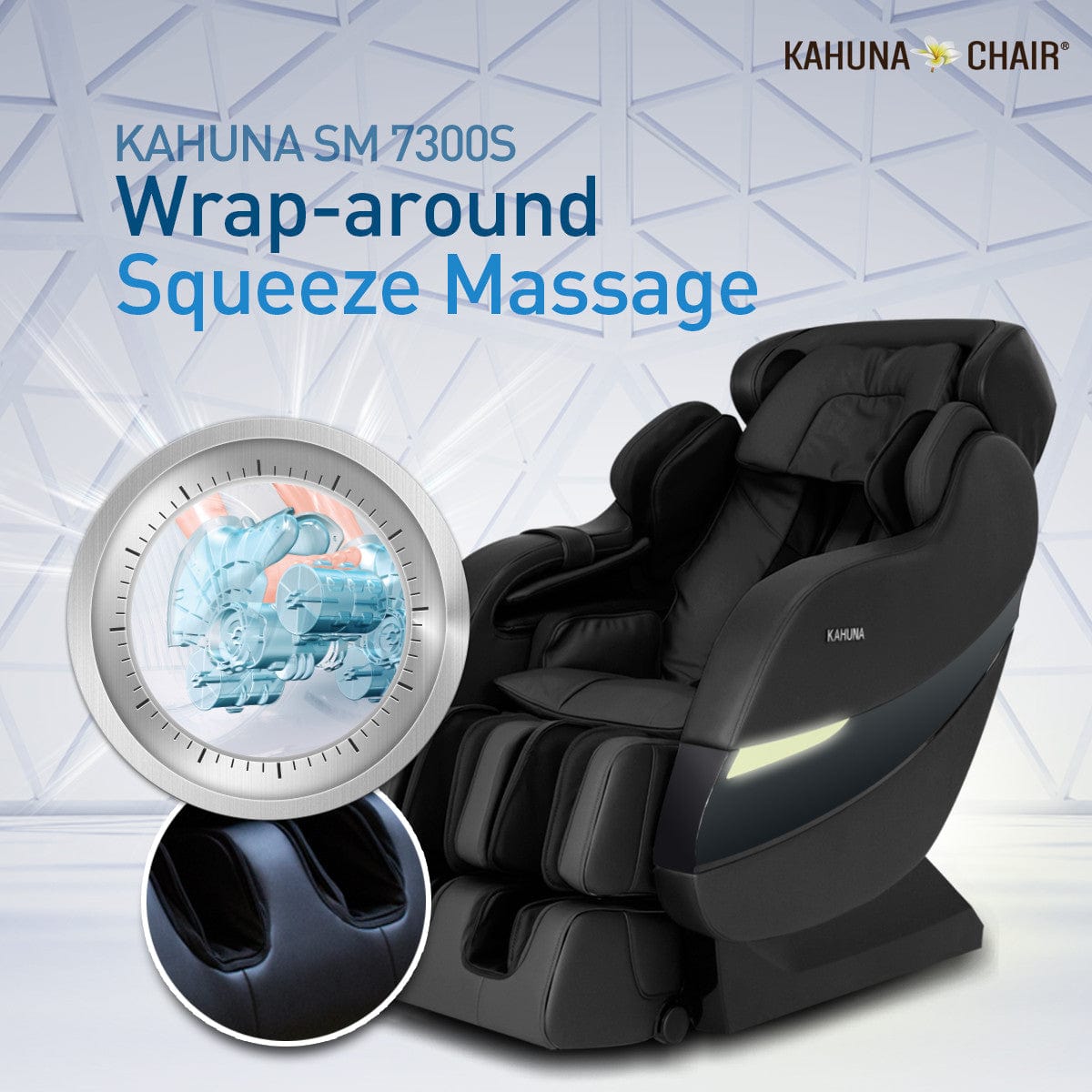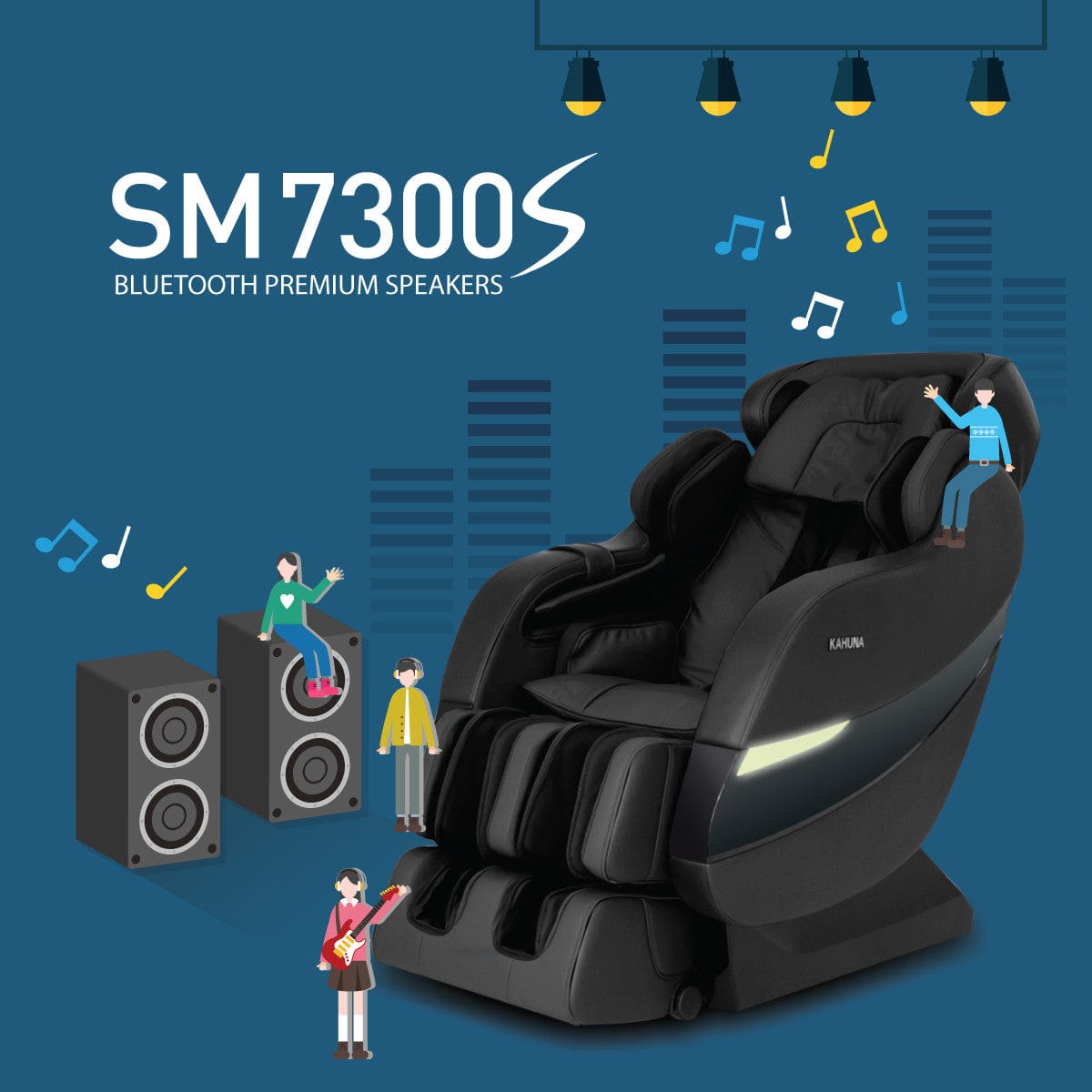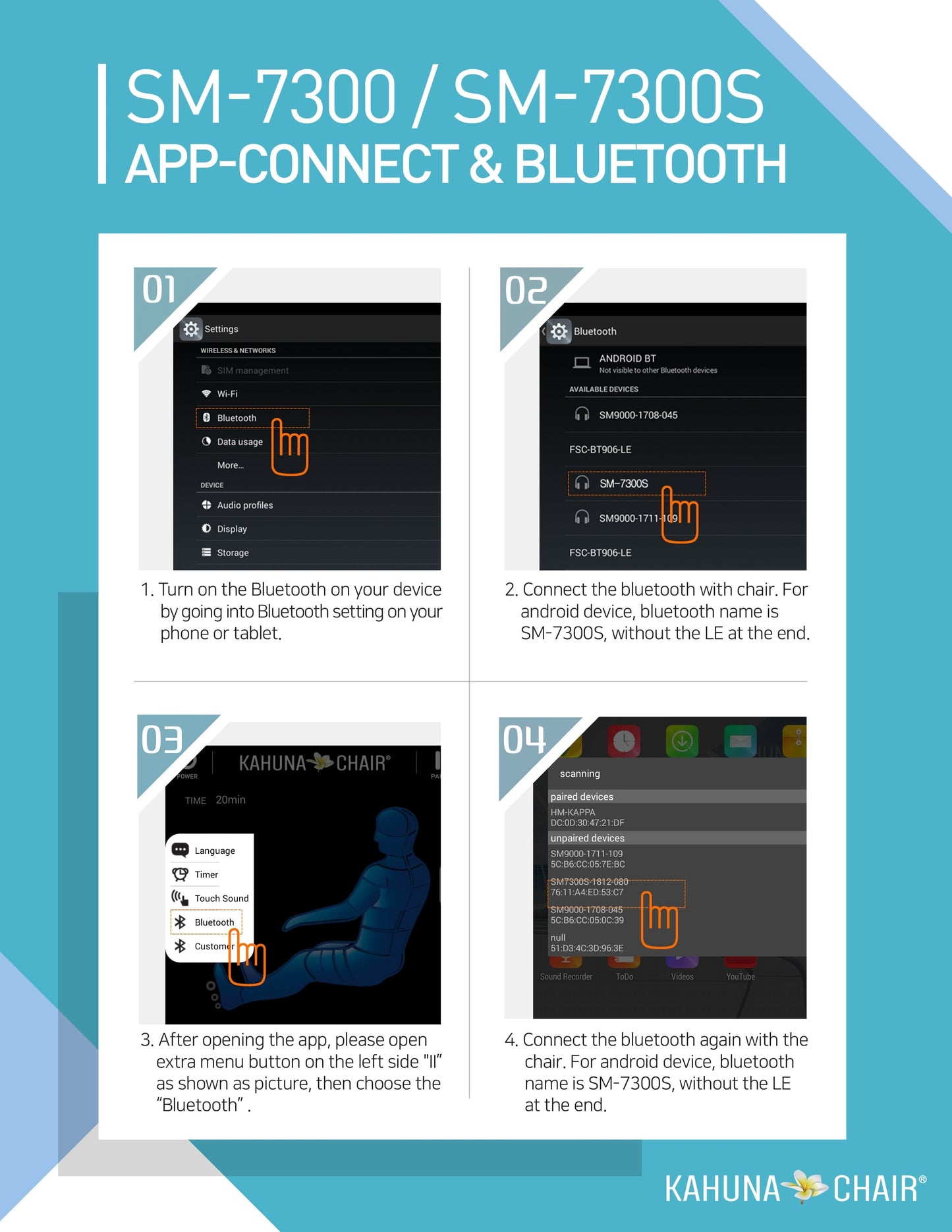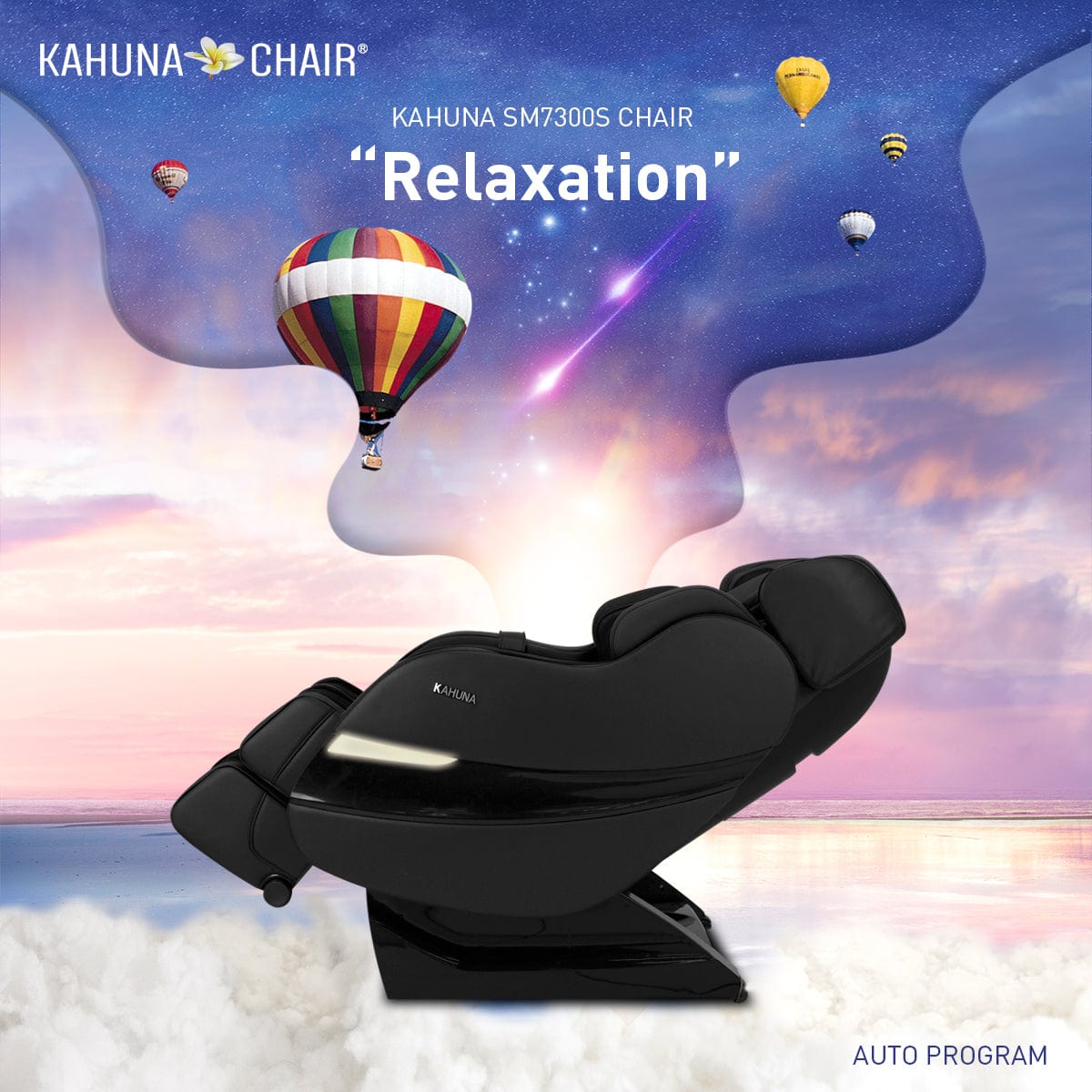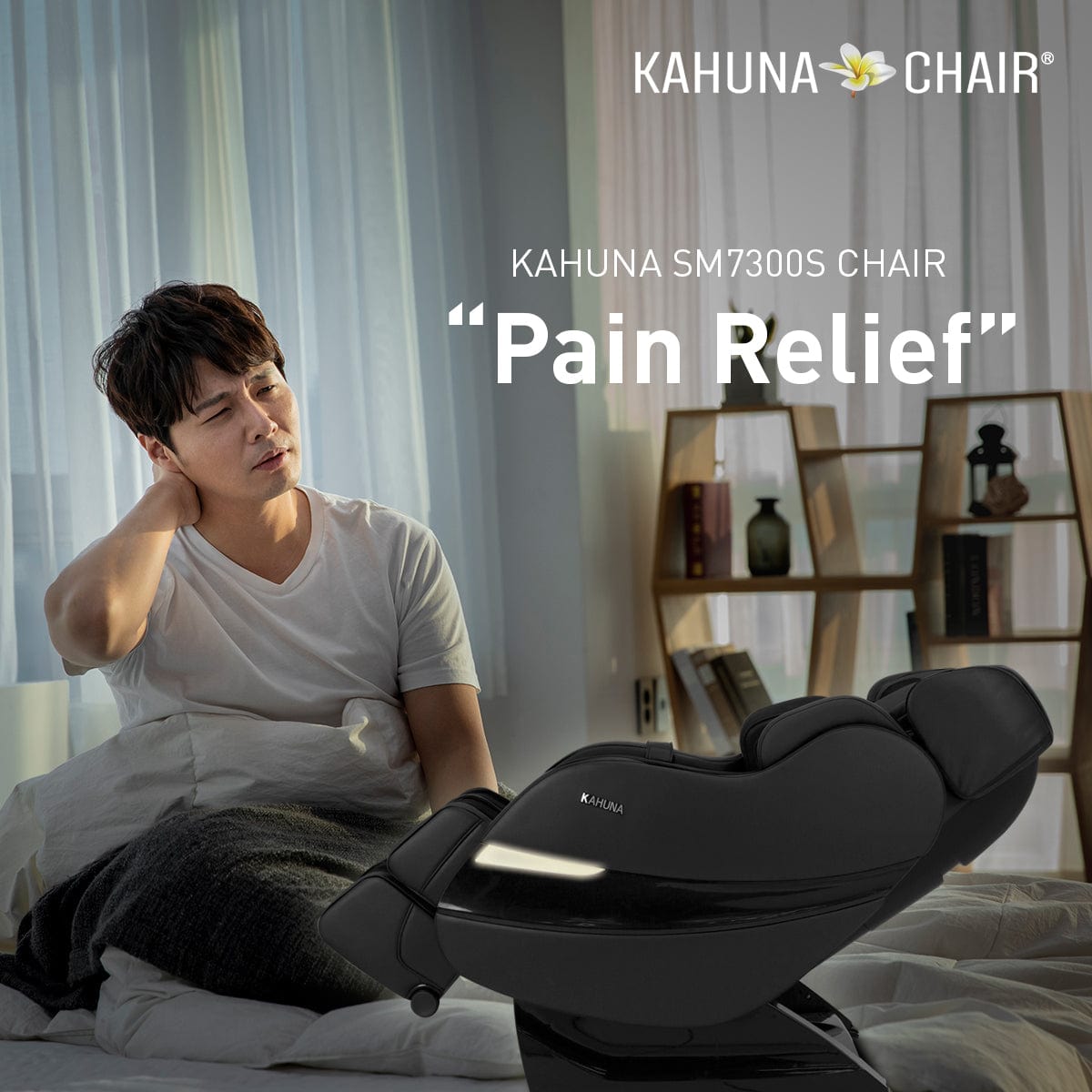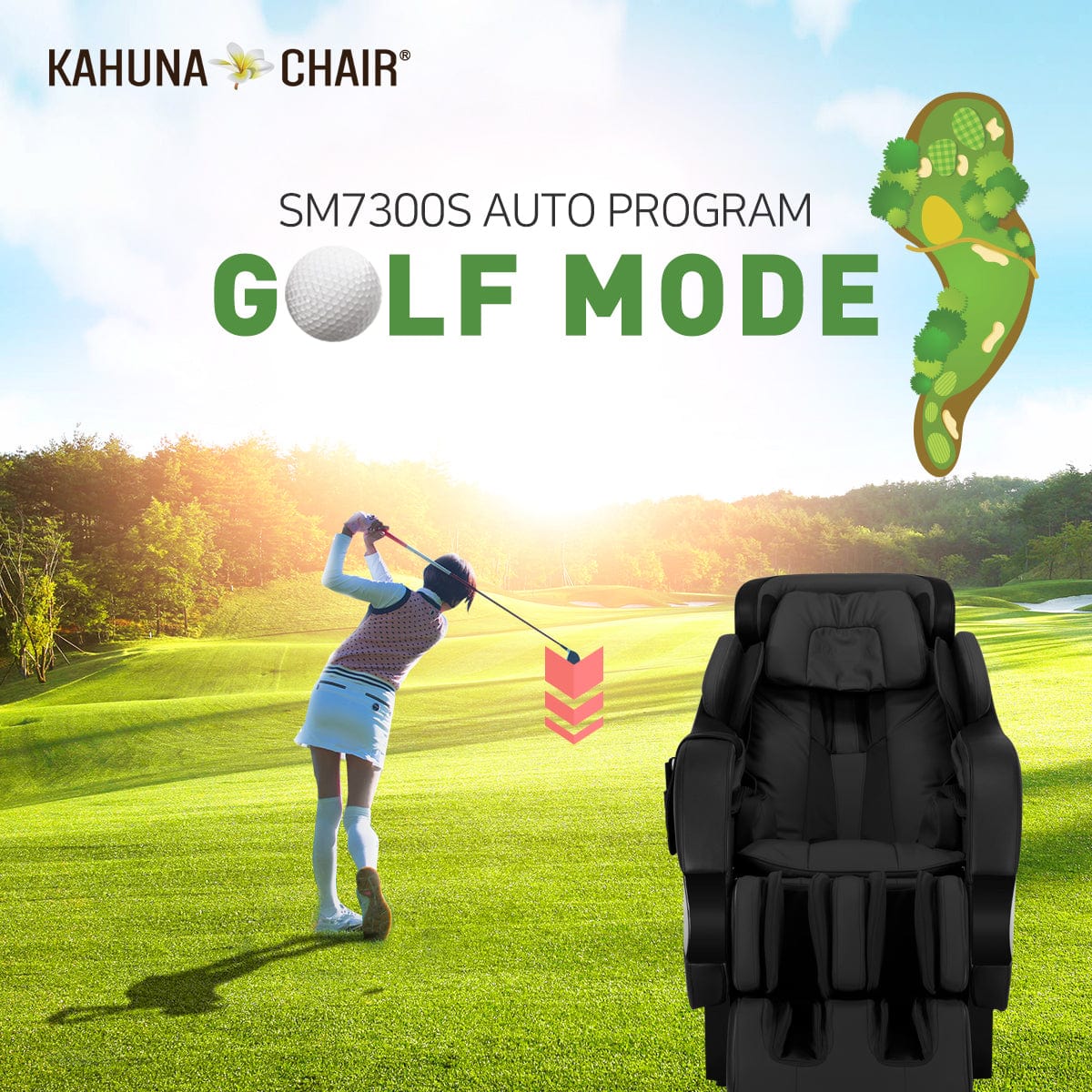 EVERYONE NEEDS A KAHUNA!!!
I've had another manufacturer's chair...two of them, actually...their name implies it's a 'human' massage! Nothing could be further from the truth. No massage chair will EVER be PERFECT but I LOVE MY KAHUNA!!! The only thing that I wish that I could modify is the 'length' of the distance that the massager travels when it's not on the full back mode.
Great machine. has helped tremendously with back problems. I have 3 wishes:1. I wish the remote had a backlite so that I could see it while getting a nice relaxing msaasage in a dimly lit or dark space.2. I wish that the chair was able to massage the back of my legs (hamstring area) better.3. I also wish that I could adjust the air massage in sections. For example, I like the strong air massage on my back and hips, but not my legs and feet.Otherwise, it is a great machine.
I love this chair. My friends love this chair.I paid, what I consider, a reasonable price. It came when it was supposed to. It wasnt that difficult to setup. The pre-programmed massage programs are fantastic. I should have bought this chair a long time ago.For whatever reason, I have been getting a knot in my right shoulder. Its deep inside my muscle and at times feels like a hot poker is being pressed into my shoulder. I took one (1), 45 minute massage, you heard right, one 45 minute massage, and the knot is gone and no hint of its return.I love this chair.
I received the chair today and opted not to get the White glove service. The standard delivery is threshold only so be aware of that. Lucky for me, the room where I put the chair was right next to the front door. Unpacking the boxes took about 45 minutes to cut them open and throw away all the packing material. This was the most difficult part of the installation. The only tool you will need is a Phillips screwdriver and you will only need that to remove 6 screws and put them back in. I will say that I followed the instructions but I would have done it a bit different if I had to do it over again. The most difficult part was zipping on the seat cushion. Next time, Ill put the cushion on before I put on the left side of the chair. With that being said, it wasnt too bad putting it on with the left side installed but, it would have been easier with it off.As for the operation of the chair. The chair is extremely relaxing. The functions are easy to get used to and the leg extension with the feet rollers has to be experienced! You can adjust the strength of the massage if its too light or strong so thats nice for multiple users. The Bluetooth is a little tricky and I have only got the speakers in the chair to work once but thats probably because I didnt try to hard to figure them out yet.The only negative is that the right hip air bag has a tendency to pop out of its slots. It would be nice if they lock in and have a release button but thats not enough to rate it any lower for me. As someone with a bad lower back, with the few times that Ive used it, I can already tell that this was money well spent. Ive done plenty of research and this was the chair that I landed on. Im glad I did, and you will be too.
If you are reading this, then you were probably like me and not sure about spending thousands of dollars on a chair that you couldnt first try out. I decided to take the plunge and Im very happy that I did.First off, Id say that using the Youtube tutorial on the Kahuna website made putting this chair together by myself, quite easy. My level of fix-it skills is typically being able to hang a picture on the wall, so if I can do it, you can too. The entire process took me about 75 minutes from start to finish. I will say though that you will probably need some help carrying the chair base into your house when it is delivered.Ok, so the review of the chair Ive tried a fair amount of the pre-set options and really enjoy most of them, with office person being my favorite so far. I have not tried the heat setting yet or tried to set it up to the app, as there hasnt been a need to. Im a 57?, 175lb man and this chair fits me great. The rollers and foot massaging are fantastic. I would agree with many other reviews that when a program ends and the chair turns off, it is a little annoying to have to turn it back on, then off again, in order for the chair to bring you back upright. But, thats probably the one complaint that I have at this point (1 week in). Ive uses the chair about three times per day, for about 20 minutes each time, and even fell asleep in it for about an hour a few days ago.In my opinion, if you are considering a chair like this, I think you should pull the trigger, because for less than $3K, I dont think youll do better (especially if you can snag the $200 coupon on Amazon that is available now). I would however pass on the white glove service, because it is really not difficult to assemble!Good luck!!