Roger - Stadler Form Air Cleaner
Share
Regular price

Price:

$549.99

Regular price

List Price:

Sale price

Price:

$549.99

Unit price

per
R-011
R-011
FINANCING AVAILABLE

Airpuria is excited to announce that we have financing options available for all customers.

If you have any questions please contact the Airpuria Team. Call: 773-337-8822 or email us at support@airpuria.com.

Fine dust, pollen, bacteria and unwanted odors can worsen our air quality. Roger, with his two air quality sensors and auto-mode, continuously measures the quality of the air and adjusts the fan speed to ensure a healthy environment. The visual air quality indicator changes color to show the current air condition in your space.

German made Dual Filter™ with carbon weave technology integrates activated carbon with the fibers of the HEPA filter increasing the amount of activated carbon exposed to the air to provide superior removal of odors and harmful gases. A flat control panel illuminates when adjusting Roger's settings and disappears when not in use, keeping him looking sleek.

Sensitively providing purified air at home and in the office, Roger is a breath of fresh air. Designed by Matti Walker for Stadler Form.


Features:
Dual Filter™: HEPA Filter with carbon weave technology

Color changing visual air quality indicator

Modern, illuminating controls

Strong performance: for rooms up to 797 sqft

German made Dual Filter™ HEPA filter with carbon weave for superior odor and gas removal performance

Color changing visual air quality indicator shows red, amber or blue to easily show the current air quality (and it looks awesome)


Flat control panel illuminates when adjusting Roger's settings and then disappears after adjustment to avoid light pollution (again, it looks awesome)

Roger circulates the air 3 times per hour in rooms up to 797 sqft and 5 times per hour in rooms up to 474 sqft.

CADR ratings: Smoke 307 ft3/min, Pollen 361 ft3/min, Dust 331 ft3/min

Long filter life: up to 12 months

Filter life indicator intelligently shows when to change the filter

Simple to change filter and easy cleaning

Removes 99.3% of SARS-CoV-2 which causes COVID-19*

Washable pre-filter with integrated hygiene function

All functions can be controlled via a smartphone app

Technical Data:
Room size m²

66

Accessories

Textiler Vorfilter schwarz, Dual Filter (H12 HEPA- und Aktivkohlefilter)

, Textiler Vorfilter schwarz, Dual Filter (H12 HEPA- und Aktivkohlefilter)

Capacity

465 CADR

Color

black

Noise level

28 - 65 dB(A)

Power consumption

4 – 100 W

Power level

5

Product family

Air purifier

System

Air purifier

Weight
6.8 kg
Dimensions

16.5x19.7x7.9 inches




Product Manual:
FAQ:

Removes 99.3% of SARS-CoV-2 which causes COVID-19*


- The reduction of the viruses was proven in the independent laboratory of Airmid in the UK. The air purifiers were tested for a period of 60 minutes in a test chamber with a volume of 28.5 m3. The MS2 virus used in the test is an RNA virus like the SARS-CoV-2 virus. Because of its aerosol properties similar to those of human viruses, its viability and its resistance to disinfection, the MS2 virus is often used in air purifier tests as a substitute for viruses with similar dimensions. With a diameter of approximately 25 nm, the MS2 virus is more than 4 times smaller than the SARS-CoV-2 virus which has a diameter of 120 nm. As proof was provided of the reduction of the smaller MS2 viruses, it can be concluded that the larger SARS-CoV-2 viruses would also be reduced at least to the same extent.
Do I have to activate WiFi and use Roger via the app?

- No, you don't have to activate WiFi and Roger can also be used without the Smart Life app.


How do I replace and clean the textile pre-filter?

- Remove the material from the two positioning aids, the two pins, the 4 tabs and the two corner tabs at the top of the plastic frame. To attach the textile pre-filter to the appliance again, stretch the material over the plastic part so that the washing label is at the top and on the inside. All openings in the material to be threaded through are marked with bright-coloured thread. In addition, the material should be lifted over the two corner tabs at the top of the appliance.

The textile pre-filter can be washed at 30 °C on a gentle cycle. Let the textile pre-filter dry completely before attaching it to the appliance again. Caution: Never put the pre-filter in the dishwasher!

What type of filter does Roger have?


- Roger uses a Dual Filter™ system – a powerful combination of a HEPA H12 filter and an activated carbon filter – to purify the air. The textile prefilter removes coarse dust particles and pollutants from the air, thus protecting the Dual Filter™. The prefilter is protected against microbial growth by its integrated Sanitized®* hygiene function. The antimicrobial protection for the prefilter is guaranteed for at least 20 washes on a delicate wash cycle at 30 °C.

---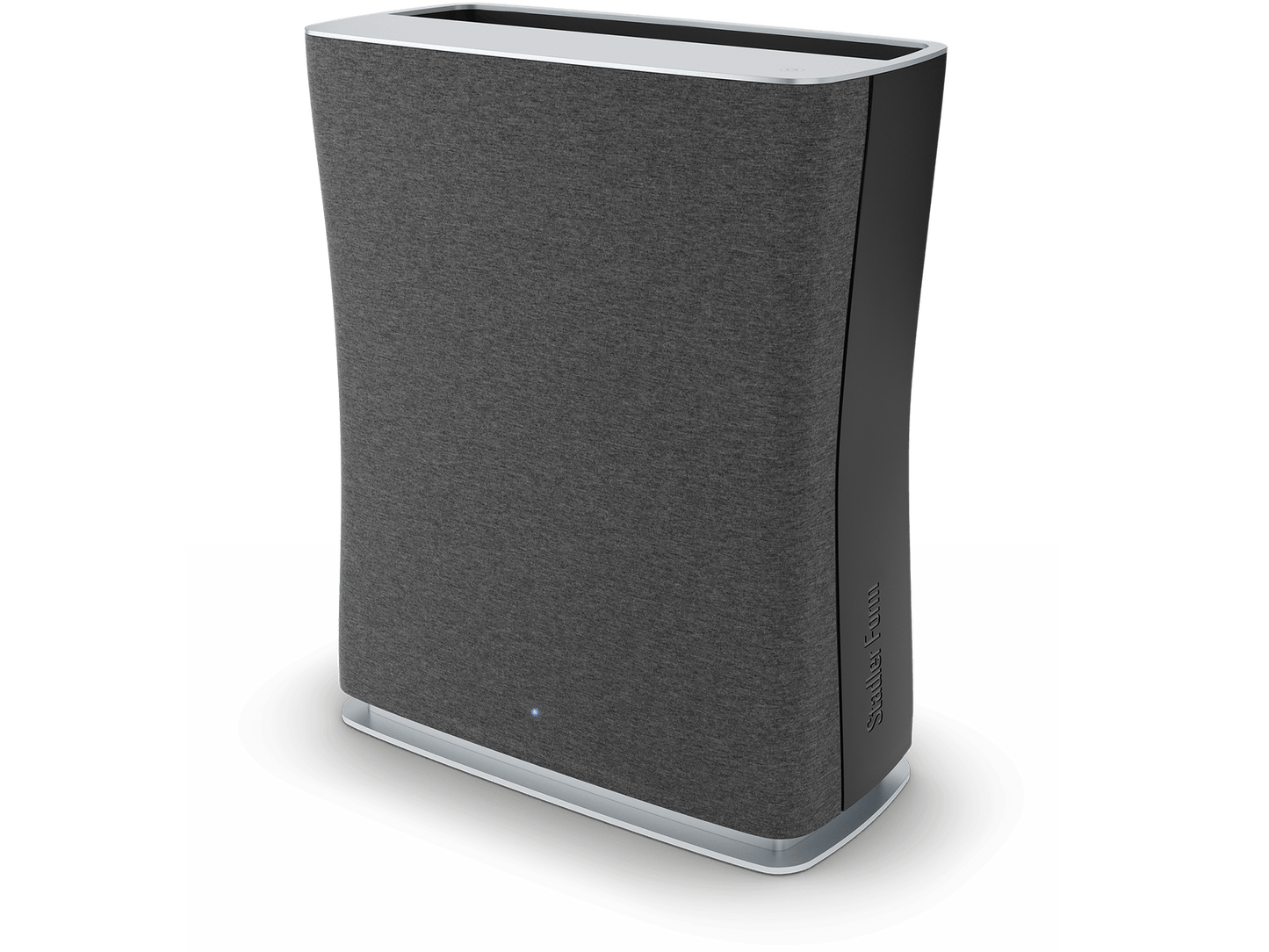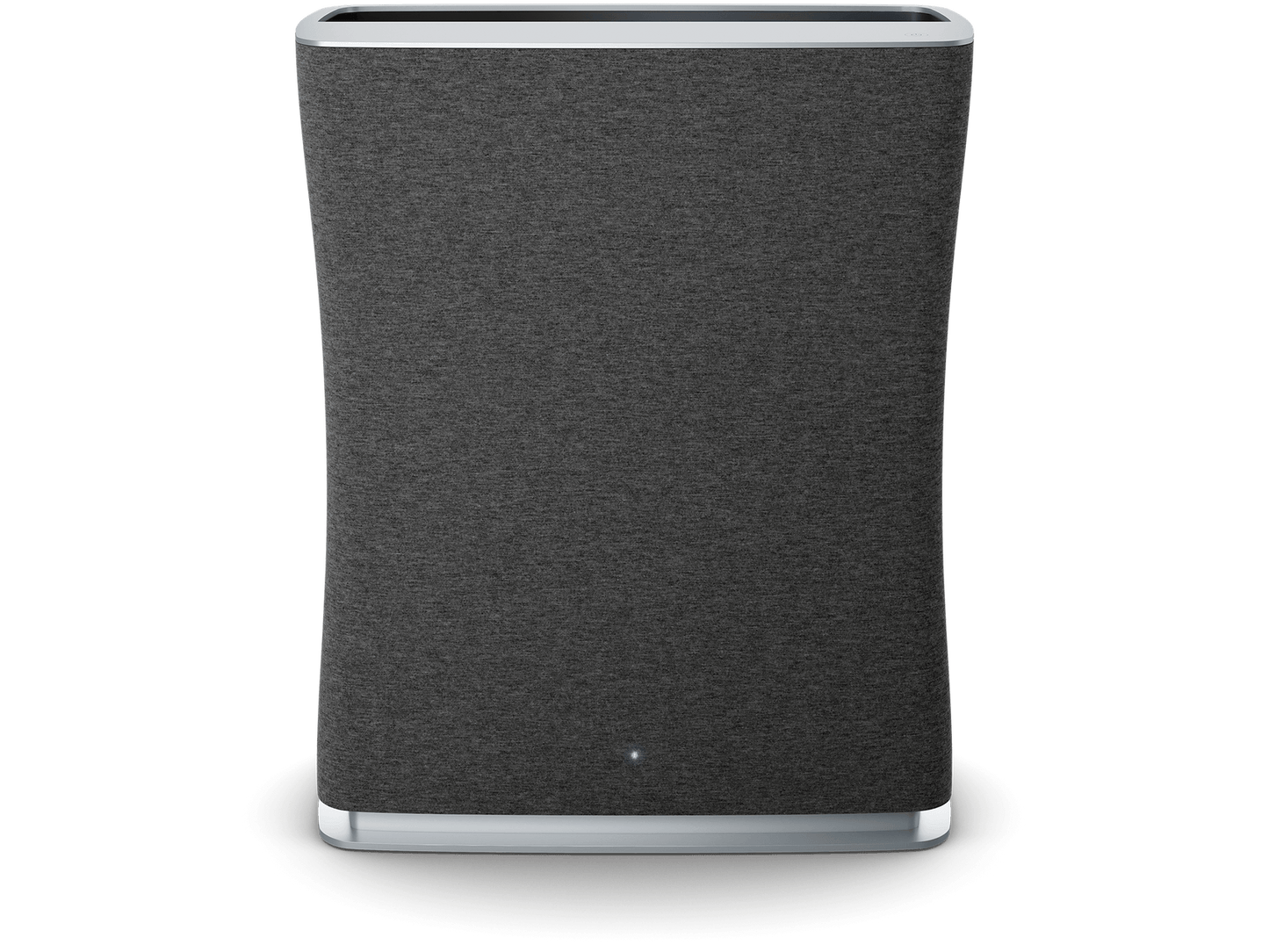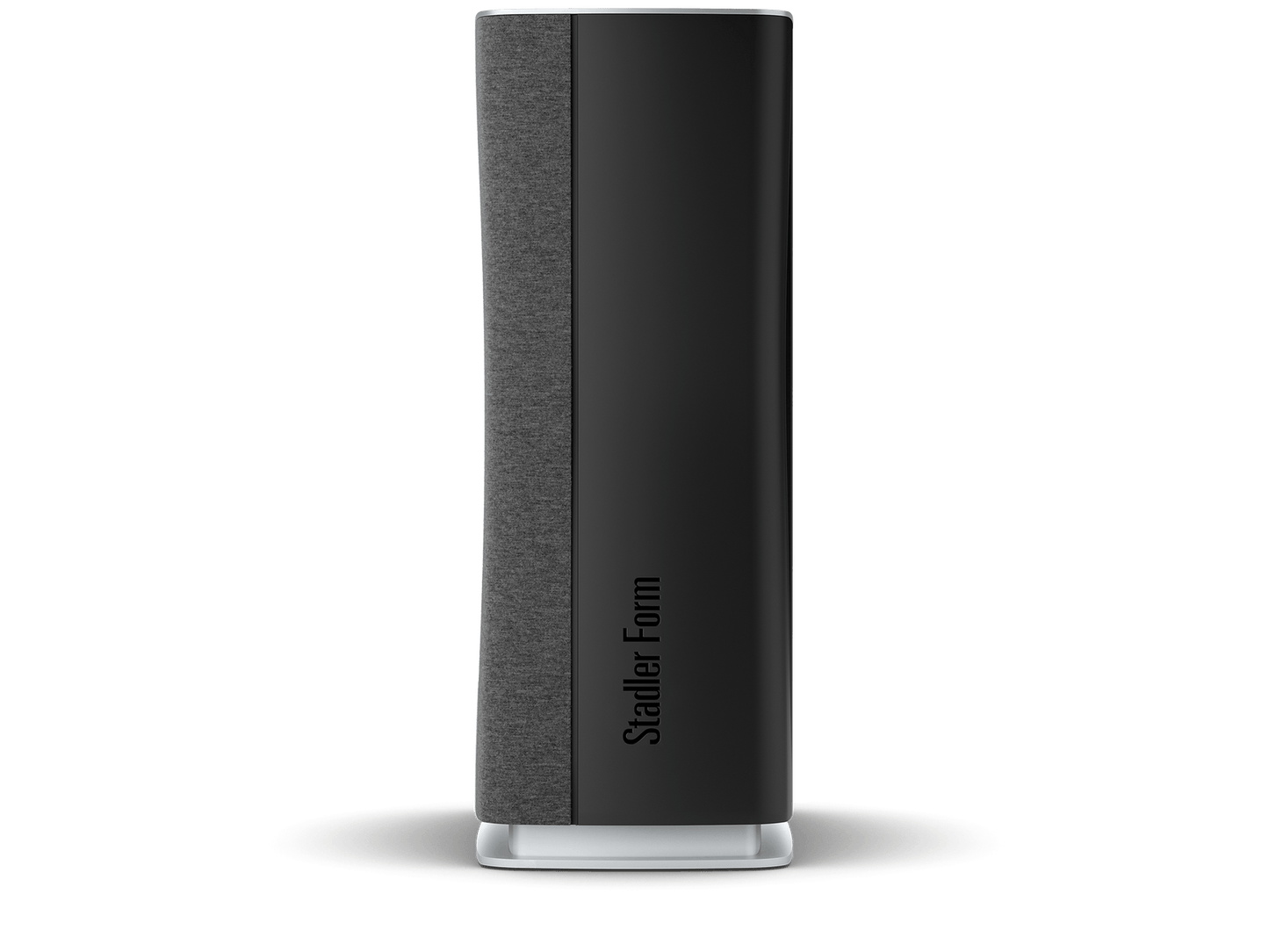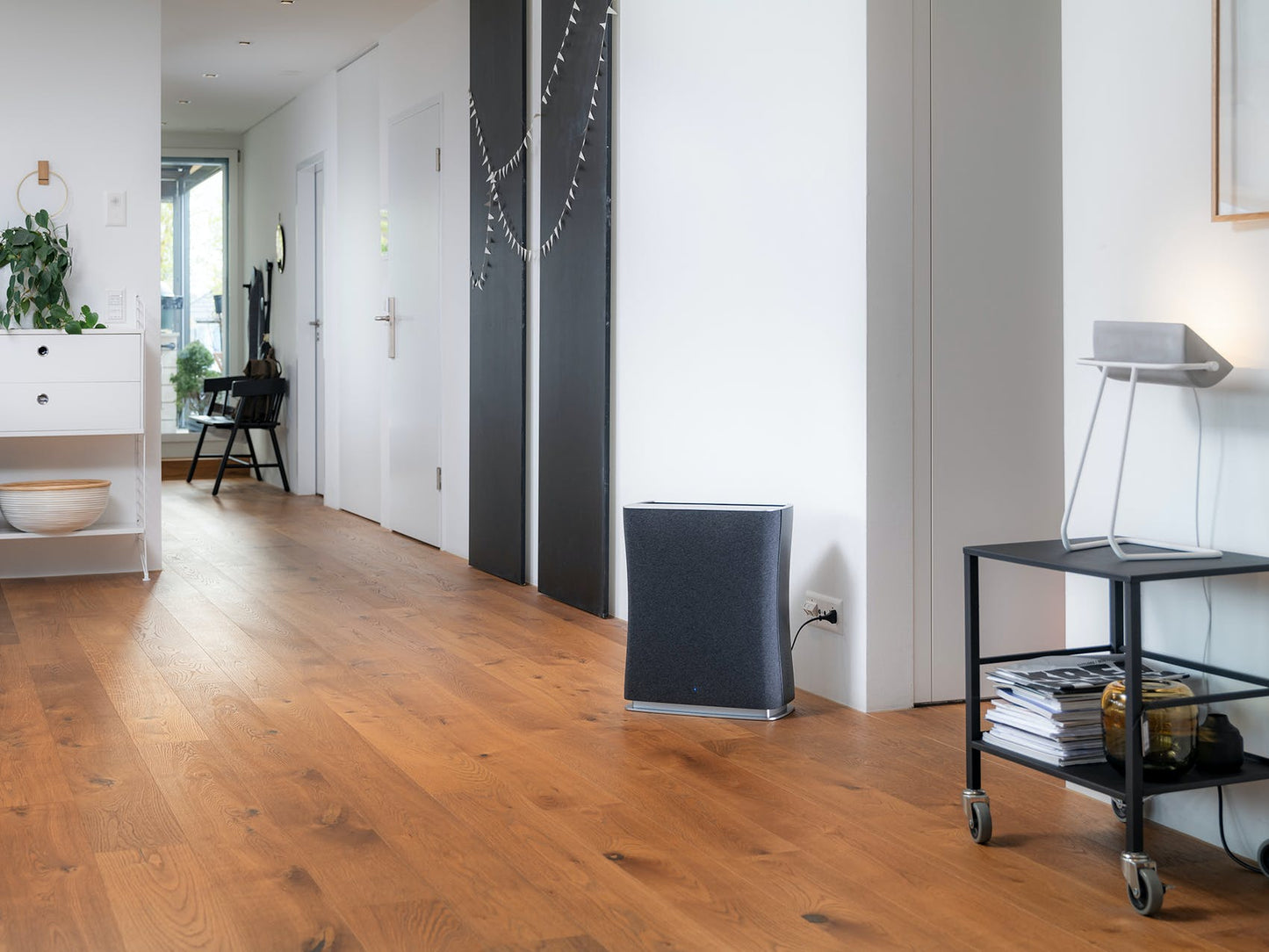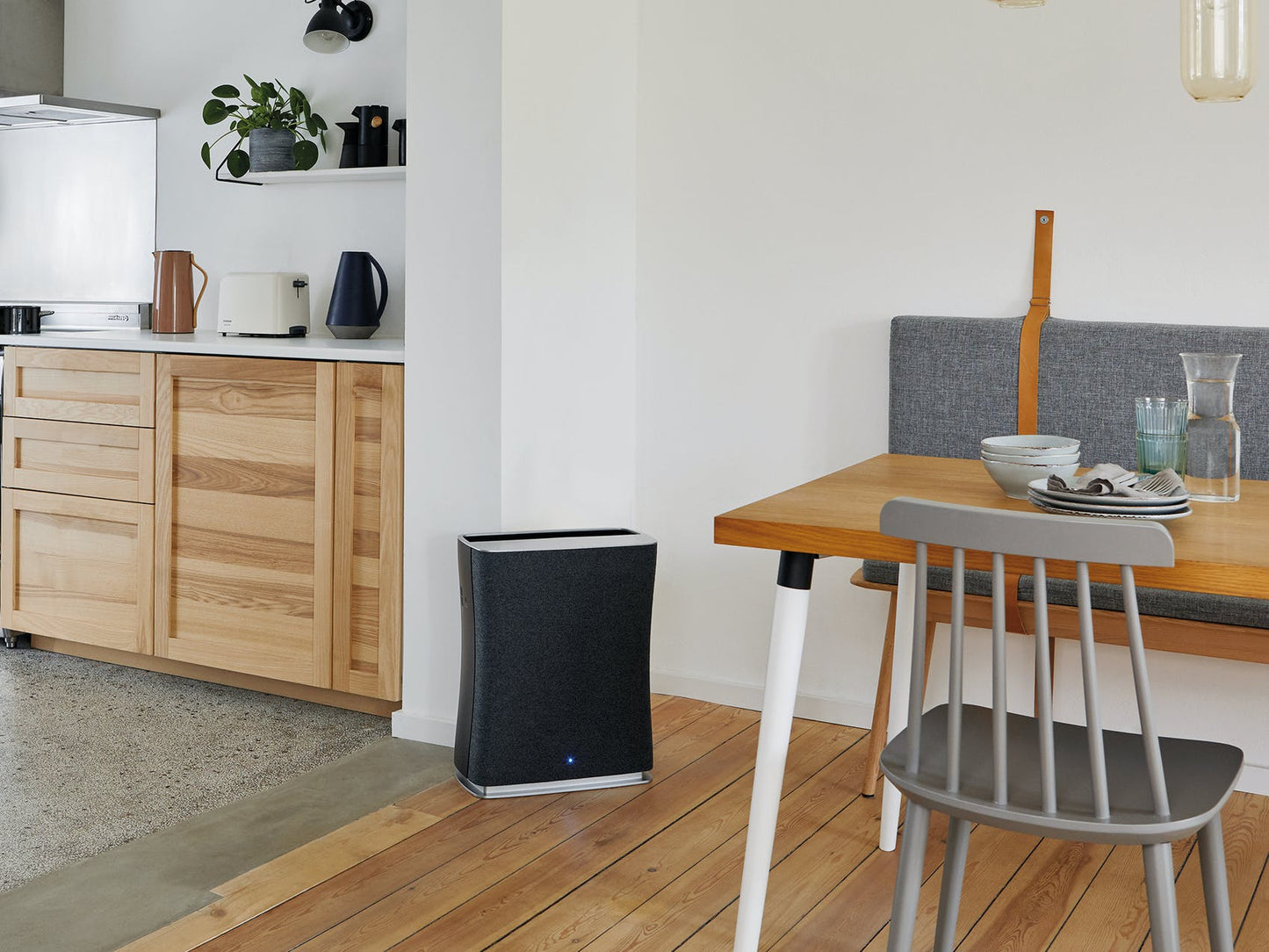 Spectacular device
I have very bad allergies, and when I had installed Roger in my office and realised that it is a spectacular device and ordered another one. It is a great device without question :) very good materials, pleasant look and great air filtering. I will buy the third but for now I will move Roger from my home to my office :). My business is in advertising and production field, so we are using UV, Ecosolvent, Simitri toner and inks we also have a lased engraver -all these equipments produce odour and smells. Roger is taking care of our air in an incredible way.
Loving my Roger!
I've had different air purifiers over the years, Roger is by far the best! Quiet operation and sleek design put it ahead of any other unit I've tried. Smart enough to know when there are cooking odors or an increase in pollen, Roger takes care of the air quality in my entire home.
Air purifier Roger is doing a good job!
We cook a lot and always have many guests. That's why our home air quality was not always optimal. Since we have air purifier Roger, there is a clear difference: no more bad smells and clean fresh air. Roger lets you take a deep breath and looks at the same time fancy!