Sharp (KC86OU) Plasmacluster® Large Room Air Purifier with True HEPA Filtration and Humidifying Function
Share
Regular price

Price:

$499.99

Regular price

List Price: $649.99

Sale price

Price:

$499.99

You save:

$150.00 (23%)

Unit price

per
KC860U
KC860U
FINANCING AVAILABLE

Airpuria is excited to announce that we have financing options available for all customers.

If you have any questions please contact the Airpuria Team. Call: 773-337-8822 or email us at support@airpuria.com.
Sharp Plasmacluster Large Room Air Purifier with True HEPA Filtration and Humidifying Function (KC86OU)
Recommended for Large Rooms up to 341 Square Feet

Plasmacluster® Ion Technology Eliminates Microscopic Pollutants That Traditional Filters Cannot Trap

Proven Effective in Reducing Certain Germs, Bacteria, Viruses, Mold, and Fungus

True HEPA Filter Captures 99.97% of Particles That Pass Through The Filter as Small as 0.3 Microns

Carbon-Based Filter Designed to Remove Common Household Odors Including Smoke, Cooking Odors, and Pet Odors and VOCs

Auto Mode Monitors Air Quality and Adjusts Air Purification and Humidity Levels

Manual Setting has 3 Fan Speeds

CADR Dust (231) / Smoke (220) / Pollen (245)

ENERGY STAR® Rated, AHAM Verified Tested, California Air Resources Board (CARB) Certified
Overview: 

Perfect for Large Rooms
The KC860U is recommended for large rooms up to 341 square feet.
Automatically Detects, Displays, and Reacts
Built-in temperature, dust, and humidity sensors monitor your air quality and automatically clean and humidify as needed, so you can sit back and enjoy healthier, fresher air.
Monitor the Air Quality in the Room
Auto mode monitors air quality and adjusts air purification and humidity levels, and manual setting has 3 fan speeds
Read More to See Why Sharp is the Leader in Air Purification
Plasmacluster

®

Ion Technology to actively clean the entire room

True HEPA filtration to clean the air that passes through the filter

Humidifying System

Energy Star Rated

Library Quiet Operation
PLASMACLUSTER® ION TECHNOLOGY:


Naturally Advanced Technology for Truly Cleaner Air
Sharp's exclusive, patented Plasmacluster® Ion technology reduces microscopic pollutants that traditional filters cannot trap, by replicating nature's own cleaning process of producing positive and negative ions from water vapor in the air. These Plasmacluster® Ions refresh the air without any harmful chemicals or perfumes.
Clean Every Corner of the Room
Plasmacluster® ions disperse throughout the room, actively attacking germs, bacteria, viruses, mold, and fungus, reaching more pollutants than conventional filter-based systems! Traditional systems rely on air passing through the filter, but Plasmacluster® ions can spread to every corner of the room to actively clean. Plasmacluster® ions reduce odors at the molecular level, even from embedded odors in carpeting, drapery, and furniture.
How Does Plasmacluster® Work?
Sharp's patented Plasmacluster® Ion air purification technology mimics nature's own cleaning process, by splitting water molecules into positively and negatively charged ions, which spread throughout the room and actively break down pollutants like germs, airborne and surface-adhering bacteria, fungus, mold, viruses and clinging odors, and then return to the air as water vapor.
Plasmacluster® Ion Performance Tests on Microorganisms

Testing done in a closed laboratory over four hours.
Proven effective in reducing certain viruses including MS2 (90.3% Reduction). MS2 is a Viral Stimulant and surrogate in laboratory testing for many common infectious viruses such as influenza and smallpox.
 Proven effective in reducing certain bacteria including:
E. Coli (94.0% Reduction)

Staphylococcus Epidermidis (84.3% Reduction)

Serratia marcescens (89.7% Reduction)
Proven effective in reducing certain common molds and fungus, including:

Penicillium Citrinum (87.7% Reduction)

Aspergillus Niger (85.8% Reduction)
Mold spores are present in both indoor and outdoor air. Reducing the mold level in a home minimizes its effect on allergies.
Proven effective in reducing most odors that conventional filters don't reach. Plasmacluster® ions can reduce odors, even those that are embedded in carpets, drapery, and furniture, such as cigarette smoke, cooking smells, pets, and perspiration.
Verified Around the World Built-Into Over 80,000,000 Products Since 2001
Plasmacluster® Ion Technology has proven effective in reducing certain viruses including MS2 (Influenza viral stimulant), bacteria, including E-Coli Staphylococcus epidermidis and Serratia, molds and funguses, including Aspergillus Niger, and certain odors that conventional filters don't reach, like odors in upholstery and drapery. Plasmacluster® Ion Technology has been tested by 17 laboratories in the USA, UK, Germany, Japan, South Korea, China, and Vietnam.
Sharp Plasmacluster® Ion Technology has been used in over 80 million products worldwide, including leading automakers to reduce odors and refrigeration appliance manufacturers to help keep food fresher longer. US Patent No. 7854900.

HEPA AIR FILTRATION:
It's About the Air You Breathe
Did you know that the EPA warns that the air inside the average home could be up to 5 times more polluted than the air outside? Sharp Air Purifiers combine patented Plasmacluster® Ion technology with True HEPA filtration, for a cleaner, fresher environment.
Pet allergens and tobacco smoke particles are typically around 1.0 micron (mic). The Sharp True HEPA Filters are designed to capture pollutants 1/3 that size - as small as 0.3 microns with up-to 99.97% efficiency.
The Sharp True HEPA filters are ideal for removing household allergens and effectively reduces pollen, dust, pet dander, and smoke in your home. True HEPA traps 99.97% of microscopic particles from the air that passes through the filter. This not only includes the airborne pollutants that you can see (PM10), but also the pollutants that you can't see (PM2.5).
Independent-Laboratory Certified
Sharp Air Purifiers are tested by independent laboratories to verify the air-cleaning capability of the filtration system. Each model has its own CADR rating, which indicates the smoke, dust, and pollen removal rate when the air in the room is changed 5 times per hour.
Why Does 0.3 Microns Matter?

A washable pre-filter to capture the larger airborne particles, an activated carbon filter to help reduce odors, and extend the life of the True HEPA filter.
ACTIVE CARBON FILTRATION:

Active Carbon Filtration
Keeping your home free of odors is simple with a Sharp air purifier with an active carbon filter.
Genuine Peace of Mind
Use Genuine Sharp Long-Life Replacement Filters to keep your Air Purifier working at it's best!
Give Your Home the Air of Confidence
Your purifier is only as powerful and effective as the filter you put inside. Sharp replacement parts are essential for maintaining your air purifiers' product performance and each carbon and deodorizing filter is designed specifically for a specific Sharp air purifier.
Benefits of an Activated Carbon Filter
In many Sharp Air Purifiers, activated carbon filters are used in conjunction with HEPA filters and may help remove allergens and impurities from the air that passes through the filters:
Dust
Mold spores
Smoke
Common household chemical odors
Benzene and other VOCs
Change Filters Less Often
Sharp's long-life carbon and deodorizing air purifier filters typically require changing only once every 6 months - 5 years so operating costs are low.*

*Actual filter life will vary depending on the environment.
It's All About the Air You Breathe
Keeping your home free of odors is simple with a Sharp air purifier with an active carbon filter. Activated carbon filters have has special properties that allow them to remove volatile organic compounds (VOCs), capture odors, and remove large particles from the air that passes through the filter throughout the room.
How to Effectively Use a Carbon Filter
Carbon air filters can be an important part of your home air purification system, as they are often used to remove odors from the air, such as the smell of tobacco smoke. Once the carbon in your filter becomes saturated, it loses all effectiveness as an air filter. It is imperative that you change it out for a fresh carbon filter when this happens, as recommended in your owners manual.
Combining True HEPA and Active Carbon Filtration
When used together, activated carbon and True HEPA filters can trap 99.97% of small particles 0.3 microns and higher as well as most larger particles in the air that passes through the filter. Activated carbon filters can particularly benefit people who suffer allergies or aggravation from impure air, including second-hand smoke. If you are or live with a smoker, using an activated carbon filter in your home air purification system can provide benefits to your respiratory health.
HUMIDIFYING FUNCTION: 
Relieve Dry Air Symptoms
Humidifiers can help relieve sinus issues, dry throat, dry eyes and chapped lips. They can also help relieve dry skin caused by psoriasis, thyroid disorders, topical medications and cosmetics. Heaters used in wintertime can lower the humidity level in the air, so having a humidifier is helpful.
Maintains the Ideal Humidity Level
You may not know that keeping a steady humidity level between 40% and 60% in your home is ideal. When your humidity is too low, or too high, you may unintentionally encourage bacteria, virus, mold and dust mite growth! Sharp Plasmacluster® air purifiers automatically deliver the right humidity level based on your room's temperature, so you never have to worry about setting it or turning it off!
Convenient Humidifying System
The water tank for the built-in humidifier is easily removed from the side of the unit and can be filled at the sink with tap water. The rotating wick draws moisture from the water reservoir and releases it evenly into the airflow. When the water tank is low, an indicator light blinks on the control panel on top of the purifier.
Clean Humidification
Superfine mist leaves floors dry and surfaces residue-free.
Antimicrobial Humidification
When the humidifying function is not in use, the wick remains stationary and is suspended above the water level, allowing for the airflow to thoroughly dry the wick; thus preventing the growth of mold and bacteria.



ADDITIONAL FEATURES:

Built to Be Energy-Efficient
Sharp True HEPA air purifiers are ENERGY STAR® rated and highly efficient, so you can enjoy cleaner and fresher air all day and night.

ARB Certified
ARB Certified for your protection, Plasmacluster® Ion Technology produces almost zero ozone (at less than 0.02 ppm), up to 5X less than the lowest industry and federal safety standards set by the FDA, OSHA, WHO, and NIOSH. Certificates available upon request.
 
Library Quiet Operation
The air purifier unit has LibraryQuiet™ operation (as quiet as 15 decibels, or the sound of rustling leaves) to blend in with your everyday life and allow for a peaceful night's sleep. 
                                                                                              
KC860U Operations Manual

 

PDF, 3.13MB,

 

68 pages



KC860U Spec Sheet

 

PDF, 171K,

 

1 page
 
| Recommended Room Size | | |
| --- | --- | --- |
| | | |
| | AHAM Certified CADR: Dust/Smoke/Pollen | |
| | | |
| Filter Types/Life | | |
| | | |
| | Humidifying, Wick / Washable | |
| Sensors | | |
| | | |
| | | |
| | | |
| Operating Modes | | |
| | | |
| | | |
| | | |
| Fan Models/Speeds | | |
| | | |
| | | |
| | | |
| Library Quiet Operation | | |
| | | |
| Child Lock | | |
| EnergyStar Qualified | | |
| Replacement Filter | | |
| | | |
| Humidifying Filter | | |
---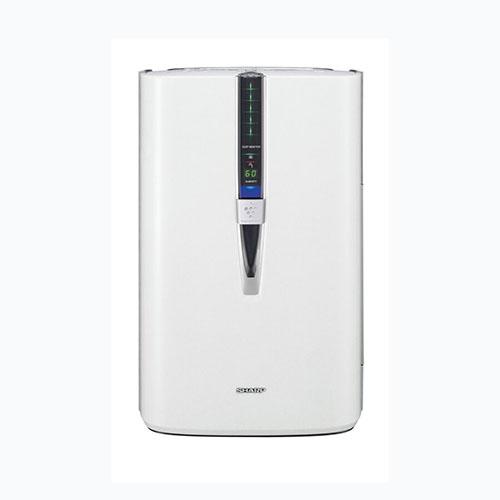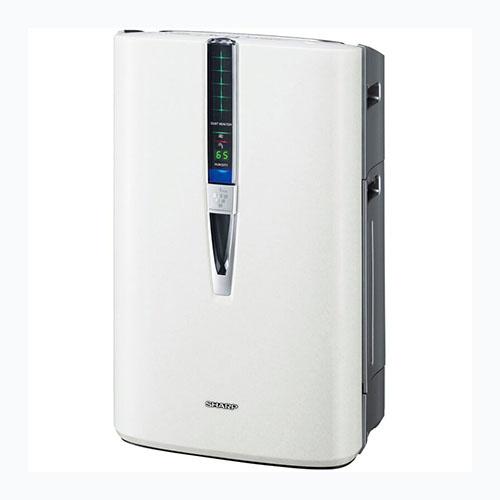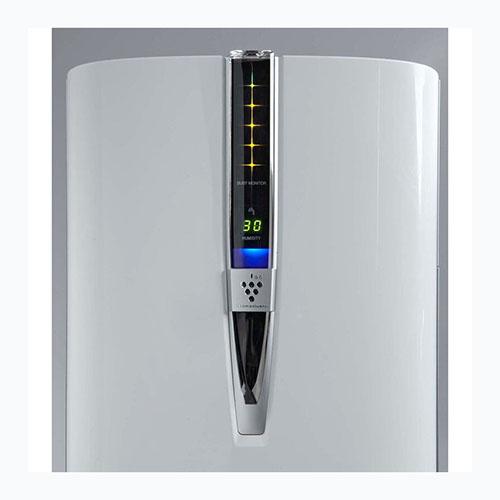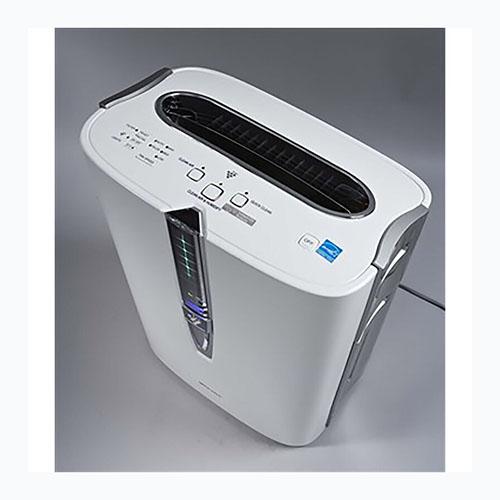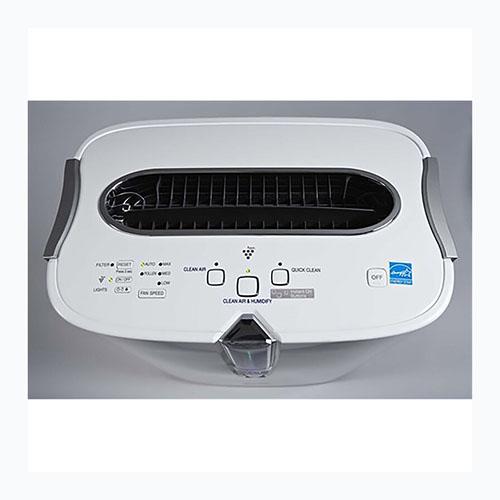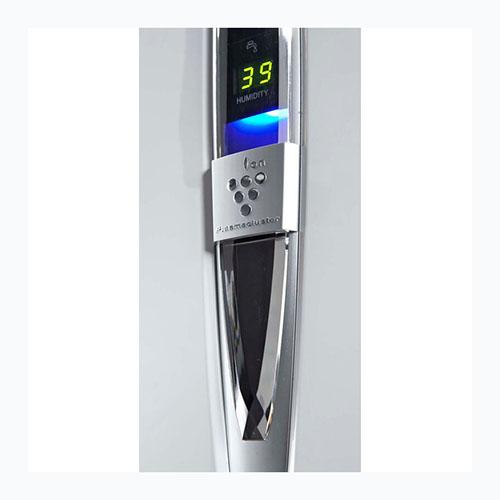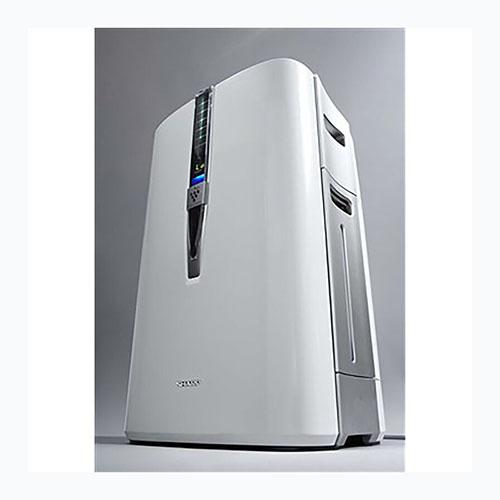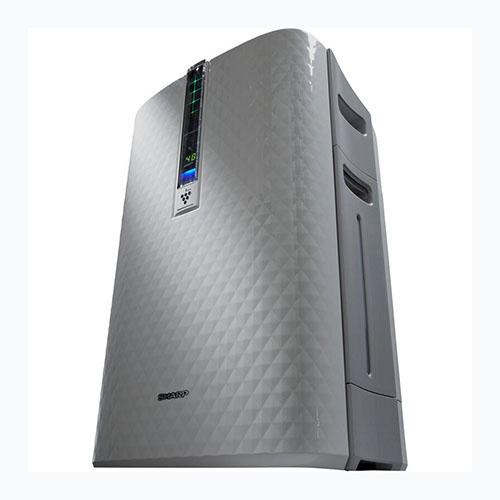 Great for most seasons
This thing is fantastic - much nicer than the Dyson purifier we've been using for years. That said, we have a large master bedroom - 15x15x12 ft ceilings - and while this does a great job purifying, in the winter when it's particularly dry, we need to double it up with a second humidifier to get humidity to an acceptable level. So, don't plan on this being your sole humidifier in the winter.
Great choice.
After much research and a bad experience with another product, I was very happy with my choice. Combination of air purifier and humidifier is perfect. Very comfortable for sleeping.