Looking for a way to relax outside? Check out Airpuria's best outdoor saunas for the beginning of 2023! Each outdoor traditional sauna gives you privacy and a peaceful spot while letting you enjoy fresh air and nature—all in your backyard. They offer a special way to spend time with loved ones in a natural setting while helping you relax and escape daily stress. Plus, many people find that the warmth of an outdoor sauna helps ease stress and brings a feeling of calm.
Outdoor saunas can be used all year long, making them perfect for those who want to relax and escape anytime. Saunas also offer many health benefits, from pain relief to detoxification, better cardiovascular health, and less stress. At Airpuria, we've researched and ranked the best saunas, considering factors like size, features, and price. Whether you want a luxury spa experience or a simple, budget-friendly option, we've got you covered.
Get the Most Out of Your Personal Outdoor Sauna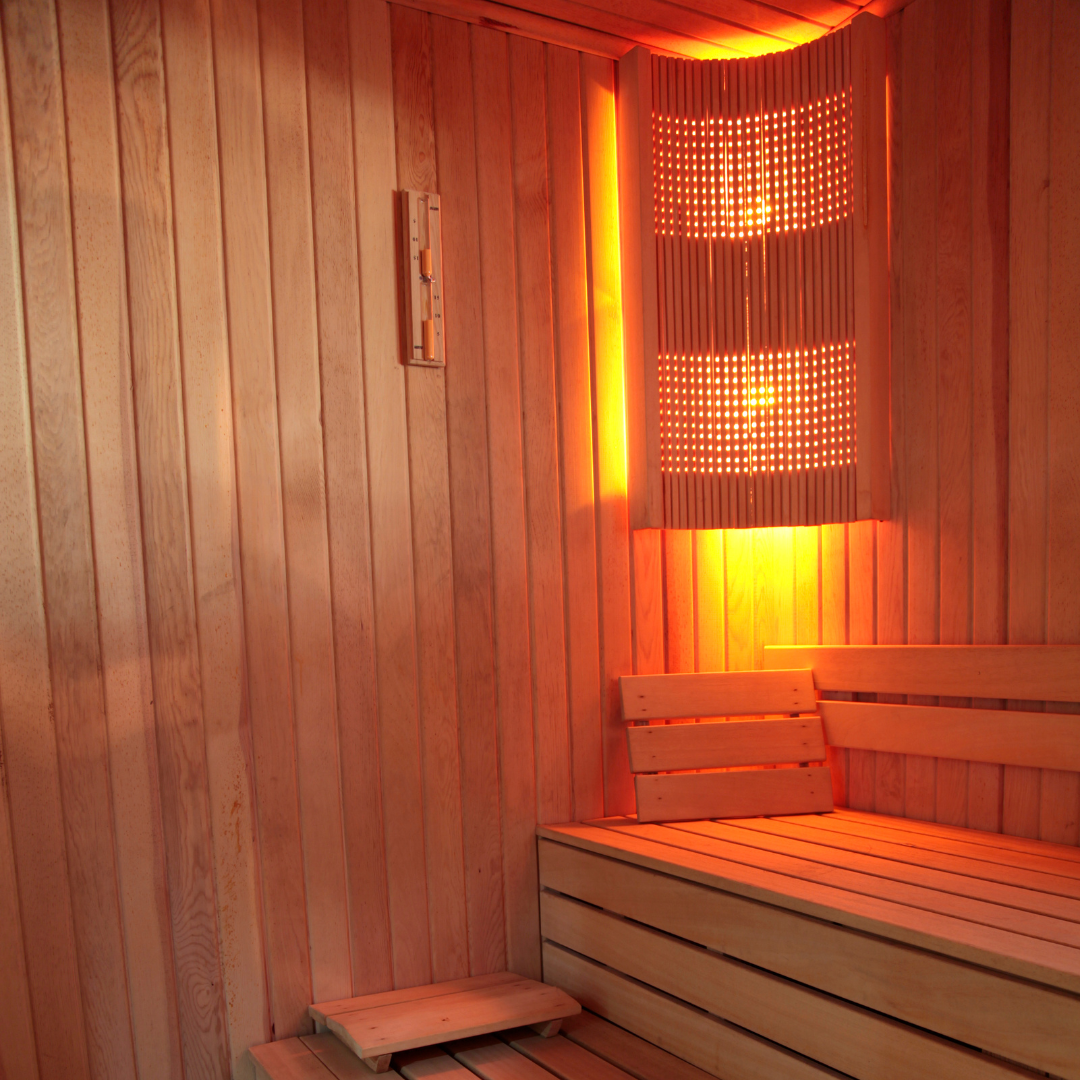 There are many types of saunas on the market today, but finding the right one for you doesn't have to be hard. Consider things like insulation, durability, cost, and size to find the best traditional outdoor sauna for your needs. Some models come with built-in benches and backrests, while others have adjustable temperature settings.
A cutting-edge feature in many of the saunas Airpuria offers is Infrared Technology. Most infrared saunas have heaters that release infrared waves at only one end of the spectrum, which means the healing benefits from those sauna sessions are reduced.
Airpuria brings you many different saunas, including the Nature Collection of Medical Saunas, with full-spectrum infrared wavelengths: near, mid, and far. Full-spectrum heaters are important because each infrared wave range gives various levels of skin penetration and light therapy. So, you'll enjoy more benefits from your sauna sessions and feel more relaxed and healthier each time.
We've researched and found the best outdoor saunas for 2023!
Best Outdoor Saunas from Airpuria
Need an at home outdoor sauna to help with medical problems and offer great relaxation? Try the Nature 6 Outdoor Sauna. This small outdoor sauna seats two people, is made of strong red cedar wood, and uses the full range of infrared heating. See the details below.
Features:
Fits: 2 People

Strong Red Cedar Wood

Full Spectrum Infrared Heat

Quick Inside Heating

Comes with Backrests

Warranty: 3 years
The Nature 8 Outdoor Sauna is a top infrared sauna choice. This model has comfy deep seats, a speaker system with Bluetooth/AUX/USB, and Omnidirectional heating. This technology spreads heat evenly to your body, which many other saunas can't do.
Our fast heating system helps improve your endurance and immune system.
Unlike other saunas that need 10-15 minutes to make you sweat, you'll start sweating quickly in a Nature Collection sauna. The fast heating is like exercising because it raises your body temperature at a similar speed.
This not only helps you handle heat better and boosts your sports performance but also strengthens your immune system, making it better at fighting infections and diseases.
Features:
Fits: 3-6 People

Comfy Deep Seats

Inside Reading Light System

Thicker Glass & Wood Panels

Fast Internal Heating

Warranty: 3 years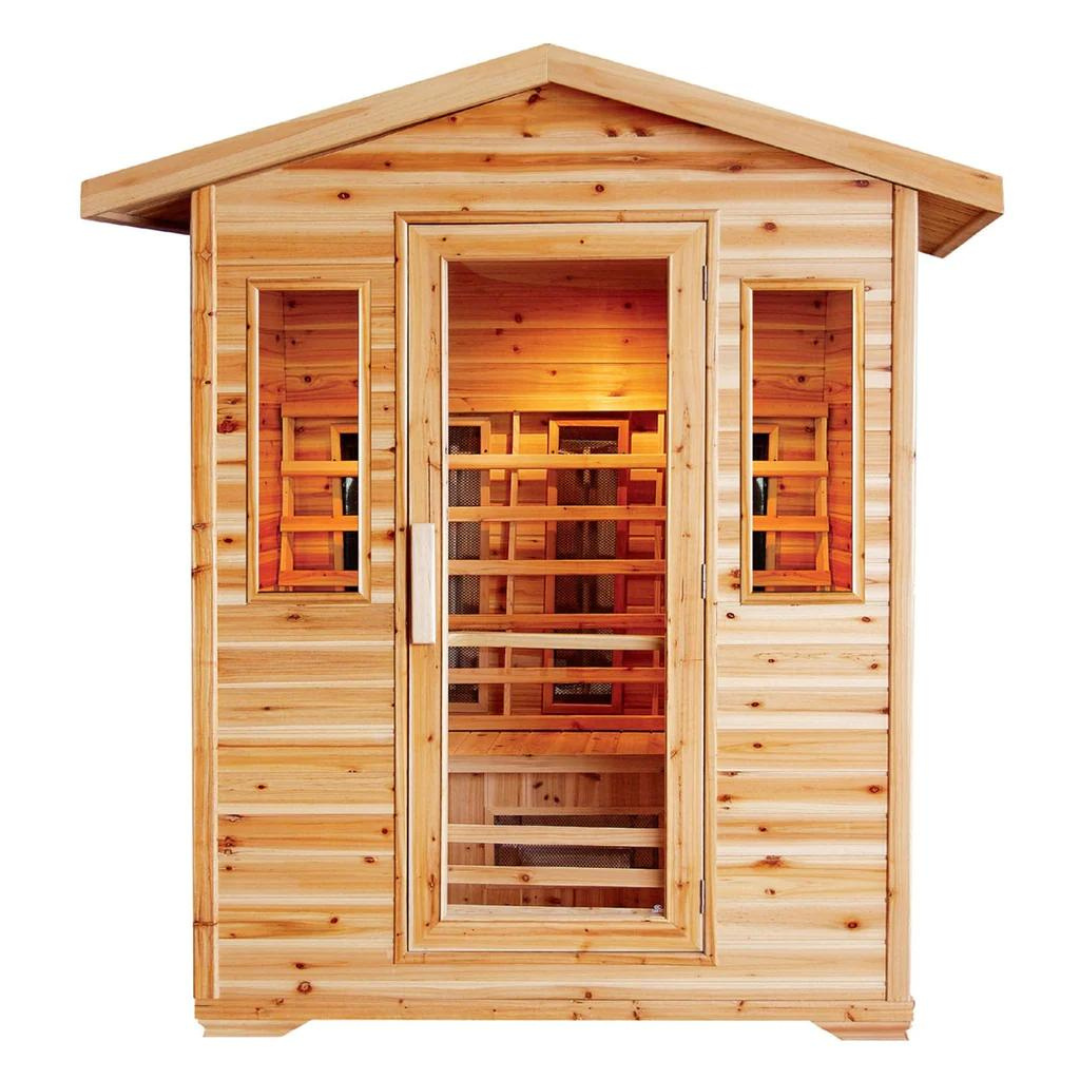 Get your own outdoor sauna with the Cayenne 4-person model. It's perfect for outside with its slanted roof and weather cover. The sauna has eight heaters that warm it up to 140 degrees fast. You'll enjoy wide seating, air purifying, built-in lights, Bluetooth speakers, cup holders, and more. The Canadian hemlock wood cabin is sometimes considered the best wood for outdoor saunas.
Features:
Canadian Hemlock Wood

8 Quick Ceramic Heaters

Control Panel Outside

Built-in Lights

Bluetooth Speaker System

Air Purifying System

Weather Cover

2400 Watts
SunRay Saunas makes top-quality saunas in the United States. They use the latest technology and focus on great design and materials. Their saunas are made from strong Canadian Red Cedar or Hemlock wood.
This top barrel sauna is perfect for DIY fans. It has a front porch with benches, giving you a cool-down area outside. The round design of the sauna is unique and efficient for heating and proper airflow.
Features:
Fits: 2-4 people

Made of Canadian White Cedar Wood

M3 Wood Burning Heater with Sauna Stones

45cm Front Porch with benches

Warranty: 3 years
This outdoor sauna seats 5 people and is our best offering. It's spacious and stylish with a front glass covering for an open view. The inside cabin holds up to 5 people and offers adjustable infrared heat.
The sauna is elegant, made with high-quality materials: Canadian Cedar Wood for the inner cabin and a weather-resistant, non-toxic shell on the outer layer. Your detox experience will be relaxing and perfect for entertaining guests during winter months or cold evenings.
Features:
2 Full Spectrum Heaters (for the best infrared therapy)

10 Carbon Heaters (for the best infrared therapy)

Eco-Certified

Non-Toxic

Bluetooth Player with Speakers

FM/USB/AUX/MP3

Warranty: 3 years
Key Takeaways So Far
1. Airpuria offers great outdoor saunas for 2023, perfect for relaxation and privacy in your backyard.
2. These saunas have many health benefits, like easing pain, detoxing the body, improving heart health, losing weight, and lowering stress.
3. Think about insulation, strength, cost, and size when picking the best outdoor sauna for you.
4. Airpuria has a range of saunas, including the Nature Collection with full-spectrum infrared heat for better results.
5. Top Airpuria saunas for 2023 are Nature 6, Nature 8 Plus, Sunray Cayenne 4-Person, Dundalk Serenity, and Enlighten Rustic 5-Person Outdoor Sauna.
Enjoy Health Benefits with a Finnish Sauna
Saunas are popular in Finland. Many people have them in their homes or backyards.
A traditional sauna has a room heated between 176°F and 212°F. You can make it more humid by pouring water on hot stones.
Using a sauna can make your body warmer and your heart beat faster.
Regular sauna use might be good for your health. Talk to your doctor before trying it.
Health benefits of traditional saunas:
Less inflammation and stress

Better heart health

Improved mood

Sweating out toxins and heavy metals
Traditional Finnish Sauna Benefits
Finnish saunas are great for relaxation and offer many health benefits.
Using a sauna regularly can improve heart health, lower blood pressure, and reduce stress.
The dry heat helps relax muscles and boosts circulation.
Saunas can also improve mental health, as users feel more relaxed, less anxious, and sleep better.
Relax at Home with an Outdoor Sauna
Outdoor saunas are an affordable way to relax at home.
There are various types, such as Finnish saunas, infrared saunas, DIY saunas, stylish saunas, and those with wood-burning stoves or electric heaters.
Consider your space and budget when choosing a sauna. Make sure it's well-insulated for maximum comfort.
Create a relaxing area with seating, soft lighting, and plants. Enjoy your outdoor oasis for years to come.
Outdoor Sauna Types
Create a personal oasis in your backyard with an outdoor sauna.
Choose from different types:
- Traditional Finnish saunas use hot stones for dry heat.
- Infrared saunas use infrared light to warm your body.
- Wood-burning stoves give a rustic feel.
- Electric heaters offer convenience.
- Steam saunas create a moist environment, good for skin and breathing.
Luxury models have extra features like glass doors, lights, and audio. Some come as an easy-to-assemble outdoor sauna kit.
Infrared Sauna Benefits
Outdoor infrared saunas use light to heat your body. They are gentler than traditional saunas and good for skin and breathing problems.
Infrared saunas help relax muscles and detoxify your body. They use less energy and often have an electric heater and changing room.
Find the right infrared sauna for you at Airpuria's Infrared Sauna Collection.
How to Build a Sauna in Your Backyard
If you enjoy DIY projects, consider building a backyard sauna with a kit from Airpuria. Outdoor sauna kits are affordable and less complex than indoor saunas.
Here's how to start building your own sauna:
Pick a Spot
Choose a sunny location away from trees or obstacles that could block sunlight.
Select Materials
Use the right wood for your sauna. Eastern White Cedar and Canadian Hemlock are popular because they resist rot and insulate well. Dundalk saunas come in Eastern White Cedar, making them a great DIY kit option.
Install the Sauna
Follow the kit guide for a smooth build. Before starting, read the instructions and ensure your sauna spot is level, with a slight slope for drainage.
When to Get Help
Building a sauna isn't too hard, but you might need professional help for technical steps.
Finding the Right Outdoor Sauna for You
There are many outdoor saunas to choose from. Barrel saunas are popular because they're easy to set up and affordable.
Barrel saunas have a round shape and can often fit up to four people. They're often made of Canadian Timber White Cedar wood. One example is Airpuria's Dundalk Harmony Outdoor Sauna.
Wood-burning stoves are another option. They give a traditional sauna feel because you need to make a fire for steam.
Most traditional saunas need a steam generator. You can use a manual or electric one based on your budget.
Electric generators make steam by heating water with electricity. The steam goes into the sauna room.
Whichever outdoor sauna you pick, you'll enjoy its health benefits for a long time.
Or, Just Use Our Sauna Checklist:
Hey there! If you're reading this, you're probably thinking about getting a sauna, right? But with so many options out there, how can you be sure you're making the right choice? Don't worry, we've got your back! Our super handy Sauna Checklist is here to make your decision-making process a breeze.
Just take a few moments to fill it out, and our friendly team at Airpuria will get back to you within 24 hours with personalized sauna recommendations, some sweet promos, discounts, and more. Plus, we offer free shipping on all saunas!
Ready to dive in and find your perfect sauna match? Let's go through some of the key points on our checklist: https://airpuria.com/pages/sauna-checklist
Contact Airpuria to Learn More About the Best Outdoor Saunas for 2023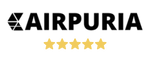 If you have any questions at all about Outdoor Saunas, please feel free to contact us through the following channels:
You can either give us a call at (773) 337-8822,
Or, create an inquiry with us via email.
For more info, visit our website.
We would be more than happy to help you improve the environment of your home or business!
Sauna Financing Options:
Look for providers like Airpuria that offer financing options to make your purchase more affordable. Airpuria provides financing for all customers with rates as low as 0% for up to 18 months, as well as business financing with flexible terms and competitive rates:
We offer financing options for all individuals, with 0% interest rates for up to 18 months.

Business owners can also apply for special financing programs tailored to their needs.
Sauna Financing Links:
Essential Points to Remember
1. Outdoor saunas are available in various types, including traditional Finnish, infrared, DIY, wood-burning, and electric.
2. Barrel saunas, like the Dundalk Canadian Timber White Cedar Harmony Outdoor Sauna, are affordable and easy to install.
3. Wood-burning stoves provide a traditional sauna experience.
4. Electric generators offer a convenient way to create steam for your sauna.
5. Outdoor saunas offer numerous health and wellness benefits.
2023: Best Outdoor Sauna FAQ's
Is an outdoor sauna worth it?
Yes, outdoor saunas are worth it. They offer health benefits like better circulation, stress relief, and relaxation. Plus, they're easy to install and maintain, making them a great addition to your home.
What's the best 2-person outdoor infrared sauna?
The SunRay Burlington 2-Person Outdoor Infrared Sauna from Airpuria is a top choice. It seats two with deep bench seating and has seven ceramic heaters. The temperature goes up to 140°F. It's great for a backyard patio and includes an air purifier and interior lighting.
Which is healthier, dry or wet sauna?
The healthier sauna depends on your needs. Dry saunas help detoxify your body, while wet saunas relax and soothe sore muscles. Both have health benefits, so think about your needs when choosing.
Why are saunas made of wood?
Saunas are made of wood because it's a natural, non-toxic material that's good at retaining heat. Wood also absorbs moisture, helping to control humidity levels in the sauna. Plus, wood adds a pleasant aroma, enhancing the sauna experience.
Do outdoor saunas need insulation?
Yes, outdoor saunas need insulation to keep heat inside and maintain a consistent temperature. Insulation helps reduce energy use, making the sauna more efficient and cost-effective. Proper insulation also protects the sauna from outdoor elements and weather conditions.