For sauna lovers living in cold climates, being able to enjoy the benefits of sauna therapy year-round is a dream come true. With an outdoor sauna properly equipped for cold weather, you can still soak in relaxing dry heat and promote detoxification. The key is choosing a sauna designed specifically to retain heat efficiently and withstand freezing temperatures.
In this guide, we'll explore the top options for outdoor saunas in cold climates, so you can create a backyard oasis perfect for relaxing and rejuvenating, no matter the weather outside.
What to Look for in an Outdoor Sauna for Cold Climates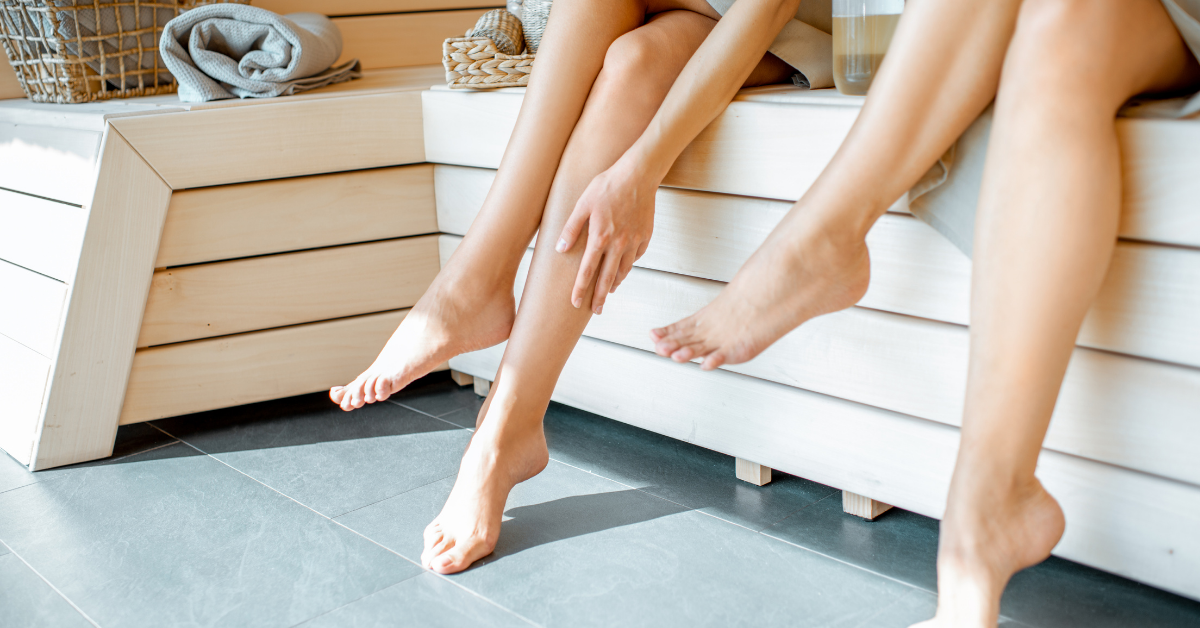 When selecting an outdoor sauna for cold environments, the most important factors to consider are:
Insulation: A well-insulated sauna will retain heat effectively and keep energy costs down. Look for a sauna made with insulation in the floor, walls, and ceiling - like the saunas that Airpuria offers.
Heater power: More powerful electric heaters allow the sauna to reach desired temperatures faster.
Wood material: Cedar and hemlock are excellent insulators that withstand weather well. Canadian white cedar is an especially durable and resilient wood choice.
Weather protection: Look for a sauna with a weather-resistant exterior and available weather cover for added protection.
Warranty: Choose a sauna that comes with at least a 1-year manufacturer's warranty.
Construction: Durable panel construction with tongue-and-groove wood prevents drafts. Support cradles add stability.
Ventilation: Proper airflow is crucial, so look for adjustable vents and ventilation gaps.
With the right design and materials, outdoor saunas can be enjoyed year-round, even when temperatures dip below freezing.
5 Top Outdoor Saunas for Cold Climates
Based on insulation, power, materials, and overall construction, these are our top picks for outdoor saunas in cold environments.
1. Dundalk LeisureCraft Harmony — 2-4 Person Barrel Sauna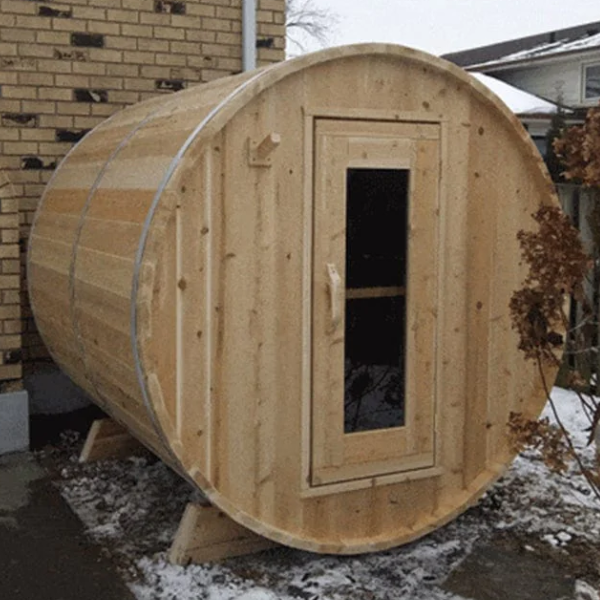 This 2-meter Canadian white cedar outdoor barrel sauna from Dundalk LeisureCraft is specially designed for cold weather. The tongue-and-groove wood construction retains heat efficiently, while the marine-grade aluminum bands and stainless steel tightening bolts provide durability.
Equipped with room for 2-4 people, it's an excellent choice for a small family or couple. You can customize this sauna with a 6 kW or 8 kW electric heater. The included flat floor makes the interior spacious and comfortable. Plus, with a 3-year warranty, it's built to provide warmth and relaxation through harsh winters.
Learn More About the Dundalk LeisureCraft Harmony Barrel Sauna
2. Medical Breakthrough Nature 4 — 1-Person Outdoor Sauna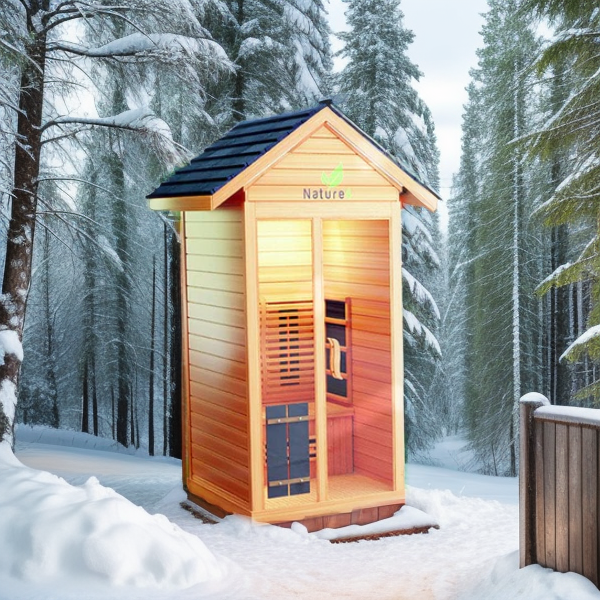 Medical Breakthrough designed the Nature 4 with 6 ultra-powerful full-spectrum infrared heaters, crafted from natural Canadian red cedar. The construction of this sauna not only withstands harsh weather beautifully but also offers a delightful skin-cleansing and rejuvenating experience. In addition, the ergonomic seating and supportive backrests ensure unparalleled comfort during your sauna sessions.
This is an excellent one-person sauna for cold climates, as it heats rapidly in just 40 minutes, thanks to the internal rapid heating system, with features like an insulated airflow system, and a safe cool-down system. With regular use, you'll boost circulation, promote detoxification, and relieve muscle tension.
Learn More About the Medical Breakthrough Nature 4 Outdoor Sauna
3. Enlighten Dry Traditional MoonLight — 2-Person Outdoor Sauna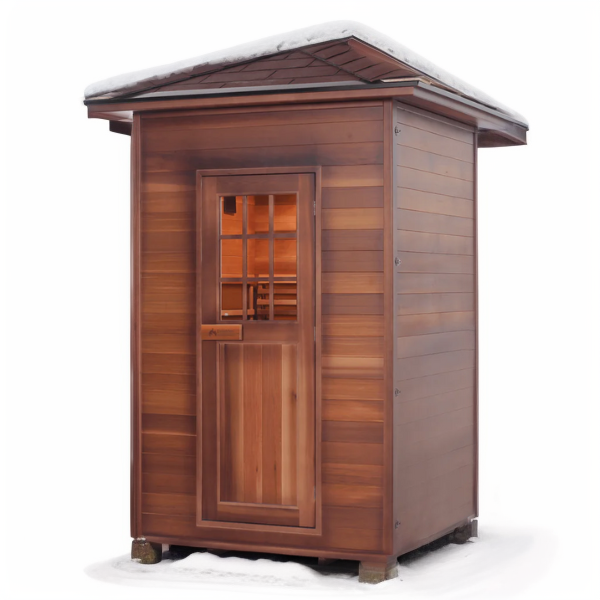 The MoonLight dry sauna from Enlighten provides an authentic traditional sauna experience outside in cold weather, as the Canadian red cedar construction is lightweight yet durable.
It fits two people comfortably and is equipped with a powerful Harvia electric heater with adjustable temperature up to 189°F. It has a double roof with asphalt shingles, protecting it from rain, snow, and cold.
Customize your outdoor traditional sauna with chromotherapy lighting, backrests, and audio. With excellent heat retention and air circulation, you can enjoy this sauna's cleansing benefits even on cold days. Contact us and ask about installation options.
Learn More About the Enlighten MoonLight 2-Person Outdoor Sauna
4. Sunray Grandby — 3-Person Outdoor Infrared Sauna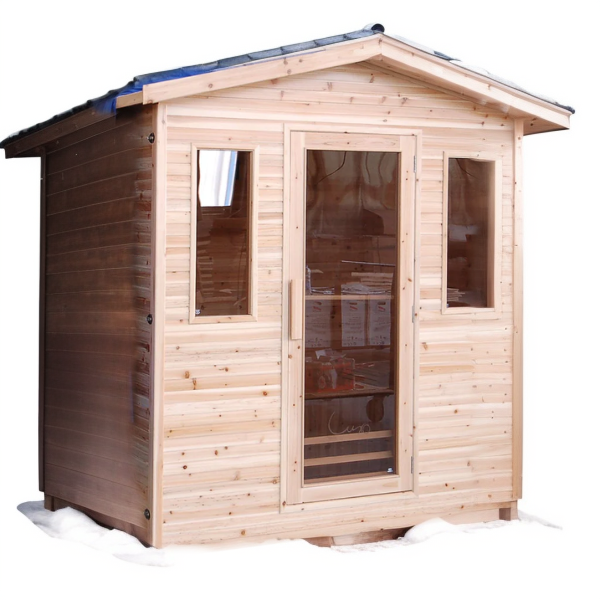 Sunray designed this roomy hemlock infrared sauna for up to 3 people to promote relaxation in backyard spaces year-round.
Seven ceramic heaters quickly warm the interior while producing 5.6-15 microns of infrared rays to penetrate skin and muscles for a deeply soothing effect, providing targeted heat therapy without overheating the air.
The sauna reaches up to 140°F and features interior lighting, Bluetooth speakers, cup holders, and an oxygen ionizer for air purification. Equipped with excellent infrared therapy in cold weather, it promotes muscle relaxation and stress relief.
Learn More About the Sunray Grandby 3-Person Infrared Sauna
5. Medical Breakthrough Nature 7 — 4-Person Outdoor Sauna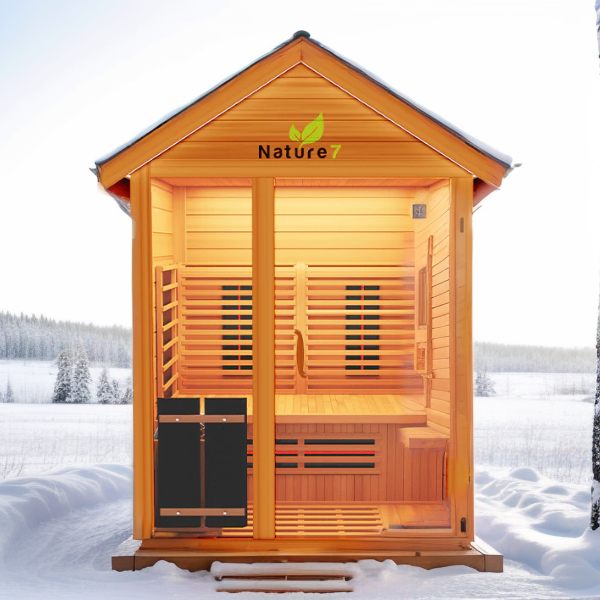 The Nature 7 from Medical Breakthrough provides an indulgent sauna experience tailored for cold climates. With 12 ultra-powerful full-spectrum infrared heaters, this sauna delivers deeply penetrating infrared waves alongside hot ambient air.
With a spacious interior that accommodates up to 4 people and provides extra room for invigorating hot yoga stretches, this sauna is designed to cater to your ultimate relaxation. Crafted from natural Canadian red cedar, the construction not only retains heat flawlessly but also withstands any weather conditions with grace.
In addition, ergonomic seating, chromotherapy lighting, and a speaker system add comfort and relaxation. By elevating skin temperature and inducing light perspiration, the Nature 7 sauna is perfect for unwinding after cold winter days.
Learn More About the Medical Breakthrough Nature 7, 4-Person Outdoor Sauna
Discover Our Outdoor Sauna Collection
Creating a Backyard Sanctuary with an Outdoor Sauna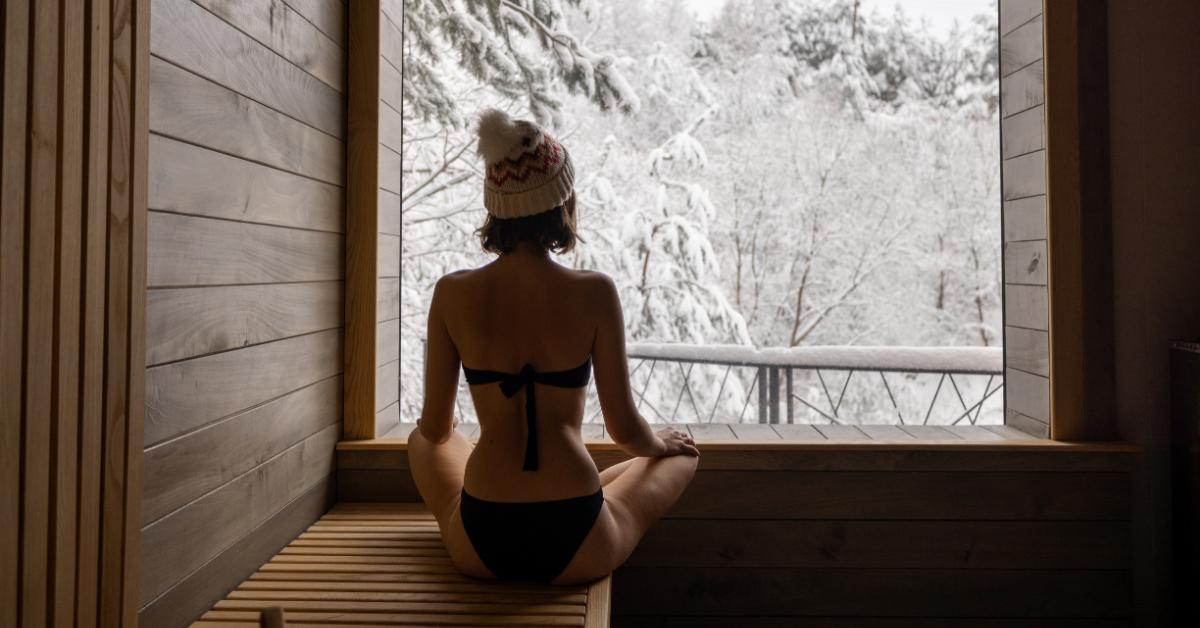 At Airpuria, we take pride in offering outdoor saunas that offer a tranquil sanctuary right in your own backyard. Allow us to guide you through the process of crafting a dreamy backyard wellness oasis with an outdoor sauna:
Interior Comfort and Convenience:
Depending on the sauna you choose, Airpuria offers all the necessary sauna interior accessories, such as towel hooks, backrests, ladles, sand timers, and more, to ensure a comfortable and enjoyable experience.
Serene Ambiance Creation:
Enhance the sauna's ambiance with soothing infused scents, soft lighting, or audio systems, making your sauna sessions even more relaxing and enjoyable.
Contact The Experts:
With Airpuria's expertise, your backyard sauna retreat will become a personal home spa oasis, providing complete relaxation even in frigid climates. Let our experienced team handle all the details to bring your vision to life.
Start Enjoying Sauna Benefits Year-Round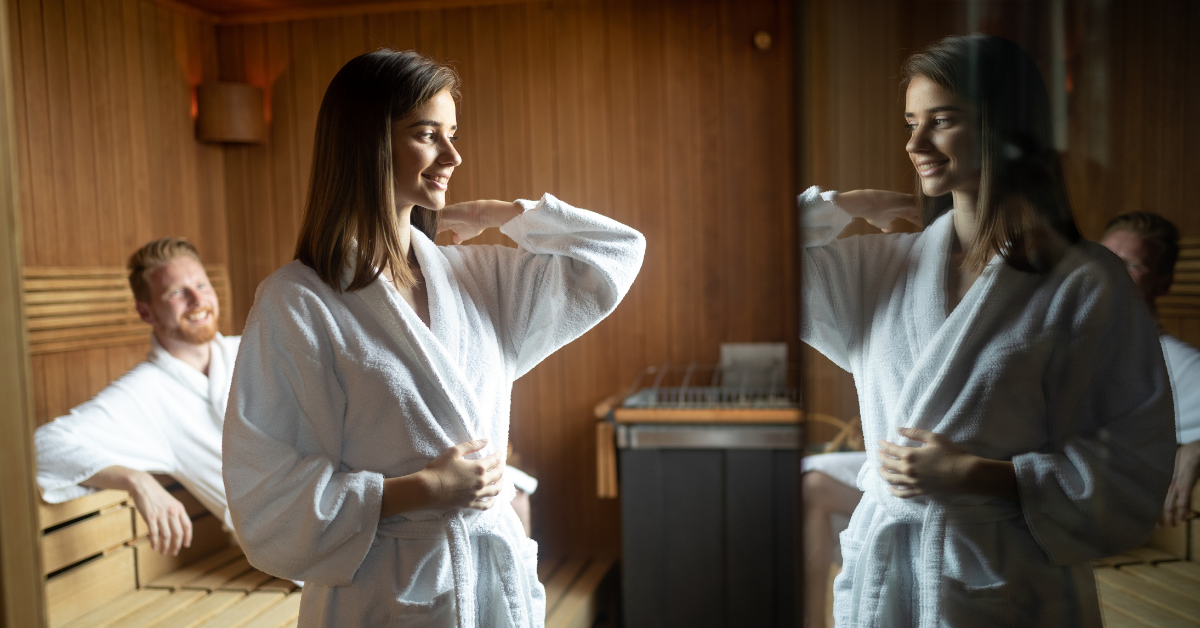 Don't let cold weather deprive you of sauna therapy, as an outdoor sauna designed for your climate makes it possible to enjoy the benefits in any season. With powerful heaters, durable wood construction, and weather protection, the saunas we covered above retain heat effectively for comfortable dry sessions even when it's freezing outside.
Choosing the Right Size Outdoor Sauna
One important consideration when selecting an outdoor sauna is choosing the right size for your needs. Outdoor saunas come in a range of dimensions to accommodate anywhere from 1 to 6+ people.
To determine the ideal size, think about the number of people who will use it regularly and how much interior space you prefer for moving and stretching during sessions.
1-2 Person Outdoor Saunas
A one-person or two-person sauna is a great option for individuals or couples who want a private, personal sauna experience outdoors. These compact saunas take up less space while still allowing room to sit or lie down comfortably and stretch out your legs.
The Medical Breakthrough Nature 4 is an excellent cold climate choice for one, with rapid infrared heating and a durable weatherproof design.
One-person saunas have the advantage of reaching temperature faster and requiring less power to maintain the heat. This creates a serene and deeply relaxing atmosphere, perfect for unwinding after a long day.
3-4 Person Medium Outdoor Saunas
For small families or those who frequently entertain guests, a 3 or 4-person outdoor sauna offers flexibility. With extended legroom and expanded width compared to 1-person sizes, 3-4 person saunas allow comfortable movement and accommodate more people.
The Dundalk Harmony 2-meter barrel sauna provides an immersive experience for 2-4. On the other hand, the Sunray Grandby infrared sauna seats 3.
5-6+ Person Large Outdoor Saunas
For those who love hosting gatherings or want ample room to lie down, stretch, or do yoga, a 5-6+ person outdoor sauna is ideal. From family bonding sessions to reuniting with friends, a roomy sauna allows both socializing and quiet relaxation.
The Enlighten Dry Traditional Sauna SunRise is excellent for 5 people looking to experience the bliss of an outdoor sauna. To delve into the possibilities of Enlighten Sauna installations, don't hesitate to engage in a conversation with Airpuria.
Frequently Asked Questions
What temperature is recommended for an outdoor sauna in winter?
For cold climates, aim for sauna temperatures between 140-160°F. The sauna should be equipped with a powerful heater to reach these temperatures.
How long do outdoor saunas take to heat up in winter?
With an appropriately powered heater, most quality outdoor saunas will heat up in 30-60 minutes even in winter. Look for rapid heating features to minimize wait times.
What maintenance does an outdoor sauna require?
Periodically wash the interior benches and walls with a non-toxic cleaner. Apply sauna wood sealant 1-2 times per year. Store the sauna cover when not in use. Follow all manufacturer maintenance recommendations.
Do you offer custom saunas?
Yes, we offer custom-built Medical Breakthrough saunas where you can choose between indoor and outdoor saunas, hybrid, infrared, traditional saunas, and so much more. Walk through our sauna questionnaire and see what you can come up with!
Should I buy an outdoor sauna kit or hire professionals?
DIY sauna projects often carry associated risks. Hiring professional sauna contractors and electricians is recommended for a hassle-free experience and professional results. When ordering an Enlighten Sauna from Airpuria, talk to us to discuss Enlighten Sauna installation options.
How long do outdoor saunas last?
A quality outdoor sauna properly maintained can last 10 years or longer. Durability depends on materials, weather protection, and regular upkeep. To keep your sauna protected in harsh weather conditions, consider checking out a sauna cover.
Are outdoor saunas safe to use in winter?
Yes, as long as proper safety precautions are followed during the sauna session, such as ensuring good ventilation and entering gradually to avoid thermal shock.
What accessories or add-ons should I consider?
Popular accessories include backrests for comfort, audio systems, colored light therapy, ladles, and sand timers.
Start Relaxing in Your Own Cold Climate Sauna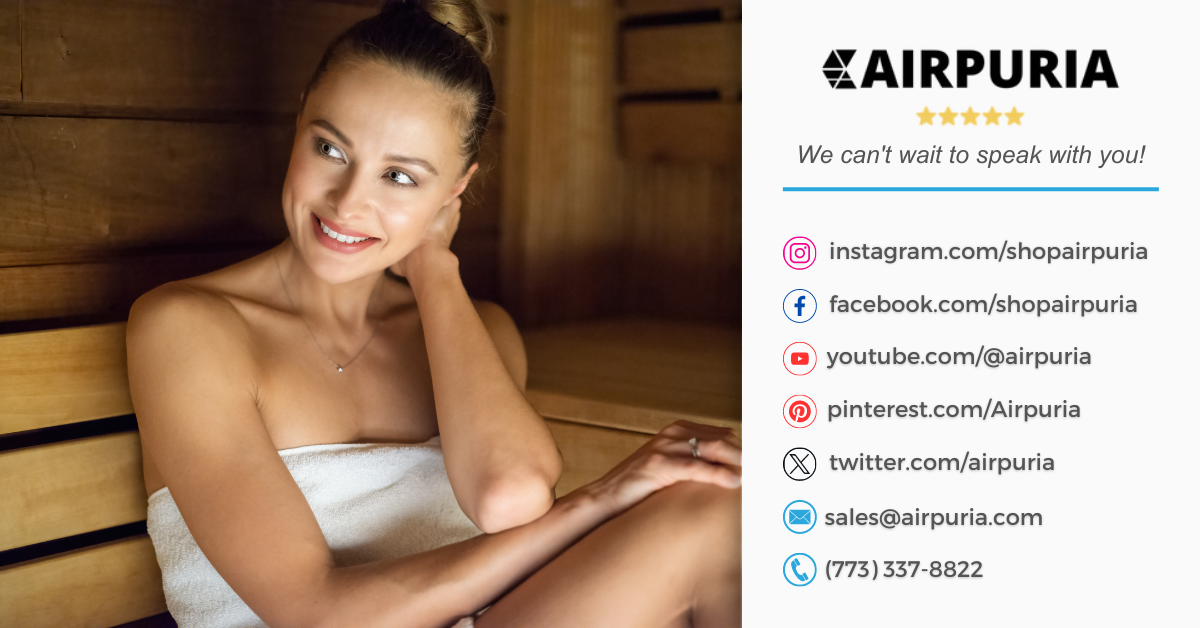 Are you ready to bring the indulgent comfort of sauna therapy home, even on the coldest days? An outdoor sauna designed for your climate makes it possible to de-stress and rejuvenate all year long.
Choose From Cold Climate Saunas at Airpuria
Airpuria offers a range of exceptional outdoor saunas which allow you to unwind in therapeutic dry heat no matter the conditions outside.
Airpuria is an authorized dealer of the best outdoor saunas for cold environments. Here, you can find the perfect model for your needs and backyard space. Visit the links below or contact Airpuria with any questions. Our team is ready to help you start enjoying sauna benefits in every season.
Shop Outdoor Saunas Offered By Airpuria
Phone:
Email:
Explore Financing Options From Airpuria
The investment in a quality outdoor sauna is well worth it for the years of enjoyment ahead, but Airpuria understands the purchase may be a major one.
That's why we offer financing options to make high-end wellness products more affordable to those who qualify. Individuals can apply for 0% interest financing for up to 18 months. Businesses can also explore options like business loans and leasing tailored to their needs.
Learn more about financing options from Airpuria to invest in your dream sauna. With reasonable monthly payments, you can start relaxing in the comfort of your own cold-weather sauna sanctuary.
To learn more about these financing options and see if you qualify, visit: