Crawl spaces are notorious for being humid, dank, and unpleasant. They can also be a breeding ground for mold, mildew, and other harmful bacteria. That's why investing in a good quality dehumidifier is so essential. AlorAir produces some of the best dehumidifiers on the market, and their products are perfect for crawl spaces.
This article will look at the top five AlorAir dehumidifiers for crawl spaces. Whether you are looking for basement crawl space dehumidifiers or dehumidifiers for other areas of your home, AlorAir has a product to suit your needs. Keep reading to learn more.
What Is A Crawl Space Dehumidifier?
A crawl space dehumidifier is a specifically designed device to remove excess moisture from the air in your crawl space. Crawl spaces are often prone to high moisture levels, which can cause serious health problems for you and your family.
A crawl space dehumidifier will help to keep your crawl space dry and free of mold and mildew.
A commercial dehumidifier is an excellent option for particularly damp crawl spaces. These units are designed to remove large amounts of moisture from the air, and they can be set to run continuously until the space is dry.
How do Dehumidifiers work?
Dehumidifiers draw in moist air and pass it over a cooling coil. As the air passes over the coil, the water in the air condenses and is collected in a tray or reservoir. The dry, cooled air is then passed back into the room while the water is drained away or evaporated.
The amount of water that a dehumidifier can remove from the air depends on the model and the size of the unit. AlorAir dehumidifiers vary in power, but some can remove up to 70 pints of water per day!
What Are The Benefits Of Using A Crawl Space Dehumidifier?
There are many benefits to using a crawl space dehumidifier, including:
Reduced mold growth:
Mold loves damp, dark, and humid environments often found in crawl spaces. Using a dehumidifier, you can create a drier environment that is less conducive to mold growth.
Preventing wood rot:
Wood rot is another common problem in damp crawl spaces. It can cause your floor joists and support beams to weaken and eventually collapse. A dehumidifier can prevent wood rot and keep your crawl space in good condition.
Eliminating musty odors:
Most crawl spaces have a musty smell due to the high moisture levels. The smell is often the first sign that there is a problem with excess moisture. A dehumidifier will help to eliminate musty odors, leaving your crawl space smelling fresh and clean.
Preventing health problems:
Excess moisture in the home can cause several health problems, such as respiratory problems, allergies, and asthma. Here, a crawl space dehumidifier can create a healthier environment for you and your family.
Reducing energy costs:
Heating and cooling a damp, humid crawl space can be expensive. Maintaining a dry space will help reduce energy costs and make your home more comfortable.
Expert Advice: Maintaining Your Dehumidifier
To ensure the longevity and optimal performance of your dehumidifier, follow these practical suggestions:
Regularly clean or replace the filter every 6 to 12 months, depending on the manufacturer's recommendation.

Keep the dehumidifier in a well-ventilated area to allow for proper air circulation.

Periodically check for any signs of damage or wear and tear on the unit, and address any issues promptly.

Schedule a professional maintenance check if you notice any unusual noises or decreased performance from your dehumidifier.
5 Best Crawl Space Dehumidifiers
If you are in the market for a crawl space dehumidifier, you may wonder which one is the best for your home. There are many factors to consider when purchasing a dehumidifier, such as size, capacity, and features.
To help you make an informed decision, we have compiled a list of the five best crawl space dehumidifiers on the market. Let's take a look at each one in detail.
The HD90 is a top-of-the-line dehumidifier designed for basements and crawl spaces. This unit is Energy Star qualified, saving you money on your energy bill. The HD90 can remove up to 90 pints of moisture per day.
With its huge capacity of 90 PPD (pints per day), the Alorair Sentinel HD90 is one of the most powerful, compact, and durable dehumidifiers on the market. The rugged molded housing is designed for safe operation in your basement or crawl space.
Click here to learn more about the AlorAir Sentinel HD90!
Features
The HD90 features an automatic defrost system that prevents ice buildup on the coils, ensuring optimal performance.
The coverage area of up to 2,600 sq. ft. makes it ideal for basements, crawl spaces, or any other area that needs to be kept dry.
With its high capacity and custom features, the Alorair Sentinel HD90 is the perfect choice for your basement or crawl space dehumidification needs.
It is user-friendly. The operation panel is easy to understand, and the digital display is clear. An emptying bucket that can easily be detached from the unit is designed for your convenience.
This professional dehumidifier is built for basements and crawl spaces. With a rugged design, it can handle the harsh conditions of these areas. The package includes a dehumidifier, MERV-8 air filter, drainage, and user manual.
RARE EARTH ALLOY TUBE EVAPORATOR
Freon leakage is a common issue for most dehumidifiers, but Alorair has solved this problem using a rare earth alloy tube evaporator. This material is not only corrosion-resistant but also has superior heat transfer capabilities.
As a result, the Sentinel HD90 can work continuously without any Freon leakage issues.
EASY FILTER ACCESS
Its MERV-8  filter is easy to access and can be replaced quickly. The MERV-8 pre-filter protects the coil from dust and dirt, while the activated carbon filter eliminates odors, VOCs, and other harmful airborne particles.
It is recommended to replace the filters every 2-3 months to maintain optimum dehumidification performance.
Warranty
The manufacturer gives a five years warranty which ensures that the product will work as expected, and you can get a refund or replacement if it doesn't!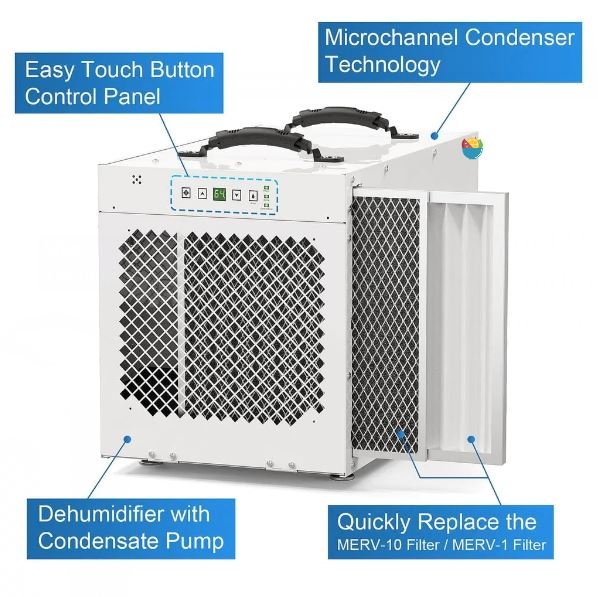 This cETL-approved product is one of the most affordable and high-quality whole-house dehumidifiers on the market today. This product from AlorAir boasts a 120 pint per day moisture removal capacity, making it ideal for large-sized homes up to 3,300 square feet.
Not only does it effectively remove excess moisture from your indoor air, but it also does so without any annoying noise.
Additionally, this unit is Energy Star qualified, which means it won't add much to your monthly energy bill.
Click here to learn more about the Alorair Sentinel HDi120!
Features
This dehumidifier can be ducted to the HVAC system. For 90ºF and 90% relative humidity, this unit removed up to 235 pints per day.
The length of the chord is 18.9 ft which is a great length. It has a built-in humidistat that automatically turns the unit on and off to maintain the desired humidity level.
The Alorair Sentinel HDi120 dehumidifier uses microchannel condenser technology. This feature helps to increase the surface area for heat transfer and increases the airflow across the coils.
It comes with a ridged handle for portability and easy placement. The unit features memory starting and turning on/off automatically; you won't have to worry about forgetting to turn the unit on or off.
Best for residential and light commercial applications, the AlorAir Sentinel HDi120 is a high-performance dehumidifier with rugged construction and corrosion-resistant materials; this unit is built for durability and reliability.
It is one of the most compact and light 120-pint dehumidifiers on the market. It can remove up to 18.9 gallons of water daily, making it an excellent choice for busy households and light commercial applications.
Remote Control System
It is equipped with a remote control system, which allows you to operate the unit from anywhere in the room. The unit also features a Merv-1 filter and a Merv-10 filter, which help to remove contaminants from the air.
Warranty:
To ensure your satisfaction, it comes with a five-year warranty and fantastic service and support from the team!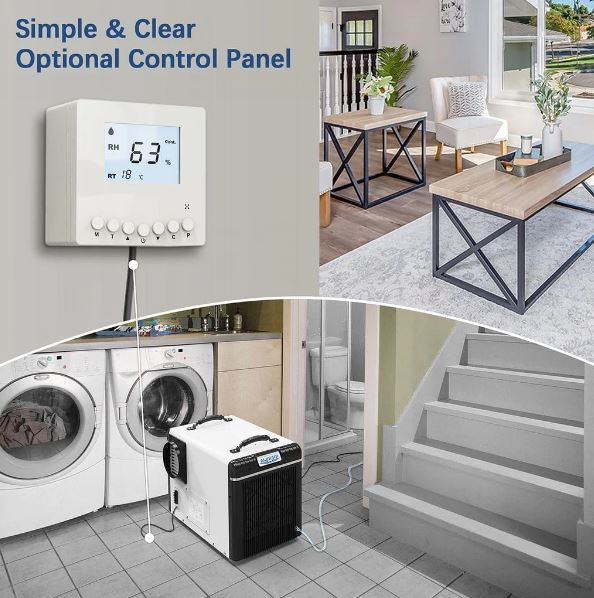 This product has been designed specifically for use in crawlspaces and basements. It is a low noise level product with a great capacity of up to 90 pints per day. This dehumidifier can supplement your home's air conditioning system and help maintain humidity levels year-round.
Some of the other benefits of this product include reducing dampness, mold, and rot, as well as restraining bacterial growth.
Click here to learn more about the Alorair HDi90!
Features
It has a moisture removal capacity of 115V (80°F-60%), 90L (190 PPD) / 220V (30°C-80%).
The voltage is 115V or 230V, and the frequency is 50HZ.
Coverage area sq. ft. refers to the maximum amount of space the unit can effectively dehumidify. If your basement or crawl space is vast, you may want to consider a dehumidifier with a higher coverage area. This unit can cover up to 2,600 square feet.
The AlorAir Sentinel HDi90 Dehumidifier was designed with the modern home in mind. It is sleek, compact, and packed with features to make your life easier. The auto defrosting system ensures optimal performance in low-temperature environments.
It is equipped with a MERV-8 filter. This filter traps dust, pollen, and other airborne particles, keeping them out of your home.
Warranty:
Alorair offers a 5-year warranty on the Sentinel HDi90. It is one of the most extended warranties in the industry and shows our confidence in the quality of our products.
Energy Star Certified:
This Alorair basement crawl space HD90 dehumidifier is Energy Star certified. It indicates it meets strict energy efficiency guidelines the US Environmental Protection Agency (EPA) set. Also, a 30% less cost to operate than other dehumidifiers.
The package includes one dehumidifier, one user manual, a drainage pipe, a clean air filter, and one warranty card.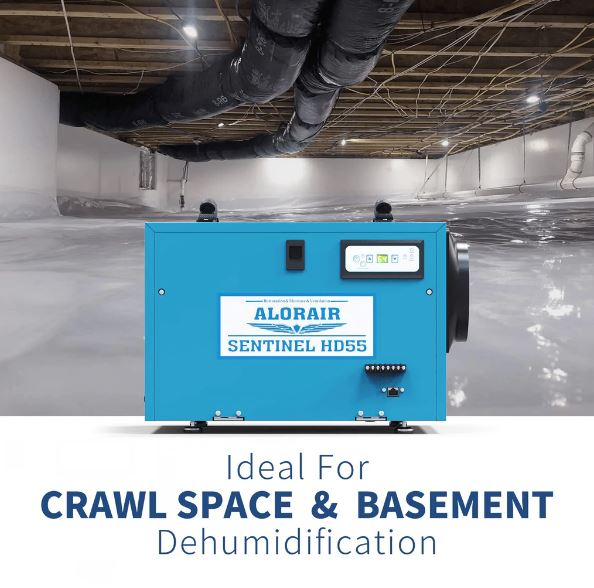 This incredible machine is perfect for water damage restoration. It's straightforward and powerful, making it ideal for any size job.
The AlorAir Sentinel HD55 is a compact yet powerful dehumidifier with a built-in pump. It's designed for use in crawl spaces, basements, and other damp areas where mold and mildew can grow.
It is a heavy-duty dehumidifier perfect for water damage restoration projects. This unit features a 113 pint per day moisture removal capacity. Auto defrost function prevents ice buildup.
The memory starting function is a great feature, allowing the unit to restart after a power outage.
Click here to learn more about the Alorair Sentinel HD55!
Features
This product with the most positive customer reviews can remove 113 PPD at saturation and 53 pints per day at AHAM. The dehumidifier covers an area of 1200 sq. ft. and can operate at 33 degrees Fahrenheit.
The water removal rate is slightly higher than similar models on the market, and the noise level is kept at less than 52 dB, which means it's not too loud for indoor use.
Gravity draining is a standard feature, while the unit also comes with a drain hose for continuous operation. The Sentinel HD55 is certified for safety and quality assurance.
Fast structural drying is possible with this dehumidifier. It features durable housing and an easy-to-use control panel. The side sliding filter access allows for easy filter maintenance.
Auto-Diagnosis System
The HD55 dehumidifier is a reliable, powerful, and easy-to-use unit. It has an auto-diagnosis system to help you troubleshoot the errors.
The unit also features a digital display, humidistat, and speed control.
The adjustable feet and handle make it easy to move around.
Washable MERV-8
The MERV-8 filter is washable and easy to clean. The filter can be removed and replaced easily.
WARRANTY AND Packaging
The unit comes with a five-year warranty on parts and labor. It is also ETL and CE listed.
The packaging includes the dehumidifier, filter, user manual, drainage pipe, and warranty information.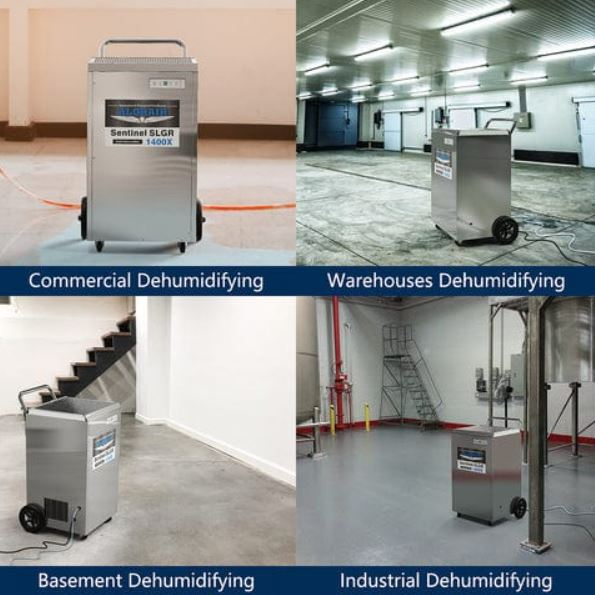 This commercial dehumidifier is a powerful device that can remove up to 140 pints of water per day. It features durable construction and a pump that can help to remove water from the air in your home or office.
This dehumidifier also has a built-in air purifier that can help to remove allergens and other pollutants from the air.
It is designed for use in various settings, including offices, schools, and warehouses. The unit features a sleek and compact design that makes it easy to store and transport. Powder coating protects the body from corrosion, while the included caster wheels make it easy to move the unit around.
The condensate pump is one of the most important features that allow the unit to be used in various settings, including high-humidity areas.
Click here to learn more about the Alorair Sentinel Sentinel SLGR 1400X!
Features
SLGR microchannel technology is adopted, which uses air-to-air heat exchange to bring air close to the dew point making it more effective at removing water.
It has an automatic shut-off feature that turns the unit off when the desired humidity level is reached.
It can remove up to 250 pints of water per day at saturation and operate in temperatures as low as 33 degrees Fahrenheit.
Warranty:
This product also comes with a five years unbeatable warranty. The customer support is excellent and always ready to help with any questions or issues you may have.
It has three filters to trap airborne particles: the MERV-1 filter, the MERV-10 filter, and the cold catalyst filter.
The package includes a dehumidifier, MERV-1 filter, drainage pipe, MERV-10 filter, and a user guide.
Important Takeaways: Choosing the Right Dehumidifier for Your Home
Consider factors such as size, capacity, and features when selecting a dehumidifier for your crawl space or basement.

The AlorAir Sentinel HD90, HDi120, HDi90, Sentinel HD55, and SLGR 1400X are all excellent options for different needs and spaces.

Look for Energy Star certified dehumidifiers to save on energy costs.

Make sure to select a dehumidifier with the appropriate coverage area for your space.
Why Choose Airpuria To Buy Dehumidifiers For Your Home?
Entering the rainy season, high humidity is always a big problem for many families. And to solve this, dehumidifiers are extremely popular and necessary equipment in every home. So why choose Airpuria when buying dehumidifiers?
Airpuria has been in the market for a long time with a wide range of products and reasonable prices. In addition, Airpuria also has a team of experienced and dedicated staff who are always willing to support you. We also offer free shipping on any product that catches your eye.
Airpuria's products have been tested for quality before being put on the market, so you can be sure of their effectiveness.
Airpuria always has good after-sales service. If there are any problems with the product, Airpuria's staff will always be willing to offer you the support you need.
Click here to learn more about all of our amazing dehumidifiers!
Frequently Asked Questions
Do I Need A Dehumidifier If I Already Have Air Conditioning System?
It depends on the model you get. Some models can replace air conditioning system. Using a dehumidifier will be beneficial as it can help to reduce humidity in addition to an air conditioning system.
 How Long Will Dehumidifier Last? 
Dehumidifiers don't require much maintenance other than cleaning or changing the filter every 6 to 12 months. You can expect your dehumidifier to last around five to ten years if maintained properly.
I am unsure if the dehumidifier is the right size for my home; can Airpuria help me?
Yes! Our team can help you select the correct size dehumidifier for your home. We will take into consideration the square footage of your home, as well as the humidity levels you are looking to achieve.
Contact Us
If you have any questions, please feel free to contact us through:
Phone - 773.337.8822
Or send us an email - sales@airpuria.com
We're looking forward to hearing from you!
Financing Options and Purchasing Your Dehumidifier
When looking to purchase a dehumidifier, consider choosing a provider like Airpuria that offers financing options to make your purchase more affordable. Airpuria provides financing for all customers with rates as low as 0% for up to 18 months, as well as business financing with flexible terms and competitive rates.
Airpuria offers financing options for all individuals, with 0% interest rates for up to 18 months. Business owners can also apply for special financing programs tailored to their needs.
Links: